Mary has requested that the daily message be given each day to the world. It is read nightly at the prayer service from her Image Building in Clearwater, Florida, U.S.A. This is according to her request. All attempts will be made to publish this daily message to the world at 11 p.m. Eastern time, U.S.A.

---

We acknowledge that the final authority regarding these messages rests
with the Holy See of Rome.

---
November 18, 2002
November 19th, Holy Spirit Novena
Scripture selection is Day 5 Period II.
The Novena Rosary Mystery
for November 19th is Sorrowful.
Sidney Rosary
November 19, 2002
The store in Florida
in the Two Hearts Building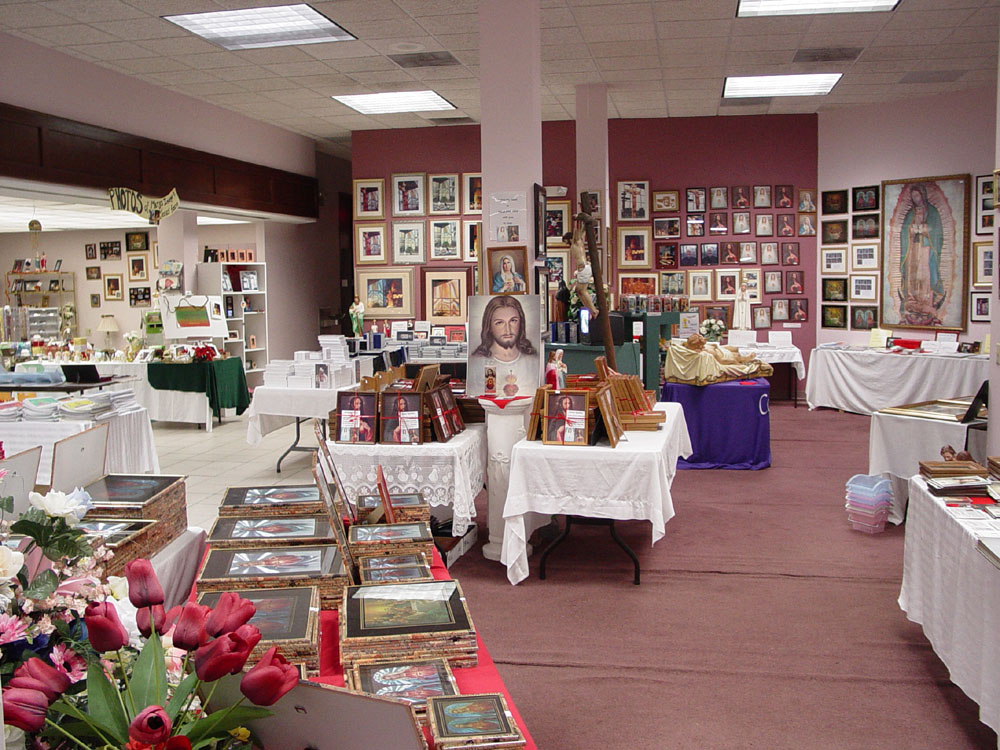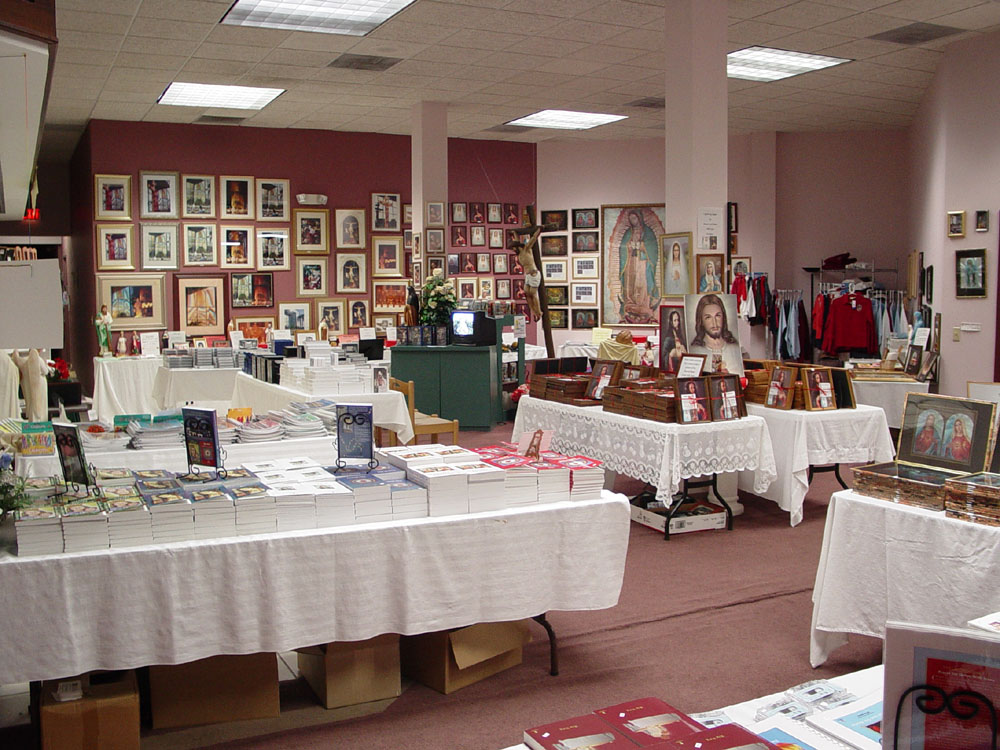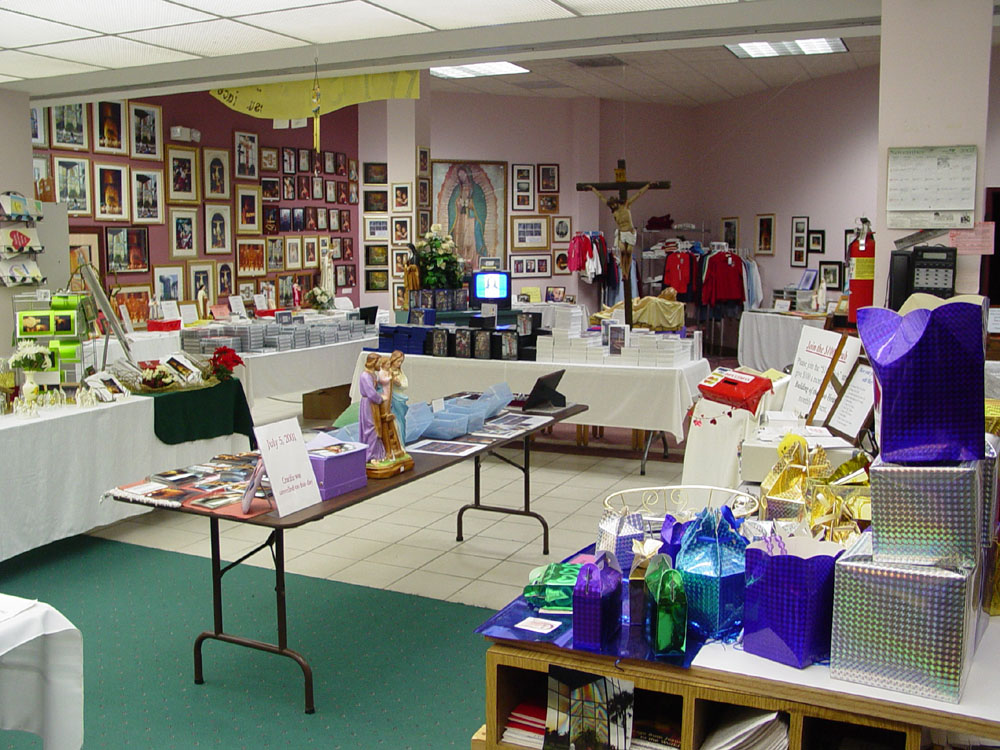 The Sidney Rosary will be broadcast
live on the Internet on
November 19, 2002
It will be Tuesday Healing Night.
The prayers will begin as usual
with the 6:20 tape
which is led by Father Carter.
The rosary will be discerned
by a priest as the rosary
is delivered.
Please click on the live audio
and the image of Mary
with a live picture of this from Clearwater.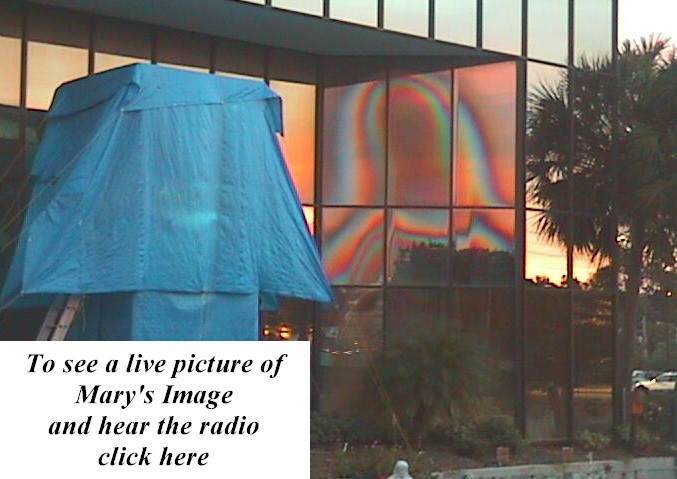 Click on the audio link to see
if you can get the audio.
If you have trouble getting the
audio please call the Morrow Center
for assistance before 5:00 p.m.
1-888-211-3041
It is a most powerful prayer when
we all pray united from all over the world.
Please pray with us all united
from every corner of the earth.
Messenger: Every day we are broadcasting
the Mass all over the
world at 4:00.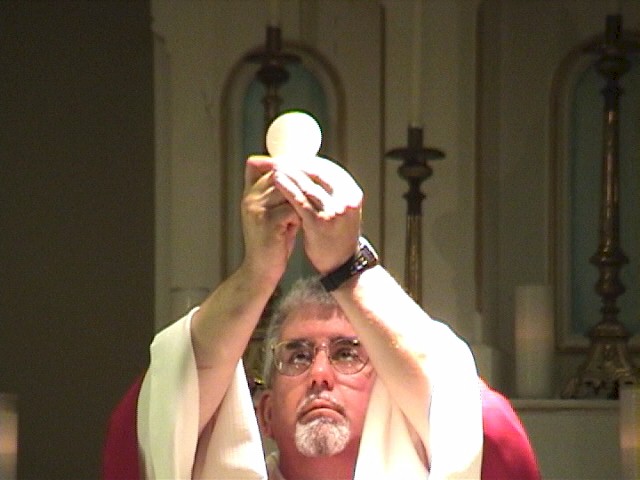 Messenger: Every day at 6:20PM we are
broadcasting Fr. Carter
praying the prayers
on tape at 6:20.
You can click on for this
and also for the live
picture of the images.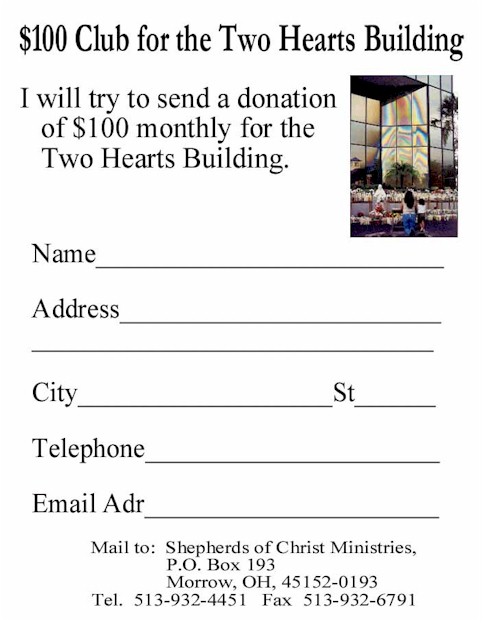 November 18, 2002
Jesus speaks: There is so much jealousy.
You should rejoice with one another.
All have been given talents.
Rejoice with one another —
Do not be jealous —
Love each other and rejoice
with one another —
Some who call themselves holy —
never look at their own jealousy —
they roll their eyes and cause
trouble by what they harbor in
their hearts —
I look into the heart —
If you hide your bitterness from the world —
your lack of harmony and ill disposition
is not hidden from Me.
I call you to help Me, some want their reward
here below, some want to manipulate
others for their own lack of security — I call
you to purity — model your lives after My life
and the life of your Mother Mary.
Messenger: My heart is filled with joy because God is
so good to us.
Mysteries of Light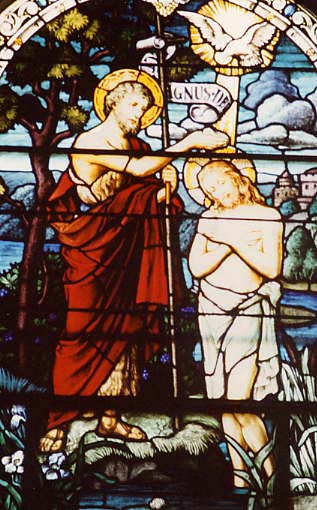 Baptism of Jesus
1. God has given us the sacrament of baptism.

2. Jesus, the New Adam, gave Himself on the
cross for me.

3. Words do not exist to even describe
adequately the love of God.

4. Think of the grace flowing from the
Church through the sacraments.

5. Jesus was Baptized by John.

6. Water, flowing water, a sign of purity.

7. They pierced the Heart of Jesus —
Blood and water came out.

8. Here is Fr. Carter's prayer in the prayer manual
for consecration to the Heart of Jesus.

"Lord Jesus, Chief Shepherd of the flock, I consecrate myself to Your most Sacred Heart. From Your pierced Heart the Church was born, the Church You have called me, as a member of Shepherds of Christ Associates, to serve in a most special way. You reveal Your Heart as a symbol of Your love in all its aspects, including Your most special love for me, whom You have chosen as Your companion in this most important work. Help me to always love You in return. Help me to give myself entirely to You. Help me always to pour out my life in love of God and neighbor! Heart of Jesus, I place my trust in You!"


9. Here is Fr. Carter's prayer in the prayer manual
for consecration to the Heart of Mary.

"Dear Blessed Virgin Mary, I consecrate myself to your maternal and Immaculate Heart, this Heart which is symbol of your life of love. You are the Mother of my Savior. You are also my Mother. You love me with a most special love as a member of Shepherds of Christ Associates, a movement created by your Son as a powerful instrument for the renewal of the Church and the world. In a return of love, I give myself entirely to your motherly love and protection. You followed Jesus perfectly. You are His first and perfect disciple. Teach me to imitate you in the putting on of Christ. Be my motherly intercessor so that, through your Immaculate Heart, I may be guided to an ever closer union with the pierced Heart of Jesus, Chief Shepherd of the flock."


10. Grace flows as a fountain from the Church.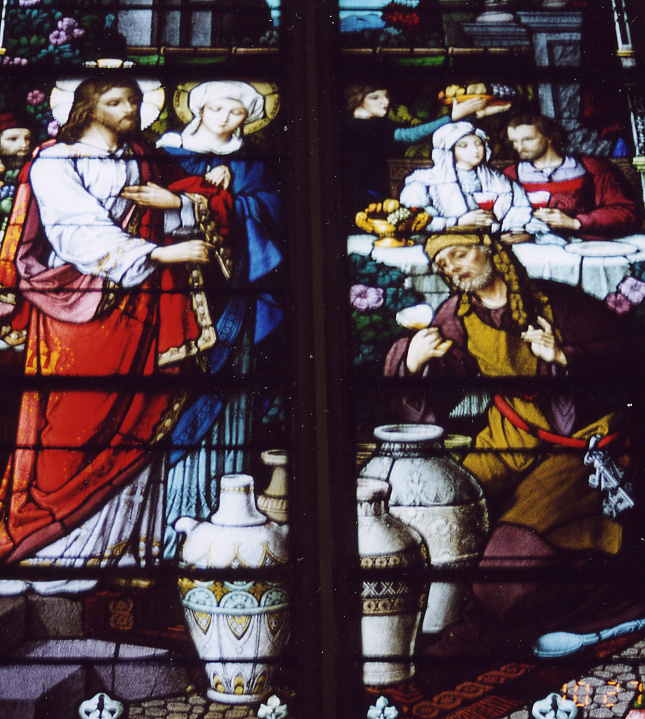 Marriage at Cana

1. Jesus used a wedding to perform His
first public miracle.

2. When a couple joins in marriage,
fruit can come from the marriage
in the children.

3. A family is begun from the marriage.

4. The couple has children —

5. And their children have children

6. And on and on and on.

7. Look at the Gospels, some have the genealogy
of Jesus.

8. The Bible starts with Adam and Eve.

9. Then there were our Fathers, Abraham, etc.

10. The priest changes wine into the Blood of Jesus
at Mass. So much is given to us at Mass when
Jesus gives us Himself.

God wants us to spread the good
news in our families and in the Church.
Kingdom of God

1. John 3:16

For this is how God loved the world:
he gave his only Son,
so that everyone who believes in him
may not perish
but may have eternal life.

2. We can help build the kingdom by
helping to build families in
which the Sacred Heart of Jesus
is the King and center of our family.

3. Jesus wants His picture, the picture of the
Sacred Heart put in all places of the earth.

4. Jesus wants to Reign as King in the
hearts of His people

5. Jesus wants to Reign as King in
the homes of His people.

6. Jesus is the King of heaven and earth.

7. We are the people God created.

8. He is the Creator, we are His creatures.

9. We must obey Our God, our creator.

10. God is almighty —
God wants us to build His Kingdom —

John 18:33 - 19: 22

So Pilate went back into the Praetorium and called Jesus to him and asked him, 'Are you the king of the Jews?' Jesus replied, 'Do you ask this of your own accord, or have others said it to you about me?' Pilate answered, 'Am I a Jew? It is your own people and the chief priests who have handed you over to me: what have you done?' Jesus replied, 'Mine is not a kingdom of this world; if my kingdom were of this world, my men would have fought to prevent my being surrendered to the Jews. As it is, my kingdom does not belong here.' Pilate said, 'So, then you are a king?' Jesus answered, 'It is you who say that I am a king. I was born for this, I came into the world for this, to bear witness to the truth; and all who are on the side of truth listen to my voice.' 'Truth?' said Pilate. 'What is that?' And so saying he went out again to the Jews and said, 'I find no case against him. But according to a custom of yours I should release one prisoner at the Passover; would you like me, then, to release for you the king of the Jews?' At this they shouted, 'Not this man,' they said, 'but Barabbas.' Barabbas was a bandit.

Pilate then had Jesus taken away and scourged; and after this, the soldiers twisted some thorns into a crown and put it on his head and dressed him in a purple robe. They kept coming up to him and saying, 'Hail, king of the Jews!' and slapping him in the face.

Pilate came outside again and said to them, 'Look, I am going to bring him out to you to let you see that I find no case against him.' Jesus then came out wearing the crown of thorns and the purple robe. Pilate said, 'Here is the man.' When they saw him, the chief priests and the guards shouted, 'Crucify him! Crucify him!' Pilate said, 'Take him yourselves and crucify him: I find no case against him.' The Jews replied, 'We have a Law, and according to that Law he ought to be put to death, because he has claimed to be Son of God.'

When Pilate heard them say this his fears increased. Re–entering the Praetorium, he said to Jesus, 'Where do you come from?' But Jesus made no answer. Pilate then said to him, 'Are you refusing to speak to me? Surely you know I have power to release you and I have power to crucify you?' Jesus replied, 'You would have no power over me at all if it had not been given you from above; that is why the man who handed me over to you has the greater guilt.'

Jesus is condemned to death

From that moment Pilate was anxious to set him free, but the Jews shouted, 'If you set him free you are no friend of Caesar's; anyone who makes himself king is defying Caesar.' Hearing these words, Pilate had Jesus brought out, and seated him on the chair of judgement at a place called the Pavement, in Hebrew Gabbatha. It was the Day of Preparation, about the sixth hour. 'Here is your king,' said Pilate to the Jews. But they shouted, 'Away with him, away with him, crucify him.' Pilate said, 'Shall I crucify your king?' The chief priests answered, 'We have no king except Caesar.' So at that Pilate handed him over to them to be crucified.

The crucifixion

They then took charge of Jesus, and carrying his own cross he went out to the Place of the Skull or, as it is called in Hebrew, Golgotha, where they crucified him with two others, one on either side, Jesus being in the middle. Pilate wrote out a notice and had it fixed to the cross; it ran: 'Jesus the Nazarene, King of the Jews'. This notice was read by many of the Jews, because the place where Jesus was crucified was near the city, and the writing was in Hebrew, Latin and Greek. So the Jewish chief priests said to Pilate, 'You should not write "King of the Jews", but that the man said, "I am King of the Jews". ' Pilate answered, 'What I have written, I have written.'


Victory Song - Revelation 19: 5-10

Then a voice came from the throne; it said, 'Praise our God, you servants of his and those who fear him, small and great alike.' And I heard what seemed to be the voices of a huge crowd, like the sound of the ocean or the great roar of thunder, answering, 'Alleluia! The reign of the Lord our God Almighty has begun; let us be glad and joyful and give glory to God, because this is the time for the marriage of the Lamb. His bride is ready, and she has been able to dress herself in dazzling white linen, because her linen is made of the good deeds of the saints.' The angel said, 'Write this, "Blessed are those who are invited to the wedding feast of the Lamb," ' and he added, 'These words of God are true.' Then I knelt at his feet to worship him, but he said to me, 'Never do that: I am your fellow–servant and the fellow–servant of all your brothers who have in themselves the witness of Jesus. God alone you must worship.' The witness of Jesus is the spirit of prophecy.
Transfiguration

1. Jesus is Lord, King of Heaven and earth.

2. God is our Father.

3. Matthew 17: 1-2, 5-6

Six days later, Jesus took with him Peter and James and his brother John and led them up a high mountain by themselves. There in their presence he was transfigured: his face shone like the sun and his clothes became as dazzling as light.

He was still speaking when suddenly a bright cloud covered them with shadow, and suddenly from the cloud there came a voice which said, 'This is my Son, the Beloved; he enjoys my favour. Listen to him.' When they heard this, the disciples fell on their faces, overcome with fear.

4. Jesus is the Light of the World.

5. Think of how bright the sun is.

6. Jesus came into the world as a baby.
Now envision Jesus
transfigured before the Apostles,
Peter, James and John.

7. God is the ultimate mystery.

8. Think of the light of day and the dark of
night. God created this for us to enjoy
and to have in our life.

9.

...God himself is the ultimate mystery. Radically, God is completely other and transcendent, hidden from man in his inner life, unless he chooses to reveal himself. Let us briefly look at this inner life of God.

The Father, in a perfect act of self-expression, in a perfect act of knowing, generates his son. The Son, the Word, is, then, the immanent expression of God's fullness, the reflection of the Father. Likewise, from all eternity, the Father and the Son bring forth the Holy Spirit in a perfect act of loving.

At the destined moment in human history, God's self-expression, the Word, immersed himself into man's world. God's inner self-expression now had also become God's outer self-expression. Consequently, the mystery of God becomes the mystery of Christ. In Christ, God tells us about himself, about his inner life, about his plan of creation and redemption. He tells us how Father, Son, and Holy Spirit desire to dwell within us in the most intimate fashion, how they wish to share with us their own life through grace. All this he has accomplished and does accomplish through Christ.

excerpt from Response to God's Love

10. (Col 1:25-28)

St. Paul tells us: "I became a minister of this Church through the commission God gave me to preach among you his word in its fullness, that mystery hidden from ages and generations past but now revealed to his holy ones. God has willed to make known to them the glory beyond price which this mystery brings to the Gentiles—the mystery of Christ in you, your hope of glory. This is the Christ we proclaim while we admonish all men and teach them in the full measure of wisdom, hoping to make every man complete in Christ".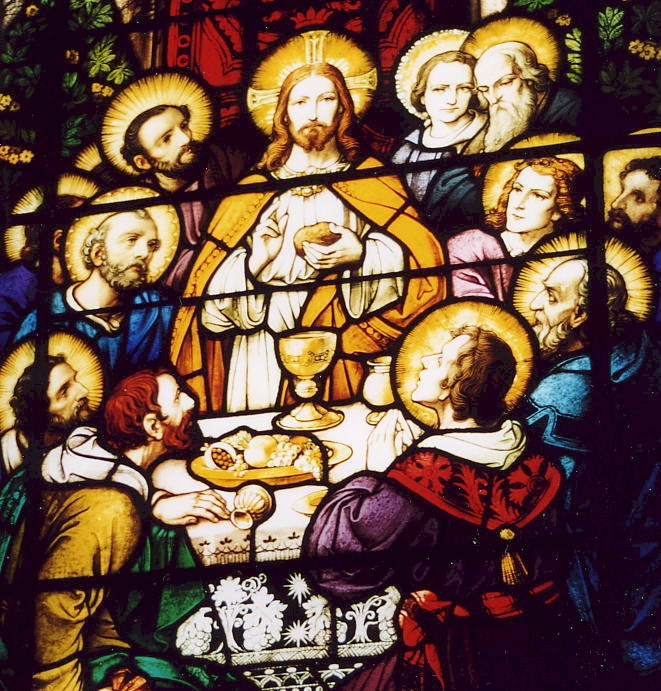 Last Supper

1. John 6:35

Jesus answered them:

I am the bread of life.
No one who comes to me will ever hunger;
no one who believes in me will ever thirst.

2. John 6: 51

I am the living bread
which has come down from heaven.
Anyone who eats this bread
will live for ever;
and the bread that I shall give
is my flesh, for the life of the world.'

3. Luke 22:19-20

Then he took bread, and when he had given thanks, he broke it and gave it to them, saying, 'This is my body given for you; do this in remembrance of me.' He did the same with the cup after supper, and said, 'This cup is the new covenant in my blood poured out for you.

4.

Jesus: "My beloved priest-companion, tell My people how I long for them to come to Me in the Eucharist. The Eucharist is the great Sacrament of My love for My people. So many are indifferent to My Eucharistic presence. So many have no real desire to receive Me in the Eucharist. So many have no desire to visit Me in the Blessed Sacrament. How I long for My people to come before the tabernacle and to talk with Me!

"I am offended, many times seriously, by all the outrages, sacrileges, and indifferences committed against My Eucharistic presence. I ask My people to make reparation for all this. I especially ask that they often say the prayer of Eucharistic reparation given by the angel to the three Fatima visionaries.

"I am Lord and Master. Please do as I request. My Eucharistic Heart is beating with unfathomable love for My people! Let them come to My Sacred Heart. How I long to take My people to My Heart and shower them with Its abundant graces! I love My people with a tremendous love, and I give them this message with the greatest love!"

Reflection: Pope John Paul II has often expressed his belief in the importance of Fatima. It also appears that the Fatima prayer of Eucharistic reparation is meant in a most special way for the present times

excerpt from Tell My People

5. Jesus speaks: Spread the good news of the
gift given in the Mass.

6. Jesus is the Light of the world.

7. Jesus gives us His body to eat.

8.




9. The priest can change bread and wine
into the Body and Blood of Jesus.

10.



Christmas cards available

To order cards on the internet click here

call Morrow 1-513-932-4451

Suggested Donation of at least $2.00

inside of card




Rosary Books for sale


Shepherds of Christ Ministries
P.O. Box 193
Morrow, OH 45152-0193
USA

to use a credit card call Morrow at 1-513-932-4451


Red Rosary Book
$10 + shipping


Blue Rosary Book
$10 + shipping


Parents and Children's
Rosary Book
$10 + shipping

Little People and Elderly
Rosary Book
$10 + shipping


(English)



(Spanish)

Rosary Coloring Books
$5 each book + shipping

From September 5, 2002
during the special prayer service
in Clearwater, Florida
during the 6:20 prayers.

The images looked exactly like this.

This was taken without a flash.

There have been physical healings
on the 5ths and at other times.

Excerpt from September 17, 2002

I wish the store to carry the Christmas
materials immediately, coloring
books, Blue Books, Spanish Coloring
Books.

I wish image rosaries be made available in
the store and on Tom's farm.

These must also be ordered, it takes
months for their delivery, the requirement
has been made the materials are covered
before the order.

I ask you to have Christmas presents that
reflect Mary's image.

What a gift I give to the earth, you
should tell people about this especially at
Christmas.

end of excerpt from September 17, 2002

---

Please pray for the Cardinal
Our Lord has asked us to pray for.

We desperately need funds.

We need funds desperately.

We need funds to send out
the retired Bishop's mailing.


Please pray for the Cardinal
Our Lord has asked us to pray for.

---

It is difficult for us every month to make the
Virgin Mary payment.

We cannot keep the store stocked
because of the shortage of money.

Our Lord has asked us to stock the store
for Christmas.

He has asked all to come and buy
Christmas presents from the store.

Can you help us in any way?


Credit card donations accepted.


Shepherds of Christ Ministries
P. O. Box 193
Morrow, Ohio 45152
1-888-211-3041
---
---
---

Copyright © 2002 Shepherds of Christ.
Rights for non-commercial reproduction granted:
May be copied in its entirety, but neither re-typed nor edited.
Translations are welcome but they must be reviewed for moral and
theological accuracy by a source approved by Shepherds of Christ Ministries
before any distribution takes place. Please contact us for more information.
All scripture quotes are from the New Jerusalem Bible, July 1990, published by Doubleday.
Revised: November 18, 2002
URL: http://www.sofc.org
Contact Information for Shepherds of Christ
Email: info@SofC.org
---
Shepherds of Christ Ministries
P.O. Box 193
Morrow, Ohio 45152-0193

Telephone: (toll free) 1-888-211-3041 or (513) 932-4451
FAX: (513) 932-6791