We need $15,000 for the rest of the postage

for the Mary Newsletter.


The Building Payment

is due on Nov. 19th.

Please help us.

Call 1-888-211-3041
or 1-812-273-8405
November 18, 2007
From San Francisco
Why does God pursue us —
God loves us
God cares for us, His creatures —
God is love
And in His love He wants our
happiness
God created us to be happy
with Him forever in heaven
Man sinned
Man has a wounded human
nature
But God gave us the all pure
Virgin Mary —
In Blue Book IV we see the love
between Jesus, the Divine God
and Mary the sinless human creature.
God in His great love for His creatures
gave us Mary — sinless.
Mary is espoused to the Holy Spirit
God chose to come into the world —
Jesus was conceived in the pure and holy
womb of the Virgin through
the power of the Holy Spirit.
Relationships between God and man —
Divinity and humanity —
Mary espoused to the Holy Spirit
Jesus' Heart was formed in the
womb of Mary —
Jesus wants our hearts formed in the
spiritual womb of the Virgin Mary,
her Immaculate Heart — The Holy
Spirit performs this marvelous wonder
in bringing us forth more and more in
the image of Jesus —
Jesus came in the womb
of the sinless Virgin
Lets sing the litany
Should we not sing about the
Motherhood of Mary
Should we not sing about
her Virginity
Should we not see that she is
the singular vessel of
devotion to lead us to a
deeper mystical marriage with God
through her Immaculate Heart —
Where hearts are hearts of stone — so much
in the World —
At the end of the 20th century God gave
Fr. Carter the mission to enormously
help to bring this great era of
love of the Two Hearts —
the New Adam — the New Eve
in the Church
In the book —
Tell My people —
God gave the message of His
Mission to Fr. Carter
along with these messages
May 31, 1994 - Jesus told Fr. Carter to
start the Priestly Newsletter
and send it immediately to all the
priests and hierarchy in the United States —
then to send it to as many as possible
in the world —
to cover the earth with the Priestly
Newsletter
In February, 2002 when the sex scandal
began we mailed 95,000 Priestly
Newsletter Book II's to the priests
and hierarchy of the world — along
with the Shepherds of Christ prayer
manual — spreading the 3 years
of Priestly Newsletters that had
been sent — edited by Fr. Carter
on solid theology, the voice of the
Good Shepherd, the vision of the
Father and the words about the love
of the 2 Hearts and this great era
of peace Mary spoke of at Fatima
where the Sacred Heart of Jesus
will reign and her Immaculate Heart
will triumph —
March 26, 2002

From the Vatican

Dear Mr. Weickert,

The Holy Father has asked me to thank you for the book which
you sent to him at the request of the Reverend Edward J. Carter, S.J. He
very much appreciates the sentiments which prompted this presentation.

His Holiness will remember Father Carter in his prayers.
Invoking upon him joy and peace in our Lord Jesus Christ, he cordially
imparts his Apostolic Blessing.

Sincerely yours,

_____________
We can get the Newsletter to the
priests and hierarchy — we have sent
640,000 in the past 14 months and
100,000 books like these
and the prayer manual
Here are some comments —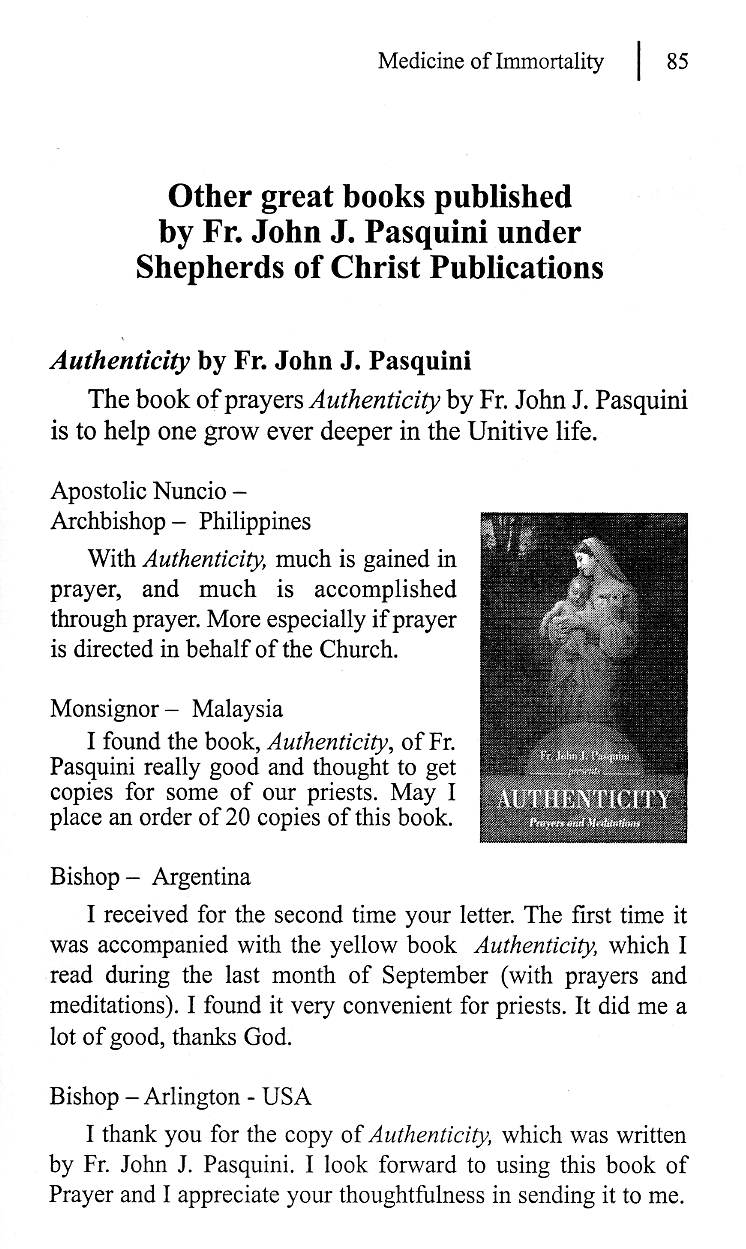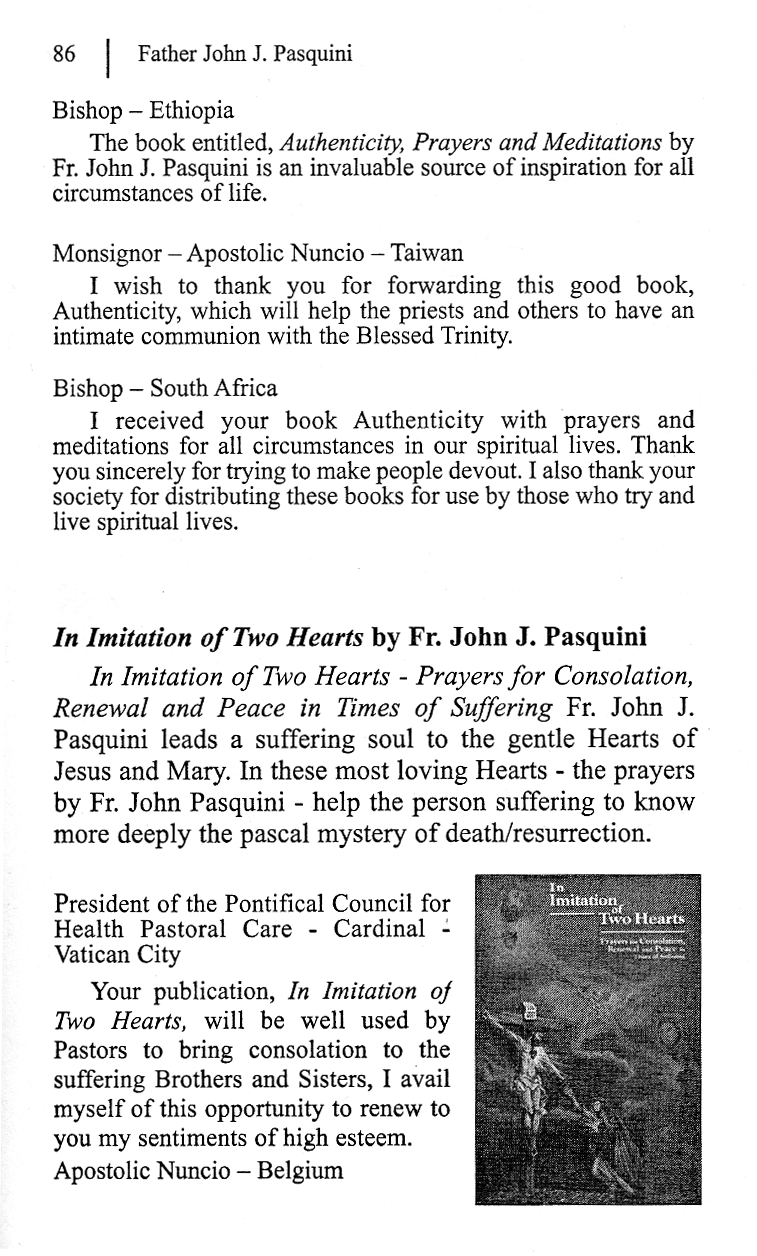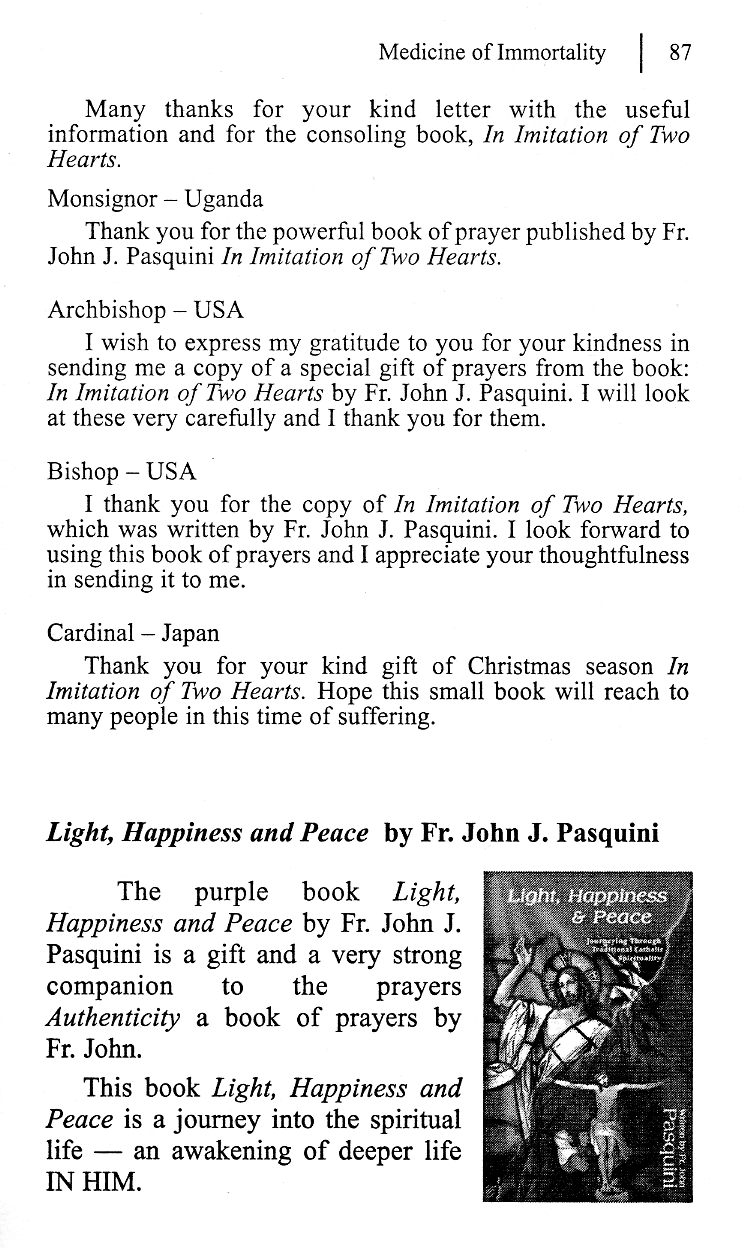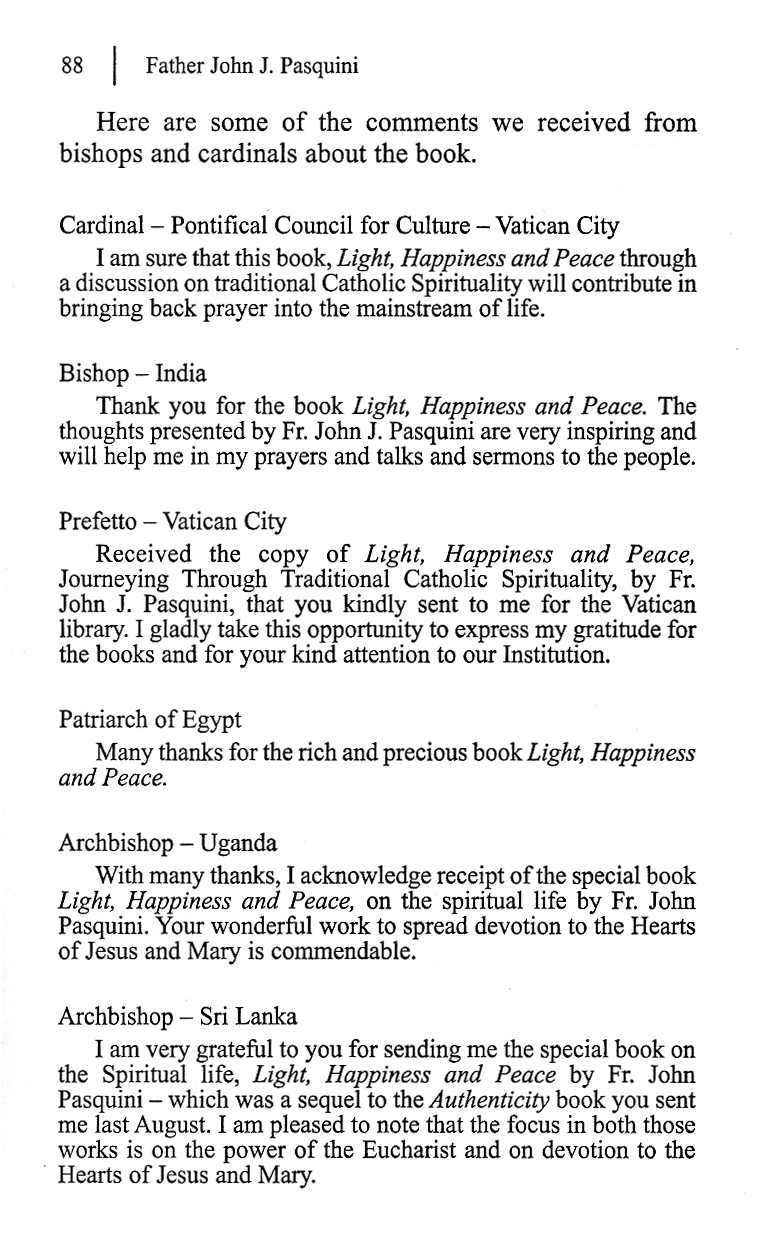 \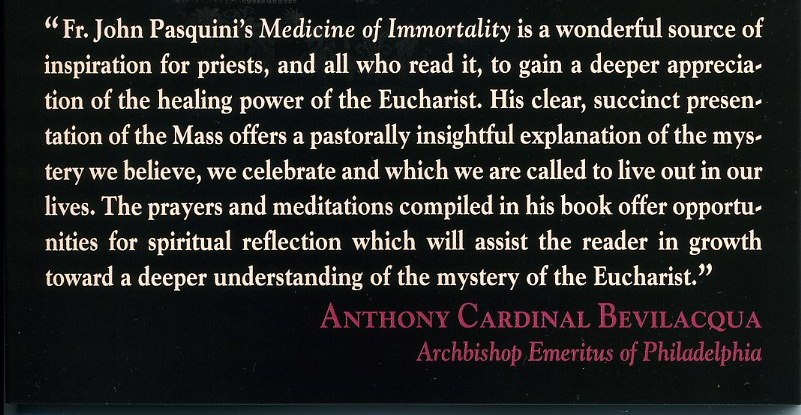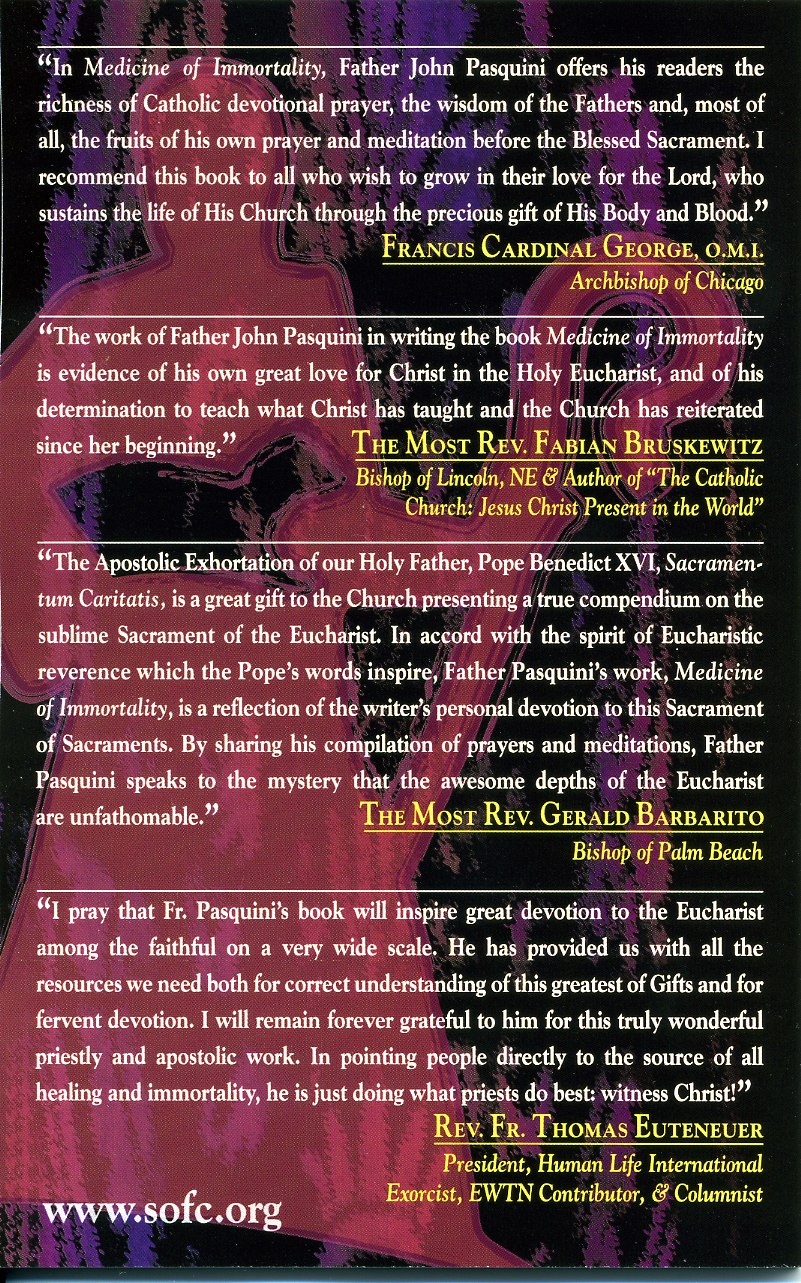 We can reach the Nursing Homes with
the morning offering —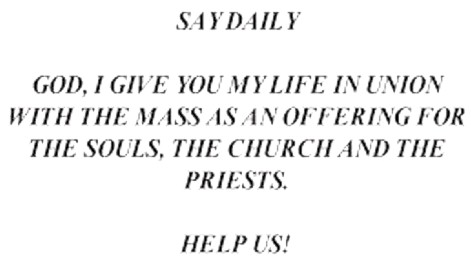 We can teach people to be more
fervent members of the body
of Christ.
We can reach the school children
with the Morning Offering
We can consecrate our homes and
families and ourselves to the
Sacred Heart and Immaculate Heart
We can begin these prayer chapters —
after 2000 years since
the New Adam — died on the
tree of Calvary —
We can become more and
more united to each other —
dwelling in the Hearts of the New
Adam and New Eve
The Mass is the sacrifice of Calvary
sacramentally made present —
Jesus is with us
Jesus is truly present in the
Blessed Sacrament
Read this Book
Mass Book - with Imprimatur
| | |
| --- | --- |
| English | Click book for Espanol |
Pray these rosaries
Parents and Children's Rosary Book - with Imprimatur
| | |
| --- | --- |
| Click book for English | Espanol |
Read this book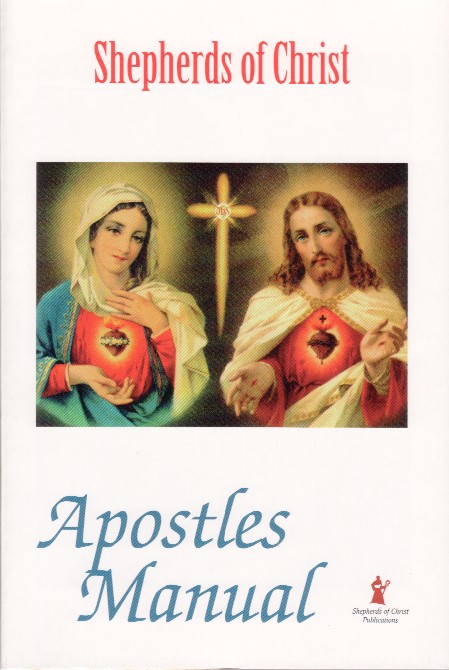 Spread this book to Nursing Homes
So they will pray for the priests, the
Church and the world
Please help us do what
Jesus asked Fr. Carter over
13 years ago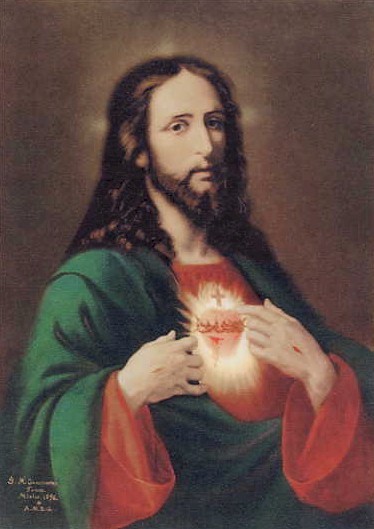 Come to me, Lord, and possess my soul. Come into my heart and permeate my soul. Help me to sit in silence with You and let You work in my heart.

I am Yours to possess. I am Yours to use. I want to be selfless and only exist in You. Help me to spoon out all that is me and be an empty vessel ready to be filled by You. Help me to die to myself and live only for You. Use me as You will. Let me never draw my attention back to myself. I only want to operate as You do, dwelling within me.

I am Yours, Lord. I want to have my life in You. I want to do the will of the Father. Give me the strength to put aside the world and let You operate my very being. Help me to act as You desire. Strengthen me against the distractions of the devil to take me from Your work.

When I worry, I have taken my focus off of You and placed it on myself. Help me not to give in to the promptings of others to change what in my heart You are making very clear to me. I worship You, I adore You and I love You. Come and dwell in me now.

A Prayer for Intimacy with the Lamb, the Bridegroom of the Soul

Oh Lamb of God, Who take away the sins of the world, come and act on my soul most intimately. I surrender myself, as I ask for the grace to let go, to just be as I exist in You and You act most intimately on my soul. You are the Initiator. I am the soul waiting Your favors as You act in me. I love You. I adore You. I worship You. Come and possess my soul with Your Divine Grace, as I experience You most intimately.
A Prayer before the Holy Sacrifice of the Mass

Let me be a holy sacrifice and unite with God in the sacrament of His greatest love.

I want to be one in Him in this act of love, where He gives Himself to me and I give myself as a sacrifice to Him. Let me be a holy sacrifice as I become one with Him in this my act of greatest love to Him.

Let me unite with Him more, that I may more deeply love Him. May I help make reparation to His adorable Heart and the heart of His Mother, Mary. With greatest love, I offer myself to You and pray that You will accept my sacrifice of greatest love. I give myself to You and unite in Your gift of Yourself to me. Come and possess my soul.

Cleanse me, strengthen me, heal me. Dear Holy Spirit act in the heart of Mary to make me more and more like Jesus.

Father, I offer this my sacrifice, myself united to Jesus in the Holy Spirit to You. Help me to love God more deeply in this act of my greatest love.

Give me the grace to grow in my knowledge, love and service of You and for this to be my greatest participation in the Mass. Give me the greatest graces to love You so deeply in this Mass, You who are so worthy of my love.
L
ET US LOVE THE TWO HEARTS OF JESUS AND MARY
IN THE RECEPTION OF THE HOLY EUCHARIST.
HE GAVE HIMSELF TO US ON THE CROSS. HE GIVES HIMSELF TO US IN THE EUCHARIST.
How great was the act of love, God gave to this world, when He gave Himself and died on the cross. He gives Himself to us this day in the Holy Eucharist.

The greatest commandment is that we must love God with our whole heart, our whole soul, and our whole being. This is a commandment. If we are to enter heaven, we must follow the commandments. They are commands given by God for us to follow.

The greatest act we can do on this earth is an act of loving God. The reason for our existence is to love God. In the sacrament of His greatest love, He gives Himself to us. This is an act of love on His part. We are called to respond by giving ourselves in love to Him.

This is the purpose of the Holy Eucharist: to unite in such oneness with our Holy, Loving God. Our all consuming passion should be that of loving God. How many go to the Eucharist with the sole purpose of giving great love to God? He wants us to love Him. He wants souls to tell Him how much they truly love Him. This is the most intimate act of love when Jesus gives Himself-Body, Blood, Soul, and Divinity to man. If it is such an act of love, how are we receiving Him in Communion? We should beg God, in this most intimate union with Him, to help us to love Him with greatest love.

Jesus is a Person. He wants our love. The Holy Spirit wants such intimacy with us. Our Father wants us to love Him. In the Eucharist, we unite with God. In this intimate act of uniting with our beloved God, with Divinity, we must pour out our love to God. We must pour out our heart to the most adorable Heart of Jesus. Jesus is so unjustly treated by many of His beloved souls He loves so much. Let us help make reparation to the Almighty God by loving God with our whole heart, our whole soul, and our whole being in the sacrament of His greatest love. This is the Gift of Himself.

Think of how it is to love someone and give your all for that person, to pour out your heart to him or her and then be treated with coldness and neglect. It hurts our heart so much more when we deeply love someone to be rejected by that person. Jesus loves us with the deepest love. We cannot fully comprehend this love. Let us love Him with the deepest love. Let us love Mary and her Immaculate Heart. Let us love her as the Mother of God. Let us love her as the virgin who bore the Son of God. May we, in the reception of the Eucharist pour out our love to Him, to this adorable Heart. May we pour out our love to His Holy Mother.

Mary said at Fatima that Jesus wants His Heart venerated next to the heart of His Mother. Let us love these two Hearts as we receive the Sacrament of the Eucharist. Then we are so deeply united with God. We see Their two Hearts surrounded with thorns for the injustices against Their Hearts. Let us help make reparation daily as we receive Him in the Eucharist. This is a special time to help make reparation to Their wounded Hearts.

Let us remember how He poured His love out to us on the cross and how He pours out His love to us now when He gives us Himself in the Eucharist, the Eucharist which contains His Heart of burning love. His Heart was pierced with a lance. Her heart was invisibly pierced with a sword. As the wounds in Their Hearts are deep, so too is Their love so deep.

He does not want "surface love". He wants hearts filled with deep burning love.

end of December 27, 1995
The time is now —
Jesus: To those who have eyes to see not with
earthly vision, but with the working of the
Holy Spirit I impart to you My wisdom.
For is it not that I call you to hear the
rumblings of the Spirit within — that your
hearts are docile to His touch.
You scamper and try to control, but in
so doing you try to control God. A man had
a tourniquet about his waist and it was too
tight — he felt sick, confined, he felt as
if he would throw up — He said this burden
I carry is making my insides work in the
wrong direction, if I could but remove
the cloth my impairment would not be
blocked any longer — I could thus return
to the right order of things and be operating
as God intended.
But the knots were tight — the days were
long, the nights turned into new days and another
night and long at the end of his journey
he threw up and he was upside down in it.
A man bought what he felt was a treasure,
he gave all his money — his stock began to
slide, he borrowed more, he watched it
slide further — he said — I cannot let go
lest I lose my original investment —
so he went to another source — he borrowed
again and again saying again — I cannot
give up lest I lose my original
investment, a counselor of finances
said — "you are upside down in it" —
he got so mad at the man of advise —
he said "no more with your advise"
he borrowed again — it was so difficult
his credit had lost creditability —
why he thought could he be wrong —
Now the moral to the story is no matter
how much he borrowed to store up
riches — his original investment was
wrong and would never win —
"Why is this not working" he said
" I have endured"
"Oh that I would get my original investment
and all my loses back" —
"then I will have happiness, I will not
live with sleepless nights and anxieties
by day — I will hold on until it turns
around" —
Why did the man bank on a losing treasure?
After loss after loss he went again and
again and he lost again and again.
Aren't bad habits like this — tainted
thinking - wanting someone to fix our
wounded past — waiting for the approval
we want so bad, the riches we feel to
heal a wounded heart — the power to
control someone — the treasure of
acceptance from others — the riches of
seeking too much that isn't right to
find we have too little and a real
mess of our life —
A man wanted to sail the seas —
he went to the harbor and saw a
sinking ship — he thought he could get
it for a bargain and rebuild it and
then one day he would be at the helm —
he purchased the old boat — his hopes
were high, it was more badly damaged
than he could ever imagine — he
did not even know how to begin —
Are we like the little ones in a swimming
pool — putting in an old inflatable
tube with a hole and chewing bubble
gum — trying to make it stay afloat —
We chew a piece of gum —
We blow up the old tire —
The gum falls off —
We chew up another piece of gum —
We patch the hole with the gum —
We blow up the tire —
We get into the water —
Soon again the gum falls off —
How patient we are to start with
damaged merchandise to save a "buck"
What about our spiritual life
Christ gives us the road map "the BIBLE"
"the Word"
Now He says man —
in the commandments —
this is right
this is wrong —
so the devil wants to barter with a soul —
How can a candle glow without a
light
No matter how long you look at an
unlighted candle it never glows
The vision of the Father is found in the
scriptures
the wonderful Word of God
the Wisdom of the Saints
the Words of our Holy Father
the Commandments
the Natural law
some will starve their bodies
some abuse with drugs, alcohol
some are lustful
some so angry their blood vessels held like
a tourniquet
some so jealous — their plan of action
centered around jealousies —
stopping others from doing God's work
some are built on envy
some are passive-aggressive —
that is provoking a just man until
they try his patience to
fill their own sick need
to control
some are so angry — cutting off the real
flow of peace inside
argumentative, not meek
and every one does not like their
combatal nature
argumentation for the sake of winning
an argument - for power —
for disharmony

---
The saints in heaven are harmonious
They are living in the will of God
They are not jealous, envious, lustful,
gluttonous, angry, slothful
---
Mary is sinless
We have a wounded human nature.
God gives us the Medicine of Immortality
God gives us the sacraments
God gives us the priest
God gives us the fountain of His
life
There were two fountains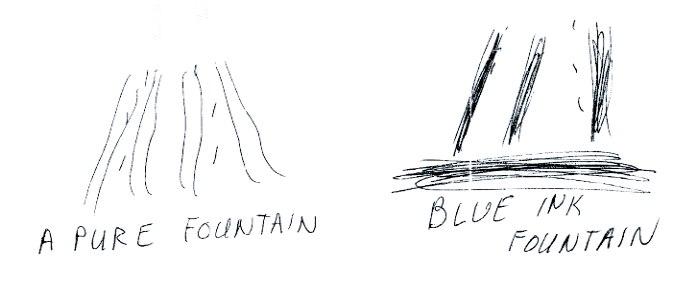 Remember in the movie The Ten Commandments —
remember when the waters turned to
blood
Remember the plagues —
the frogs
Remember the scriptures
God gives us His Word so we can
learn not to choose the
blue fountains full of
ink that stains
We are imperfect creatures —
all with tendencies of this
wounded human nature —
Some fail to recognize a driven desire
for wealth - that may consume
them —
they may step on their brother's head
to get money, wealth
and lay awake at night in
unhappiness
A person who is untruthful in their
relationships must keep track
of his lies — addicted to excitement
he may live on the edge —
trying to not be found out
Some openly provoke others before
others and when another tries
and tries over again to make it
work — one acting lovingly with a
vulture soon has to let
the vulture be lest they become
consumed —
We all act imperfectly and what happens
unless we open ourselves to the
docility of admitting we are not
perfect— we are like this man:
One day a man went down a road and
fell in a big hole —
The next day - the same man went
down the road and fell in
a big hole
The next day the man went down the
road and fell in a big hole
Over and over again he did it —
6 months, 30 days, 31 days,
8 months —
At long last a traffic guard stood by
letting children across the road
for school —
spoke to the man falling daily
in the big hole
Oh mister, I watch you every day
go down Stubborn Street
when I help the children
for school and you fall
in a big hole - every day —
If you went on the other road —
Open Road, right close by, you
would not fall in any holes —
The man who fell daily in the
hole was indignant and angry
and proceeded down Stubborn Road —
this time he fell angrily in
the hole
Clamored to get out — wounded
with scratch and then walked
by the guard on his way home —
red in his face — angry at the
guard who tried to help him —
There are so many devils that
tempt us to stay stuck in our
old ways — lust, anger - etc. —
Look at this —
A man was dishonest and wanted
to sell some worthless goods to a
just man — The salesman was a salesman of
the greatest art —
He lied, he promised, he
coaxed, he wanted to dump his
worthless goods —
Now look at the paralyzing
grip of satan — who cajoles, who tries
to blind a soul into division —
passions - greed —
Satan has tempted souls
into hell —
Mary said
"Souls are going into hell like rain"
How can we have such impure
vision out there on graphic
screens, with violins,
showing the world these
sexual situations that are
sinful —
How can someone kill a baby in their womb.
How come little children see aggressive,
self-promoting evil "cartoons"
on television that can lead them
to hearts of stone, violence
and not the tender, loving
Heart of God —
How can abortion be legal?
How can we act in hatred and anger
and expect to be blessed.
God wants us to love —
God created us in His image and likeness.
God wants us united in love —
Husbands and wives getting ugly thoughts
about each other — divorcing - and maybe
nothing is even wrong —
they get tempted, thinking the other
doesn't love them —
and the poor children suffer —
Where love once was what drew
them together and in this
love they had children —
the distorted thinking, suspicion
may lead them to believe things
about the other that isn't
even happening
The devil is the great deceiver —
The devil wants souls for hell
The devil wants us divided —
All our energy can go into looking
at the glass 1/2 empty
When it is more than 1/2 full.
Look at our Church
The gift of the priest
The love we can have for others
Song: A Priest is a Gift from God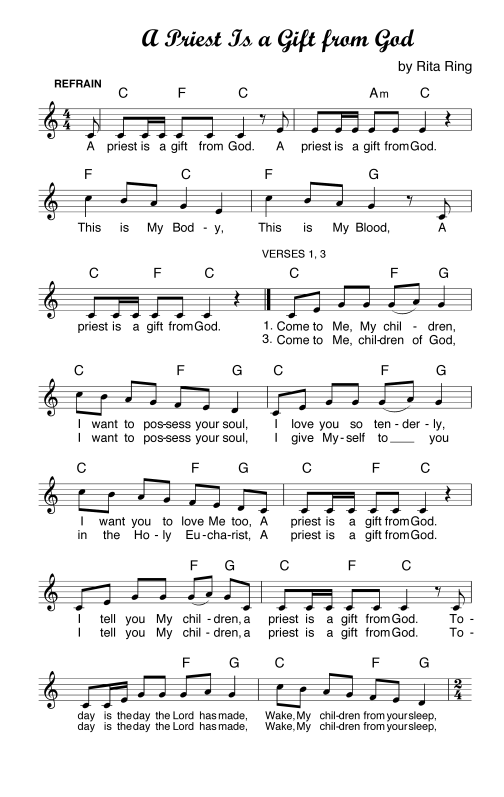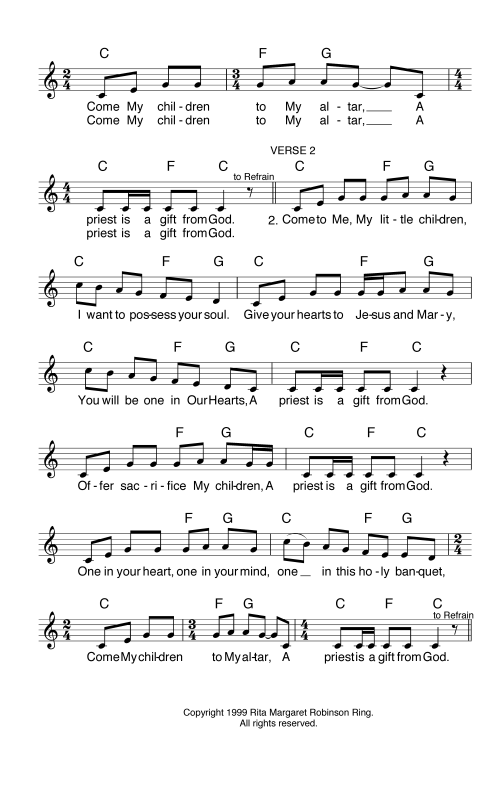 Love brings us peace, joy,
our hearts were meant for
love
We can trust God
We can become one in Him more and
more deeply —
As St. Paul says —
Galatians 2: 19-20

...I have been crucified with Christ and yet I am alive; yet it is no longer I, but Christ living in me.
God wants us to be open to change our
tainted ways
God gives us His grace
Were you ever on a run way about
to land —
you can't wait
The engines are riving up
Soon you will land
Soon you will get off the plane and
Be on your way —
What did you do in flight to pacify
your time —
Did you pray ?
Did you get angry at others?
Are you ready to get off that
plane and change some
things —
Good changes
Bad changes
How do we spend time when we
are forced to sit and can
do nothing, but think —
Does the devil - tempt us to be suspicious —
do we want to be empowered —
step on our friend's head —
Do we take the time to pray
when others on the plane —
may have lewd magazines —
Now here you are on the runway of your life —
You are about to get off and
go somewhere
How did you spend your days
(1) meditating on God's love
(2) loving others
This was not a suggestion, but a
commandment from God
To love and serve our God with our
whole heart
---
To do all things for His honor and glory
not our honor and glory
To let go of inordinate attachments.
To discern our actions
They come from
(1) the Holy Spirit
(2) the evil spirit
(3) our thoughts
For all eternity we will if we go to
heaven be wrapped in the
love of Father, Son and Holy
Ghost in the beatific vision —
We are preparing here below
to love in heaven —
We are preparing here to learn
to live by God's plan
do God's will
---
Now the devil wants souls for hell —
We can hate
We can divide
We can isolate
Seek power for power sake
St. Ignatius says —
Excerpt of The Spiritual Exercises of St. Ignatius, by Louis J. Puhl, S.J.


136. THE FOURTH DAY

A MEDITATION ON TWO STANDARDS

The one of Christ, our supreme leader and lord,
the other of Lucifer, the deadly enemy of our
human nature

PRAYER. The usual preparatory prayer.

window at a former Jesuit Seminary

137. FIRST PRELUDE. This is the history. Here it will be that Christ calls and wants all beneath His standard, and Lucifer, on the other hand, wants all under his.

138. SECOND PRELUDE. This is a mental representation of the place. It will be here to see a great plain, comprising the whole region about Jerusalem, where the sovereign Commander-in-Chief of all the good is Christ our Lord; and another plain about the region of Babylon, where the chief of the enemy is Lucifer.

139. THIRD PRELUDE. This is to ask for what I desire. Here it will be to ask for a knowledge of the deceits of the rebel chief and help to guard myself against them; and also to ask for a knowledge of the true life exemplified in the sovereign and true Commander, and the grace to imitate Him.


FIRST PART

THE STANDARD OF SATAN

140. FIRST POINT. Imagine you see the chief of all the enemy in the vast plain about Babylon, seated on a great throne of fire and smoke, his appearance inspiring horror and terror.

141. SECOND POINT. Consider how he summons innumerable demons, and scatters them, some to one city and some to another, throughout the whole world, so that no province, no place, no state of life, no individual is overlooked.

142. THIRD POINT. Consider the address he makes to them, how he goads them on to lay snares for men and bind them with chains. First they are to tempt them to covet riches (as Satan himself is accustomed to do in most cases) that they may the more easily attain the empty honors of this world, and then come to overweening pride.

The first step, then, will be riches, the second honor, the third pride. From these three steps the evil one leads to all other vices.


SECOND PART

THE STANDARD OF CHRIST

143. In a similar way, we are to picture to ourselves the sovereign and true Commander, Christ our Lord.

144. FIRST POINT. Consider Christ our Lord, standing in a lowly place in a great plain about the region of Jerusalem, His appearance beautiful and attractive.

145. SECOND POINT. Consider how the Lord of all the world chooses so many persons, apostles, disciples, etc., and sends them throughout the whole world to spread His sacred doctrine among all men, no matter what their state or condition.

146. THIRD POINT. . . .

end of excerpt of The Spiritual Exercises of St. Ignatius
Are we agents for God — helping to
promote God's Kingdom —
living in greater perfection —
Are we agents for the devil —
spread his hate
spread his division
In the world today the errors of
secularism — make man
supreme —
The world may breed
"there is no God"
How can we be happy in this
attitude
Fr. John said yesterday —
people who take God out of
their life become more
and more angry —
their hearts can turn from
hearts of stone to
rock —
True happiness is found in God
We were created to love God
We cannot have the world without
God
The world is God's world!!
God in His goodness created man.
God loves man so much —
Jesus came to this earth so
man could be saved —
Why do we think we can treat
each other in so many
unloving ways.
Do we not believe, as it says in
the December 20, 1993 message that God
would send some Mighty Medicine
like the Blue Books —
Jesus came and took on flesh —
Jesus died on the cross for the souls
He loved so much —
Jesus gave to us the Blue Books to
teach us He is a Personal God —
He gave us the Blue Books to lead
us to the Eucharist, daily Mass,
Adoration
Shepherds of Christ Associates
PRAYER MANUAL

Chapter Meeting Prayer Format

The prayer format below should be followed at chapter meetings of Shepherds of Christ Associates. All prayers, not just those said specifically for priests, should include the intention of praying for all the needs of priests the world over.

1. Hymns. Hymns may be sung at any point of the prayer part of the meeting.

2. Holy Spirit Prayer. Come, Holy Spirit, almighty Sanctifier, God of love, who filled the Virgin Mary with grace, who wonderfully changed the hearts of the apostles, who endowed all Your martyrs with miraculous courage, come and sanctify us. Enlighten our minds, strengthen our wills, purify our consciences, rectify our judgment, set our hearts on fire, and preserve us from the misfortunes of resisting Your inspirations. Amen.

3. The Rosary.

4. Salve Regina. "Hail Holy Queen, Mother of mercy, our life, our sweetness, and our hope. To you do we cry, poor banished children of Eve. To you do we send up our sighs, our mourning, our weeping in this vale of tears. Turn, then, most gracious advocate, your eyes of mercy toward us and after this, our exile, show unto us the blessed fruit of your womb, Jesus, O clement, O loving, O sweet Virgin Mary."

5. The Memorare. "Remember, O most gracious Virgin Mary, that never was it known that anyone who fled to your protection, implored your help, or sought your intercession was left unaided. Inspired by this confidence, I fly unto you, O Virgin of virgins, my Mother. To you I come, before you I stand, sinful and sorrowful. O Mother of the Word Incarnate, despise not my petitions, but, in your mercy, hear and answer me. Amen."

6. Seven Hail Marys in honor of the Seven Sorrows of Mary. Mary has promised very special graces to those who do this on a daily basis. Included in the promises of Our Lady for those who practice this devotion is her pledge to give special assistance at the hour of death, including the sight of her face. The seven sorrows are:

(1) The first sorrow: the prophecy of Simeon (Hail Mary).

(2) The second sorrow: the flight into Egypt (Hail Mary).

(3) The third sorrow: the loss of the Child Jesus in the temple (Hail Mary).

(4) The fourth sorrow: Jesus and Mary meet on the way to the cross (Hail Mary).

(5) The fifth sorrow: Jesus dies on the cross (Hail Mary).

(6) The sixth sorrow: Jesus is taken down from the cross and laid in Mary's arms (Hail Mary).

(7) The seventh sorrow: the burial of Jesus (Hail Mary).

7. Litany of the Blessed Virgin Mary.

Lord, have mercy on us. Christ, have mercy on us.
Lord, have mercy on us. Christ, hear us. Christ, graciously hear us.
God, the Father of heaven, have mercy on us.
God, the Son, Redeemer of the world, have mercy on us.
God, the Holy Spirit, have mercy on us.
Holy Trinity, one God, have mercy on us.

Holy Mary, pray for us (repeat after each invocation).
Holy Mother of God,
Holy Virgin of virgins,
Mother of Christ,
Mother of the Church,
Mother of divine grace,
Mother most pure,
Mother most chaste,
Mother inviolate,
Mother undefiled,
Mother most amiable,
Mother most admirable,
Mother of good counsel,
Mother of our Creator,
Mother of our Savior,
Virgin most prudent,
Virgin most venerable,
Virgin most renowned,
Virgin most powerful,
Virgin most merciful,
Virgin most faithful,
Mirror of justice,
Seat of wisdom,
Cause of our joy,
Spiritual vessel,
Vessel of honor,
Singular vessel of devotion,
Mystical rose,
Tower of David,
Tower of ivory,
House of gold,
Ark of the Covenant,
Gate of heaven,
Morning star,
Health of the sick,
Refuge of sinners,
Comforter of the afflicted,
Help of Christians,
Queen of angels,
Queen of patriarchs,
Queen of prophets,
Queen of apostles,
Queen of martyrs,
Queen of confessors,
Queen of virgins,
Queen of all saints,
Queen conceived without original sin,
Queen assumed into heaven,
Queen of the most holy rosary,
Queen of families,
Queen of peace,

Lamb of God, who take away the sins of the world, spare us, O Lord.
Lamb of God, who take away the sins of the world, graciously hear us, O Lord.
Lamb of God, who take away the sins of the world, have mercy on us.
Pray for us, O holy Mother of God, that we may be made worthy of the promises of Christ.

Let us pray: Grant, we beseech You, O Lord God, that we Your servants may enjoy perpetual health of mind and body and, by the glorious intercession of the blessed Mary, ever virgin, be delivered from present sorrow, and obtain eternal joy. Through Christ our Lord. Amen.

We fly to your patronage, O holy Mother of God. Despise not our petitions in our necessities, but deliver us always from all dangers, O glorious and blessed Virgin. Amen.

8. Prayer to St. Joseph. St. Joseph, guardian of Jesus and chaste spouse of Mary, you passed your life in perfect fulfillment of duty. You supported the Holy Family of Nazareth with the work of your hands. Kindly protect those who trustingly turn to you. You know their aspirations, their hardships, their hopes; and they turn to you because they know you will understand and protect them. You too have known trial, labor, and weariness. But, even amid the worries of material life, your soul was filled with deep peace and sang out in true joy through intimacy with the Son of God entrusted to you, and with Mary, His tender Mother. Amen. --(Pope John XXIII)

9. Litany of the Sacred Heart, promises of the Sacred Heart.

Lord, have mercy on us. Christ, have mercy on us.
Lord, have mercy on us. Christ, hear us.
Christ, graciously hear us.
God the Father of heaven, have mercy on us (repeat after each invocation).
God the Son, Redeemer of the world,
God the Holy Spirit,
Holy Trinity, one God,
Heart of Jesus, Son of the eternal Father,
Heart of Jesus, formed by the Holy Spirit in the womb of the Virgin Mother,
Heart of Jesus, substantially united to the Word of God,
Heart of Jesus, of infinite majesty,
Heart of Jesus, sacred temple of God,
Heart of Jesus, tabernacle of the Most High,
Heart of Jesus, house of God and gate of heaven,
Heart of Jesus, burning furnace of charity,
Heart of Jesus, abode of justice and love,
Heart of Jesus, full of goodness and love,
Heart of Jesus, abyss of all virtues,
Heart of Jesus, most worthy of all praise,
Heart of Jesus, king and center of all hearts,
Heart of Jesus, in whom are all the treasures of wisdom and knowledge,
Heart of Jesus, in whom dwells the fullness of divinity,
Heart of Jesus, in whom the Father is well pleased,
Heart of Jesus, of whose fullness we have all received,
Heart of Jesus, desire of the everlasting hills,
Heart of Jesus, patient and most merciful,
Heart of Jesus, enriching all who invoke You,
Heart of Jesus, fountain of life and holiness,
Heart of Jesus, propitiation for our sins,
Heart of Jesus, loaded down with opprobrium,
Heart of Jesus, bruised for our offenses,
Heart of Jesus, obedient even to death,
Heart of Jesus, pierced with a lance,
Heart of Jesus, source of all consolation,
Heart of Jesus, our life and reconciliation,
Heart of Jesus, victim of sin,
Heart of Jesus, salvation of those who hope in You,
Heart of Jesus, hope of those who die in You,
Heart of Jesus, delight of all the saints,
Lamb of God, Who take away the sins of the world, spare us, O Lord.
Lamb of God, Who take away the sins of the world, graciously hear us, O Lord.
Lamb of God, Who take away the sins of the world, have mercy on us.
Jesus, meek and humble of heart, make our hearts like unto Yours.

Let us pray: O almighty and eternal God, look upon the Heart of Your dearly beloved Son and upon the praise and satisfaction He offers You in behalf of sinners and, being appeased, grant pardon to those who seek Your mercy, in the name of the same Jesus Christ, Your Son, Who lives and reigns with You, in the unity of the Holy Spirit, world without end. Amen.

Promises of Our Lord to those devoted to His Sacred Heart


(these should be read by the prayer leader):

(1) I will give them all the graces necessary in their state of life.

(2) I will establish peace in their homes.

(3) I will comfort them in all their afflictions.

(4) I will be their refuge during life and above all in death.

(5) I will bestow a large blessing on all their undertakings.

(6) Sinners shall find in My Heart the source and the infinite ocean of mercy.

(7) Tepid souls shall grow fervent.

(8) Fervent souls shall quickly mount to high perfection.

(9) I will bless every place where a picture of My Heart shall be set up and honored.

(10) I will give to priests the gift of touching the most hardened hearts.

(11) Those who promote this devotion shall have their names written in My Heart, never to be blotted out.

(12) I promise you in the excessive mercy of My Heart that My all-powerful love will grant to all those who communicate on the first Friday in nine consecutive months the grace of final penitence; they shall not die in My disgrace nor without receiving their sacraments; My divine Heart shall be their safe refuge in this last moment.

10. Prayer for Priests. "Lord Jesus, Chief Shepherd of the Flock, we pray that in the great love and mercy of Your Sacred Heart You attend to all the needs of Your priest-shepherds throughout the world. We ask that You draw back to Your Heart all those priests who have seriously strayed from Your path, that You rekindle the desire for holiness in the hearts of those priests who have become lukewarm, and that You continue to give Your fervent priests the desire for the highest holiness. United with Your Heart and Mary's Heart, we ask that You take this petition to Your heavenly Father in the unity of the Holy Spirit. Amen"

11. Prayer for all members of the Shepherds of Christ Associates. "Dear Jesus, we ask Your special blessings on all members of Shepherds of Christ Associates. Continue to enlighten them regarding the very special privilege and responsibility you have given them as members of Your movement, Shepherds of Christ Associates. Draw them ever closer to Your Heart and to Your Mother's Heart. Allow them to more and more realize the great and special love of Your Hearts for each of them as unique individuals. Give them the grace to respond to Your love and Mary's love with an increased love of their own. As they dwell in Your Heart and Mary's Heart, abundantly care for all their needs and those of their loved ones. We make our prayer through You to the Father, in the Holy Spirit, with Mary our Mother at our side. Amen"

12. Prayer for the spiritual and financial success of the priestly newsletter. "Father, we ask Your special blessings upon the priestly newsletter, Shepherds of Christ. We ask that You open the priest-readers to the graces You wish to give them through this chosen instrument of Your Son. We also ask that You provide for the financial needs of the newsletter and the Shepherds of Christ Associates. We make our prayer through Jesus, in the Holy Spirit, with Mary at our side. Amen"

13. Prayer for all members of the human family. "Heavenly Father, we ask Your blessings on all Your children the world over. Attend to all their needs. We ask Your special assistance for all those marginalized people, all those who are so neglected and forgotten. United with our Mother Mary, we make this petition to You through Jesus and in the Holy Spirit."

14. Prayer to St. Michael and our Guardian Angels:

"St. Michael the Archangel, defend us in battle. Be our safeguard against the wickedness and snares of the devil. May God rebuke him, we humbly pray, and do thou, O prince of the heavenly hosts, by the power of God, cast into hell Satan and all the other evil spirits who prowl about the world seeking the ruin of souls. Amen."

"Angel of God, my guardian dear, to whom God's love commits me here, ever this day be at my side, to light and guard, to rule and guide. Amen."

15. Pause for silent, personal prayer. This should last at least five minutes.

16. Act of consecration to the Sacred Heart of Jesus and the Immaculate Heart of Mary.

"Lord Jesus, Chief Shepherd of the flock, I consecrate myself to Your most Sacred Heart. From Your pierced Heart the Church was born, the Church You have called me, as a member of Shepherds of Christ Associates, to serve in a most special way. You reveal Your Heart as a symbol of Your love in all its aspects, including Your most special love for me, whom You have chosen as Your companion in this most important work. Help me to always love You in return. Help me to give myself entirely to You. Help me always to pour out my life in love of God and neighbor! Heart of Jesus, I place my trust in You!

"Dear Blessed Virgin Mary, I consecrate myself to your maternal and Immaculate Heart, this Heart which is symbol of your life of love. You are the Mother of my Savior. You are also my Mother. You love me with a most special love as a member of Shepherds of Christ Associates, a movement created by your Son as a powerful instrument for the renewal of the Church and the world. In a return of love, I give myself entirely to your motherly love and protection. You followed Jesus perfectly. You are His first and perfect disciple. Teach me to imitate you in the putting on of Christ. Be my motherly intercessor so that, through your Immaculate Heart, I may be guided to an ever closer union with the pierced Heart of Jesus, Chief Shepherd of the flock."

17. Daily Prayers. All members should say the Holy Spirit prayer daily and make the act of consecration daily. They should also pray the rosary each day. They are encouraged to use the other above prayers as time allows.

end of prayer manual
Retreat in Florida December 2 - 5
Retreat in China December 10 - 13
December 17 - Celebration Florida
Please Help us