Mary has requested that the daily message be given each day to the world. It is read nightly at the prayer service from her Image Building in Clearwater, Florida, U.S.A. This is according to her request. All attempts will be made to publish this daily message to the world at 11 p.m. Eastern time, U.S.A.

---

We acknowledge that the final authority regarding these messages rests
with the Holy See of Rome.

---
November 25, 2002
November 26th, Holy Spirit Novena
Scripture selection is Day 3 Period I.
The Novena Rosary Mystery
for November 26th is Glorious.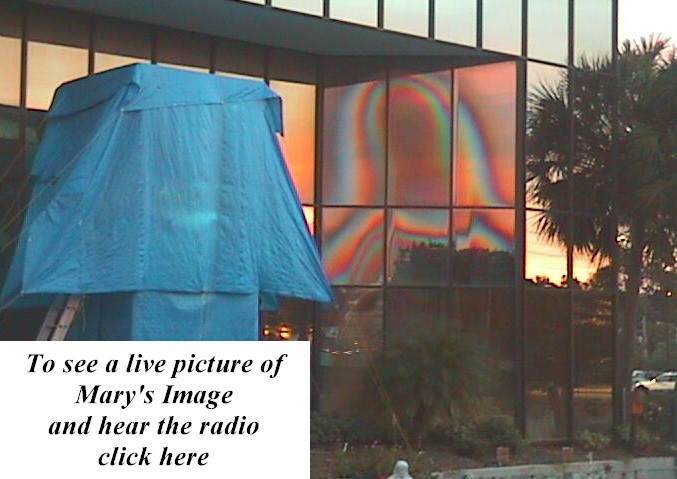 The camera is currently broken,
however you can click on to hear the radio.
We desperately need funds
at least $20,000.
Pray for funds and grace.
The store in Florida
in the Two Hearts Building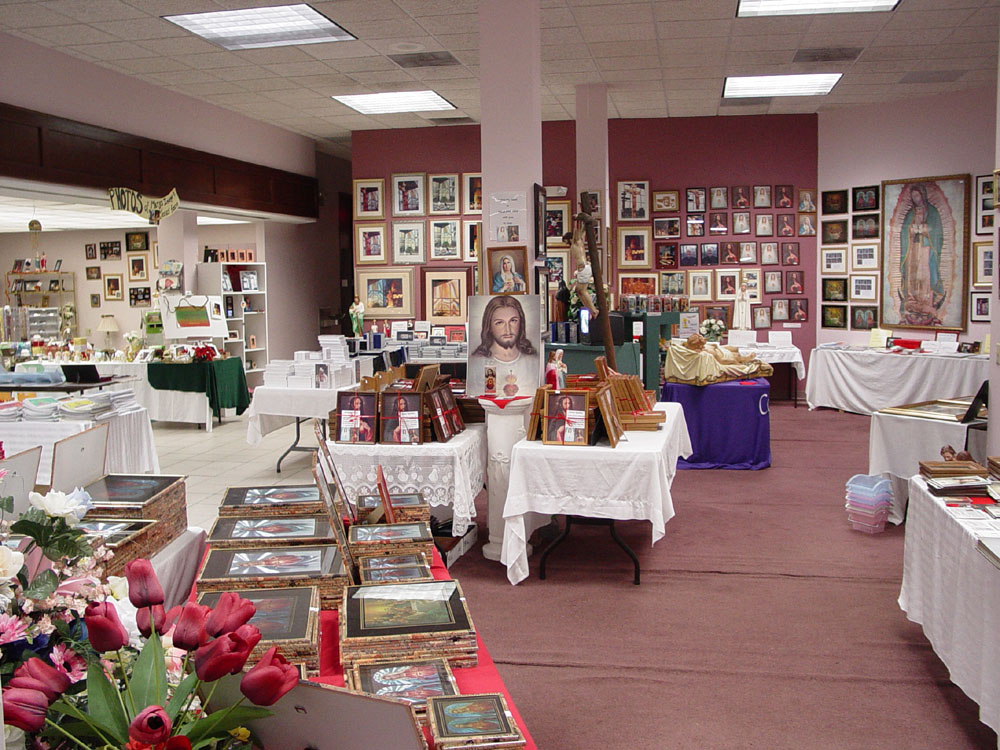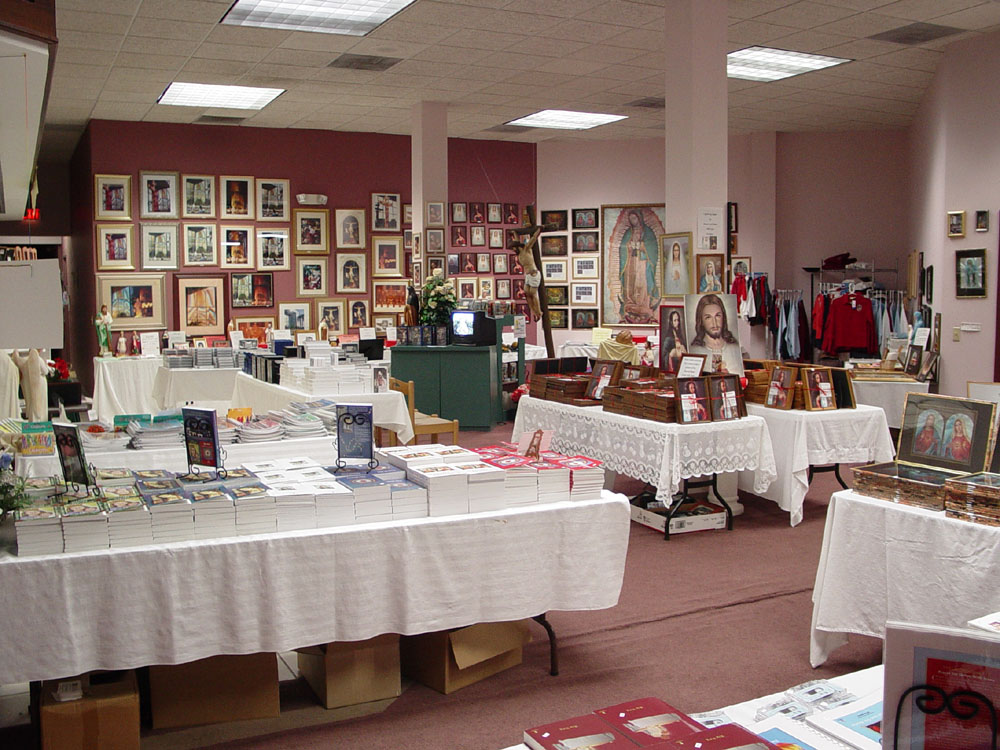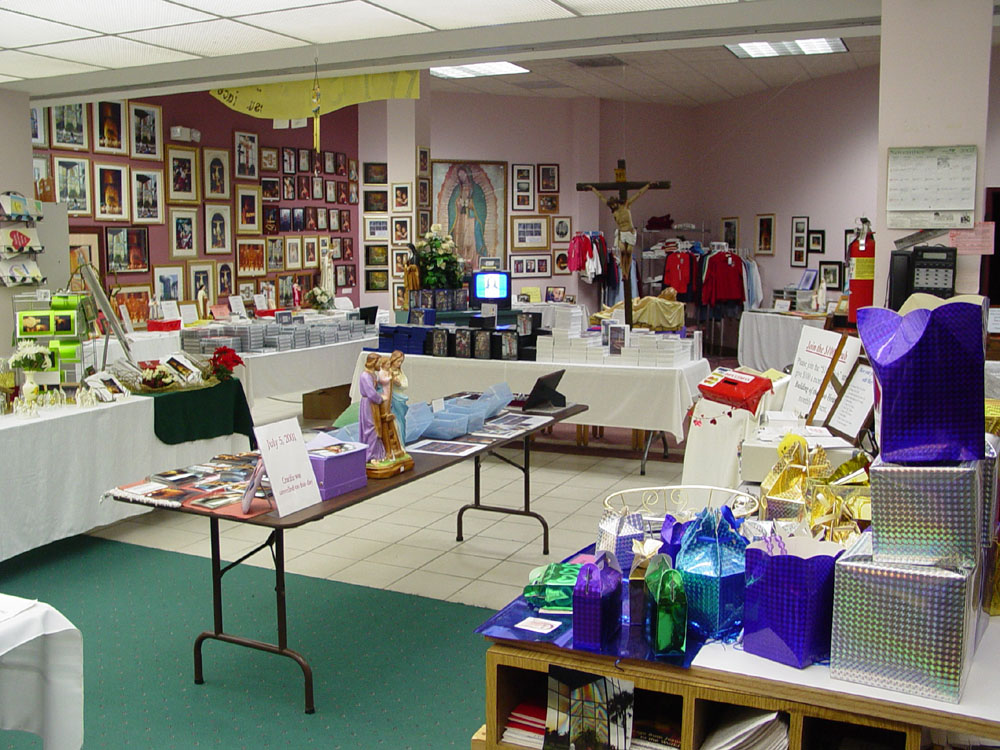 Messenger: Every day we are broadcasting
the Mass all over the
world at 4:00.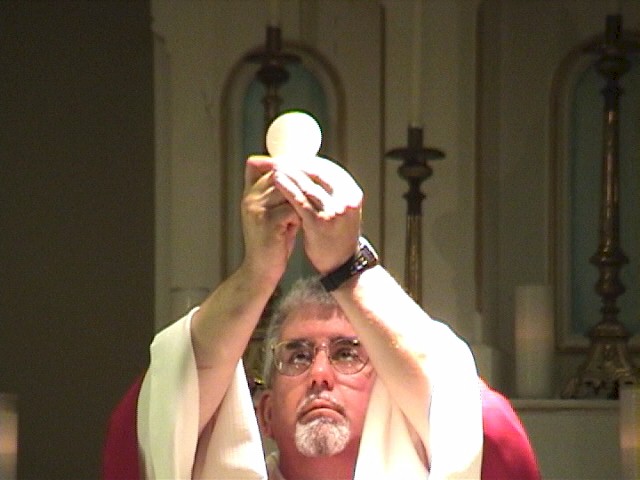 Messenger: Every day at 6:20PM we are
broadcasting Fr. Carter
praying the prayers
on tape at 6:20.
You can click on for this
and also for the live
picture of the images.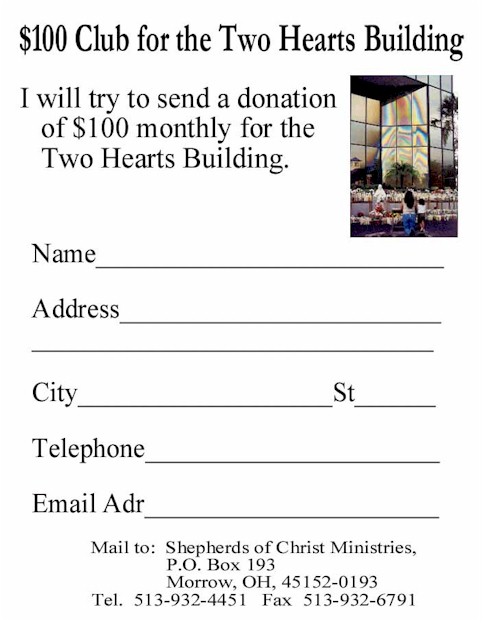 November 25, 2002

Messenger: Oh my God if I wrote a sonnet it would be of my love
to Thee.

For nothing can fill my heart like thoughts of Thee.

Oh my God how truly wonderful heaven must be.

One year before Mary appeared on the building

December 17, 1995.

Excerpt from the Mass Book

T

HE EARTH STOPPED AND TOUCHED HEAVEN
I long to unite in the deepest union with Him in the Eucharist. I long for the Mass. I long for Thee, oh God. My every moment, I join as I did to You December 15 under the cross, where I felt Your presence. You whisked me away, and I was totally absorbed in that moment of celestial union with You. For that time, I existed only in You, in the deepest union, and I was in this moment existing in You. The earth stopped, and I touched the heavens, all my bodily cares were existent in You. I existed in Your Divinity, my being was in You. There was no desire or wish or wanting, for in that moment, I had all I wanted in You. I was satisfied and wanted nothing but to remain in that embrace. You were the Being, and my being existed in You, but I was only as I was in You - merged in You, knowing and being in Your Divinity and being so full as to feel complete in myself.

You are so enormous, and You surrounded me in a burning embrace, the presence of red fire. I was not little, or "nothing", but existed in this enormous power and being so complete!

I touched eternity, and in that embrace, I knew all the waiting was worth the glory. You enveloped my being, and I was truly merged in the Divine Presence. I was merged in Your being. I existed IN You, with You, in the highest union with You, although I knew I was still distinct from You.

I was fused and absorbed in You, feeling complete and satisfied. To describe this union is far beyond any work of my pen and paper. I pray for the reader of this page to receive the grace to share this experience with Him, I will now live for this union-to be forever merged In Him, to be One in Him, to reach higher perfection as I exist in Him, for He takes the lowly and gives to them a sharing in Himself. He merges with us and we exist in Him. The word "in" - I could write pages about. I long for the deepest union with Him, where I am swept up in the heavenly embrace of the Divine God, and I am IN Him.

This is heaven on earth: to be merged as one with Divinity, although remaining distinct from God, to take our feeble hearts, our lowly status and to unite ourselves with the Divine, Almighty, powerful God and in this union to be meshed with Him, that His power dominates and our humanity reaches its heights of fulfillment in this union, in this oneness with Him.

The word I have looked for is "oneness." I understand some of the meaning of the words "One in Him." Oneness is the word to describe this union of our humanity with His Divinity. The depth to which we could meditate on oneness with God is incomprehensible. In that moment, the earth stood still, and He, my Divine Lover, the Bridegroom of my soul, took me to Himself, and I knew the embrace of the Divine God.

Nothing on the face of this earth can describe our union with Divinity. Oh, good God, that creatures are so ungrateful regarding Your divine love. I am so sorry. Let me help make reparation to Your adorable Heart. Please unite with me now that I may more deeply love Thee.

Oh, Divine Lover of my soul, let me help make reparation to Your adorable Heart for the neglect and indifference against You.

Song from Jesus: I come to you with greatest love. I am your loving Savior. I am your God. I died for you. I come to you this day.

He allowed me to experience such pain in my heart - wanting Him so badly, so many times-and then on Dec. 15, 1995 - He gave Himself to me in the deepest union.

Nothing satisfies the soul but Him. He wants the nuns and priests to love Him. He chose them to spread His love.

Souls are hungry. They will only be fed with His burning love. Priests need to talk about Jesus' love for us from the pulpit. Priests need hearts burning for love of Jesus. This will feed the hungry souls - lip service love doesn't do it.

He is alive today. He is a Person. He wants us to love Him.
end of December 17, 1995 Mass Book entry
November 25, 2002 message continues
Messenger: On December 17, 2002 - 7 years later we celebrate the
6 year anniversary. When Mary appeared on
the building in Clearwater.
6:20 12-17-2002
Oh God that we would know you more intimately.
Oh my Jesus, I love you so much.
Oh my God - my delight - my all.
And He wrapped me in a cloak of His undaunted
love.
I was saturated with His grace —
I felt His presence so deep in my soul and
I cried to receive him in the Holy Eucharist,
to be at Mass, to be able to unite to Him
so deeply to share His love so intimately
to be one with the Divine, Almighty
God.
Oh God I love Thee —
Oh God I love Thee so very much.
Jesus speaks:
I ask you to love Me.
I ask you to be generous to Me.
What if you gain the whole world and
lose your soul.
Messenger: Oh no man can ever erase my memory
and my deep experiences with Thee.
You touched my soul, my Jesus,
I unite to you so deeply at
All Saints Church.
March 26, 1996

Very carefully discerned by Fr. Carter

Messenger: I came to All Saints Church before a beautiful Monstrance of gold that contained Our beloved Savior. He was adorned in light, the altar beneath shone with the brightest light and the cross behind was entirely silhouetted with the same celestial light. I was overwhelmed with the presence of God and cried deeply from the awe of it all.

To be so aware of the Almighty God truly present in His splendor and glory—to know the presence of God, to see the glistening of the gold and the light and reflection of the cross behind Him—my beauteous love—words do not exist to describe the rapture of a heavenly embrace! I cry because of the immense awe within my being to know Him. God truly present in His majesty and glory and oh, God, I behold the presence of a heavenly court. You opened wide the heavens and lifted up the veil and I knew You in Your splendor and glory. I behold God, Father, Son, and Holy Spirit.

"I am the Way, the Truth and the Life." He is the Almighty God. He shows us the celestial lights with which He will light this earth. Many must surrender their hearts to His Heart and Mary's heart. It is in surrendering, the Spirit will move in the hearts of men and the light of God will shine on the darkened earth. Not with a light that you comprehend, but a light that is divinely granted—a light beyond all lights, a vision beyond all visions. It takes the surrender of minds and hearts to God. The Spirit cannot move in us when we are in control. Surrender and give Him our heart and He will make us fishers of men.

We are His apostles in the Shepherds of Christ Movement. He is sending us out into the world to light the hearts with His burning love. We are chosen by Him and He is giving us abundant graces to grow in our union with Him. He will light this world with His burning love. Our hearts must be open. We must surrender and let go and reach beyond the senses, reach with our hearts. Pray for faith, pray for the vision of God.

Note: I cried all through this writing, having the presence of God and being in great ecstasy to behold Him. May God touch your heart and may His Spirit move within you. May you be filled with the grace of God to surrender and let Him accomplish a great work within you.

And I was filled on high with His miraculous light and He reached down and spoke within me. I was filled as never before and knew the presence of God, Father, Son, and Holy Spirit.

Note: As I finished, the bells at All Saints Church rang at 9:00 A.M. As I began to experience the immense splendor, the bells of 8:00 rang. Words do not express anything that I saw or experienced or know from this ecstasy. This was the greatest and the first of three visions, which defined clearly to me our role in the Shepherds of Christ Movement. Jesus defines clearly the role of Fr. Carter in this great mission given to him by the Father.

For Fr. Carter from Jesus:

Jesus speaks: To him who has eyes to see, they will see - not with earthly vision, but with the eyes of faith, and to him who has ears to hear, he will hear with the fluttering of the Spirit moving within him.

I am the Way, the Truth, and the Life. I am the Almighty God. I say to the rocks to fall and they fall and to the grass, grow, and it grows, and to the sun, shine, and it shines. I give to you My love in these letters. Filled with My love, you will conquer this earth, not with weapons and powder or force, but with fires of My love. The fire will wipe out the hatred in the cold hearts and the earth will be covered with My celestial light. The earth will rock and I will appear in the heavens adorned in power and glory and the contrite hearts will be saved. I came to separate the sheep from the goats, the light from the darkness. I come and no one pays Me heed.

To you, My beloved son, Father Carter, I have sent you on a mission to spread this fire that will cover this earth. The hearts of men will turn from their sick and desolate ways to hearts gentle as a little lamb.

There will be one flock and one Shepherd and My staff will rule over all. Hearts consecrated to Our Hearts will lead the light across the earth. This light will be a light of intense brightness, brighter and hotter than any light from a flame. It will be the fire of God's love. The Spirit will move in the hearts of all consecrated to My Heart, and you will know how fire truly spreads, for the love of God is a fire. It is vibrant. It is encompassing. It is smoldering, burning deep within and speedily spreading on the outside. No fire on this earth can ever describe the burning embers that burn from the Sacred Heart of Jesus. No fire burns like the fires coming from My Heart and hearts filled with the love from the Sacred Heart of Jesus.

I have written your name, Fr. Carter, in My Heart, never ever to be blotted out and this earth will be renewed with the fire of God's love through you. You are My beloved priest-son, forever, according to the order of Melchizedek. Most holy and most sacred are your hands that consecrate the Host and write My precious newsletter for My beloved priest-sons. You are never unguarded. You are held within the deepest chamber of My Heart, and you will spread My love to the priest-sons of this earth.

I am Jesus. You will spread My love to all souls on this earth. I love you with the tenderest burning love. I am Jesus, your beloved Savior.

end of March 26, 1996 message
On April 3, 1996, at All Saints Church I wrote:
I was at All Saints, April 3, at the 6:45 a.m. Mass. At 7:00 a.m. the bells rang at the Consecration of the Mass. The Sacrifice of Calvary rings out all over the world and I can be joined at every moment to this Sacrifice. We unite to this Sacrifice praying for ourselves and our brothers. The bell tolls at every moment I live. Whether I am doing dishes, being with my family, or whatever, I make this my offering united to the Holy Sacrifice of the Mass being offered around the world. I make my Morning Offering. United to the Holy Sacrifice of the Mass being celebrated around the world, I give myself completely to the Father in the name of Jesus in the Holy Spirit with all the angels and saints. I make this offering of my life to help in the salvation of souls. My offering is most pure and holy as I unite to the pure and holy Hearts of Jesus and Mary.

What is pleasing to my Father is that at every second I am trying to live in His will operating in love. My heroic or mundane tasks are most important as I give them in sacrifice united to Jesus in the Holy Sacrifice of the Mass.

I live in this way, always united to the sacrifice of Calvary being made sacramentally present on our altars around the world through the hands of His beloved priests.

This is the moment of sacrifice. The bells toll all over the earth and Christ, Chief-Priest and Victim, gives Himself in the Mass through the hands of the priest. I give myself in love to help in the work of redemption.

Jesus speaks: It is most difficult to present any description similar to the original mystical vision. The sketches provide a basis for reference. Nothing in words or pictures even comes close to the original experience. I wish these writings and sketches to appear that you will more fully experience my love through these revelations. Pictures are concrete descriptions of true realities. The sketches provided are more to My liking, employing the element of mystery, for nothing here on this earth will ever show even minutely the splendor of a genuine mystical vision. In expressing the visions in concrete pictures, the element of mystery is overshadowed. You must pray for grace to experience that element of mystery in these writings, knowing the infinitude of the mystery of God can never be expressed concretely through words and pictures. It is through grace that one experiences that which I reveal here.

Messenger: God is the ultimate mystery and He reveals Himself to man as He so chooses. Man must be open, soft and supple, ready for His touch.

end of April 3, 1996 writing
April 9, 1996
Messenger: I went to All Saints Church - saw with eyes unveiled- such an aura of celestial light. I went to Communion, had the presence of God, wanted to cry so hard from the awe of it all. I was not feeling good and He wrapped me as only He can do in His heavenly embrace. My soul sang out and the vision began. My eyes now are still seeing with this effect. He, as it were, lifts up the hard, defined lines and I see with a celestial aura. This is what I see when I see a vision....

After Communion I had this immense presence of God. I knew a vision was coming. My vision gets a certain way. The distinct lines I see before me begin to disappear and are smudged with light.

Then I saw again the celestial lights of heaven. It was as though light was spilled from heaven and landed on the flowers and the corners of everything. The Eucharist took on an immense warmth and I knew God truly present in this room.

I saw with eyes unveiled in my soul and in the room. The room had a celestial aura, it no longer looked defined and clear. It was bathed in a gentle, celestial film and all I saw I wanted to tell to those around me. But I was so caught in His embrace that my mouth did not want to move.

Grace is being spilled on the earth. I have seen this celestial light come upon the altar of sacrifice, the monstrance and the cross. The vision on March 26 (1996) I will never forget as long as I live. The light is so thick and so intense as if the heavens open in these cracks of light and there is a depth far beyond that which any mind can envision.

The sky opened up and it rained down its grace. It opens when hearts are one in the Hearts of Jesus and Mary.

end of April 9, 1996 writing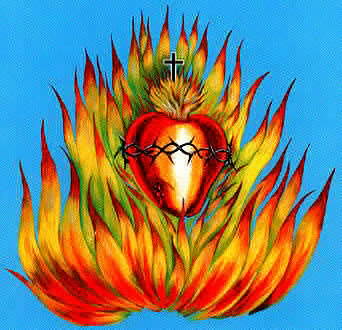 December 17, 1991 His Burning Heart
Messenger: I was alone in All Saints Church after Mass and Communion, in front of the tabernacle, when I saw the Sacred Heart. It was red around the outside, then a layer of yellow and then the brightest light in the center. I felt heat and it looked like an open furnace.

I thought about it all day and it instantly gave me peace and warmth in my heart. This is the purpose of these letters—to draw hearts to the ardent on-fire love of Jesus. I received the following message that day:

"Open your heart to the fire of God's love. He is ablaze in your heart. He wants to dwell in you and love you and others through you. Love God, yourself and one another and experience the fire set aglow in your heart and experience the warmth of His love."

end of writing about December 17, 1991
November 25, 2002 message continues
Messenger: Mary appeared on the building 5 years
later after this vision.
Look at how so many hearts were touched
by these writings in these 11 years,
since December 17, 1991.
Jesus speaks:
Oh My people, I invite you to come to My
building December 17, 2002 at 6:20.
Call Morrow, give them your phone number
and name if you intend to come.
Messenger: Oh my God, I deeply love Thee.
I long for the courts of heaven.
I long for Thee.
Mysteries of Light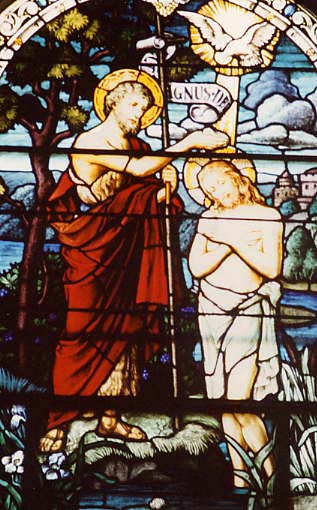 Baptism of Jesus

1. Jesus was baptized by John in the Jordan.

2. Jesus is the Light of the World.

3. Jesus is the way, the truth and the life

John 14: 6

Jesus said:

I am the Way; I am Truth and Life.

4. Our life comes in minutes and seconds -
God outpours His life to us every
minute of every day.

5. Love is so wonderful.

6. Love in our heart for God and others is
our gift.

7. God is so good to us.
He gives us Himself in the Eucharist.

8. I reached up and I felt as if I touched
heaven, in His embrace I knew Him
so intimately. Oh God outpour your
grace to me, I love you so much.

9. Psalm 118: 24

This is the day which Yahweh has made,
a day for us to rejoice and be glad.

10. December 18, 1995 - this was 5 years before
Fr. Carter's death

December 18, 1995

Excerpt from the Mass Book

The place Jesus took me was into the deepest recesses of His Heart. I was enveloped in His burning love. It was a red room with heat and an intense glow. I was swept away in this embrace, and I only existed in Him. The power of the Almighty God enveloped me, and I only existed in Him. There was no fear, for I was existent in this Almighty Being. My heart was wrapped in the eternal embrace of this Supreme Being. The security, the power I know was His deep presence in which I existed.

I knew the room was red and warm. I knew His immenseness, but I felt my own completeness in Him. I did not feel little, as a speck, but elevated and empowered for I existed then in Him in a most special way.

I was overtaken by the love of God. The fire of the Holy Spirit filled me. I was absorbed by the love of the Father, and I existed IN Him and in the deepest recesses of the Heart of Jesus. Our heaven on earth is these inner chambers of His magnificent Heart - the Heart of the Almighty God, with all the power, with omnipotence, with the fire of the love of God. He took me to the deepest chamber of this fiery Heart, and in that moment, I touched eternity, for I knew what it was to be enveloped in the deep furnace of His love. I now want to exist in this chamber of His Heart, swept away in His burning love, absorbed in my every cell with His love.

We do not understand the fire of His love. We do not understand what it is to be absorbed by love itself. He took me to the inner, deepest chamber of His Heart, and I felt the heat and knew the presence of love itself, and there was no fear, only a feeling of completeness, omnipotence, all-embracing, penetrating love - a power indescribable in words, a saturation of my being in the presence of God, and I was as I was created to be - living in Him!

This is how I will forever live my life, saturated with His divine life and love deep within this inner chamber of His burning Heart, living in Him as He possesses my being, and I operate with His power in me.

Little creatures though we are, we are His, His power, His life, flowing through us. In Him, we are as the Father intended: one in Him, each one of us, dwelling in this fiery furnace of His love. With our fears quieted and our hearts empowered by His life, we live forever in Him - in the Heart of Jesus.

Let no man separate what God has joined together. I am wed in the deepest love with my beloved Spouse, wed to the Heart of Jesus. As I am, I am one in Him. I live and I breathe in Him. He, Who is love, He Who is our all, He Who is mighty and without limits, He Who is, He Who is God and as I live, He lives in me in this world.

I am wed to Him, and I shall not fear for He is God - one, complete, loving, God. Heart of Jesus, I place my trust in Thee. As I live, I live in Your most adorable Heart, the furnace of God's love!
On December 18, 2000 Jesus took Fr. Carter home.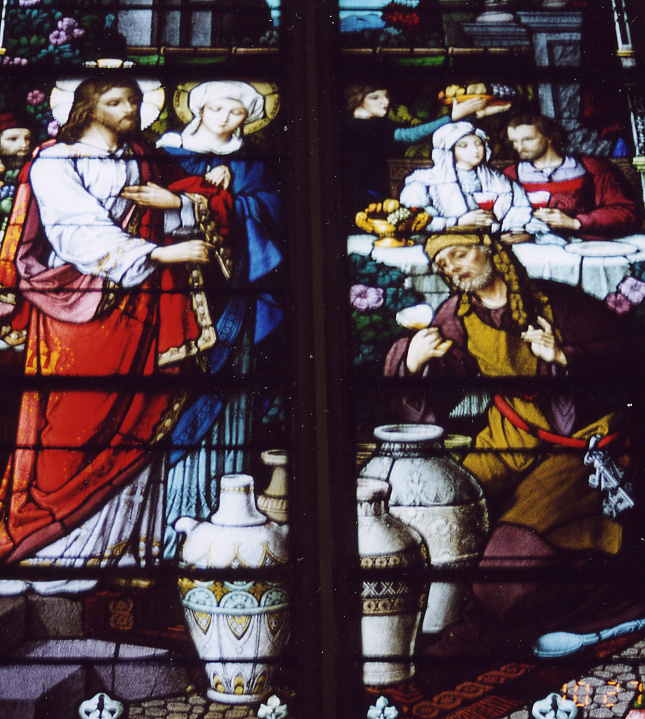 Marriage at Cana

1. Jesus is Light and in Him there is no darkness.

2. Jesus performed a miracle at Cana.

3. Jesus turned water into wine.

4. When we unite deeply in our hearts and pray
God outpours His grace to us.

5. The Mass is such a gift to us.

6. Excerpt from September 27, 1999
Messenger:

The Prayer Before the Holy Sacrifice of the Mass was given at the Cathedral of St. Peter in Chains in the little chapel on December 27, 1995. This is the chapel that was partially damaged by fire on June 8, 1999. When the priest began to come up the aisle to say Mass, I was given this prayer. I grabbed my notebook and began to write in a corner on the back of it. I had only room for 2 lines. Jesus kept talking. I went to another corner of the notebook back cover. The back of the notebook was already written on. By the time the prayer was given, which I had tried to write bent over so no one would see me writing, the priest had just arrived at the altar. I had to label the little scribbles I had put on the notebook back until I could write them in sequence. I had at least 4 sections. It was December 27, 1995, I remember the dates. They are profoundly engraved in my soul. I include here the Prayer Before the Holy Sacrifice of the Mass given from our Lord which I scribbled on the back of the notebook.


A Prayer before the Holy Sacrifice of the Mass

Let me be a holy sacrifice and unite with God in the sacrament of His greatest love.
I want to be one in Him in this act of love, where He gives Himself to me and I give myself as a sacrifice to Him. Let me be a holy sacrifice as I become one with Him in this my act of greatest love to Him.
Let me unite with Him more, that I may more deeply love Him. May I help make reparation to His adorable Heart and the heart of His Mother, Mary. With greatest love, I offer myself to You and pray that You will accept my sacrifice of greatest love. I give myself to You and unite in Your gift of Yourself to me. Come and possess my soul.
Cleanse me, strengthen me, heal me. Dear Holy Spirit act in the heart of Mary to make me more and more like Jesus.
Father, I offer this my sacrifice, myself united to Jesus in the Holy Spirit to You. Help me to love God more deeply in this act of my greatest love.
Give me the grace to grow in my knowledge, love and service of You and for this to be my greatest participation in the Mass. Give me the greatest graces to love You so deeply in this Mass, You who are so worthy of my love.
-God's Blue Book, December 27, 1995
7. God has called us to pray for our priests.

8. Our priests are such a gift to us.

9. In the Mass the wine becomes the Blood
of Jesus.

10. This is such a gift we are the bride,
Jesus is the bridegroom.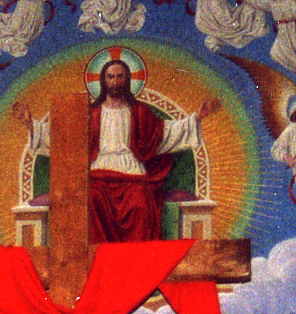 Kingdom of God

1. Jesus speaks: I call you to spread My Word.
I call you to spread the Kingdom.

2. Jesus speaks: I call you to love.

3. 1 Peter 2: 1-10

Rid yourselves, then, of all spite, deceit, hypocrisy, envy and carping criticism. Like new–born babies all your longing should be for milk—the unadulterated spiritual milk—which will help you to grow up to salvation, at any rate if you have tasted that the Lord is good.

He is the living stone, rejected by human beings but chosen by God and precious to him; set yourselves close to him so that you, too, may be living stones making a spiritual house as a holy priesthood to offer the spiritual sacrifices made acceptable to God through Jesus Christ. As scripture says: Now I am laying a stone in Zion, a chosen, precious cornerstone and no one who relies on this will be brought to disgrace. To you believers it brings honour. But for unbelievers, it is rather a stone which the builders rejected that became a cornerstone, a stumbling stone, a rock to trip people up. They stumble over it because they do not believe in the Word; it was the fate in store for them.
But you are a chosen race, a kingdom of priests, a holy nation, a people to be a personal possession to sing the praises of God who called you out of the darkness into his wonderful light. Once you were a non–people and now you are the People of God; once you were outside his pity; now you have received pity.

4. God is light and in Him there is no darkness.

5. Jesus is the Light of the World.

6. The King of Glory was born in a stable
in Bethlehem in such poverty.

7. In the barren earth, Christ was born.

8. The barren Elizabeth conceived John.

9. Luke 3: 4

as it is written in the book of the sayings of Isaiah the prophet:

A voice of one that cries in the desert:
Prepare a way for the Lord,
make his paths straight!

10. We may feel we are crying in a
barren land, in a desert, but
God can outpour His gifts.
God can give us a land brimming
with milk and honey.
Transfiguration

1. God is light and in Him there is no darkness.

2. Jesus is the Savior of the world.

3. God may appear before us and we
do not see Him.

February 5, 2001


4. Jesus is giving us this gift now




5. God is light and in Him there is no
darkness

6. Jesus speaks: Come to My building December 17 -

pray for My Movement

help Me.

7. "Lord Jesus, Chief Shepherd of the flock, I consecrate myself to Your most Sacred Heart. From Your pierced Heart the Church was born, the Church You have called me, as a member of Shepherds of Christ Associates, to serve in a most special way. You reveal Your Heart as a symbol of Your love in all its aspects, including Your most special love for me, whom You have chosen as Your companion in this most important work. Help me to always love You in return. Help me to give myself entirely to You. Help me always to pour out my life in love of God and neighbor! Heart of Jesus, I place my trust in You!"

8. "Dear Blessed Virgin Mary, I consecrate myself to your maternal and Immaculate Heart, this Heart which is symbol of your life of love. You are the Mother of my Savior. You are also my Mother. You love me with a most special love as a member of Shepherds of Christ Associates, a movement created by your Son as a powerful instrument for the renewal of the Church and the world. In a return of love, I give myself entirely to your motherly love and protection. You followed Jesus perfectly. You are His first and perfect disciple. Teach me to imitate you in the putting on of Christ. Be my motherly intercessor so that, through your Immaculate Heart, I may be guided to an ever closer union with the pierced Heart of Jesus, Chief Shepherd of the flock."

9.

10.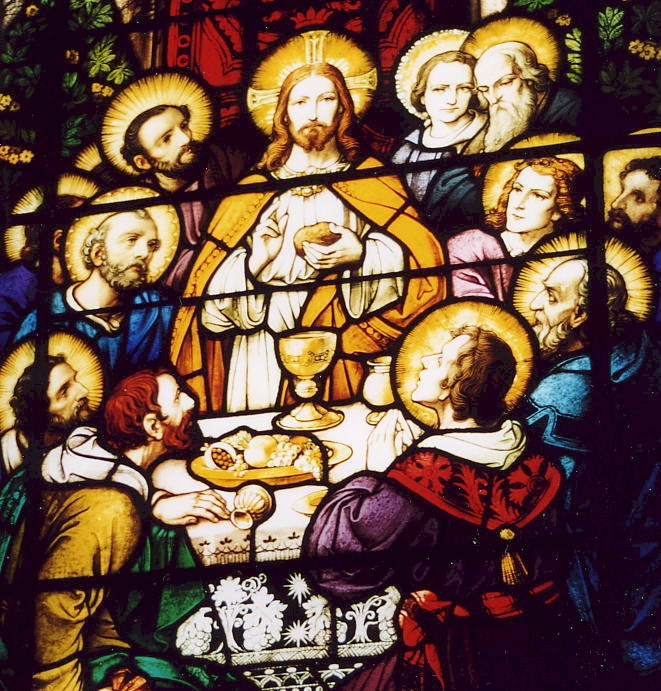 Last Supper

1. Picture the Last Supper

2.

Here is Fr. Carter -
He said Jesus told Him the book
should be this color
for Jesus' heart

3. Jesus shows us His Heart




4. We need funds to do this work -
Oh God please help us spread the
Blue Book messages and
knowledge about the Eucharist.

5. Oh God help us.

6. Oh God thank you for the Eucharist.

7. Excerpt from God's Blue Book - April 13, 1994

Jesus speaks: How, child, do I, Jesus, tell you I love you? You hold on to silly things when God is in your midst and is ardently loving you. I am Jesus Christ, the Son of God. I am writing to each precious child this day. I am on fire for love of you. I remain in the Eucharist to be with you with My ardent love. I did not want to leave My beloved ones at the Last Supper. I love you so, My dear and ardently loved children. I remain with you this day in the Blessed Sacrament, the same Jesus Who died a brutal death on the Cross.

8. Luke 22:19-20

Then he took bread, and when he had given thanks, he broke it and gave it to them, saying, 'This is my body given for you; do this in remembrance of me.' He did the same with the cup after supper, and said, 'This cup is the new covenant in my blood poured out for you.

9.




A priest is a gift from God.
The Eucharist is a gift from God.





10. God so loved the world He sent His Son.

John 3:16

For this is how God loved the world:
he gave his only Son,
so that everyone who believes in him
may not perish



Christmas cards available

To order cards on the internet click here

call Morrow 1-513-932-4451

Suggested Donation of at least $2.00

inside of card




Rosary Books for sale


Shepherds of Christ Ministries
P.O. Box 193
Morrow, OH 45152-0193
USA

to use a credit card call Morrow at 1-513-932-4451


Red Rosary Book
$10 + shipping


Blue Rosary Book
$10 + shipping


Parents and Children's
Rosary Book
$10 + shipping

Little People and Elderly
Rosary Book
$10 + shipping


(English)



(Spanish)

Rosary Coloring Books
$5 each book + shipping

From September 5, 2002
during the special prayer service
in Clearwater, Florida
during the 6:20 prayers.

The images looked exactly like this.

This was taken without a flash.

There have been physical healings
on the 5ths and at other times.

Excerpt from September 17, 2002

I wish the store to carry the Christmas
materials immediately, coloring
books, Blue Books, Spanish Coloring
Books.

I wish image rosaries be made available in
the store and on Tom's farm.

These must also be ordered, it takes
months for their delivery, the requirement
has been made the materials are covered
before the order.

I ask you to have Christmas presents that
reflect Mary's image.

What a gift I give to the earth, you
should tell people about this especially at
Christmas.

end of excerpt from September 17, 2002

---

Please pray for the Cardinal
Our Lord has asked us to pray for.

We desperately need funds.

We need funds desperately.

We need funds to send out
the retired Bishop's mailing.


Please pray for the Cardinal
Our Lord has asked us to pray for.

---

It is difficult for us every month to make the
Virgin Mary payment.

We cannot keep the store stocked
because of the shortage of money.

Our Lord has asked us to stock the store
for Christmas.

He has asked all to come and buy
Christmas presents from the store.

Can you help us in any way?


Credit card donations accepted.


Shepherds of Christ Ministries
P. O. Box 193
Morrow, Ohio 45152
1-888-211-3041
---
---
---

Copyright © 2002 Shepherds of Christ.
Rights for non-commercial reproduction granted:
May be copied in its entirety, but neither re-typed nor edited.
Translations are welcome but they must be reviewed for moral and
theological accuracy by a source approved by Shepherds of Christ Ministries
before any distribution takes place. Please contact us for more information.
All scripture quotes are from the New Jerusalem Bible, July 1990, published by Doubleday.
Revised: November 24, 2002
URL: http://www.sofc.org
Contact Information for Shepherds of Christ
Email: info@SofC.org
---
Shepherds of Christ Ministries
P.O. Box 193
Morrow, Ohio 45152-0193

Telephone: (toll free) 1-888-211-3041 or (513) 932-4451
FAX: (513) 932-6791