Mary has requested that the daily message be given each day to the world. It is read nightly at the prayer service from her Image Building in Clearwater, Florida, U.S.A. This is according to her request. All attempts will be made to publish this daily message to the world at 11 p.m. Eastern time, U.S.A.

---

We acknowledge that the final authority regarding these messages rests with the Holy See of Rome.

---
---
A Prayer for Intimacy with the Lamb, the Bridegroom of the Soul

Oh Lamb of God, Who take away the sins of the world, come and act on my soul most intimately. I surrender myself, as I ask for the grace to let go, to just be as I exist in You and You act most intimately on my soul. You are the Initiator. I am the soul waiting Your favors as You act in me. I love You. I adore You. I worship You. Come and possess my soul with Your Divine Grace, as I experience You most intimately.
---
Messenger: Include Our Lady of the Holy Spirit Center in 6:20 prayers.
---
Jesus Speaks Regarding Selling Tiles with People's Names on Them at the Virgin Mary building in Clearwater, Florida
Jesus speaks: It takes the attention away from the image and puts it on people's names.
My child, people will be coming up reading the names, focusing on themselves and ignoring the image.
I do not want the tiles under the image.
I do not want you to sell parts of the building.
I want the people of the earth to donate the money for My purpose.
Never before in the history of the world have I given such a wonder, and man in his blindness does not see it.
Man is so blind, he fails to see the sign that God has given. You are not selling candy. I want recognition of the Virgin Mary given as a sign to lead men to My Eucharistic Heart.
For those who have donated tiles, a wall can be made that these tiles may be placed on.
I want the building given free and clear.
I do not want you to sell tiles.
This is My Movement, this is My building, this is My world. I give you the Virgin Mary Building. The picture painted by the hand of God. I do not wish you to sell My wall. If they have so little faith to believe in the wonders of God when given this sign, why should you have so little faith that it is My problem? It is My wall, it is not yours to sell. They are My people. The Father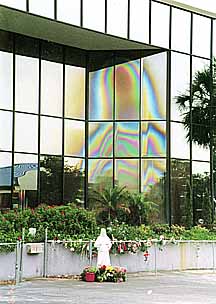 has chosen this spot to paint this miraculous image and you as little men do not see the power of God behind it. I healed the woman's wounds. It is My Movement. I give directions for Shepherds of Christ. I ask men to contribute to My Movement. I do not ask them to buy a little part of My Building I have chosen for My work in bringing about the completion of My Fatima Mission. I am one with My Mother. She is the Queen of Peace. You must have faith. You have a tremendous job to accomplish, the task I ask for. People must respond. It is not your building. It is My Movement. I have picked Mike, I have picked you, it takes faith, faith, faith. Would the newsletter be in 90 countries and go to 70,000 priests if you did not have faith? You must obey the messages, I am talking to you. If I choose to chastise the earth because people have ignored Mary's image, it is what I choose. Only your prayers, as you plead as little holy children, only your purity in generosity and love, will move the Father's Heart. My Heart is the Heart of God. I am the Sacred Heart of Jesus. I am God. Remember this, I love you. I want love in return. I am Jesus Son of God.
I expect the people of this earth to respond and to donate free and clear.
It is My building, I have given it to you.
I have chosen this place from the beginning to write here on the wall.
The picture of My Mother has been painted by the hand of God.
| | | |
| --- | --- | --- |
| Do you ignore Me? | | Are you this blind? |
What is to become of you, if when given such a sign after all My warnings, My Father's warnings, My Mother's visits, you do not respond?
God is speaking to you. This is what I want. I give these revelations.
3 years later - you still do not see.
I want this celebration on December 17, 1999, as the Father requested. God wants the Shepherds of Christ to hold this building free and clear. From this building We give to you Our messages for the earth. Listen to Me. I am the Son of God, Chief Shepherd of the Flock.
I come to lead the world into oneness.
You can do as I have told you.
I appear in My garden in Clearwater.
A Woman cries to you.

A Woman Clothed with the Sun.

You are so set in your ways, you will not listen.

In the garden of Eden, Eve did her own will.





Jesus speaks: In the garden of Mary in Clearwater, Florida, the Father wants to see Mary's children come and gather and pray and be united with others all over the world, praying at 6:20 as requested by the New Adam and the New Eve, praying for the coming of the Holy Spirit.
My children of Light, born of the Woman, do you see?
And darkness covered the earth and with the dawn came the light and the scales fell from their eyes and they saw for the first time the splendor of the New Day. Is it your will or will you do the will of the Father?
Our Father Who art in heaven . . .
Thy kingdom come, Thy will be done on earth as it is in heaven.
Give us this day . . .
Deliver us from evil and lead us not into temptation.
Jesus speaks: In the garden of Olives I sweat Blood.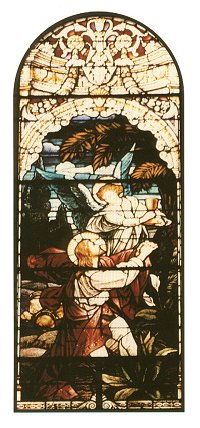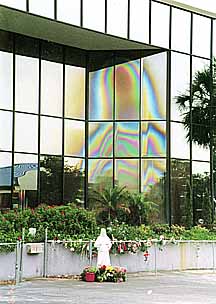 Jesus speaks: In the garden of Mary will you bring forth great fruit as the children of light, march in the world, praying united in the Mass and praying as a body at 6:20?
Will you pray and consecrate your hearts?
Will you listen to what I tell you in My Movement?
Churches praying these prayers before the tabernacle will receive tremendous graces. I will turn their little churches into cities of light in which the love of My Heart will beat in this world.
---

A City on a Hill Shines to the World Excerpt
February 23, 1994 5:30 a.m.
Jesus speaks: I am the light of the world. A city on a hill will shine to the world. You at the Center will be this city when you are filled to the brim with the love of Jesus. What power, what might, to have each person a personal spouse of Jesus Christ! This is the light to the darkened world. The love of Jesus radiates from the very being of those who love Him. What light when all together are lifted by His love abounding deep within their breasts!
---

I Died For You Excerpt
February 23, 1994
Jesus speaks: Listen and preach My love and emotion here. Priests will create little cities, little cities in each church to spread the light of Christ to this sick world. Each priest can create his own little city, a powerhouse of God's love. God has all the power. His power is endless. It never runs out. It is might. You have no power except through Him. Churches filled with the intimate love of Jesus will be powerhouses.
---

I Want My Priests to Come Back
January 17, 1994 3:40 a.m.
Jesus speaks: You know I am He Who lifts you up. In one second I can turn your feelings around and lift you up. Constantly pray to Me. You need Me through these times. Remember, I truly died for you on the cross. Remember, little one, I have chosen you to write to Me. Do you think I will ever abandon you? I am a God who truly loves His people. I love you with such ardent love. You must never doubt.
Look into My face and see My gentleness. I am the kindest of all hearts. I am He who knows how to love with such love. Become totally lost in My arms.
Do you think Satan will not taunt you? Put him behind you. You are being guarded by God and His heavenly court. Walk in My ways and the angels walk with you on your path. You are escorted on your way and you are never alone. You are guarded as a precious treasure that is being transported to another place.
You need to put all your cares in My hands. You are developing true trust when you let go and let Me take over. Keep trusting and silence the ugly prompting of Satan who wants you to worry about useless things. Quit worrying and pray and play with your children. I am telling you there is so much peace and grace gained by private prayer with them. I will tend to all the details of your life. Do not worry for one moment. Put your life in My hands. I am here, little one. Read this message and all of them over and over again.
You need to go to the Blue Book for your answers. Your answers are found there. I never leave your side. God is guarding you. Just continue to have a union with Me all through the day. All the prayer time alone with Me in one day is not enough. I want you in constant prayer.
Turn to Me and My Blue Book. This will help many priests to come back and sit before Me in private union with Me. When priests come back to the tabernacle, the flock will begin to be led back to His altar. Priests need to read these letters. They are the preachers. If they do not value their own relationship with Jesus, if they are being led away from Me with busyness, they will not preach the intimate love of Jesus. They are so busy, but it is like throwing out the baby with the bath water. I am the center and their relationship with Me is utmost.
The priests need these messages. They need to have an intimate, close union with Me. They should be preaching "time in front of the tabernacle." They should be preaching My intense love for My people and how I have so much to give. Some sermons are so complicated--yet nothing about union with Me in the Eucharist and in front of the tabernacle.
I want My priests to come back and pray before My tabernacle. I want them to read these messages and make Jesus the Center of their lives. When they are led back to Jesus, they will lead the flock home. Priests need adoration every day for at least an hour. I don't care how busy they are. None of it matters if they are not spending time in private prayer alone with Me. They need to come and get their supplies. They need to quit thinking they are doing it and turn back to turning their lives totally over to Me, to totally letting their burdens and busy lives off at the foot of My cross and letting Me lead the way.
There is not one priest who has so much to do that he cannot do private adoration daily. When the priest comes back to the power in the Eucharist and the tabernacle, the congregation will turn to God for their troubled hearts. Satan has led priests away from Jesus. They are so busy they cannot do all their work, but this must all take second place to praying silently before God and reading His words. These letters will help many priests to come back and be intimate with Jesus.
All the rituals, all the upkeep of the churches, all the little details, and the King of Glory sits alone! You have thrown out the baby with the bath water. You are missing the boat.
I want the priests to read this message. Where is the reverence after Communion and who has even heard it mentioned in the church? Private union with Jesus! What an honor! I have all you need. Come to Me and I will give you rest. I am all powerful. I have all the power. I am hyper--vigilant over your lives. I guard you. Quit trying to do it yourselves. Become selfless and let Me possess your souls.
Have the priests spread these messages. Read them in church. I want adoration of the Eucharist back. I want people to know I am God and I am coming to them in Holy Communion. I want the Blessed Sacrament exposed. I want My churches open. Union with Jesus, the love of Jesus, trust, faith, love for one another, love of God--I want all of these preached from the pulpit!
I am the Alpha and the Omega. I want My people to be led back to the center, which is Jesus. Pray for your priests. They are under attack. If Satan can wreck the family, the priests, the children, he has it made.
You are under attack, My beloved priests, and you, in your busyness, are being led away from your union with Jesus. Bring yourselves back to Me and let Me give you My love. I am indeed the bridegroom of your souls. I wait for My beloved ones at the altar. I long for private union with all My beloved ones.
Come to Me, all who labor and are heavily burdened, and I will give you rest. Come and be lifted up to heights you never dreamed possible. I am God. Put your lives in My hands. Let Me run your life. Quit running amok. You have lost your way and are running down the wrong road. Bring your lives back to Jesus in the tabernacle.
The world is getting farther from God every minute. Read the messages at prayer meetings. Spread them by word of mouth. The time you waste is valuable. These words are not meant to be saved. Spread them here by any means possible. I want them out, I tell you! If someone wants to read some messages, give them to them and let them read them at prayer meetings. There is no secret here. They are from Me and I want them out. I want you to speak. A lot of your discontent is in sitting around with all these messages and not spreading them. Tell your friends to speak. Speak My words here. You don't have to mention the source. Spread the messages. You are not what is important. The messages are. You will be exposed. Don't worry who knows, but don't spread your own story. Spread the messages. Like ripples on a pond, the love of God will be spread throughout the land. I have so much to give to My hurting ones. I am your God. I died for you out of deepest love. I have come in these messages to lead you back home.
Quit worrying of details. I am He Who runs the show. Pray for guidance every day. Spend one hour in front of the tabernacle. You cannot do in a million years what I can do in one moment. Quit relying on yourselves. You are only pushing buttons. When you are fixed in Me, the right door opens. When you go it alone, you have a hard road to walk. One hour in private adoration. Be silent or read the Blue Book. Your life will become uplifted by My teaching and you will sail a blue sky.
Spend time in silence and some in reading My words in front of Me. I am talking to you in these letters. What power, to read them in front of the tabernacle! You can't go it alone. You need My help. You need your supplies. But you must come and get them! You are following your tail around if you do it alone. I am He Who can do all this. When you realize My power in adoration, your lives will change. As long as you are too busy you will have a hard time. The soul craves this union with Me.
Lead the priests back to adoration and the people will follow. Our leaders have become too busy for adoration. This is the key, the key to unlock the doors to the world's problems. It is found in front of the tabernacle, at daily Mass and Communion. Do the priests ever preach any of this? You have forgotten your center, Jesus, in the Eucharist! All the power is found in Jesus. You have all that you need and you walk about and decorate My churches and clean every speck of dust and repair My pews and carpet My house and fix My organs but you walk about and miss the King of Glory who sits there all alone! Spread the messages on the tabernacle. I want them out!
January 17, 1994
Prayer for Union With Jesus
Come to me, Lord, and possess my soul. Come into my heart and permeate my soul. Help me to sit in silence with You and let You work in my heart.
I am Yours to possess. I am Yours to use. I want to be selfless and only exist in You. Help me to spoon out all that is me and be an empty vessel ready to be filled by You. Help me to die to myself and live only for You. Use me as You will. Let me never draw my attention back to myself. I only want to operate as You do, dwelling in me.
I am Yours, Lord. I want to have my life in You. I want to do the will of The Father. Give me the strength to put aside the world and let You operate my very being. Help me to act as You desire. Strengthen me against the distractions of the devil to take me from Your work.
When I worry, I have taken my focus off of You and placed it on myself. Help me not to give in to the promptings of others to change what in my heart You are making very clear to me. I worship You, I adore You and I love You. Come and dwell in me now.
---
Jesus speaks: I am Jesus, I have spoken, I have delivered the message of My Father, will you hear me?
On December 5, 1996, I appeared on the cross, My mouth moving, after Mary appeared for 2 1/2 years on the 5ths.
On December 17, 1996, she appeared on the building, she said "no one was listening", she was ignored.
On December 17, 1999, in the garden of Mary will you help to secure this site, Virgin Mary Building in Florida, for this purpose of the Hearts of the New Adam and the New Eve?
I am God, I have spoken here today as never before. I am the New Adam. Mary is the New Eve. You must come through Our pure and holy Hearts. You are the children of Eve. I call you. I am Jesus Chief Shepherd of the Flock. This is My Movement to help lead the world into oneness and lead the strayed ones home to My Eucharistic Heart. I am the Chief Shepherd of the Flock.
---
John 10: 11-15
I am the good shepherd:
the good shepherd lays down his life
for his sheep.
The hired man,
since he is not the shepherd
and the sheep do not belong to him,
abandons the sheep
as soon as he sees a wolf coming,
and runs away,
and then the wolf attacks
and scatters the sheep;
he runs away
because he is only a hired man
and has no concern for the sheep.
I am the good shepherd;
I know my own
and my own know me,
just as the Father knows me
and I know the Father;
and I lay down my life for my sheep.

---

Genesis 3:9-15, 20
But Yahweh God called to the man. 'Where are you?' he asked. 'I heard the sound of you in the garden,' he replied. 'I was afraid because I was naked, so I hid.' 'Who told you that you were naked?' he asked. 'Have you been eating from the tree I forbade you to eat?' The man replied, 'It was the woman you put with me; she gave me some fruit from the tree, and I ate it.' Then Yahweh God said to the woman, 'Why did you do that?' The woman replied, 'The snake tempted me and I ate.'
Then Yahweh God said to the snake, 'Because you have done this,

Accursed be you
of all animals wild and tame!
On your belly you will go
and on dust you will feed
as long as you live.
I shall put enmity
between you and the woman,
and between your offspring and hers;
it will bruise your head
and you will strike its heel.'

The man named his wife 'Eve' because she was the mother of all those who live.
---
Luke 1:46-55
The Magnificat
And Mary said:
My soul proclaims
the greatness of the Lord
and my spirit rejoices
in God my Saviour;
because he has looked upon
the humiliation of his servant.
Yes, from now onwards
all generations will call me blessed,
for the Almighty
has done great things for me.
Holy is his name,
and his faithful love extends age after age
to those who fear him.
He has used the power of his arm,
he has routed the arrogant of heart.
He has pulled down princes
from their thrones
and raised high the lowly.
He has filled the starving with good things,
sent the rich away empty.
He has come to the help
of Israel his servant,
mindful of his faithful love
--according to the promise
he made to our ancestors--
of his mercy to Abraham
and to his descendants for ever.
---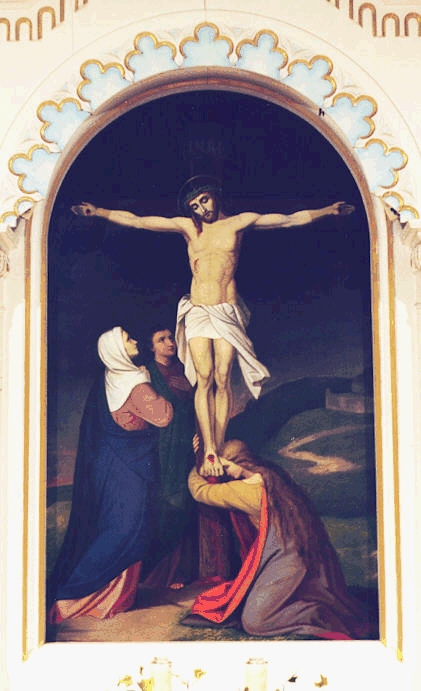 John 19:25-27
Jesus and his mother
Near the cross of Jesus stood his mother and his mother's sister, Mary the wife of Clopas, and Mary of Magdala. Seeing his mother and the disciple whom he loved standing near her, Jesus said to his mother, 'Woman, this is your son.' Then to the disciple he said, 'This is your mother.' And from that hour the disciple took her into his home.
---
Daniel 7: 15-27
The interpretation of the vision
'I, Daniel, was deeply disturbed and the visions that passed through my head alarmed me. So I approached one of those who were standing by and asked him about all this. And in reply he revealed to me what these things meant. "These four great beasts are four kings who will rise up from the earth. Those who receive royal power are the holy ones of the Most High, and kingship will be theirs for ever, for ever and ever." Then I asked about the fourth beast, different from all the rest, very terrifying, with iron teeth and bronze claws; it ate its victims, crushed them, and trampled them, and trampled their remains underfoot; and about the ten horns on its head -- and why the other horn sprouted and the three original horns fell, and why this horn had eyes and a mouth full of boasting, and why it looked more impressive than it fellows. This was the horn I had watched making war on the holy ones and proving the stronger, until the coming of the One most venerable who gave judgement in favour of the holy ones of the Most High, when the time came for the holy ones to assume kingship. This is what he said:
"The fourth beast
is to be a fourth kingdom on earth,
different from all other kingdoms.
It will devour the whole world,
trample it underfoot and crush it.
As for the ten horns: from this kingdom
will rise ten kings, and another after them;
this one will be different
from the previous ones
and will bring down three kings;
he will insult the Most High,
and torment
the holy ones of the Most High.
He will plan to alter the seasons
and the Law,
and the Saints will be handed over to him
for a time, two times, and a half a time.
But the court will sit,
and he will be stripped
of his royal authority
which will be finally destroyed
and reduced to nothing.
And kingship and rule
and the splendours of all the kingdoms
under heaven
will be given to the people
of the holy ones of the Most High,
whose royal power is an eternal power,
whom every empire will serve and obey."
---
Luke 21: 34-36
Be on the alert

'Watch yourselves, or your hearts will be coarsened by debauchery and drunkenness and the cares of life, and that day will come upon you unexpectedly, like a trap. For it will come down on all those living on the face of the earth. Stay awake, praying at all times for the strength to survive all that is going to happen, and to hold your ground before the Son of man.'
---
November 27, 1999 - Second Message
Given October 26, 1999 - Excerpt from God the Father's message.
God the Father speaks: ...I wish this invitation be extended daily on the Internet to come and pray during the Christmas Novena at the image site. If this is impossible, pray at home for the coming of Jesus in the hearts of men...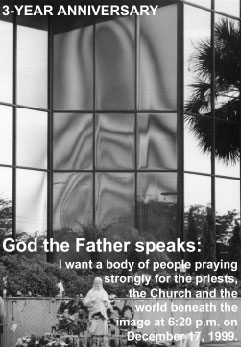 God the Father, Jesus, and Mary are calling all to pray in front of Mary's image in Clearwater, Florida, on December 17, 1999.This important day marks the 3-year anniversary of Mary's appearance on the building. God is asking us to gather for this special day, praying for peace, and especially to make reparation to God, the Sacred Heart of Jesus, and the Immaculate Heart of Mary.

October 11, 1999 - Jesus speaks: …I want all who can come to Florida December 17, 1999, to come there. Mary wants the apostles gathered in prayer, but if you cannot come, then you pray fervently.

October 15, 1999 - Mary speaks: My dear children, I invite you to come to my Image site to pray December 17, 1999. I am Mary your Mother. Please come.

October 15, 1999 - Jesus speaks: I wish you to come and pray with the greatest fervor before the image of My Mother December 17, 1999. …Please come and pray. If this is impossible, pray as a body before the tabernacle and at all Centers including: Toledo, Ohio; California; Kansas; Pennsylvania; Delaware; wherever one is able to pray. I love you, Jesus.

October 26, 1999 - God the Father speaks: You are the children of Eve. You are sons of that woman and I send you the Woman, your Mother and you ignore her.

I want a body of people praying strongly for the priests, the Church and the world beneath the image at 6:20 p.m. on December 17, 1999, and all others praying as a body united to the Holy Sacrifice of the Mass throughout the world. I wish all priests who can to celebrate Mass at 6:20 p.m. on December 17, 1999, and every day after, until Christmas. I wish all to pray this novena for these days December 17, 1999-December 25, 1999 at 6:20 praying for the coming of the Holy Spirit, healing, oneness, to be spread with the Blood of Jesus as directed by My Son in a message February 23, 1999. I want this. I want fervent prayer. I want unity in the hearts. I want men praying as a body at 6:20 p.m. as requested by Jesus and Mary. I want communal reparation by all receiving Communion and/or making a spiritual Communion united to the Mass.

I wish an invitation to this gathering to be circulated, stressing making reparation to God, reparation to the Hearts of Jesus and Mary.

January 5, 1999 - God the Father speaks: It is because of your fervor to pray here that you have held back the hand of My Son from punishing the earth with just punishment for the crimes committed against your God.
Please come and join us for prayer at the site in Clearwater, Florida, the other sites mentioned in this invitation, or from wherever you can. Thank you and God bless you,
Shepherds of Christ Ministries.
December 17, 1999 Planned Activities:

Holy Spirit Novena at 6:20 p.m.

Shepherds of Christ Prayers

Rosary

Fatima Procession

Songs

For more information contact: Shepherds of Christ Ministries, P.O. Box 193, Morrow, OH 45152-0193, U.S.A. Tel: (513) 932-4451, Toll Free: (888) 211-3041. FAX: (513) 943-6792.
Internet: http://www.SofC.org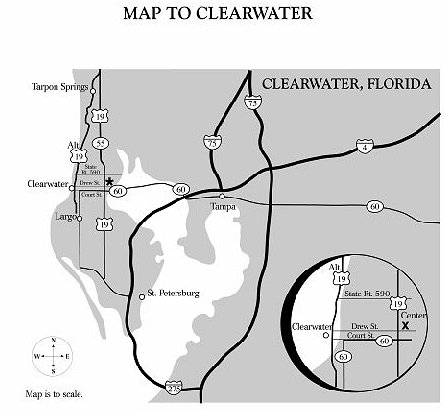 ---
November 27, 1999 - November 27, 1999 Nursing Home Message - Third Message
Mary's Message from the Rosary of August 27, 1996

Mary speaks: I stood beneath the cross of my Son, and my heart was in such pain for I saw Him before my eyes. I saw Him covered with blood. I saw Him die. My heart, my children, my heart to watch my Son, but my heart, my heart, how I suffered for my little children of the world that give in to this world and give up the love of my Son. O my little children of light, I give you this message. Carry this light into the darkness for your Mother Mary, for I stood beneath the cross and I cried. I cried for the little ones. I cried for the young ones, the ones that do not care and will lose their souls. How do I make you see for you will not listen to me? What can I do? I come. I appear. I beg. I plead. I give you these gifts from my Son, and you reject me. I do not deliver messages very often anymore for I have been ignored. The message is the same. You do not read the messages I have given to you. Please help me. Help the little children. I appear. I appear. I appear, and I am ignored. I stood beneath the cross, and I cried. I cried, and my heart was in such anguish for my little children, for I am searching for them this day as I searched for the Child Jesus. Please, please help me. I cannot hold back the hand of my Son any longer. I am Mary, your Mother. I ask you to help my children. You are my children of light.

Song: O Lady of Light, shining so bright, be with us this day, guiding our way, O Lady, O Lady of Light.

Mary speaks: I appear to you as Our Mother of Sorrows.
(End of August 27, 1996 message.)
---
Mary speaks: I stood beneath the cross of my Son and I cried for my children in your world today. Won't you offer up all you do all day for the priests and the Church and the world? Love the souls. My Son gave His Life for each soul. If you love Jesus, you will love those He loves and offer your lives, your little ordinary things, as a prayer. Jesus gave His Life. He gave His flesh and His Blood. He died on the cross for all the souls. We love each of you more than any human person on this earth can.
Oh my sweet children, help me, I cry to you. Please offer your little lives given as a sacrifice for the intentions of my Son Jesus and His Movement. He wants every soul with Him in heaven. Your lives today are so important to help in the salvation of souls. Live to love God and all others. Offer up all you do, sleeping, eating, and so forth, as a sacrifice for the intentions of my Son Jesus and the intentions of His Movement, Shepherds of Christ.
Oh my children, I am with you every moment, in all your suffering and joy. I stood beneath the cross of my Son and I watched Him die. Many of my children are dying a spiritual death. They could go to hell. Please pray for them, my precious child. Put the earth in my Heart and Jesus' Heart. I love you so much, Mary.
---
Messenger: When visiting a nursing home this is a plan you can follow to pray a little part of the rosary with the elderly or sick residents.
What is usually done and tolerated by the elderly folks is one Our Father, five Hail Mary's and another Our Father. The song, A Song from Jesus, can be sung before and after these prayers.
It is desirable to have a big picture of The Coronation of Mary when doing these meditations. Also it is recommended that you have pictures of the Sacred Heart and the Immaculate Heart of Mary.
---
Excerpt from February 22, 1995 rosary, "The Coronation of Mary" from the Rosaries from the Hearts of Jesus and Mary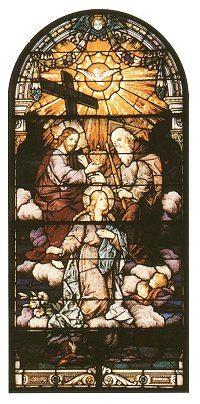 The Coronation of Mary as Queen of Heaven and Earth
Messenger: There appeared in the sky a woman, clothed with the sun. The moon was under her feet and there were twelve stars about her head.
Mary is Queen of Heaven and Earth! The Sacred Heart of Jesus will reign and the Immaculate Heart of Mary will triumph on this earth!
There will be an era of peace. Peace is only found in God and in doing His Will. We must turn our hearts back to God, follow the Ten Commandments, do all that He is asking us to do, say we are sorry for our sins and draw our hearts into union with the Sacred Heart of Jesus.
Mary, our Queen, lead us ever closer to Jesus' Heart. Be with us as we walk with Jesus on Calvary. Be with us and lead us to everlasting life so that we may one day be united with the Father, Son and Holy Spirit forever and ever.
May the saints and angels guide us on our way to eternal salvation. May we know God more and more. May He outpour His love on us, His beloved ones. We are His and He loves us so much!
---
Question for married couples and others in intimate relationships:
Q: How do I feel about being in this relationship with you? Focus lovingly on all the positive aspects of the relationship before negative ones. This question can greatly aid married couples when old writings are reviewed, especially when former positive writings are reviewed during times of suffering when it is more difficult to communicate.
Jesus speaks: This question can be used at any time and the answer should always be a helpful tool to draw the couple together when it is expressed in loving feelings from the heart.
---
---
---
Copyright © 1999 Shepherds of Christ.
Rights for non-commercial reproduction granted:
May be copied in its entirety, but neither re-typed nor edited.
Translations are welcome but they must be reviewed for moral and theological accuracy by a source approved by Shepherds of Christ Ministries before any distribution takes place. Please contact us for more information.
All scripture quotes are from the New Jerusalem Bible, July 1990, published by Doubleday.
Revised: November 27, 1999
URL: http://www.SofC.org
Contact Information for Shepherds of Christ
Email: info@SofC.org
---
Shepherds of Christ Ministries
PO Box 193
Morrow, Ohio 45152-0193

Telephone: (toll free) 1-888-211-3041 or (513) 932-4451
FAX: (513) 932-6791