November 3, 2009
A dark night and a long journey —
the answers are veiled and yet we
must have faith —
Faith, I offer up this cross for
Your wishes in my life. The agony
of the garden was nothing as compared
to our little trials, but I keep my
eyes on Jesus — the pain He allows
us to endure is part of this
death/resurrection —
The world says you should have
no pain — get a pill — the Pascal
mystery of death/resurrection —
In suffering we learn about the
things we need to change to be
more perfected, as our heavenly Father
is perfect —
God gives us trials to grow in
greater life in Him — God blesses
us when our lives are lived to help
build His Kingdom in love —
We are identified with Him in
the sufferings — in living in Him to
have greater life in Him — to be molded
as He wants to mold us in our vocation —
Lord Jesus, thank You for Your gifts —
I surrender myself to You — Lord Jesus,
You are my Master —
Father — You are the potter
I am the clay
Thank You for calling us to this gift
of our lives given to You in the Shepherds of Christ —
We live to serve You
For You are deserving of all our love —
Serving God
Honoring God
Loving God

God created us
to be
When He strips us bear and we know He
is in control —
We see how fragile our life is and
how vulnerable we are
A person addicted to others for affections
finds themselves in something outside
of themselves —
Happiness is found inside, in living to
do God's will — not rebelling against
God's will for control —
The world can reach for things outside
for happiness —
affections
power
seeking dominance over others —
True happiness
comes in seeing the truth —
knowing God is so one with us
in our every breath and heartbeat —
Who is our God?
Is the Divine Almighty God, our God we worship
and serve and love?
Do we have a false god —
looking to put ourselves on the throne
affections
control
lust
food
addictions to other people —
God put us on this earth as a baby —
We go out alone —
We are to be in relationship in that oneness to God —
Yoked to God —
He is always with us
We connect with God in our relationships
with Him in our hearts — with others
in how we love them in that
relationship we have with God first —
All relationships are rooted in God
To have a relationship not rooted in
God should be cast out —
All relationships should lead us —
first — closer to God
All relationships should lead
the other closer to God —
1ST CLOSER TO GOD
Lead other CLOSER TO GOD
We don't want any relationships
that put another before God —
We obey those over us because
God gives us — the authority
of the Church
God gives us the commandments to obey.
Addictions mean something is more
important to us than God —
possessing another —
We have only this short journey to
work toward heaven —
We are commissioned to help lead
others to heaven
To love God first
To love others — to help them get closer
to God —
Seek to know your heart —
Wash clean the heart of old debris
as one washes a soiled dress
Would you wear a big stain
A heart filled with debris does not work
too good
Breathe is needed for the body —
If your air is poisoned you
can die almost immediately —
If your air is cut off —
you die
God gives us a sharing in His
life in baptism
Life is in Him
Knowing our hearts is vital
Like a snow cleaner on a street
clogged with snow —
let God's healing grace work —
that you choose to surrender
your will and your life to Him —
Surrender and let go of anger,
unfinished relationships —
anger built up from —
needs you thought others should
have filled —
So like a hungry animal you
look for a prey to plug your
unfinished business on —
Search for the light —
Look at your control, your anger,
icy hearts
Cry to God to have a heart like Jesus
Song: Give Me your Heart Oh Jesus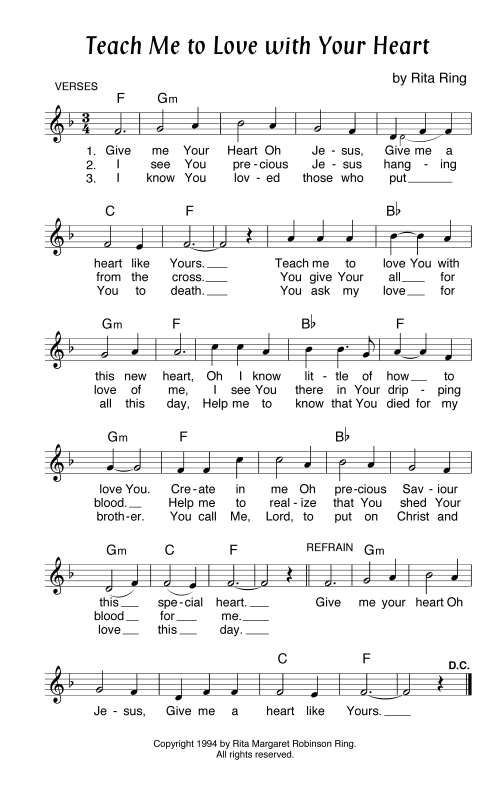 Healing Rosary
Mysteries of Light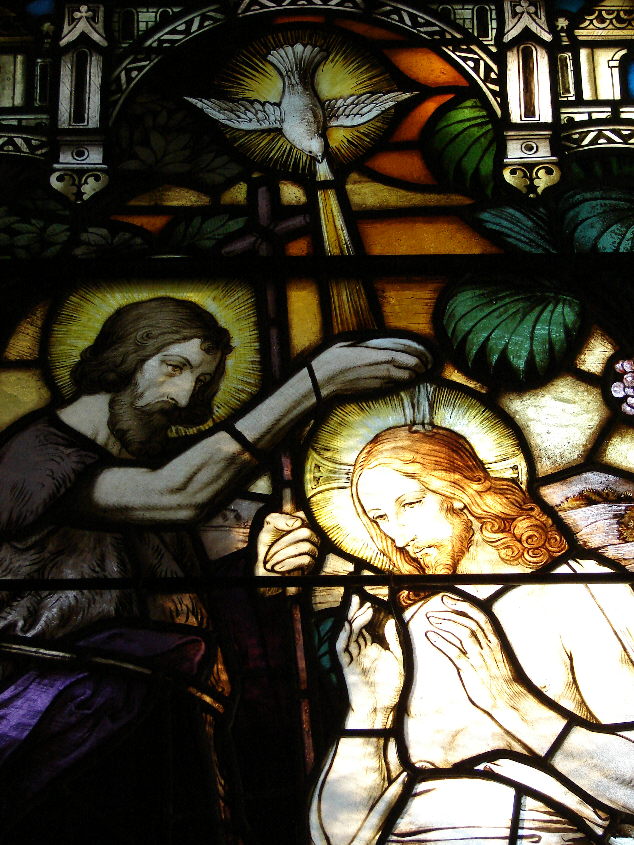 The Baptism of Jesus

(1) Isaiah 42: 1-4
Here is my servant whom I uphold,
my chosen one
in whom my soul delights.
I have sent my spirit upon him,
he will bring fair judgement to the nations.
He does not cry out or raise his voice,
his voice is not heard in the street;
he does not break the crushed reed
or snuff the faltering wick.
Faithfully he presents fair judgement;
he will not grow faint,
he will not be crushed
until he has established
fair judgement on earth,
and the coasts and islands
are waiting for his instruction.
(2) Isaiah 42: 6-7
I, Yahweh, have called you
in saving justice,
I have grasped you by the hand
and shaped you;
I have made you a covenant of the people
and light to the nations,
to open the eyes of the blind,
to free captives from prison,
and those who live in darkness
from the dungeon.
(3) Guiding Light - Feed My Soul - Cycle C Homilies - by Fr. Joe Robinson
Baptism of the Lord - January 8, 2007
INTRODUCTION

Today's first reading is closely connected with Jesus' baptism. This first reading was written over 500 years before Christ. It is a mysterious passage in that scholars do not know who the prophet was writing about. But in hindsight, we can see how perfectly Jesus fulfilled this description of God's servant. The words that introduce our first reading are directly connected with the account of Jesus' baptism. In our first reading God introduces his servant in this way: "Here is my servant whom I uphold, my chosen one with whom I am well pleased." And it is on this servant that God has put his spirit. God's words at Jesus' baptism are almost exactly the same except for one word that is changed. At Jesus' baptism, God speaks of Jesus as his Son. And upon Jesus God the Father sends the Spirit. We have here something more than just an introduction of God's Son to the world and his being empowered by the Spirit. The words of the Father also gave direction to Jesus' future work. Jesus was being called for the victory of justice. He was to be a covenant of the people, a light for the nations as described in this servant passage from Isaiah.
(4) Acts 10: 34-38
Then Peter addressed them, 'I now really understand', he said, 'that God has no favourites, but that anybody of any nationality who fears him and does what is right is acceptable to him.

'God sent his word to the people of Israel, and it was to them that the good news of peace was brought by Jesus Christ—he is the Lord of all. You know what happened all over Judaea, how Jesus of Nazareth began in Galilee, after John had been preaching baptism. God had anointed him with the Holy Spirit and with power, and because God was with him, Jesus went about doing good and curing all who had fallen into the power of the devil.
(5) Guiding Light - Feed My Soul - Cycle C Homilies - by Fr. Joe Robinson - January 8, 2007 - Baptism of the Lord
HOMILY

The baptism of John the Baptist was a baptism of repentance. Jesus was God's Son, human like us in every way, except he was without sin. Why would he present himself for baptism by John? If you are confused about the baptism of Jesus you are in good company. The early Church was confused and somewhat uncomfortable about it. St. Matthew reports John saying to Jesus "I ought to be baptized by you, yet you come to me." St. Luke, as we heard in today's gospel, hardly mentions the baptism itself. And St. John in his gospel makes only an indirect reference to it. Yet all the gospels as well as the Acts of the Apostles know that it happened, but they struggled to understand it.
(6) Guiding Light - Feed My Soul - Cycle C Homilies - by Fr. Joe Robinson - Homily Baptism of the Lord continues
Jesus did not have sin to repent of, so John's baptism had no relevance in this regard. One approach to understanding this event is to see it as a clarification of who Jesus is. He is God's Son, his beloved, with whom the Father is well pleased. There would be no question about Jesus' identity. Jesus' identity had already been revealed to us in Luke's gospel when the angel told Mary at the annunciation that she would conceive her child through the power of the Holy Spirit and he would be holy and would be called Son of God. Jesus' identity was also revealed when Jesus was lost in the temple for three days and when he was found he said to his parents: "why were you looking for me? Didn't you know I must be in my Father's house?" But his identity was hidden from everyone around them. It was only when Jesus was baptized and God announced to the world "This is my beloved Son" and the Spirit came down upon him that the world was to know who he was.
(7) Matthew 3: 13-17
Then Jesus appeared: he came from Galilee to the Jordan to be baptised by John. John tried to dissuade him, with the words, 'It is I who need baptism from you, and yet you come to me!' But Jesus replied, 'Leave it like this for the time being; it is fitting that we should, in this way, do all that uprightness demands.' Then John gave in to him.

And when Jesus had been baptised he at once came up from the water, and suddenly the heavens opened and he saw the Spirit of God descending like a dove and coming down on him. And suddenly there was a voice from heaven, 'This is my Son, the Beloved; my favour rests on him.'
(8) Guiding Light - Feed My Soul - Cycle C Homilies - by Fr. Joe Robinson - Homily Baptism of the Lord continues
Our baptism gives us our identity too. It tells us: we are God's child, sharing God's life, beloved by the Father and called to live our lives in a way that is pleasing to our heavenly Father. So often we forget who we are and that we are God's beloved. The advertising media is constantly telling us we don't measure up, we're not worthwhile. We're not as beautiful, as shapely, as energetic, as stylish, as popular, as successful, as wonderful, as happy as we should be. But do not despair! The ads tell us the product they happen to be promoting will make everything better. It will solve our problems and make us over into someone worthwhile.
(9) Guiding Light - Feed My Soul - Cycle C Homilies - by Fr. Joe Robinson - Homily Baptism of the Lord continues
God has already made us someone worthwhile. He first made us in his image and likeness. More than that he has given us his life. He has made us his beloved son or daughter. Archbishop Tutu, the Anglican bishop from South Africa, says he always preaches one message to his people there. His message is simple and he repeats it over and over again. It is that "God loves you." "I tell them that," he says, "because the entire culture tells them that they are unlovable, and I have to give them the message of who they really are, because God loves them."
(10) Guiding Light - Feed My Soul - Cycle C Homilies - by Fr. Joe Robinson - Homily Baptism of the Lord continues
Through baptism we have been defined forever as God's children and the only one who can deface or destroy that dignity that has been given to us is we, ourselves.

But, Jesus' baptism not only clarified for all the world who Jesus was, but it also gave Jesus his mission. He was to be a covenant of the people and a light for the nations. Especially he was called to establish justice on the earth. Justice here means "righteousness," fidelity to God, goodness, living up to what we know God wants of us. Who we are should define how we live . If a person is a policeman, he or she is to work to uphold the law. If a person is a doctor, he or she has a concern about people's health. If a person is a teacher, he or she is oriented toward helping people grow in wisdom and knowledge. If we are God's child, we are called to live up to that dignity. And in trying to live up to that dignity, who better could we imitate than the perfect Son of God, with whom the Father was well pleased.

As we celebrate Jesus' baptism, may we at the same time celebrate our own. May we rejoice in God's gift of love and life given to us, and may we live up to the high dignity with which God has blessed us.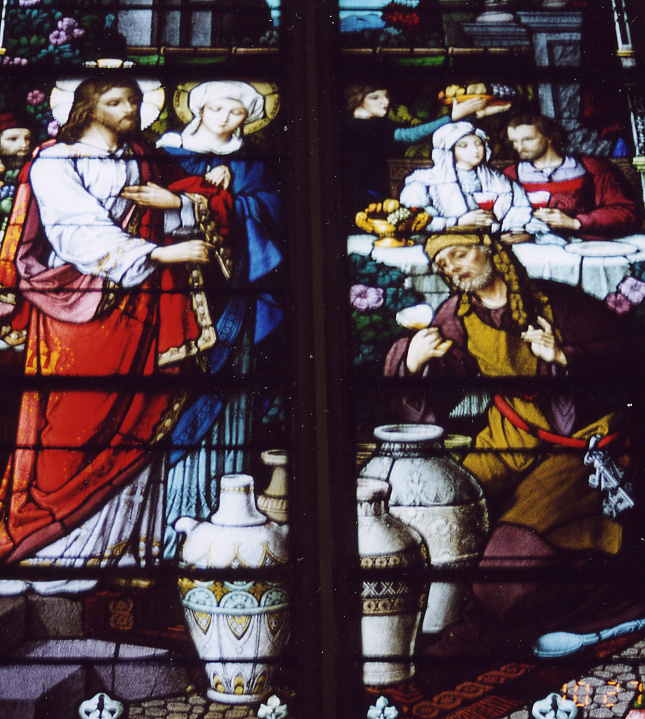 Marriage at Cana
(1) John 2: 1-11
On the third day there was a wedding at Cana in Galilee. The mother of Jesus was there, and Jesus and his disciples had also been invited. And they ran out of wine, since the wine provided for the feast had all been used, and the mother of Jesus said to him, 'They have no wine.' Jesus said, 'Woman, what do you want from me? My hour has not come yet.' His mother said to the servants, 'Do whatever he tells you.' There were six stone water jars standing there, meant for the ablutions that are customary among the Jews: each could hold twenty or thirty gallons. Jesus said to the servants, 'Fill the jars with water,' and they filled them to the brim. Then he said to them, 'Draw some out now and take it to the president of the feast.' They did this; the president tasted the water, and it had turned into wine. Having no idea where it came from—though the servants who had drawn the water knew—the president of the feast called the bridegroom and said, 'Everyone serves good wine first and the worse wine when the guests are well wined; but you have kept the best wine till now.' This was the first of Jesus' signs: it was at Cana in Galilee. He revealed his glory, and his disciples believed in him. After this he went down to Capernaum with his mother and his brothers and his disciples, but they stayed there only a few days.
(2) Jesus is a God of miracles —
We must see God how He is —
(3) We are learning —
Always learning
Little docile creatures wanting
to know God's Plan
He is with us — NOW
(4) A priest is a gift from God —
What a gift —
God gives us Himself in the
Eucharist —
(5) It is in deepest intimacy we
unite to God
Jesus comes to us in the Holy
Eucharist
Jesus is the bridegroom of our
soul
(6) Jesus wants us to be so one
with Him, to trust Him, to
love Him, to honor Him —
to be as a child ready to
be taught by God —
ever growing in our love
for God
(7) God thank You for everything — for
our life and our breath —
for our friends, thank You God for
our families, for our blessings,
for our gifts, for the Eucharist,
for each other, our children,
the children of the Church,
the Church, the priest, the
Eucharist
(8) Oh God we love the Eucharist so
much, thanks for loving us and
giving us Yourself, thanks for
all Your blessings —
our breathe —
the sun and the moon —
every day
our food — each other —
Thank You God we love You —
(9) Letting go — Let go and trust God —
give Him your whole heart to do
with as He wants —
God has a Plan for our lives —
Don't swim against the current
doing our own will opposed to
God's
God loves us and created us —
He knows our every breathe —
He knows our every thought —
He wants this happy union with
Him
Trusting in Him
(10) Sing: Give me Your Heart Oh Jesus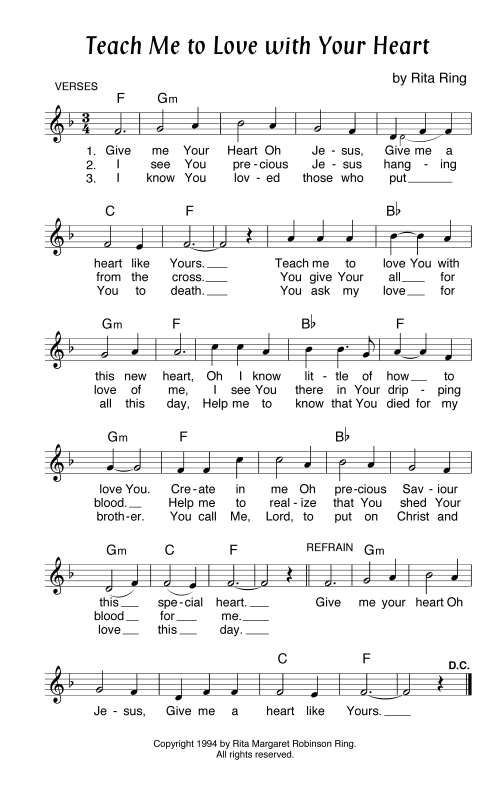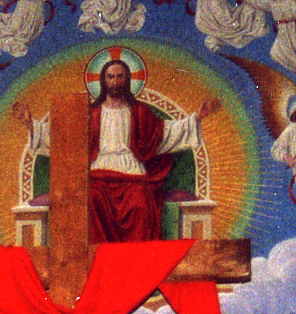 Kingdom of God
(1) God I thank You for this Movement and
allowing me to help the souls with
these gifts —
Thanks for choosing me and teaching
me and putting me in a place
to spread the Blue Books that can
change people's lives
(2) Thank You God for this mailing and for
Fr. Joe's book and Fr. Barth's homily —
we are so grateful God — You
love us so much and
have chosen us to help souls
(3) Jesus calls us to see through
His eyes — see the souls He
wants to reach with the
Movement —
Thank Him for being a part of this plan
to help renew the Church and the world
(4) Thank You God for the gift of the
Shepherds of Christ — thank You for choosing
me — dear God — to serve You
in this vocation
(5) 2 Samuel 5: 1-3
David is anointed king of Israel

All the tribes of Israel then came to David at Hebron and said, *Look, we are your own flesh and bone. In days past when Saul was our king, it was you who led Israel on its campaigns, and to you it was that Yahweh promised, *You are to shepherd my people Israel and be leader of Israel.* * So all the elders of Israel came to the king at Hebron, and King David made a pact with them in Yahweh's presence at Hebron, and they anointed David as king of Israel.
(6) Colossians 1: 12-20
giving thanks with joy to the Father who has made you able to share the lot of God's holy people and with them to inherit the light.

Because that is what he has done. It is he who has rescued us from the ruling force of darkness and transferred us to the kingdom of the Son that he loves, and in him we enjoy our freedom, the forgiveness of sin.

I: FORMAL INSTRUCTION
Christ is the head of all creation
He is the image of the unseen God,
the first–born of all creation,
for in him were created all things
in heaven and on earth:
everything visible
and everything invisible,
thrones, ruling forces,
sovereignties, powers—
all things were created through him
and for him.
He exists before all things
and in him all things hold together,
and he is the Head of the Body,
that is, the Church.

He is the Beginning,
the first–born from the dead,
so that he should be supreme in every way;
because God wanted all fullness
to be found in him
and through him
to reconcile all things to him,
everything in heaven
and everything on earth,
by making peace through his death
on the cross.
(7) Luke 23: 35-43
The people stayed there watching. As for the leaders, they jeered at him with the words, 'He saved others, let him save himself if he is the Christ of God, the Chosen One.' The soldiers mocked him too, coming up to him, offering him vinegar, and saying, 'If you are the king of the Jews, save yourself.' Above him there was an inscription: 'This is the King of the Jews'.
One of the criminals hanging there abused him: 'Are you not the Christ? Save yourself and us as well.' But the other spoke up and rebuked him. 'Have you no fear of God at all?' he said. 'You got the same sentence as he did, but in our case we deserved it: we are paying for what we did. But this man has done nothing wrong.' Then he said, 'Jesus, remember me when you come into your kingdom.' He answered him, 'In truth I tell you, today you will be with me in paradise.'
(8) Guiding Light - Feed My Soul - Cycle C Homilies - by Fr. Joe Robinson
Christ the King - November 25, 2007
INTRODUCTION
When the first king of Israel, King Saul, was killed in battle, the southern part of Israel chose David as their king. The northern part chose Ishbaal, King Saul's son, to be their king. Ishbaal was inept and after seven years of chaos, the northern tribes turned to David and asked him to rule them also. This is where our first reading comes in. David was a successful leader and, in spite of some serious misbehavior, was viewed throughout Jewish history as an ideal king. The Jews always hoped for another king like him. When a king assumed his office, he was anointed and thus the ideal king the Jews longed for was often referred to as "the anointed one." The Hebrew word for this is "Mashiah," or as we say it: "Messiah." When Mashiah is translated into Greek we have "Χριστός." So when we call Jesus "Christ" we are in effect saying Jesus, the King. Christ's kingdom is not an earthly one, as St. Paul tells us, but it is eternal and a sharing in God's own authority and power.
(9) Guiding Light - Feed My Soul - Cycle C Homilies - by Fr. Joe Robinson - Homily Christ the King excerpt
The feast of Christ the King was established in 1925 by Pope Pius XI. You might wonder, didn't Pius XI know kings are not so popular any more? But what else could we call Christ? Should we call him instead a president, a prime minister, the chairman of the board, a dictator, president for life? The title "King" is most fitting for Christ. But he is not the same as any other king. His power is absolute and eternal. He has received his authority and power from God the Father and that will never change.

(10) Guiding Light - Feed My Soul - Cycle C Homilies - by Fr. Joe Robinson - Homily Christ the King continues
When we think of kings, it is automatic to associate them with castles and crowns, royal robes, jewelry, servants, armies and various symbols of wealth and power. Today Jesus, our king, is pictured hanging on the cross, his crown a crown of thorns. His small group of followers is nowhere to be found except for his mother, one faithful Apostle, and a couple of women. No rings were on his fingers, just nails in his hands and feet. No royal robes, instead he was most likely stripped naked as was the Roman custom. Later centuries have covered him over with a loin cloth for modesty. No one is cheering him or praising him. His enemies are outdoing each other mocking him. After three years working to establish a kingdom of love, he is condemned as a criminal, tortured and executed. He warned his followers some of them would suffer in a similar fashion. It's a wonder he had any followers at all.

I am always impressed when I think of what Jesus did in three years. Moses labored for 40 years, Buddha 45 years, and Muhammad 23. The carpenter on the cross, with the sign above his head, Jesus Christ, king of the Jews, who came from a politically and religiously insignificant part of an insignificant country, influenced this world more than any human being that ever lived. After two thousand years a billion people, including ourselves, call him our king! If some of his followers reflected his teachings more faithfully, there might be six billion who now follow him. Jesus is a king who does not parade around in worldly glory or demonstrate worldly power. However, he is greater than any king who ever lived, for he is "the image of the invisible God, the firstborn of all creation."

Our king does not rule by arms and weapons. Arms and weapons get people's attention. Without having someone to stand over us with a club or a gun, we are tempted to feel "why do I have to do what they tell me?" A lot of people feel that about Jesus. The people who put him on a cross felt that way, except for his few friends and the thief who asked to be remembered when Jesus entered his kingdom. The Jewish leaders thought they would be rid of this troublemaker, this bossy person who went around telling people how they should live. They didn't understand the power that he lived by and taught by, the power of love. He will always be a king who rules with love, but whether or not he is king in our lives and in our hearts is up to us. If we respond to him in love, it will lead us into his kingdom of new life.

A cartoon in the New Yorker showed two fellows walking to lunch one day and the one was complaining to the other: "my boss keeps telling me what to do." Authority is not popular, we like to make our own rules, even with regard to God. The new age theology, which is really a return to paganism, views Christ as a nice guy who overlooks our bad behavior and is going to reward all of us in the end, no matter how we've lived. He will forgive us if we turn to him. Notice his words of forgiveness were directed only to one of the two crucified with him. We cannot take our salvation lightly. The cross was not a joy ride for Jesus. Salvation is serious business and Jesus suffered in order to win salvation for us. But he can only save us if we do not forget that he is always our king, not just in an abstract way but in our concrete, everyday lives. Amen.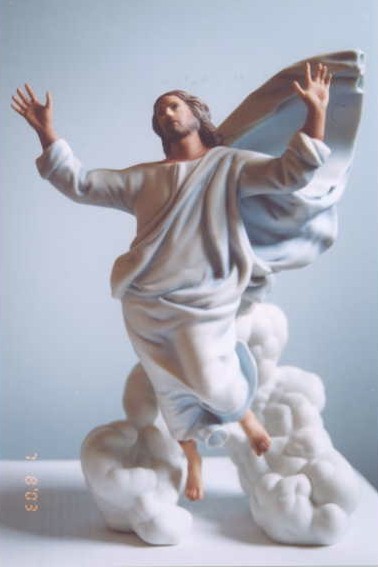 Transfiguration
(1) Mark 9: 2-10
Six days later, Jesus took with him Peter and James and John and led them up a high mountain on their own by themselves. There in their presence he was transfigured: his clothes became brilliantly white, whiter than any earthly bleacher could make them. Elijah appeared to them with Moses; and they were talking to Jesus. Then Peter spoke to Jesus, "Rabbi," he said, "it is wonderful for us to be here; so let us make three shelters, one for you, one for Moses and one for Elijah." He did not know what to say; they were so frightened. And a cloud came, covering them in shadow; and from the cloud there came a voice, "This is my Son, the Beloved. Listen to him." Then suddenly, when they looked round, they saw no one with them any more but only Jesus.

As they were coming down from the mountain he warned them to tell no one what they had seen, until after the Son of man had risen from the dead. They observed the warning faithfully, though among themselves they discussed what 'rising from the dead' could mean.
(2) Daniel 7: 7-10, 13-14
Daniel said, 'I have been seeing visions in the night. I saw that the four winds of heaven were stirring up the Great Sea; four great beasts emerged from the sea, each different from the others. The first was like a lion with eagle's wings and, as I looked, its wings were torn off, and it was lifted off the ground and set standing on its feet like a human; and it was given a human heart. And there before me was a second beast, like a bear, rearing up on one side, with three ribs in its mouth, between its teeth. "Up!" came the command. "Eat quantities of flesh!" After this I looked; and there before me was another beast, like a leopard, and with four bird's wings on its flanks; it had four heads and was granted authority. Next, in the visions of the night, I saw another vision: there before me was a fourth beast, fearful, terrifying, very strong; it had great iron teeth, and it ate its victims, crushed them, and trampled their remains underfoot. It was different from the previous beasts and had ten horns.

'While I was looking at these horns, I saw another horn sprouting among them, a little one; three of the original horns were pulled out by the roots to make way for it; and in this horn I saw eyes like human eyes, and a mouth full of boasting.

While I was watching,
thrones were set in place
and one most venerable took his seat.
His robe was white as snow,
the hair of his head as pure as wool.
His throne was a blaze of flames,
its wheels were a burning fire.
A stream of fire poured out,
issuing from his presence.
A thousand thousand waited on him,
ten thousand times ten thousand
stood before him.
The court was in session
and the books lay open.

'I went on watching: then, because of the noise made by the boastings of the horn, as I watched, the beast was put to death, and its body destroyed and committed to the flames. The other beasts were deprived of their empire, but received a lease of life for a season and a time.

I was gazing into the visions of the night,
when I saw,
coming on the clouds of heaven,
as it were a son of man.
He came to the One most venerable
and was led into his presence.
On him was conferred rule,
honour and kingship,
and all peoples, nations and languages
became his servants.
His rule is an everlasting rule
which will never pass away,
and his kingship will never come to an end.

(3) Guiding Light - Focusing on the Word - Cycle B Homilies - by Fr. Joe Robinson
Transfiguration - August 6, 2006
INTRODUCTION – Our first reading is from the book of Daniel (Dn. 7, 7-10.13-14). The author of this book lived during the time the Greeks dominated most of the known world. The Greeks were trying to get everyone to follow their religion (paganism) and any Jew who remained faithful to his or her Jewish faith was put to death. This was the first time in the history of the world that people were persecuted for their beliefs. The book of Daniel tried to offer the Jewish people hope: hope of a savior. This salvation comes from one like a "son of man" whom God endows with kingship and power. Our reading is one of Daniel's visions and it first describes God who is called the Ancient One - indicating God's eternity. The term "son of man" means simply a human being, but this "son of man" would be unique and would be the savior of God's people. This was the favorite title Jesus used in referring to himself. The glory of God is described in today's first reading. It is shown through Christ in his Transfiguration, which is described in today's gospel (Mk. 9, 2-10), and in today's second reading from the Second Letter of St. Peter (1, 16-19).
(4) 2 Peter 1: 16-19
When we told you about the power and the coming of our Lord Jesus Christ, we were not slavishly repeating cleverly invented myths; no, we had seen his majesty with our own eyes. He was honoured and glorified by God the Father, when a voice came to him from the transcendent Glory,
This is my Son, the Beloved; he enjoys my favour. We ourselves heard this voice from heaven, when we were with him on the holy mountain. So we have confirmation of the words of the prophets; and you will be right to pay attention to it as to a lamp for lighting a way through the dark, until the dawn comes and the morning star rises in your minds.

(5) Guiding Light - Focusing on the Word - Cycle B Homilies - by Fr. Joe Robinson - Homily Transfiguration excerpt
Tradition identifies Mt. Tabor as the mountain of the Transfiguration. It's quite a climb to get to the top. There is a chapel on top of the mountain commemorating the occasion of the Transfiguration. I said Mass there sixteen years ago when I went with a study group to the Holy Land. They had cars and buses to take us up the mountain. I'm not surprised that Peter, James and John fell asleep, as St. Luke tells us in his gospel, when they went there with Jesus. They didn't have cars and buses and they would have been very tired when they got to the top. But when they woke up their efforts to make it up to the top of that mountain with Jesus were well rewarded. "It is good that we are here," Peter said. "Let us make three tents here: one for you, one for Moses and one for Elijah." It sounds to me as if they were ready to stay there for several weeks, it was such an awesome experience. As wonderful as it was, Jesus' work wasn't finished and neither was theirs. They had to come back down to earth.
(6) Guiding Light - Focusing on the Word - Cycle B Homilies - by Fr. Joe Robinson - Homily Transfiguration continues
Most of us, I'm sure, have had moments when we've felt God's presence and closeness and special love, or when we knew God was helping us with some problem. But I'm sure there are few, if any of us, who have experienced anything like the Transfiguration. We may be a mystic and have ecstatic experiences in prayer or we may be a saint who receives visions of Jesus or Mary. Other than that, we've probably not experienced anything like the Transfiguration and may find it difficult to relate to. But we can learn from it.
(7) Guiding Light - Focusing on the Word - Cycle B Homilies - by Fr. Joe Robinson - Homily Transfiguration continues
(1) We can learn that God has great glory reserved for us until, as the second reading tells us, "day dawns and the morning star rises in your hearts."
(8) Guiding Light - Focusing on the Word - Cycle B Homilies - by Fr. Joe Robinson - Homily Transfiguration continues
(2) We can learn from what God spoke on the holy mountain about Jesus: "this is my beloved Son, listen to him." This is not something new, of course, but it doesn't hurt to be reminded once again that we must listen to him.
(9) Guiding Light - Focusing on the Word - Cycle B Homilies - by Fr. Joe Robinson - Homily Transfiguration continues
(3) We can learn that we cannot expect mountaintop experiences every day when we pray, when we receive the sacraments, when we keep the Commandments. There are those moments when we get a lot of consolation and good feelings from our faith and our prayers. Then there are those moments when prayer is dry, when our faith is exactly what that word means, believing only on the word of another and not feeling anything except that we're in a desert. The apostles were with Jesus three years and there was only one experience like the Transfiguration, and only three of them experienced it. Our religion can't be based on feelings. It's based on faith in God and love for God and for one another. Sometimes we feel it and sometimes we don't. It's not how we feel it that counts, but how we live it.
(10) Guiding Light - Focusing on the Word - Cycle B Homilies - by Fr. Joe Robinson - Homily Transfiguration continues
(4) Another thing we can learn from the Transfiguration is that we can't always trust appearances. In appearance Jesus looked pretty much like the rest of us. Artists have pictured him with a halo, but I'm sure there was no halo when people saw him every day. The gospels would have remarked about it if there were. For a brief moment on Mt. Tabor, the apostles saw and heard things that indicated there was a lot more to Jesus than they ever imagined.

Today, as we come to Mass, our faith calls us to look beyond appearances. When we receive Communion, we receive what appears to be a wafer of bread and a sip of wine, but faith in the power and the words of Jesus tells us this host and cup offers us so much more. It is food for eternal life. We pray as always that the Lord will help us to know his presence with us today, and if we do not experience that presence, we pray for the faith to be able to see beyond appearances and still be able to say as Peter did on the mountain: "it is good that we are here."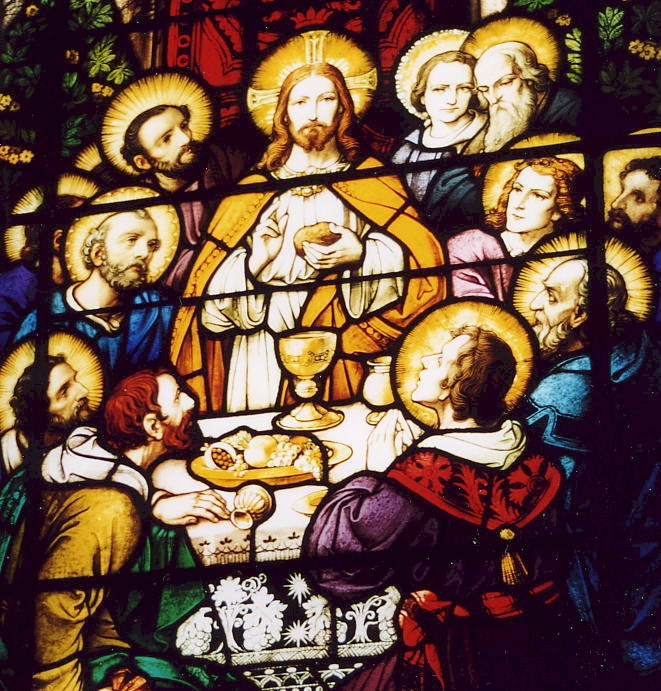 Institution of the Eucharist
(1) Mark 14: 12-16, 22-26
On the first day of Unleavened Bread, when the Passover lamb was sacrificed, his disciples said to him, 'Where do you want us to go and make the preparations for you to eat the Passover?' So he sent two of his disciples, saying to them, 'Go into the city and you will meet a man carrying a pitcher of water. Follow him, and say to the owner of the house which he enters, "The Master says: Where is the room for me to eat the Passover with my disciples?" He will show you a large upper room furnished with couches, all prepared. Make the preparations for us there.' The disciples set out and went to the city and found everything as he had told them, and prepared the Passover.

And as they were eating he took bread, and when he had said the blessing he broke it and gave it to them. 'Take it,' he said, 'this is my body.' Then he took a cup, and when he had given thanks he handed it to them, and all drank from it, and he said to them, 'This is my blood, the blood of the covenant, poured out for many. In truth I tell you, I shall never drink wine any more until the day I drink the new wine in the kingdom of God.'
After the psalms had been sung they left for the Mount of Olives.
(2)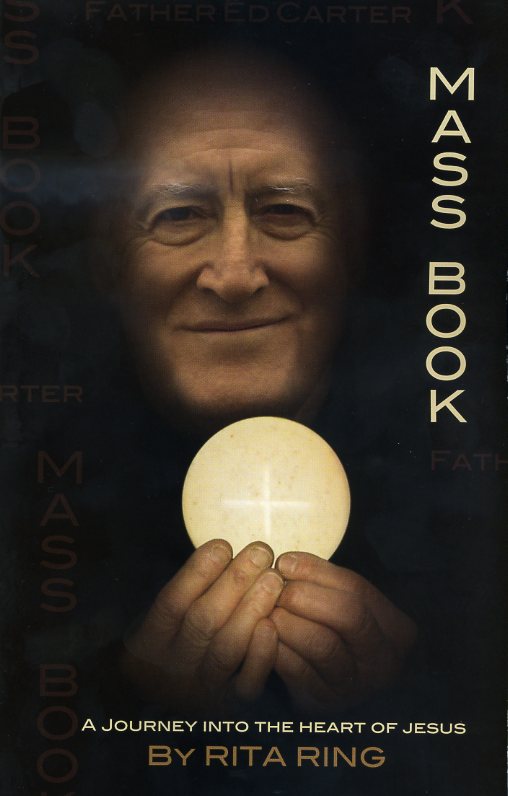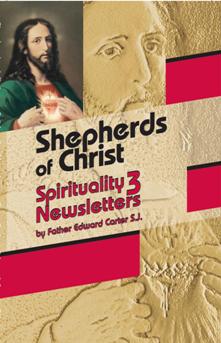 Shepherds of Christ Priestly Newsletter Book III
2000 - Issue 1

The Eucharist
At the Last Supper, on the night He was betrayed, our Saviour instituted the Eucharistic Sacrifice of His Body and Blood. He did this in order to perpetuate the sacrifice of the Cross throughout the centuries until He should come again, and so to entrust to His beloved spouse, the Church, a memorial of His death and resurrection: a sacrament of love, a sign of unity, a bond of charity, a paschal banquet in which Christ is consumed, the mind is filled with grace, and a pledge of future glory is given to us. (Vatican II, Constitution on the Sacred Liturgy, No. 17) 5

5. The Documents of Vatican II, "Constitution on the Sacred Liturgy:, America Press edition, No. 17.
(3) Shepherds of Christ Priestly Newsletter Book III - 2000 - Issue 1
The Church, therefore, earnestly desires that Christ's faithful, when present at this mystery of faith, should not be there as strangers or silent spectators. On the contrary, through a proper appreciation of the rites and prayers they should participate knowingly, devoutly, and actively. They should be instructed by God's word and be refreshed at the table of the Lord's body; they should give thanks to God; by offering the Immaculate Victim, not only through the hands of the priest, but also with him, they should learn to offer themselves too. Through Christ the Mediator, they should be drawn day by day into ever closer union with God and with each other, so that finally God may be all in all. (Constitution on the Sacred Liturgy, No. 48) 6

6. Ibid., No. 48.
(4) Shepherds of Christ Priestly Newsletter Book III - 2000 - Issue 1
Through the Eucharistic Sacrifice Christ the Lord desired to set before us in a very special way this remarkable union whereby we are united one with another and with our divine Head, a union that no word of praise can ever sufficiently express. For in this sacrifice the sacred ministers act not only as the representative of our Saviour, but as the representative of the whole Mystical Body and of each one of the faithful. Again, in this act of sacrifice, the faithful of Christ, united by the common bond of devotion and prayer, offer to the eternal Father through the hands of the priest, whose prayer alone has made it present on the altar, the Immaculate Lamb, the most acceptable victim of praise and propitiation for the Church's universal need. Moreover, just as the divine Redeemer, while dying on the Cross, offered Himself to the eternal Father as Head of the whole human race, so now, 'in this clean oblation' He not only offers Himself as Head of the Church to His heavenly Father but in Himself His mystical members as well. He embraces them all, yes, even the weaker and more ailing members, with the deepest love of His Heart. (Pope Pius XII, Mystici Corporis AAS. XXXV, 232-233) 7

7. Pope Pius XII, Encyclical Letter, Mystici Corporis, AAS, XXXV, pp. 232-233.
(5) Shepherds of Christ Priestly Newsletter Book III - 2000 - Issue 1
Romano Guardini observes: "The gift of the Eucharist and Our Lord's death are in the deepest sense one and the same mystery.

"The love that drove Him to die for us was the same love that made Him give us Himself as nourishment. It was not enough to be giving us gifts, words, instructions; He gave us Himself as well. Perhaps we must seek out Woman, the loving-mother, to find someone who understands this kind of longing; to be giving not some thing, but rather oneself — to give oneself, with all one's being. Not only the spirit, not only one's fidelity, but body and soul, flesh and blood, everything — this is indeed the ultimate love, to want to feed others with the very substance of one's own self. And for that Our Lord went to His death, so He might rise again in the resurrection, in that condition wherein He desired to give Himself to all mankind for evermore.

"And now He who died for us lives again, within us." 8

8. Romano Guardini, Jesus Christ, Henry Regnery, as in Daily Readings in Catholic Classics, edited by Rawley Myers, Ignatius Press, p. 102.
(6) Shepherds of Christ Priestly Newsletter Book III - 2000 - Issue 1
St. John Vianney, Curé of Ars, movingly says: "What does Jesus Christ do in the Eucharist? It is God who, as our Savior, offers himself each day for us to his Father's justice. If you are in difficulties and sorrow, he will comfort and relieve you. If you are sick, he will either cure you or give you strength to suffer... If the devil, the world, and the flesh are making war against you, he will give you the weapons with which to fight, to resist, and to win the victory. If you are poor, he will enrich you with all sorts of riches for time and eternity. Let us open the door of his sacred and adorable Heart, and be wrapped about for an instant by the flames of his love, and we shall see what a God who loves us can do. O my God, who shall be able to comprehend...

"How great was the charity of Jesus Christ in choosing for the institution of the Eucharist the eve of the day he was to be put to death!... Men are weaving the blackest plots against him, and he is only occupied in giving them the most precious gift he has. They are only thinking of setting up an infamous cross for him that they may put him to death, and he is only thinking of setting up an altar that he may immolate himself every day for us. They are preparing to shed his Blood, and Jesus Christ wills that this same Blood shall be to us a draught of immortality for the consolation and happiness of our souls" 9

9. St. John Vianney, "Sermon for Holy Thursday", in Eucharistic Meditations, Source Books, as in Adoration, Ignatius Press, pp. 92-93.
(7) Shepherds of Christ Priestly Newsletter Book III - 2000 - Issue 1
Here are words from a spiritual journal: "This is how I am with Jesus. I am empty. I want Him to make Himself known to me. I didn't have much theological knowledge when I started sitting in front of the tabernacle. I was looking for love from Jesus. Nobody loved me the way my soul wanted to be loved. I craved to be with Jesus. I wanted my heart filled. I wanted the craving I felt inside satisfied. I thirsted for love. I sat with Him present in the tabernacle and He filled me. He revealed Himself to me. He was the Bridegroom of my soul and I His bride. As I became more intimately united to Him, sitting there in silence and going to Him, I cried. I was so filled with love. I found what I was looking for all my life. He wrote the knowledge of Himself on my soul. He wrote this knowledge in the intimate moments I spent with Him at Mass after Communion and before the tabernacle."

10. Rita Ring, Shepherds of Christ Ministries, January 10, 2000
(8) Shepherds of Christ Priestly Newsletter Book III - 2000 - Issue 1
How much do we appreciate the great opportunity of participating in the Eucharistic Sacrifice? Here is a story which should inspire us all: "A priest who was in the German prison camp Dachau describes the Mass after all the German guards were in bed. He said, 'Our lives were in danger if we were ever discovered. A young priest had to memorize the names of all of those who had received Communion. After night call and bed check, we would set our guards, darken the windows, and the lucky one to be chosen to celebrate for this momentous occasion would carefully brush his pathetic garb, put the stole over his shoulders, and by the small light of his smuggled candle begin the commemoration of that great passion... We could understand the Mass. All that could crowd into the room were there, tears of joy running down our cheeks. Christ the Lord, who knew what suffering was, was coming... to bring us strength and consolation. The small hosts were broken into as many particles as possible so that the greatest number could communicate. We had to keep a secret roster of those who received. We missed some of the liturgy perhaps, but I think that God looked down into that prison room and found a particularly refreshing response to his cry of love from the cross, 'I thirst.' There was nothing that could keep us from doing all in our power to be closer to God.' " 10

11. Through the Year with Fulton Sheen, Servant Books, pp. 99-100.
(9) Shepherds of Christ Priestly Newsletter Book III - 2000 - Issue 1
From a spiritual journal: "I struggle intently to do His work, and I am weary from running the race. I am tired, I am truly human, but the unquenchable love I have for Him in my heart is at the core of my existence. It is in Him I exist and in Him I love. I love Him so intently and yet I am so unworthy of His gifts given to me. I long more for the desire to help souls, and His desires become mine through my deep union with Him especially after the reception of the Eucharist. On this day (Feast of the Assumption), I felt the unquenchable purity of the Heart of Mary and the joy of dwelling deeply in His Heart in her pure love. It was a special gift He gave to me, to be wrapped in Mary's Heart despite my faults. He gave Himself so completely to me. I only long for this, knowing this presence."

12. Rita Ring, Shepherds of Christ Ministries, August 12, 1998
(10)
A Prayer before the Holy Sacrifice of the Mass
Let me be a holy sacrifice and unite with God in the sacrament of His greatest love.

I want to be one in Him in this act of love, where He gives Himself to me and I give myself as a sacrifice to Him. Let me be a holy sacrifice as I become one with Him in this my act of greatest love to Him.

Let me unite with Him more, that I may more deeply love Him. May I help make reparation to His adorable Heart and the heart of His Mother, Mary. With greatest love, I offer myself to You and pray that You will accept my sacrifice of greatest love. I give myself to You and unite in Your gift of Yourself to me. Come and possess my soul.

Cleanse me, strengthen me, heal me. Dear Holy Spirit act in the heart of Mary to make me more and more like Jesus.

Father, I offer this my sacrifice, myself united to Jesus in the Holy Spirit to You. Help me to love God more deeply in this act of my greatest love.

Give me the grace to grow in my knowledge, love and service of You and for this to be my greatest participation in the Mass. Give me the greatest graces to love You so deeply in this Mass, You who are so worthy of my love.

-Mass Book, December 27, 1995
We can send Fr. Joe's
homily book to a priest
for a little over a dollar.
Can you please help us get
these homilies to the priests?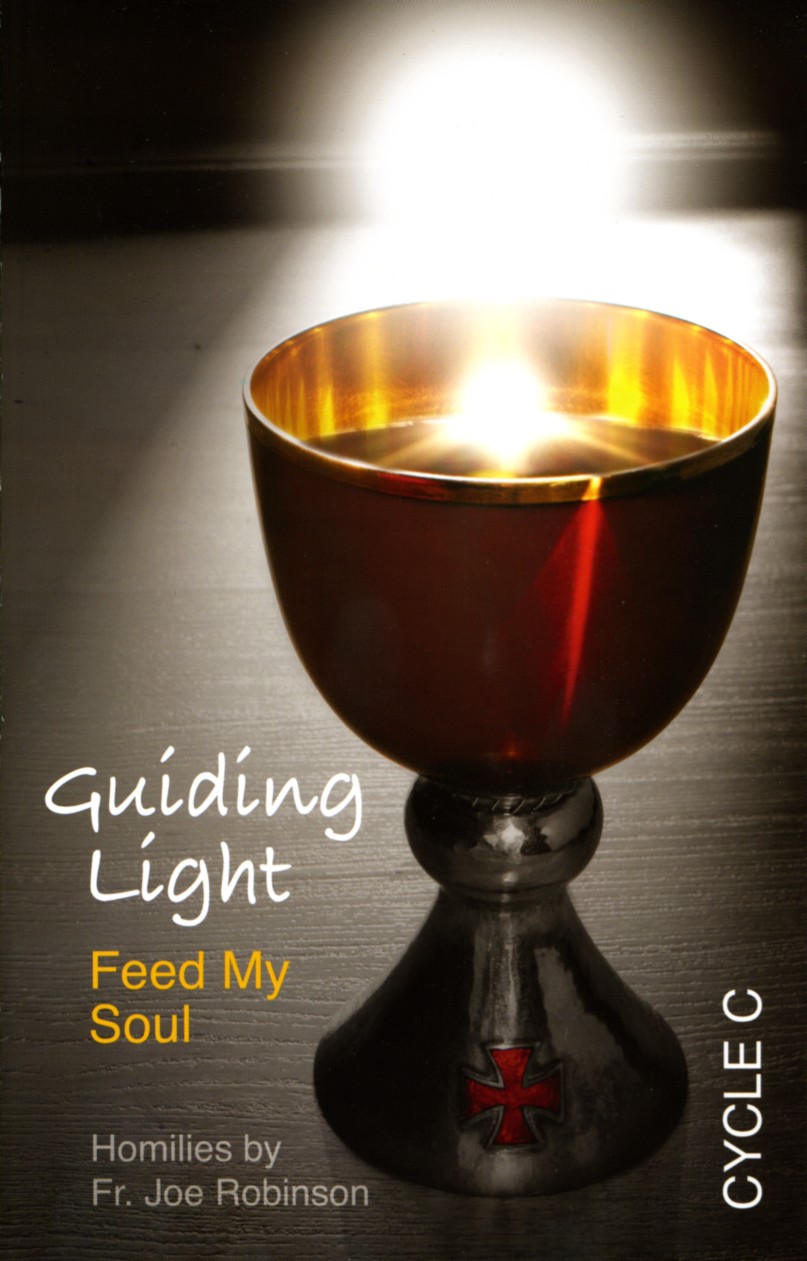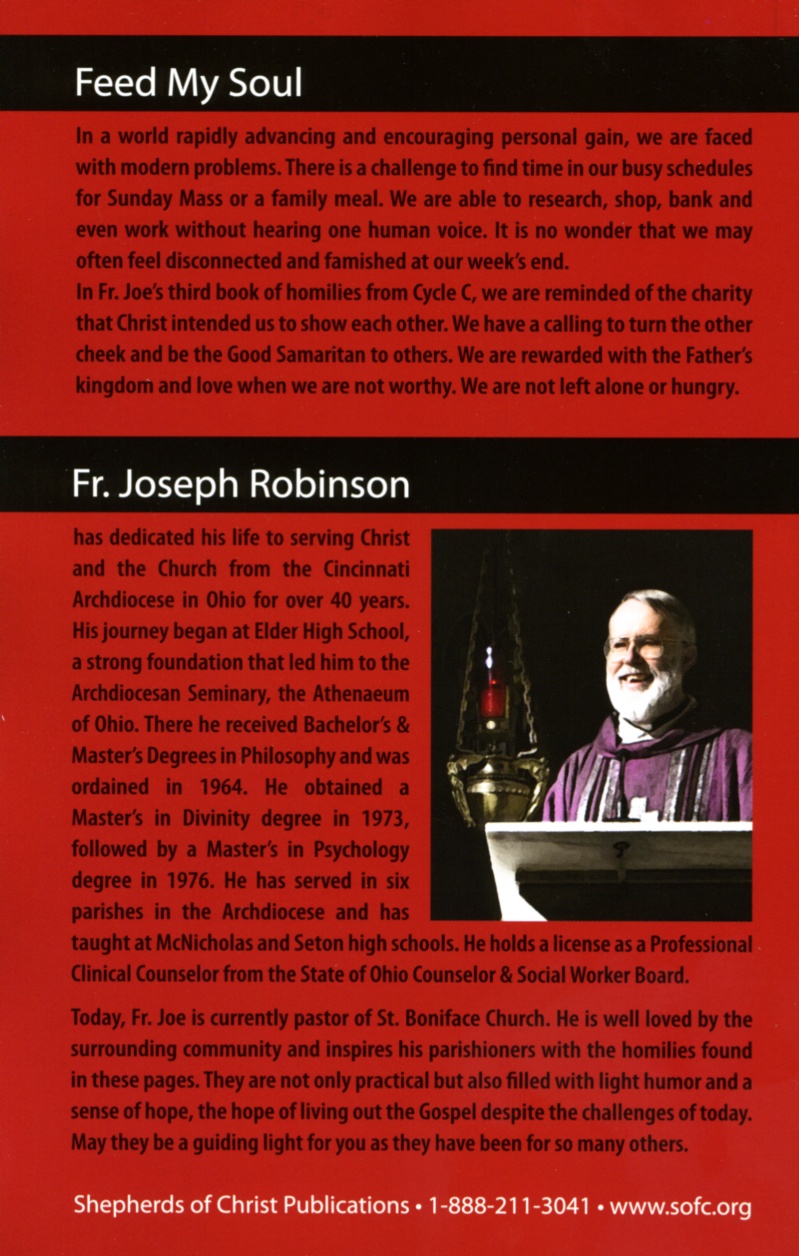 Please help us with your donation.
Call Shepherds of Christ
1-888-211-3041