Mary has requested that the daily message be given each day to the world. It is read nightly at the prayer service from her Image Building in Clearwater, Florida, U.S.A. This is according to her request. All attempts will be made to publish this daily message to the world at 11 p.m. Eastern time, U.S.A.

---

We acknowledge that the final authority regarding these messages rests with the Holy See of Rome.

---
December 17, 2004
December 18th Holy Spirit Novena
Scripture selection is Day 9 Period II.

The Novena Rosary Mysteries
for December 18th are Glorious.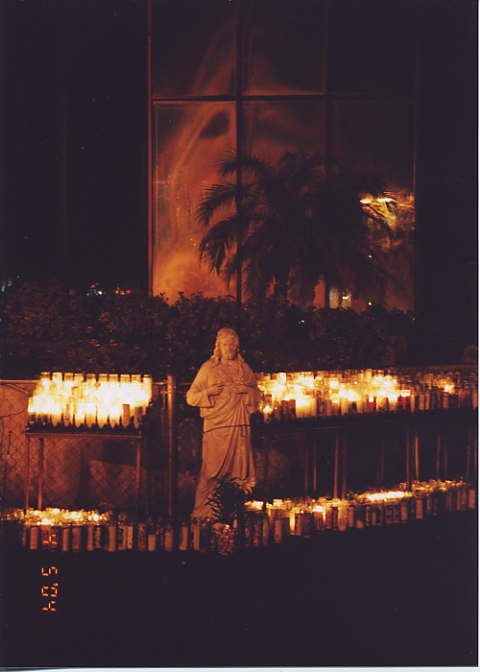 April 5, 2004
We accept credit card donations.
1-888-211-3041
513-932-4451
Shepherds of Christ
P. O. Box 193
Morrow, OH 45152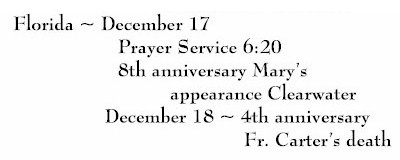 December 17, 2004

Messenger: Florida is a state to bring forth
fruit.
Mary has promised tremendous grace
of healing for all who go
to the Florida site.
Florida has been known for
it's citrus fruit for a
long, long time.

Mary speaks: Seedless, barren, no fruit on
the vine.
My Son Jesus has poured out
His richest gifts to you,
season after season after season -
fruit from the sunny state
of Florida.
Orlando - the home of juicy
oranges.
Your fruit trees have been ravaged.
Your boat hangers -
blown to bits.
Where before your vessels carried
the fruit to many lands,
production has been halted.
The trees have been crumpled
up, many of them, and
left for dead.
I came, sent by the Father,
in rainbow glistening color -
a gift to the people of the
earth.
You continue to feast on your fruits,
to enjoy your boat rides,
when the Mother of God was in
your midst appearing as I
did on the building.
Polish, American, Spanish-speaking...
people from all over the world
in great wealth in the sunny
state of Florida.
When I appeared you would not
take notice.
Picture perfect -
every blade of grass in order,
why should you listen to the
Mother of God -
you have money, great riches, blue
and sunny skies, beautiful waters
surrounding the entire state,
temperatures so sweet
that people come from afar
to visit this magnificence.
The blue of your water is
as beautiful as my mantle
of peace...
The fruit trees now are barren,
the ones that remain are
laced with brown and dead portions,
the white birds can still be
seen overhead flying,
but the land has been ravaged.
What will become of all of the
fruitless groves, you say, and
the devastation can make one
cry, not for a week and a
month, but permanently.
Where once could be seen
beautifully painted homes,
pristine white, neat as a pin,
now the homes are gray, old-looking,
pieces hang off from the house
and months later a blue tarp
of plastic covers what once was
a beautiful roof.
It was a belt that came across
your state - one taken from
the bed, one is left,
it ripped through in hours.
It forced the people of the fruitful
state to sit up and take
notice when their trees were
uprooted and their roofs
blown off, when the fruit trees,
once fruitful, now look like
a war zone or a place where
a forest fire leveled the scene.
It was devastating indeed.
The signs that once heralded
hotels and fast food chains
were wiped like little daisies
from the flowering field
and all that remained of them
was a battered stem.
Oh my children, the Father sent
me as a messenger all
through the century and I
was ignored.
Let me tell you a little story -
a man was given a beautiful
body and at a certain age
he began to become over
indulgent.
He ate, drank, smoked,
and engaged in sexual
promiscuity incessantly,
without control as if there
was no tomorrow.
He was always jolly,
he had no bounds.
He abused his body.
And one fine morning when
the sun came above the ocean
where he slept in his
richest dwelling next to
his mistress, the sound went
off like a siren within him
and he died of a heart attack.
Oh you say, that he would of
heeded the warning,
but he saw himself as indestructible
and without bounds.
Your oranges grew with much
fruitfulness for years and years
and years.
Now most of your groves have been
thwarted with an angel of death,
a siren raged in the night,
an angel of death wiped
some clean.
Have you spread your doorpost
with the Blood of the Lamb?
Do you realize the richest treasure
is in life - not here for a
few years, but forever,
for all eternity.
Sing the song: Jesus the Light of the World
How do We get your attention?
Sing: Come with Me into the Fields

The Song of Fruit
Oh the fruit is fruitful
when the soil is right,
when the sun is shining,
it sure gives light.
When the winter comes
with its torrential winds,
the cold and frost
can choke.
Oh the bins are empty now,
the ripe land thwarted
a barren branch
is now seen
where the fruitful ones once were.
The fields look dark like hay
the birds are still flying,
the cows are still grazing,
but once beautiful lands look ravaged.
Where there was once what seemed to be order
there is now disorder and array.
Men are weary now
sorting through the dead debris.
A night is seen,
with a silver moon still shining,
the sun comes up everyday.
The sky is beautiful blue
the water is still magnificent,
white capped waves some days,
soft gentle breezes of the ocean on others.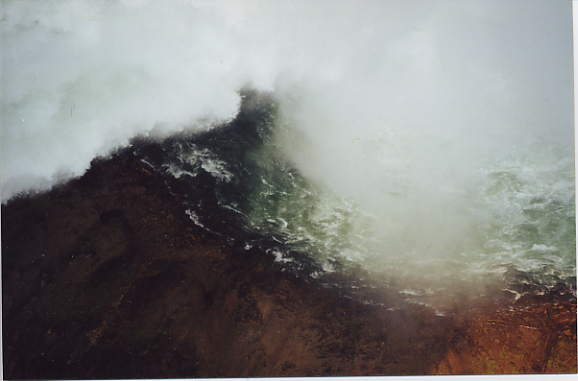 Hurricane raging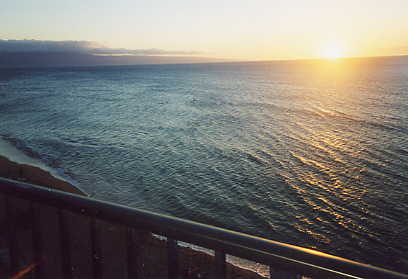 calm water
December 17, 2004 continues
Jesus speaks: Did you hear of the angry guy?
One day as if provoked,
he shouts aloud at work.
His workers are tense,
sit up straight in their seats
to do the job at hand.
The next day he comes in
like a little lamb
singing and laughing
and they wonder
when the next shoe will fall.
As you drive across the state
will you see the big trucks
with the Indian River grapefruits?
Do you ever see that?
Did it ever happen?
Do you know?
Are you confused?
Are you blind?
Are you unaware?
Mary Lou was a teacher in a grade school.
She lived in North Dakota.
She never traveled out of the state.
Sue Brockman was another lady
teaching in the same grade school.
She spent her life traveling and
keeping up with current events.
She was very interested
in the hurricanes in Florida
and its effects on the people.
She came alive with this information in the classroom.
Joe Smith was a male teacher in the school.
He didn't care much about the hurricane so far away.
His class centered around sports events
competitions, coaches,
the lives of some players.
Mitzie was a teacher and librarian,
she knew about the arts,
books, novels, poems, etc.
The school was graced with many talents
for many different aspects of life,
but all were sort of limited
in that they only saw things
from their own perspective.
It was left up to the children
to integrate the various personalities
and focal points of the teachers.
They were children, in grade school,
they were little tikes,
they could not see the big picture,
they were majorly confused,
the teachers never talked with each other
in an educated way
that could help the children.
They were competitive and living in their own little world.
Mixed with the story at home,
and a policemen that came in uniform, once a week, and
the parish priest who came on no schedule,
the little tikes did not get a unified vision of things.
Did you ever see a cow that was spotted?
Is he brown?
Is he white?
Does he give spotted milk?
Does this seem like a dumb question?
I feed you spiritually.
I outpour My grace to you.
Today your children are majorly confused.
Where the parents before
would speak to the children and instruct them,
children are being taught today
to not listen to authority,
to look at themselves as knowing
more than the authority
at an early age.
Many children before would go to church
and respected the religious instruction
of the pastor or priest,
now satan has majorly worked in your world
to discredit religious authorities,
to weaken the position of parental guidance
to foster the notion
among a 4 year old, just out of diapers,
that they are to be self-sufficient in many things
which fosters pride
and causes a smugness
on the part of many children
who just want to ride their bike for fun
and learn at their own pace
rather than being a pro
at the early age of 3
and definitely better than all the children in the neighborhood.
Why are so many children
indignant at an early age?
Looking angry
before they can read and write,
not feeling free,
but pressured by parents
and children in the pre-school.
If you do not have the vision,
if you do not have that connection
of the Spirit moving inside -
how will you teach the children
in a world where the evil spirit
is moving and teaching the
children so many wrong things.
Your teachers are found in My Word
and the 10 Commandments.
Authority should be focused on
doing God's will
and should be seen as a
vital part of what is necessary
for a highly motivated, spiritual life.
Now a house was glistening
and on a road before with
a truck of healthy oranges
the children were singing.
Remember how it was in the garden
of Eden -
they were given very good things,
but they still sinned.
If no one in the school integrates
the curriculum,
if every teacher is out to promote
themselves and are prideful,
will the students ever see
the wide vision?
One day Carol drove down the
road and as she drove to the
right, there was a beautiful
rainbow.
I painted the sky for Carol to see.
She did not plan it,
it was a surprise from Me.
There was not room for Me in
the inn in Bethlehem
and there was not room for
Me and My Mother to appear
in the state of Florida.
There was not room for Me
and My Mother to appear
to the world.
This Christmas remember
they hung Me on a tree,
they beheaded John the Baptist,
2000 years later the Father
sent Mary as a messenger
and you took her out.
Help make reparation to God
and preserve this gift given
for your children.
Don't add insult to injury.
Your vision of the big picture
is not clear nor is it rooted
in the reality of the life
hereafter -
Some are like the lady in
South Dakota,
Some are like the sports addict, etc.
Your children are confused,
many are very sick.
Mary speaks:

Mary's Message


from the Rosary of August 27, 1996
Mary speaks: I stood beneath the cross of my Son, and my Heart was in such pain for I saw Him before my eyes. I saw Him covered with blood. I saw Him die. My Heart, my children, my Heart to watch my Son, but my Heart, my Heart, how I suffered for my little children of the world that give in to this world and give up the love of my Son. O my little children of light, I give you this message. Carry this light into the darkness for your Mother Mary, for I stood beneath the cross and I cried. I cried for the little ones. I cried for the young ones, the ones that do not care and will lose their souls. How do I make you see for you will not listen to me? What can I do? I come. I appear. I beg. I plead. I give you these gifts from my Son, and you reject me. I do not deliver messages very often anymore for I have been ignored. The message is the same. You do not read the messages I have given to you. Please help me. Help the little children. I appear. I appear. I appear, and I am ignored. I stood beneath the cross, and I cried. I cried, and my Heart was in such anguish for my little children, for I am searching for them this day as I searched for the Child Jesus. Please, please help me. I cannot hold back the hand of my Son any longer. I am Mary, your Mother. I ask you to help my children. You are my children of light.

end of Mary's Message, August 27, 1996
From December 3, 2004
Messenger: My dear friends
Today the Feast of St. Xavier,
First Friday, Jesus appeared to me
as the King on His Throne at the
Cathedral where He told me to go
to Church.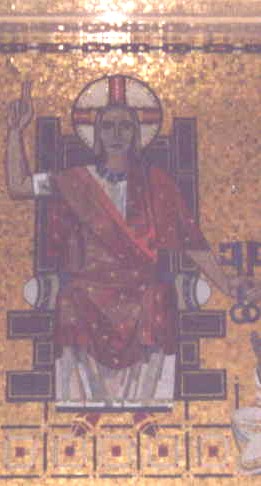 On December 5, 1996 -
8 years ago Jesus appeared
to me at the point of death His
mouth moving, He was in excruciating
pain, I cried and could hardly stand
it.

From a previous daily message:

I saw Him at the point of death on the cross
December 5, 1996, after Mary appeared 500 times.

He hung, all battered, greatly weakened. His mouth moved very clearly. It seems that a man in His condition could not move His mouth to that extent.

Later in the rosary that night, He gave messages and said: "No one was listening."

end of excerpt


Today the Feast of St. Xavier,
First Friday, Jesus appeared to me
as the King on His Throne at the
Cathedral where He told me to go
to Church.

He was smiling and His
mouth moved and moved and moved.
He looked happy and the vision was
all aglow. He gave me a message to sit
in the first pew and He appeared
and talked about 20 minutes, He
was smiling.

May God bless you in this
most beautiful season.

With lots of love and thanks,

Rita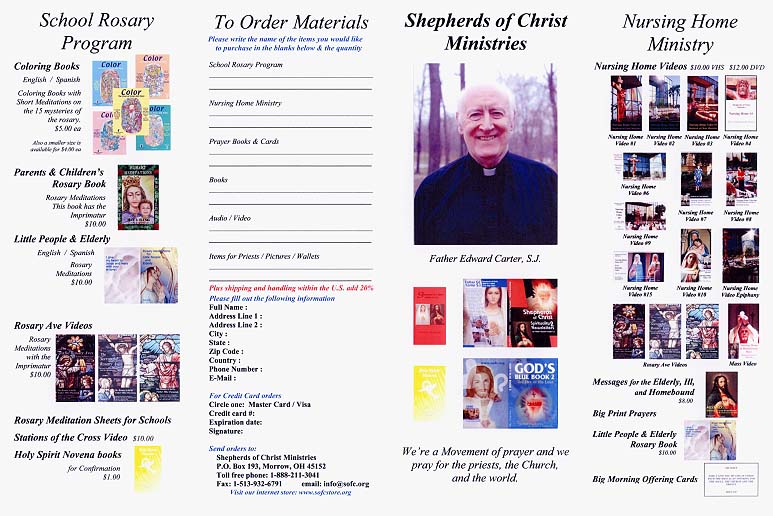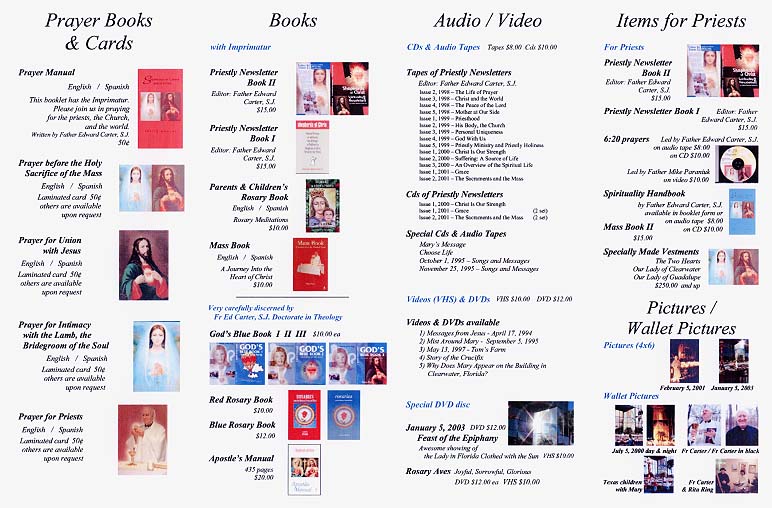 ---
---
---
Copyright © 2004 Shepherds of Christ.
Rights for non-commercial reproduction granted:
May be copied in its entirety, but neither re-typed nor edited.
Translations are welcome but they must be reviewed for moral and
theological accuracy by a source approved by Shepherds of Christ Ministries
before any distribution takes place. Please contact us for more information.
All scripture quotes are from the New Jerusalem Bible, July 1990, published by Doubleday.
Revised: December 15, 2004
URL: http://www.sofc.org
Contact Information for Shepherds of Christ
Email: info@SofC.org
---
Shepherds of Christ Ministries
PO Box 193
Morrow, Ohio 45152-0193

Telephone: (toll free) 1-888-211-3041 or (513) 932-4451
FAX: (513) 932-6791