Mary has requested that the daily message be given each day to the world. It is read nightly at the prayer service from her Image Building in Clearwater, Florida, U.S.A. This is according to her request. All attempts will be made to publish this daily message to the world at 11p.m. Eastern time, U.S.A.

---

We acknowledge that the final authority regarding these messages rests with the Holy See of Rome.

---
December 29, 2001
December 30th Holy Spirit Novena
Scripture selection is Day 5 Period II.
The Novena Rosary Mystery
for December 30th is Sorrowful.
---
This is from the president
Newsletter Book II update:
We received $45,000 for the Newsletter Book II.
We need at least another additional $30,000 for postage.
The donor has already matched the first $40,000.
Please help us with the postage so the priests can receive the Newsletter Book as soon as it is printed.
Thank you so much for all who have given. We really want to please God the Father this Christmas.
Messenger:
We have a Donor that will match the funds for the Newsletter so for every $1 you give, the donor will match the money for the Newsletter until we get $150,000 for the Newsletter Book II.
Jesus wants it out —
Please we need the money urgently because God the Father wants the Newsletter Book II out by Christmas.
---
Excerpt from July 14, 2001 message

Mary speaks:

...The Father wishes the Priestly Newsletter Book II
to reach all the 75,000 Priests. Pray Hourly for
funds for this.

..Please if you can help, help
me.
Sending the Priestly Newsletter Book II to the
75,000 Priests will help to change the face of the
earth.

end of excerpt from July 14, 2001 message
---
Excerpt from August 18, 2001 message
Messenger: ... We need to send the Priestly Newsletter Book II
to the priests of this earth.
This is God's plan. God the Father said
"The Priestly Newsletter Book II would
help to change the face of the earth."
end of excerpt from August 18, 2001 message
---
Excerpt from October 19, 2001 message
Mary speaks: ... Please I ask you to get my Son's priestly
Newsletter Book II, with the
prayer manual to my priest sons
by Christmas.
These writings were directed by my Son Jesus and given
to Father Carter to circulate for the renewal
of the Church and the world.
The Father has said this book will help to
change the face of the earth.
end of excerpt from October 19, 2001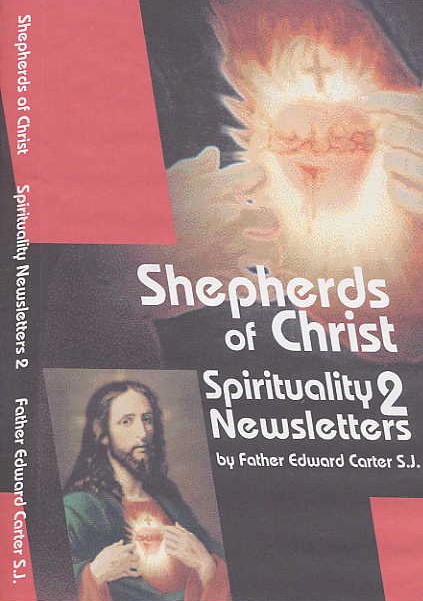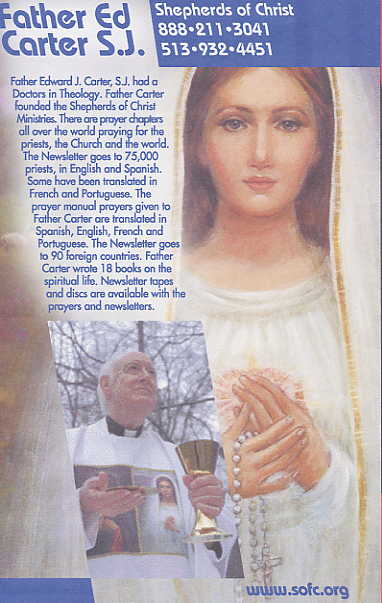 December 29, 2001
Messenger: Today we went to Rose's funeral.
It was at All Saints Church.
It was there I used to go to Mass in the late 80's every day and
early nineties and Rose would sit behind me at Mass.
It was at All Saints I received the great vision of March 26, 1996
and the following message.
This is the vision: on March 26, 1996.
---
Excerpt from the Apostles' Manual
March 26, 1996
Messenger: I came to All Saints Church before a beautiful Monstrance of gold that contained Our beloved Savior. He was adorned in light, the altar beneath shone with the brightest light and the cross behind was entirely silhouetted with the same celestial light. I was overwhelmed with the presence of God and cried deeply from the awe of it all.

To be so aware of the Almighty God truly present in His splendor and glory—to know the presence of God, to see the glistening of the gold and the light and reflection of the cross behind Him—my beauteous love—words do not exist to describe the rapture of a heavenly embrace! I cry because of the immense awe within my being to know Him. God truly present in His majesty and glory and oh, God, I behold the presence of a heavenly court. You opened wide the heavens and lifted up the veil and I knew You in Your splendor and glory. I behold God, Father, Son, and Holy Spirit.

"I am the Way, the Truth and the Life." He is the Almighty God. He shows us the celestial lights with which He will light this earth. Many must surrender their hearts to His Heart and Mary's heart. It is in surrendering, the Spirit will move in the hearts of men and the light of God will shine on the darkened earth. Not with a light that you comprehend, but a light that is divinely granted—a light beyond all lights, a vision beyond all visions. It takes the surrender of minds and hearts to God. The Spirit cannot move in us when we are in control. Surrender and give Him our heart and He will make us fishers of men.

We are His apostles in the Shepherds of Christ Movement. He is sending us out into the world to light the hearts with His burning love. We are chosen by Him and He is giving us abundant graces to grow in our union with Him. He will light this world with His burning love. Our hearts must be open. We must surrender and let go and reach beyond the senses, reach with our hearts. Pray for faith, pray for the vision of God.

Note: I cried all through this writing, having the presence of God and being in great ecstasy to behold Him. May God touch your heart and may His Spirit move within you. May you be filled with the grace of God to surrender and let Him accomplish a great work within you.

And I was filled on high with His miraculous light and He reached down and spoke within me. I was filled as never before and knew the presence of God, Father, Son, and Holy Spirit.

Note: As I finished, the bells at All Saints Church rang at 9:00 A.M. As I began to experience the immense splendor, the bells of 8:00 rang. Words do not express anything that I saw or experienced or know from this ecstasy. This was the greatest and the first of three visions, which defined clearly to me our role in the Shepherds of Christ Movement. Jesus defines clearly the role of Fr. Carter in this great mission given to him by the Father.

For Fr. Carter from Jesus:

Jesus speaks: To him who has eyes to see, they will see - not with earthly vision, but with the eyes of faith, and to him who has ears to hear, he will hear with the fluttering of the Spirit moving within him.

I am the Way, the Truth, and the Life. I am the Almighty God. I say to the rocks to fall and they fall and to the grass, grow, and it grows, and to the sun, shine, and it shines. I give to you My love in these letters. Filled with My love, you will conquer this earth, not with weapons and powder or force, but with fires of My love. The fire will wipe out the hatred in the cold hearts and the earth will be covered with My celestial light. The earth will rock and I will appear in the heavens adorned in power and glory and the contrite hearts will be saved. I came to separate the sheep from the goats, the light from the darkness. I come and no one pays Me heed.

To you, My beloved son, Father Carter, I have sent you on a mission to spread this fire that will cover this earth. The hearts of men will turn from their sick and desolate ways to hearts gentle as a little lamb.

There will be one flock and one Shepherd and My staff will rule over all. Hearts consecrated to Our Hearts will lead the light across the earth. This light will be a light of intense brightness, brighter and hotter than any light from a flame. It will be the fire of God's love. The Spirit will move in the hearts of all consecrated to My Heart, and you will know how fire truly spreads, for the love of God is a fire. It is vibrant. It is encompassing. It is smoldering, burning deep within and speedily spreading on the outside. No fire on this earth can ever describe the burning embers that burn from the Sacred Heart of Jesus. No fire burns like the fires coming from My Heart and hearts filled with the love from the Sacred Heart of Jesus.

I have written your name, Fr. Carter, in My Heart, never ever to be blotted out and this earth will be renewed with the fire of God's love through you. You are My beloved priest-son, forever, according to the order of Melchizedek. Most holy and most sacred are your hands that consecrate the Host and write My precious newsletter for My beloved priest-sons. You are never unguarded. You are held within the deepest chamber of My Heart, and you will spread My love to the priest-sons of this earth.

I am Jesus. You will spread My love to all souls on this earth. I love you with the tenderest burning love. I am Jesus, your beloved Savior.
end of March 26, 1996 message
---
December 29, 2001 message continues
Messenger: It was also where I received the vision
of December 17, 1991 of Jesus' Heart.
---
December 17, 1991
Excerpt from April 6, 1999 message

Jesus speaks: I am Jesus. I have spoken as never before, you will spread My love to all souls on this earth.

Messenger: When I received this message and saw the vision on March 26, the bells tolled at 8:00 a.m. and at 9:00 a.m.

The vision of Jesus' Heart on fire I had in the same pew at All Saints Church, December 17, 1991. The heart that is on the 2nd Blue Book. The first vision March 26, 1996, I had in the same pew on the other end of the pew toward the center aisle, the first pew on the right side of the church as I faced the altar.

end of excerpt from April 6, 1999 message
---
December 17, 1991 His Burning Heart
Messenger: I was alone in All Saints Church after Mass and Communion, in front of the tabernacle, when I saw the Sacred Heart. It was red around the outside, then a layer of yellow and then the brightest light in the center. I felt heat and it looked like an open furnace.

I thought about it all day and it instantly gave me peace and warmth in my heart. This is the purpose of these letters—to draw hearts to the ardent on-fire love of Jesus. I received the following message that day:

"Open your heart to the fire of God's love. He is ablaze in your heart. He wants to dwell in you and love you and others through you. Love God, yourself and one another and experience the fire set aglow in your heart and experience the warmth of His love."

end of writing about December 17, 1991
---
December 29, 2001 message continues
Messenger: (I had so many experiences and visions at All Saints Church.
All are not accounted here.
It was there I saw the vision of doors.
Some are accounted here.)
---
Visions and Experiences Described
March 26, 1996 - Great Vision described above
December 17, 1991 - (vision described above) Jesus' Burning Heart
April 3, 1996 - Experience during Mass
April 9, 1996 - Vision at Altar
---
April 3, 1996
On April 3, 1996, at All Saints Church I wrote:
I was at All Saints, April 3, at the 6:45 a.m. Mass. At 7:00 a.m. the bells rang at the Consecration of the Mass. The Sacrifice of Calvary rings out all over the world and I can be joined at every moment to this Sacrifice. We unite to this Sacrifice praying for ourselves and our brothers. The bell tolls at every moment I live. Whether I am doing dishes, being with my family, or whatever, I make this my offering united to the Holy Sacrifice of the Mass being offered around the world. I make my Morning Offering. United to the Holy Sacrifice of the Mass being celebrated around the world, I give myself completely to the Father in the name of Jesus in the Holy Spirit with all the angels and saints. I make this offering of my life to help in the salvation of souls. My offering is most pure and holy as I unite to the pure and holy Hearts of Jesus and Mary.

What is pleasing to my Father is that at every second I am trying to live in His will operating in love. My heroic or mundane tasks are most important as I give them in sacrifice united to Jesus in the Holy Sacrifice of the Mass.

I live in this way, always united to the sacrifice of Calvary being made sacramentally present on our altars around the world through the hands of His beloved priests.

This is the moment of sacrifice. The bells toll all over the earth and Christ, Chief-Priest and Victim, gives Himself in the Mass through the hands of the priest. I give myself in love to help in the work of redemption.

Jesus speaks: It is most difficult to present any description similar to the original mystical vision. The sketches provide a basis for reference. Nothing in words or pictures even comes close to the original experience. I wish these writings and sketches to appear that you will more fully experience my love through these revelations. Pictures are concrete descriptions of true realities. The sketches provided are more to My liking, employing the element of mystery, for nothing here on this earth will ever show even minutely the splendor of a genuine mystical vision. In expressing the visions in concrete pictures, the element of mystery is overshadowed. You must pray for grace to experience that element of mystery in these writings, knowing the infinitude of the mystery of God can never be expressed concretely through words and pictures. It is through grace that one experiences that which I reveal here.

Messenger: God is the ultimate mystery and He reveals Himself to man as He so chooses. Man must be open, soft and supple, ready for His touch.

end of April 3, 1996 writing
---
| | |
| --- | --- |
| April 9, 1996 | |
Messenger: I went to All Saints Church - saw with eyes unveiled- such an aura of celestial light. I went to Communion, had the presence of God, wanted to cry so hard from the awe of it all. I was not feeling good and He wrapped me as only He can do in His heavenly embrace. My soul sang out and the vision began. My eyes now are still seeing with this effect. He, as it were, lifts up the hard, defined lines and I see with a celestial aura. This is what I see when I see a vision....

After Communion I had this immense presence of God. I knew a vision was coming. My vision gets a certain way. The distinct lines I see before me begin to disappear and are smudged with light.

Then I saw again the celestial lights of heaven. It was as though light was spilled from heaven and landed on the flowers and the corners of everything. The Eucharist took on an immense warmth and I knew God truly present in this room.

I saw with eyes unveiled in my soul and in the room. The room had a celestial aura, it no longer looked defined and clear. It was bathed in a gentle, celestial film and all I saw I wanted to tell to those around me. But I was so caught in His embrace that my mouth did not want to move.

Grace is being spilled on the earth. I have seen this celestial light come upon the altar of sacrifice, the monstrance and the cross. The vision on March 26 (1996) I will never forget as long as I live. The light is so thick and so intense as if the heavens open in these cracks of light and there is a depth far beyond that which any mind can envision.

The sky opened up and it rained down its grace. It opens when hearts are one in the Hearts of Jesus and Mary.

end of April 9, 1996 writing
---
December 29, 2001 message continues
Messenger: Because of all these experiences I have received at
All Saints Church and with my Shepherd of Christ family
present, I felt so united to heaven and all the people there.
Today at the funeral,
It was so special to all be united as a family, Shepherds of Christ
family with Rose's family. I ask you to pray for them in their loss.
One year ago today we received the loan on the

Virgin Mary building.
It was so special because we were all gathered, the
handmaids and servants and special married
apostles and apostles and children and John and I at the
funeral with Rose's family.
I felt Fr. Carter and Rose so united to us as we
prayed at Mass.
It makes me want to cry because I know that
Rose will be so happy with Jesus, but I want to cry
because I will miss her very much. Rose was Rose
and there was only one Rose and we will all miss her,
but will be praying united to her in a special way and
united to Fr. Carter. She loved Jesus so much, she really
lived the Shepherds of Christ Prayer life, she really lived
as a Shepherds of Christ Apostle praying for the priests,
the Church and the world.
I want to account what I wrote after John, the President,
and I visited her November 3, 2001.
---
Excerpt from November 4, 2001 message
Messenger: Yesterday John and I went to visit Rose.
She is a Shepherd of Christ Apostle
in her eighties. She has been in
Shepherds of Christ since the
beginning. She led me to the place
where Fr. Smith and Fr. Carter were
talking in March, 1993. I think it
was the 3rd Monday. It was Immaculate
Heart Church.
She had her second treatment of chemo
the day before.
She had all her prayers on her table
at the nursing home:
the Morning Offering, the jiffy sheet,
the prayer manual and the Holy
Spirit Novena book.
She seemed peaceful and relying heavily
on the Lord.
I showed her the Nursing Home Tape #3
and she sang to the songs and was
at peace.
She said how beautiful it was.
When we turned on the Mass video, she
prayed intently with the Mass video.
It was very powerful. I heard Fr. Mike
give his beautiful homily and tell the
people to offer up their sufferings
united to the Mass for the priests, the
Church and the world.
It was such a powerful experience.
She was so focused on the Mass video.
It gave her so much comfort.
end of excerpt from November 4, 2001
---
December 29, 2001 message continues
Messenger: It may not feel so good sometimes because we will
miss Rose so much, but she is united with us so
deeply praying for the priests, the Church and
the world.
Her love is Jesus. She loved her family and all
of us very deeply. She loved the Mass so much.
She loved to do adoration before Jesus in the Blessed
Sacrament. She loved to pray.
I know that we can be united with Rose and
Father Carter in our prayers praying for our beloved
priests and all the souls of the earth and praying
for our Church she loved so much.
We love you Rose and we will stay united
as Father Carter kept saying before he died.
"Our Hearts are merged"
Our Hearts are merged in this special mission
of praying for the souls and our beloved priests
and the Church.
Here is a note Father Carter wrote we will
put in the front of the Priestly Newsletter
Book II.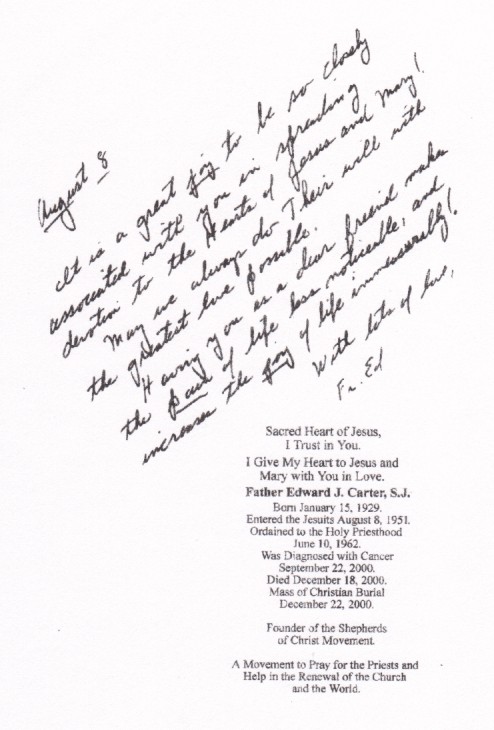 December 29, 2001 message continues
Messenger: Today the funeral for our beautiful friend
Rose was so special.
I had lots of experiences in All Saints Church.
The Mass and the priests, the music was so very
beautiful.
I cannot say how special it all was.
We all love Rose so much and we will really miss
her.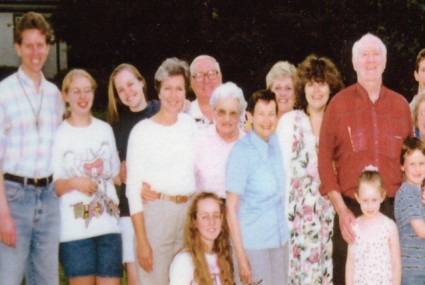 December 29, 2001 message continues
Messenger: Our hearts are merged like Father Carter said.
Oh God You are so good to us, thank You for each
other. Thank You for the love we have for
each other and thank You for death for
we can be so united to You in so much
happiness for all eternity.
It doesn't feel too good when we don't get to
see our beloved anymore and can't talk to them like
we once did, but we can have a deeper love union
with them than when they were on earth.
Today I feel bitter-sweetness in my heart. I am glad
for Rose and Fr. Carter to have moved on, but I want
to cry because I miss them both very much.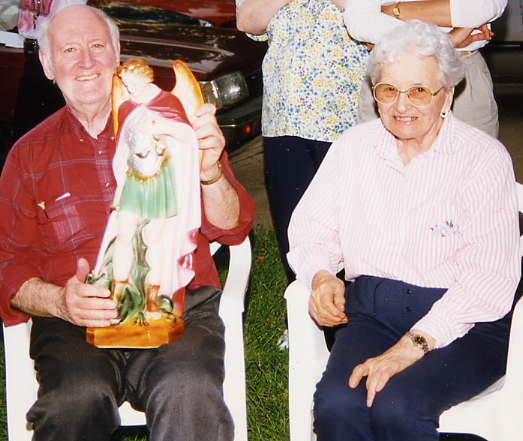 December 29, 2001 message continues
Messenger: Last year this is what happened to me before Fr. Carter died.
---
December 18, 2000, 3:00 a.m. Jesus said:
Would you wish to deprive Me of giving a holy soul their reward?

That is what they lived for, that some day they would be with Me in heaven.
end of December 18, 2000 message
---
Excerpt from July 21, 2001 message
Messenger: I saw Father Carter dressed in white and I saw
how much I have to struggle here below
doing God's work and I wanted
Fr. Carter to be in heaven.
end of excerpt
---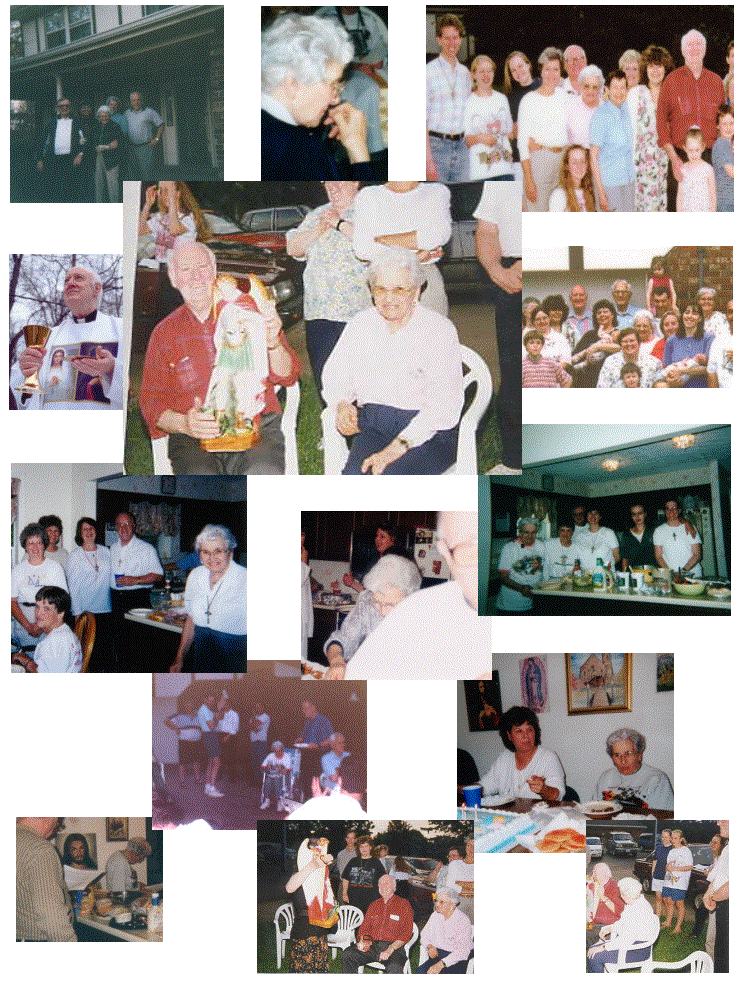 December 29, 2001 message continues
Messenger: Oh God, we love You so much and we want to be
with You forever in heaven. Help us to love You
and worship You and serve You and help us to
treasure the time we have with each other
here below every day. Help us to love each other
with a love deeply rooted in You.
Even though we can get weary and tired from
trying to serve You. Forgive us for our failings and
help us to be grateful and loving to all. Help us to
cherish our life here as an opportunity
to help bring down grace for the souls of
the world especially our priests and
our families, ourselves and for the members of
the Church making decisions about the Church.
Help the people in the Churches to be a light to
all who go there. Help the priests to teach the
people about the Eucharist. Help people to love
the Church and love the Eucharist
and the priest and thank God for these
great gifts given to us in the Church
and the sacraments.
Oh God we love You so much, please
help our children.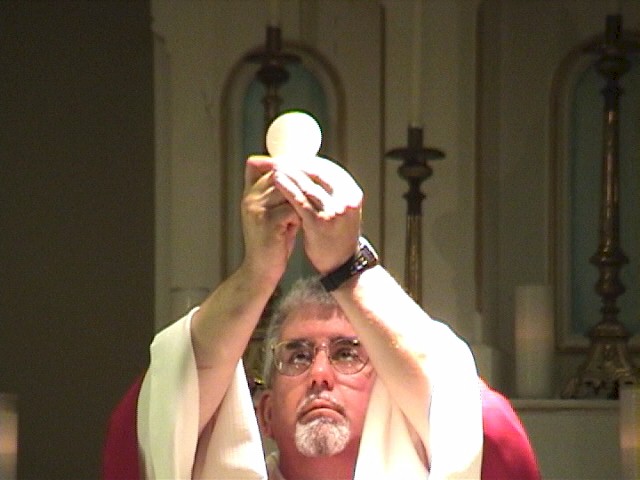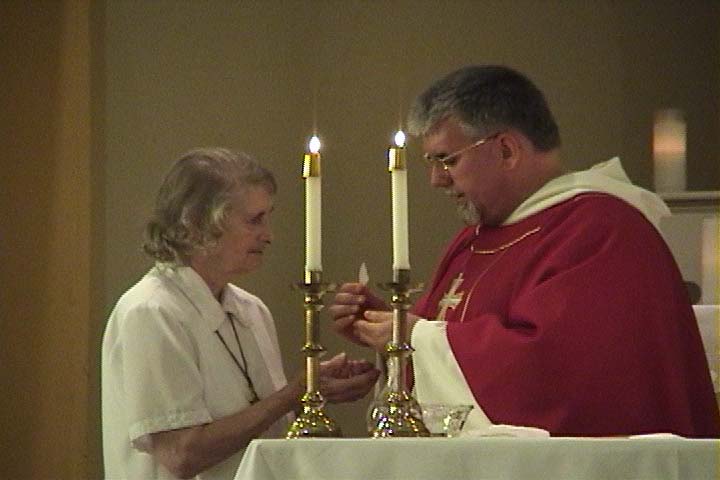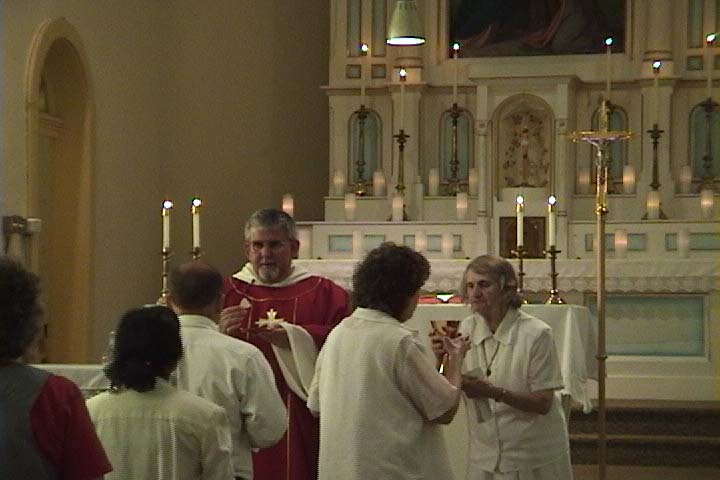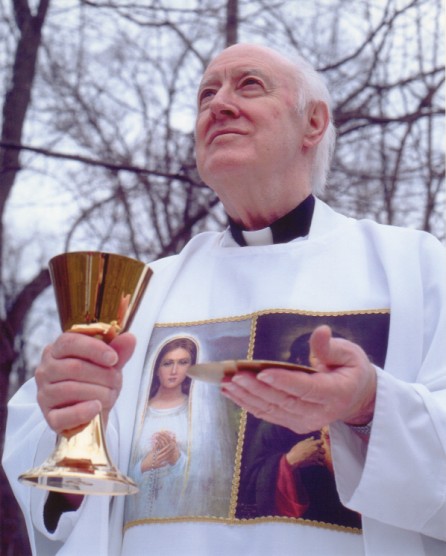 THROUGH HIM, WITH HIM AND IN HIM
December 29, 2001 message continues
Messenger: God thank You for our priests—
thank You for the Movement Shepherds of Christ
Thank You for Rose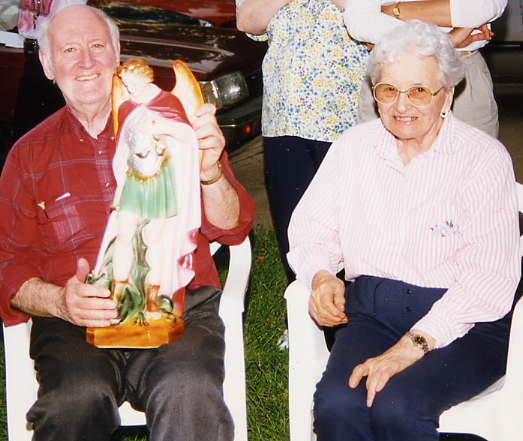 December 29, 2001 message continues
Messenger: 8 years ago today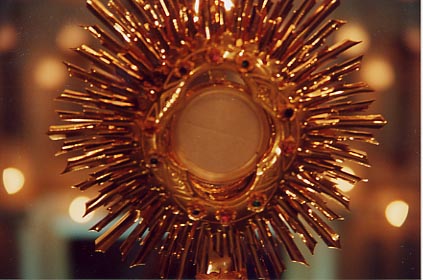 ---

My True Presence
December 29, 1993

Jesus speaks: I am the Good Shepherd. I know Mine and Mine know Me. I am one Who goes before you. Pave the way for the Lord. He is mighty and deserving of all praise and Holy is His Name! His might goes from generation to generation on those who fear Him. He raises the lowly to new life and the rich He sends away empty.

Prepare His way. As one crying in the desert, prepare and make ready a path for the Lord. At His name, every knee should bend and all should be attentive to His coming. I am Jesus, Son of the Living God. I come into your midst, not as a king adorned in splendor, but as a helpless little baby. I do not carry My might in front of Me. My might is there without any ado.

I am He Whose boot strap you are unworthy to tie, but I come and give Myself to you. I am a God of might, but one Who loves you so much that I come and dwell with you. I enter into your bodies in Holy Communion. I do not blare the trumpets and roll the drums, but nonetheless am I mighty and nonetheless am I the true King of heaven and earth!

My love for you gives you such dignity, My little ones. Why do you go about wailing for all you're worth when I give you worth. So much worth by My Communion with you. I come and I dwell by your side. I enter your body. I remain waiting for you in the tabernacle and you miss the great dignity that I bestow on you. Wake up, My people! The King of Glory is in your midst. He awaits you in the tabernacle. He waits for you to come and be in Communion with Him at Mass. And you sleep, you follow roads that lead you to empty treasures when the priceless treasure waits you at Mass!

Ready your hearts for the coming of the Lord. Be not numb to this event. Be wide awake and knowledgeable of what transpires at the altar. Bread and wine are changed by the priest into the Body and Blood of Jesus. He is the Savior of the World. He loves you so much that He comes to you every day in Communion and you, little ones, choose other things! Oh, how blind and numb My sick children are. You are missing the most valuable treasure. I await you at every Mass. Why is My church not packed for what transpires here? Concerts are packed. Ball games are packed. Big bucks for the false idols! And what for the King of Glory? An empty church!

My heart is sad, sad, sad, little ones. I come and wait for you here. Tell your brothers about My love for them. You come empty, you leave full. Tell My brothers that Jesus Christ, the Son of God, is present at Mass and He enters your bodies. Many Catholics go to Mass every Sunday and have no idea of the significance of the Holy Eucharist. My heart is aching. They receive Me. Then, with the same tongues, they leave the church rattling senseless things. I am God, you silly children. I am God and I come to you on your tongue. Tell your friends how honored you are. No stars could compare to God. They are mortal beings and their concerts are packed. Ball games are honored as a god.

Your time is not yours. It is My time and I loan it to you to work for Me. America, you have made sports a god! You have made sports stars gods, singers gods! You pack the house and the honor awaits mortal beings, but the Son of God sits in an empty church! For the few who want to sit with Me the churches are locked. Open My churches up. I want My people to come to Me and sit with Me. The few who do know the significance have to drive so far to sit with Me.

Not even My priests know how important the tabernacle is. They need to realize I am truly present there and that I wait for My loved ones to come and sit with Me. To lock Me up is not to treasure Me. To treasure Me is to make Me available to all that want to come.

Preach My love from the housetops and boast My words from every rooftop, "Jesus, Lord, awaits you in the tabernacle. He is in the church, truly present there, waiting to give you His love!" Please do not guard Me so well. I am so guarded no one can come to Me. What a setup! I sit and wait and lament My loved ones' presence with Me and the few who would come cannot get in! I am truly present in the tabernacle.

I do not want to be locked up. I want you to come and let Me pour My gifts out to you. I want to give you supplies for a sick world. Everyone should come and be with Me every day, sit in silence and let Me work in your soul. What might for you, little babies! Jesus waits to shower you with His love.

After Communion people run from the church. They receive God on their tongues and in their hearts and they are out lickety-split. Where do they go so quickly from the Son of Man, Who is God? You turn your backs. You run away like in a race, a race for nothingness, and the bridegroom of your hearts is ignored. Think of a bride running away to K-Mart two minutes after her wedding. "What could be so important?," you ask. "What is wrong with her head!?"

Little ones, what is wrong with the heads of My faithful who attend daily Mass and do not know they still have Jesus, the Son of God, in their hearts when they run to the food stores. There I am going up and down the grocery aisles while they make useless conversation-right outside the church-while I am still actively in their chest!

Tell your brothers about Communion. It has become an insignificant event! I am God and I am in the host you receive. God, God, God. Where is your honor for this King? Where is your head? I, Jesus, Lord, am in your hearts and you run from the church to pump your gas. Such indifference! Such disrespect and irreverence! I am God, My loved ones. I am the bridegroom of your soul and you leave the wedding for a trip to the gas tank. I am so offended. I, in My great love, come to you. God enters you and you run from My altar with such irreverence! Believe Me, nothing you do all day will compare to the Son of Man in your breast. I am God and I enter your body and you are so irreverent. You don't even know what treasure you possess.

Get this message out about My True Presence. Tell them, My faithful ones, that I am very displeased by their indifference to Me in Holy Communion. Stay and sit with Me. Sit in silence after Communion. My magnetic attraction draws you to the altar, then you miss the most important event in your day. It is your union with Me, your silence after Communion, your quiet resting in My arms, that will change your life. I am so loving and I long to dole out My gifts after Communion.

Know, My loved ones, Jesus, Son of the Living God is there the same as He was the day He died on the cross, and you walk away with Him Who loves you so much in your breast.

Sit with Me. Be silent. Spend time with Me after Communion. You do not talk to Him Whom you love. You just melt into each other's arms. Let Me join My heart to your heart after Communion. Don't ever run from the church. I am God, truly present there. All you faithful, become aware of My True Presence in Holy Communion and in the tabernacle. Tell all about this and how I am there out of such love and I have so much to give them.

If I, Who am God, came and was born a helpless baby, a human being; if I, Who am God, died a brutal death for you with full knowledge of all My sufferings before I did it; if I, Who am God, rose from the dead and then ascended into heaven to My Father; if I, Who am God, am present in the tabernacle and Communion and if I love you so much as to go through all this for you, then why do you not realize what I, Who am God, would give to you when you receive Me and sit in front of the tabernacle!

I am God!! What is wrong with your heads! Tell My people the treasure you possess. All else here is empty. I am Who am. I am God! I dwell among you and you run to worship other gods. God is not far off. He is in your midst as a prisoner of love and He awaits you in all your unworthiness. But you are dumb! You look for empty treasures and you find empty treasures. In your emptiness you begin an avid search for the answer to a stalking soul, when the treasure you seek is God and He longs for your union with Him!

Tell your brothers they thirst for God and He is waiting. Quit your idle pursuits, your empty hearts. Crave the Savior. You turn your backs and search a barren desert for that which is right in front of your face!

It is in making known God's True Presence in the Eucharist that much healing takes place. Many starving souls are fed for the first time when they realize that Jesus, God, is truly present there! They have given lip service to Jesus in the Eucharist, but have no idea in their hearts what a treasure they possess. Spread the doctrine of the True Presence. Make My love and My availability known to your blind brothers. Bow yourselves before My altar. Be in awe of God, truly present there. Kiss My sanctuary. Don't ever talk in church about anything. Respect God Who is there. Have reverence for Me in My tabernacle. Kiss the floor. Bow. Be reverent!

You must speak about this every chance you get. When people take time to be with Me, then I can change their hearts. Tell all who go to Communion about what a treasure they possess. Pray for your brothers. It is your goodness that pleases Me. I will hear your prayers, spoken from a good heart. Strive after holiness and strive to please Me every minute. Your devotion pleases My aching heart. Do not falter in your love of Me. Let it grow with Me in Communion and in front of the tabernacle. Silence is the key. Be silent and be with Me, little loved one.
end of December 29, 1993 message
---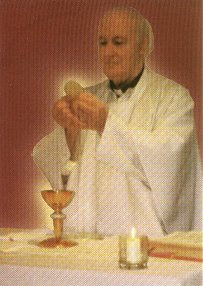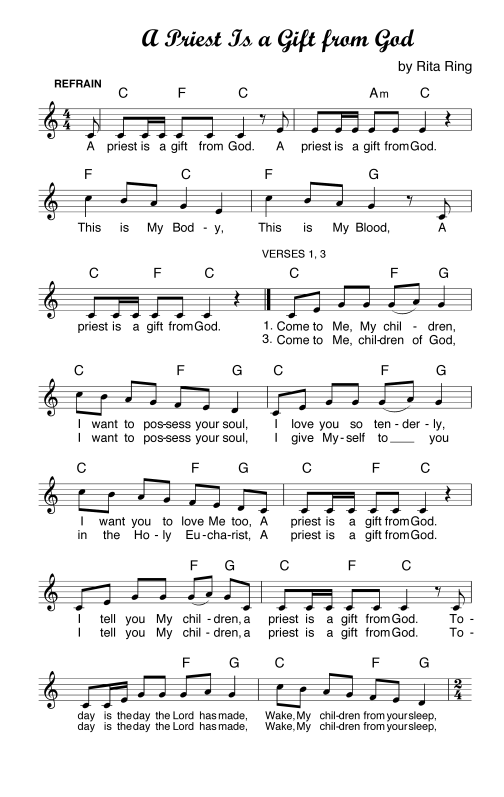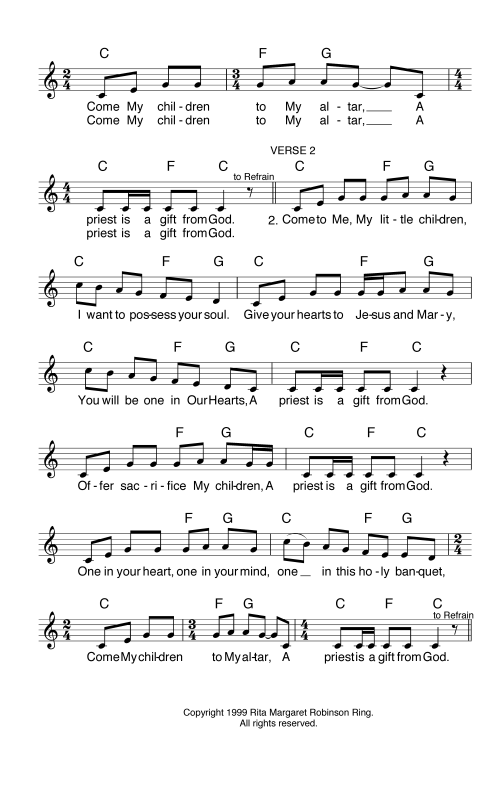 Prayer for Priests

"Lord Jesus, Chief Shepherd of the Flock, we pray that in the great love and mercy of Your Sacred Heart You attend to all the needs of Your priest-shepherds throughout the world. We ask that You draw back to Your Heart all those priests who have seriously strayed from Your path, that You rekindle the desire for holiness in the hearts of those priests who have become lukewarm, and that You continue to give Your fervent priests the desire for the highest holiness. United with Your Heart and Mary's Heart, we ask that You take this petition to Your heavenly Father in the unity of the Holy Spirit. Amen"
---
December 29, 2001 message continues
Messenger: Today is the anniversary of the All Night
message December 29, 1996 click on if you want to see it.
We are really out of Blue Books, I want
to put in some witness letters about
how the Blue Books had changed
some people's lives.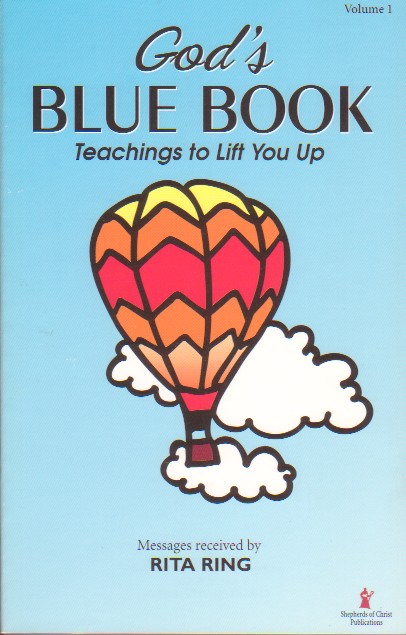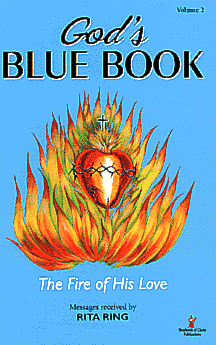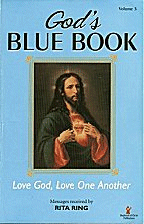 December 29, 2001 message continues
Messenger: The Blue Books help to change lives.
We first want to get the Priestly Newsletter
in the hands of the priests,
but we ask you to pray for the publication
of the Blue Books and prayer cards.
Thanks.
Pray for Ron and Ron and their families
---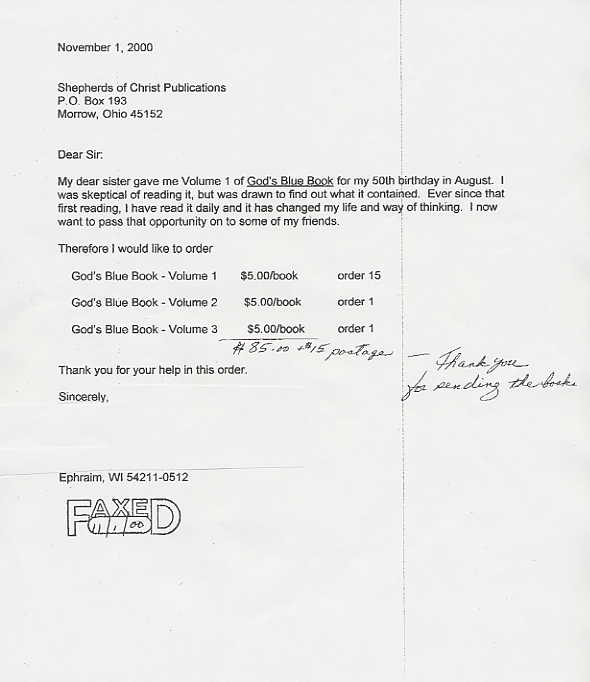 Sri Lanka
November 8, 2001
Dear Sirs,
Let me introduce myself firstly. I am a mother of two children.
Son and a daughter. I received 'God's BLUE BOOK from my
husband's aunt. She wanted me to take time and read this book.
She told me after I finished to return the book.
I must tell you, from the time I started reading this my life has
changed. I keep a set time for prayer and during office hours
too I keep on praising the Lord. My husband said a few days
ago that it's going to be Christmas and we do not have money.
He said he was all day worrying about this. I said leave it at the
feet of Jesus. Surrender it.
Please let me know whether I could have a copy of this book
if it is possible.
I love this book. I would love to have this.
God Bless
Mrs. ____
---
From: Philippines
To: info@Shepherds-of-Christ.org
Sent: Tuesday, March 27, 2001 1:26 PM
Subject: prayers and God's Blue Book

hi, wanted to tell you that your God's Blue Book has greatly changed my life and belief in God, I have been beset with problems and had been an unbeliever for 12 years, now have been daily reading it at a prayer room for the Blessed Sacrament here in Manila and has been a constant source of consolation and Belief.....thanks.
I want to know where I can get the prayer of Union with God, and also a copy of the God's Blue Book all three volumes and the prayers for the Holy Spirit.; Please inform me on how to avail of this because I want to share it with others.....thank you and hope also to know more about this organization and how to join it.....thank you again for propagating the Faith and will also do so in my own humble way....thank you again.....alex
From: Philippines
To: info@Shepherds-of-Christ.org
Sent: Wednesday, March 28, 2001 2:28 PM
Subject: Re: prayers and God's Blue Book

thank you for the response, yesterday was a trying time for me, I was losing faith in what I believed in that I questioned why despite loving God, I am having this trying time, and when I was alone with Him, I broke down and cried to Him, Questioning Him, and when I opened the page of the Blue Books only copy in the prayer room, I was amazed to read the message of May 13.......Cling to Me....every word, every detail was the answer to all my questions, and when I went home I tried locating your shepherds for christ organization and I just tried it and here you are with the answer of my mail........thank you so much and may you continue with your wonderful work and I hope I can also spread it to others in my life....thank you and thank you again.......... ciao, alex

From: Philippines
To: info@Shepherds-of-Christ.org
Sent: Tuesday, April 10, 2001 1:33 PM
Subject: Re: prayers and God's Blue Book

Hi.....thanks for your reply........I also forwarded this to several of my friends and you might get some mail from them...........will be writing a longer note on how your shepherds have come to show me so much about being in Union with the Heart of Jesus and Mary.........a wonderful experience and will be emailing on how to be a part of this........thank you again and hope to be in Union with Christ not only in Joy but also in the Suffering, thank you for your prayers..............alex
From: Philippines
To: info@Shepherds-of-Christ.org
Sent: Wednesday, May 30, 2001 11:23 AM
Subject: Re: prayers and God's Blue Book

hi, just received your books and prayers......thank you so much, donation will be fedex to your address in the envelope, thank you again, and hope to propagate Gods love to all..........ciao, alex
---
Mary G.


How has being a member of Shepherds of Christ has changed my life?
When I was a baby, we lived next door to a convent and I had 12 years of Catholic education. I married and lived in Cincinnati eventually. After my civil divorce, my three younger children and I moved back to Price Hill in Cincinnati where I grew up. This time brought me the Catholic Charismatic experience.
Dad died in '86, and I moved away to a small town. Though I tried, I thought no Catholic church or prayer group met my needs so I attended Protestant prayer meetings and services. I found ministers and prayer groups that deeply love the Lord Jesus, and I would still be in these circles except that I went back to Cincinnati to visit. I hadn't told my old friends that I was no longer a practicing Catholic so I joined them when they attended charismatic functions. At one of these I was given Blue Book I.
Actually, someone tried to give it to me and I wouldn't take it saying, I had too much to read , so it was given to the friend I was staying with. When we got home and she was out of the room, I opened the book so I could congratulate myself for not accepting it.
That's Jesus! Jesus is speaking in this book! I read almost the whole book that night, then I ate humble pie and phoned the lady who had pressed me to accept it. I received it in a few days.
Back home I read and reread it. Jesus was speaking loud and clear and I went to the nearest church and made a confession and resumed my long neglected practice of daily Mass. I also began to go to the Shepherds of Christ chapter meetings in Morrow, Ohio, where I heard the call for volunteers to come to the Virgin Mary Site in Clearwater, Florida.
How well I understand God's words, "Your thoughts are not My thoughts!".
Changing my thoughts and my ways comes more slowly than changing my address, which is now Clearwater, Florida.
Though retirement isn't at all what I thought it would be, I wouldn't trade places with anyone at all.
---
Sue H.

How has being a member of Shepherds of Christ changed my life?

It seems that I have been searching for a good part of my adult life for a fulfillment I didn't know existed. I guess I always thought that raising my five children and providing a good home for them and my husband was where I was supposed to be.

A friend came back from Medjugorje in 1988 and told me that Our Lady requested that we pray the rosary everyday. And so this is where it all started. I started praying the rosary daily and my life started to change. It was as though from that point Our Lord was leading me on a journey-- prayer groups, St. Louis de Montfort consecration, more prayer groups, grasping for any knowledge I could.

Then in August of 1994 I was led to Falmouth, Kentucky, for Our Lady's apparitions after finding out Our Lady was no longer appearing in Conyers monthly. I continued to visit Our Lady's farm on the 8th's for the next 11 months, the last being Oct. 8, 1995. I remember saying monthly that I felt as if I was being prepared for something but didn't know what. If I'm to be honest, I would have to say that I felt somewhat guilty always praying to Mary and not feeling a deeper relationship with God. I knew she took our prayers to her Son, Jesus, but I felt an emptiness that wasn't being fulfilled.

Then on June 8th, 1995, we went to the Holy Spirit Center after the Falmouth apparition and Rita came up to us and asked us if we would like to pray the rosary with her. We declined because of the long and hot day and returned home. We then went down to the Holy Spirit Center for the Miracle of the lights on Aug. 31st, 1995. The next day we stopped at the Center again and Rita again asked us to say the rosary with her. And so we did this time. It was truly beautiful (Sept. 1, 1995). In June when we met with Rita she gave me a Blue Book. I honestly didn't open it right away because I had so much other material to read. My sister-in-law said that I really should open it. I did.

This was what would finally fulfill my longing. This is what I had been looking for, a relationship with my Lord. I learned so much through these Blue Books. I started to talk to Rita weekly and started to learn more and more. I then began writing up rosaries for her and continued the learning. I learned of Our Lord's great love and how He is always with us. I learned of His presence in the Eucharist, something I always knew but it never really sank in. My life changed dramatically and I had this craving more and more to be with Jesus in front of the tabernacle. I attended the 13th's at Tom's Farm and the Holy Spirit Center and couldn't wait until the following month.

Sometimes I feel I'll explode if I can't say what I know and I feel. But it also brings such sadness to know of His great love and not have the whole world be able to experience it.

This is why I feel Our Lord is teaching us to pray. It does help to know we are helping to save souls and it helps me to deal with the lack of faith that surrounds me in today's world.

When He gives me a gift or grace and my heart feels so full of love I never want to leave the tabernacle.

God has so graced my soul to have allowed me to become a Shepherd of Christ apostle leader, for I have done nothing to earn this gift. And yet He allows me to love and know so many wonderful people in the Movement.

I accept this gift and pray that I will spend the rest of my life doing the Father's will and dwelling in the Sacred Heart of Jesus and the Immaculate Heart of Mary.
---
Ellen S.

Looking back on my life, I see how our Blessed Lord has been preparing me for Shepherds of Christ. My childhood revolved around prayer and involvement in Church activities. I am eternally grateful for the influence of my parents who taught me to love the Mass, and to respect priests and religious. My father would not tolerate prejudice of any kind, setting the background for the career I would have serving abroad in many countries.

When I retired and returned home I wondered what I would do, as I looked immediately for a Charismatic Prayer Group, studied the Bible and attended daily Mass. I decided to continue working as a secretary, but something kept gnawing at me that there was more. One evening at a Baptism of the Spirit Seminar I was participating in, I met Rita and her son. I was taken with this young boy as I prayed with him and smiled at his mother, inviting them to come to our prayer group.

One day I arrived at work and went immediately to my computer to write a resignation letter. I had not thought of this at all and when I read it, I smiled and thanked the Holy Spirit because it was a most loving note. My boss was taken back in unbelief but was convinced I was serious. That weekend I had a knock on my door and "enter Rita." She said, "I receive letters from Jesus and wondered if you would type for me. I'll bring over my computer." I said I would be glad to (not even a blink of the eye or questioning her receiving letters from Jesus!) This began our friendship and my privilege for the next seven years as together we recorded love letters from Jesus and Mary and from the Father. The Blue Books were born.

I could write volumes about my experiences, but will share one: I had a large Sacred Heart of Jesus picture before me as I worked and from day one as I began I heard, "I bless the work of your hands." and knew it was from Him because my hands would fly across the keys and I knew He was doing the work for me. Every message I typed went straight to my heart. I began to attend Mass and daily adoration with a love I never thought was possible. I now know Him as my personal friend and constant companion. I love Him with my whole soul and my whole being. From the very first rosary I attended with Rita and the founder, I knew, believed and can witness to the love that exists in Shepherds of Christ.

Presently I am living in Clearwater, Florida, working as a volunteer at Mary's Image Site along with the handmaids, servants and apostles our Lord has chosen to be here. I am amazed how our Movement has spread world wide. I love greeting people from all over the world and listening to their testimonies, especially the many who come to tell us how Shepherds of Christ has changed their lives.

Thank you, Lord, thank you, Father, and thank you, Mary, our Mother who blesses us each day. Amen.
---
Rosie R.

How has Shepherds of Christ changed my life?

The first time I opened God's Blue Book, I knew that Jesus was speaking to me! The message was just what I needed that day!

I had not attended daily Mass since Catholic High School, approximately 30 years previous. MY PRAYER LIFE had been practically non-existent -- attending Sunday Mass and calling on God during trials. In fact, the threat of my husband dying of cancer took me back to praying the rosary and praying novenas to the Blessed Mother. After he died I was at a loss, for I considered him my "rock". For the first time ever in my life, I began praying to do God's will. I had a career, but I felt in my heart that I didn't want to do that for the rest of my working life.

I was invited by a friend to make a Cursillo weekend and without hesitation, said yes. Following the grace-filled weekend, I entered the chapel for adoration and picked up the Blue Book, which I had ignored for weeks. I immediately fell in love with Jesus and my life began to change! With the help of Jesus through the Blue Book, along with daily Mass and Holy Communion and spending time after Communion with Jesus and time in prayer, I was able to work through my depression, which I had even denied existed.

After giving out many Blue Books to relatives and friends, I received an invitation to attend the first monthly Shepherds of Christ national prayer meeting at Tom A's farm held on October 13, 1996, with Rita leading a Live Rosary. I felt drawn to every meeting after that, and soon found myself in the core group at Morrow, Ohio, attending weekly prayer meetings with Live Rosaries. Through the use of the Blue Books, mostly in front of the tabernacle, weekly prayer meetings, and rosaries at Morrow, I have grown closer to Jesus than I ever thought possible.

I thank Jesus every day for His many graces and the deep love that He gives me to draw me closer and closer to Him. I also thank my spiritual Mother, Mary, with all my heart for her help when I turned to her in desperation and for the help she's given me throughout my life.

As an apostle working in Florida at Our Lady's Image Site, I have a great opportunity to spread the light and love of Christ to all I meet!!!
---
How to download the Christmas card
to print on your printer:
Download the free

software to view and print the PDF files
Then... download

PDF file of Christmas Card
Please allow a couple of minutes to download, thank you!

Merry Christmas

During the Rosary and 6:20 Prayers
November 5, 2001

December 17, 2001
5 years since Mary appeared
Prayers 6:20 PM & Procession

(Right next to each other #19 & #20
on the roll)
Mary speaks:

My dear children,
I have appeared now for five years from
my image site in Clearwater, Florida.
Special graces will be given for all those
coming on this anniversary of my five year
appearance and praying devoutly.
My Son Jesus has appeared here. We call you
to come and to pray for the priests, the Church
and the world.
A special prayer vigil with procession
will begin at 6:20. Other prayers are prayed
all through the day beneath Mary's image.
The 6:20 prayers have been prayed beneath
my image since July 5, 1998 and throughout
the world. My Son Jesus wants you to come
and to sing praise to your God. He wishes
you to come and gather on this day.
Oh my children, I love you so much. There
is so much evil in the world. My children my
Son Jesus wants you to come and pray.
I am Mary your Mother

Mary appeared in Clearwater
on December 17, 1996

Jesus speaks:

Oh My beloved children,
Come to Me. Bring the little ones. Prayers
are held daily at 6:20. I want the little ones to
come and see the gifts God has given you here.
My little ones must pray. You must pray. There
will be prayers throughout the days as usual. Have
rosary meditation books and rosaries available.
Pictures for all who come.
Bring your petitions to Me. I will grant you
special graces for your heartfelt prayers.
Oh I love you so much. Please come. Pray -
help make reparation to Our Hearts. Have prayer
sheets and coloring books available. Morning
Offering cards (Say daily). Have videos of the
Mass and Nursing home videos available.
Encourage all to pray the prayers, to pray the
rosary and to consecrate their hearts.
Have cards "I give my heart to Jesus and Mary
available."
This is a special day to heaven. This is a special
place. Come and pray for the days before and after
also if you wish. The big celebration is December 17,
2001 at 6:20 call for details. I ask you to come to Me.
I love you so much. Please pray for your world.
I am Jesus your Savior.


November 5, 2001
Jesus' face





I love you, I love you, I love you,
Jesus

---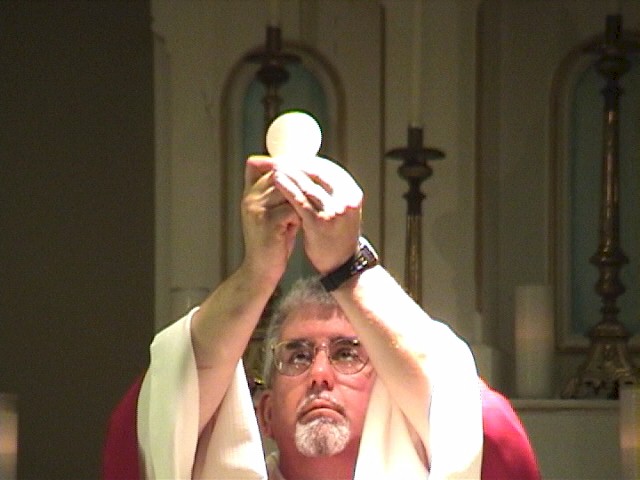 Nursing Home Mass Video
We updated the Nursing videos so that if you have a good dialup
connection, you should be able to watch the movie live.
Click Here for help with Videos

click here to download the Nursing Home and Homebound Mass video (12.3 MB)
---
This ad cannot be altered in anyway.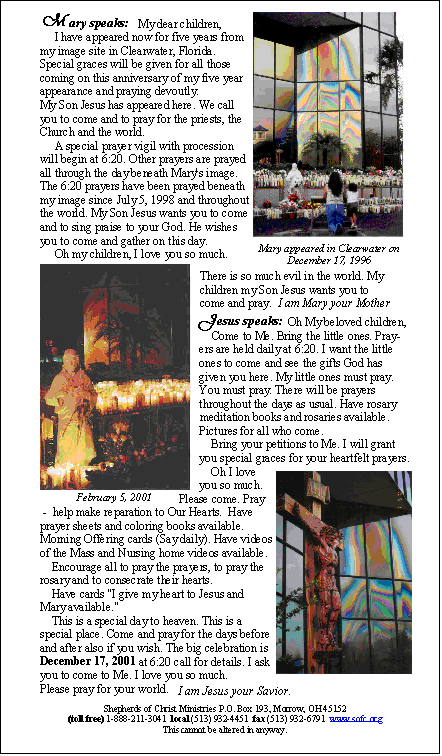 Download the free

software to view and print the PDF files of the advertisements
Please allow a couple of minutes to download, thank you.
---

This ad cannot be altered in anyway.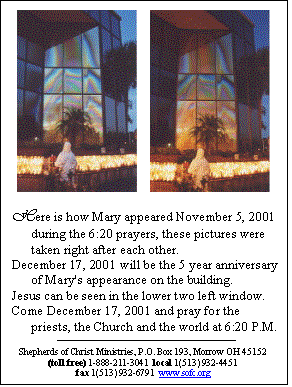 Please allow a couple of minutes to download, thank you.
---
It cannot be altered in any way.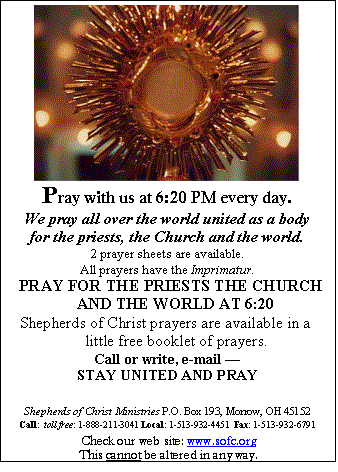 Download the free

software to view and print the PDF files of the advertisements
Please allow a couple of minutes to download, thank you.
---
This cannot be altered in anyway.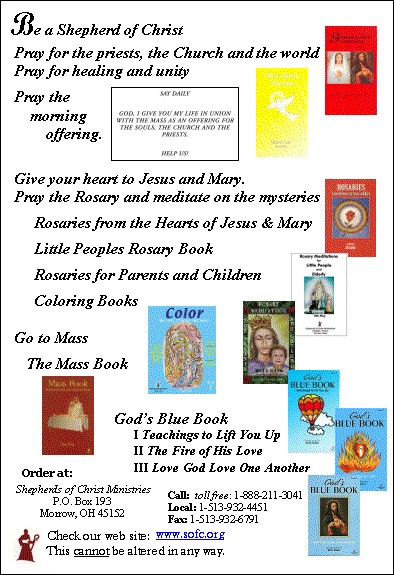 Please allow a couple of minutes to download, thank you.
---
Messenger: A shorter ad may be as follows.
This cannot be altered in anyway.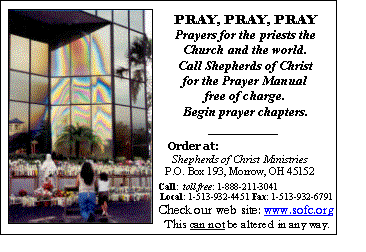 ---

This cannot be altered in anyway.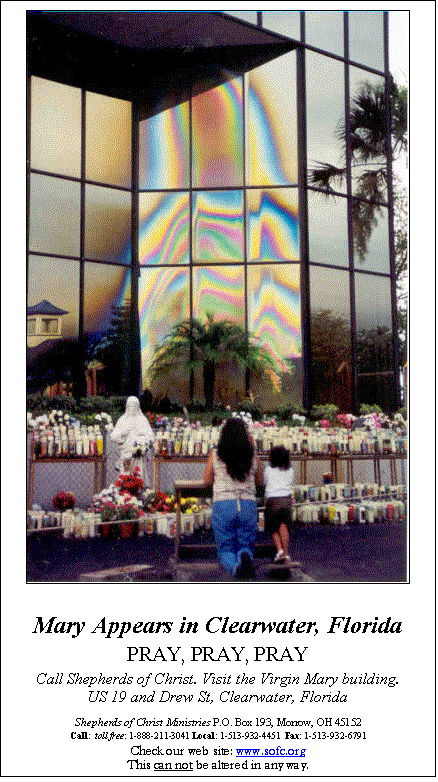 ---
---
---
Copyright © 2001 Shepherds of Christ.
Rights for non-commercial reproduction granted:
May be copied in its entirety, but neither re-typed nor edited.
Translations are welcome but they must be reviewed for moral and
theological accuracy by a source approved by Shepherds of Christ Ministries
before any distribution takes place. Please contact us for more information.
All scripture quotes are from the New Jerusalem Bible, July 1990, published by Doubleday.
Revised: December 29, 2001
URL: http://www.SofC.org
Contact Information for Shepherds of Christ
Email: info@SofC.org
---
Shepherds of Christ Ministries
PO Box 193
Morrow, Ohio 45152-0193

Telephone: (toll free) 1-888-211-3041 or (513) 932-4451
FAX: (513) 932-6791