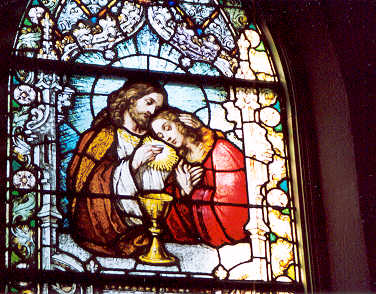 Relationships is what life is all
about
The reason we were created was
to love
3 LOVES
(1) love of God
(2) love of each other
(3) love of self
Let love be your greatest goal.
Without love — I have nothing
We were created to love
Love goes on and on
The more we learn to love, it
goes with us
Matthew 22: 36-40

'Master, which is the greatest commandment of the Law?' Jesus said to him, 'You must love the Lord your God with all your heart, with all your soul, and with all your mind. This is the greatest and the first commandment. The second resembles it: You must love your neighbour as yourself. On these two commandments hang the whole Law, and the Prophets too.'

Faith, hope and love and the greatest
of these is love
Love is selfless
Love is not prideful
Love is not jealous
God is love —
The more we love the more perfect we
become
God wants us to have relationship
The most perfect relationship
is the Trinity.
God intends us to see ourselves
as members in God's family.
The Church is the mystical
body of Christ.
The Church is one, holy, Catholic
and Apostolic
Everything we do is to build
God's Kingdom
We act for the honor and glory of
God — not selfish glory
God promised us He will never leave
us.
God has a plan for me —
God is a Person
God wants personal love
union with Him —
We don't act like God is
an idea
We need more than reasoning about God
and us - He wants a
relationship —
a loving relationship
God will never abandon us
God is with us
That is what Emmanuel says
Jesus wants me to selflessly
give myself to Him —
Jesus wants my all
Jesus as my goal will
make me happy
Joy is in God
God wants deep intimacy
with us —
God wants oneness with us
God wants our heartfelt
love
Matthew 22: 36-40

'Master, which is the greatest commandment of the Law?' Jesus said to him, 'You must love the Lord your God with all your heart, with all your soul, and with all your mind. This is the greatest and the first commandment. The second resembles it: You must love your neighbour as yourself. On these two commandments hang the whole Law, and the Prophets too.'
We were created for God
Anger, jealousness, envy,
lust makes us unhappy
ultimately —
Imperfections we act on hurt
us and others
Love is forever!!
Heaven is to be our real
home —
It is a reward —
It is a choice to give myself
to God —
I can grow ever closer
I choose how deep my relationship
with God is.
Prayer for Union with Jesus

Come to me, Lord, and possess my soul. Come into my heart and permeate my soul. Help me to sit in silence with You and let You work in my heart.

I am Yours to possess. I am Yours to use. I want to be selfless and only exist in You. Help me to spoon out all that is me and be an empty vessel ready to be filled by You. Help me to die to myself and live only for You. Use me as You will. Let me never draw my attention back to myself. I only want to operate as You do, dwelling within me.

I am Yours, Lord. I want to have my life in You. I want to do the will of the Father. Give me the strength to put aside the world and let You operate my very being. Help me to act as You desire. Strengthen me against the distractions of the devil to take me from Your work.

When I worry, I have taken my focus off of You and placed it on myself. Help me not to give in to the promptings of others to change what in my heart You are making very clear to me. I worship You, I adore You and I love You. Come and dwell in me now.

-God's Blue Book, January 17, 1994
Genesis 1: 26-27

God said, 'Let us make man in our own image, in the likeness of ourselves, and let them be masters of the fish of the sea, the birds of heaven, the cattle, all the wild animals and all the creatures that creep along the ground.'

God created man in the image of himself,
in the image of God he created him,
male and female he created them.
1 Corinthians 13: 1-13
Though I command languages both human and angelic—if I speak without love, I am no more than a gong booming or a cymbal clashing. And though I have the power of prophecy, to penetrate all mysteries and knowledge, and though I have all the faith necessary to move mountains—if I am without love, I am nothing. Though I should give away to the poor all that I possess, and even give up my body to be burned—if I am without love, it will do me no good whatever.

Love is always patient and kind; love is never jealous; love is not boastful or conceited, it is never rude and never seeks its own advantage, it does not take offence or store up grievances. Love does not rejoice at wrongdoing, but finds its joy in the truth. It is always ready to make allowances, to trust, to hope and to endure whatever comes.

Love never comes to an end. But if there are prophecies, they will be done away with; if tongues, they will fall silent; and if knowledge, it will be done away with. For we know only imperfectly, and we prophesy imperfectly; but once perfection comes, all imperfect things will be done away with. When I was a child, I used to talk like a child, and see things as a child does, and think like a child; but now that I have become an adult, I have finished with all childish ways. Now we see only reflections in a mirror, mere riddles, but then we shall be seeing face to face. Now I can know only imperfectly; but then I shall know just as fully as I am myself known.

As it is, these remain: faith, hope and love, the three of them; and the greatest of them is love.
We are to live to be more and more like
Jesus
God wants us to be lovers
Jesus' Heart is on fire for love of
us.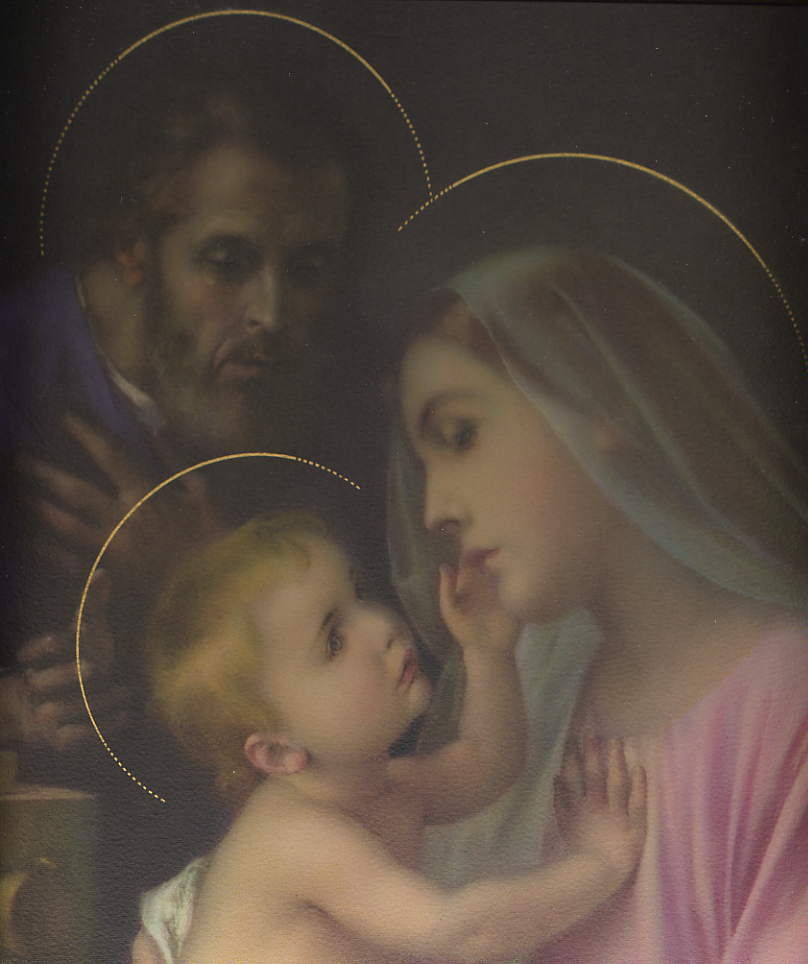 Relationship — The Holy Family
Relationship — The Trinity
Let go to God
We want relationship
We humbly recognize we are God's
creature
Matthew 11: 29
'Come to me, all you who labour and are overburdened, and I will give you rest. Shoulder my yoke and learn from me, for I am gentle and humble in heart, and you will find rest for your souls. Yes, my yoke is easy and my burden light.'
Humility is truth
We must admit to what is really wrong
with the world
So many men think of themselves
as masters of their destiny
They leave God out of the
picture
Man wants to avoid what is
hard —
this is a major obstacle
in growing in the spiritual
life if we fail to attempt
to change something that
drastically needs to change
to grow spiritually.
God loves us first
We respond to God's love
God takes the initiative
God can give us a special gift
of His grace —
elevating our natural faculties
God gives us this sharing in His
life in baptism —
We are to grow in this life
in Him —
In this lies our happiness —
we must give ourselves and try
to be more perfected to grow in
greater life in Him
God gives us His gifts of love —
God blesses us
God gives us the Church
God gives us the Sacraments
God gives us Mary —
the sinless one
God gives us Himself —
God gives us the Word
God gives us the Eucharist
God loves us through these
gifts
God loves us intimately
God gives us the Blue Books
to know this deep intimate
love
We can be great in love —
Our lives can be so great
because we love
True greatness — Christ has
pointed out is in
how we love
Relationship — holy and authentic