Mary has requested that the daily message be given each day to the world. It is read nightly at the prayer service from her Image Building in Clearwater, Florida, U.S.A. This is according to her request. All attempts will be made to publish this daily message to the world at 11 p.m. Eastern time, U.S.A.

---

We acknowledge that the final authority regarding these messages rests
with the Holy See of Rome.

---
December 6, 2002
December 7th Holy Spirit Novena
Scripture selection is Day 5 Period II.
The Novena Rosary Mystery
for December 7th is Sorrowful.
There have been physical healings
on the 5ths and at other times.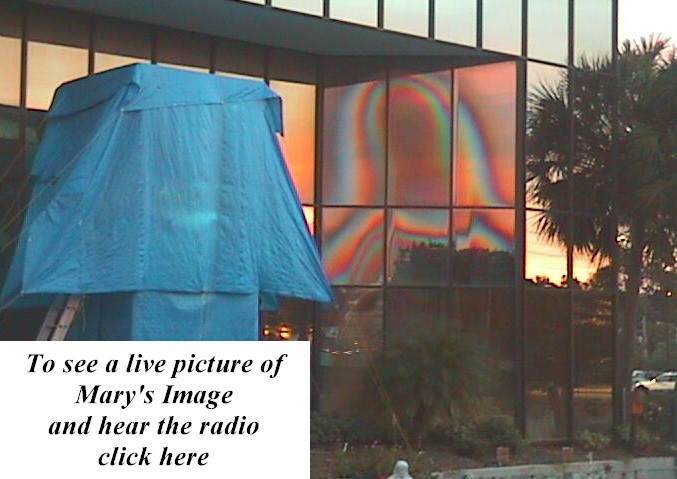 We desperately need funds
at least $20,000.
Your donation is tax deductible.
Pray for funds and grace.
The store in Florida
in the Two Hearts Building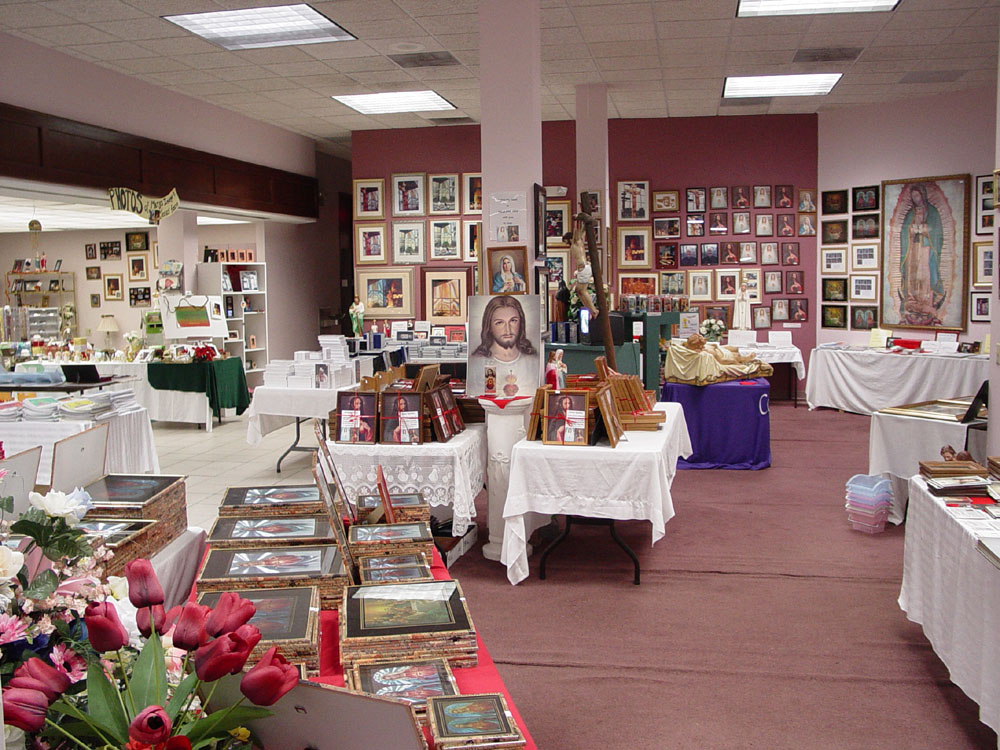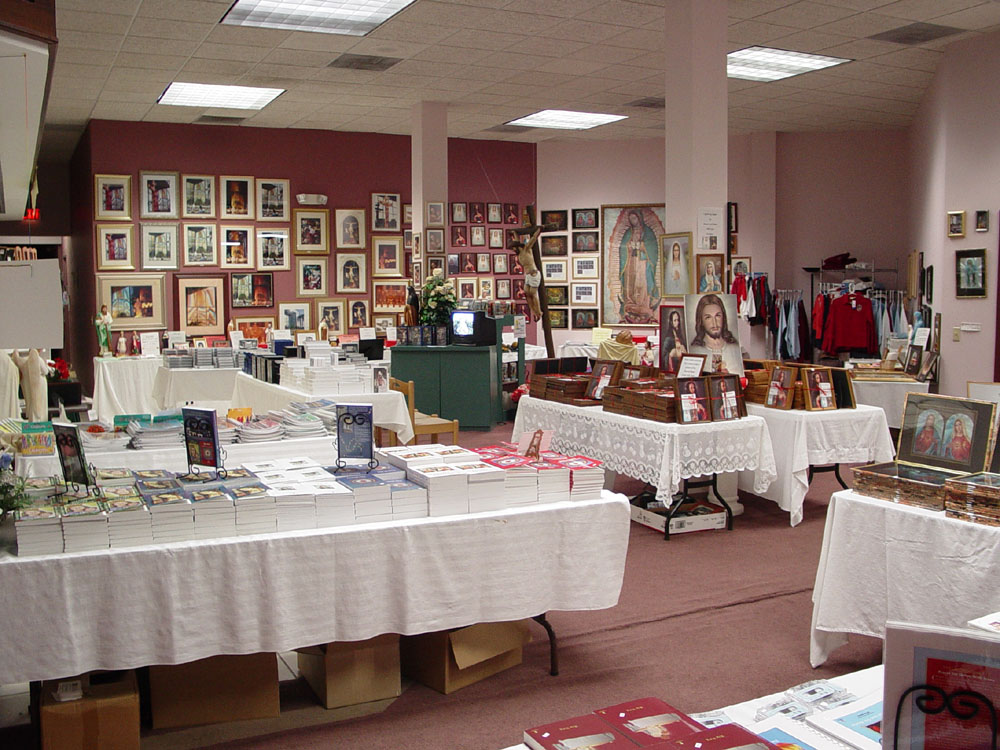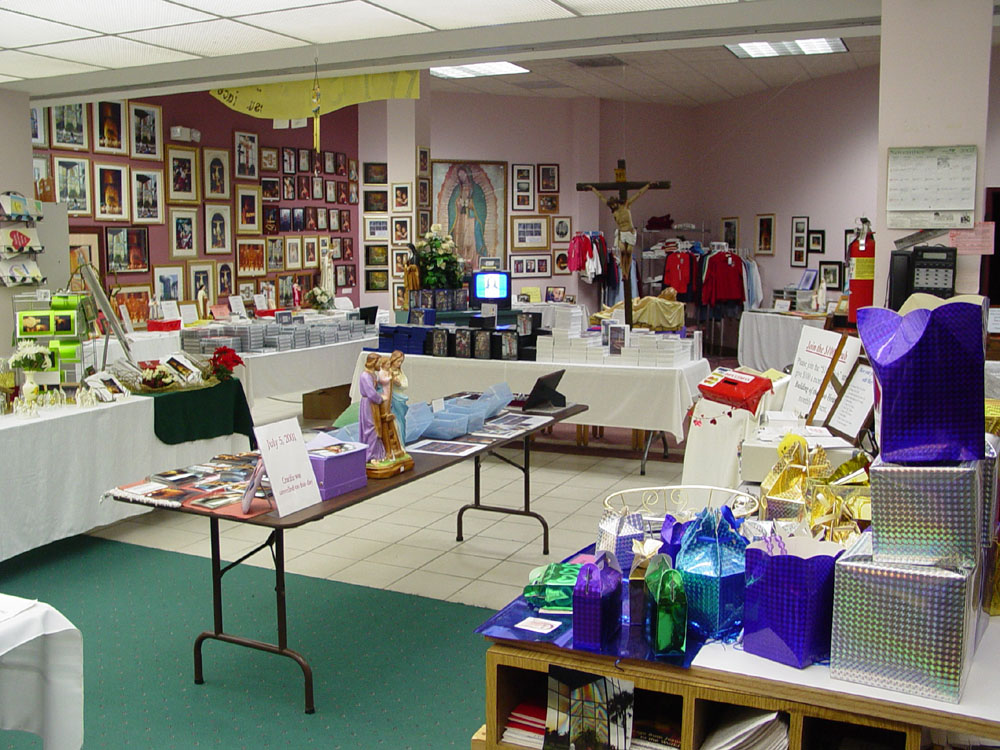 Messenger: Every day we are broadcasting
the Mass all over the
world at 4:00.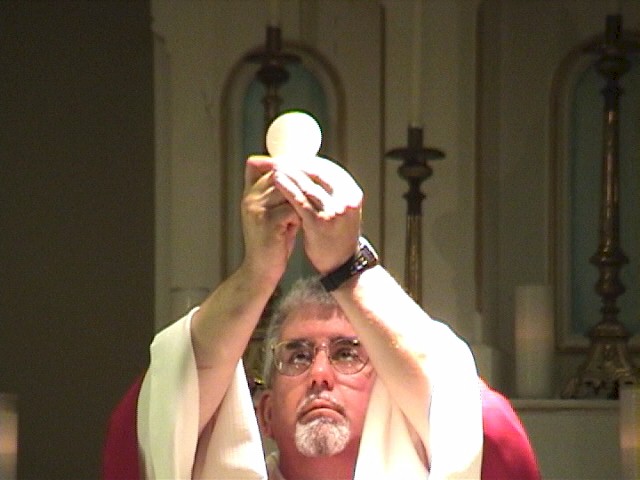 Messenger: Every day at 6:20PM we are
broadcasting Fr. Carter
praying the prayers
on tape at 6:20.
You can click on for this
and also for the live
picture of the images.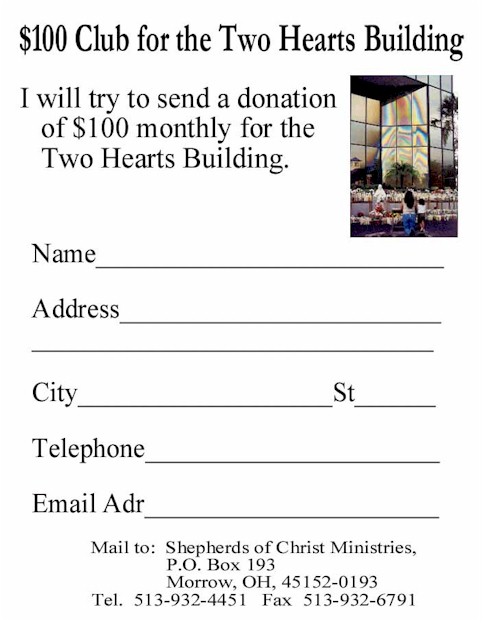 December 6, 2002

Messenger: Mary froze like
this last night just
as the lights went out
during the 5th prayer service.
If the lightening had not
struck we never would
have seen Mary that
way in visible total darkness.
The camera stopped.
We will fix it soon.
The 5th rosary was awesome in
the rain. Mary and Jesus
said souls were dropping
into hell like rain.
Mary and Jesus were
beautiful as I never saw
them before in the pouring
rain.
It was so beautiful.
Jesus speaks: Dear Apostles,
A Rosary of light for you My beloved
Florida.
Mysteries of Light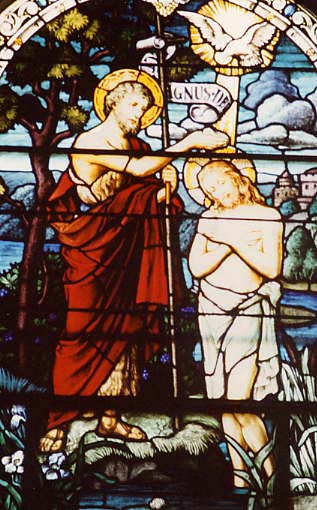 Baptism of Jesus
1. Jesus speaks: I am calling you to be My apostles
to the world.
2. Jesus speaks: I was baptized in the Jordan.

3. Jesus speaks: I am calling you to help get My
Sacred Heart picture to all.
4. Jesus speaks: I am your Savior.
5. Jesus speaks: I have allowed you to operate
from My site in Florida.
6. Jesus speaks: I am Jesus, the Son of God.
7. Jesus speaks: I come to you today.
8. Jesus speaks: Song: Please sing the Song from Jesus.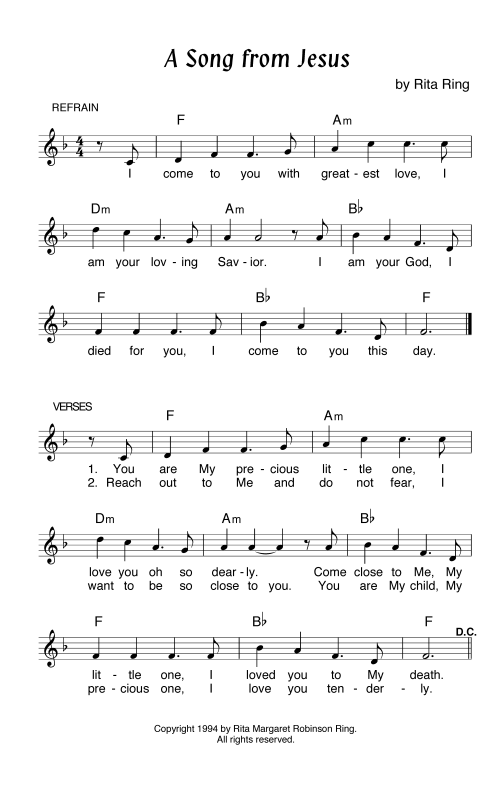 9. Jesus speaks: I am your Savior.
10. Jesus speaks: Please do not become tired
and worn out, tell My people
about the fire of My love.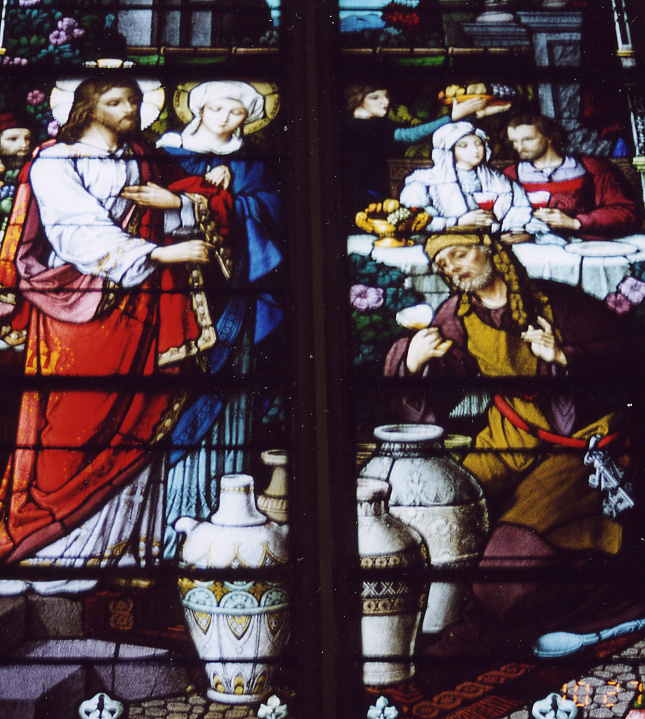 Marriage at Cana
1. Jesus is our Savior.
2. Jesus is Light.
3. Jesus is kind and merciful.
4. Jesus answers our prayers.
5. Some priests are very holy.
6. Jesus loves us.
7. Jesus loves us.
8. Jesus is the Savior of the world.
9. Jesus speaks: Please you are working for Me.
10. Jesus speaks: Please work — do My work,
please, please . . .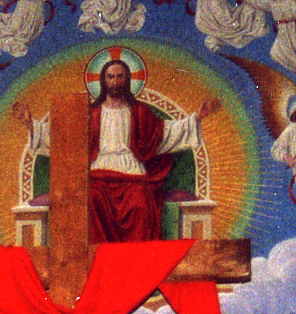 Kingdom of God
1. God is light.
2. In Him there is no darkness at all.
3. Jesus speaks: I ask you to help to
promote My Kingdom.
4. Do God's will.
5. Do what you are supposed to.
6. Jesus loves us to promote His Kingdom.
7. Revelation 19: 1-10
Songs of victory in heaven
After this I heard what seemed to be the great sound of a huge crowd in heaven, singing, 'Alleluia! Salvation and glory and power to our God! He judges fairly, he punishes justly, and he has condemned the great prostitute who corrupted the earth with her prostitution; he has avenged the blood of his servants which she shed.' And again they sang, 'Alleluia! The smoke of her will rise for ever and ever.' Then the twenty–four elders and the four living creatures threw themselves down and worshipped God seated on his throne, and they cried, 'Amen, Alleluia.'
Then a voice came from the throne; it said, 'Praise our God, you servants of his and those who fear him, small and great alike.' And I heard what seemed to be the voices of a huge crowd, like the sound of the ocean or the great roar of thunder, answering, 'Alleluia! The reign of the Lord our God Almighty has begun; let us be glad and joyful and give glory to God, because this is the time for the marriage of the Lamb. His bride is ready, and she has been able to dress herself in dazzling white linen, because her linen is made of the good deeds of the saints.' The angel said, 'Write this, "Blessed are those who are invited to the wedding feast of the Lamb," ' and he added, 'These words of God are true.' Then I knelt at his feet to worship him, but he said to me, 'Never do that: I am your fellow–servant and the fellow–servant of all your brothers who have in themselves the witness of Jesus. God alone you must worship.' The witness of Jesus is the spirit of prophecy.
8. JESUS, JESUS
JESUS I LOVE YOU!

9. Jesus speaks: Please I cry to you,
with Blood in My
eyes, to help Me.
10. Jesus speaks: I like you to sing the song
"I Love You Jesus"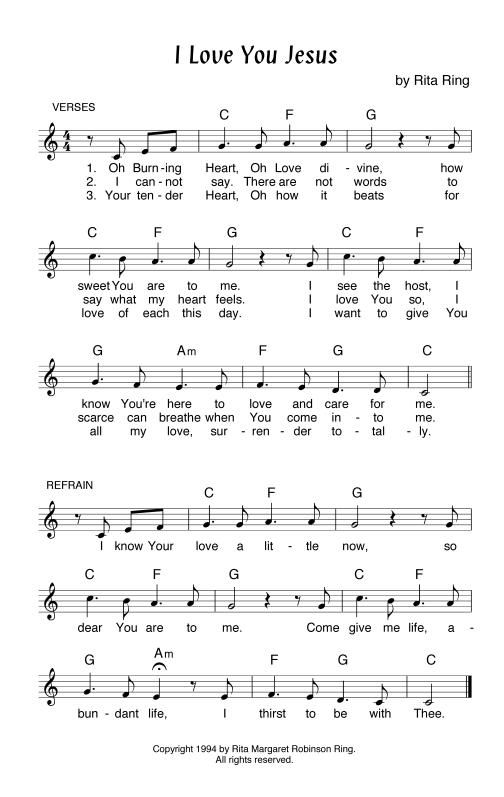 Transfiguration
1. Matthew 17: 1-2, 5-6
Six days later, Jesus took with him Peter and James and his brother John and led them up a high mountain by themselves. There in their presence he was transfigured: his face shone like the sun and his clothes became as dazzling as light.

He was still speaking when suddenly a bright cloud covered them with shadow, and suddenly from the cloud there came a voice which said, 'This is my Son, the Beloved; he enjoys my favour. Listen to him.' When they heard this, the disciples fell on their faces, overcome with fear.
2. Excerpt from February 28, 1999 daily message
Messenger: ...We must call to mind the apparition of Jesus on the cross, December 5, 1996, when He appeared at the point of death with His mouth moving.

Later that evening in the rosary He said He moved His mouth. He did not speak any words because He said, "No one was listening."
3. Excerpt from the rosary of August 19, 1997
Jesus speaks: Come away with Me, My young ones. Come into the field and taste of the beauty of the air and the beauty of this day with the most beautiful flowers that I have created for you. Do you see the beauty in each petal of the flower, or are your eyes covered with mud that you do not see? I have lifted the veil for you today and I have showed you My way. My way is the way of trust and faith and I told you in the message on Sunday that you must have faith and endurance, for I took you to the darkest night to the pointiest tunnel, to the place where you thought that you would never return and at that point I opened up through a little hole the light of day and it came streaming in and you perceived and you felt My presence, which is greater than all the things of this earth.

Wipe the grin off your face you silly earth, for you have ran after so many foolish things, when I stood there adorned in white before you, in the most glorious robes and you did not perceive that the Almighty God was alive and so I have called and I have told you and I have allowed you, My shepherds, to suffer, but the days ahead will be days of great victory, for I come to you clothed in white and adorned in a gold veil and you see that God lives and you will carry the white flag across this earth. You My shepherds, have won and the victory is yours. Did you fall in the mud and did you skin your knees, did you feel your head ache as Mine ached in the garden, did you feel the thorns poke deeply into your skull, and did you feel the ripping of your flesh as the sword went into your skin? I am Jesus, I am God, I will not be undone. I am Almighty and all powerful to the ends of the earth. You will know My might and you will not be afraid, but you will not know this if you do not trust, for I have told you the secrets in My messages, but you do not read as if you believe, you read half heartedly. You must believe with all your heart that I speak to you to be heard, for you truly are the shepherds that will go across this earth and carry the white flag, but you do not have this conviction within your heart, so therefore you do not do all that I have asked you to do, your belief is wishy washy and you do not believe with a conviction of a strong heart. I am calling you My shepherds this night to renew your faith and your endurance to realize that I am God and I have spoken here to you this evening. I am alive, I am alive, I am alive and I am with you, I am your God.

You wanted the light all the time and the light was not in the plan of the Father. It comes in light and it comes in darkness, it comes in death and it comes in victory, it comes in death and it comes in Resurrection, it comes in pain, and it comes in joy, but this world tells you today to look for only the joy and when you do not find it to do everything that you can to fill your selfish pleasurish whims that you have within you. I tell you that you must fall to your knees, that your knees will be scuffed and that you will suffer and your flesh will be tom and your head will be crowned with thorns, but you will come forth from the tomb with a veil of white across your face and you will say this is the victory that we have won because we have lived in Him.

Your movement will spread forth to the far ends of the earth, but it is faith that I am calling you to My beloved ones, you must have faith in your hearts, for this is a sign that I give to you this day. If you do not believe, you will not be able to continue ahead, for you must move ahead in faith. It is the only way that you must operate. You cannot operate trying to logically think your way across this world. It is only in believing and obeying the messages that the job will get done. It is My might that will lead this Movement to the far comers of the earth. Open your pockets and let us see your money. Do you have the money to do the things that I have asked you to do? It is in prayer, hourly prayer and begging for the funds, realizing that it is in your prayer, that it is in your endurance, that it is in your faith and your sacrifices that your prayers will be answered. You must pray hourly the Novena to the Infant of Prague and I will answer your prayers, and you My beloved ones will know the results when you pray.

I have given to you the greatest gift this day. I am Jesus, and I have come to you and I have asked you to open wide your heart and to thank Me for the gift I have given, for if the answer would have been different how would your hearts be this night, and how was it with the lepers, when I gave to them the great gift and they did not come and say thanks, but you are My holy ones that I am sending into this world and your hearts must be filled with joy. I have asked you over and over again to sing to Me with a heart that is filled with joy. I have given to you songs that I wrote Myself for you to sing of the love of My Heart. I am Jesus, the Son of God and you are the apostles of this new era. As you go out into the dark night the light will shine behind you and many will know the light of My Heart. Do not be discouraged, for the very hairs of your head are numbered and I am with you at this very moment, guarding and watching you, give Me your heart My shepherds. I have given to you a great gift this day, give Me your thanks and continue to pray. It is through prayer that you will accomplish all that the Father intends you to accomplish. I am Jesus, the Son of God. I have chosen you, I have called you and you will accomplish the work that the Father intends you to through prayer. Do not be discouraged, but encouraged for I am God and I am with you. Think of how it was before, when you did not share your love with so many others, but I have given you each other and I have bound your hearts in one heart and you come here because your hearts are filled with great joy. The more you love and the more the Movement spreads, the more will be the blessings, for as the love expounds and gets larger, the love is more full, for your love is rooted in Me and the more you love deeply the more full the love you will have. This is how it will be, one body in Me, and you will love many and you will know them deeply in your heart and your heart is full My shepherds, because I have taught you My ways of love and given you each other. You are My holy family and I love you. I have called you and so you say "why me?", and I say to you "why this Saint, or that Saint or why the Blessed Mother, why were you called?". You were called because I love you and I have given to you a great grace to be My shepherd in the Shepherds of Christ Movement.
4.

Messenger: On the 20th of August, 1997, I was at St. Gertrude's and the Lord appeared transfigured on the cross. I heard the voice of the Father speak, "This is My beloved Son, in Whom I am well pleased, listen to Him."

excerpt from February 28, 1999
5. God is light.
6. God is the Savior of the world.
7. Jesus, help us to promote the
Kingdom of God.

8. Help us to laugh and be filled with joy.
9. Jesus fill us with light.
10. Jesus help us.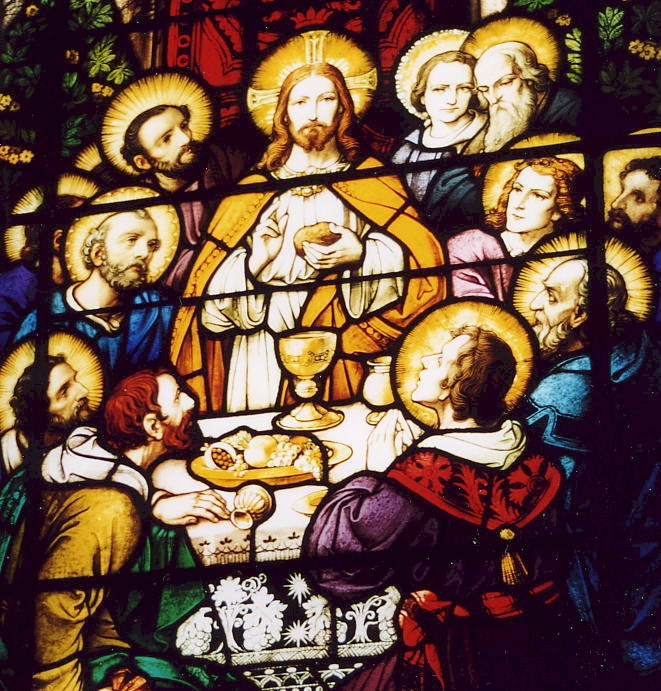 Last Supper
1. Jesus speaks: I love you.
2. Jesus speaks: I love you.
3. Jesus speaks: I love you.
I am Jesus the Son of God.
4. Jesus speaks: I love you.
5. Jesus speaks: I give you Myself in the Eucharist.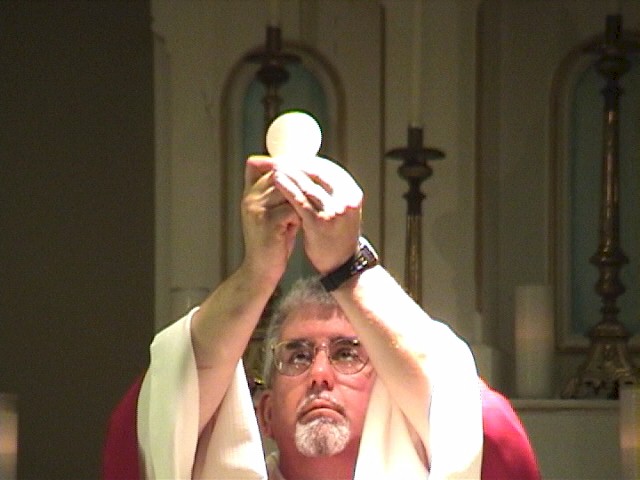 6. Jesus speaks: I call you to serve Me.
I am Jesus, Savior of the World.
7. Jesus speaks: Go to the Eucharist.
8. Jesus speaks: I give Myself to you.
9. Jesus speaks: I am Jesus.
10. Jesus speaks: I love you.



Christmas cards available

To order cards on the internet click here

call Morrow 1-513-932-4451

Suggested Donation of at least $2.00

inside of card




Rosary Books for sale


Shepherds of Christ Ministries
P.O. Box 193
Morrow, OH 45152-0193
USA

to use a credit card call Morrow at 1-513-932-4451


Red Rosary Book
$10 + shipping


Blue Rosary Book
$10 + shipping


Parents and Children's
Rosary Book
$10 + shipping

Little People and Elderly
Rosary Book
$10 + shipping


(English)



(Spanish)

Rosary Coloring Books
$5 each book + shipping

From September 5, 2002
during the special prayer service
in Clearwater, Florida
during the 6:20 prayers.

The images looked exactly like this.

This was taken without a flash.

There have been physical healings
on the 5ths and at other times.

Excerpt from September 17, 2002

I wish the store to carry the Christmas
materials immediately, coloring
books, Blue Books, Spanish Coloring
Books.

I wish image rosaries be made available in
the store and on Tom's farm.

These must also be ordered, it takes
months for their delivery, the requirement
has been made the materials are covered
before the order.

I ask you to have Christmas presents that
reflect Mary's image.

What a gift I give to the earth, you
should tell people about this especially at
Christmas.

end of excerpt from September 17, 2002

---

Please pray for the Cardinal
Our Lord has asked us to pray for.

We desperately need funds.

We need funds desperately.

We need funds to send out
the retired Bishop's mailing.


Please pray for the Cardinal
Our Lord has asked us to pray for.

---

It is difficult for us every month to make the
Virgin Mary payment.

We cannot keep the store stocked
because of the shortage of money.

Our Lord has asked us to stock the store
for Christmas.

He has asked all to come and buy
Christmas presents from the store.

Can you help us in any way?


Credit card donations accepted.


Shepherds of Christ Ministries
P. O. Box 193
Morrow, Ohio 45152
1-888-211-3041
---
---
---

Copyright © 2002 Shepherds of Christ.
Rights for non-commercial reproduction granted:
May be copied in its entirety, but neither re-typed nor edited.
Translations are welcome but they must be reviewed for moral and
theological accuracy by a source approved by Shepherds of Christ Ministries
before any distribution takes place. Please contact us for more information.
All scripture quotes are from the New Jerusalem Bible, July 1990, published by Doubleday.
Revised: December 6, 2002
URL: http://www.sofc.org
Contact Information for Shepherds of Christ
Email: info@SofC.org
---
Shepherds of Christ Ministries
P.O. Box 193
Morrow, Ohio 45152-0193

Telephone: (toll free) 1-888-211-3041 or (513) 932-4451
FAX: (513) 932-6791