China Retreat
January 10th - 13th

On the 12th, start 10:00 AM, Mass at Noon


On the 13th, start Mass at Noon then Prayers

Tune in and watch on the Internet


Please come & pray with us!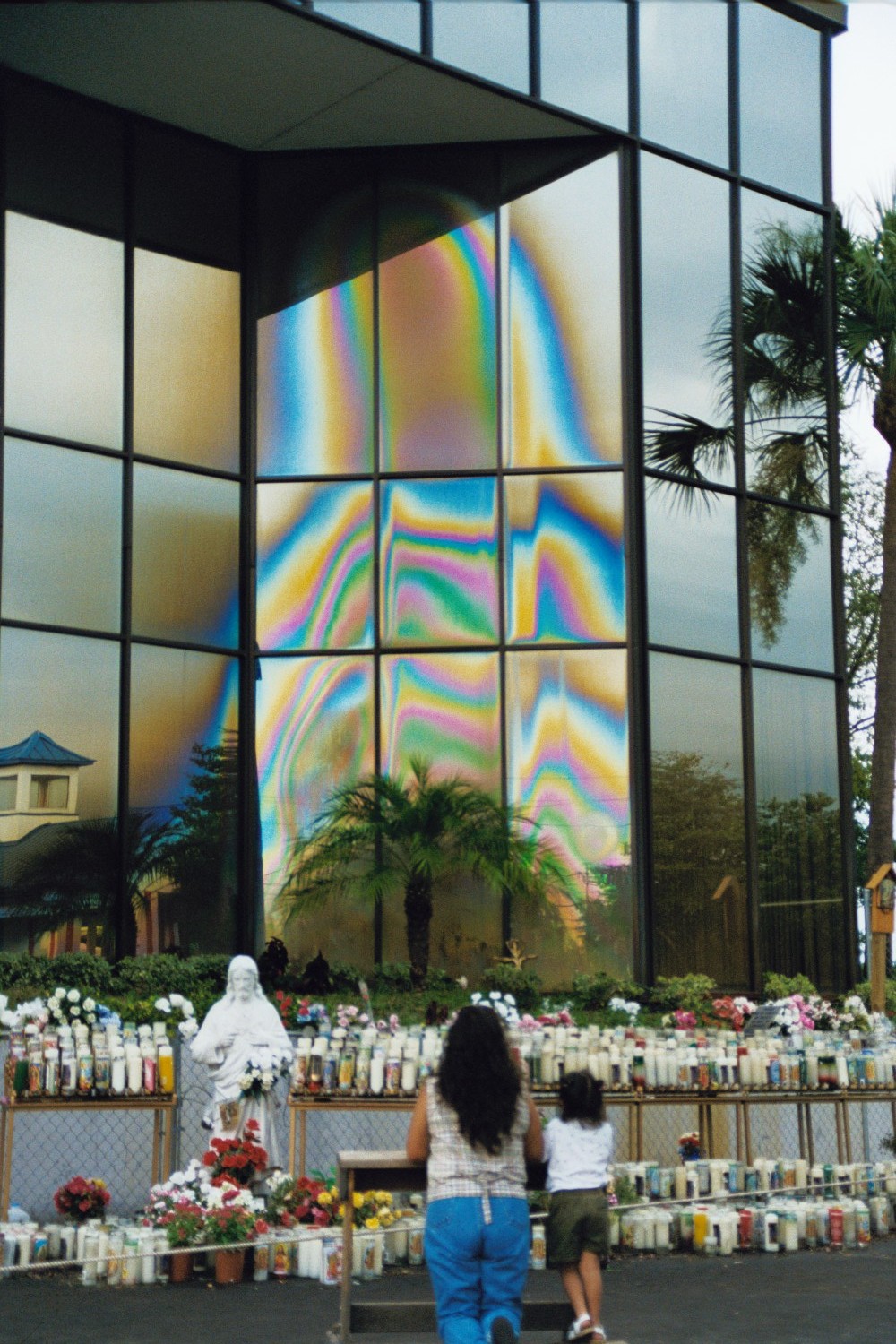 December 17, 2009 was the 13 year anniversary of the appearance
of Mary's Image on the Window in Clearwater, Florida.

35 Haitians came and prayed with us with great love and devotion.

The video of this most special prayer service is now available.
Click on one of the links below to view it.
February 11, 2010
In being with children, babies, toddlers
they usually love to have
mama and daddy home —
They are at rest — happy —
feeling complete
God created us for Him —
to be with Him in heaven
to be possessed by God —
to have the beatific vision
When we are in the Heart of Jesus —
with His Divine Love
There is peace —
In the Hearts of Jesus and Mary our
little heaven on earth —
Toddlers can scream —
I want mama
I want daddy —
They may go to work
They do not want this separation —
Mom and Daddy shows — I am
coming back —
The invisible string — my
heart is always connected
to you —
Even my mom who died
when I was 5 —
Even Fr. Carter —
We were created to be united —
to be bonded together in
our hearts in love —
We are happy when we are
as God the Creator intended
one with Him
He created us for this —
He is the doting parent —
He always loves us and wants
this unity —
It is we who move from Him —
Disobey —
Even rupture our relationship
with God —
It hurts us
We search in barren
desert and nothing can
fill us
We were created for Him —
He loves us so much —
Happiness is found only
in this relationship
with God —
We are to seek it —
We are to want it —
We will not be completely full
until heaven —
No earthly man, woman —
anyone can fill our
hearts made for God —
God the Father is our heavenly Father
Mary is our heavenly Mother
Jesus died for us and gives us
Himself truly present
in the Eucharist —
We are happy when we
go to the Eucharist —
We were created to know,
love and serve God —
God first loved us —
Response to God's love
John 3: 16
For this is how God loved the world:
he gave his only Son,
so that everyone who believes in him
may not perish
but may have eternal life.
Song: God's Love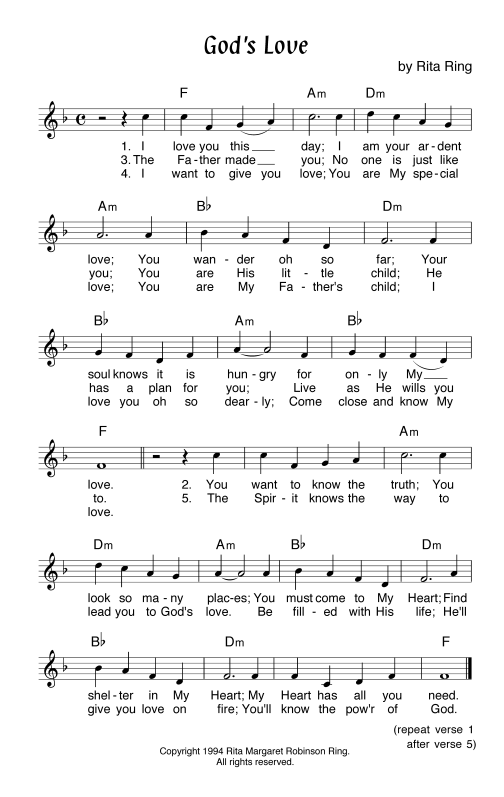 Song: Why Do We Hurt the Ones We Love?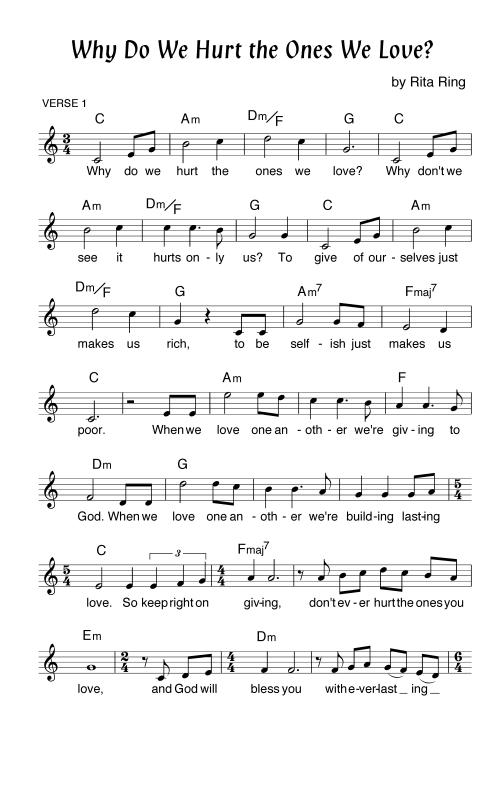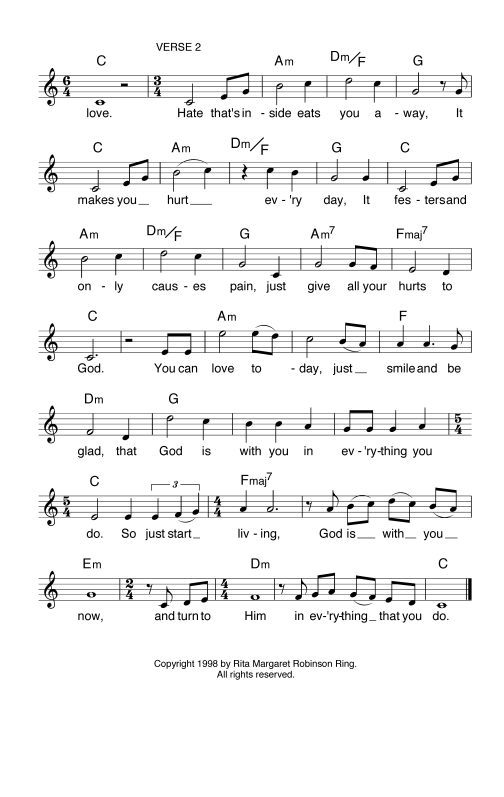 Song: Live This Day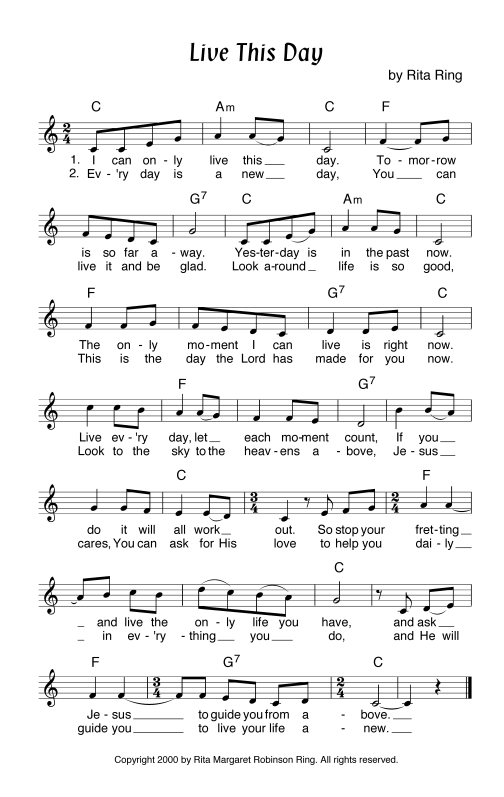 May 19, 1992
R. Dear Jesus,
I can never live the moments of this day again.
When I go to bed tonight they will be gone forever.
I must treasure each moment I have right now because I can never have it back again.
Thanks for this thought.
I love You Jesus
I love You Holy Spirit
I love You God the Father
Give a gift that lasts.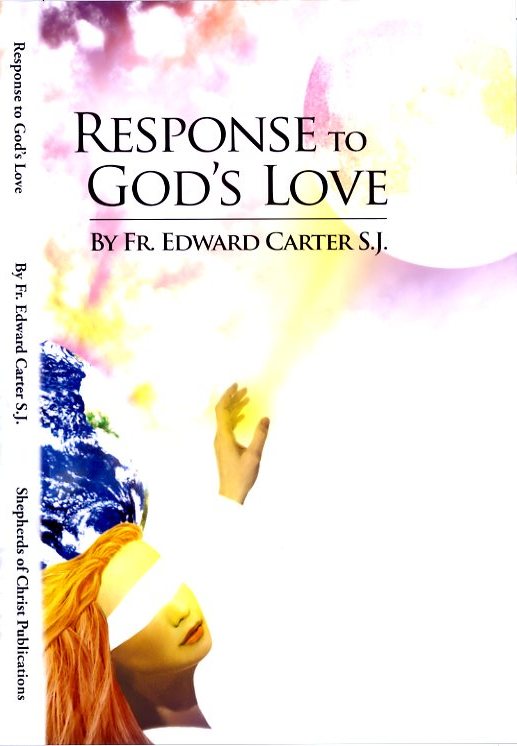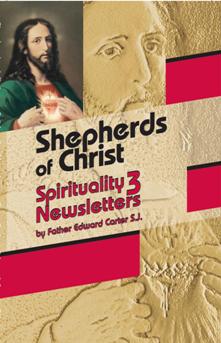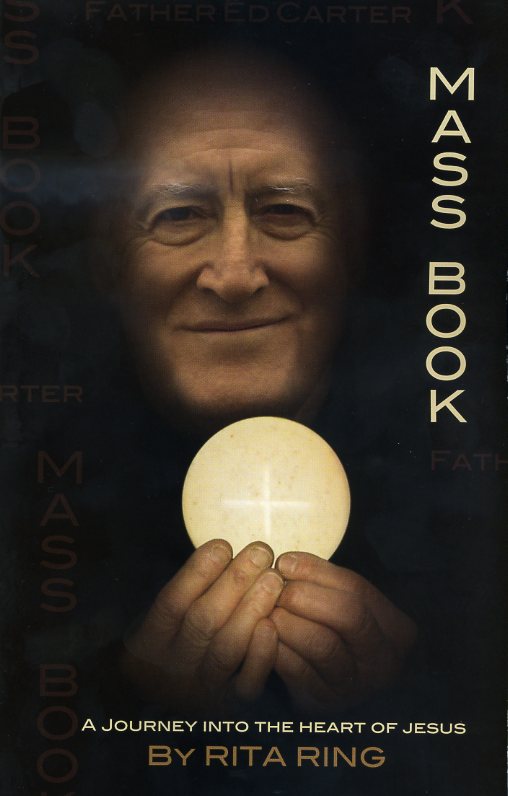 $10.00 each plus shipping
Call 1-888-211-3041
Shepherds of Christ
We can send Fr. Joe's
homily book to a priest for 75¢.
Can you please help us get
these homilies to the priests?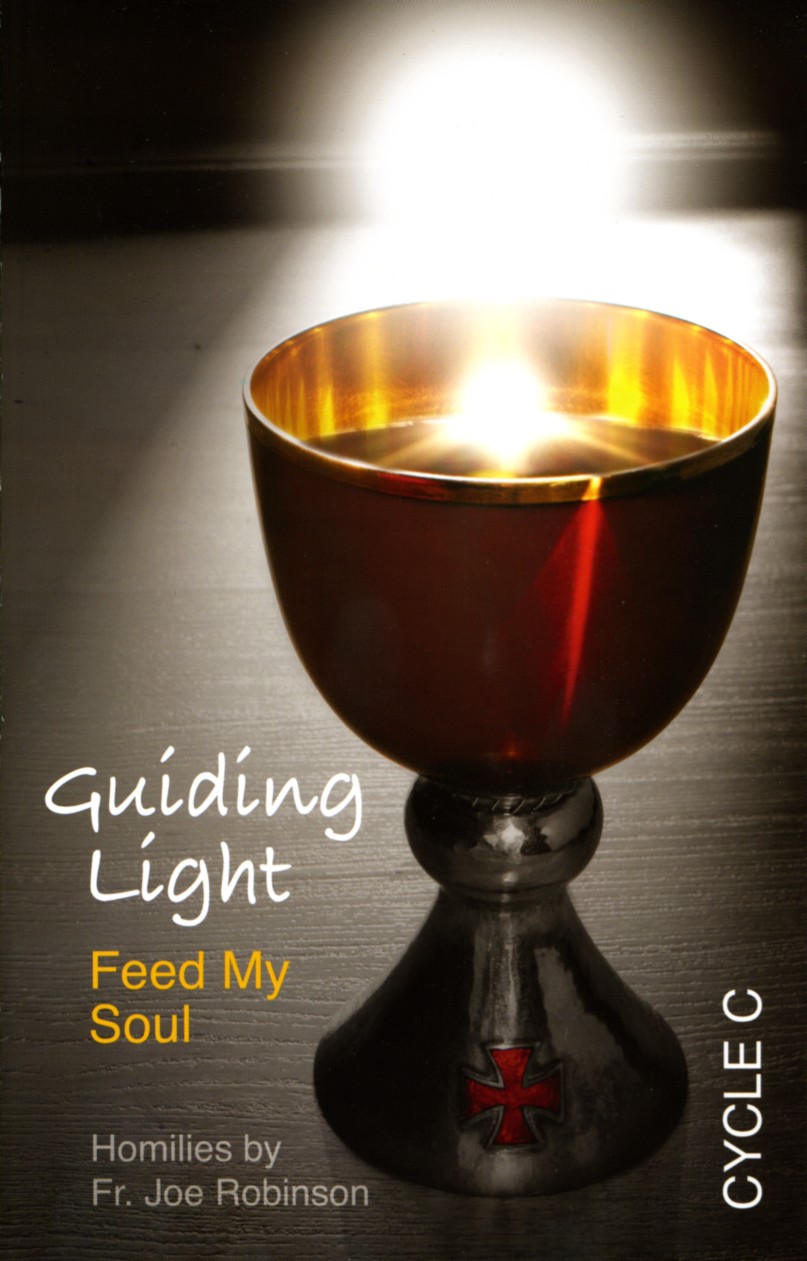 Please help us with your donation.
Call Shepherds of Christ
1-888-211-3041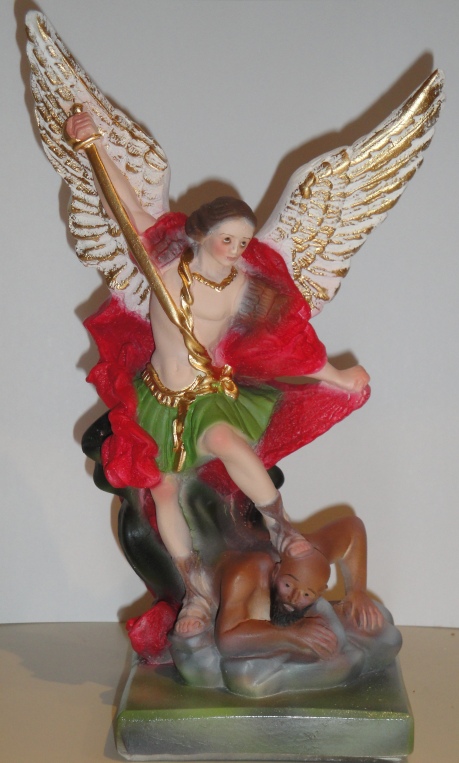 NEW! — 11" St. Michael - $40.00 plus shipping
Prayer Card 4" x 6"

.50¢ each plus postage

size 5 1/2" x 8 1/2"
$1.00 plus postage

Statues

| | | |
| --- | --- | --- |
| | | |
| Sacred Heart of Jesus w/glass - 18 | Our Lady-Guadalupe w/glass - 12 | Limpias - 8 |
| | | |
| Immaculate Heart w/glass - 18 | I Heart - Ivory w/glass - 18 | Our Lady of Grace w/glass - 18 |
| | | |
| Our Lady-Mt. Carmel w/glass - 18 | Our Lady of Lourdes w/glass - 18 | Infant of Prague w/glass - 24 |
| | | |
| Sacred Heart of Jesus w/glass - 24 | Sacred Heart -Blessing w/glass - 24 | Sorrowful Mother w/glass - 24 |
| | | |
| I Heart - Ivory w/glass - 24 | I Heart of Mary w/glass - 24 | Our Lady of Lourdes w/glass - 24 |
| | | |
| Our Lady-Guadalupe w/glass - 28 | Our Lady of Grace w/glass - 24 | Our Lady-Mt. Carmel w/glass - 24 |
| | | |
| Fatima w/glass - 11 | Pilgrim Virgin w/glass - 12 | Pilgrim Virgin w/glass - 15 |
| | | |
| Fatima w/glass - 18 | Pilgrim Virgin w/glass - 18 | Pilgrim Virgin w/glass - 27 |

| | | |
| --- | --- | --- |
| St. Padre Pio | St. Joseph | St. Therese |
| | | |
| St. Francis | St. Anthony | St. Claire |
| | | |
| Limpias | St. Jude | Divine Mercy |
| | | |
| Holy Family | Angel | St. Philomena |
| | | |
| Pieta - Marble | Pieta - Color | Holy Family |
| | | |
| St. Anthony - 18 | St. Francis - 18 | St. Joseph - 18 |
| | | |
| St. Therese - 18 | St. Rita - 18 | St. Clare - 12 |
| | | |
| St. Rita - 12 | St. Padre Pio - 12 | Divine Mercy - 12 |


Shepherds of Christ Ministries
P. O. Box 627
China, IN 47250

Toll free - 1-888-211-3041
Local - 1-812-273-8405
fax - 1-812-273-3182
web: www.sofc.org
e-mail: info@sofc.org


| | | | |
| --- | --- | --- | --- |
| | Size | Price | Quantity |
| Holy Family | 24" | $180 | |
| Limpias | 24" | $125 | |
| St. Anthony | 24" | $125 | |
| St. Claire | 24" | $125 | |
| St. Francis | 24" | $125 | |
| St. Joseph | 24" | $125 | |
| St. Jude | 24" | $125 | |
| St. Padre Pio | 24" | $125 | |
| St. Therese | 24" | $125 | |
| Divine Mercy | 22" | $125 | |
| Angel | 22" | $100 | |
| St. Philomena | 20" | $100 | |
| St. Philomena | 16" | $65 | |
| St. Joseph | 18" | $65 | |
| St. Francis | 18" | $65 | |
| St. Anthony | 18" | $65 | |
| St. Rita | 18" | $65 | |
| St. Therese | 18" | $65 | |
| Pieta - Color | 15" | $75 | |
| Pieta - Marble | 15" | $75 | |
| Holy Family | 12" | $60 | |
| St. Padre Pio - standing | 12" | $40 | |
| St. Padre Pio - sitting | 8" | $50 | |
| St. Rita | 12" | $40 | |
| Divine Mercy | 12" | $40 | |
| St. Claire | 12" | $40 | |
| Limpias | 8" | $25 | |
| Our Lady of Guadalupe w/glass | 28" | $500 | |
| Our Lady of Mt. Carmel w/glass | 24" | $500 | |
| Immaculate Heart of Mary w/glass | 24" | $500 | |
| Immaculate Heart - Ivory w/glass | 24" | $500 | |
| Infant of Prague w/glass | 24" | $500 | |
| Our Lady of Grace w/glass | 24" | $500 | |
| Our Lady of Lourdes w/glass | 24" | $500 | |
| Sacred Heart of Jesus w/glass | 24" | $500 | |
| Sacred Heart -Blessing w/glass | 24" | $500 | |
| Sorrowful Mother w/glass | 24" | $500 | |
| Immaculate Heart of Mary w/glass | 18" | $300 | |
| Immaculate Heart - Ivory w/glass | 18" | $300 | |
| Sacred Heart of Jesus w/glass | 18" | $300 | |
| Our Lady of Lourdes w/glass | 18" | $300 | |
| Our Lady of Grace w/glass | 18" | $300 | |
| Our Lady of Mt. Carmel w/glass | 18" | $300 | |
| Our Lady of Guadalupe w/glass | 12" | $200 | |
| Fatima w/glass | 11" | $150 | |
| Fatima w/glass | 18" | $250 | |
| Pilgrim Virgin w/glass | 12" | $160 | |
| Pilgrim Virgin w/glass | 15" | $200 | |
| Pilgrim Virgin w/glass | 18" | $250 | |
| Pilgrim Virgin w/glass | 27" | $450 | |


Call for Shipping Price (1-888-211-3041)


Name

Sub-Total
Address

IN Tax (7%)
City

Shipping
State Zip

Donation
Telephone

Order Total

Shepherds of Christ
P. O. Box 627
China, IN 47250

Call Shepherds of Christ

1-888-211-3041


Fr. Joe's Homily Books

Guiding Light - Cycle A
The Word Alive in Our Hearts

$10.00




Guiding Light - Cycle B
Focusing on the Word

$10.00


Guiding Light - Cycle C
Feed My Soul

$10.00

Fr. Carter's Books


Priestly Newsletter Book I

12 Newsletters
July 1994 - June 1996

$12.00


Priestly Newsletter Book 2

17 Newsletters
1996 - 1999

$12.00


Priestly Newsletter Book 3

4 Newsletters & Prayers
2000

$12.00

Response to God's Love



$10.00


Messages given
by Jesus and Mary 1994

Tell My People


$10.00



The Pain and the Joy

$10.00

Synopsis of the Spiritual Life

Spirituality Handbook
$3.00


Priestly Newsletter on CD
2000 - Issue 1

$10.00


Priestly Newsletter on CD
2000 - Issue 2

$10.00

Fr. Pasquini's Books


Authenticity



Prayers and Meditations

$10.00

In Imitation of Two Hearts

For those suffering or
in Nursing Homes

$10.00

Light, Happiness and Peace

Journeying through traditional
Catholic Spirituality

$10.00

Medicine of Immortality

Prayers and Meditations - will assist the reader in growth toward a deeper understanding of the mystery of the Eucharist

$10.00


Ecce Fides - Pillar of Truth





Ideal for RCIA, Adult & Youth Bible Study, Homeschooling, Catholic
Identity Studies

$10.00

Shepherds of Christ Newsletters
9 Newsletters
2006 - 2008



$36.00

DVDs and CDs by Fr. Pasquini





Authenticity DVD
Prayers on the Ocean

$10.00


Nursing Home Mass DVD

$10.00

Consolation DVD

$10.00

Medicine of Immortality
Read by Rita Ring

2 CDs - $17.00

In Imitation of Two Hearts DVD

$10.00




Consolation CD
by Fr. John

$8.00





Nursing Home Mass CD

$8.00


Holy Spirit Novena DVD

$10.00

Divine Mercy Chaplet DVD

$10.00

Call Shepherds of Christ

1-888-211-3041

Available for $10.00 plus postage

1-888-211-3041

Call Shepherds of Christ

God's Blue Books

God's Blue Book 1 –
Teachings to Lift You Up

$10.00




God's Blue Book 4 –
The Love of the Hearts of
Jesus and Mary

$5.00





God's Blue Book 2 –
The Fire of His Love

$10.00


God's Blue Book 5 –
So Deep Is the Love of His Heart

$5.00




God's Blue Book 3 –
Love God, Love One Another
(Fr. Carter's favorite)
$10.00





God's Blue Book 6 –
He Calls Us to Action

$10.00


Rosary Books





Rosaries from the
Hearts of Jesus and Mary

$10.00


Rosaries from the
Hearts of Jesus and Mary

$12.00

Rosary Meditations for
Parents and Children's

$10.00




Mysteries of Light 1

$5.00


Mysteries of Light 2

$5.00




Little People & Elderly Rosary Book

$10.00

Coloring Book
$5.00 each




Coloring Book
$5.00 each

Coloring Book
$5.00 each

Coloring Book
$5.00 each

Coloring Book
$5.00 each




Coloring Book
$5.00 each

We are trying to get

Response to God's Love

and the Mass Book out.


Anybody who wants to help us

with a donation to get these 2 books

out in the Priestly/hierarchy mailing —

Please call Shepherds of Christ

1-888-211-3041

July 31, 1994

Words of Jesus to Members of
Shepherds of Christ Associates:

"My beloved priest-companion, I intend to use the priestly newsletter, Shepherds of Christ, and the movement, Shepherds of Christ Associates, in a powerful way for the renewal of My Church and the world.

"I will use the newsletter and the chapters of Shepherds of Christ Associates as a powerful instrument for spreading devotion to My Heart and My Mother's Heart.

"I am calling many to become members of Shepherds of Christ Associates. To all of them I will give great blessings. I will use them as instruments to help bring about the triumph of the Immaculate Heart and the reign of My Sacred Heart. I will give great graces to the members of Shepherds of Christ Associates. I will call them to be deeply united to My Heart and to Mary's Heart as I lead them ever closer to My Father in the Holy Spirit."

- Message from Jesus to Father Edward J. Carter, S.J., Founder, as given on July 31, 1994,
feast of Saint Ignatius Loyola, Founder of the Society of Jesus (The Jesuits)




The China Church is over 140 years old

and we pray in there 24 hours a day.

It needs stucco and so does

the community building.

Can you please help us?

Call Shepherds of Christ

1-888-211-3041

Likewise the priest house

is 150 years old.

Jesus told us to repair it

which we have been doing.

We need $13,000.00 for this work.

You can help put the Blue Book V

in the hands of 1,000 people

we need $1,200 postage for this

It is ready to go

Call Shepherds of Christ

1-888-211-3041

Crucifix — hand carved by Felix

Available for $750.00

Brand New Internet Store