Mary has requested that the daily message be given each day to the world. It is read nightly at the prayer service from her Image Building in Clearwater, Florida, U.S.A. This is according to her request. All attempts will be made to publish this daily message to the world at 11 p.m. Eastern time, U.S.A.

---

We acknowledge that the final authority regarding these messages rests with the Holy See of Rome.

---
---
A Prayer for Intimacy with the Lamb, the Bridegroom of the Soul

Oh Lamb of God, Who take away the sins of the world, come and act on my soul most intimately. I surrender myself, as I ask for the grace to let go, to just be as I exist in You and You act most intimately on my soul. You are the Initiator. I am the soul waiting Your favors as You act in me. I love You. I adore You. I worship You. Come and possess my soul with Your Divine Grace, as I experience You most intimately.
---
Messenger: Include Our Lady of the Holy Spirit Center in 6:20 prayers.
---
Jesus speaks: There was a blind man and a street. A man stood by the street and watched the blind man walk before the passing traffic. The man who stood by screamed and screamed and screamed, and the blind man never heard as he walked into the car that struck him to the ground. There he lay on the street dead.
Later an ambulance came, but it was too late. The man was dead. The ambulance driver, angered at the man who screamed, hollered obscenities to the man for not saving the blind man. The man who screamed was silent.
I tell you this, when I opened My mouth on the cross December 5, 1996, My messenger screamed and you paid no heed. The cross I appeared on is a cross of splendor and beauty. I chose this cross to appear alive on. My mouth moved and I suffered in anguishing pain. What did you do on December 5, 1996? What did you do when My messenger told you how My Mother appeared daily for 14 months? Did you listen to her, or did you doubt her and time the messages. If you really believed God was speaking would you listen or worry how long the people had to sit through the rosaries?
Do you believe now after Mary appeared on the 5ths for two and a half years and then I appeared at the edge of death?
Did you believe when Mary appeared 12 days later on the building?
What did you do when she told you that there would be a big boom and dust would go up in your faces?
Did you hear her call or did you make her shout?
What do you do now that you see Mary on the building? Do you believe when all these people share how the Blue Books have changed their lives?
What would you do if God told you that someone was going to die tonight? Would you not try to get him to understand and listen? What if he wouldn't listen? Would you scream and keep trying to reach him?
My men, how do I get your attention? You won't hear Me and you harass My messenger..
Did you know Falmouth, Kentucky, was on the front page of the Cincinnati Enquirer, that it flooded again?
I wish both sides from the Falmouth card to appear here.
---
Falmouth Flood Card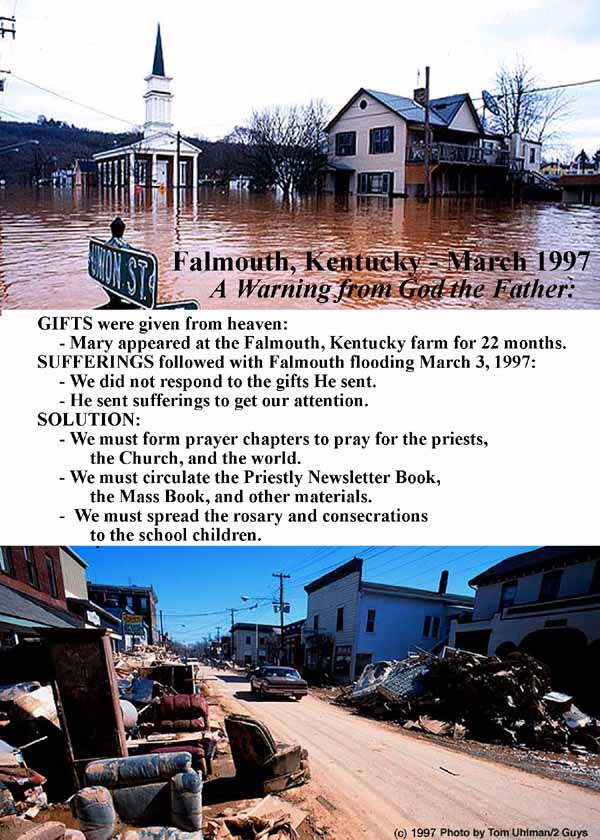 FALMOUTH KENTUCKY FROM HEAVEN'S PERSPECTIVE
(back of card)

March 27, l997 - Message from God the Father, received by Rita Ring:
We have sent you great gifts and they have not been accepted and obeyed. What is left but to send you greatest sufferings? I sent My Son to you. He has given you the most tender messages of His love (Tell My People, Rosaries From the Hearts of Jesus and Mary, & God's Blue Books) to bring about the Reign of His Most Sacred Heart. You have not appreciated the gift we have given you. I gave you your Mother. She appeared and she warned you. Falmouth is an example of the sufferings that will befall the earth. I sent you gifts from heaven and you continue to offend and ignore your God. I will chastise the earth with the greatest sufferings. You did not respond to the gifts, as did the people of Falmouth not respond to the gifts given. You will now receive the chastisement that will cause you to sit up and take notice. Falmouth is a warning to this earth.
January l8, l997 - Message from God the Father, received by Rita Ring:
...I tell you to read the account concerning Noah. Nowhere in history has God been offended as He is this day by the sinful world. You will suffer a fate for the offenses against God.
...Mary appeared at Fatima to warn you, the sinful children, how they were offending God, but you did not listen. The war (WWII) did not change the hearts of many evil men. I warn you through My beloved daughter Mary. You did not heed her warnings. Disobedience against the mother I gave you displeases Me greatly. Mary is the Mother of all children. Mary is the gift from Me, but you are willful and abuse the gift I send you...Disobey My messenger, ignore your Mother, ignore the Son in these messages...My Plan will unfold through the Shepherds of Christ Movement. I am talking through these messages given by My Son and Mary to tell you how to accomplish this task of carrying out My plan.
February 10, l997 - Message from God the Father, received by Rita Ring:
...Nowhere in the human history of man have I revealed and given such gifts as I have given to you in your movement (Shepherds of Christ). The plot is the same as the plot at the Holy Spirit Center and the Falmouth Farm. I am displeased, I am angered to address this issue any further.
I am the Father. I have spoken. …Satan has created this confusion because of the importance of the l3th (prayer meetings) and the completion of the Fatima Message. Nowhere, have I been so greatly offended, when I have given such gifts which ended in the Falmouth Farm being a (spiritual) disaster ...many souls are being lost.
March 3, 1997 - Falmouth floods when the Licking River overflows its banks and entire town is swamped. It is the town hardest hit by the flooding.
April l0, l997- Message from God the Father, received by Rita Ring:
You must release this information. …I am asking the faithful to begin prayer chapters, centered in consecration, and praying the rosary… Lastly, but of major importance to the renewal of the Church and the world, I am asking that the Priestly Newsletter be made available in abundance, that the apostles spread these newsletters to the priests and encourage them to read them. I am asking the Priestly Newsletter Book be published as soon as possible and circulated to all priests and bishops in the United States. I am the Father. You must pray as never before and join in one mind and one heart...
For more information call Shepherds of Christ toll free at 1-888-211-3041. All materials available on a donation basis. www.shepherds-of-christ.org
You may write us at Shepherds of Christ Ministries , P.O. Box 193 Morrow, OH 45152-0193. Fax (513) 932-6791 International: (513) 932-4451
---
Jesus speaks: When My messenger cried for seven weeks before, they told her the devil talked through the messages given.
Faded photographs, lights in a window and in one second the man may see his dreams shattered before him by a strong wind and some rain.
Don't smite Me and fight with the messenger. The message is a gift I give to you.
A little boy cried wolf when the wolf was coming. No one listened.
Noah built an ark and they laughed at him.
Because you do not understand does not mean you are right. The nights are long and black and death valley is a real place.
How dark is the night, how black the scene the blind man sees. Because he doesn't see doesn't mean there is nothing to see. It just means he doesn't see.
---
February 21, 2000 - Second Message
Messenger: Jesus wishes that we give our hearts to Him and Mary.
The following Valentine can be given to Jesus and Mary any day of the year. It is an act of love that would greatly please Him.
Use the following Valentine to fill in your name and the date you gave it to Him.
MY VALENTINE FOR JESUS AND MARY
AND THE WORLD

I _________________ give my heart to
You Jesus and Mary on this day
_________________
I promise to help spread the devotion to
the Hearts of Jesus and Mary.
---
Question for married couples and others in intimate relationships:
Q: How do you feel we can unite our hearts in deeper love with one another and in so doing help this world?
---
---
---
Copyright © 2000 Shepherds of Christ.
Rights for non-commercial reproduction granted:
May be copied in its entirety, but neither re-typed nor edited.
Translations are welcome but they must be reviewed for moral and theological accuracy by a source approved by Shepherds of Christ Ministries before any distribution takes place. Please contact us for more information.
All scripture quotes are from the New Jerusalem Bible, July 1990, published by Doubleday.
Revised: February 21, 2000
URL: http://www.SofC.org
Contact Information for Shepherds of Christ
Email: info@SofC.org
---
Shepherds of Christ Ministries
PO Box 193
Morrow, Ohio 45152-0193

Telephone: (toll free) 1-888-211-3041 or (513) 932-4451
FAX: (513) 932-6791