Happy Birthday Melanie!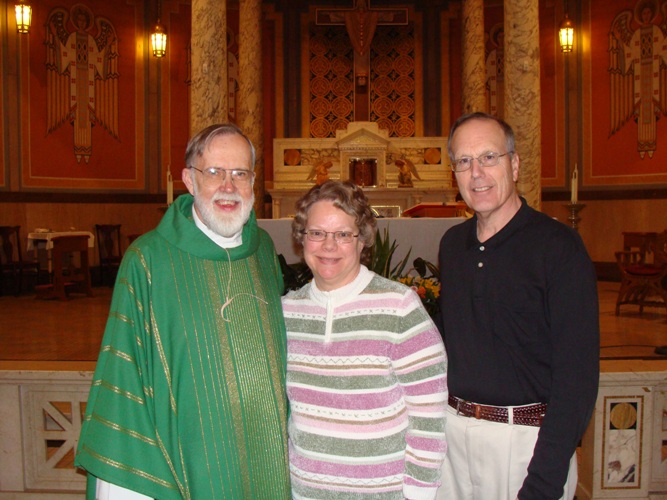 Given February 21, 2010
Deuteronomy 26: 4-10
'The priest will then take the basket from your hand and lay it before the altar of Yahweh your God. In the presence of Yahweh your God, you will then pronounce these words:

"My father was a wandering Aramaean, who went down to Egypt with a small group of men, and stayed there, until he there became a great, powerful and numerous nation. The Egyptians ill–treated us, they oppressed us and inflicted harsh slavery on us.But we called on Yahweh, God of our ancestors. Yahweh heard our voice and saw our misery, our toil and our oppression;and Yahweh brought us out of Egypt with mighty hand and outstretched arm, with great terror, and with signs and wonders.He brought us here and has given us this country, a country flowing with milk and honey.Hence, I now bring the first–fruits of the soil that you, Yahweh, have given me."
Luke 4: 1-13
Filled with the Holy Spirit, Jesus left the Jordan and was led by the Spirit into the desert, for forty days being put to the test by the devil. During that time he ate nothing and at the end he was hungry. Then the devil said to him, 'If you are Son of God, tell this stone to turn into a loaf.' But Jesus replied, 'Scripture says:

Human beings live not on bread alone.'

Then leading him to a height, the devil showed him in a moment of time all the kingdoms of the world and said to him, 'I will give you all this power and their splendour, for it has been handed over to me, for me to give it to anyone I choose.& Do homage, then, to me, and it shall all be yours.' But Jesus answered him, 'Scripture says:

You must do homage to the Lord your God,
him alone you must serve.'

Then he led him to Jerusalem and set him on the parapet of the Temple. 'If you are Son of God,' he said to him, 'throw yourself down from here, for scripture says:

He has given his angels orders about you,
to guard you,

and again:

They will carry you in their arms
in case you trip over a stone.'

But Jesus answered him, 'Scripture says:

Do not put the Lord your God to the test.'

Having exhausted every way of putting him to the test, the devil left him, until the opportune moment.
Jesus went into the wilderness for 40 days to fast and
pray —
During Lent — we can give up things that get in our
way of getting closer to God —
Jesus was filled with the Holy Spirit
Jesus had just been baptized by John the Baptist
The devil tempts right after we made a decision
to be good —
Luke says — the devil departed from him for
a time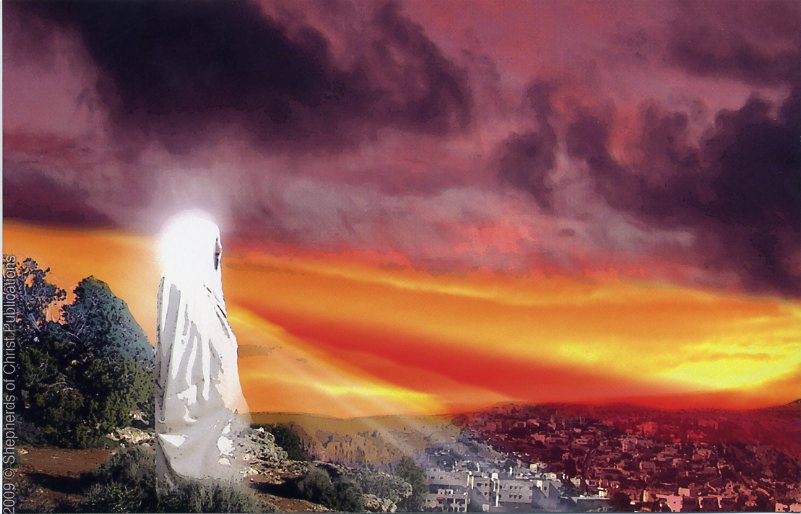 The devil doesn't take a rest
devil says turn these stones to bread —
Jesus came to serve —
Jesus did everything for everybody else
The devil said he has all power
The devil said he would give God power
The devil is the father of lies —
Jesus wasn't looking for an easy job —
Jesus did the will of the Father —
One temptation in Lent we can have is to say 40 days
is too long —
Our lives lived as God wants is a blessing
for us and all of us
Any goodness and greatness we have is a
gift from God —
God gave me this universe as a gift —
I was made to know, love and serve God —
with all our hearts —
in this life and in eternity —
God knew me by name —
God calls us by name —
Our lives are here to grow in greater intimacy with God
We are to recognize we have not always been
faithful to God —
Moses knew he couldn't enter into the promised
land because of his sin —
We should write
an autobiography of our lives of when we
heard about God —
what changed our hearts —
gifts God gave us —
We can look at Moses and how the people made
a golden calf while Moses was up the
mountain —
Jesus: False gods - you worshipped —
You forgot what I did for you —
I came an infant to this earth —
Live by God's will
R. Jesus is the Son of God —
Hear God:
'This is my Son, the Beloved. Listen to him.' Mark 9: 7
The devil said to Jesus —
fall down and worship me —
Luke 4: 8
...You must do homage to the Lord your God,
him alone you must serve.'
not false gods —
not ourselves
not power
not affection
not wealth
Temptations
Satan tempted Jesus
The devil tempts us
most temptations are to make our lives easier —
to disobey rules —
to seek dominance for dominance sake
We must recognize:
'I am not God' —
We are here to serve God —
We are here to do God's will —
Not do better ideas we have, but to do God's will —
We are to obey the Father's will —
Joel 2: 12-18
'But now — declares Yahweh —
come back to me with all your heart,
fasting, weeping, mourning.'
Tear your hearts and not your clothes,
and come back to Yahweh your God,
for he is gracious and compassionate,
slow to anger, rich in faithful love,
and he relents about inflicting disaster.
Who knows if he will not come back,
relent
and leave a blessing behind him,
a cereal offering and a libation
to be presented to Yahweh your God?

Blow the ram's-horn in Zion!
Order a fast,
proclaim a solemn assembly,
call the people together,
summon the community,
assemble the elders,
gather the children,
even infants at the breast!
Call the bridegroom from his bedroom
and the bride from her bower!
Let the priests, the ministers of Yahweh,
stand weeping between portico and altar,
saying, 'Spare your people, Yahweh!
Do not expose your heritage
to the contempt,
to the sarcasm of the nations!
Why give the peoples cause to say,
"Where is their God?" '

Then, becoming jealous over his country,
Yahweh took pity on his people.
We are to change
Follow God
Be patient —
To be patient with others —
To accept little aches and pains —
We are to pray —
We are to have conversation with God —
We are to listen - to seek God's will
We are here to follow the Lord —
We reject satan —
Accept the things we have no control over and bear them patiently
Jesus, the Son of God, have pity on me.
From the Priestly Newsletter Book III - 2000 Issue 3 p. 44-47


Pope John Paul II instructs us: "The Church, as a reconciled and reconciling community, cannot forget that at the source of her gift and mission of reconciliation is the initiative, full of compassionate love and mercy, of that God who is love (see 1 John 4:8) and who out of love created human beings (see Wisdom 11:23-26; Genesis 1:27: Psalms 8:4-8)…He created them so that they might live in friendship with Him and in communion with one another.

"God is faithful to His eternal plan even when man, under the impulse of the evil one (see Wisdom 2:24) and carried away by his own pride, abuses the freedom given to him in order to love and generously seek what is good, and (instead) refuses to obey his Lord and Father. God is faithful even when man, instead of responding with love to God's love, opposes Him and treats Him like a rival, deluding himself and relying on his own power, with the resulting break of relationship with the One who created him. In spite of this transgression on man's part, God remains faithful in love.

"It is certainly true that the story of the Garden of Eden makes us think about the tragic consequences of rejecting the Father, which becomes evident in man's inner disorder and in the breakdown of harmony between man and woman, brother and brother (see Genesis 3:12 ff; 4:1-16). Also significant is the Gospel parable of the two brothers (the parable of the 'prodigal son'; see Luke 15:11-32) who, in different ways, distance themselves from their father and cause a rift between them. Refusal of God's fatherly love and of His loving gifts is always at the root of humanity's divisions.

"But we know that God…like the father in the parable (of the prodigal son), does not close His heart to any of His children. He waits for them, looks for them, goes to meet them at the place where the refusal of communion imprisons them in isolation and division. He calls them to gather about His table in the joy of the feast of forgiveness and reconciliation.

"This initiative on God's part is made concrete and manifest in the redemptive act of Christ, which radiates through the world by means of the ministry of the Church." 13

In the evening of that same day, the first day of the week, the doors were closed in the room where the disciples were, for fear of the Jews. Jesus came and stood among them. He said to them, 'Peace be with you,' and, after saying this, he showed them his hands and his side. The disciples were filled with joy at seeing the Lord, and he said to them again, 'Peace be with you. As the Father sent me, so am I sending you.' (Jn 20:19-21).

The world needs peace. Individual nations need peace and families need peace. The Church needs peace. Each of us individually needs peace. We must work for peace through prayer, fasting, and other Christ-like activities.

And just what do we mean by peace? St. Augustine says peace is the tranquility of order. God has put order into His creation and this order must be respected and promoted if peace is to prevail. To the extent that the human family lives according to God's will—lives according to the order or the plan God has established for creation—to that extent does peace exist in the various segments of human society. To the extent there are violations of God's plan, of His will, to that extent peace is absent.

If we are to be instruments of peace, we ourselves must be at peace. Our personal peace is that tranquility of order which results from our doing God's will. The more we are united through love with God in the doing of His will, the more we experience peace.

Sometimes the sense of peace we experience is so strong that we can "feel" it pulsating throughout our being. These are periods of what we may call the experience of extraordinary peace. This type of peace usually is not an everyday occurrence.

Most of the time we live immersed in a more subdued kind of peace which results from our daily attempts to do God's will in love. It is that peace which is a welcome and sustaining companion as we walk the path of everyday life with its usual assortments of joys and disappointments, successes and failures, laughter and tears.

Occasionally, very deep suffering may enter our lives. It is during these times that we need special determination to preserve ourselves in a basic peace of spirit despite the very significant pain. One may wonder how a person can be at peace amidst the experience of great suffering. St. Francis de Sales in one of his writings—and I have not been able to locate the exact place—offers an analogy which I think is very helpful. He asks us to picture an ocean body of water at the time of a violent storm. The surface of the water becomes extremely turbulent. Francis asks us, as we use our imagination , to descend beneath the surface of the water into its depth. What do we find? The more deeply one descends away from the turbulent surface, the calmer the water becomes. Likewise, says the saint and doctor of the Church, should it be with us during times of profound suffering. Although the surface of the spirit may be very agitated, one can still maintain basic peace of spirit by going deep down to one's center where God is more directly experienced. Here the person experiences a calm, a basic peace, although the suffering remains.

If we are trying to do God's will in love, God intends us to be at peace. The more we conform to God's will, the more we are living according to the order He intends for us. In turn, the more our lives are in harmony with the order established by God, the more we experience peace—peace being the tranquility of order. The more we ourselves live in this manner, the more fit instruments we become for promoting God's order and consequent peace throughout the various segments of society.

St. Dominic was an outstanding witness to the peace of the Lord: "Dominic possessed such great integrity and was so strongly motivated by divine love, that without doubt he proved to be a bearer of honor and grace. He was a man of great equanimity, except when moved to compassion and mercy. And since a joyful heart animates the face, he displayed the peaceful composure of a spiritual man in the kindness he manifested outwardly and by the cheerfulness of his countenance."14

Shortly before he was to die from cancer, Joseph Cardinal Bernardin left us these inspiring words about peace: "It is the first day of November, and fall is giving way to winter. Soon the trees will lose the vibrant colors of their leaves and snow will cover the ground. The earth will shut down, and people will race to and from their destinations bundled up for warmth. Chicago winters are harsh. It is a time of dying.

"But we know that spring will soon come with all its new life and wonder.

"It is quite clear that I will not be alive in the spring. But I will soon experience new life in a different way…

"What I would like to leave behind is a simple prayer that each of you may find what I have found—God's special gift to us all: the gift of peace. When we are at peace, we find the freedom to be most fully who we are, even in the worst of times. We let go of what is non-essential and embrace what is essential. We empty ourselves so that God may more fully work within us. And we become instruments in the hands of the Lord."15

St. Teresa of Avila, one of the three women doctors of the Church, tells us how the spiritual life is summed up in loving conformity to the Father's will:

"All that the beginner in prayer has to do — and you must not forget this, for it is very important — is to labor and to be resolute and prepare himself with all possible diligence to bring his will in conformity with the will of God. As I shall say later, you may be quite sure that this comprises the very greatest perfection which can be attained on the spiritual road."16

Again she states: "...love consists ... in the firmness of our determination to try to please God in everything." 17
___________
13. Pope John Paul II, as in Celebrate 2000!, Servant Publications, pp. 140-141.
14. "From the Various Writings of the History of the Order of Preachers," as in The Liturgy of the Hours, Catholic Book Publishing Co., Vol IV, p. 1302.
15. Joseph Cardinal Bernardin, The Gift of Peace, Loyola University Press, pp. 151-153.
16. St Teresa of Avila, Interior Castle, translated by E. Allison Peers, Doubleday and Co., "Second Mansions", p. 51.
17. Ibid., "Fourth Mansions", p. 76.
First Sunday of Lent

February 25, 2007
INTRODUCTION – (Deut 26:4-10; Rom 10:8-13; Luke 4:1-13) Any person who has a sense of spirituality knows deep down that we owe our Creator recognition, respect, worship, gratitude and honor. Throughout the history of the human race, honor and recognition were offered in a variety of ways. It was not unusual to find that many primitive tribes offered human sacrifices. God was not honored by this practice, and he revealed this to the Jewish people. Instead they made offerings of the various foods that sustained their lives to indicate they recognized that all they had, including life itself, came from God. In our first reading we hear Moses instructing the people in the proper way to offer their tithes and the first fruits of their land. The reading leads us into the gospel where Jesus tells Satan, and what he tells him is a reminder to all of us, that we owe worship to God only.

HOMILY – ...

Many of us grew up viewing Lent as a gloomy time when we had to practice difficult forms of self-discipline. Today there is a more joyful side to Lent if we see it as preparing us for a deeper relationship with God. Preparing for other important things in life sometimes requires hard work and self-discipline. Why should we think our spiritual life should somehow be different? St. Paul doesn't think so. Self-discipline is not a bad thing even if it is sometimes hard. Psychologically a person who lacks self-discipline cannot be a mature or happy person, so it is a good thing to learn.

Our world would be a little better and all of us would be a lot happier if each one of us decided to work harder on making ourselves a better person. As we begin the season of Lent, our Scripture readings at Mass will call us to conversion, to change our hearts, to turn a little, or maybe a lot more into the kind of person we know God wants us to be.

As we move into the last two weeks of Lent, however, we begin to focus on Christ's passion. A few years ago a movie entitled the Passion of the Christ came out. It was very moving and it helped us remember what Christ did for us to save us. We often forget. We often forget how much we owe our Creator. One reason why Sunday is dedicated to offering God worship and praise is so we don't forget. We do not offer animals or other food as the Jews did. Instead, we have the perfect sacrifice. Our participation in the Mass unites us with the perfect act of worship and love and obedience offered to the Father by Jesus as he died on the cross.

Our readings today put things in perspective by reminding us of the worship we owe God, our Creator. They remind us we need more than material things to truly live and to be fully human: it's not by bread alone that we live. They remind us God must take priority over everything else in our lives for God alone deserves our worship. I pray that everyone here will have a spiritually enriching Lent as we prepare for new and more abundant life in Christ.

February 22, 16 Years Ago
Stations of the Cross
February 22, 1995
1. Jesus Is Condemned to Death
Jesus: My dear child, with angry hearts and hatred on their faces, they poked at Me and condemned Me to death. I stood so silent, My hands tied, in perfect peace, because I knew the Father's love. I knew the Father's Will. You too will stand your trials in perfect peace, the more you realize the immense love the Father, Son and Holy Spirit have for you. Pray to the Spirit to transform you more and more into My image and, through this transformation, you will be led ever closer to the Father. Oh, how I love you!


2. They Give Jesus the Cross
Jesus: They gave Me a heavy cross, laden with the sins of the world. They placed it on My shoulder. It was so heavy I felt as if My shoulder would break. I ask you to carry little crosses, to experience little pains. I could not remove this cross from My shoulder. The weight was unbearable. It is through My suffering and death that you receive new life. It is through your sufferings this day that you will grow in your life with Me. Oh, child, I loved you so much that I took up the cross of salvation. I love you. Please realize that I am talking to you here. To My death I loved you. Oh, how I love you!


3. Jesus Falls the First Time
Jesus: The cross was so heavy I could hardly walk. I held on to My cross for greatest love of you and in compliance with the Will of My Father. It became so hard to walk! The cross was so heavy! I fell. I fell and the cross fell on Me. They poked at Me, they struck Me, they demanded I get up. The pain from the instruments they used to poke Me and strike Me was so great! I somehow managed to get up.

When you fall under the weight of your cross, come to My Eucharistic Heart. I am no less present in the tabernacle and in the Eucharist than on the day I carried My cross. I wait with the same love that I had for you when I carried this cross and suffered such agony. Oh, how I love you!


4. Jesus and Mary Meet
Jesus: I saw the face of My beautiful Mother. She was weak, her face reddened and full of tears. I saw her tender heart, her love, her anguish, her pain. I saw My dear Mother Mary. My Heart was comforted by the sight of her, but torn by her suffering.

Mary: As I looked into the eyes of my beloved Son, I saw His love. His head, bleeding and wounded. His body weak. His clothes covered with blood. I looked into His eyes and I saw His love for you. I call out to you today. I appear today with a face full of anguish and tears. I appear to call you back to the love of my Son. See through my eyes, as I peer into His eyes, the love He has for you this day to give of Himself for you. Oh, He loves you so much, my little children. See through my eyes the love of my Son. Oh, how He loves you!


5.Simon of Cyrene Is Forced to Help Jesus Carry His Cross
Jesus: The cross was so heavy I could not move. My persecutors became angry and forced a man to help Me. The cross was so heavy the two of us could barely move it. How is your cross today? Does it seem so heavy you cannot go on? I am forever watching you. When you are suffering the greatest, I am very close to you. It is in immense suffering that you realize My great love for you. Pray for grace to do always the Father's Will. Pray for grace to grow in your knowledge and love of Me.


6. Veronica Wipes the Face of Jesus
Jesus: My face was covered with blood. From the crowd Veronica came forward with a cloth to wipe My face. On the cloth I gave to you an imprint of My bloodied face. This, My children, remains with you this day as a sign of My immense love for you. But more than any cloth, look beyond the visible consecrated host. I, Jesus Christ, the Son of God, remain with you, Body, Blood, Soul and Divinity, in the Eucharist this day, waiting and longing to be with you. Oh, how I love you!


7. Jesus Falls the Second Time
Jesus: Oh, dear ones, the road became harder and harder to walk. The cross was becoming heavier, My body weaker and weaker. My shoulders and arms hurt so much! My head throbbed as I walked. The blood came from My body, from My head to My feet. I was covered with open wounds. I could not go any farther. I stumbled and fell. Again they poked at Me, only harder, and with such hatred they kicked Me. Such vileness in the hearts of men! My greatest agony was not the agonies of My body, but the agonies of My heart for the love I have for all My precious souls. I loved them so dearly. I loved those who persecuted Me. Oh, how I love you!


8. Jesus Meets the Women of Jerusalem
Jesus: The women came to Me with their children, their tender hearts crying and wanting to comfort Me. I saw their love, their care. I saw the coldness of men's hearts for all time, the hatred, the anger, the sins, all the souls that, despite all of My sufferings and death, would be condemned to eternal damnation. I told the women to weep not for Me, but for themselves and their children. My greatest agonies were the agonies of My Most Sacred Heart. Oh, how I love you!


9. Jesus Falls the Third Time
Jesus: I fell hard the third time. I was so weakened I could not go on. My body collapsed under the cross from such exhaustion! My child, My child, My greatest agonies were not the wounds to the body. They were the wounds I experienced to My heart. Do you know a little more now how I love you? It is in meditating on My Passion and death that you will realize My immense love for you. When you fall, when you struggle, I give you the grace to get up. I never give you more than you can handle. Your strength will come from Me. Come to My Eucharistic Heart. I am waiting for you this day. Oh, how I love you!


10. Jesus Is Stripped of His Garments
Jesus: They took Me to the hill to crucify Me. They angrily stripped Me of My garments. They took off My clothes to whip Me. They had covered My bloody wounds with a dirty purple robe. Now, total surrender-they took off My clothes. I showed you the way to surrender, always complying with the Will of the Father. It is in living in His Will that you will have peace and joy, and life eternal some day. Oh, how I love you!


11. They Nail Him to the Cross
R. See Mary as she holds the little Baby Jesus. See her as she washes His tender hands and feet. See her now as she watches as they pound into those same hands and feet the gigantic nails that fix Jesus to the cross.

Mary: Oh, my dear ones, my heart was torn in my chest as they nailed His hands and feet to the cross. I ask you this day to walk the Passion with me and see through my eyes the love He has for you. He truly was nailed to the cross.

Jesus: They pounded the nails into My first hand, then they stretched My body and nailed My other hand. The blood poured from these wounds that went totally through My hands. My pain was so immense, but then they nailed My feet! You do not know what pain I suffered, My child. My children, My children, for each one of you I suffered this pain. Oh, how I loved you!



12. Jesus Dies on the Cross

(Silence.)

R. He hung for three agonizing hours on the cross against the darkened sky. His greatest agonies were not the agonies of His body, but those of His Heart for the great love He has for each and every soul.

Jesus: I gave Myself to you, My dear ones. I gave My all. I hung with My arms spread in total surrender. My head was punctured; My hands and feet were nailed to the cross. I gave Myself to you. I give Myself to you this day in the Eucharist. I give Myself to you. I, God, give you Myself! What more do you want?

Song: Oh, burning Heart, oh, Love divine, etc.

R. They pierced His Heart with a lance and what flowed forth was blood and water, the sacramental life of the Church, water for Baptism and blood for the Eucharist. His life, death and resurrection live on in the Church this day.


13. Jesus Is Taken Down from the Cross and Placed in the Arms of His Mother
R. His totally lifeless body was placed in the arms of His most loving Mother. As she had held the little baby body in her arms, she now received His bloodied, bruised body in her arms. This is how He obeyed the Father's Will. Jesus gave His life for us. The Father gave His only Son because He loves us so much. Mary, His Mother, our Mother and the Mother of the Church, is forever by His side. See Jesus in the arms of His loving Mother under the cross. This is love.

Mary: I held His lifeless body in my arms. See through my eyes the love He has for you this day. He gives Himself to you today in the Eucharist. He loves you so much!


14. Jesus Is Locked in the Tomb
R. His enemies rolled the stone up to the tomb and were pleased to have buried Jesus. Mary, outside the tomb, wept bitterly. The cold reality that He was dead! But death has no power over Jesus for on the third day He rose, triumphant, from the tomb! We are partakers in His divine life. Death has no power over Jesus. He is with us this day. He comes to bring us life to the full. He loves us so much!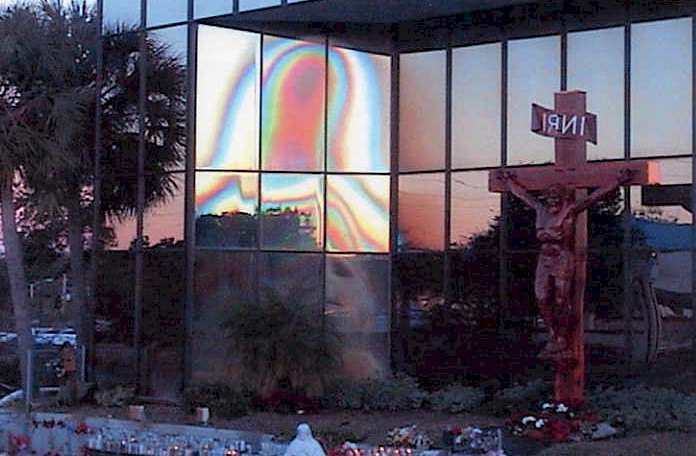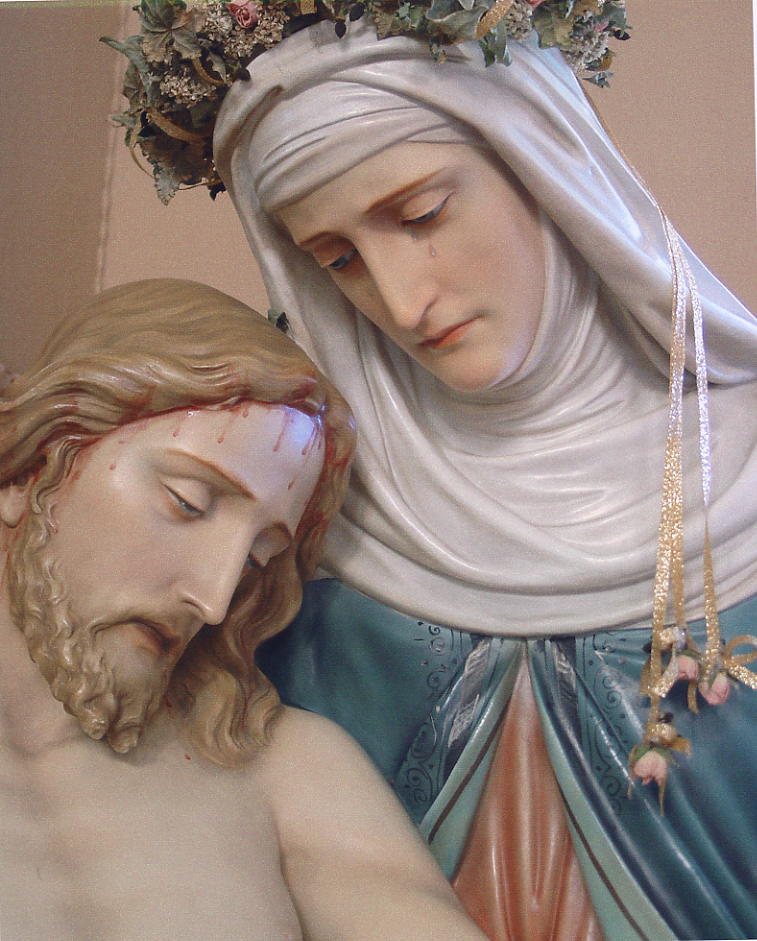 THE SEVEN SORROWS OF THE BLESSED VIRGIN MARY
AT A SHEPHERDS OF CHRIST MEETING
FEBRUARY 22, 1995


1. The Prophecy of Simeon
Mary, Joseph and the child Jesus went to the temple. Simeon, the prophet, inspired by the Holy Spirit, met them and told Joseph and Mary of the great sufferings of Jesus and Mary. He told Mary that a sword would pierce her heart. From that point on, Mary ever remembered the prophecy of Simeon whenever she beheld her child. When she looked at His little body, even as an infant, she knew He would suffer. Every time she clothed Him and watched Him at play, her heart was torn in her chest as she knew what He would suffer. And a sword, too, shall pierce your Heart, 0 Mary!

2. The Flight into Egypt
Joseph was told by the angel to flee. Joseph, Mary and the child Jesus had to flee because of what might happen to Jesus. They had to pack for a long stay. The child Jesus was so small! They left on their journey, hearts full of fear, trying to protect Jesus. They were forced to flee into Egypt.

3. Jesus Is Lost, In the Temple
Imagine the sufferings in Mary's heart when she realized the child Jesus was not with them. Think of how it would be to lose your child and not know where he was or if anything happened to him. With sorrow in their hearts, Mary and Joseph returned to Jerusalem to look for the child Jesus. And a sword, too, shall pierce your heart, 0 Mary!

4. Jesus Carries His Cross
Song: See the eyes that look at Mary, her tender infant child. See the child's Heart beat so tenderly, the Savior of the world!
See the eyes of Jesus and Mary as they met on Calvary. Mary's Heart knew Jesus' Heart so well! From the first moment of conception and throughout His life, Mary was so connected with Jesus and now she peered into His eyes. The crown of thorns adorned His Head! Blood ran down His face! A heavy cross on His back! Wounded, His whole body covered with bleeding wounds! And her whole life flashed before her, the life that she had spent with Jesus. This was the beloved child that she had held in her arms when Simeon told Mary that 'a sword, too, shall pierce your Heart, O Mary!'

5. Jesus Dies on the Cross
Mary stood under Jesus' cross as He was put to death. The child that she had held in her arms as Simeon prophesied, And a sword, too, shall pierce your Heart, O Mary! Now Jesus is dead on the cross! He gave His flesh, He gave His blood so that we might be with Him forever in heaven. He held not back. He gave His all. He calls out to us this day to see through the eyes of His mother as she appears and calls out with a Heart of great love, "Return to the love of my Son! He is with you this day. He remains with you, no less present than the day that He hung on the cross, in the Eucharist. He longs for you to come and be with Him. He is in your brother. How can you not love your brother when Jesus died for your brother?"

Her Heart was pierced with a sword. His Heart was pierced with a lance. What came forth was blood and water, the sacramental life of the church. He lives with us this day in the Church. He gives to us His sacraments, the source of His life! He gives to us the Sacrament of Penance whereby any sin that we commit can be taken away through the priest. He wants us to be so close to Him! He gives us everything to be close to Him. But we see with such limited vision only those things that are right before our face, when the true reality is that which we don't see with our eyes, the reality of the invisible divinity of Jesus Christ, the Son of God, in the consecrated Host! This is reality! This is our life! This is our power! This is God! And a sword, too, shall pierce your Heart, O Mary!


6. Jesus Is Taken Down from the Cross
If we ever doubted for one second that we were loved, we could visualize the picture of Mary as she sat beneath the cross with the lifeless, battered, bruised and bloodied body of her Son in her arms, the same child that she held when Simeon prophesied her suffering. He gave His last breath. He gave the last beat of His Heart. He gave His all! This is the way He complied with the Will of the Father. He came to show us the way. He died in perfect peace. To His death He was in peace because He knew the Father's love. The Father loves us so much that He gave His only begotten Son for love of us! The Spirit descended upon the Virgin Mary and the Word was made flesh! The love of the Two Hearts! Such immense love beating for us!

In all love there is suffering. Her Heart was pierced with a sword. His Heart was pierced with a lance. And a sword, too, shall pierce your Heart, O Mary!


7. Jesus Is Locked in the Tomb
And now Jesus, His body lifeless, is locked in a tomb! What cold reality for Mary to realize that His body is now gone! A stone separated her from her Son!

He gave His last breath! He gave the last beat of His Heart for love of each one of us! And she comes to us this day with her sweet, beautiful voice and she asks us to go to her Son and love Him! How can we refuse Jesus who spread His arms and gave His life for each and every one of us? How can we not trust Him when He loved us so much that He allowed them to tear His flesh, to crown Him with piercing thorns and, lastly, to hang Him on a cross? He truly gave His life for us! He, truly God, is with us this day, the same as the day He died on the cross, in the tabernacle! And we take it so lightly! Death has no power over Him! Locked in the tomb for three days, He rose triumphant on the third day as He had foretold. He comes to give us life. He gives us the sacrament of Baptism that initiates us into His life, that makes us children of God and heirs of heaven if we remain in the state of grace. He asks two things: love of God and love of one another! He came to show us the way and His way is love. To His death on the cross He loved each one of us! He calls out to each one of us here today to be His soldiers, to march on a world that has forgotten God, that has forgotten what it is like to love! It is a battle to live in this world. But the battle is won with hearts that are filled with His love, empowered by the grace and might that He pours out in the Eucharist. He calls out for us to come to the Eucharist and to the tabernacle and be fed with His very flesh and blood. To feed on Divine Life, the greatest nourishment, the Body and Blood of Jesus Christ, the Son of God! This is the love He gives. This is the love He asks us to share.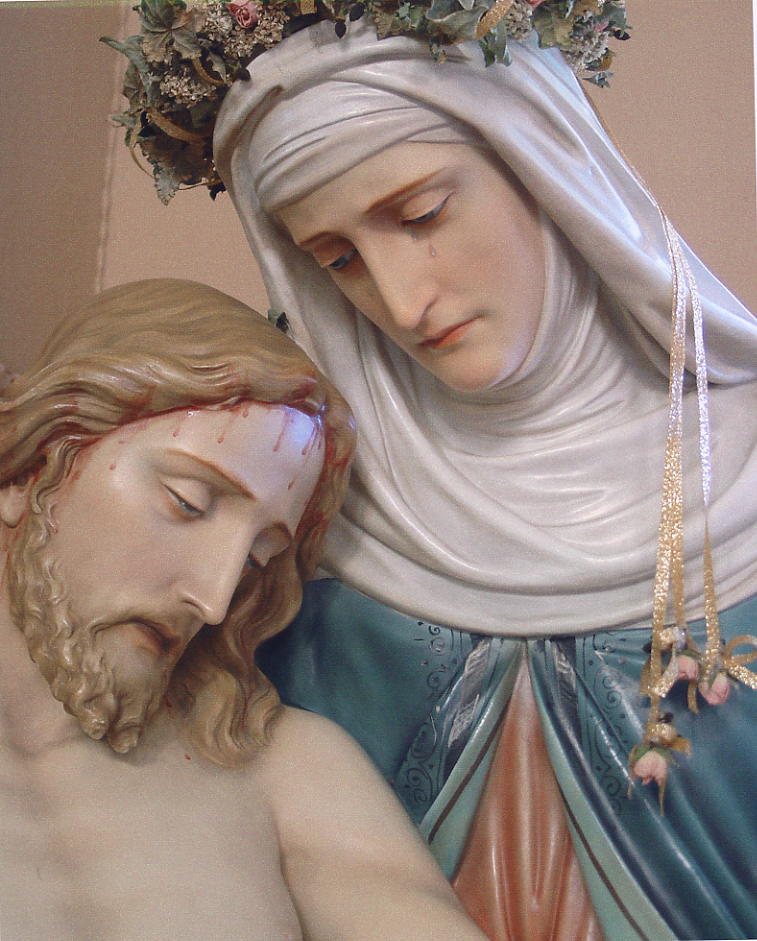 From the Red Rosary Book
March 17, 1995

Crucifixion

3. Jesus: My Mother stood under My cross. My beloved Mother! How she loves each one of you. Go to the Heart of Mary and reside in her arms. Rest in her Heart. This is Her House. She is with each one of you on your journey. We love you with the tenderest love.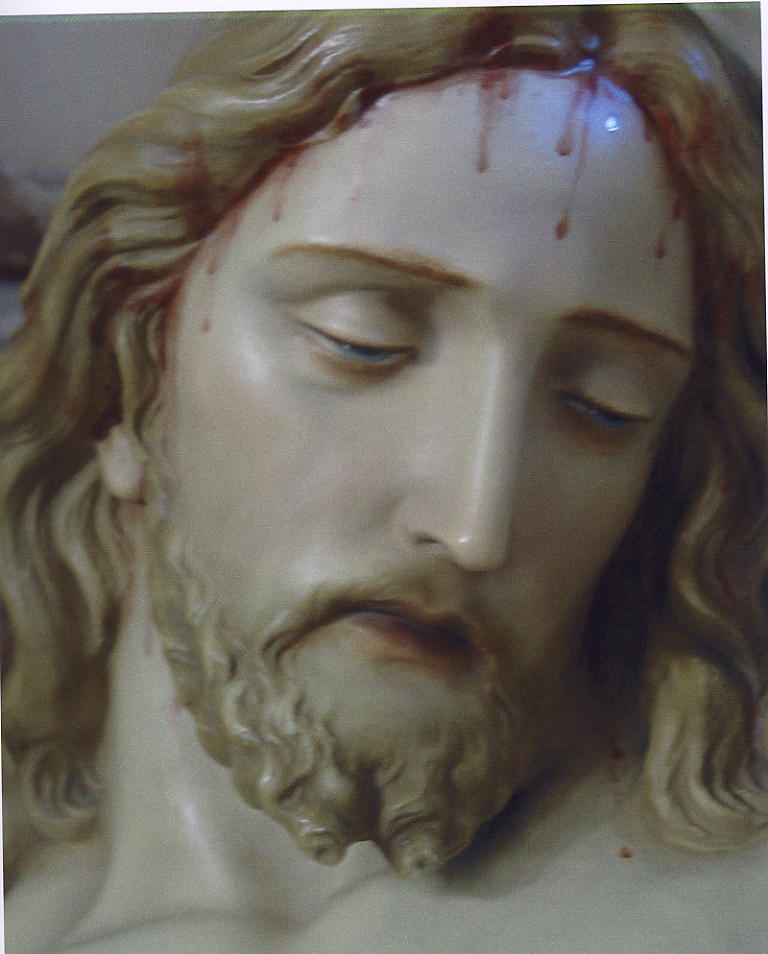 From the Red Rosary Book
March 17, 1995
Crucifixion
9. Jesus: It is in this time that you spend alone with Me that I can work in your heart. Do not look for visions. Do not look to hear things. Go inside of your heart and be alone with Me. Spend this time with Me each day and, through the day, spend short periods, minutes when you just close your eyes and focus on My presence with you, for I am truly present. I will work in your heart when you come to Me in these special moments.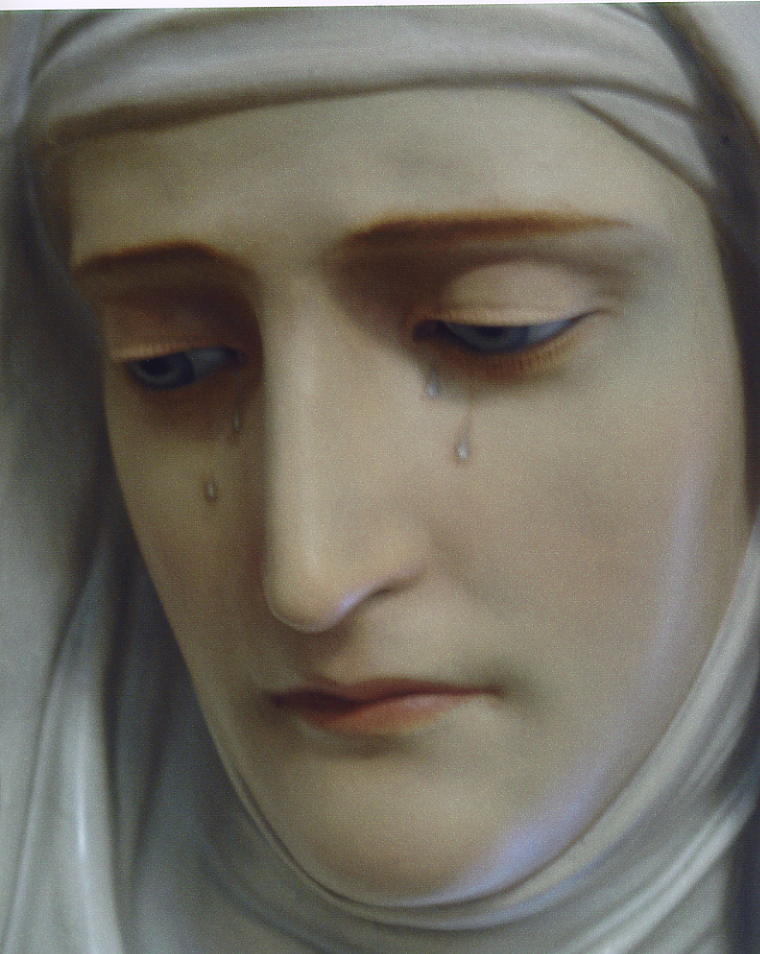 Mary's Message


from the Rosary of August 27, 1996
Mary speaks: I stood beneath the cross of my Son, and my Heart was in such pain for I saw Him before my eyes. I saw Him covered with blood. I saw Him die. My Heart, my children, my Heart to watch my Son, but my Heart, my Heart, how I suffered for my little children of the world that give in to this world and give up the love of my Son. O my little children of light, I give you this message. Carry this light into the darkness for your Mother Mary, for I stood beneath the cross and I cried. I cried for the little ones. I cried for the young ones, the ones that do not care and will lose their souls. How do I make you see for you will not listen to me? What can I do? I come. I appear. I beg. I plead. I give you these gifts from my Son, and you reject me. I do not deliver messages very often anymore for I have been ignored. The message is the same. You do not read the messages I have given to you. Please help me. Help the little children. I appear. I appear. I appear, and I am ignored. I stood beneath the cross, and I cried. I cried, and my Heart was in such anguish for my little children, for I am searching for them this day as I searched for the Child Jesus. Please, please help me. I cannot hold back the hand of my Son any longer. I am Mary, your Mother. I ask you to help my children. You are my children of light.

end of Mary's Message, August 27, 1996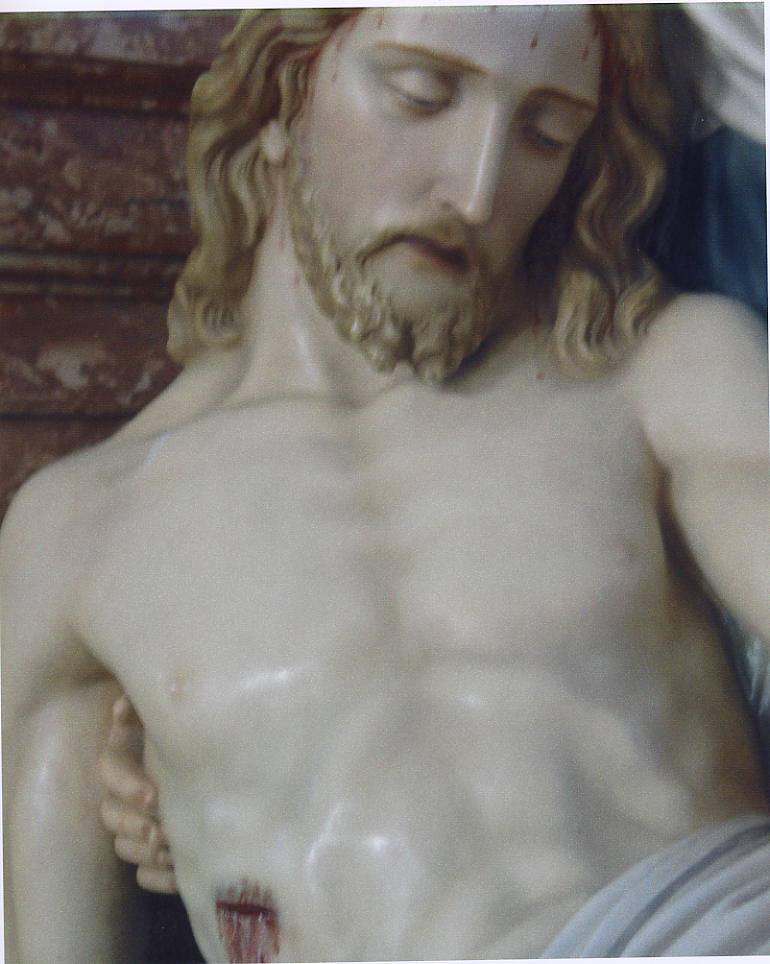 from the consecration out of the Prayer Manual
From Your pierced Heart the Church was born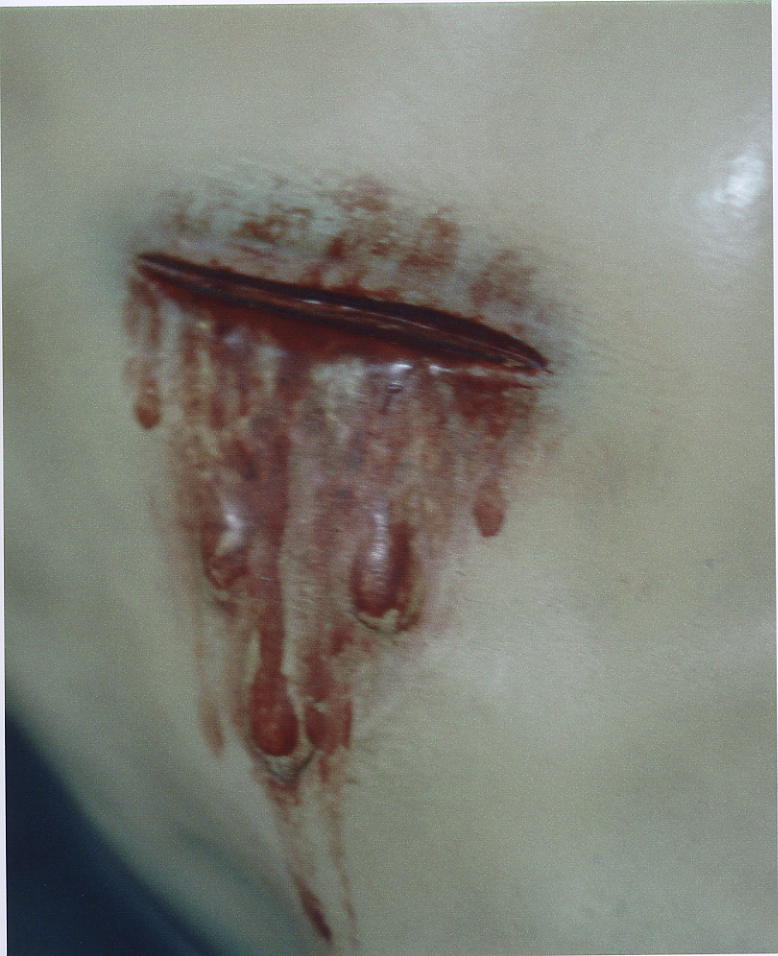 from June 30, 1999
Jesus speaks: From My pierced side flowed Blood and water,
signs of the sacramental life of the Church.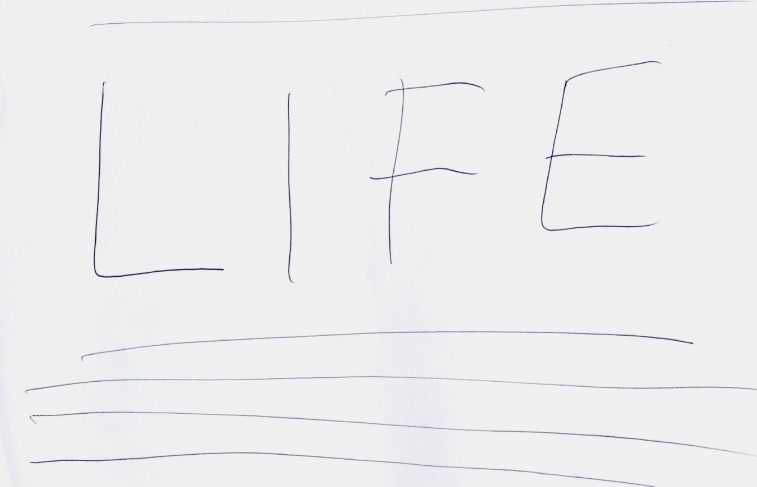 Give a gift that lasts.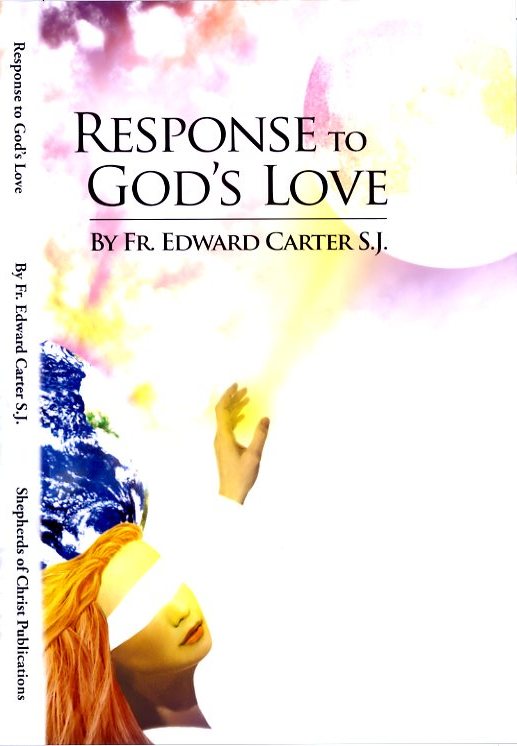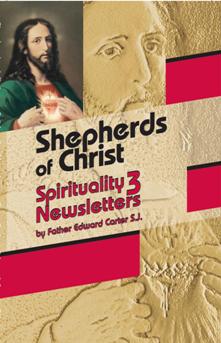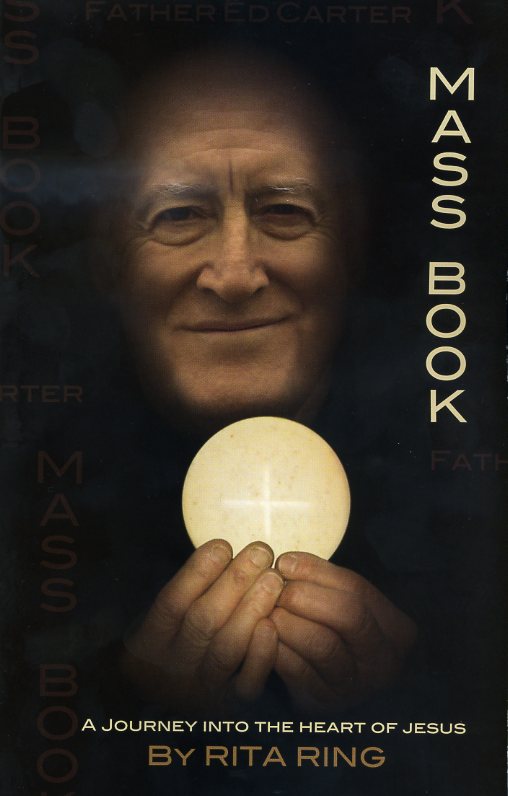 $10.00 each plus shipping
Call 1-888-211-3041
Shepherds of Christ
We can send Fr. Joe's
homily book to a priest for 75¢.
Can you please help us get
these homilies to the priests?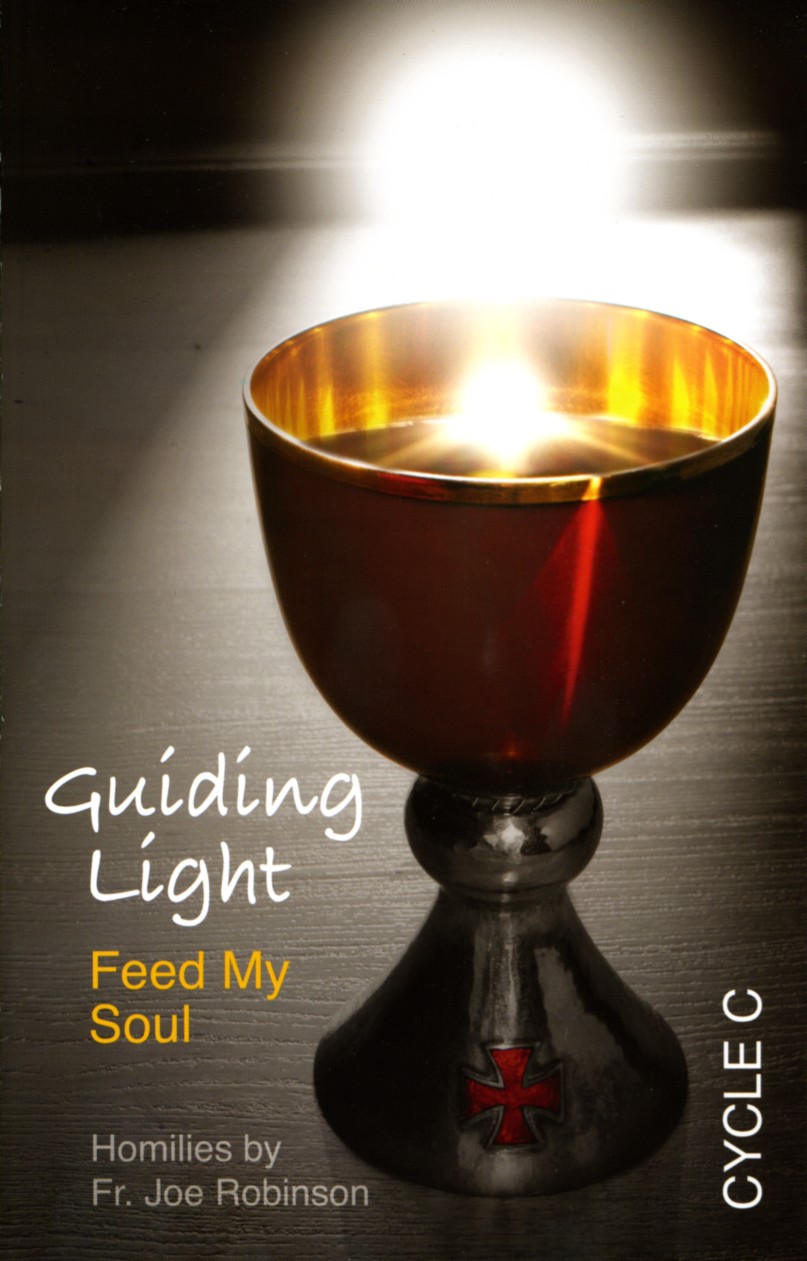 Please help us with your donation.
Call Shepherds of Christ
1-888-211-3041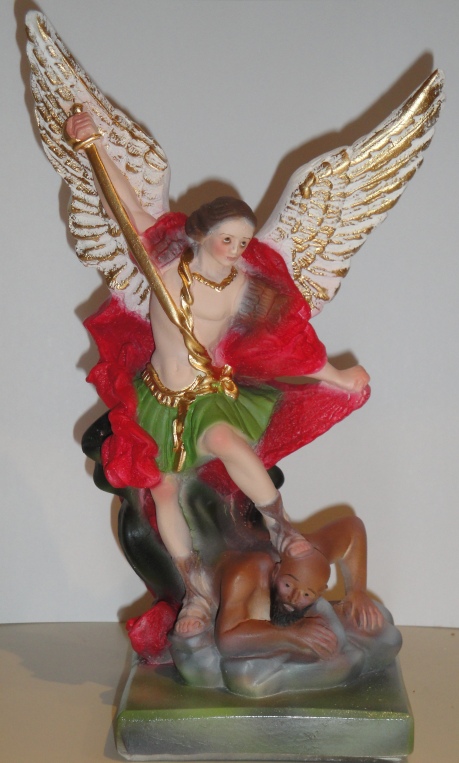 NEW! — 11" St. Michael - $40.00 plus shipping