Shepherds of Christ
Daily Writing
February 8, 2009
February 9th Holy Spirit Novena
Scripture selection is Day 1 Period I.

The Novena Rosary Mysteries
for February 9th are Sorrowful.
Retreat in China
Mass every day
February 10th - start at 10:00am
February 11th - Feast of Our Lady of Lourdes - start at 10:00am
February 12th - start at 6:20pm
February 13th - start at 12:00 Noon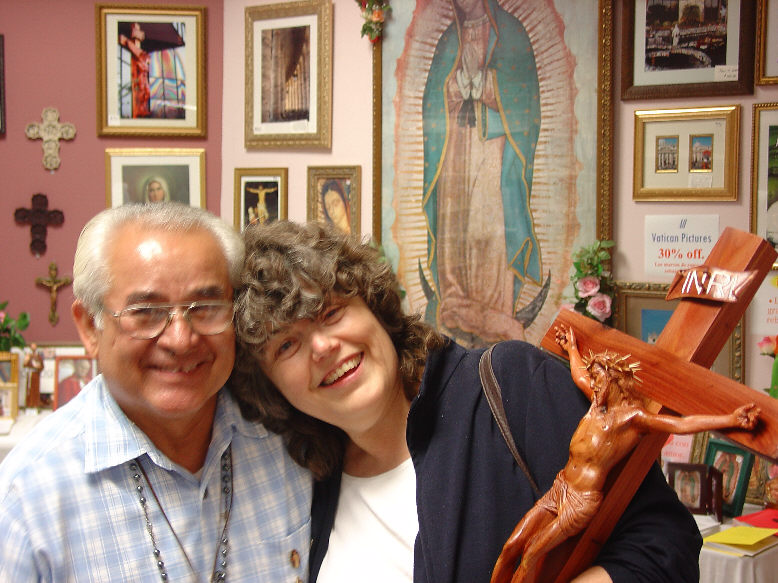 The crucifix Felix carved is so special
Buy a little crucifix for your home --
they are so special
February 8, 2009
Job feels
hopelessness
Job feels life is not fair
Job 7: 1-4, 6-7
"Isn't a man forced to labor on earth?
Aren't his days like the days of a hired hand?

As a servant who earnestly desires the shadow,
As a hireling who looks for his wages,

So am I made to possess months of misery,
Wearisome nights are appointed to me.

When I lie down, I say,
'When shall I arise, and the night be gone?'
I toss and turn until the dawning of the day.

My days are swifter than a weaver's shuttle,
And are spent without hope.

Oh remember that my life is a breath.
My eye shall no more see good.
Paul put himself as an example
There is only one God
For purpose of love
For purpose of unity
Paul made sacrifices to win people to the
Gospel
Corinthians 9: 16-19, 22-23
In fact, preaching the gospel gives me nothing to boast of, for I am under compulsion and I should be in trouble if I failed to do it. If I did it on my own initiative I would deserve a reward; but if I do it under compulsion I am simply accepting a task entrusted to me. What reward do I have, then? That in my preaching I offer the gospel free of charge to avoid using the rights which the gospel allows me.

So though I was not a slave to any human being, I put myself in slavery to all people, to win as many as I could.

To the weak, I made myself weak, to win the weak. I accommodated myself to people in all kinds of different situations, so that by all possible means I might bring some to salvation. All this I do for the sake of the gospel, that I may share its benefits with others.
To do things selflessly
Jesus died for the souls
Not to think only about oneself at Mass
Not to be selfish in Mass
But to see oneself as a member of the
body of Christ —
united at the Holy Sacrifice of the
Mass —
begging for grace for the Church and
the world
Not to focus only on oneself when we come to
Mass, to give oneself united
to the sacrifice of Jesus —
praying to the Father
in the Holy Spirit
united to all the angels and saints
Focused on God's will for us at the
Holy Sacrifice of the Mass
The devil can tempt us to think
isolating thoughts at Mass
Look at the death of Jesus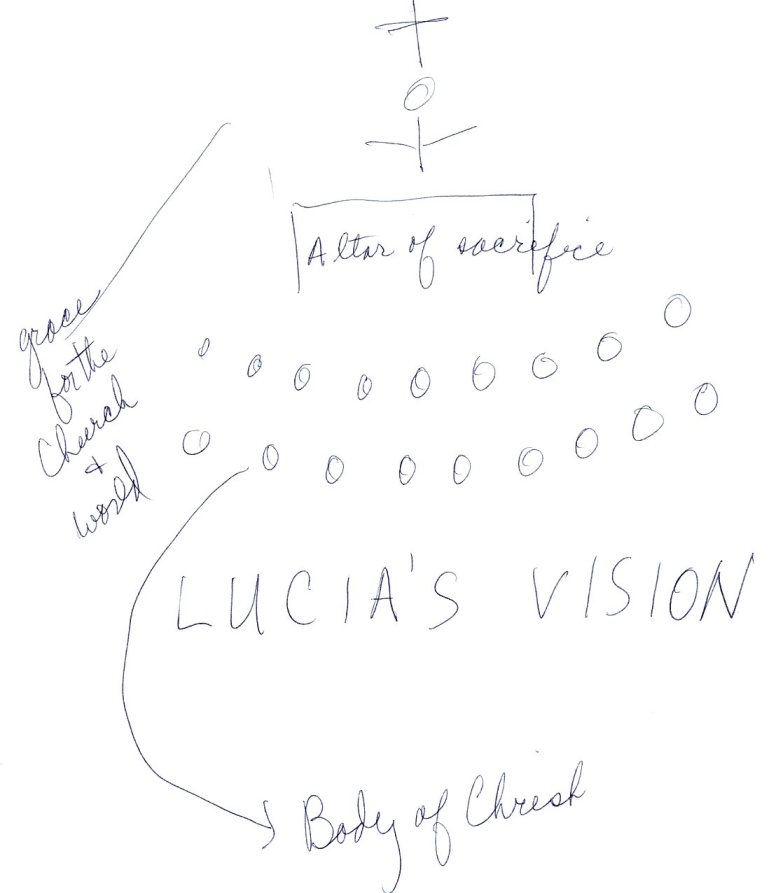 Most Holy Sacrifice
Dwelling in the Hearts of Jesus and Mary
most pure holy sacrifice
Purity
Oneness in the Hearts of Jesus and Mary
Coming to Mass
Doing God's will at Mass
United as a body
One - united
To the Sacrifice of Calvary —
Sacramentally Made Present
DOING GOD'S WILL AT MASS
Being one — united
Praying to Father
United to the Sacrifice of Jesus
In the Holy Spirit
with all the angels and saints
NOTE:
The devil tempts people to disobey the authority of the Church
They may think --
"I am right" "Those over me are wrong"
(for example - they may think the pope is wrong, they may think
the bishops who are over them doing
God's will are wrong)
They may think
"The buck stops here"
"I am right"
The devil tempts many - who do not obey
those over them in the Church --
How far will the person go in disobedience —
If they go too far they are excommunicated —
The Pope has this right to lift the excommunication —
We must recognize the Magisterium of the
Holy Father
Mark 1: 29-39
And at once on leaving the synagogue, he went with James and John straight to the house of Simon and Andrew. Now Simon's mother-in-law was in bed and feverish, and at once they told him about her. He went in to her, took her by the hand and helped her up. And the fever left her and she began to serve them.

That evening, after sunset, they brought to him all who were sick and those who were possessed by devils. The whole town came crowding round the door, and he cured many who were sick with diseases of one kind or another; he also drove out many devils, but he would not allow them to speak, because they knew who he was.

In the morning, long before dawn, he got up and left the house and went off to a lonely place and prayed there. Simon and his companions set out in search of him, and when they found him they said, 'Everybody is looking for you.' He answered, 'Let us go elsewhere, to the neighbouring country towns, so that I can proclaim the message there too, because that is why I came.' And he went all through Galilee, preaching in their synagogues and driving out devils.
The sins of those in the Church and the world
must be handled.
Because of impurities of men and because
they sin — those in authority —
trying to unite the Church and the world
must address sin and disunity
There is this battle — the devil doesn't want
us to be united, but divided —
The devil wants us to sin —
---
We must think about God's truths —
the gift of the Mass
unity in God — brings us joy —
Going to the Mass and reading the Word —
feeds us with the Bread of Life —

God is so good to us —

But there is a battle at Mass —
the devil wants us angry —
the devil wants us not to be united --
the devil wants us not focused on God's will

L

ET US LOVE THE TWO HEARTS OF JESUS AND MARY
IN THE RECEPTION OF THE HOLY EUCHARIST.

HE GAVE HIMSELF TO US ON THE CROSS. HE GIVES HIMSELF TO US IN THE EUCHARIST.
How great was the act of love, God gave to this world, when He gave Himself and died on the cross. He gives Himself to us this day in the Holy Eucharist.

The greatest commandment is that we must love God with our whole heart, our whole soul, and our whole being. This is a commandment. If we are to enter heaven, we must follow the commandments. They are commands given by God for us to follow.

The greatest act we can do on this earth is an act of loving God. The reason for our existence is to love God. In the sacrament of His greatest love, He gives Himself to us. This is an act of love on His part. We are called to respond by giving ourselves in love to Him.

This is the purpose of the Holy Eucharist: to unite in such oneness with our Holy, Loving God. Our all consuming passion should be that of loving God. How many go to the Eucharist with the sole purpose of giving great love to God? He wants us to love Him. He wants souls to tell Him how much they truly love Him. This is the most intimate act of love when Jesus gives Himself-Body, Blood, Soul, and Divinity to man. If it is such an act of love, how are we receiving Him in Communion? We should beg God, in this most intimate union with Him, to help us to love Him with greatest love.

Jesus is a Person. He wants our love. The Holy Spirit wants such intimacy with us. Our Father wants us to love Him. In the Eucharist, we unite with God. In this intimate act of uniting with our beloved God, with Divinity, we must pour out our love to God. We must pour out our heart to the most adorable Heart of Jesus. Jesus is so unjustly treated by many of His beloved souls He loves so much. Let us help make reparation to the Almighty God by loving God with our whole heart, our whole soul, and our whole being in the sacrament of His greatest love. This is the Gift of Himself.

Think of how it is to love someone and give your all for that person, to pour out your heart to him or her and then be treated with coldness and neglect. It hurts our heart so much more when we deeply love someone to be rejected by that person. Jesus loves us with the deepest love. We cannot fully comprehend this love. Let us love Him with the deepest love. Let us love Mary and her Immaculate Heart. Let us love her as the Mother of God. Let us love her as the virgin who bore the Son of God. May we, in the reception of the Eucharist pour out our love to Him, to this adorable Heart. May we pour out our love to His Holy Mother.

Mary said at Fatima that Jesus wants His Heart venerated next to the heart of His Mother. Let us love these two Hearts as we receive the Sacrament of the Eucharist. Then we are so deeply united with God. We see Their two Hearts surrounded with thorns for the injustices against Their Hearts. Let us help make reparation daily as we receive Him in the Eucharist. This is a special time to help make reparation to Their wounded Hearts.

Let us remember how He poured His love out to us on the cross and how He pours out His love to us now when He gives us Himself in the Eucharist, the Eucharist which contains His Heart of burning love. His Heart was pierced with a lance. Her heart was invisibly pierced with a sword. As the wounds in Their Hearts are deep, so too is Their love so deep.

He does not want "surface love". He wants hearts filled with deep burning love.

end of December 27, 1995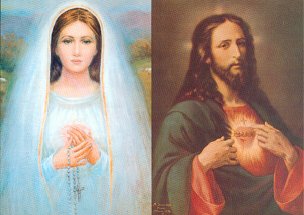 A Prayer before the Holy Sacrifice of the Mass
Let me be a holy sacrifice and unite with God in the sacrament of His greatest love.

I want to be one in Him in this act of love, where He gives Himself to me and I give myself as a sacrifice to Him. Let me be a holy sacrifice as I become one with Him in this my act of greatest love to Him.

Let me unite with Him more, that I may more deeply love Him. May I help make reparation to His adorable Heart and the heart of His Mother, Mary. With greatest love, I offer myself to You and pray that You will accept my sacrifice of greatest love. I give myself to You and unite in Your gift of Yourself to me. Come and possess my soul.

Cleanse me, strengthen me, heal me. Dear Holy Spirit act in the heart of Mary to make me more and more like Jesus.

Father, I offer this my sacrifice, myself united to Jesus in the Holy Spirit to You. Help me to love God more deeply in this act of my greatest love.

Give me the grace to grow in my knowledge, love and service of You and for this to be my greatest participation in the Mass. Give me the greatest graces to love You so deeply in this Mass, You who are so worthy of my love.

-God's Blue Book, December 27, 1995
We are to strive to be one in the Hearts of Jesus and Mary
united at the Mass
as members of the body of Christ
purity
oneness
according to the Father's will and
God the Father sees our offering at Mass -- ourselves united to Jesus
This is a most pleasing sacrifice to God the Father
God outpours His grace on the world from our offering of ourselves united to Jesus
to the Father in the Holy Spirit.
Father WE PRAY
Through the intercession of Mary
Through Him, with Him, In Him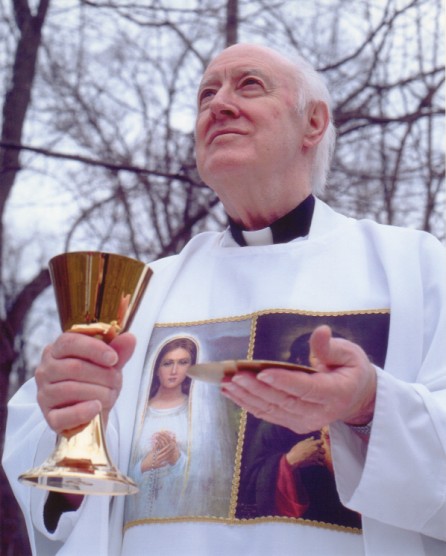 Amen
The Our Father

Our Father, Who art in heaven, hallowed be Thy name. Thy Kingdom come, Thy will be done on earth as it is in heaven. Give us this day our daily bread and forgive us our trespasses as we forgive those who trespass against us. And lead us not into temptation, but deliver us from evil. Amen.
Lamb of God, Who take away the sins of the world, have mercy on us.
Lamb of God, Who take away the sins of the world, have mercy on us.
Lamb of God, Who take away the sins of the world, have mercy on us.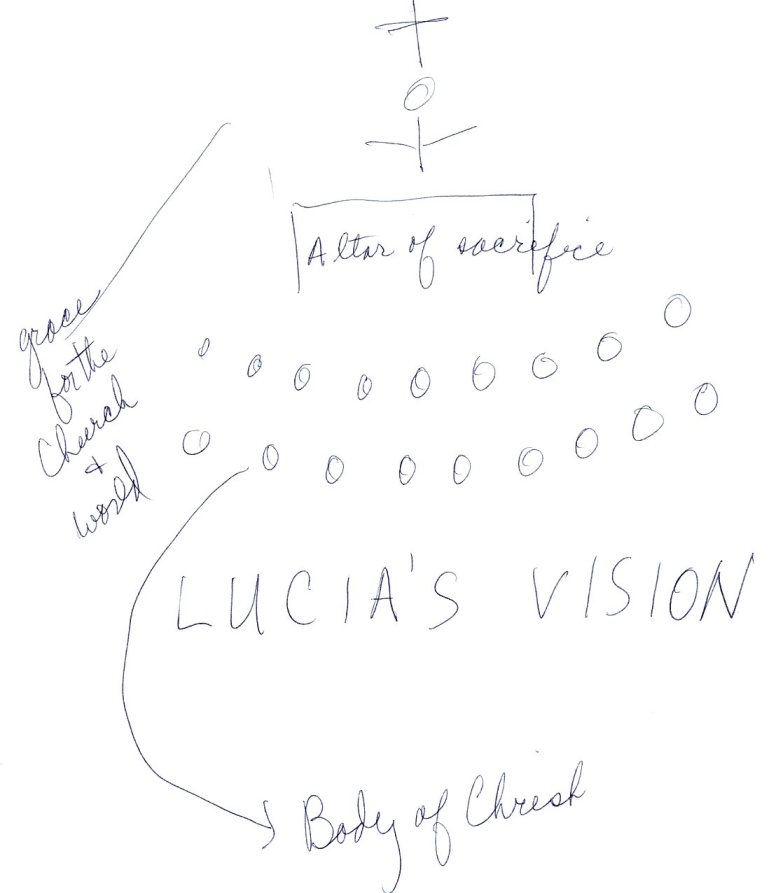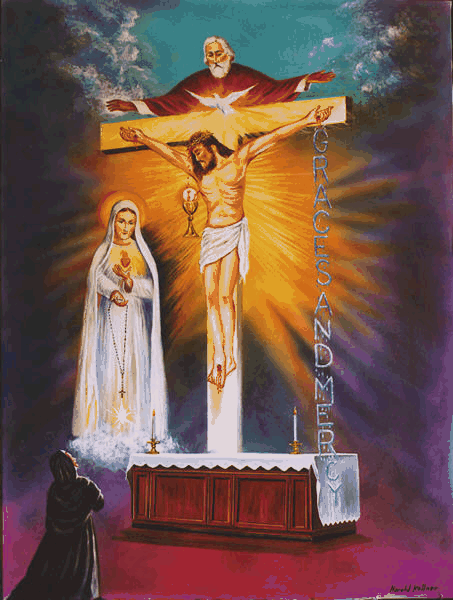 Messages from Angel at Fatima
Before receiving the six apparitions of Our Lady, May through October of 1917, the three Fatima visionaries were visited by an angel on three different occasions during the preceding year. He appeared to them in the spring, summer, and fall. Lucia (now Sr. Lucia) describes the springtime apparition of the angel:

On reaching us, he said: "Do not be afraid! I am the Angel of Peace. Pray with me."

Kneeling on the ground, he bowed down until his forehead touched the ground and made us repeat these words three times: "My God, I believe, I adore, I hope and I love You! I ask pardon of You for those who do not believe, do not adore, do not hope and do not love You."

Then, rising he said: "Pray thus. The Hearts of Jesus and Mary are attentive to the voice of your supplications."

His words engraved themselves so deeply on our minds that we could never forget them (3)

During the summer of 1916, the angel again appeared to the three visionaries. He said to them:

Pray! Pray a great deal. The Hearts of Jesus and Mary have merciful designs on you. Offer prayers and sacrifices continually to the Most High. Make everything you do a sacrifice, and offer it as an act of reparation for the sins by which God is offended, and as a petition for the conversion of sinners. Bring peace to our country in this way.... I am the Guardian Angel of Portugal Accept and bear with submission all the sufferings the Lord will send you. (4)

In the fall of the same year, the angel visited the visionaries a final time:

The angel came...bearing a golden chalice in one hand and a Host above it in the other. The amazed children noticed that drops of blood were falling from the Host into the chalice. Presently, the angel left both suspended in mid-air and prostrated himself on the ground, saying this beautiful prayer: "Most Holy Trinity, Father, Son and Holy Spirit, I adore You profoundly. I offer You the most precious Body, Blood, Soul and Divinity of Jesus Christ, present in all tabernacles of the world, in reparation for the outrages, sacrileges, and indifference by which He is offended. By the infinite merits of the Sacred Heart of Jesus and [the intercession of] the Immaculate Heart of Mary, I beg of Thee the conversion of poor sinners." (5)

Sr. Lucia relates how the angel gave them Communion:

Then, rising, he took the chalice and the Host in his hand. He gave the Sacred Host to me and shared the Blood from the chalice between Jacinta and Francisco, saying as he did so:

"Take and drink the Body and Blood of Jesus Christ, horribly outraged by ungrateful men! Make reparation for their crimes and console your God." (6)

Reflecting upon these messages of the angel, we see how much they contain for our spiritual instruction.

First of all, we notice the distinctive Trinitarian nature of the messages. We are instructed that, in our Christian existence, we must express the greatest reverence for Father, Son, and Holy Spirit, as we serve them through the virtues of faith, hope, and love. These three virtues are at the heart of our life of grace.

We are reminded of the ugly reality of sin and of our duty to make reparation for it. We are reminded that reparation is due Christ in His Eucharistic presence. And, as we shall soon see, Our Lady calls for a specific act of reparation--the five first Saturdays. Reparation is a foundation of the Fatima messages.

The angel also tells us that we must not only love God; we must also love our neighbor. We are to pray and make sacrifices for others.

In telling us to "Pray a great deal," and "Make everything you do a sacrifice," the angel reminds us that we are to live a deep spirituality. We are to be united with God throughout the day in as conscious a manner as possible. Regarding the angel's call to prayer, we shall soon hear of Mary's special request concerning the daily Rosary. It is a request that reminds us that God has sent Our Blessed Mother to call us back to Jesus, and to a closer union with Him. The Fatima message indeed reminds us that Mary is our spiritual Mother, that she is our mediatrix with Christ.

The angel specified a need to help others by our sacrifices, and to accept the sufferings God sends. It is a confirmation of Christ's paschal mystery of death-resurrection. The cross leads to life. We live the cross for the purpose of growing in grace ourselves, and in order to help channel grace to others.

The Angel also reminded us that the Eucharist is at the center of the Church's life. And, very importantly, in each of his three messages, the Angel drew attention to the critical role which the Hearts of Jesus and Mary play in our Christian lives:

Another remarkable fact is that in each of the three apparitions, the Angel already mentions the Holy Hearts of Jesus and Mary, as though linked to one another by an indissoluble union. The account of the first apparition even presents a striking phrase which seems to have been hardly noticed. After having taught this completely God-centered prayer, "My God, I believe, I adore, I hope and I love you," the Angel added: "Pray thus. The Hearts of Jesus and Mary are attentive to the voice of your supplications." We pray to God, and it is the Holy Hearts of Jesus and Mary that hear and answer our prayers! How could it better express the truth that we can only go to God and please Him by this unique and universal mediation?

Similarly, in the summer of 1916, when the Angel announces to the three seers their future vocations, it is the Holy Hearts of Jesus and Mary that appear in the foreground as the inseparable mediators of the "Father of Mercies." "The Holy Hearts of Jesus and Mary," he tells them, "have designs of mercy on you."

Finally, the third time, in the prayer of Eucharistic offering, it is by "the infinite merits of the Sacred Heart of Jesus and [the intercession of] the Immaculate Heart of Mary," that the Angel begs "the conversion of poor sinners" of the Trinity.

With this constant thought of the mediation of the Holy Hearts of Jesus and Mary, we are already at the very center of the Message of Fatima. (7)

The Angel's three messages contain an amazing spiritual doctrine. The Angel gives the outline of the spiritual life within the framework of devotion to the Hearts of Jesus and Mary. Behold, the spirituality of Fatima!
Notes
1. For background material on Fatima, I am particularly indebted to
Our Lady of Fatima's Peace Plan from Heaven (Rockford: TAN Books and Publishers, Inc., 1983).
2. Ibid., pp.7-8.
3. Louis Kondar, SVD, editor, Fatima in Lucia's Own Words
(Fatima: Postulation Center, 1976), p.62. Distributed in the U.S.A.
by the Ravengate Press, Cambridge, MA.
4. Our Lady's Peace Plan, op cit., pp.1-2.
5. Ibid., p.2 (The words in brackets are my own-added for clarification).
6. Fatima in Lucia's Own Words, op cit., pp.64-65.
7. Frere Michael de la Trinite', The Whole Truth about Fatima
(Buffalo: Immaculate Heart Publications, 1989), pp. 85-86
(The words in brackets are my own-added for clarification).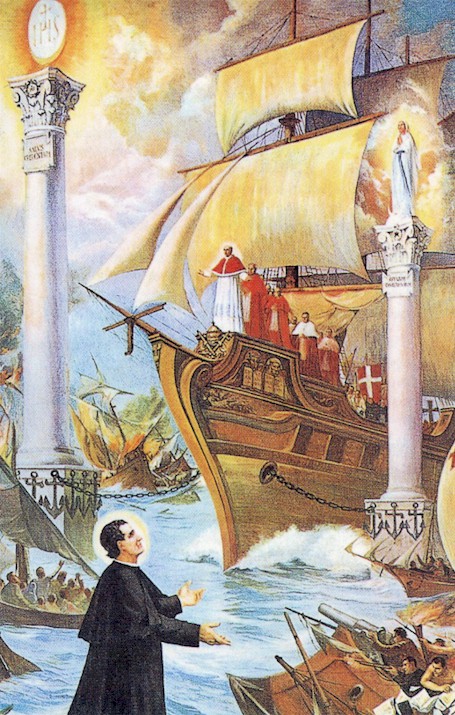 Hebrews 10: 5-18
and that is why he said, on coming into the world:

You wanted no sacrifice or cereal offering,
but you gave me a body.
You took no pleasure in burnt offering'
or sacrifice for sin;
then I said, 'Here I am, I am coming,'
in the scroll of the book it is written of me,
to do your will, God.
He says first You did not want what the Law lays down as the things to be offered, that is: the sacrifices, the cereal offerings, the burnt offerings and the sacrifices for sin, and you took no pleasure in them; and then he says: Here I am! I am coming to do your will. He is abolishing the first sort to establish the second. And this will was for us to be made holy by the offering of the body of Jesus Christ made once and for all.
Every priest stands at his duties every day, offering over and over again the same sacrifices which are quite incapable of taking away sins. He, on the other hand, has offered one single sacrifice for sins, and then taken his seat for ever, at the right hand of God, where he is now waiting till his enemies are made his footstool. By virtue of that one single offering, he has achieved the eternal perfection of all who are sanctified. The Holy Spirit attests this to us, for after saying:

No, this is the covenant
I will make with them,
when those days have come.

the Lord says:

In their minds I will plant my Laws
writing them on their hearts,
and I shall never more
call their sins to mind,
or their offences.

When these have been forgiven, there can be no more sin offerings.
Hebrews 5: 1-10

Every high priest is taken from among human beings and is appointed to act on their behalf in relationships with God, to offer gifts and sacrifices for sins; he can sympathise with those who are ignorant or who have gone astray, because he too is subject to the limitations of weakness. That is why he has to make sin offerings for himself as well as for the people. No one takes this honour on himself; it needs a call from God, as in Aaron's case. And so it was not Christ who gave himself the glory of becoming high priest, but the one who said to him: You are my Son, today I have fathered you, and in another text: You are a priest for ever, of the order of Melchizedek. During his life on earth, he offered up prayer and entreaty, with loud cries and with tears, to the one who had the power to save him from death, and, winning a hearing by his reverence, he learnt obedience, Son though he was, through his sufferings; when he had been perfected, he became for all who obey him the source of eternal salvation and was acclaimed by God with the title of high priest of the order of Melchizedek.
Hebrews 4: 7
God fixed another day, a Today, when he said through David in the text already quoted: If only you would listen to him today; do not harden your hearts.
Read all of Hebrews