Mary has requested that the daily message be given each day to the world. It is read nightly at the prayer service from her Image Building in Clearwater, Florida, U.S.A. This is according to her request. All attempts will be made to publish this daily message to the world at 11 p.m. Eastern time, U.S.A.

---

We acknowledge that the final authority regarding these messages rests with the Holy See of Rome.

---
---
A Prayer for Intimacy with the Lamb, the Bridegroom of the Soul

Oh Lamb of God, Who take away the sins of the world, come and act on my soul most intimately. I surrender myself, as I ask for the grace to let go, to just be as I exist in You and You act most intimately on my soul. You are the Initiator. I am the soul waiting Your favors as You act in me. I love You. I adore You. I worship You. Come and possess my soul with Your Divine Grace, as I experience You most intimately.
---
Messenger: Include Our Lady of the Holy Spirit Center in 6:20 prayers.
---
Jesus speaks: I want the world praying as a body, united in the Holy Sacrifice of the Mass.
Messenger: In the ecstatic experiences I have had at Mass He took me to such states of oneness with the Divine God that I knew so many things, I was lifted into a heavenly experience. I knew the participation as it should be of the souls of the earth, connected and participating in one Mass. I knew the connection of the angels and saints and the souls in purgatory, I knew the connection of every soul in the Church and how they were connected to the Almighty God and how one the priest was with God in that Mass, but most of all I knew oneness and my connection to it all being enveloped in this rapturous oneness with Father, Son and Holy Spirit. I suffer a lot from this lack of oneness in the world, from the lack of oneness between priest and people. On a small scale I sense any lack of oneness in the Movement, lack of purity, division from Him, but I cry from the depth of my soul from the varying degrees of lack of oneness in the world.
My heart screams for those in serious sin, I feel this division from God and this lack of union with the body.
We are His, we should be one. From ecstatic experiences I have experienced intense oneness as it will be in the Reign of the Sacred Heart. I have been taken to a heavenly-like state in the Mass and the fullness of the gift of offering a holy sacrifice is implanted on my soul. Oh, I cry to God. On January 20, 1996, and January 21, 1996, He gave me insights into oneness in the Mass and allowed me to suffer for the lack of it. We are a body, in the Reign of the Sacred Heart, we will be so precisely tuned to being in this place of extreme oneness as a body in Him, honoring Him, loving Him, offering sacrifice to our God, petitioning Him for His graces, being as we are supposed to be.
It is this lack of oneness that makes me cry and suffer.
---
T

HE EARTH STOPPED AND TOUCHED HEAVEN
I long to unite in the deepest union with Him in the Eucharist. I long for the Mass. I long for Thee, oh God. My every moment, I join as I did to You December 15 under the cross, where I felt Your presence. You whisked me away, and I was totally absorbed in that moment of celestial union with You. For that time, I existed only in You, in the deepest union, and I was in this moment existing in You. The earth stopped, and I touched the heavens, all my bodily cares were existent in You. I existed in Your Divinity, my being was in You. There was no desire or wish or wanting, for in that moment, I had all I wanted in You. I was satisfied and wanted nothing but to remain in that embrace. You were the Being, and my being existed in You, but I was only as I was in You - merged in You, knowing and being in Your Divinity and being so full as to feel complete in myself.
You are so enormous, and You surrounded me in a burning embrace, the presence of red fire. I was not little, or "nothing", but existed in this enormous power and being so complete!
I touched eternity, and in that embrace, I knew all the waiting was worth the glory. You enveloped my being, and I was truly merged in the Divine Presence. I was merged in Your being. I existed IN You, with You, in the highest union with You, although I knew I was still distinct from You.
I was fused and absorbed in You, feeling complete and satisfied. To describe this union is far beyond any work of my pen and paper. I pray for the reader of this page to receive the grace to share this experience with Him, I will now live for this union-to be forever merged In Him, to be One in Him, to reach higher perfection as I exist in Him, for He takes the lowly and gives to them a sharing in Himself. He merges with us and we exist in Him. The word "in" - I could write pages about. I long for the deepest union with Him, where I am swept up in the heavenly embrace of the Divine God, and I am IN Him.
This is heaven on earth: to be merged as one with Divinity, although remaining distinct from God, to take our feeble hearts, our lowly status and to unite ourselves with the Divine, Almighty, powerful God and in this union to be meshed with Him, that His power dominates and our humanity reaches its heights of fulfillment in this union, in this oneness with Him.
The word I have looked for is "oneness." I understand some of the meaning of the words "One in Him." Oneness is the word to describe this union of our humanity with His Divinity. The depth to which we could meditate on oneness with God is incomprehensible. In that moment, the earth stood still, and He, my Divine Lover, the Bridegroom of my soul, took me to Himself, and I knew the embrace of the Divine God.
Nothing on the face of this earth can describe our union with Divinity. Oh, good God, that creatures are so ungrateful regarding Your divine love. I am so sorry. Let me help make reparation to Your adorable Heart. Please unite with me now that I may more deeply love Thee.
Oh, Divine Lover of my soul, let me help make reparation to Your adorable Heart for the neglect and indifference against You.
Song from Jesus: I come to you with greatest love. I am your loving Savior. I am your God. I died for you. I come to you this day.
He allowed me to experience such pain in my heart - wanting Him so badly, so many times-and then on Dec. 15, 1995 - He gave Himself to me in the deepest union.
Nothing satisfies the soul but Him. He wants the nuns and priests to love Him. He chose them to spread His love.
Souls are hungry. They will only be fed with His burning love. Priests need to talk about Jesus' love for us from the pulpit. Priests need hearts burning for love of Jesus. This will feed the hungry souls - lip service love doesn't do it.
He is alive today. He is a Person. He wants us to love Him.
---
Messenger: Two years before Mary appeared, I tried to describe the ineffable.
Today I am what I believe one would call a mystic. I try with all my soul to deliver the messages He implants on my soul for the way He desires His future Church to be as it matures more as His bride, and I am persecuted because men do not understand.
And yet my brothers, my experiences are real and so heavenly that my soul cries to account that which I know, and the words seem so feeble.
I beg the Church to be as a Mother, mothering her children.
An earthly mother loves her children, she covers them in inclement weather, she instructs them about their ways, she feeds them with her milk, she holds them, loves them and sees they are taken care of with the best of food that is good for their little bodies. When there is danger, she warns them.
Oh, my Mother the Church, the youth of the world are being taught to sin by the world. A young man and woman (14 years of age) hear a "million" messages about sex, how to have it, how to do it, how it is common place and the young today have a very difficult time finding other youths that are virgins.
Oh, it is the responsibility of one who has been given authority by God to instruct. They have a responsibility. Any person in authority has a responsibility to God for the authority given.
If we worry what people think, and get our messages on what to teach from the people, very often we will not do what God is telling us to do.
My daughter had a book about Saint Thomas Aquinas and it said that if people are worldly they go to the Church, but if the Church becomes worldly God sends a messenger.
The Church must teach the children about their spiritual lives.
There are millions of youth today that are getting a constant diet of messages that are telling them to sin.
The children's souls are at stake.
Does it matter what anybody thinks about us if souls are at risk of being lost?
Look at Jesus beaten for the souls. He did not worry what people thought. He wanted to save their souls.
Pretty faces, rings and perfumes, every hair in place and a soul black in sin from premarital sex.
A child is not instructed as they should be about passions and what is right and wrong.
A child is not told about the devil.
Oh, Mary cries to tell them about the evil one that wants to steal their souls and take them to the everlasting abyss forever.
Oh, the Church is a Mother. The children are dropping over dead in their hearts. (I am not condemning anyone, I write as a messenger from God, this is not to discount anyone who is trying hard to teach the children of this land). My people, the children need the messages of truth, they need the modeling from adults that teaches them to pray. Are our Catholic schools focusing on teaching the children to pray and have a relationship with God as a personal God?
Oh, I could write about Mary our Mother and how the Church needs to mother her children, how the responsibility is there.
Those children need spiritual mothering like a mother warning them. A mother in the natural order tells the child about vitamins, and wearing coats to protect them.
In many schools now they teach the children about protection for sexual activities.
Oh, that the Catholic schools would more and more assume the role of mothering the children in their spiritual lives by teaching the truth rooted in His word and the commandments. Sex outside of marriage is wrong. Our Catholic children could be praying for the Church and the world and our priests.
In America, it has been so hard to begin Junior Shepherds of Christ Chapters to pray for our Church, our priests and the world. Youth today on a whole don't like to pray much. It is difficult to get the rosary in the schools.
The Church is a Mother.
The Church should mother the children in their spiritual lives.
I love the Church, it is Jesus' Bride, the children of the Church He shed His Blood for.
If one person is off, it affects the whole body.
Every action we perform affects others.
If we do not pray, it affects others.
If we teach truth it affects others.
If we do not teach the truth it affects others.
We as members of the mystical body are the brides of Christ. He is the Bridegroom of our souls.
We need to be taught in the Church about our union with God, so we grow more and more in a mature relationship with our Bridegroom.
The Church is our Mother, she must teach us about our spiritual lives. She must teach us the truth. She has a responsibility to teach us about right and wrong, as a mother in the natural order has a responsibility to teach her children about their physical lives and keeps them from harm.
The Church as spiritual Mother teaches us about our spiritual lives.
We are children, the Church is our Mother, she needs to mother us.
What mother wouldn't tell the child about the railroad tracks down the street so they would not play near them?
The Church must tell us about the devil and how he wants to get our souls, and, as Mary says, have them for himself.
Oh, that is the purpose of these revelations, to get people to pray.
Mary speaks: MY SON HAS PROMISED TREMENDOUS GRACES OF HEALING FOR ALL WHO PRAY AT 6:20 P.M. ON TUESDAY.
MY SON HAS PROMISED TREMENDOUS GRACE TO CHILDREN WHO JOIN IN PRAYER IN A JUNIOR SHEPHERDS OF CHRIST GROUP ON SUNDAY EVENINGS AT 6:20 P.M.
I CRY TO YOU.
I CRY FOR MY LITTLE ONES.
---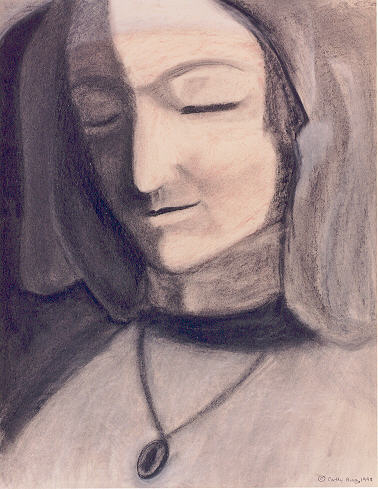 Mary's Message from the Rosary of August 27, 1996
Mary speaks:
I stood beneath the cross of my Son, and my Heart was in such pain for I saw Him before my eyes. I saw Him covered with blood. I saw Him die. My Heart, my children, my Heart to watch my Son, but my Heart, my Heart, how I suffered for my little children of the world that give in to this world and give up the love of my Son. O my little children of light, I give you this message. Carry this light into the darkness for your Mother Mary, for I stood beneath the cross and I cried. I cried for the little ones. I cried for the young ones, the ones that do not care and will lose their souls. How do I make you see for you will not listen to me? What can I do? I come. I appear. I beg. I plead. I give you these gifts from my Son, and you reject me. I do not deliver messages very often anymore for I have been ignored. The message is the same. You do not read the messages I have given to you. Please help me. Help the little children. I appear. I appear. I appear, and I am ignored. I stood beneath the cross, and I cried. I cried, and my Heart was in such anguish for my little children, for I am searching for them this day as I searched for the Child Jesus. Please, please help me. I cannot hold back the hand of my Son any longer. I am Mary, your Mother. I ask you to help my children. You are my children of light.

Song: O Lady of Light, shining so bright, be with us this day, guiding our way, O Lady, O Lady of Light.

Mary speaks: I appear to you as Our Mother of Sorrows.

(End of Mary's Message)
---
Mary speaks: I am Mary, your Mother.
There is a small remnant praying united to the Mass all day. Please spread the prayers we ask you to pray for your priests, your Church and your world.
OH I CRY.
I STOOD BENEATH THE CROSS OF MY SON AND I CRIED.
The Church must busy herself for the spiritual needs of my children. My children are dying in their hearts. Priests must be holy, focused on their duties as spiritual ministers for souls.
They must be busy about their union with Jesus.
---
Prayer for Union with Jesus
Come to me, Lord, and possess my soul. Come into my heart and permeate my soul. Help me to sit in silence with You and let You work in my heart.
I am Yours to possess. I am Yours to use. I want to be selfless and only exist in You. Help me to spoon out all that is me and be an empty vessel ready to be filled by You. Help me to die to myself and live only for You. Use me as You will. Let me never draw my attention back to myself. I only want to operate as You do, dwelling within me.
I am Yours, Lord. I want to have my life in You. I want to do the will of the Father. Give me the strength to put aside the world and let You operate my very being. Help me to act as You desire. Strengthen me against the distractions of the devil to take me from Your work.
When I worry, I have taken my focus off of You and placed it on myself. Help me not to give in to the promptings of others to change what in my heart You are making very clear to me. I worship You, I adore You and I love You. Come and dwell in me now.
-God's Blue Book, January 17, 1994
---
Prayer for Priests

"Lord Jesus, Chief Shepherd of the Flock, we pray that in the great love and mercy of Your Sacred Heart You attend to all the needs of Your priest-shepherds throughout the world. We ask that You draw back to Your Heart all those priests who have seriously strayed from Your path, that You rekindle the desire for holiness in the hearts of those priests who have become lukewarm, and that You continue to give Your fervent priests the desire for the highest holiness. United with Your Heart and Mary's Heart, we ask that You take this petition to Your heavenly Father in the unity of the Holy Spirit. Amen"
---
Mary speaks: My Son gives Himself to you in the Eucharist.
HELP ME, PLEASE HELP ME - I CRY!!!!!
I AM MARY, MOTHER OF THE CHURCH.
---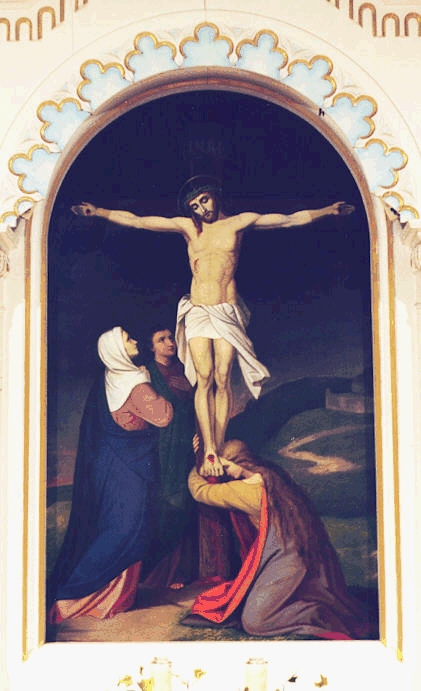 Excerpt from January 2, 1999 daily message
Mary speaks: I am Our Lady of Snows. I come to cover the earth with a soft white blanket of my love.

I come to bring peace to the earth. I tell you to let go of the anxiety in your heart and experience my peace and His love.

I am your heavenly Mother. I come to hold you and caress you and take you to my Immaculate Heart.
(End of Excerpt from January 2, 1999 daily message)
---
I Want You Holy (Excerpt)
January 27, 1994 2:00 a.m.
Jesus speaks: Come and experience My power and My intense love for you, My longing for your heart. I am a personal God. I am this personal with you. So you say, "Oh, God I do not understand this," and I say, "Right, you will not understand Me and My ways and how I am. I am God. I am Divine and you are human." Experience My love and quiet your heads. Come with an open heart and the trust of a small child. Experience My love. Do not try to figure God out. Be grateful and experience My love in you.
Messenger: We see Jesus living in the souls that He touches with these letters. As people with Jesus deep in our hearts, we have a spiritual union with Him and we become true brothers in Christ. There is love between us as in a spiritual family. The thread which is His love is woven between us, uniting us in a bond with one another. It is a very strong, spiritual bond. To see the love of Jesus in one's heart creates a great love for that person because we love Jesus so much. How can you not love a soul that is so fixed on love of Jesus? Our love for Jesus radiates from our being. Our brothers, who likewise love Jesus, become very close to us. We see Jesus in their lives and we cannot help but love the spirituality about them and the love of Christ which is emitted from their very being.
We are rich with the love of Jesus deep in our breasts and we are twice blessed with the love of Jesus in those with whom we share this love. We see His love in their souls and we benefit by His life in them. It is an energy that is created when we are joined together and it cannot be contained. Such a feeling of love between brothers is a powerful force indeed.
Praise Jesus for such great friends, whose hearts reflect His love and who emit such an energy which feeds us again. We are indeed His chosen ones to be given such blessings in Him and in each other! Jesus' love is a powerful force. We must continue toward union and not division. This force is spiritual and most loving. It is a mighty feeling to see Jesus' love in our brothers!
---
MY VALENTINE FOR JESUS AND MARY
AND THE WORLD

I give my heart to
You Jesus and Mary on this day
February 14, 2000.
I promise to help spread the devotion to
the Hearts of Jesus and Mary.
---
Question for married couples and others in intimate relationships:
Q: How do you feel I can tell you more often of my love?
---
---
---
Copyright © 2000 Shepherds of Christ.
Rights for non-commercial reproduction granted:
May be copied in its entirety, but neither re-typed nor edited.
Translations are welcome but they must be reviewed for moral and theological accuracy by a source approved by Shepherds of Christ Ministries before any distribution takes place. Please contact us for more information.
All scripture quotes are from the New Jerusalem Bible, July 1990, published by Doubleday.
Revised: March 15, 2000
URL: http://www.SofC.org
Contact Information for Shepherds of Christ
Email: info@SofC.org
---
Shepherds of Christ Ministries
PO Box 193
Morrow, Ohio 45152-0193

Telephone: (toll free) 1-888-211-3041 or (513) 932-4451
FAX: (513) 932-6791