Mary has requested that the daily message be given each day to the world. It is read nightly at the prayer service from her Image Building in Clearwater, Florida, U.S.A. This is according to her request. All attempts will be made to publish this daily message to the world at 11 p.m. Eastern time, U.S.A.

---

We acknowledge that the final authority regarding these messages rests with the Holy See of Rome.

---
---
A Prayer for Intimacy with the Lamb, the Bridegroom of the Soul

Oh Lamb of God, Who take away the sins of the world, come and act on my soul most intimately. I surrender myself, as I ask for the grace to let go, to just be as I exist in You and You act most intimately on my soul. You are the Initiator. I am the soul waiting Your favors as You act in me. I love You. I adore You. I worship You. Come and possess my soul with Your Divine Grace, as I experience You most intimately.
---
Messenger: Include Our Lady of the Holy Spirit Center in 6:20 prayers.
---
Problem Resolution

Jesus speaks:

Problems are not to be put under the rug.

Some people when faced with an issue attack the other to avoid the problems.

Unless people are willing to address issues from their hearts in truth they will not get resolved.

When the Church as teacher instructs it must tell the truth about ills that are inflicting its members and causing them to sin.

When one in authority tries to address an issue and the other refuses, Satan works in this. Satan wants imperfections to remain veiled.

Satan works in unresolved conflict.

Satan wants to keep his activities veiled.

Satan wants people to act imperfectly, he uses these imperfections to create problems of division and confusion.

Some people guard their hidden imperfections like little trophies on a shelf. They do not want to get rid of them.

Unless all are willing to reveal the hidden thoughts that cause faulty interaction in relationships, the behavior will continue.
---
Luke 2:35

--so that the secret thoughts of many will be laid bare.'
---
Jesus speaks: I also address another problem.
Many people live for the approval of others. They judge themselves by what others think of them.
Because the acceptance was not there from their parents, many people spend their lives trying to get the approval of others to make themselves feel accepted.
How important to you is what others think of you?
Do you live for others approval?
Do you want to be on the top and always looking for those with power and money to approve you?
Do you judge your actions by having successful men approve of you?
Would you go to all extremes to get approval of others?
Does the lack of approval of some or snarly disapproval affect your actions, moods and how you operate?
Do you walk in My name?
Do you operate to get recognition of important men?
Do you want everyone to make you a hero and then you feel you will feel better, then you will feel accepted?
Does your feeling of self-worth come from within or do you look to the world and those who surround you to tell you how you are doing, to tell you how you will feel today?
Are you an actor based on your inner connection to Me, or are you a reactor based on what people say and do to you?
You must spend time on your interior life and your connection to Me. Men of the world are taught by television that you must be a hero in the world that surrounds you.
I ask you to see the picture before I was given the cross. My hands were tied and they jeered at me, they shouted, "Crucify Him."
A lot of things are not being done because you are playing into the hands of Satan. Those who must work together because it is God's will, and it is necessary to work together, are fighting and are divided because they have allowed old wounds and pride to overtake their sense of reason. These imperfections have clouded your focus of what is important to the Father's plan to help save souls.
The plan is Mine, the more you fight it, the more you will suffer tremendously.
I do not work like man -- I am God -- I can do anything, I come to teach you holiness, I come to teach you obedience. I come with the plan, the more you analyze from your point of view how it ought to be, the more you will go off. The more you grow in obedience and holiness, the more I will shower you with My blessings.
You must pray, "Thy will be done."
The devil wants you divided, he wants you stopped, you must work together. He has made it seem as if it is impossible to work together. This is because of your own imperfections and lack of holiness.
Only when your focus is on Me, helping to save souls, praying as I have instructed, putting aside pride, following My plan, taking your directions from Me, will you be able to survive and move ahead.
My ways are not like your ways. You put a nickel in the bubble gum machine and bubble gum comes out. (Usually) you feel it is black and white, you have control, you act, you get results.
I am God, I come to teach holiness, I am All-powerful. I know your hearts and your ways, I am watching you. You won't do it without Me. You will only do it by My plan. I divided the Red Sea. I parted the waters. At the time of Noah I flooded the earth. I died on the cross and rose Victorious.
I put the lights in the sky, I paint the image of My Mother on the building. This is done by the hand of God. A child is conceived in a womb. A deaf-mute speaks, a blind-man sees, a child crippled from birth walks. You don't know My ways yet. You are still trying to control your God and the situation. Pray "Thy will be done". Work to bring forth fruit and present all the revelations you can to the world. If I gave you money, you would ignore Me entirely. It isn't the job done that is most important, it is the way you grow in your hearts in My image and likeness. Your earth is full of buildings. Most are not consecrated to My Heart. You can finish the Mass Book, the newsletter book, the rosary coloring books. You get distracted by Satan's snare. You argue and your own imperfections when working with others block My work.
Put aside pride, get your heads together, study the messages, do what I say. Your peace and joy will come in this from the fruits brought forth at the altar of Sacrifice.
I am God, I am All-powerful, Almighty and I am watching you.
Problems must be addressed, people must be humble and willing. All must pray the leaders prayers. I am God, I parted the sea.
Help Me. It is Me you serve. I know all your good works and the condition of your heart. What good does it do to build cities that encourage people to sin and to not live in the truth? Empty palaces to offend your God. A garden I give to you and I give you Myself as the Sacrifice, I give you a sharing in My life.
I am God.
---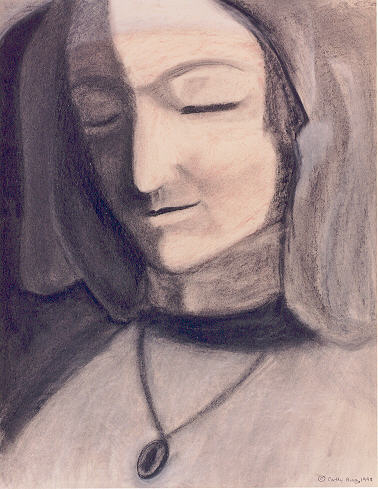 Mary's Message from the Rosary of August 27, 1996
Mary speaks: I stood beneath the cross of my Son, and my Heart was in such pain for I saw Him before my eyes. I saw Him covered with blood. I saw Him die. My Heart, my children, my Heart to watch my Son, but my Heart, my Heart, how I suffered for my little children of the world that give in to this world and give up the love of my Son. O my little children of light, I give you this message. Carry this light into the darkness for your Mother Mary, for I stood beneath the cross and I cried. I cried for the little ones. I cried for the young ones, the ones that do not care and will lose their souls. How do I make you see for you will not listen to me? What can I do? I come. I appear. I beg. I plead. I give you these gifts from my Son, and you reject me. I do not deliver messages very often anymore for I have been ignored. The message is the same. You do not read the messages I have given to you. Please help me. Help the little children. I appear. I appear. I appear, and I am ignored. I stood beneath the cross, and I cried. I cried, and my Heart was in such anguish for my little children, for I am searching for them this day as I searched for the Child Jesus. Please, please help me. I cannot hold back the hand of my Son any longer. I am Mary, your Mother. I ask you to help my children. You are my children of light.

Song: O Lady of Light, shining so bright, be with us this day, guiding our way, O Lady, O Lady of Light.

Mary speaks: I appear to you as Our Mother of Sorrows.
(End of Mary's Message)
---
MY VALENTINE FOR JESUS AND MARY
AND THE WORLD

I give my heart to
You Jesus and Mary on this day
February 14, 2000.
I promise to help spread the devotion to
the Hearts of Jesus and Mary.
---
Question for married couples and others in intimate relationships:
Q: When I feel tired and weary, how do I feel after I write this letter and share with you?
---
---
---
Copyright © 2000 Shepherds of Christ.
Rights for non-commercial reproduction granted:
May be copied in its entirety, but neither re-typed nor edited.
Translations are welcome but they must be reviewed for moral and theological accuracy by a source approved by Shepherds of Christ Ministries before any distribution takes place. Please contact us for more information.
All scripture quotes are from the New Jerusalem Bible, July 1990, published by Doubleday.
Revised: March 19, 2000
URL: http://www.SofC.org
Contact Information for Shepherds of Christ
Email: info@SofC.org
---
Shepherds of Christ Ministries
PO Box 193
Morrow, Ohio 45152-0193

Telephone: (toll free) 1-888-211-3041 or (513) 932-4451
FAX: (513) 932-6791