Mary has requested that the daily message be given each day to the world. It is read nightly at the prayer service from her Image Building in Clearwater, Florida, U.S.A. This is according to her request. All attempts will be made to publish this daily message to the world at 11 p.m. Eastern time, U.S.A.


---

We acknowledge that the final authority regarding these messages rests
with the Holy See of Rome.

---
March 20, 2003
March 21st Holy Spirit Novena
Scripture selection is Day 1 Period II.
The Novena Rosary Mystery
for March 21st is Luminous.
We urgently, urgently need funds for
the priestly mailing!
Please help us!
Sidney Rosary Tuesday
March 25, 2003 at 6:20.
March 20, 2003
WAR
Messenger: per Jesus' direction:
As of today we have sent 21,000
prayer manuals and Mary's picture,
and the novena of Masses to the
United States Priests.

Jesus speaks: This mailing is urgent.
July 31, 1994
Words of Jesus to Members
of Shepherds of Christ Associates:

"My beloved priest-companion, I intend to use the priestly newsletter, Shepherds of Christ, and the movement, Shepherds of Christ Associates, in a powerful way for the renewal of My Church and the world.

"I will use the newsletter and the chapters of Shepherds of Christ Associates as a powerful instrument for spreading devotion to My Heart and My Mother's Heart.

"I am calling many to become members of Shepherds of Christ Associates. To all of them I will give great blessings. I will use them as instruments to help bring about the triumph of the Immaculate Heart and the reign of My Sacred Heart. I will give great graces to the members of Shepherds of Christ Associates. I will call them to be deeply united to My Heart and to Mary's Heart as I lead them ever closer to My Father in the Holy Spirit."

- Message from Jesus to Father Edward J. Carter, S.J., Founder, as given on July 31, 1994,
feast of Saint Ignatius Loyola, Founder of the Society of Jesus (The Jesuits)


March 20, 2003 message continues
Jesus speaks: Please help Me.
1) prayer
2) funds
3) volunteer
Mary speaks: Jesus wants you to pray
these prayers.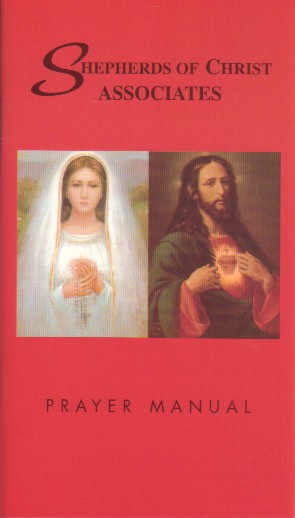 March 20, 2003 message continues
Messenger: On March 20, 1994 I received this
message. This message was so
strong from Jesus, I cried and cried.
March 20, 1994 -
before the end of the building collapsed
at the Holy Spirit Center.
(the old seminary in Cincinnati)

Jesus: You don't have to prove the authenticity of these letters. You know they are true. If they doubt, let them get their proof. You don't have to give them signs. If they want the love of God, they will search and know the letters are from Me. Everything else is everybody else's responsibility.

I want you to speak always. I speak through you. I want you to circulate the letters. You do not prove the letters to any man. You write, you talk. Their doubt is their problem. You answer no more than I tell you to. They can turn their backs and lose the true treasure here.

I am Jesus, the Son of God. Say little in your defense. You know they are the fools if they question you. They miss My divine treasure here. I love each child ardently to write to them. Silly to not listen when I speak to you!

You are My messenger. You must only do the delivering. You owe no man any valid reasons why it is true. Publish these messages. I want the book published. What happened to Volume II? I, Son of God, am talking to you and who listens? Now they are holding it up because of the priests. I am Jesus I want all these messages published. If the devil creates enough doubt and confusion as he did, then you deal with that instead of the messages.

I am God. I am so tired with you to publish these letters. You are going to suffer for the souls will be lost while you tarry. Tarry more and do your own thing. Why should I give you any messages? You have not published any that I gave you. If you do not do this work, I will give them to someone who will. I am so tired with you. You are not doing My will and this world is suffering for your delays.

You check, you tarry, and I am God and I am talking to you. You test My messenger. You try her. You want proof. I give you messages, so many messages, and you want a sure thing. You test them on man. Does man know why God tells you here? Why is the world in this state if man is so smart? Why did he not cure it by now? All those you ask, ask them, why are you not curing the world!

I am God. I have spoken. I am so upset with these delays. What do I do to shake you into listening? You want proof. You lack faith. No human being has this knowledge. She is a math teacher and has not even studied theology or the Scriptures. She doesn't even know the books in the Bible. She only loves Me dearly. You test and waste My valuable time. I grow very tired of this.

I am Jesus Christ. I am the Son of God. You are all afraid or you would listen. You are afraid of the priests, afraid of the people, afraid. I have all the power, I am God. I can turn the world upside down. I have all the power. I am tired to give you more messages. You are not publishing anything. You want to be safe. The world is suffering and sick.

You want what you want in the way you want it. I am God and I do things the way I, God, know best. If I did things your way you would have no faith. Man gives into himself. I teach you to reach within your souls to the things and ways of God. You want Me to act like you. I am God and I do not act like the way you want. I am tired!

end of excerpt from Apostles Manual
March 20, 2003 message continues
Messenger: 2 DAYS LATER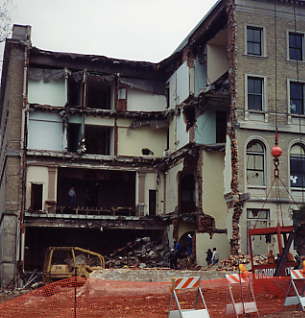 Mark 12: 10-11

Have you not read this text of scripture:

The stone which the builders rejected
has become the cornerstone;
this is the Lordís doing,
and we marvel at it ?í
March 20, 2003 message continues
Messenger: On March 22, 1994, the corner
fell off the old seminary
where the Shepherds of Christ
was born and Mary appeared
to me 500 times.
Here are pictures of the corner and
seminary before and after.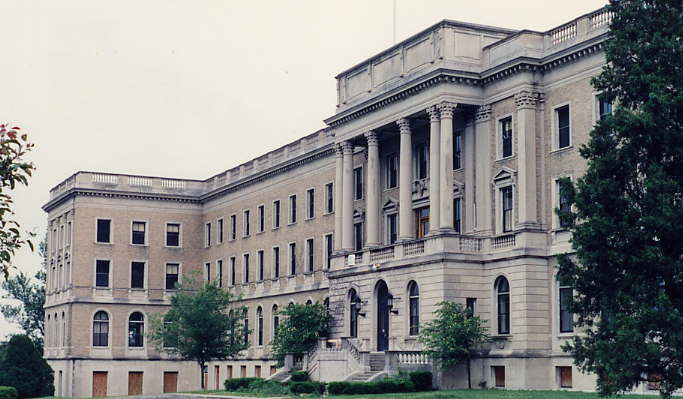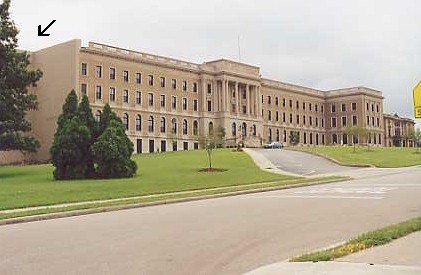 March 20, 2003 message continues
Messenger: A handmaid told me this was her prayer.
Psalm 63
Yearning for God
Psalm Of David When he was in the desert of Judah
God, you are my God, I pine for you;
my heart thirsts for you,
my body longs for you,
as a land parched, dreary and waterless.
Thus I have gazed on you in the sanctuary,
seeing your power and your glory.

Better your faithful love than life itself;
my lips will praise you.
Thus I will bless you all my life,
in your name lift up my hands.
All my longings fulfilled as with fat and rich foods,
a song of joy on my lips and praise in my mouth.

On my bed when I think of you,
I muse on you in the watches of the night,
for you have always been my help;
in the shadow of your wings I rejoice;
my heart clings to you,
your right hand supports me.

May those who are hounding me to death
go down to the depths of the earth,
given over to the blade of the sword,
and left as food for jackals.
Then the king shall rejoice in God,
all who swear by him shall gain recognition,
for the mouths of liars shall be silenced.

---
---
---

Copyright © 2003 Shepherds of Christ.
Rights for non-commercial reproduction granted:
May be copied in its entirety, but neither re-typed nor edited.
Translations are welcome but they must be reviewed for moral and
theological accuracy by a source approved by Shepherds of Christ Ministries
before any distribution takes place. Please contact us for more information.
All scripture quotes are from the New Jerusalem Bible, July 1990, published by Doubleday.
Revised: March 20, 2003
URL: http://www.sofc.org
Contact Information for Shepherds of Christ
Email: info@SofC.org
---
Shepherds of Christ Ministries
P.O. Box 193
Morrow, Ohio 45152-0193

Telephone: (toll free) 1-888-211-3041 or (513) 932-4451
FAX: (513) 932-6791