April 2, 1999
Walk the Passion
Through the Five Sorrowful Mysteries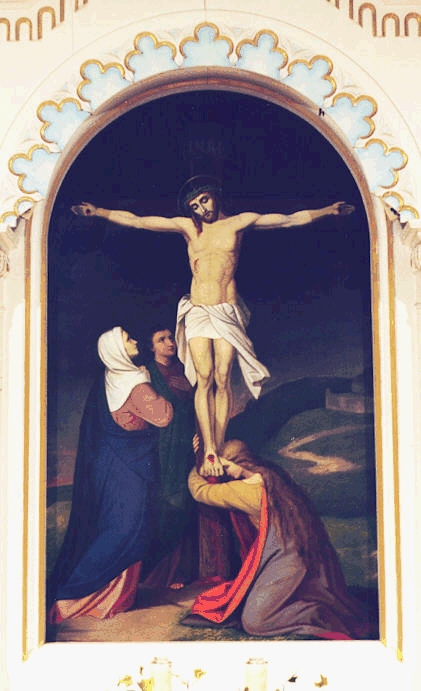 Take Up Your Cross (excerpt)
Jesus speaks: Take your crosses and truly endure them. Accept them. Know that everything that happens in your life I have allowed. Accept it with the love with which I give it. You are being taught in that pain. You are suffering for yourselves and others. I endured all that pain. Did I once say, "Father, take it away?" I am your model. I showed you the way. I took it all, every last wound, every kick and smack and vileness. I took My cross and I carried it without a word. This is what I ask of you. Know that when you are experiencing pain or suffering, or being taunted by those around you, look to the Master for your course of action. I took it all, every last wound, and accepted it to My death. I did not say, "Oh, how awful." I did not complain. I walked in silence that bumpy road with a heavy cross, with My mother suffering by My side and I never complained. I accepted it all for love of you.
- From God's Blue Book I - November 3, 1993

Pray For Your Brothers (excerpt)

Jesus speaks: Oh, children, pray for your brothers. Your prayers and sacrifices may save their lives. Prayers can help a troubled soul. Do not underestimate the power of prayer. Your brothers are engulfed in so much darkness. They will never see the light except through you or they may never be touched if you do not pray.
---

Agony in the Garden
From: God's Blue Book I, November 15, 1993 - after Mass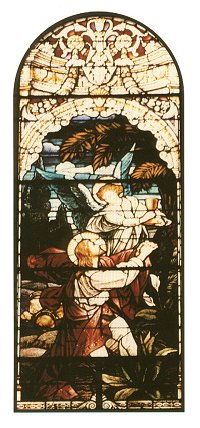 The Agony in the Garden
THE FIRST SORROWFUL
MYSTERY
I Love You to Death, Today! (excerpt)
Jesus speaks: Oh, My passion, My child! Meditate on this every day. Think of My agony to know what would happen, to see only as God could see every detail of every event that would follow. To feel the pain before it happened and know how horrendous it would be. All the kickings, whackings, not to mention the names and slanders against God. They were doing this to God! In all My dignity and honor, I would experience such vileness and take it for love of you.
My passion is a wealth of material to study. But I will reveal such things to you. The bottom line is what I suffered for love of you. I would do this today. I love you just the same. Oh, if you only knew! It feels good to tell someone when you are wronged. I was so silent. The incredible things they did and I was silent. My mother suffered so with this. She watched her beautiful baby in such anguish. She was silent. Her agony was so great. She endured this for love of you. You are so loved, child. Why do you ever think you need to go anywhere for this little human love? It is nothing. My love is all encompassing. My mother loves you intently. Forget those who shun you. Who cares? You need My love. You don't need their love. Come, get My love and then give it to the unloving. Don't worry.
---

Scourging at the Pillar
From: God's Blue Book I, November 20, 1993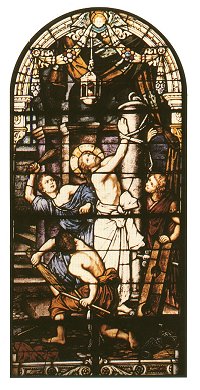 The Scourging at the Pillar
THE SECOND SORROWFUL MYSTERY
Study My Passion (excerpt)
Jesus speaks: They beat My body, My beautiful body, God-made-man. They tied Me to a pole and they beat Me. There were more than one beating Me. They took turns. I was the victim. They in their hate and anger lashed at Me, My beautiful body, tore My flesh over and over. They laughed and taunted Me. They were so happy to be so guileful. Oh, the laugh of the great deceiver! Like a thief in the night, he steals your hearts and you wonder why so hard. Where did their gentleness go? The great deceiver who laughs at hurting others.
It is the devil operating from the hearts of man! The heart is no longer kind and gentle, but merciless and debased in behavior. Oh, the great deceiver! To beat God-made-man and to laugh at his own ill deeds, to watch the blood of Jesus fly in the air and to laugh. It is by this blood that they and all others who abuse others and laugh will be made whole. I, in My love, forgave them for their deeds. They beat Me. They tore My flesh and I loved them. Can you not love your brothers when they are cruel to you? Can you forgive them and love them as the soul created by God, but dead in sin by the devil's hands? If I could love those who spit and laughed at Me and tore My flesh, who crowned Me with a piercing crown and hit Me on My head, can you not forgive him who offends you with a nasty word?
The way to Me is to study Me, to model yourself after My behavior. You must take up these crosses I give you every day. It is your love for your brothers that might save their crippled souls, dead in sin. See Me in them. Look beyond their deeds and see the God Who made them. Do not focus on their sick ways. Study My passion with Me. Study how I loved the unloving, how I loved those who persecuted Me. Study Me and My ways. Don't waste your time thinking about Satan and how he is taunting you through your brothers. He uses them to get you away from Me.
---

Crowning with Thorns
From: God's Blue Book I, November 20, 1993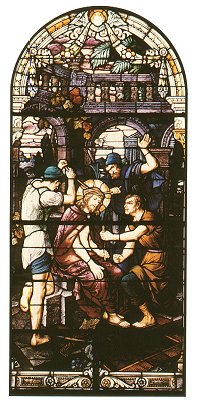 The Crowning with Thorns
THE THIRD SORROWFUL MYSTERY
Study My Passion (excerpt)
Jesus speaks: The thorns in My head cut through to My skull. How to describe such an experience? And I was God! Blood trickled down My face all day. It didn't dry up because, as My heart beat, it would open the wounds. Think how tender your head is if you pull a hair! The thorns pulled My hair, like the tightness of curlers, but they cut Me and when they put them on, they hammered them into My skull. This was for the sins committed in people's minds. The hatred, the anger, the sex signs, contemplating evil deeds, sneering and envy of your brothers-ugliness! The eyes are the windows of the soul. What you look at you reflect on your soul. If your eyes look at evil things, your soul is dirty. If you look on others with hatred and anger and getting even, on dirty pictures, sinful stories, bad TV and movies, what you, through your will, take in with the beautiful eyes created by God, sparkling and full of light, reflects in your soul.
Keep your eyes light and sparkling, full of love. Relax the area around your eyes so you are not looking hard and anxiously at your brothers. Let your eyes reflect My light in your soul.
My eyes were stained with the blood that poured down My head. My vision was blurred with blood and My eyes were matted with dryness. Blood came from My mouth from the blows to My head and blood came from My nose from the hitting on My head. I was beaten on My head with the crown of thorns. I was spat at in My face. Oh, such ugliness in men's hearts! It was their minds that thought such ugly thoughts and why I suffered such brutality to My head. It is paradoxical I suffered for that which they did.
---

Carrying of the Cross
August 23, 1993 - Message from Jesus


Jesus Carries His Cross
THE FOURTH SORROWFUL MYSTERY
On His Passion
Jesus speaks: My dear child,
I was condemned to death, death on a cross. They gave Me a big cross and made Me carry it. They stood around and glared at Me. It weighed on My shoulder and I pulled at it until it finally moved. Every step was almost impossible as I dragged it, weighing so heavily on My shoulders.
My shoulder felt as if the bones inside would crack and the cross would fall through to the ground. I couldn't drag it any more. I tried, I fell. I fell and its weight fell on Me. A guard hit Me with something sharp. It really hurt because he wanted Me to move, and fast! People were watching -- on with the show! How dare I fall in the middle of the show! He hit Me again and the blow really stung Me. I got up because it hurt so badly. I tried to walk on.
My Mother was in the crowd. She looked at Me and her face looked red and hurt. Tears rolled down her cheeks like rain and as her eyes met Mine, I was hurt so by her sorrow! She was always by My side, silent and loving. She was My mother of love! She is always there next to you when you suffer.
I fell again and he (the guard) really hit Me. It (the cross) was so heavy that he and I together could barely move it. It seemed as I walked, heavier with the sins of the world heaped on it. My hands were bleeding. Blood ran from the wounds of My thorns and My head throbbed, seeming to make the wounds in My head bleed even more. Some of the Blood was dried, some of it running all over My Body. I had so many cuts and bruises -- and people watched and laughed!
I am Jesus, Son of the Living God, and they laughed and mimicked Me! Oh, such hardened hearts! How vile can men's heart become? The devil's grip is paralyzing and crippling.
The walk was so long up a hill and over rocks -- the cross had to be lifted over the rocks. My Body was bleeding so badly! My heart was pounding. I knew that the salvation of all men depended on My love. Therefore, I went through such agony.
---

Crucifixion
August 23, 1993 - Message from Jesus


Jesus Dies on the Cross
THE FIFTH SORROWFUL MYSTERY
On His Passion
Jesus speaks: I thought of My intense love for you -- that many would go to heaven because of My suffering -- and I continued to the top of the hill. At the top they laid Me on the cross and with a big hammer nailed My hands to it. It was the worst (suffering) yet. My hands were nailed with big nails and the big hammer. Oh, it was unbelievable! Then, as if that weren't enough, with a big nail they nailed through both feet.
Then they lifted the cross and banged it into (a hole in) the ground. My shoulders ached from how I hung. My head bobbed and My neck ached and they laughed and said, "Now save Yourself." I hurt so much! I suffered this way for hours -- which seemed like forever -- and they glared at Me and laughed! My Mother watched in such agony.
For love of you, to My death I gave you My Body. My child, I shed My Blood and gave you My life that you might be with Me forever in heaven -- not for a day, a month or a year, but forever with Me in heaven.
I am the true Bread come down from heaven. He who eats My Flesh will have life forever. For the drink I give you is My Blood and food you eat is My Body. Who would lay down his life for a friend? I did, for you. I love you this much, child. Forget about those who reject you. You have My life that I gave you and I give you life eternal.
I am the One true God. I am the Light of life. He who abides in Me will have life eternal, for the drink I give is My Blood and the food I give is My Body. Drink and eat and have everlasting life.
My child, that is all you need to know. Love one another and be good that you may enter into My Kingdom.
---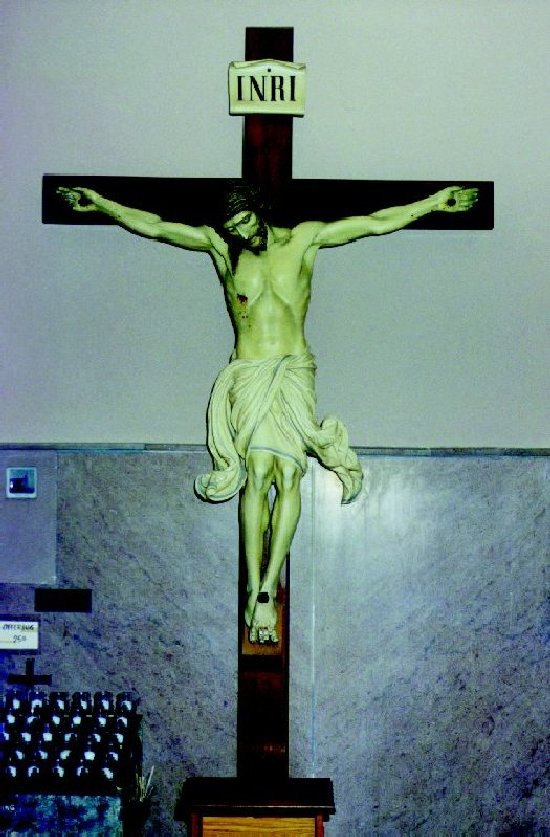 Crucifix at Holy Cross-Immaculata Church
On Suffering
From Blue Book I, October 27, 1993 (excerpts)
Jesus speaks: Each day you ascend closer and closer to Me, your divine reward.
You are My child and I watch you and feel your pain. Your pain is not in vain. It is in suffering that you share in My life! Walk My passion with Me and know Me better. The way to Me is the way of the cross. Do not put your cross down. Bear all I send to you and praise your heavenly Father Who loves you! To give up My cross is to give up Me.
Carry the little crosses I give you every day and you will know Me more and more for I am in your life today in that cross. Will you embrace Me or turn away? Suffer with Me whenever it comes your way. It is a gift I give to you to be closer to Me.
In sorrow, I am closest to you. I love you so intently. My heart is on fire for love of you. It is in suffering that I am closest.
From Blue Book I - October 16, 1993 (excerpts)
Jesus speaks: Trust in Me, My little scared baby. Release all fear. Satan is the king of fear, doubt, hate, division and worry. I am the master of love and union and strength. All things work in Me. Focus on Me and My entire divine presence here. You are finally with Me, little one, all alone. What a golden opportunity and Satan is trying to create problems in your mind to keep us apart. Let go of all his prompting. Be with Me. I love you so. Your problems are nothing. I am here. I will protect you from his lies. Be with Me, little one. I love you so. Put all doubt and worry aside. I am your God and I love you so.
From Blue Book I - September 26, 1993
Jesus speaks: Little child, you are so precious to Me. I hate to see you suffer. Offer it up to Me. Accept your cross and it will make you holy. I know you strive to be holy. Share in My Passion. Walk with Me, little one. The Way of the Cross is the way to My heart. It is a beautiful way. It brings you to Me. I wait with open arms to caress you, little beauty.
I love you. I am the prize for your suffering. Nothing is so valuable. Accept your cross that you may gain the golden reward, My love.
I am your Jesus. I never leave you. I share your sorrow and wipe the tears from your eyes. Lay you little head on My lap. The road is rocky but the reward is a reward, indeed. I am clothed in white and embrace you. I give you rest. I love you so much. Think of Me, sweet one. Don't think of your problems.
I love you.