Shepherds of Christ
Daily Writing
March 20, 2009
March 21st Holy Spirit Novena
Scripture selection is Day 4 Period I.

The Novena Rosary Mysteries
for March 21st are Glorious.
The church needs to have the stucco replaced

and also the community building.

It is about $38,000 to repair it.

People pray in the church 24 hours a day.

We have prayed in there for 11 years.

The archdiocese gave the church to us

for this purpose for a small price.

Can you help us?
Retreat in Florida
April 2, 3, 4, 5th
March 20, 2009
Jesus: I want to take you to My
Heart —
Be pure of heart
Confess your sins so guilt
is not hidden in you —
Let your hearts be pure.
Do not give into anger,
projection, blaming
others for your own darkness inside.
Be instruments of love
Loving God
Loving one another
Confess YOUR SINS
Pray for grace to see the dark
places in your heart —
I love you so much
I want this relationship with you —
So many alcoholics have been healed
because they practiced the 12 steps
Alcoholic Anonymous
12 steps
1. We admitted we were powerless over alcohol,
that our lives had become unmanageable.

2. Came to believe that a Power greater than
ourselves could restore us to sanity.

3. Made a decision to turn our will and our lives
over to the care of God as we understood Him.

4. Made a searching and fearless moral inventory of ourselves.

5. Admitted to God, to ourselves, and to another human
being the exact nature of our wrongs.

6. Were entirely ready to have God remove all
these defects of character.

7. Humbly asked Him to remove our shortcomings.

8. Made a list of all persons we had harmed,
and became willing to make amends to them all.

9. Made direct amends to such people wherever possible,
except when to do so would injure them or others.

10. Continued to take personal inventory and when we
were wrong promptly admitted it.

11. Sought through prayer and meditation to improve our
conscious contact with God as we understood Him,
praying only for knowledge of His will for us and
the power to carry that out.

12. Having had a spiritual awakening as the result of these steps,
we tried to carry this message to alcoholics,
and to practice these principles in all our affairs.
Serenity Prayer

God grant me the Serenity to accept the things I cannot change...
Courage to change the things I can
and Wisdom to know the difference.
We are all sinners —
The worst for us and others is when we
lie about our sins —
Think of all the people today who
are living with hidden guilt
about abortions —
Hidden guilt can hurt a person in
physical and spiritual ways —
God gives us confession - to tell
the truth about our sins
and be made clean —
We are sinners — we are to admit
our sins and be sorry
The devil wants us to lie to ourselves
about our sins
The devil wants us dragging down
in darkness, untruth,
hurting others
Tell your sins to the priest,
make reparation for
your sins
Be free
Not enslaved
God will have mercy on us if we ask
for forgiveness and tell him
we are sorry and want mercy —
So much grace is given in confession.
John 11: 52
and not for the nation only, but also to gather together into one the scattered children of God.
Every sin is against God and its Church.
When we sin we hurt our relationship
with God and we hurt the other members
of the mystical body of Christ.
"And I detest all my sins because
I dread the loss of Heaven
and the pains of hell (imperfect
sorry); but most of all because
they offend Thee, my God, Who
art all good and deserving of
all my love" (perfect sorrow)
When we sin we hurt our relationship
with God.
"God, be merciful to me, a sinner"
Act of Contrition
"O my God, I am heartily sorry for having offended Thee, and I detest all my sins, because I dread the loss of Heaven and the pains of Hell, but most of all because they offend Thee, my God, Who art all-good and deserving of all my love. I firmly resolve, with the help of Thy grace to confess my sins, to do penance and to amend my life. Amen."
Excerpt from Response in Christ by Fr. Edward J. Carter, S.J.

SIX The Christian

and Sin

We should not have a sin-centered mentality. Christ wants us to focus our attention on the positive aspects of the Christian existence. Still, we should not minimize the existence of sin and the part each of us has contributed to the sinfulness of the world. Anyone who tends to doubt the enormous dimension of sin throughout man's history has only to read scripture to be reminded of the truth. Every age has been hauntered by sin's presence, our own being no exception. Some say that the modern world is not conscious of sin, but this observation does not seem to be entirely true. Modern man has articulated his consciousness of sin very noticeably through contemporary literature, philosophy and theology.

To be realistic, then, each of us must be properly conscious of sin, of our own sinfulness, of the fact that sin constitutes one of the major obstacles to the proper growth of the Christian life.

The Nature of Sin

What is the nature of sin? Contemporary theology emphasizes that sin is not primarily a violation of a law, but a disruption of personal relationships. Sin is a refusal to love. Serious sin is a radical refusal to love. Venial sin is a partial refusal to love.

The most obvious personal relationship that is affected by sin is that between God and the sinner. In sinning a man fails, to a lesser or greater degree, to accept God's loving gift of Himself. He fails also to respond with his own gift of love. In serious sin man refuses intimate friendship with God. In venial sin he dulls the ardor of that friendship. Man, in so far as he sins, maintains that he does not want his life to be directed by the loving hand of his heavenly Father. He wants to be a law for himself; he wants to be the one who decides what is good for himself and what is not. Schoonenberg observes: "Especially in the prophets sin is an aversion from and an unfaithfulness to Yahweh himself; hence it is placed in the heart rather than in the wrong deed. We see that aversion, that rebelliousness, that lack of faith which precede the act of transgressing the Law already in the story of the sin in paradise, where it is presented as the wish of possessing autonomously the knowledge of good and evil, of being independently the Law unto oneself. . ."1

As we sin and fail to love God, we close in upon ourselves. We prevent a further growth in openness to transcendence, to God and to His grace. We block off the source of our only real self-development and fulfillment. To the extent that we close in upon ourselves in sin, to that extent we feel the misery of sin. This misery of spiritual "self-enclosedness" is a faint participation in the essential pain of hell. The damned are eternally and completely closed in upon themselves, completely deprived of God and other personal relationships. This, then, is hell – the damned really experiencing no one but themselves. Hell is God's ratification of the choice which the unrepentant serious sinner has himself made. This choice is one of radical self-isolation.

Sin is primarily a refusal to love God, a refusal to be loved by Him, to be guided by Him. In sinning, man seeks for a false fulfillment, and therefore actually becomes impoverished. The great St. Augustine puts it this way: "For when the soul loves its own power, it slips from the common whole to its own particular part. Had it followed God as its ruler in the universal creature, it could have been most excellently governed by His laws. But in that apostatizing pride, which is called 'the beginning of sin', it sought for something more that the whole; and while it struggled to govern by its own laws, it was thrust into caring for a part, since there is nothing more than the whole; and so by desiring something more, it becomes less. . ."2

Yes, sin is an act disruptive of one's relationship with God. But sin has other dimensions also. It is a refusal to love other men as we should. For the Christian, sin is an offense against the covenant life of the People of God. In some way the sinfulness of the individual Christian makes itself felt in the corporate body which is the Church. The Christian, in sinning, is failing to love the corporate good of the People of God. He is failing to contribute his share to the progressive maturation in Christ of the total Christian community. The Christian in his sin becomes a burden to the People of God.

Sin also is an obvious refusal to love others in those instances when one directly harms others through his transgression. So many sins come under this category: theft, all forms of uncharity, social injustice, scandal, detraction. Furthermore, not only does one man often sin against another, but he frequently leads another into sin. In God's plan man is supposed to help his neighbor achieve his temporal and eternal happiness, but how often, even among Christians, the opposite is true. Not to make a positive contribution to the true growth of others is failure enough, but to be a positive hindrance is a far greater evil.

There is still another way in which the sinner refuses love to his fellowmen; when man sins he makes his contribution to the "sin of the world."3 He thus adds to that huge, negative weight, nourished by the sins of the centuries, a weight which is always trying to draw man away from his God-given destiny. This mass of sinful ugliness, this "sin of the world," always has its considerable influence, but at times its hideousness makes itself especially manifest. The great race riots which have tragically risen up recently in various parts of the United States are examples of these special manifestations of the "sin of the world." Such events are not isolated instances of sins connected with race. In back of such tragedies there is a long history of grave social and racial sins, of seething hatred of white for black, and black for white. Such accumulated sinfulness in regard to race is part of the "sin of the world."

There are many other examples of these special manifestations of the "sin of the world." There are the world wars and the lesser wars, with their share of unbelievable accounts of the hatred which man can impose upon his fellowman. There are the histories of the various crime syndicates throughout the world with all their blatant categories of human degradation – narcotics, prostitution, terrorization and the rest. There are the sins of colonialism and the sins of communism.

The "sin of the world" with its stark and bold manifestations is a sickening reality. But a reality it is. And each man's sinfulness adds a little to this universal world sin. Each man's sinfulness contributes to sin's divisiveness. Man is intended to help Christ progressively unify all creation more and more into Himself. When man sins, he contributes to the disruptive and disunifying force of the "sin of the world."

Sin, then, because it is a failure to love God, man and the world, is selfishness. Sin seems to offer some sort of happiness, or advantage, or fulfillment. But this is a delusion. Sin can accomplish none of these things, because man's only real happiness and fulfillment comes from his authentic relationship in love with God, his fellowman and the rest of creation. Sin works against all these relationships.

Sin is so hard to understand because it is an absurdity. But if we are to grow properly in the Christian life, we must have some basic realization of what sin is, and of God's attitude towards sin and the sinner. Our best source for such a mature realization is given to us in the crucified Christ. In this figure we can know all the Father wants us to comprehend concerning sin. First of all, Christ crucified tells us very starkly of the overwhelming heinousness of sin. We know that sin is overwhelmingly evil because it alone could nail Incarnate Goodness to the cross. Secondly, Christ crucified speaks to us concerning the justice of God. God's justice does ask satisfaction for sin – yes, even that satisfaction which is the death of His Son. Thirdly, and very importantly for us poor sinners, the crucified Christ speaks to us unmistakably and overwhelmingly of the Father's great love and mercy towards us. Because of this love and mercy we can be so positive about human existence, for great as is the power of sin, the love and mercy of the Father, incarnated in His Son, is infinitely greater. This is our peace and consolation.

God's love and mercy moves the sinner toward repentance, and when the sinner repents, God's love changes him. In Isaiah the prophet we read: " 'Come now, let us talk this over, says Yahweh. Though your sins are like scarlet, they shall be as white as snow; though they are red as crimson, they shall be like wool.' " (Is 1:18).

Included in our sorrow for sin is a resolve to take the proper means and precautions to avoid sin in the future. One of the reasons we fall into the same sins with the same frequency is that we tend often enough not to go to the root causes of our failures, and, consequently, we often fail to apply the more efficacious remedies. All this not to say that we should become morbidly introspective in looking at sinfulness. However, without succumbing to this type of introspection, we all must allow for appropriate self-examination and self-knowledge.

Part of this self-examination and self-knowledge includes the manner in which I handle temptation in my life. The proper attitude toward temptation lies between two extremes. The person at one extreme is overly fearful of temptation, concentrates too much on avoiding it, and can even tend to equate temptation with sin. Such an attitude toward temptation breeds a negative mentality toward the Christian life, and detracts from the peace, joy and happiness which Christ wants us to experience.

The opposite attitude is that which is careless towards temptation. To take reasonable and grace-inspired precautions against temptation is not to be negativistic, but realistic. It is to realize that I am a sinner, and that there are various ways by which I can be led to sin. I cannot avoid all temptations, but out of loyalty to Christ, man and the world, I should not recklessly bring temptation upon myself.

Despite our best efforts there will always be some sin in our lives, unless God were to give extraordinary graces. There is only one human person, as far as our certain knowledge goes, who has been preserved from all sin. This person is Christ's mother, Mary. Let us remember this very important point, however. The Church's teaching that we cannot avoid all venial sin without a very special assistance from God refers to semi-deliberate venial sin. With God's ordinary graces we can avoid all fully deliberate sin, both serious and venial. It is this fully deliberate sin which is such an obstacle to our proper growth in the Christian life. Finally, let us remember that as we grow in Christ, even the number of semi-deliberate sins become fewer.

The Sacrament of Penance

All of us are sinners, and God in His mercy has made special provision for this fact. He has given us the sacrament of penance. It is fitting – in fact necessary as regards serious sin – that the Christian incarnate his sorrow for sin through this sacrament. This is in keeping with the incarnational and sacramental dimensions of our life of grace. These dimensions impel us to exteriorize or incarnate our interior life of grace. The central focus for such exteriorization is the Mass and the sacraments. This exteriorization satisfies both our corporeal and social nature.

As regards this social aspect of grace-life exteriorization, the Christian must always remember that he is a member of the new covenant, he is a member of a community. In sinning he has not only failed to love God, he has also sinned against the Christian community, and against man in general. As he expresses his sorrow for sin to God in the sacrament of penance, the Christian also gives expression to this communal aspect of his Christianity, because the sacraments have a very definite communal dimension. They are the sacraments of a community, the People of God. Through the sacrament of penance, therefore, the Christian expresses his sorrow to God in community and he likewise receives God's forgiveness in community.

Certain contemporary practices which strive to bring forth more fully the communal aspect of the sacrament of penance are to be highly recommended.4 The practices we speak of are those in which there is a preparation for private confession and absolution through communal readings, prayer and examination of conscience.

What about the frequency of receiving the sacrament of penance? Some in the Church today seem to be questioning the value of frequent confessions of devotion, that is, confessions which are not necessary because there is no serious sin. What is the truth of the matter? First of all, it must be admitted that in the early Church this sacrament was administered much less frequently that it is today. Gradually, the practice of frequent confession inserted itself more and more into the life of the Church. It is difficult not to admit that such a practice has taken root under the inspiration of the Holy Spirit. Frequent confession, although not necessary, has various values. Rahner, in his usual penetrating manner, gives a contemporary description of the value of frequent confession of devotion.5 The new Dutch catechism puts it very simply: "Some Catholics have the habit of receiving the sacrament frequently. If this is the result of anxieties, it is not advisable. But if it is due to a desire to meet Christ as the Lord who forgives, frequent confession can be a very evangelical practice."6

In conclusion, we remind ourselves that the struggle against sin is part of the Christian participation in Christ's death-resurrection. In baptism we die to sin and rise to a newness of life. We are constantly living out one aspect of our baptism, then, through our continual resistance to the forces of sin. As with all elements of our Christian existence, such an effort requires motivation. We can use a variety of motives, of course, but all of them ultimately will be centered in Christ. To grow in the realization of what sin has cost Christ is to grow in the determination to avoid sin. To permeate such determination with love of Christ is to respond to Him who has loved us first: "The life I now live in this body I live in faith: faith in the Son of God who loved me and who sacrificed himself for my sake." (Ga 2:20).

______

1. P. Schoonenberg, Man and Sin (Notre Dame, Indiana: Fides, 1965), p. 8.
2. St. Augustine, The Trinity, Bk. 12, Ch. 14 (Washington: Fathers of the Church, 1963), p. 356.
3. For one description of the "sin of the world", see Schoonenberg, Op. cit., pp. 98-123.
4. One description of such services is given by A. M. Roguet, O.P., "Les celebrations communautaires de la penitence" in Vie spirituelle, 116 (1967), pp. 188-202.
5. Cf. Karl Rahner, Theological Investigations, Vol. III (Baltimore: Helicon, 1967), pp. 177-189.
6. A New Catechism (New York: Herder & Herder, 1967), p. 459.
John 20: 21-23
and he said to them again, 'Peace be with you.

'As the Father sent me,
so am I sending you.'

After saying this he breathed on them and said:

Receive the Holy Spirit.
If you forgive anyone's sins,
they are forgiven;
if you retain anyone's sins,
they are retained.
Betty is a handmaid who has prayed in the

China Church for 11 years. To get from her

house to the church she uses a walker and

must go over a creek and a little bridge.

We wanted a little place she could rest

by the Church. We need about $1,000 to

make this happen. Can you help us?
We are trying to get
Response to God's Love
and the Mass Book out.

Anybody who wants to help us
with a donation to get these 2 books
out in the Priestly/hierarchy mailing —
Please call Kathleen 1-888-211-3041
July 31, 1994

Words of Jesus to Members of
Shepherds of Christ Associates:

"My beloved priest-companion, I intend to use the priestly newsletter, Shepherds of Christ, and the movement, Shepherds of Christ Associates, in a powerful way for the renewal of My Church and the world.

"I will use the newsletter and the chapters of Shepherds of Christ Associates as a powerful instrument for spreading devotion to My Heart and My Mother's Heart.

"I am calling many to become members of Shepherds of Christ Associates. To all of them I will give great blessings. I will use them as instruments to help bring about the triumph of the Immaculate Heart and the reign of My Sacred Heart. I will give great graces to the members of Shepherds of Christ Associates. I will call them to be deeply united to My Heart and to Mary's Heart as I lead them ever closer to My Father in the Holy Spirit."

- Message from Jesus to Father Edward J. Carter, S.J., Founder, as given on July 31, 1994,
feast of Saint Ignatius Loyola, Founder of the Society of Jesus (The Jesuits)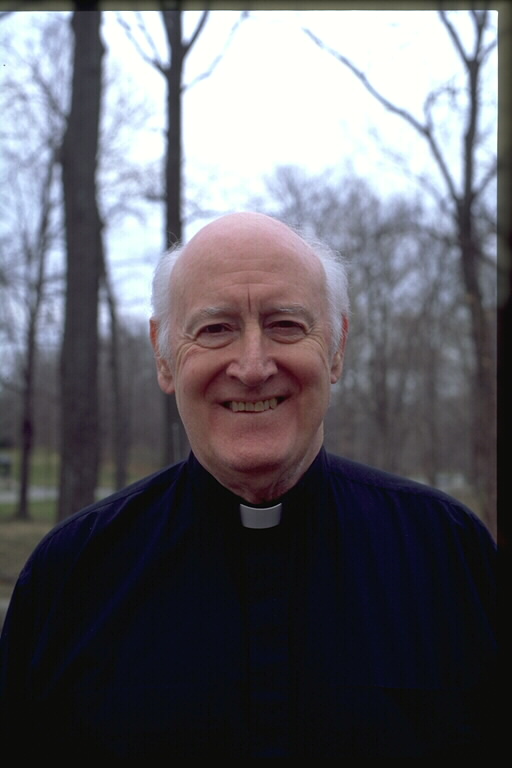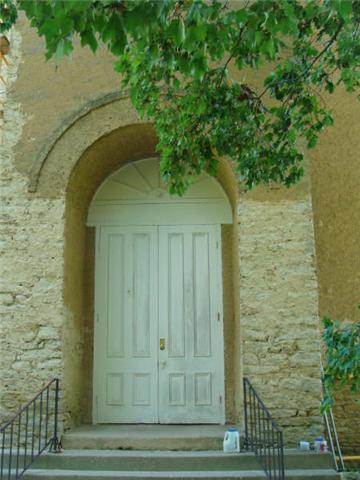 The China Church is over 140 years old
and we pray in there 24 hours a day.
It needs stucco and so does
the community building.
Can you please help us?
Call Kathleen 1-888-211-3041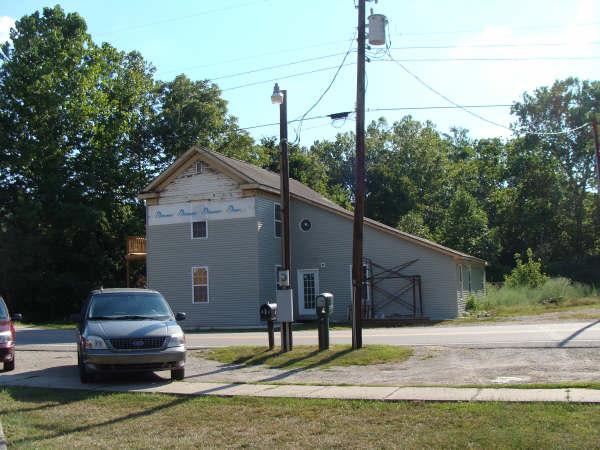 Likewise the priest house
is 150 years old.
Jesus told us to repair it
which we have been doing.
We need $13,000.00 for this work.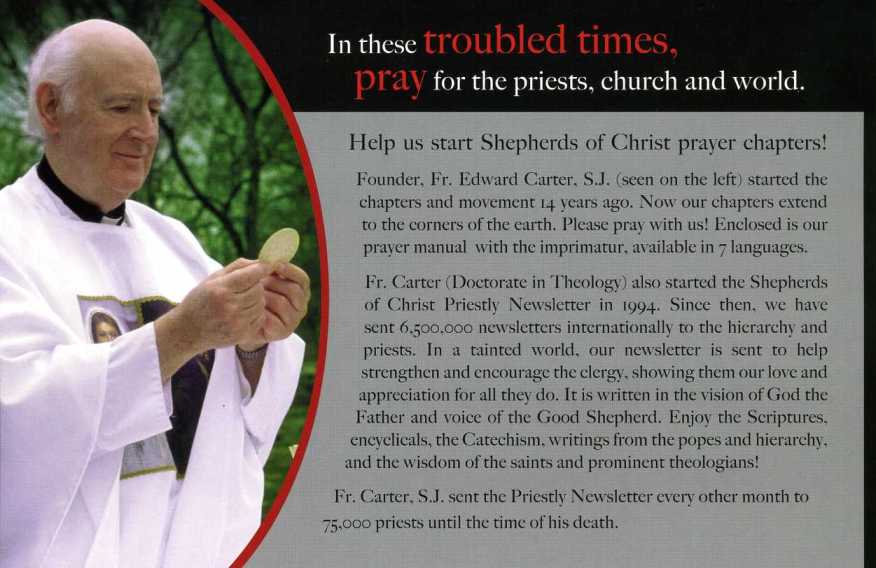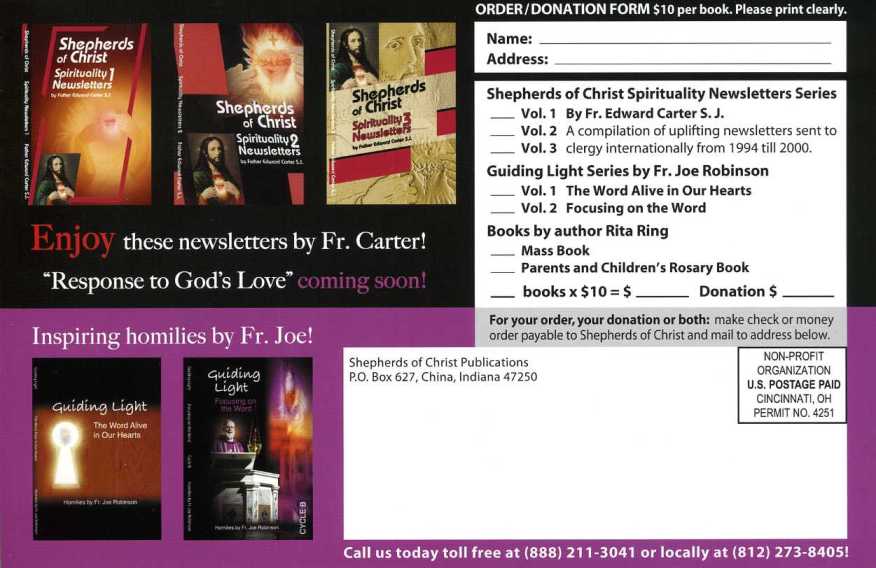 You can help put the Blue Book V
in the hands of 1,000 people
we need $1,200 postage for this
It is ready to go
Call Kathleen
1-888-211-3041
You can help put Fr. Joe's homily
book in the hands of
1,000 priests — it costs $1,100
This can help 1,000 parish priests
talk about Covenant for Lent
Please help us
It is ready to go
Call Kathleen 1-888-211-3041
Call Kathleen to Order any of the items below
1-888-211-3041