Mary has requested that the daily message be given each day to the world. It is read nightly at the prayer service from her Image Building in Clearwater, Florida, U.S.A. This is according to her request. All attempts will be made to publish this daily message to the world at 11 p.m. Eastern time, U.S.A.

---

We acknowledge that the final authority regarding these messages rests with the Holy See of Rome.

---
---
A Prayer for Intimacy with the Lamb, the Bridegroom of the Soul
Oh Lamb of God, Who take away the sins of the world, come and act on my soul most intimately. I surrender myself, as I ask for the grace to let go, to just be as I exist in You and You act most intimately on my soul. You are the Initiator. I am the soul waiting Your favors as You act in me. I love You. I adore You. I worship You. Come and possess my soul with Your Divine Grace, as I experience You most intimately.
---
Messenger: God gives to us such a gift in the priest. I went to Mass three or four times a week which a little frail priest of 53 celebrated. He was most holy and on Tuesday before Lent, I went to the last Mass I would ever hear him say. He talked about "Fat Tuesday" and "Mardi Gras". He was sick when I went on Thursday and he never returned. He was buried today.
I looked at his consecrated hands in the casket last night and knew he would never say Mass again. I thought of all the priests and their responsibility to reach the people. In every Mass the priest touches the Church which is the body of Christ. It is most important that he is so holy. From Father Carter's newsletter, I quote. Father Carter quotes Pope Pius XII, Mystici Corporis, AAS, XXXV, 232-233. "For in this sacrifice the sacred ministers act not only as the representative of our Saviour, but as the representative of the whole Mystical Body and of each one of the faithful."
Also from Father Carter's The Spirituality of Fatima and Medjugorje, I quote:
---
"Besides the messages associated with the major Fatima apparitions, there were other revelations given by Our Lady. Before Jacinta died, she told of other messages given her (during her illness) by Mary:
Priests must be pure, very pure. They should not busy themselves with anything except what concerns the Church and souls."
---
Messenger: This little frail priest administered to me in the Masses. Christ was so present in him in the Mass. It was his holiness and his connection to Christ that helped me connect to Christ most intimately. I never even talked to the priest except to say, "Hi", but when he didn't say Mass anymore I realized how I missed the great gift God had given to me in his holy priesthood and the celebration of the Mass.
Christ is so good to give us the Mass and the Sacraments. Christ gives Himself to us, truly present in the Eucharist. Our priests are such gifts from God. God chooses a man and gives him this great honor to be able to change bread and wine into the Body and Blood of Jesus. Christ administers to the people through the priest.
What a miracle! At every Mass, bread and wine are changed into the Body and Blood of Jesus.
What a gift God gives us in the priest. He is given the power to administer the Sacraments.
I fall on my knees and thank God for our priests.
Please help us circulate the priestly newsletter to priests. Tapes are available in which Father Carter delivers the newsletter to the priests. They are so powerful. Please help us circulate this great gift from Jesus to our priests. Jesus has given the writing of this newsletter to Father Carter. In it He tells the priests of the burning love of His Heart for them. The newsletter presently goes to about 70,000 priests in about 90 countries and, over and above its United States of America circulation, it is used internationally by about 215 bishops in their dioceses for their priests. Jesus has given us the prayers in the prayer manual to pray for our beloved priests and the renewal of the Church and the world. Please pray as Jesus has instructed. Please begin prayer chapters in your churches, praying for priests and the renewal of the Church and the world.
Most priests will be laid to rest in a coffin as I saw Fr. Dominic last night. His hands held his rosary. What remain are the words of father in his journal. He lived the Church year.
Jesus gave us a message on February 23, 1999, telling us to live the Church year and celebrate the feast days in great happiness with heaven.
I am excited in my heart. Tomorrow is the Annunciation and the next day is the great vision I received and the message to Father Carter.
Let us rejoice in this great feast with heaven and pray with all our hearts that we will be formed more and more in the image and likeness of Jesus through the power of the Holy Spirit as we dwell in the Immaculate Heart of our Mother.
The Incarnation goes on in us.
The Christ Child came into the world through Mary. We are transformed in her Immaculate Heart. She takes us to the most Sacred Heart of her Son. There we unite in great oneness with the Father.
---
Luke 1:26-38
The annunciation
In the sixth month the angel Gabriel was sent by God to a town in Galilee called Nazareth, to a virgin betrothed to a man named Joseph, of the House of David; and the virgin's name was Mary. He went in and said to her, 'Rejoice, you who enjoy God's favour! The Lord is with you.' She was deeply disturbed by these words and asked herself what this greeting could mean, but the angel said to her, 'Mary, do not be afraid; you have won God's favour. Look! You are to conceive in your womb and bear a son, and you must name him Jesus. He will be great and will be called Son of the Most High. The Lord God will give him the throne of his ancestor David; he will rule over the House of Jacob for ever and his reign will have no end.' Mary said to the angel, 'But how can this come about, since I have no knowledge of man?' The angel answered, 'The Holy Spirit will come upon you, and the power of the Most High will cover you with its shadow. And so the child will be holy and will be called Son of God. And I tell you this too: your cousin Elizabeth also, in her old age, has conceived a son, and she whom people called barren is now in her sixth month, for nothing is impossible to God.' Mary said, 'You see before you the Lord's servant, let it happen to me as you have said.' And the angel left her.
---
Messenger: Oh God, thank You for Your gifts, the Eucharist, the Sacraments, the Church and our beloved priests.
Let us pray for what is more precious to us here below.
Mary Immaculate, help us.
---
March 26, 1996 from the Apostles Manual

Messenger: I came to All Saints Church before a beautiful Monstrance of gold that contained Our beloved Savior. He was adorned in light, the altar beneath shone with the brightest light and the cross behind was entirely silhouetted with the same celestial light. I was overwhelmed with the presence of God and cried deeply from the awe of it all.

To be so aware of the Almighty God truly present in all His splendor and glory--to know the presence of God, to see the glistening of the gold and the light and reflection of the cross behind Him--my beauteous love--words do not exist to describe the rapture of a heavenly embrace! I cry because of the immense awe within my being to know Him. God truly present in all His majesty and glory and oh, God, I behold the presence of a heavenly court. You opened wide the heavens and lifted up the veil and I knew you in all your splendor and glory. I behold God, Father, Son, and Holy Spirit.

"I am the Way, the Truth and the Life." He is the Almighty God. He shows us the celestial lights with which He will light this earth. Many must surrender their hearts to His Heart and Mary's heart. It is in surrendering, the Spirit will move in the hearts of men and the light of God will shine on the darkened earth. Not with a light that you comprehend, but a light that is divinely granted--a light beyond all lights, a vision beyond all visions. It takes the surrender of minds and hearts to God. The Spirit cannot move in us when we are in control. Surrender and give Him our heart and He will make us fishers of men.

We are His apostles in the Shepherds of Christ Movement. He is sending us out into the world to light the hearts with His burning love. We are chosen by Him and He is giving us abundant graces to grow in our union with Him. He will light this world with His burning love. Our hearts must be open. We must surrender and let go and reach beyond the senses, reach with our hearts. Pray for faith, pray for the vision of God.

Note: I cried all through this writing, having the presence of God and being in great ecstasy to behold Him. May God touch your heart and may His Spirit move within you. May you be filled with the grace of God to surrender and let Him accomplish a great work within you.

And I was filled on high with His miraculous light and He reached down and spoke within me. I was filled as never before and knew the presence of God, Father, Son, and Holy Spirit.

Note: As I finished, the bells at All Saints Church rang at 9:00 A.M. As I began to experience the immense splendor, the bells of 8:00 rang. I was taken to heaven and given the greatest vision. Words do not express anything that I saw or experienced or know from this ecstasy. This was the greatest and the first of three visions, which defined clearly to me our role in the Shepherds of Christ Movement. Jesus defines clearly the role of Fr. Carter in this great mission given to him by the Father.

For Fr. Carter from Jesus:

To him who has eyes to see, they will see - not with earthly vision, but with the eyes of faith, and to him who has ears to hear, he will hear with the fluttering of the Spirit moving within him.

I am the Way, the Truth, and the Life. I am the Almighty God. I say to the rocks to fall and they fall and to the grass, grow, and it grows, and to the sun, shine, and it shines. I give to you My love in these letters. Filled with My love, you will conquer this earth, not with weapons and powder or force, but with fires of My love. The fire will wipe out the hatred in the cold hearts and the earth will be covered with My celestial light. The earth will rock and I will appear in the heavens adorned in power and glory and the contrite hearts will be saved. I came to separate the sheep from the goats, the light from the darkness. I come and no one pays Me heed.

To you, My beloved son, Father Carter, I have sent you on a mission to spread this fire that will cover this earth. The hearts of men will turn from their sick and desolate ways to hearts gentle as a little lamb.

There will be one flock and one Shepherd and My staff will rule over all. Hearts consecrated to Our Hearts will lead the light across the earth. This light will be a light of intense brightness, brighter and hotter than any light from a flame. It will be the fire of God's love. The Spirit will move in the hearts of all consecrated to My Heart, and you will know how fire truly spreads, for the love of God is a fire. It is vibrant. It is encompassing. It is smoldering, burning deep within and speedily spreading on the outside. No fire on this earth can ever describe the burning embers that burn from the Sacred Heart of Jesus. No fire burns like the fires coming from My Heart and hearts filled with the love from the Sacred Heart of Jesus.

I have written your name, Fr. Carter, in My Heart, never ever to be blotted out and this earth will be renewed with the fire of God's love through you. You are My beloved priest-son, forever, according to the order of Melchizedek. Most holy and most sacred are your hands that consecrate the Host and write My precious newsletter for My beloved priest-sons. You are never unguarded. You are held within the deepest chamber of My Heart, and you will spread My love to the priest-sons of this earth.

I am Jesus. I have spoken as never before. You will spread My love to all souls on this earth. I love you with the tenderest burning love. I am Jesus, your beloved Savior.
---
VISION from MARCH 26, 1996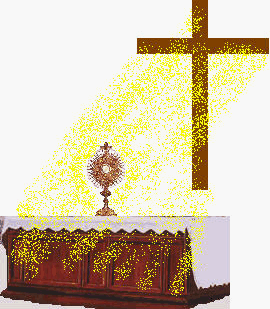 ---
Rosary Meditations
Instructions for Children and Parents
---
JOYFUL MYSTERIES
MARCH 20, 1997

The Annunciation

Our heavenly Mother Mary, gave messages associated with the major Fatima apparitions. She told Jacinta, one of the three visionaries at Fatima...

"'Tell everybody that God gives graces through the Immaculate Heart of Mary. Tell them to ask grace from her, and that the Heart of Jesus wishes to be venerated together with the Immaculate Heart of Mary. Ask them to plead for peace from the Immaculate Heart of Mary, for the Lord has confided the peace of the world to her.'27
"This last message offers us an excellent opportunity to summarize the Fatima message. It tells us "that the Heart of Jesus wishes to be venerated together with the Immaculate Heart of Mary.
"At the center of the veneration for which Our Lord calls is the act of consecration to His Sacred Heart and to Mary's Immaculate Heart." 28

You should not be afraid, for Jesus and Mary are with us. They are watching us, and they are helping us in everything that we do. God is in charge.
So we come to this rosary to gather and to pray as the Junior Shepherds of Christ Associates. It is in this rosary that we will receive help to not be afraid, to help to take the light to the dark world.
It is in going through our Mother Mary that we will be formed more and more into the image and the likeness of Jesus.
The Child Jesus was formed in the womb of the Virgin Mary, through the power of the Holy Spirit. When we go to the heart of Mary, the spiritual womb, we are transformed more and more to be children of light.
How Mary loves the children of this world. She guards them and mothers them more than any earthly mother. Mary guards us with her motherly care, and watches over us, and wants to lead us to the Heart of her Son, Jesus.
Christ showed us. He was born of the Virgin Mary. He came into this world in the Virgin Mary. We too must go to the Virgin Mary in order to have this close union with God. Mary is the gateway into the Heart of Jesus.
At Fatima, Mary spoke to the children and she called them her children. We must realize that she is calling us, her children, to the Heart of her Son, Jesus.
What of the Hearts of Jesus and Mary? The Hearts of Jesus and Mary are our refuge in this life. They are the Hearts of true love. It is in giving our hearts to Jesus and to Mary that we will have hearts filled with holy love.
So much of this world has turned to hearts that are cold. Jesus wants love, burning love, from the children of this world, and He is given a cold heart.

The Visitation

We carry Jesus within our hearts.
When we visit others we bring the Jesus that lives within us to the other person. We embrace Jesus when we embrace each other in love.
Mary went to visit her cousin, Elizabeth. The Child Jesus was within Mary's womb. We carry Jesus within ourselves. We receive Him in the Holy Eucharist. When we go to Communion, we go to our pews, and we have the Son of God within our hearts. He is as present in our hearts as He was when He was carried in the womb of Mary, when she went to visit her cousin, Elizabeth.
We do not even realize the great gifts God has given to us when He gives Himself to us in the Holy Eucharist. Think of what it would be like if He took away the gift of the Holy Eucharist, if He took away the Mass.
We must be strong. We are the youth that are being sent to go into a world that has turned sinful. Some have turned their backs on God. We must realize, that we must be strong. It is hard in this world, but we must go to Jesus. We must spend time with Him everyday.
Jesus is the Son of Mary. Jesus and Mary are with us.
Hail Mary...
We must listen to the words of scripture, the words that we are given as teachings. We must pray to the Holy Spirit that we will comprehend the word of God, for God is speaking to us in His word. The Holy Spirit gives us understanding into these words that we will know God and love Him.
Mary brought forth an infant child. She watched Him. She cared for Him. All through His life, she stayed close to Him. All through our lives our Mother Mary is forever by our sides.
We must be strong, for we are being called by God. It is not a myth. He is calling each one of us to be leaders to help to lead the other youth to God.

The Birth of Jesus

The heavenly Father allowed Mary to appear at Fatima, and she told us what we must do. She told us that in order to have peace in the world we must give our hearts to her and give our hearts to her Son, Jesus.
She said that if we did not pay attention to her there would be a great war. Man ignored the pleading of Our Lady at Fatima, and there was World War II. Many, many, many people were killed. They suffered a brutal death.
At Fatima, she showed the three young children the fires of hell. They were very young, and they said they would have died of fright had Our Lady not assured them that they would not go to hell.
Why would Our Lady appear to children and show children the souls suffering in the fires in hell?
Mary appears at Fatima, and she is ignored. To this very day we do not do what Mary told us to do at Fatima. At Fatima she promised in the end the Sacred Heart of Jesus will reign, and her heart will triumph.
Jesus Christ came into the world in the womb of the Virgin Mary. He came as the Light of the World. He will be, in this great era of peace to come, the King and the center of all hearts.
He came in poverty. He was born in a stable. He came to show us that the great riches are not found in the riches of the world, that they are found in Him. He is the King, but He comes into this world in poverty.
The greatest riches are found in the Heart of Christ.
It is so simple. Why do we not love God, why do we not love one another?
Why does man think that he can ignore God, that he is in control, that he can do his own will?

The Presentation of Jesus in the Temple

The Simeon said in the Temple that "Look, he is destined for the fall and for the rise of many in Israel, destined to be a sign that is opposed-" (Lk. 2:34)
And he said to Mary, "and a sword will pierce your soul too-so that the secret thoughts of many may be laid bare." (Lk. 2:35)
Mary is the Mother of all the children of the world, and look how she is treated by so many of her children. Many abuse her name. They abuse her images. They do not love her. She is their Mother, and they do not love her.
Mary told us at Fatima what we must do in order to have peace in this world. The fourth commandment tells us we must obey our earthly mother. What makes us think that we do not have to obey our heavenly Mother?
She said that man was sinful and that he was offending God. She said to Jacinta before she died, "I can no longer restrain the hand of my Divine Son from striking the world with just punishment for its many crimes." 29
Here it is 80 years after Fatima and we have disobeyed our heavenly Mother and the wishes that she gave to us when she appeared at Fatima. After World War II you would think that everyone would have heeded her message of Fatima.
Satan goes about the earth as a roaring lion, searching for souls to devour. When Mary showed the children at Fatima the fires of hell, she was telling them that hell was a reality and that we must go about the world and try to lead others to her Son.
What if you were one of the children at Fatima and our Blessed Virgin Mary appeared to you, in her light, and in her beauty? What if she said, "You have seen Hell, where the souls of poor sinners go...If my requests are granted, Russia will be converted and there will be peace. If not, she will scatter her errors throughout the world, provoking wars and persecutions of the Church. The good will be martyred, the Holy Father will have much to suffer, and various nations will be destroyed..." 30 What if she showed you the fires of hell and the souls suffering? Would you help?
Would your life change if Mary appeared to you and told you these things? Would you go and spend your life trying to tell others about the vision that she gave to you? Would you take this with the utmost urgency? If Mary was appearing to you, would you do something to heed her warnings?
Remember Noah and the Ark? The people were sinning up to the time that Noah entered the Ark.

The Finding of Jesus in the Temple

They were warned. They were warned over and over again of their sinfulness. They were told that they must change, but they would not obey and so God told Noah to build an Ark.
And all men were destroyed, but those men on Noah's Ark.
Mary searched for the Child Jesus in the Temple. Today, there are many searching for those things that will make them happy. We will not be happy if our lives are not rooted in God.
We must go to Mary in order to be close to God. As Noah went into the Ark for his refuge, we to must go to the heart of Mary. She is the Ark that will lead us to the Heart of her Son.
So many this day are sinning. They must go to the temple. Mary is the temple that we go to, in order to find God. We go to her spiritual womb, to her heart, and we find God. We must do as Our Lady told us at Fatima, and give Mary our hearts. All through the day we give Mary our hearts and Jesus our hearts.
This is our job, to spread the Fatima message, to do what Mary has told us to do at Fatima, to give Jesus our hearts, and to tell all the other youth that we must do what Mary said at Fatima. We must give Mary and Jesus our hearts, pray the rosary, go to church on first Saturday, and tell Jesus and Mary we are sorry for the sins in this world.
Mary's peace plan is so simple to follow. We have disobeyed our heavenly Mother at Fatima. Mary appeared on July 13, 1917 to the three children. Mary showed the three children a vision of hell. She told them,

"You have seen Hell, where the souls of poor sinners go. To save them, God wishes to establish, in the world, devotion to my Immaculate Heart. If people do what I tell you, many souls will be saved and there will be peace."31

We must obey Mary. The plan is the same plan today. We must reach the youth of this world with the consecration We must tell them to give their hearts to Jesus and Mary.

Mary is the temple. We will find Jesus if we go to Mary.

Song: "Oh Holy Dwelling Place of God..."

We have been given great gifts from Our Lord and from Our Lady. We want to be leaders, to lead other young people to Jesus and to Mary. We must thank them for the gifts we are given, for what we do with our lives will make the difference to so many souls. She showed the children the souls in hell. Visualize this as clearly as possible in your mind. What you do to help to spread the message of His love will make the difference to so many souls.
Can we truly look at our Mother, Mary? See her before us, adorned in the greatest light. See her glistening? Look into her beautiful face, into her eyes. Tell her we must help to lead her children to the Heart of her Son, that you will help her to help others so they will not be lost to the fires of hell forever.

Notes:
27. Our Lady of Fatima's Peace Plan from Heaven [Rockford: TAN Books and Publishers, Inc., 1983]. 9-10.
28. Rev. Edward Carter, S.J., Spirituality of Fatima and Medjugorje, [Milford: Faith Publishing Co., 1994], p. 18.
29. Ibid., pp. 9-10.
30. Ibid., pp. 4-5.
31. Ibid., p. 4.
---
Question for married couples and others in intimate relationships:
Q: How do I feel we can celebrate the Feast of the Annunciation in our life today?
---
---
Copyright © 2000Shepherds of Christ.
Rights for non-commercial reproduction granted:
May be copied in its entirety, but neither re-typed nor edited.
Translations are welcome but they must be reviewed for moral and theological accuracy by a source approved by Shepherds of Christ Ministries before any distribution takes place. Please contact us for more information.
All scripture quotes are from the New Jerusalem Bible, July 1990, published by Doubleday.
Revised: Friday, March 24, 1999
URL: http://www.SofC.org
Contact Information for Shepherds of Christ
Email: info@SofC.org
---
Shepherds of Christ Ministries
PO Box 193
Morrow, Ohio 45152-0193

Telephone: (toll free) 1-888-211-3041 or (513) 932-4451
FAX: (513) 932-6791