Mary has requested that the daily message be given each day to the world. It is read nightly at the prayer service from her Image Building in Clearwater, Florida, U.S.A. This is according to her request. All attempts will be made to publish this daily message to the world at 11 p.m. Eastern time, U.S.A.

---

We acknowledge that the final authority regarding these messages
rests with the Holy See of Rome.

---
March 25, 2006 - Feast of the Annunciation
March 26th Holy Spirit Novena
Scripture selection is Day 4 Period II.
The Novena Rosary Mysteries
for March 26th are Sorrowful.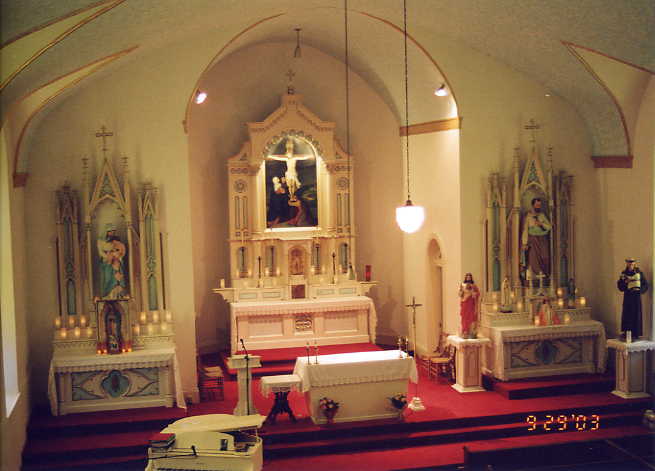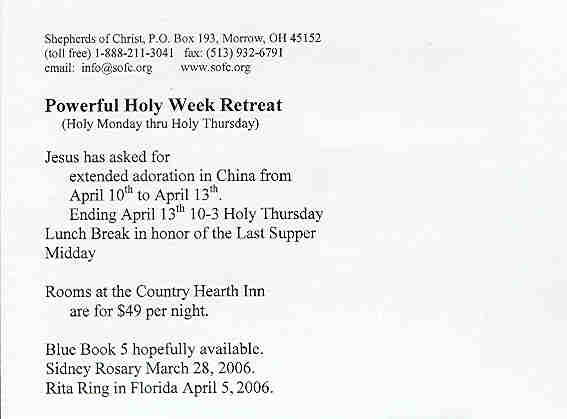 Sidney Rosary is Tuesday
March 28, 2006 6:20pm
Please tune in!!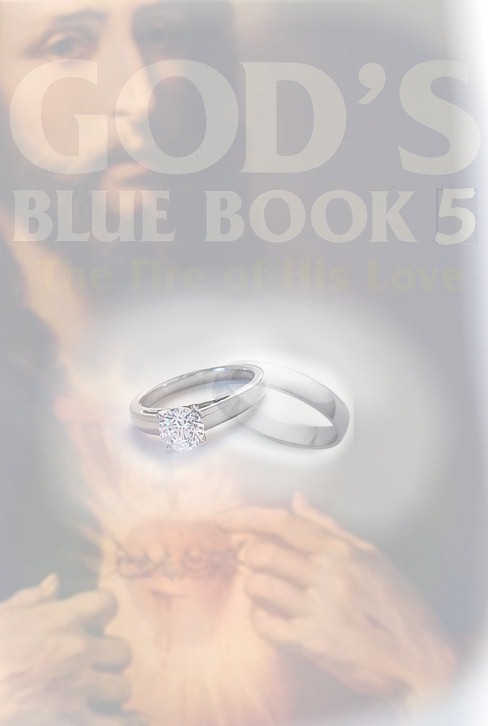 We are now printing Blue Book V.
Please pray for the printing of it.
Excerpt from March 25, 2005 message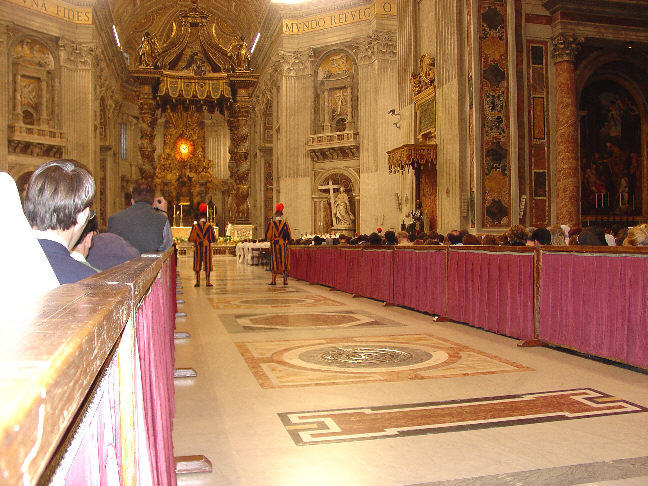 I was in the Vatican Chapel at 11:00am Good Friday last year --
and finished at noon where the Blessed Sacrament was exposed.
I received this message --
March 25, 2005 - On Good Friday 11:00 - 12:00 am
Messenger: And He saw before Him all the men that would be
lost forever.
Into the darkest night I have gone my God and seen the
sufferings of the souls in sin, for it is for You we
live and are born here to this valley of tears.
Into Your hands I commend my spirit -
Oh God hear my prayer and be attentive to my supplication.
Dark nights are just these - a condition, a state
that God allows us to share in to experience
His passion.
I look into the soul, God, and see as You have asked
me to read and plead for the innocent, the depraved,
the ones You gave Your life for.
Oh God hear my prayer and let my cry come unto Thee -
A dark night is a night without light -
the dark nights may
be the very openings to the door that leads to
Your precious light and showering of grace
upon us.
A night was richly blessed when the Savior
shed His Blood from His pores, in such
anguish seeing before Him the souls that
would be lost forever despite His suffering
and death.
Oh Heart of Jesus hear the plaintiff cry of Your servant
suffering and in pain for the sin in the world and
Your Blood You shed to save us.
Oh Savior, Incarnate, born of the Woman, Mary Immaculate,
outpour Your gifts on the poor banished children
of Eve for we are the children walking in the
shaded light of imperfections and sin offending
You by our arrogant and prideful ways.
When it is docility and obedience You desire of us -
Oh Blood shed on the cross, from You our precious
Savior, wash us in Your Blood and feed us with
Your Body and Your Word that our hearts will
be filled with You, our Divine Precious God.
Sufferings are sufferings and looking into His
face we see the Head of the Savior crowned with thorns,
the Blood pouring out of His precious wounds and
we see Him - His "yes" in suffering - suffering so
severe, suffering of the God-Head for His precious
souls - suffering from the love outpoured by
His unquenchable Heart of love.
Oh God let us Bleed as we watch You with the
Blood of love for the souls You gave Your life for -
Can our partaking in that Holy Sacrifice of the Mass be
such an offering to You our precious God that the
streams of grace will flow with unquenchable
love for the souls He gave His life for.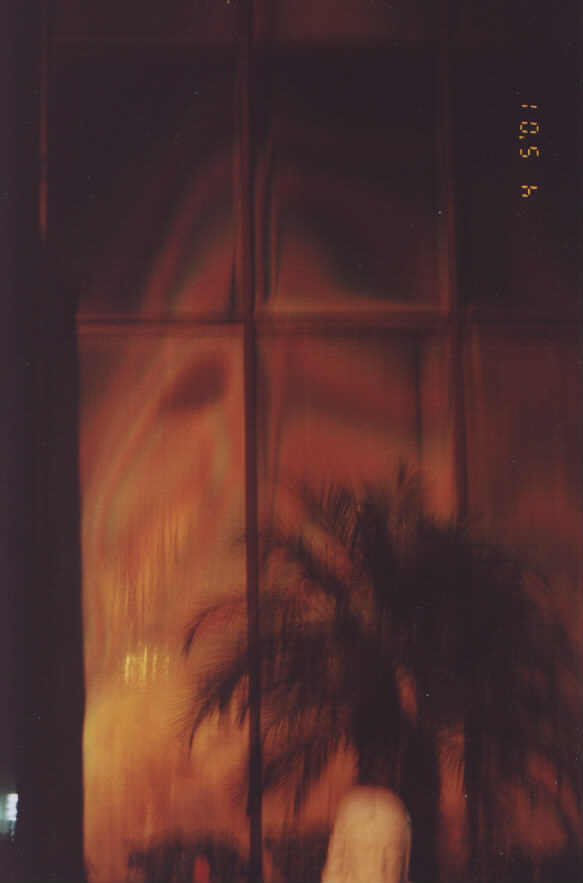 April 5, 2001
March 25, 2005 message continues
Jesus speaks: Look into My face and see Me before You, suffering for
love of you - For you suffer from knowing My gifts
given to men and they are as blind men running some on
a race (headed) for hell. Oh let their eyes be opened that they
would see with the light of 7 suns, but they close
their eyes and see little for they have painted the gold of
the earth like pictures on their eyes-lids and they
gaze at them the day long.
Oh let My Spirit fill your souls and your souls be filled
with My grace and My Blood wash you in the robes of
salvation.
Blood is on your hands, but is it the blood of deceit
and hatefulness, the bitterness one holds for your brothers,
the pride of indecency and you ignore the speck in your
eye and the rocks in your hearts. Rocks of hatred,
rocks to clog the vessel far more than the grease
you consider so important to your life here below.
It is rocks that clog the vessels of your heart to
embrace the things of the Savior.
Oh the well cared garden - one flowing with milk and honey,
water trickling from a little vine, sweetly given the
dew of morning - oh you and your sour grapes, you watch
them shrivel before your eyes and count calories for your
bodies neglecting the things of the soul -
Let the courtyard ring with the song of angels
and the blossoms hear the sound and display the
dew of morning like a dress adorned for the
King of Glory.
You pick My blossoms, shaking off the dew
of the new day - you stamp on the grapes and
use My gardens for sounds that shake the earth with
terror.
When I gave you the birds to sing to you - you came
in with a chainsaw and cut down the tree that
carried the quartet and they flew away like the
grapes you have tramped underfoot.
For you, many, are so prideful in your hearts and
your songs are not songs of love to Me - to one hanging
on the tree of life - you missed My tree - you
see only a man and don't even look to the wood
of the cross. I carried your sins on My back -
and My Blood was hanging on the tree -
Oh the tree of Adam and Eve -
Do you see it?
Now look at your trees of scrupulous pleasures -
Nobody can get you to look at your
money trees hanging with clumps of gold and
I long to see the sweet grapes - full and
plentiful, healthy, sweet for
the Father.
Oh your apples are your gods -
your hands are not pierced with nails -
likened to the Savior -
They are decorated with nails of stars and
blues and rainbows - long and gaudy -
gaudy - not hands that are God-like
Oh look at the hands and see how the hands of
My creatures have sinned
And the head that has robbed Me of
the talents to help promote My
Kingdom - when brains were given
to the men how many used them to
sin and lead others to sin -
The Blood teamed into My eyes - how
many have used their eyes to sin and lead others into
sin
And the tongue by which I enter your body -
How very dishonorable has many tongues become -
The ears I gave you to hear - My Blood poured
into My ears from My thorns and
you have sinned with your ears, making
movies and songs for others to sin majorly
with ears and eyes.
My Blood I shed - My eyes caked with dried
Blood - My ears welled up with the
Blood of the Savior for your sins
My feet - they pounded nails into My feet - for
all the ways you have walked that
led you to sin -
Why do you not walk the way of the Savior -
Why do you not see with your eyes -
Taste My Body and Blood with your tongue -
Listen to the birds sing songs of love and
My Heart was pierced with the lance -
My Heart, how I suffered for those who would
reject Me, the anguish to My Heart
was far greater than the pain to My
Body, wrought with suffering
for your sins -
Oh you have dishonored the image of Mary
the Father sent you and ignored the
gifts of Our Love outpoured.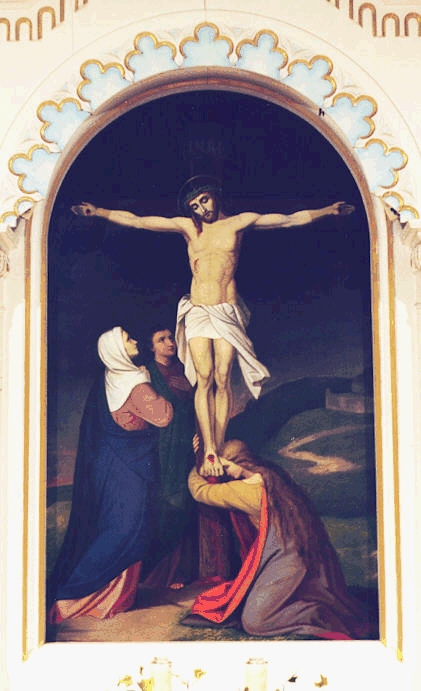 January 2, 1999

Mary speaks: I am Our Lady of Snows. I come to cover the earth with a soft white blanket of my love.

I come to bring peace to the earth. I tell you to let go of the anxiety in your heart and experience my peace and His love.

I am your heavenly Mother. I come to hold you and caress you and take you to my Immaculate Heart.
Mary's Message


from the Rosary of August 27, 1996

Mary speaks: I stood beneath the cross of my Son, and my Heart was in such pain for I saw Him before my eyes. I saw Him covered with blood. I saw Him die. My Heart, my children, my Heart to watch my Son, but my Heart, my Heart, how I suffered for my little children of the world that give in to this world and give up the love of my Son. O my little children of light, I give you this message. Carry this light into the darkness for your Mother Mary, for I stood beneath the cross and I cried. I cried for the little ones. I cried for the young ones, the ones that do not care and will lose their souls. How do I make you see for you will not listen to me? What can I do? I come. I appear. I beg. I plead. I give you these gifts from my Son, and you reject me. I do not deliver messages very often anymore for I have been ignored. The message is the same. You do not read the messages I have given to you. Please help me. Help the little children. I appear. I appear. I appear, and I am ignored. I stood beneath the cross, and I cried. I cried, and my Heart was in such anguish for my little children, for I am searching for them this day as I searched for the Child Jesus. Please, please help me. I cannot hold back the hand of my Son any longer. I am Mary, your Mother. I ask you to help my children. You are my children of light.

end of Mary's Message, August 27, 1996
March 25, 2005 message continues
Jesus speaks: Come to Me - My Heart is ablaze for thee -
My love for thee is real and
I am your God - I have given you
Myself - I am your God - I have
Shed My Blood for you and I give you
Myself in the Holy Eucharist.
Messenger: At the end at 12:00
a person came up about 1 foot from me in
my pew and they hit their head on
the floor continually and jerked
all over the floor.
4 men came up and took the person out.
---
When I left at noon Good Friday -- it was so crowded
I could not move, barely, to leave the Vatican.
Matthew 17: 14-20
As they were rejoining the crowd a man came up to him and went down on his knees before him. 'Lord,' he said, 'take pity on my son: he is demented and in a wretched state; he is always falling into fire and into water. I took him to your disciples and they were unable to cure him.' In reply, Jesus said, 'Faithless and perverse generation! How much longer must I be with you? How much longer must I put up with you? Bring him here to me.' And when Jesus rebuked it the devil came out of the boy, who was cured from that moment.

Then the disciples came privately to Jesus. 'Why were we unable to drive it out?' they asked. He answered, 'Because you have so little faith. In truth I tell you, if your faith is the size of a mustard seed you will say to this mountain, "Move from here to there," and it will move; nothing will be impossible for you.'
March 25, 2005
Good Friday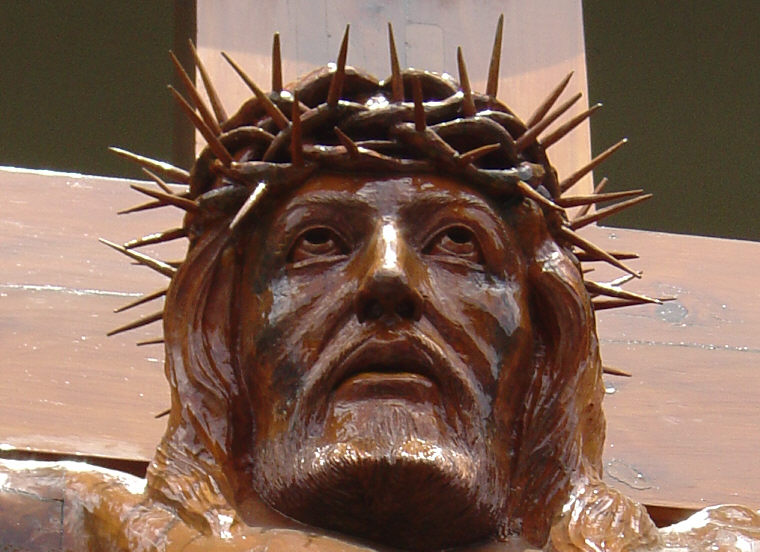 September 4, 2004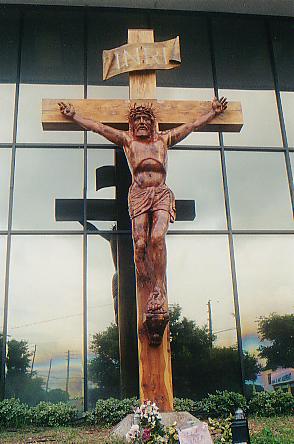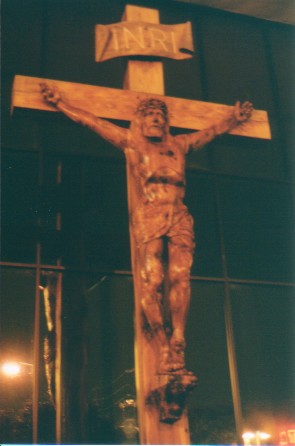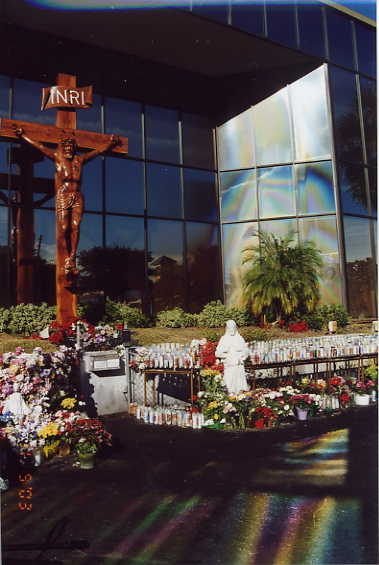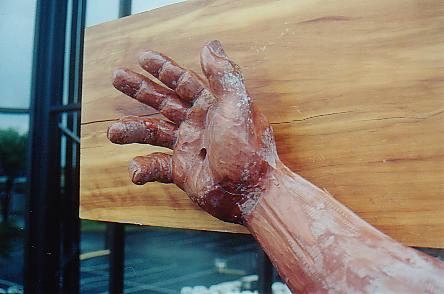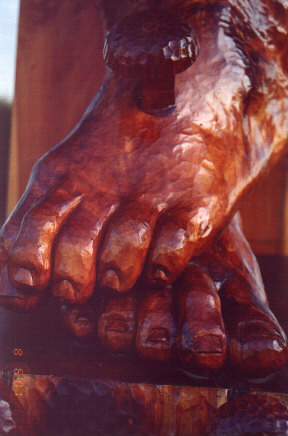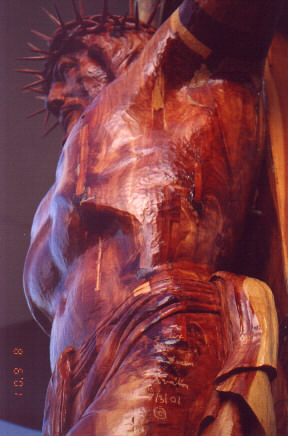 Excerpt from August 9, 2000

Oh, there is not one so fair as thee, my beloved Mother Mary.
Of all the maidens that God could have chosen it was you, oh shining Star of Heaven.
Oh Mary, Mother of us all.
She doth appear as a wonder so fair indeed,
A permanent sign of God's love.
A Woman clothed in gold.
One that glistens with the radiance of a golden tone,
Her beauty dancing in the sunlit hours of every day.
In morning splendor, in dancing light at noon day as the sun glistens on her rainbow glow and at night she has appeared on special dates in golden splendor and light.
Would you quote the Scripture for Mary so fair.
"Now a great sign appeared in heaven: a woman, robed with the sun, standing on the moon, and on her head a crown of twelve stars. She was pregnant, and in labour, crying aloud in the pangs of childbirth." (Revelation 12: 1-2)
Would you see her as she appeared in little villages in the 20th century, tucked in hills and out of the way places.
If you missed these enormous signs from heaven, of one so fair, she appears there clothed in the golden sun of the day, reflecting her radiant beauty painted by the hand of the Father. She is His chosen maiden so fair.
She appears daily, she is there by day and beneath the black shadows of night, she does not slumber, but calls to her children of light to come through her golden doorway and let the light of Christ shine in their souls.
She appears one so fair, by day and sometimes by night clothed in radiance and golden, her garment hemmed with glistening sunlight. She once appeared to a few and her visits fleeting in remotest places, she remains a Woman Clothed with the Sun, the sun dancing on her garments of rainbow color on a busy, busy corner for all to see, in the state of the sun, sunny Florida. She is a Woman painted by the brush of God.
And do you know the wonder of one who calls the children far and wide, to hear the voice of her Son, Jesus, Chief Shepherd of the Flock.
Mary, the heavenly maiden, to call them home to His Heart.
Oh, of one so fair, do we not boast and praise our God and thank Him for such a wonder.
Oh, to Mary, Queen of Heaven and Earth, we cry, help us to do what you asked for at Fatima and help us in our mission of telling the world of your Son's desire to spread His Movement so men will be Shepherds of Christ.
end of excerpt from August 9, 2000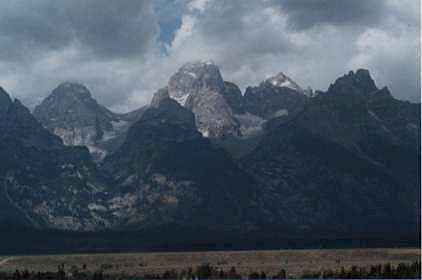 A Mystery of Light
on the
Feast of the Annunciation
Song between decades: A Song from Jesus

Baptism of Jesus

1.

Then Jesus appeared: he came from Galilee to the Jordan to be baptised by John. John tried to dissuade him, with the words, 'It is I who need baptism from you, and yet you come to me!' But Jesus replied, 'Leave it like this for the time being; it is fitting that we should, in this way, do all that uprightness demands.' Then John gave in to him.

And when Jesus had been baptised he at once came up from the water, and suddenly the heavens opened and he saw the Spirit of God descending like a dove and coming down on him. Matthew 3: 13-16

2.

The next day, he saw Jesus coming towards him and said, 'Look, there is the lamb of God that takes away the sin of the world. It was of him that I said, "Behind me comes one who has passed ahead of me because he existed before me." I did not know him myself, and yet my purpose in coming to baptise with water was so that he might be revealed to Israel.' And John declared, 'I saw the Spirit come down on him like a dove from heaven and rest on him. I did not know him myself, but he who sent me to baptise with water had said to me, "The man on whom you see the Spirit come down and rest is the one who is to baptise with the Holy Spirit." I have seen and I testify that he is the Chosen One of God.' John 1: 29-34
3.
The Pathos of Life

I heard recently about a local man who has contracted cancer of the lung, has lost his business in bankruptcy, and, to add to his misery, is being evicted from his home. I'm told that when one visits this man in his hospital room, it's easily observable that he has a hard time fighting back the tears. As he sees his world in many ways crumpling about him, he must feel like a modern-day Job. And perhaps in his own way he is prayerfully whispering words similar to those of Job:

Naked I came forth from my
mother's womb,
and naked shall I go back again.
The Lord gave and the Lord has
taken away;
blessed be the name of the Lord!
(Jb. 1:21)

Excerpt from Everyday and It's Possibilities by Fr. Edward J. Carter, S.J. p. 22
4.
For the Christian to behold the pathos of life is not an experience of despair—a no-exit kind of thing. We can see human misery and suffering of such magnitude that we are made to weep, and yet our tears should be permeated with Christian hope. We can and should shed such hope-filled tears of pathos because we are recipients of the eternal answer to human suffering. That eternal answer is Jesus Himself. Jesus shows that man has a way out from suffering—that the proper encounter with suffering is itself man's escape. Jesus has shown us that pain and suffering properly endured lead to life. The pathos of Jesus, that element in His life powerfully capable of evoking compassion, is, then, a pathos mixed with the greatest hope.

Excerpt from Everyday and It's Possibilities by Fr. Edward J. Carter, S.J. pp. 22-23
5. R. We as Christians should see
DEATH -RESURRECTION
6. R. Jesus has come so that we could have
a special sharing in His life through
baptism.
7. R. Jesus has come that we can someday
have life to the full with Him
in heaven, but He expects us to love
Him, serve Him, keep His commands
and try to live according to the Father's will.
And we can receive a heavenly reward.
8. R. Jesus is the Savior
Sing: A Song from Jesus
9.

And when Jesus had been baptised he at once came up from the water, and suddenly the heavens opened and he saw the Spirit of God descending like a dove and coming down on him. And suddenly there was a voice from heaven, 'This is my Son, the Beloved; my favour rests on him.' Matthew 3: 16-17

10. R. These are the mysteries of light.

"John baptised with water but, not many days from now, you are going to be baptised with the Holy Spirit.'" Acts 1: 5



October 11, 1994 - Take Shelter From the Rain in My Heart

(

Messenger: I saw a vision in my heart of a little wet child standing by a tree in the storm in a dark night. Just a little light, enough to see the child.)

Jesus:

You are this little child. You are in the storm. The wind and the rain are beating down on you. You are cold. You are wet, as wet as you can be. You stand by a tree and the wind beats against you and the rain pounds harder.

My child, My child, there is such shelter in My most Sacred Heart. Come into My Heart, child. You will be protected from the wind that blows so hard on you. You will be out of the rain. It may pound down all around you, but your refuge is found in My Heart. My Heart is a burning furnace of love. See yourself, little child, stand by the tree and whimper and you want to go it alone? Let My Mother lead you by the hand. You, little child, come with Mary, your Mother. Let her take you to the shelter of My Heart.

John 14:6

I am the Way; I am Truth and Life....

There is not life without Me. My life I give to you that you will have life and have it abundantly. Today I give you My very own Heart on fire for love of you. Come to Me through Mary's pure and tender Heart. We will shelter you in the darkest storm.

Messenger:

When I am filled up with Your love, Lord, I do not whimper as a little child. I am filled with love and peace and joy. Take me, Mary, to the Heart of your very dear Son and place me there forever in a little pocket surrounded by His ardent love. I want to be lost deeply in the recesses of this Heart. How deep do you place me in His Heart? I want to be surrounded by the immense love of Father, Son and Holy Spirit and know, Mary, you are so closely united in this Heart!

This is the comfort in the dark, windy, wet night. This is my refuge. This is my life. This is the closest I can come to heaven on earth - to be united in such love with the Trinity and Mary!

Help me to let go of it all and come as a little child, running from the rain to the warmest shelter. A roaring fire, warmth, dry clothes and light - the light radiated by the Heart of Jesus. In the darkness I find my light in You. Alleluia. Praise God, Father, Son and Holy Spirit. Love to my beloved Mother. This is bliss.

Song: I am Your Sacred Heart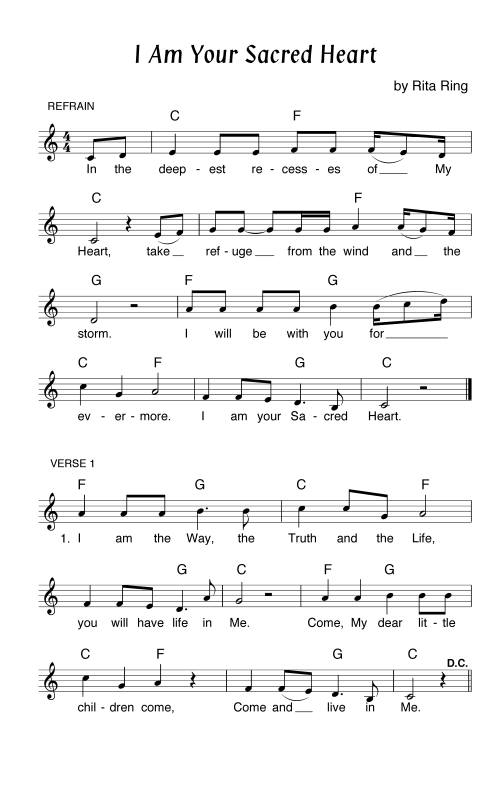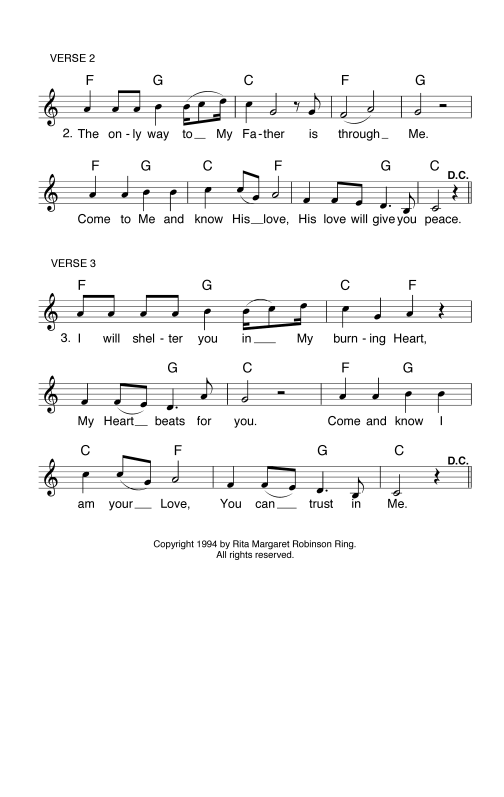 Marriage at Cana

1.

And they ran out of wine, since the wine provided for the feast had all been used, and the mother of Jesus said to him, 'They have no wine.' Jesus said, 'Woman, what do you want from me? My hour has not come yet.' His mother said to the servants, 'Do whatever he tells you.' There were six stone water jars standing there, meant for the ablutions that are customary among the Jews: each could hold twenty or thirty gallons. Jesus said to the servants, 'Fill the jars with water,' and they filled them to the brim. Then he said to them, 'Draw some out now and take it to the president of the feast.' They did this; the president tasted the water, and it had turned into wine. Having no idea where it came from—though the servants who had drawn the water knew—the president of the feast called the bridegroom and said, 'Everyone serves good wine first and the worse wine when the guests are well wined; but you have kept the best wine till now.' John 2: 3-10

2. R. Some same songs are played at funerals
and weddings
i.e. On Eagles Wings
All I ask of you

3. R. Our hope to be embraced by the Divine God
and have the fullness of life can be called the
beatific vision.

Men and women marry and they can
physically unite to have children.

When we go to the Eucharist we deeply
unite spiritually with Jesus.

He is the bridegroom of our soul.

4. R. At the marriage of Cana Jesus turned
ordinary water into wine -

At Mass bread and wine is changed into the
Body and Blood of Jesus.

5. R. We become more and more spiritually
united to Our Divine God.

6. R. Through baptism we receive a special
sharing in God's life - the life
of the Trinity dwelling within
the graced soul.

7. R. At Mass ordinary bread and wine becomes
the Body and Blood of Jesus and
we unite in deep love with
our beloved Jesus, the Bridegroom
of our soul -

8. R. See Jesus the Divine Bridegroom,
giving Himself to us at Mass.

9. Excerpt from May 21, 1998

Jesus speaks: ... I give you messages after the reception of the Eucharist for it is then I am most one with you....

10. R. When Mary told Jesus about the wine,
Jesus performed the first public
miracle - He changed water
into wine.

Excerpt from November 13, 1996 rosary

(one month before Mary appeared on the building)

Messenger: ... Mary, that we will be united in one heart, that we will be united in the Hearts of love, the Hearts of Jesus and Mary, that our hearts will burn for love for each other. We are one body in Him. Look at how we are. We beep our horns at each other and say vile things and many curse the Lord. Are our hearts cold or are our hearts a burning furnace as Jesus wants us to be?


Sing: Our Lady of Clearwater

Proclamation of the Kingdom of God

Matthew 5: 1-3

Seeing the crowds, he went onto the mountain. And when he was
seated his disciples came to him. Then he began to speak. This is
what he taught them:

How blessed are the poor in spirit:
the kingdom of Heaven is theirs.


1. Excerpt from November 13, 1996 Rosary

Jesus speaks: You are My soldiers of love. I am asking you this day to consecrate your hearts all through the day. To give yourself to Me. I am Jesus. I gave Myself for love of you.

R. Being one with Jesus will help us
build God's Kingdom.

2. R. Today is the Feast of the Annunciation,
March 25, 2006 -
Jesus said to read this message

September 11, 1994 - Mary's Heart

R. It is through Mary's heart I know the Heart of Jesus more. She carried Him in her womb. She took Him to the temple. She fled with Him into Egypt. She lost Him for a brief time. She cared for Him all through His young life. She watched Him heal the sick and preach the love of God. She watched the gentle ways of God. She knew His joy and suffering. She knew His Heart. She walked next to Him on Calvary and peered into His eyes. She stood under His cross and watched Him die. She held His lifeless body. She cried outside of His tomb and she saw His beautiful body after the Resurrection. She saw Him ascend into heaven.

How well does the heart of Mary know and love the Heart of Jesus! She is closer to Him than is any other human person. The Father and Holy Spirit are one with Him. It is through this knowing of His most tender Heart that she wants to place us so tenderly into Jesus' Heart. She, who knows His Heart so well, she who is without sin, she who is close to Him, she who loved Jesus and knew Him so dearly, she is the way to reach the deepest part of His Heart. She is the door to Jesus. It is through her heart that I am most closely united in deepest love with my Jesus.

Mary knows the Father's love. It was He Who created her sinless and chose her to be the Mother of His Son. She knew well the love of her Spouse, the Holy Spirit. She was filled with the Holy Spirit when Jesus was conceived. She was filled with the Holy Spirit at Elizabeth's house. She was filled all through her life. She was filled on Pentecost. She knew the love of the Holy Spirit. She is the human person closest to God, Father, Son and Holy Spirit. It is through her most knowing and loving heart that we will reach the deepest intimacy with God.

Prayer: Mary, through your Immaculate Heart, place us in the deepest part of Jesus' Heart so we can more deeply love Him. It is through your heart and Jesus' Heart we want to have a deeper union with the Father.

Dear Holy Spirit, impart to us Your gifts to lead us to such love, to union with the Father, Son and Holy Spirit. Lead us in Your ways to know God and love Him more fully. Give us all Your seven gifts: Wisdom, Knowledge, Piety, Fear of the Lord, Understanding, Fortitude, Counsel. Lead us to greater union with God. Impart to us the fire of Your love. Where we were once blind, let us see. Fill us with Your love, Oh, Holy Spirit, through Mary's Immaculate Heart, we pray. Amen.

3. R. Mary is the most perfect disciple.

4.

Act of consecration to the Immaculate Heart of Mary "Dear Blessed Virgin Mary, I consecrate myself to your maternal and Immaculate Heart, this Heart which is symbol of your life of love. You are the Mother of my Savior. You are also my Mother. You love me with a most special love as a member of Shepherds of Christ Associates, a movement created by your Son as a powerful instrument for the renewal of the Church and the world. In a return of love, I give myself entirely to your motherly love and protection. You followed Jesus perfectly. You are His first and perfect disciple. Teach me to imitate you in the putting on of Christ. Be my motherly intercessor so that, through your Immaculate Heart, I may be guided to an ever closer union with the pierced Heart of Jesus, Chief Shepherd of the flock."

5.

Act of consecration to the Sacred Heart of Jesus "Lord Jesus, Chief Shepherd of the flock, I consecrate myself to Your most Sacred Heart. From Your pierced Heart the Church was born, the Church You have called me, as a member of Shepherds of Christ Associates, to serve in a most special way. You reveal Your Heart as a symbol of Your love in all its aspects, including Your most special love for me, whom You have chosen as Your companion in this most important work. Help me to always love You in return. Help me to give myself entirely to You. Help me always to pour out my life in love of God and neighbor! Heart of Jesus, I place my trust in You!

6. R. Spreading the consecration of the 2 Hearts
all over the world is promoting
God's Kingdom.

Excerpt from December 6, 1996

Messenger: The Father looks to the earth; He sees much darkness.

The Father looks to the earth. There are few hearts fervently in love with God. The hearts of love light up the earth. It is as lights on a Christmas tree. It is sparsely lighted by a few hearts. Therefore, the tree looks dark.

As the Shepherds of Christ Movement spreads (as well as other movements focused on spreading consecration to Their Hearts) the tree is covered with more hearts and the earth becomes more lighted.

The tree is covered with hearts consecrated to the Hearts of Jesus and Mary. The tree is illuminated.

As the Shepherds of Christ apostles spread the consecration to the Church, the family, and the school, the tree is covered with lights and the earth is covered with the fire of His love.

The Father looks to the earth now. He is displeased with the hearts of men. The Father wants us to love God and love each other. He wants us to live according to His will in love.

end of excerpt

7. Excerpt from Blue Rosary Book p. 217

Mary: I APPEAR, I APPEAR I APPEAR,

AND I AM IGNORED.

I AM THE QUEEN OF PEACE.

I am the Lady of Fatima, your weapons are as follows:

Pray the daily rosary

Consecrate your hearts to my Heart and the Heart of my Son.

Observe the First Saturday Devotion

Make reparation to Our Hearts.

From the message on the Assumption, August 15, 1998:

God the Father: "Please I implore you as your heavenly Father.

"Pray these prayers My Son has given to you to pray. Pray for the renewal of the Church and the world. Pray the rosary and please, please pray for holy priests to serve you acting in God's name offering a pure sacrifice.

"Once again, I beg you My children to begin prayer chapters and help to circulate the priestly newsletter to the priests.

8. R. Jesus wants us to spread His Kingdom.
He wants us to get our strength from
Him.

He gives us this tender song.

Sing: Little Child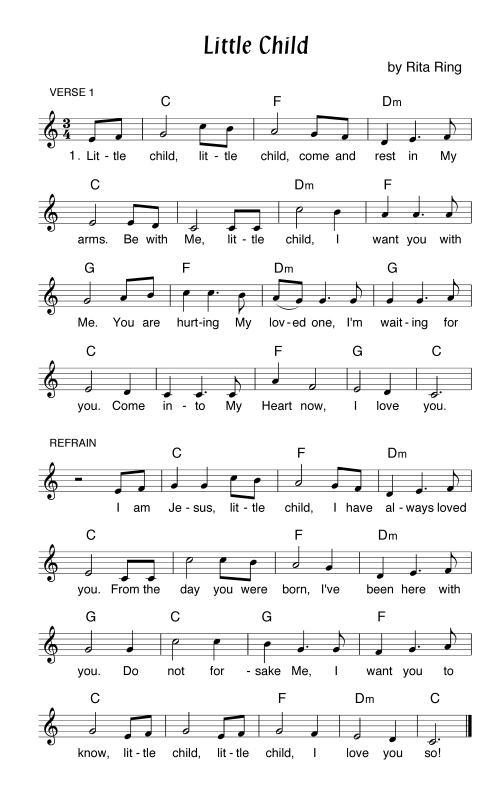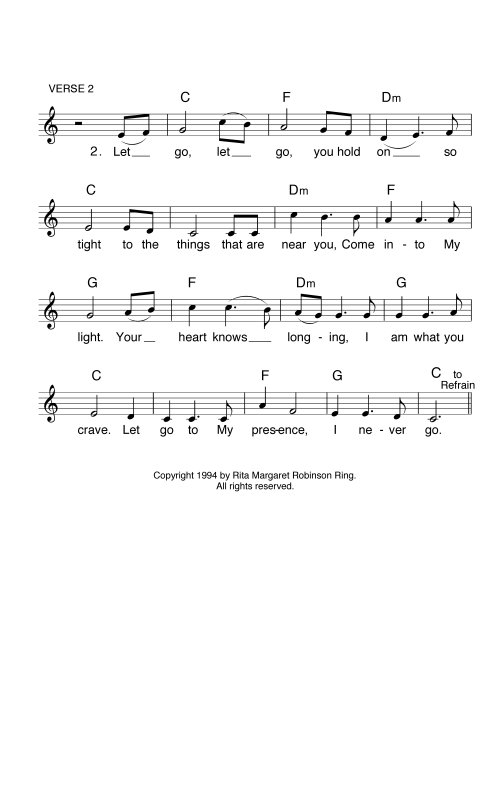 9. Excerpt from June 4, 1999 Rosary


Finding in the Temple

Mary: The Light will shine in the churches.

You must obey the Father.

January 5, 1999, below the image at Florida at 6:30 p.m. prayer service:
God the Father: "It is because of your fervor to pray here that you have held back the hand of My Son from punishing the earth with just punishment for the crimes committed against God."

Jesus: I am the Light of the World.
I was a Child.
I came to a big world.
I am the I Am.

The Ten Commandments:

I, the Lord, am your God. You shall not have other gods besides me.
You shall not take the name of the Lord, your God, in vain.
Remember to keep holy the sabbath day.
Honor your father and your mother.
You shall not kill.
You shall not commit adultery.
You shall not steal.
You shall not bear false witness against your neighbor.
You shall not covet your neighbor's wife.
You shall not covet anything that belongs to your neighbor.

God the Father: You must live by My rules to have peace and joy.

I am the Almighty God.

end of excerpt

R. Today is the Feast of the Annunciation.

10.

From June 4, 1999 Rosary

The Annunciation

Messenger: God loved the world He sent a Redeemer.
John 3:16
For this is how God loved the world:
he gave his only Son,
so that everyone who believes in him
may not perish
but may have eternal life.
Jesus: I came to redeem the world from their captivity.
I am Jesus the Savior of the world.
Messenger: Sing song: Song from Jesus.
Within the womb of the Woman, a Child is conceived, the Savior of the World.
Jesus: I am Jesus, I am Love.
I come to you today.
I love you so much.
Messenger: The message is delivered to the world in suffering and in pain.
Moses helped to lead his people out of captivity.

end of excerpt

To all of us in Shepherds of Christ -

Jesus speaks: Don't worry My child I am
with you, always.

Transfiguration

1.

2.

3.

There in their presence he was transfigured: his face shone like the sun and his clothes became as dazzling as light. And suddenly Moses and Elijah appeared to them; they were talking with him. Matthew 17: 2-3

4.

He was still speaking when suddenly a bright cloud covered them with shadow, and suddenly from the cloud there came a voice which said, 'This is my Son, the Beloved; he enjoys my favour. Listen to him.' Matthew 17: 5

5.

When they heard this, the disciples fell on their faces, overcome with fear. But Jesus came up and touched them, saying, 'Stand up, do not be afraid.' And when they raised their eyes they saw no one but Jesus. Matthew 17: 6-8

6. R. Jesus can change us -
He gives us Himself in
the Eucharist.

7.

8.

9.

10.

Institution of the Eucharist and the Last Supper

1.

Messenger: Jesus loved Judas so much but Jesus knew Judas would betray Him with a kiss.
They led Jesus away as a common criminal. They pulled His hair, they hit Him on the cheek, they spit on Him.
They stripped Jesus and tied Him to a pillar.
They scourged Him, whipping Him all over His entire Body.
Mary knew from the prophesy of Simeon that Jesus would suffer.
Jesus' whole Body was beaten.
Jesus' flesh hung from where they had beaten Him.
Jesus stood in His Own Blood.
Jesus' beautiful back, once perfect, was now so badly beaten and bruised.
Jesus suffered so for the sins of the flesh.

From August 17, 1994 Rosary

Scourging At the Pillar
2.
2. They are filled with such vibrancy and fire that they go out into the world to preach the Gospel message, the message of the love of God.

3. Let us meditate on the mystery of God's love. Let us put aside all of the distractions in our minds and focus only on His abundant love. He is outpouring to us such love in this room as we pray the rosary. Jesus Christ, the Son of God, remains in the tabernacle and longs to communicate with us. He wants to be so close to us! I know what He is saying this day. He tells me He longs to be so close to us! He is the sweetest and most tender Lover and He is waiting and waiting by the door of our heart.

From July 15, 1995 Rosary
Descent of Holy Spirit
4. Excerpt from May 21, 1998
Jesus speaks: ..A trumpet horn blaring would not waken a man who is blind from birth. Only the Lord will unlock the minds of the senseless men, so foolish, but oh how I do indeed love them so.
5.
Prayer
Jesus: My beloved companion, tell My people about the great importance of prayer. Prayer plays an indispensable role in the process of sanctification and ultimate salvation. Let My little ones come to Me daily in prayer. I especially want My people to pray before the tabernacle. When they do so, I give them special graces. The prayer of My people should be filled with love for Me, My Father, the Holy Spirit, and My Mother. Pressed against their Mother's heart, and under her guidance, let My people come to My Sacred Heart. Each day they should take up their refuge in My Heart, and there enter into the deepest prayer. They should put all worries and anxieties aside and pray from the heart. I take their prayer to the Father in the Holy Spirit. My people, I want you to pray, pray, pray! During prayer I make you especially aware of My great love for you. During prayer I ask for your return of love. During prayer I especially allow you to experience peace and joy. The crosses you bear are no obstacle to this. In fact, when you bear your crosses properly—that is, according to My Father's will—you experience increased peace and joy. My people, listen to My words. I am Lord and Master. I love you with the most tender love!"
Reflection: In the above message, Jesus reminds us of the great importance of prayer. Our greatest prayer is our participation in the Mass. Outside the time of Mass, Jesus tells us how important it is to pray before the tabernacle. The practice of prayer is extremely important for ongoing growth in our love relationship with Jesus, the Father, the Holy Spirit, and with Mary. It is also critical for our growth in love of neighbor.
From Tell My People
6.
The Indwelling of the Trinity
Jesus: "My beloved priest-companion, I have given you a great desire to pray to the Divine Persons many times during the day. This can be done in a way which does not interfere with your daily duties. Rather, you have learned that this prayerful contact with Father, Son, and Holy Spirit enhances your ability to work for God and neighbor. Remind My people that when one is in the state of grace, Father, Son, and Holy Spirit dwell within that person in a most special way. We are within those in the state of grace to receive their acts of faith, hope, and love.

"So many of My people are not aware of the precious treasure which dwells within them! Tell My people to pray for a growing awareness of this marvelous truth! Through the graces which flow from the great love of My pierced Heart, My people are called to develop the greatest intimacy with the Divine Persons. Please, do not waste these graces! I am Lord and Master, and in My great love, I ask that all comply with My request!"

Reflection: In the Gospel of John, Jesus tells us:

"If anyone loves me he will keep my word, and my Father will love him, and we shall come to him and make our home with him" (John 14:23).

Jesus does not explicitly mention the indwelling of the Holy Spirit in this particular passage. However, we know that, where the Father and Son reside, so also does the Spirit.

In the above message from Jesus, He speaks to us about this truth of the Indwelling of the Blessed Trinity in the souls of the just. What a tremendous gift! How much do we appreciate this gift? Do we take the means to develop our relationship with the Divine Persons Who dwell within? Many would go all out for the opportunity to receive one of the world's dignitaries into their homes. When we are in the state of grace, the Divine Persons grace us with Their presence. What a tremendous dignity is bestowed upon us! Sadly, many seem to be more enthused about being in the presence of this world's dignitaries than they are regarding the presence of the Triune God!

From Tell My People
7.
Mary as Our Mediatrix
Mary: "My beloved priest-son, I have given you a profound conviction of how necessary it is to realize I am your motherly mediatrix with Jesus. I have been appointed by the Triune God. Constantly remind all my little ones of this great truth! The more my little ones give themselves to my maternal and Immaculate Heart, the more I bring them to the Heart of Jesus!"

Reflection: Some mistakenly think that Mary "gets in the way" of their relationship with Jesus. How far from the truth is this erroneous attitude. Mary's role in our salvation has been willed by God. Enough said!
From Tell My People
8.
~ Eucharist—Mass ~
"The Eucharist (The Mass) is a multi-splendored reality. It is, for example, a narrative. In the Liturgy of the Word we listen to the greatest love story of all time. It is the story of God's lavish self-communication in love to the human family throughout the course of salvation history. This story includes certain central figures, such as Moses, David, Jeremiah, Isaiah, Mary, Joseph, the Apostles, and, of course, Jesus Himself. The entire Liturgy of the Word focuses upon Christ, delineating from various perspectives this most important figure of all human history.

"There are other dimensions to the Mass. The Eucharist is a memorial, as it calls to mind the life, death, and resurrection of the Lord. The Eucharist is likewise a sacrifice, an offering. This particular aspect includes all the other dimensions, and gathers them together in a wondrous unity. The Eucharist, then, is the sacramental renewal, the sign-renewal of Jesus' earthly offering. This sign-renewal contains what it signifies. Very importantly, to Jesus' offering of Himself to the Father, we add the offering of ourselves. The closing of the Eucharistic offering highlights another dimension of the Mass—the fact that it is a meal. The Eucharist as meal is rich in symbolism. Here is Jesus' self-giving love to us. Here is symbolized our commitment to Jesus, as we are intimately united to Him in the reception of the Eucharist. Here is signified our union with one another as we receive the one Christ, the sign and cause of unity among ourselves. Furthermore, the Eucharist is also a celebration—the joyous recall of the Christ event. As with all celebrations, the Eucharistic Liturgy, through its ritual, reminds us that this is a special occasion. These are some of the varied aspects of Jesus' great gift to us, the Eucharist.

"From whatever perspective we approach the Eucharist, we see that participation in it involves personal contact. First of all, the Eucharist brings us into special union with God in Christ. In each Eucharist, God's communication occurs through Jesus, and this God-gift is supremely personal. God offers us love, tenderness, mercy, and a sensitive concern for our personal uniqueness, strengths, weaknesses, hopes, and fears. God invites us to come closer, and not to be afraid of the divine transforming touch. God wants us to allow the Divine Will to guide our existence amid all the myriad aspects of life within the human condition. Strengthened and inspired by the Eucharistic Christ, we are moved to say "yes" to God's invitation. With Jesus we feel warm and secure, encouraged to live out our "yes" with Him and through Him. Our fears fade into the background as we thus meet Jesus in the Eucharist, as we experience His loving embrace reach deep down where we really live. From past situations, we know that living out our response will have its share of pain, frustration, and hardship. Each Eucharistic meeting with Christ, however, reminds us that if we can do nothing without Jesus, with Him we can do all He wants of us. As our union with Jesus deepens, we come to realize with increased conviction that His love for us and ours for Him can surmount all difficulties:

For I am convinced that neither death, nor life, nor angels, nor principalities, nor present things, nor future things, nor powers, nor height, nor depth, nor any other creature will be able to separate us from the love of God in Christ Jesus our Lord. (Rom. 8:38-39).

"The Eucharist is a special source of union not only with God, but also with the members of the Christian community. Through the Eucharistic Christ we should become more aware of the bonds of faith and love that unite us. Through the Eucharistic Christ we derive the light and the strength to work against those forces which disrupt the love and unity of the Christian community—jealousies, pettiness, callous unconcern for the other, ruthless politics, backbiting, lack of teamwork, refusal to love because of wounded feelings. In union with the Eucharistic Christ we receive the light and the strength to develop those forces which build up community—selflessness, a desire to see others succeed, the supportive word, a willingness to give sincere praise for a job well done, a sense of compassion and empathy, a deep-rooted desire to really love others as one loves himself or herself.

"The Eucharist, then, deepens our union with God and with the members of the Christian community. The Eucharist also deepens our union with non-Christians. The Eucharistic Christ enlightens us, strengthens us, inspires us to give of ourselves in order that the entire human family may better achieve its destiny. The Eucharist takes quiet hold of us and makes us firmly realize that everyone really is our brother or our sister. The Eucharist allows us not only to realize this awesome truth, but also gives us the desire and strength to live accordingly.

"In summary, the Eucharist deepens our relationship with God, with one another, with the entire human race. The Eucharist accomplishes this in each of us—to the degree that we open ourselves to its transforming influence."1

---

NOTES:

1. Edward Carter, S.J., The Pain and the Joy, Chapter 5
9. From Priestly Newsletter Book II
Father Edward Leen, C.S. Sp., gives us these inspiring words: "The...knowledge we have acquired of the Heart of Jesus stimulates us to penetrate further into its depths, and is accompanied by the ardent desire to eliminate the unlikeness that exists between the movement of His Heart and those of our own. The study of Him excites in us the desire to become like Him as man. And then when our life and acts bear a resemblance to those of Jesus, God comes and pours His Divinity into our souls in abundance, lavishes on them the gifts of His grace, and gradually breaking down the barriers that exist between creature and Creator, initiates souls into the happiness that accompanies union with the Divinity. Great happiness results from this union, even in the imperfect mode of it that belongs to the condition of our state of exile on earth. This is the whole theory of sanctity. The initiative in the giving of grace comes from God. He gives to all who do not present an obstacle to His giving. ...Accordingly, as Our Heavenly Father sees the souls of His adopted children assuming the features of the soul of His Only-Begotton Son, He dispenses His treasures more freely. He gives in proportion to the degree of resemblance what He discerns us to bear to Jesus in the conduct of our life. This is the meaning of those mysterious words that were heard from Heaven on the occasion of the Transfiguration, 'This is my beloved Son, in Whom I am well pleased, hear ye Him' (Mt.17:5). It is also the explanation of St. Paul's teaching, the whole burden of which was that the Christian should learn of Christ."3

3. Edward Leen, C.S. Sp., In The Likeness of Christ, Sheed & Ward, pp. 198-199.
10.
..."Jesus, I love You." Take that moment to spend time with Him, loving Him, and He will strengthen us. He wants our love. He wants us to long and to thirst for His love. He wants us to tell Him we love Him. He is a Person. He wants us to love Him. He gave His life for us. Will we give our hearts to Him?

Excerpt from August 20, 1996 Rosary

July 16, 1994 - My Mother (Excerpt)

Messenger: ...I want to lead others to meditate on Jesus' life - His life at birth and Mary's life, lived in the rosary. From the youthful face to the old woman she became, from her joy to her deep sorrow. I see Mary's face alive in the statues. A parade of faces, all the emotions of the heart, for us, relived in every rosary! This is our call: to be likened to Christ. I must meditate on Christ and His life. This will help me grow in my love relationship with Jesus and Mary in the rosary. I love the rosary because it is their lives. His life was given for love of us. He gives Himself to us this day in the Eucharist. We must live their lives to put on Christ. A Christian is one who acts like Christ. They will know we are Christians by our love. To love like Christ, we must meditate on His life with Mary.

I am called by Mary to lead others to the love of her precious Son. When I live as Christ and Mary did, then I will preach the gospel in my life. Do I act like Christ? Look at our lives and see if we are acting like Him today. Study Him in the rosary. Learn about His love, poured out for us in the Eucharist. Sit with Him in front of the tabernacle and pray the rosary, slowly, from the heart, and meditate on His life and the life of His Mother.

Sit alone with Him and learn of His love for us, this day. Be silent in front of the tabernacle. He will speak in the silence. We are given such gifts of His love. We should live Jesus' and Mary's lives in the rosary!

Sing today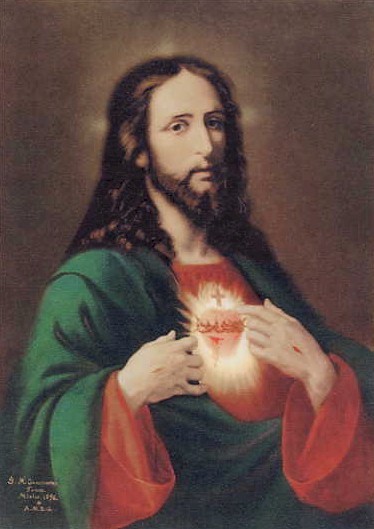 Song: Prayer for Union with Jesus
Come to me, Lord, and possess my soul. Come into my heart and permeate my soul. Help me to sit in silence with You and let You work in my heart.

Come to me, Lord, and possess my soul. Come into my heart and permeate my soul. Help me to sit in silence with You and let You work in my heart. (refrain)

I am Yours to possess. I am Yours to use. I want to be selfless and only exist in You. Help me to spoon out all that is me and be an empty vessel ready to be filled by You. Help me to die to myself and live only for You. Use me as You will. Let me never draw my attention back to myself. I only want to operate as You do, dwelling within me.

Come to me, Lord, and possess my soul. Come into my heart and permeate my soul. Help me to sit in silence with You and let You work in my heart. (refrain)

I am Yours, Lord. I want to have my life in You. I want to do the will of the Father. Give me the strength to put aside the world and let You operate my very being. Help me to act as You desire. Strengthen me against the distractions of the devil to take me from Your work.

Come to me, Lord, and possess my soul. Come into my heart and permeate my soul. Help me to sit in silence with You and let You work in my heart. (refrain)

When I worry, I have taken my focus off of You and placed it on myself. Help me not to give in to the promptings of others to change what in my heart You are making very clear to me. I worship You, I adore You and I love You. Come and dwell in me now.

Come to me, Lord, and possess my soul. Come into my heart and permeate my soul. Help me to sit in silence with You and let You work in my heart. (refrain)

Come to me, Lord, and possess my soul. Come into my heart and permeate my soul. Help me to sit in silence with You and let You work in my heart. (refrain)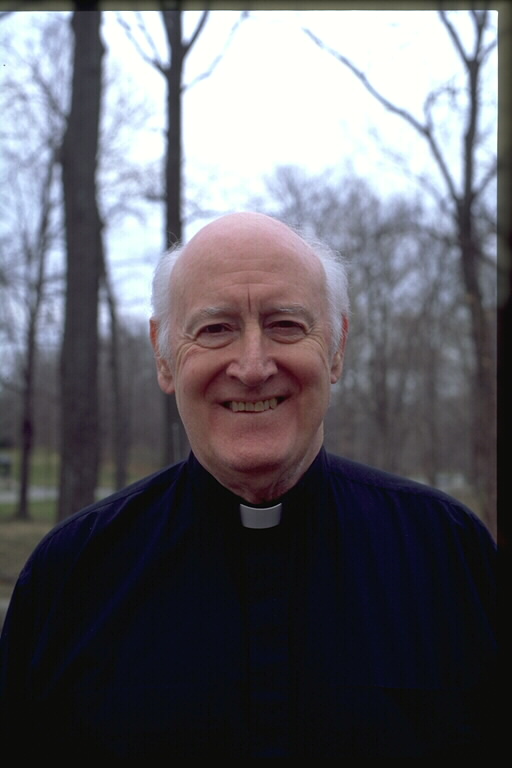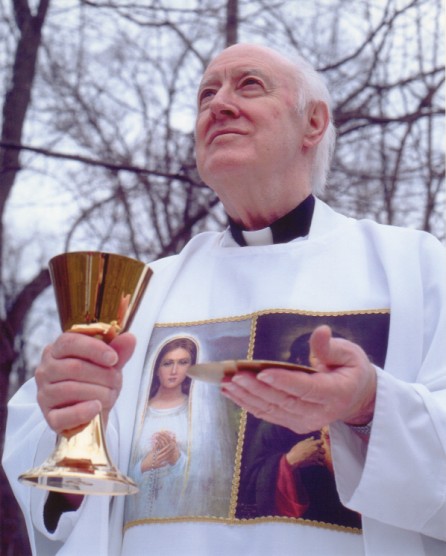 From Priestly Newsletter March/April 1996

Thoughts on the Eucharist

The Eucharist is the chief source of growth in the spiritual life. We priests, called to have a special kind of union with Christ, should have a unique desire to grow in appreciation of the Eucharist. It is in the Eucharist that we unite with Jesus' paschal mystery in a special way. Here are some reflections on the Eucharist, Jesus' great gift of love to us:

Pope John Paul II tells us: "The Church and the world have a great need of Eucharistic adoration. Jesus waits for us in the sacrament of love. Let us be generous with our time in going to meet him in adoration and contemplation that is full of faith and ready to make reparation for the great faults and crimes of the world. May our adoration never cease."10
Archbishop Luis M. Martinez offers us these inspiring words: "If we could dispose ourselves at least to think about what He suffered for each one of us! Our souls are enveloped in His tenderness and in His pain. We are the fruit of His love and His martyrdom. We increasingly receive His gifts of all kinds. We receive them tranquilly, at times joyfully. But those gifts are marked with the blood of Jesus, the blood from His veins and from his Heart. In order that we might taste the least of His heavenly consolations, Jesus had to taste the gall and vinegar of interior desolation…

"Each communion we receive cost Jesus the sacrifice of Calvary…Holy Communion is a banquet from heaven prepared with the blood of Jesus and the bitterness of His Heart."11

10. Pope John Paul II, "On the Mystery of and Worship of the Holy Eucharist", April 1980, as in Apostles of the Holy Spirit Bulletin, Winter 1995.

11. Archbishop Luis Martinez, Only Jesus, B. Herder Book Co., pp. 212-213.
From Priestly Newsletter January/February 1996
Thoughts on the Eucharist
The Eucharist is our chief source for growth in the Christ-life. There follow some thoughts on this magnificent Gift of Jesus to us.
When Jesus speaks of His Blood as the "Blood of the Covenant" (Mt 26:28), we are reminded that blood sealed or ratified the Mosaic covenant at Mount Sinai. Moses sprinkled sacrificial blood upon the altar, which represented God, and upon the Jewish people. Because blood was a distinctive symbol of life for the Jewish people, such an action had a deep significance for them. This action of Moses symbolized the sealing or ratification of the covenant—a new life relationship between Yahweh and the Jewish people.

The sacrificial Blood of Jesus has also formed a covenant—the New Covenant. In the shedding of His Blood, Jesus has established a new life relationship between His Father and the human race. Forming a core, focal point of the redeemed human race are the members of the Christian community, the Church. The Eucharist, in recalling and making sacramentally present the shedding of Jesus' covenant Blood, is the Church's great covenant act. The Eucharist sustains the life of the covenant, nourishes it, causes it to grow. Through participation in the Eucharistic liturgy we should be growing in our covenant life. We should be developing a greater love-union with the Father, Son and Holy Spirit. We should be growing in a sense of community, in a deep love for the Church, in a desire to contribute our share to the building up of the body of Christ. We should be learning to curb our selfishness, this selfishness which deadens a dynamic concern for the Christian community and the entire human race. Participation in the Eucharist should also be curbing divisive jealousy, forming us more and more as persons who want deeply to love all so that it can be more often said of us, "See those Christians, how they love one another." The Eucharist can more radically shape us according to these covenant attitudes if we allow it to do so. We repent over the times we have resisted. We rejoice regarding the times we have opened ourselves to the Eucharist's transformative power.

Mother of Our Christ-life
Mary is the Mother of our Christ-life, this life which flows to us from the bosom of the Father, through Christ, in the Holy Spirit. Pope John Paul II beautifully links Mary's spiritual motherhood toward us with her being Mother of Christ, Mother of the Church, and Model of the Church. "Mary is present in the Church as the Mother of Christ, and at the same time as the Mother whom Christ, in the mystery of the Redemption, gave to humanity in the person of the Apostle John. Thus, in her new motherhood in the Spirit, Mary embraces each and every one in the Church, and embraces each and every one through the Church. In this sense, Mary, Mother of the Church, is also the Church's model. Indeed, as Paul VI hopes and asks: the Church must draw 'from the Virgin Mother of God the most authentic form of perfect imitation of Christ.'"9 9. Pope John Paul II, The Mother of the Redeemer, United States Catholic Conference, No. 38.

Click here to listen to the Radio

Shepherds of Christ
P O Box 193
Morrow, OH 45152
1-888-211-3041
info@sofc.org

We take Credit Cards.
---
---
---

Copyright © 2006 Shepherds of Christ.
Rights for non-commercial reproduction granted:
May be copied in its entirety, but neither re-typed nor edited.
Translations are welcome but they must be reviewed for moral and
theological accuracy by a source approved by Shepherds of Christ Ministries
before any distribution takes place. Please contact us for more information.