Mary has requested that the daily message be given each day to the world. It is read nightly at the prayer service from her Image Building in Clearwater, Florida, U.S.A. This is according to her request. All attempts will be made to publish this daily message to the world at 11 p.m. Eastern time, U.S.A.


---

We acknowledge that the final authority regarding these messages rests
with the Holy See of Rome.

---
March 26, 2003
March 27th Holy Spirit Novena
Scripture selection is Day 6 Period II.
The Novena Rosary Mystery
for March 27th is Joyful.
We urgently, urgently need funds for
the priestly mailing!
Please help us!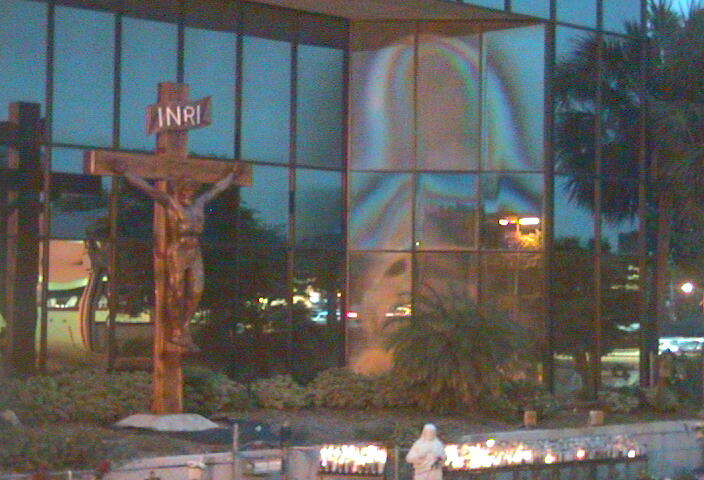 March 26, 2003
March 26, 2003
Messenger: My dear God,
I love you.
Jesus speaks: My child the devil is very strong.
He can talk in your heads to get
you divided.
DO NOT GIVE INTO HIM
CAST him out - far away.
Messenger: Oh Jesus - help us
Jesus speaks: You must stay focused on Me.
Cling to Me

May 13, 1993

Jesus speaks: My dear child, if you stay close to Me, then I live in you and you live in Me. I am He Who created you and I love you with such an intensity that you will never know. My words are your truth. You must abide in My heart in all things. There is no room for doubt. My ways are steadfast, direct, and without error.

You must stay rooted in Me to ward off the power of the evil one. His grip is paralyzing and crippling. His power is stronger every day.

When you live in Me, I am in your heart and he has no power over Me. I am your God. I am your true lover. I want to protect you. I want to guard you from this force. Stay rooted firmly in Me and he will have no power.

I am He Who comforts you. My hand is upon you. Hold tight to Me, My child. My eyes are fixed right on you. You are My most precious child. I love you as no other can. My arms are about you. My tenderness surrounds you. My love is in your heart. You go not alone. I walk with you.

I share every aspect of your life with you. Cling to Me, feel My presence. It is warm and secure within your chest. There is no room for fear, for I cast out fear and bring you comfort and joy.

end of May 13, 1993 message
March 26, 2003 message continues
Messenger:
March 26, 1994 - first time I talked at length to
Father Carter at Faber House
he said he believed I
was a genuine mystical
locutionist.
He was already discerning the
Blue Books -
He said Our Lord told him they
were as much his as mine.
March 26, 1996
Very carefully discerned by Fr. Carter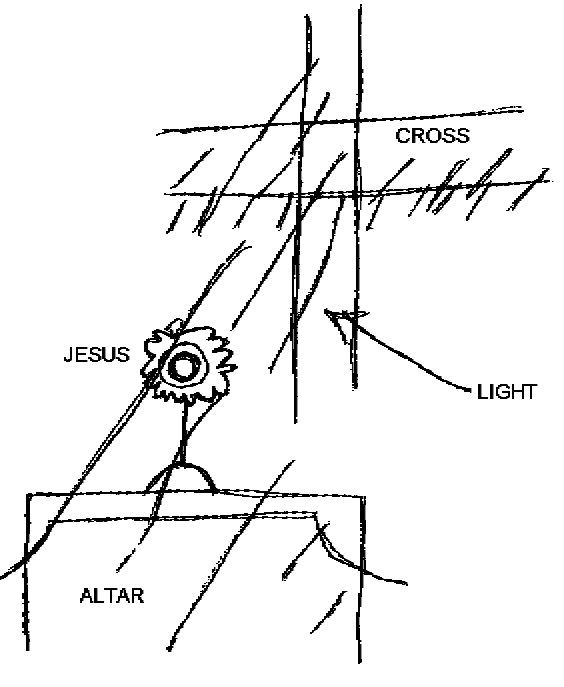 Messenger: I came to All Saints Church before a beautiful Monstrance of gold that contained Our beloved Savior. He was adorned in light, the altar beneath shone with the brightest light and the cross behind was entirely silhouetted with the same celestial light. I was overwhelmed with the presence of God and cried deeply from the awe of it all.

To be so aware of the Almighty God truly present in His splendor and glory—to know the presence of God, to see the glistening of the gold and the light and reflection of the cross behind Him—my beauteous love—words do not exist to describe the rapture of a heavenly embrace! I cry because of the immense awe within my being to know Him. God truly present in His majesty and glory and oh, God, I behold the presence of a heavenly court. You opened wide the heavens and lifted up the veil and I knew You in Your splendor and glory. I behold God, Father, Son, and Holy Spirit.

"I am the Way, the Truth and the Life." He is the Almighty God. He shows us the celestial lights with which He will light this earth. Many must surrender their hearts to His Heart and Mary's heart. It is in surrendering, the Spirit will move in the hearts of men and the light of God will shine on the darkened earth. Not with a light that you comprehend, but a light that is divinely granted—a light beyond all lights, a vision beyond all visions. It takes the surrender of minds and hearts to God. The Spirit cannot move in us when we are in control. Surrender and give Him our heart and He will make us fishers of men.

We are His apostles in the Shepherds of Christ Movement. He is sending us out into the world to light the hearts with His burning love. We are chosen by Him and He is giving us abundant graces to grow in our union with Him. He will light this world with His burning love. Our hearts must be open. We must surrender and let go and reach beyond the senses, reach with our hearts. Pray for faith, pray for the vision of God.

Note: I cried all through this writing, having the presence of God and being in great ecstasy to behold Him. May God touch your heart and may His Spirit move within you. May you be filled with the grace of God to surrender and let Him accomplish a great work within you.

And I was filled on high with His miraculous light and He reached down and spoke within me. I was filled as never before and knew the presence of God, Father, Son, and Holy Spirit.

Note: As I finished, the bells at All Saints Church rang at 9:00 A.M. As I began to experience the immense splendor, the bells of 8:00 rang. Words do not express anything that I saw or experienced or know from this ecstasy. This was the greatest and the first of three visions, which defined clearly to me our role in the Shepherds of Christ Movement. Jesus defines clearly the role of Fr. Carter in this great mission given to him by the Father.

For Fr. Carter from Jesus:
Jesus speaks: To him who has eyes to see, they will see - not with earthly vision, but with the eyes of faith, and to him who has ears to hear, he will hear with the fluttering of the Spirit moving within him.
I am the Way, the Truth, and the Life. I am the Almighty God. I say to the rocks to fall and they fall and to the grass, grow, and it grows, and to the sun, shine, and it shines. I give to you My love in these letters. Filled with My love, you will conquer this earth, not with weapons and powder or force, but with fires of My love. The fire will wipe out the hatred in the cold hearts and the earth will be covered with My celestial light. The earth will rock and I will appear in the heavens adorned in power and glory and the contrite hearts will be saved. I came to separate the sheep from the goats, the light from the darkness. I come and no one pays Me heed.
To you, My beloved son, Father Carter, I have sent you on a mission to spread this fire that will cover this earth. The hearts of men will turn from their sick and desolate ways to hearts gentle as a little lamb.
There will be one flock and one Shepherd and My staff will rule over all. Hearts consecrated to Our Hearts will lead the light across the earth. This light will be a light of intense brightness, brighter and hotter than any light from a flame. It will be the fire of God's love. The Spirit will move in the hearts of all consecrated to My Heart, and you will know how fire truly spreads, for the love of God is a fire. It is vibrant. It is encompassing. It is smoldering, burning deep within and speedily spreading on the outside. No fire on this earth can ever describe the burning embers that burn from the Sacred Heart of Jesus. No fire burns like the fires coming from My Heart and hearts filled with the love from the Sacred Heart of Jesus.
I have written your name, Fr. Carter, in My Heart, never ever to be blotted out and this earth will be renewed with the fire of God's love through you. You are My beloved priest-son, forever, according to the order of Melchizedek. Most holy and most sacred are your hands that consecrate the Host and write My precious newsletter for My beloved priest-sons. You are never unguarded. You are held within the deepest chamber of My Heart, and you will spread My love to the priest-sons of this earth.
I am Jesus. You will spread My love to all souls on this earth. I love you with the tenderest burning love. I am Jesus, your beloved Savior.
end of March 26, 1996 message
March 26, 2003 message continues
Messenger: We received this letter from
the Pope
March 26, 2002
From the Vatican
Dear Mr. Weickert,
The Holy Father has asked me to thank you for the book which
you sent to him at the request of the Reverend Edward J. Carter, S.J. He
very much appreciates the sentiments which prompted this presentation.
His Holiness will remember Father Carter in his prayers.
Invoking upon him joy and peace in our Lord Jesus Christ, he cordially
imparts his Apostolic Blessing.
Sincerely yours,
Monsignor Pedro López Quintana
Assessor
Deuteronomy 4: 1, 5-9
'And now, Israel, listen to the laws and customs which I am teaching you today, so that, by observing them, you may survive to enter and take possession of the country which Yahweh, God of your ancestors, is giving you.

Look: as Yahweh my God commanded me, I have taught you laws and customs, for you to observe in the country of which you are going to take possession. Keep them, put them into practice, and other peoples will admire your wisdom and prudence. Once they know what all these laws are, they will exclaim, "No other people is as wise and prudent as this great nation!" And indeed, what great nation has its gods as near as Yahweh our God is to us whenever we call to him? And what great nation has laws and customs as upright as the entirety of this Law which I am laying down for you today? 'But take care, as you value your lives! Do not forget the things which you yourselves have seen, or let them slip from your heart as long as you live; teach them, rather, to your children and to your children's children.
Psalm 147: 12-13, 15-16, 19-20

Praise Yahweh, Jerusalem,
Zion, praise your God.

For he gives strength to the bars of your gates,
he blesses your children within you,

He sends his word to the earth,
his command runs quickly,
he spreads the snow like flax,
strews hoarfrost like ashes,

He reveals his word to Jacob,
his statutes and judgements to Israel.
For no other nation has he done this,
no other has known his judgements.

Matthew 5: 17-19

'Do not imagine that I have come to abolish the Law or the Prophets. I have come not to abolish but to complete them. In truth I tell you, till heaven and earth disappear, not one dot, not one little stroke, is to disappear from the Law until all its purpose is achieved. Therefore, anyone who infringes even one of the least of these commandments and teaches others to do the same will be considered the least in the kingdom of Heaven; but the person who keeps them and teaches them will be considered great in the kingdom of Heaven.
---
---
---

Copyright © 2003 Shepherds of Christ.
Rights for non-commercial reproduction granted:
May be copied in its entirety, but neither re-typed nor edited.
Translations are welcome but they must be reviewed for moral and
theological accuracy by a source approved by Shepherds of Christ Ministries
before any distribution takes place. Please contact us for more information.
All scripture quotes are from the New Jerusalem Bible, July 1990, published by Doubleday.
Revised: March 26, 2003
URL: http://www.sofc.org
Contact Information for Shepherds of Christ
Email: info@SofC.org
---
Shepherds of Christ Ministries
P.O. Box 193
Morrow, Ohio 45152-0193

Telephone: (toll free) 1-888-211-3041 or (513) 932-4451
FAX: (513) 932-6791