Mary has requested that the daily message be given each day to the world. It is read nightly at the prayer service from her Image Building in Clearwater, Florida, U.S.A. This is according to her request. All attempts will be made to publish this daily message to the world at 11 p.m. Eastern time, U.S.A.

---

We acknowledge that the final authority regarding these messages rests with the Holy See of Rome.

---
---
A Prayer for Intimacy with the Lamb, the Bridegroom of the Soul

Oh Lamb of God, Who take away the sins of the world, come and act on my soul most intimately. I surrender myself, as I ask for the grace to let go, to just be as I exist in You and You act most intimately on my soul. You are the Initiator. I am the soul waiting Your favors as You act in me. I love You. I adore You. I worship You. Come and possess my soul with Your Divine Grace, as I experience You most intimately.
---
Messenger: Include Our Lady of the Holy Spirit Center in 6:20 prayers.
---
IN PLAINTIVE TONE
Jesus speaks: I love them so much. They do not understand My deep love for them. Tell them, give them this letter.
Messenger: I hear the words, I experience the emotion, even the strongest message is delivered with such love to take them deeper into His Heart and to help them to be with Him forever in heaven.
---
Jesus speaks: I want them with Me forever in heaven.
Pray for your shepherds, pray for the bishops that head your dioceses, love them with a full heart, pray that they will be showered with grace to know what I call them to do and that they hear My voice.
Pray for them, I love them so much.
You must love them too, and pray for them.
Pray for those in authority in the Church. I love them so much.
Pray for My priests and My Church. I love them so.
Pray for all My precious souls I gave My Life for.
I am Jesus, Chief Shepherd of the Flock.
This is My Movement to help renew the Church and the world.
I love you so much.
I am Jesus, Savior of the World.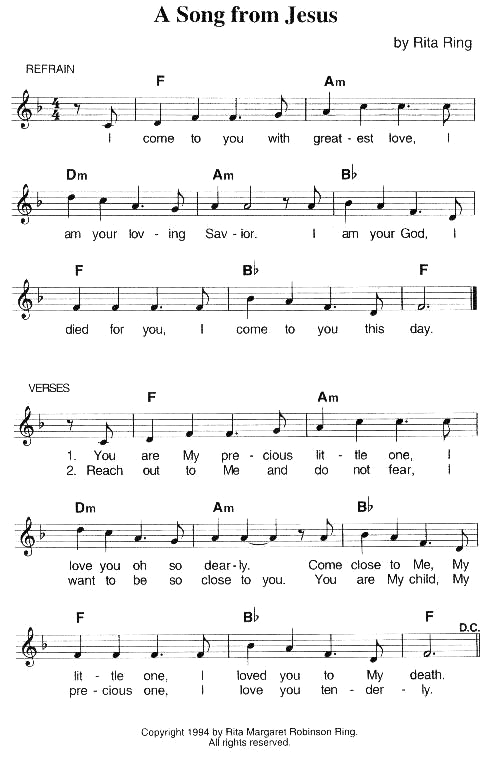 Jesus speaks: I want you to look at one another with love, show recognition for the good others do and encourage them through loving comments and gestures. Look at how you handle things, examine your consciences. See if you are acting to bring union and love. Look at your brother with eyes of love as one I died for. Love your priests and authorities and pray for them. If someone complains about the Church or a priest tell him about the prayers and prayer chapters. If someone tells you of someone who needs healing, tell them to pray at 6:20 on Tuesdays.
Pray for your priests and understand they have a hard job, love them, support them through your prayers.
---
March 31, 2000 - Second Message
Messenger: Dear shepherd apostles and others,
May God's love and peace be with you in everything you do today. I write as Jesus instructs me to write. May His peace permeate the Movement as we grow in greater oneness and love, learning how to truly love from our hearts as little children of the Father, bending our stubborn wills and following Him as we walk in the ways of peace.
May the birds chirp for us all day and may that peace remain even in struggles so that we know Him and His might, our King and Victor, so that we know our Father and love Him. Let us ask the Holy Spirit to flood us with healing grace.
Jesus speaks: It is peace I desire, it is love, bearing with one another, I want oneness in the body, for you are a clanging gong to tell the world about love and then harbor any hatred or resentment toward your brothers. I want you to walk in the ways of truth, trusting in Me and working your own program for love and renewal. It is very easy to see what is wrong with your brother. One bad apple can spoil the whole bunch.
I DO NOT WANT DIVISION IN MY MOVEMENT. IF YOU CANNOT WORK THROUGH YOUR PROBLEMS IN LOVE -- YOU DO NOT BELONG AS A LEADER IN SHEPHERDS OF CHRIST TO LEAD THE WORLD INTO ONENESS. YOU MUST LOOK AT YOURSELVES AND YOUR OWN FAULTS. MY HEART BLEEDS WHEN ONE COMES WITH A CASE AGAINST HIS NEIGHBOR, FILLED WITH ANGER AND BITTERNESS, HOT UNDER THE COLLAR. WATCH YOUR ANGER, IT IS A SIGN.
When you are at peace and a thought changes your disposition that causes you to spiral down a road of destruction to tear down My body, Satan has entered your heart with his evil plan for destruction and division.
Do you want funds? Then you will learn that the ways of loving please Me most. I hear the penitent sinner that comes humbly and asks for My help. The noisy one who hurts his brother and creates a victim in his heart displeases Me. So you don't feel very good, so you look for a victim. I want love. I want a beautiful soul, one that is loving, that operates in My name and not his own. I do not want men filled with pride, boasting of their wares. I want peace, harmony and love.
YOU ARE HERE TO LOVE!!!!!
The Father looks down and He wants to see children united in love working through problems. That is why you are here, to love.
In My Movement the job accomplished is not more important than the love with which you do it. You act in love to please Me.
I have a job for you to do. I called you all as apostles. How would it be if the Apostles did not work together to give you the gospel and build up the Church?
You need to change your hearts. So you think you are right and you step on your brothers.
LOVE, KINDNESS, HUMILITY, LIVING TO PLEASE YOUR GOD. QUIT CREATING CASES -- ALL THE ENERGY INVOLVED IN THAT! YOU DO THAT INSTEAD OF PRAYING. IF YOU PRAY AS I HAVE INSTRUCTED, YOU WILL BE INSTRUMENTS OF PEACE AND LOVE, COUNTING ON MY MIGHT. YOU CAN'T DO THIS ALONE -- YOU NEED EACH OTHER. EVERY ACT OF DISLOYALTY AND LACK OF LOVE HURTS EVERYONE ELSE AND MY MOVEMENT.
I CALL YOU TO LOVE -- TO BUILD UP THE BODY. IF YOU HEAR ANYONE COMPLAINING, CONSECRATE WITH HIM. I AM NOT SAYING TO NOT FACE PROBLEMS, BUT A LOT OF TIME IS WASTED, AND SATAN HAS CREATED PROBLEMS THAT DO NOT EXIST THROUGH ANGRY HEARTS, MISCOMMUNICATION AND PEOPLE WHO WANT TO START DIVISION.
WATCH YOUR TONGUES =
THINK BEFORE YOU TALK=
RECOGNIZE THAT SATAN MANIPULATES EVENTS AND WANTS TO CREATE A CASE. He brings you twisted words and events through a trusted friend and you accept it "hook, line and sinker". I want you praying as I have instructed. You will see how working the program will help you change. Your hearts will be hearts of love. See the others and LOVE THEM -- always LOVE YOUR ENEMIES -- GO TO MY HEART AND LOVE THEM -- Speak only as is necessary, always in love.
LOVE THOSE WHO PERSECUTE YOU -- LOVE THOSE WHO ARE HURTING --
I WANT LOVE AND HARMONY AND PEACE.
Work together because I need you to do so for Me.
You work for Jesus Christ, you are His shepherds of Christ. You work to build up the body. Your work is done in love, heads working together to accomplish the task, fighting the devil who will do all he can to stop you through division, bitterness. If your hearts are rooted in selfless love, you will operate as I intend you to do. You must come in My name. You must work to please your God.
Oh My precious soul, I have called you by name and I want to take you to Myself. I want to shower you with love. A bitter heart is far from ME. You must pray for your brothers, pray for those who persecute you, pray for those with whom you have problems. Pray for each other, pray for your Church, love My priests with great love, love all those over you, pray for them. Their jobs are very difficult, they need your support, your love.
God the Father speaks: I am the Father. I want you to build up the body of Christ. Jesus is the Head, you are the members. DO NOT TEAR DOWN the body by tearing down the members. LOVE them!! Your hearts must be hearts of love. Your mission is to pray for the Church and the world, BUILD UP THE BODY.
BUILD UP MY SON'S MOVEMENT. YOU HURT ALL OTHERS WHEN YOU MAKE EACH OTHER ENEMIES. JESUS SHED HIS BLOOD FOR EACH AND EVERY SOUL. IF YOU WALK IN HIS FOOTSTEPS, YOU MUST LOVE. HIS HEART IS A BURNING FURNACE OF LOVE. IT DOES NOT PLEASE ME WHEN YOU BLAME OTHERS AND FAIL TO LOOK AT YOURSELVES. SO YOU WILL CHANGE THE WORLD? AND YOU REMAIN THE SAME IMPERFECT SELF!
YOU WERE PUT HERE TO GROW IN MORE perfected ways of loving. You will meet your Maker. You go alone to face your God.
QUIT BLAMING YOUR BROTHERS. BE LIKE JESUS, HAVE A LIGHT HEART, HAVE JOY IN YOUR HEARTS. I GIVE YOU THESE GIFTS AND YOU ARE UNGRATEFUL. IT IS YOUR ATTITUDES, YOUR HEARTS THAT NEED TO CHANGE. QUIT LOOKING OUTSIDE YOURSELVES. LIVE TO DO MY WILL -- TO LOOK AT YOURSELVES -- TO BE HONEST WITH YOURSELF -- TO EXAMINE YOUR CONSCIENCE -- TO PRAY FOR HEALING IN YOUR OWN HEARTS -- TO realize you are powerless and need God's grace to change. You don't do it alone -- God working in you with His grace will do it, but your attitudes have to change. The results will be harmony, peace and love.
If you ignore Me, you will continue to suffer as you blame each other. YOU CAN CHANGE YOURSELF. YOU CANNOT CHANGE ANYONE ELSE. THEY HAVE A FREE WILL.
I LOVE YOU.
BUILD UP THE BODY.
WORK TO PLEASE ME.
DON'T TEAR IT DOWN --
DON'T THINK YOU ARE SO good and others are under you. If you are good it is because of God's grace, you must thank Him and be humble -- looking to love, coming from a place of strength dwelling in His Heart. The Finding in the Temple -- oh My children, the Temple is His Heart, in it lie truth and the treasures your hearts seek. Spread the consecration. Jesus and Mary are the perfect Hearts of love.
I love you. I AM THE FATHER.
---
Mary's Message from the Rosary of August 27, 1996
Mary speaks: I stood beneath the cross of my Son, and my Heart was in such pain for I saw Him before my eyes. I saw Him covered with blood. I saw Him die. My Heart, my children, my Heart to watch my Son, but my Heart, my Heart, how I suffered for my little children of the world that give in to this world and give up the love of my Son. O my little children of light, I give you this message. Carry this light into the darkness for your Mother Mary, for I stood beneath the cross and I cried. I cried for the little ones. I cried for the young ones, the ones that do not care and will lose their souls. How do I make you see for you will not listen to me? What can I do? I come. I appear. I beg. I plead. I give you these gifts from my Son, and you reject me. I do not deliver messages very often anymore for I have been ignored. The message is the same. You do not read the messages I have given to you. Please help me. Help the little children. I appear. I appear. I appear, and I am ignored. I stood beneath the cross, and I cried. I cried, and my Heart was in such anguish for my little children, for I am searching for them this day as I searched for the Child Jesus. Please, please help me. I cannot hold back the hand of my Son any longer. I am Mary, your Mother. I ask you to help my children. You are my children of light.

Song: O Lady of Light, shining so bright, be with us this day, guiding our way, O Lady, O Lady of Light.

Mary speaks: I appear to you as Our Mother of Sorrows.
(End of Mary's Message)
---
MY VALENTINE FOR JESUS AND MARY
AND THE WORLD

I give my heart to
You Jesus and Mary on this day.
I promise to help spread the devotion to
the Hearts of Jesus and Mary.
---
Question for married couples and others in intimate relationships:
Q: When I feel tired and hungry, how can I continue to be loving to you?
---
---
---
Copyright © 2000 Shepherds of Christ.
Rights for non-commercial reproduction granted:
May be copied in its entirety, but neither re-typed nor edited.
Translations are welcome but they must be reviewed for moral and theological accuracy by a source approved by Shepherds of Christ Ministries before any distribution takes place. Please contact us for more information.
All scripture quotes are from the New Jerusalem Bible, July 1990, published by Doubleday.
Revised: March 31, 2000
URL: http://www.SofC.org
Contact Information for Shepherds of Christ
Email: info@SofC.org
---
Shepherds of Christ Ministries
PO Box 193
Morrow, Ohio 45152-0193

Telephone: (toll free) 1-888-211-3041 or (513) 932-4451
FAX: (513) 932-6791