Shepherds of Christ
Daily Writing
March 7, 2009
March 8th Holy Spirit Novena
Scripture selection is Day 2 Period II.

The Novena Rosary Mysteries
for March 8th are Luminous.
Retreat in China

March 10, 11, 12 & 13th

Please tune in!
March 7, 2009
We are to have loving relationships
in childhood — have ordinary needs
met -- feel secure that we are loved
we are important.
In adulthood we are to be stable
and not have codependent relationships
where we expect others to fill
sick abandonment needs from
childhood.
In using the Blue Books — in
going to the tabernacle and being
filled more and more with God's
grace — in living our lives in the
state of grace — trying to live a
virtuous life — doing good for others
promoting God's Kingdom — we are living
by the greatest commandment
Matthew 22: 36-40

'Master, which is the greatest commandment of the Law?' Jesus said to him, 'You must love the Lord your God with all your heart, with all your soul, and with all your mind. This is the greatest and the first commandment. The second resembles it: You must love your neighbour as yourself. On these two commandments hang the whole Law, and the Prophets too.'
God commands us to love Him
God commands us to love others as
ourselves —
A person that is insecure is always trying
to validate themselves above others —
the devil tempts people to see
themselves as right, good and
to see imperfections of others —
(many times)
The devil wants us to seek dominance
for dominance sake —
God commands us to love — to do His
will — Jesus shows us Himself —
How He came to this earth to love —
to give self-lessly
A person who feels they have lost their
power, dominance can try to get
back what they may feel they need to
be on top —
Judy had a very hard childhood —
while others children were learning
about working with others, Judy
was criticized and told she never
did anything right.
Judy was a child and she needed
to know that she was valued and
was loved and was okay — Seeing
through the parents eyes — seeing
her value as a person —
Judy her whole life lived in a life
of insecurity — not feeling valued —
the old tapes she heard from childhood —
she played in her head.
She was ready to defend herself
in adulthood at the slightest
inference of anything that pushed
an old button of her lack of
worth.
Because of this she was unable
to have close relationships with
others because she was busy defending
herself and her worth —
From the old tapes - she lived
in a world, that told her she was
not valued, not respected and she
was over - reacting to anyone around
her trying to be validated —
She needed to know that God created
her uniquely special, and believe He
loved her so much He died for her —
to look in the mirror and thank God
for her life and beauty and parent
herself as a very important person
in God's Plan —
Instead she continued now playing
the tapes of her childhood in her
head and depriving herself of the
truth — Because of original sin we
see ourselves with distorted vision —
we see God with distorted vision —
we see others with distorted vision —
Each person is a unique expression of
God's creative love, Fr. Carter said in
his book Response to God's Love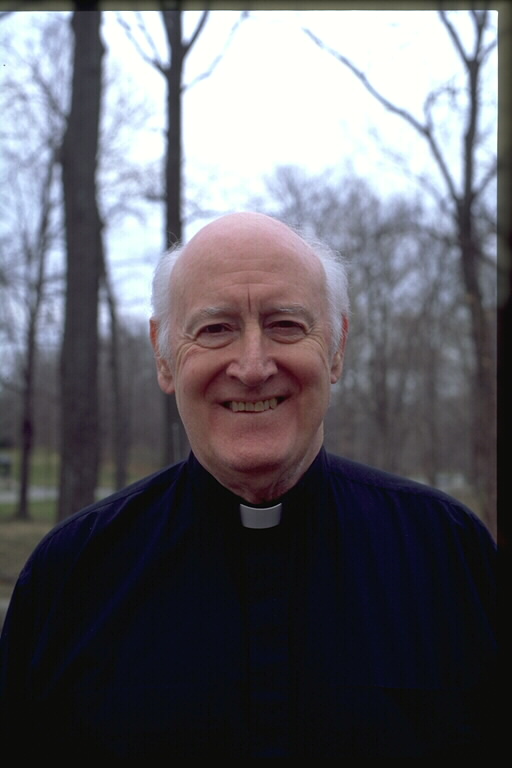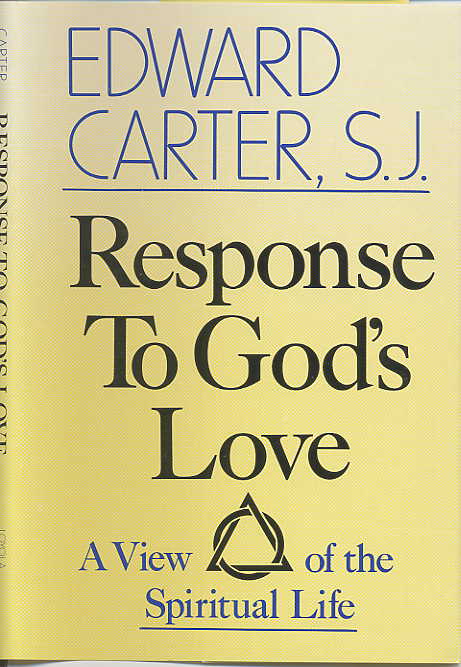 We are trying now to reprint this book —
you can help us —
Listen to the words of Fr. Carter
Each person can truthfully say that
there has never before been anyone
like himself or herself, there is now
no one like him or her and there never
will be.
The personal uniqueness of each
human being increases in proportion
to one's assimilation to Jesus. That
is to say, the more I put on Christ
the more I lose myself in Christ, the more
I become myself. This is true because
grace perfects nature, (and our nature
is wounded because of original sin)
and, consequently, the more I grow
in grace, the more perfect all dimensions
of my person become — and this includes
uniqueness. We see, then, how fallacious
is the reasoning of those who think
that the more they give themselves to
the practice of religion, the more
their personalities will be subdued.
Actually, the opposite is true —
the more one grows in Christ, the
more his or her unique personality
emerges in all its attractiveness.
Excerpt from Response to God's Love by Fr. Edward J. Carter, S. J. - Chapter 2

As I grow in the realization of my own uniqueness, I should also grow in developing a sense of self-identity and self-acceptance. If God in his tremendous love for me has created the uniqueness that I am, should I not rejoice in who I am and avoid morbidly comparing myself to others? Should I not have a healthy self-image? Of course, self-acceptance does not mean self-complacency. Honest self-reflection will always reveal to me that there are weaknesses that must be further curbed and strengths that must be further developed.

As God gives each person his or her uniqueness, he attaches to it a unique mission or role that is to be accomplished. Cardinal Newman tells us: "Everyone who breathes, high and low, educated and ignorant, young and old, man and woman, has a mission, has a work. We are not sent into this world for nothing; we are not born at random. . . . God sees every one of us; He creates every soul, He lodges it in a body, one by one, for a purpose. He needs, He deigns to need, every one of us" (Discourses Addressed to Mixed Congregations, pp. 111-112).

Because of the uniqueness of each Christian's existence, he or she presents Christ with a unique opportunity. Each Christian has the vocation to offer Christ his or her humanity so that Jesus can re-incarnate himself in a new way. Jesus wants to continue his redemptive work through the not-to-be-repeated newness that is each Christian's uniqueness. To the extent that an individual Christian offers his or her humanity to Jesus, he or she has a unique opportunity to continue the redemption—an opportunity that no one else can offer him or her. Likewise, to the extent that an individual Christian fails to offer his or her humanity to Christ, Jesus loses the opportunity that is this Christian's uniqueness.

Each of us, consequently, no matter what his or her occupation or status in life might be, has both the great privilege and the great responsibility to properly utilize his or her life according to God's Christic design. No one else can fulfill your unique mission, and, in turn, you cannot accomplish the unique mission of another. At times we can become somewhat fearful or anxious about the task that God has entrusted to us as we more deeply realize what it demands. We can feel the same reluctance that Jeremiah the prophet voiced when Yahweh called him:

The word of the LORD came to me thus:
"Before I formed you in the womb I
knew you,
before you were born I dedicated
you,
a prophet to the nations I appointed
you."
"Ah, LORD GOD!" I said,
"I know not how to speak; I am too
young."
But the LORD answered me,
"Say not, 'I am too young.'
To whomever I send you, you shall
go;
Whatever I command you, you shall
speak.
Have no fear before them,
because I am with you to deliver
you, says the LORD."
—Jer 1:4-8

end of excerpt from Response to God's Love
A person criticized, sees through these
eyes of criticism to others —
The harshness of childhood
criticism is now criticism in
the presence of others -- because they
have not healed their wounds of
childhood and see through their
eyes of childhood — projecting this criticism
on to others —
They are threatened inside as
a little child because of lack
of acceptance and now in a
relationship or community see
with this harsh rejection of
acceptance by their criticizing
parents —
A child does not want to criticize their
parents so there is a dilemma — to
obey and love those who harshly
invalidate their worth —
but the sins of the parents are
passed down to the 3rd and 4th
generation —
Their parents were criticized and
unaccepted, probably, by their
parents and so on. They were
angry, insecure etc. inside and
saw through the eyes of their
angry, non-validating, non-
accepting parents —
What is there to say — Adam and Eve
sinned and we human creatures are marked
with original sin at the moment of
conception — except Mary — who was
sinless from the moment of
conception.
God flooded the earth at the
time of Noah because of the
corruption of sin —
A person who isolates and criticizes
others over spilled milk — filled
with anger is projecting other
things on innocent others —
unhealed wounds
But God gives us the Blue Books
to help us to see through His eyes
of love and have right reason —
God created us with such love —
Jesus tells us — He took flesh and
came into this world and died for
us. He loves us so much.
In Blue Book I, Jesus' love letters are
to help us have this personal love
union with Him —
A person after telling themselves
40 and 50 years what criticizing
parents told them have wounded
themselves and deprived themselves
of the love that would have made them
happy.
The gravity of the sin had become
premeditated in Cain and it grew
to Noah —
Jesus came the Lamb led to the slaughter —
He died for our sins
Jesus wants us to know - He loved us
so much He died for us.
Song: A Song from Jesus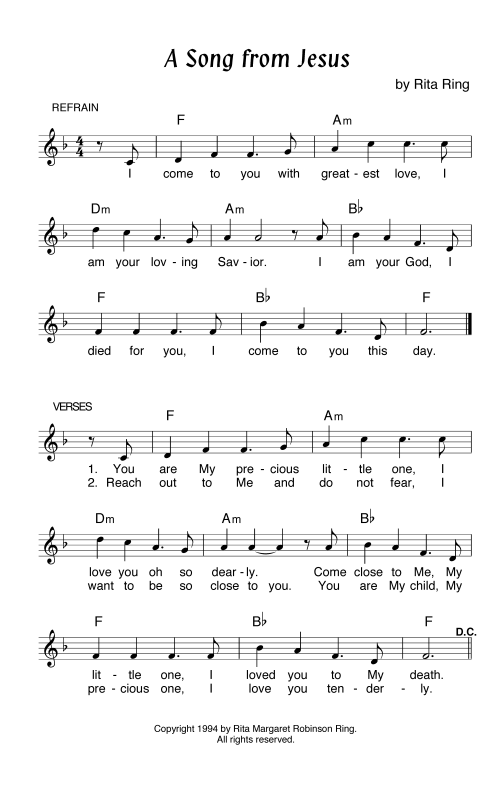 Not having their dependent needs
met in childhood a person
does not feel satisfied and may
use others — putting them in their
unreal world — angry world and
playing out their unacceptance of
themselves — ACTING out how
those innocent others are now
rejecting them —

They believe in their imperfect
vision, the others are not
liking them — the others
are not — seeing their
value.
They may try to force others to leave
Constant tension — like a rope

The rope is a rope of tension
like kids jumping rope
and holding it taunt

It is a TRAP for innocent others
PROJECTION on innocent others
for their own unloving thoughts
about themselves.
They become more unloving
not recognizing their
uniqueness.
They become angry.
They blame it on others and
want others to stop it.
They have done it to themselves
seeing through the
unaccepting eyes of parents since
childhood.
Others may have wounded them worse
along the way
Parents teach as they know
they are imperfect
We cannot blame them for
40 years of our own
negative, unloving,
self-talk about ourselves
Adam and Eve sinned —
go back and blame them
We have Jesus — the New Adam
Mary — the New Eve
Jesus died for our sins
Jesus can heal these wounded
hearts
We have to get inside ourselves
like fixing a car that
jingles and jumps and stop
the negative self-hating
jingling and jumping
talk
Jesus commands us to love
Heaven Hell
selfless selfish
loving isolated
hatred
See through the pure and perfect eyes
of Mary —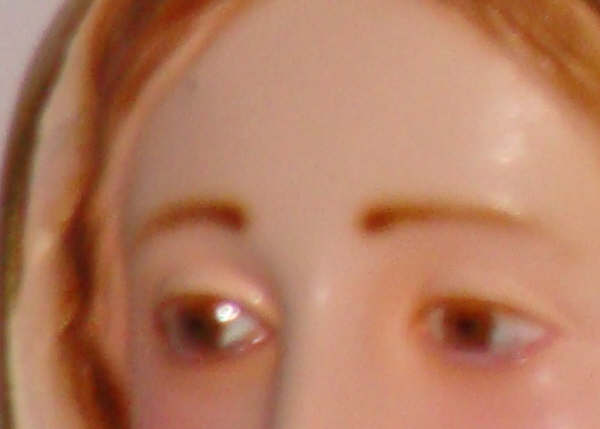 March 5, 2009
See through the pure and perfect
Hearts of Jesus and Mary —
not our parents
not wounded others
not our wounded self-inflicted
pain in our heart
Jesus died for our sins
see His Blood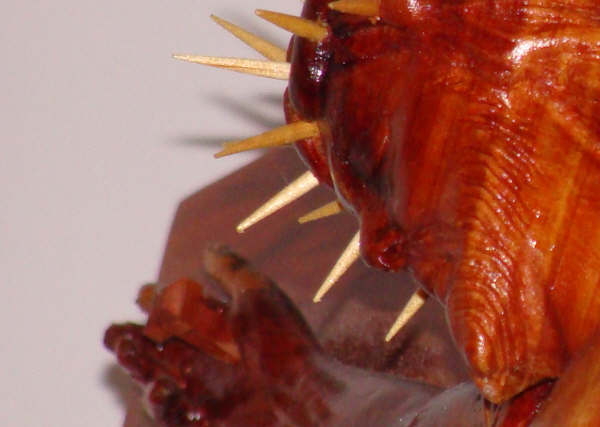 March 5, 2009
I Died for You

February 23, 1994

Jesus: I want this emotion in the letter I told you to write. I, Jesus, Son of God, talk to you with such emotion! I am He Who died a brutal death for love of you. I died for you! I love you this much, to give My Life! Yet you couldn't even write when I asked you. You must do exactly as I say. I do not want you ever to say no to Me!

I have such emotion! I am telling you how I died a brutal death and you, My child, did not write for Me! What more can I do? What more do they want? You put others before Me or you would do as I command. I want you to do as I tell you every moment.

I am the Lord. I am the Son of God. Such emotion I let you feel for My death. I died. I am a person. I was human and I died for you. Think of yourself giving your life for someone and they do not care. What can I do to shake you? What more can I say? I am here and I am loving you and pleading with you to listen to Me with this emotion that God is telling you. I am Jesus. I died for you. I gave My life for you and do you even listen, My little sweet one? You didn't want to write it for My children. When I give you a command, you write. When I say do, you do. Selflessness! I am pushing you because I need your total surrender. Do not ever deny My writing to My loved ones. You have a responsibility. I don't care where you are when I talk. I am God and I talk to you. I am so present to you.

Listen. I need your selflessness. I need your surrender. I need your life, given for love of Me and Me alone. I need you to be the light that shines on the hill, that does not go in and out but is constant in My love. I need your commitment. I need your attention at every moment. I am feeding you My words every moment on paper and in your hand. You must obey Me exactly as I command. No questions, only action. I want action. Now! You write when I say write. I don't care where you are. You worry not for others. I am giving you the mighty medicine. Would you tell the doctor to wait? I am God and I do not ever want to wait while you play a safe game with Me. When I say do something, I want you to do it. You are My beloved and I am filling you with fire.

I am pushing you to do that which I need done. Do not ever stop to look around. Keep your focus on Me and My commands for you. I am using you every moment. I must be able to count on your constant consent to do My will immediately! I am calling you to this work and I want you to comply. I love you ardently. I am so full of love for you. Focus on this and this alone. I am Who am. I am God, child. Do not ever hesitate. Do not doubt or think. You must act as I act in you or My work will not be done.

Be selfless about My commands. You will do My work. You will spread My words of love and create emotion with My songs and I will use you to bring My flock to My love. I love every soul! You must spread My love.

Note: (Meditating on the Crucifixion) Going to Mass at the seminary at 8:00 a.m. was rushed. He said to me, "Where are you going, child. Do you not feel My presence with you?" A calm came over me. Then He started lamenting how He died for us, how He is a true person and He loves us so much. He said, "I died for you."

R. He gave His life for us. He is the little lamb led to the slaughter out of love for us. He said, "I need you to do this work now and I am pushing you." He was so upset! He died for us. He loves us so much as to give His life.

He begged me to spread His love, to tell others how He, bloodied, bruised and beaten, gave us His life.

Jesus: I am God. I am God. I died. Spread My love now! Now! Now! Now! Now! I am begging you not to hold back! Read these letters now, read and learn about My love. I beckon you to speak of My love. Shout it from the high roof. Proclaim it in the cities. Jesus Christ died for love of you and He is risen! I am He Who is God and I died for you!

Listen and preach My love and emotion here. Priests will create little cities, little cities in each church to spread the light of Christ to this sick world. Each priest can create his own little city, a powerhouse of God's love. God has all the power. His power is endless. It never runs out. It is might. You have no power except through Him. Churches filled with the intimate love of Jesus will be powerhouses.

I am God, My little ones. God can do all things. I can make your cities light up the darkness. I am the Way, the Truth, the Life. I am the light of life. I am God! I can do all things. I want to act in you. You need to be in constant union with Me. My priests, you need to be selfless. My soul and yours are one. I want to act in you.

Hold not back. Pray the Prayer for Union with Me.

end of February 23, 1994
We can keep trying to get self-absorbing —
morbid — slavishly dependent relationships
that give to us
BUT IT WILL NEVER STOP
THE SELF-INCRIMINATING
TAPES OF SELF-INADEQUACIES
WE PLAY FOR 50 YEARS
God calls us to see through His eyes
of love
God commands us to love —
The more one blames others
The more one goes down a path —
staying in their weaknesses —
they grow worse
If we want light — we have to seek
it, embrace it, love it,
want it
God gives us a free will
We control our thoughts
The more we are unloving to others
seeing through eyes of hate
we sin —
Ezekiel 18: 21-28

'If the wicked, however, renounces all the sins he has committed, respects my laws and is law-abiding and upright, he will most certainly live; he will not die. None of the crimes he committed will be remembered against him from then on; he will most certainly live because of his upright actions. Would I take pleasure in the death of the wicked — declares the Lord Yahweh — and not prefer to see him renounce his wickedness and live?

'But if the upright abandons uprightness and does wrong by copying all the loathsome practices of the wicked, is he to live? All his upright actions will be forgotten from then on; for the infidelity of which he is guilty and the sin which he has committed, he will most certainly die.

'Now, you say, "What the Lord does is unjust." Now listen, House of Israel: is what I do unjust? Is it not what you do that is unjust? When the upright abandons uprightness and does wrong and dies, he dies because of the wrong which he himself has done. Similarly, when the wicked abandons wickedness to become law–abiding and upright, he saves his own life. Having chosen to renounce all his previous crimes, he will most certainly live: he will not die.
Matthew 5: 20-26
'For I tell you, if your uprightness does not surpass that of the scribes and Pharisees, you will never get into the kingdom of Heaven.

'You have heard how it was said to our ancestors, You shall not kill; and if anyone does kill he must answer for it before the court. But I say this to you, anyone who is angry with a brother will answer for it before the court; anyone who calls a brother "Fool" will answer for it before the Sanhedrin; and anyone who calls him "Traitor" will answer for it in hell fire. So then, if you are bringing your offering to the altar and there remember that your brother has something against you, leave your offering there before the altar, go and be reconciled with your brother first, and then come back and present your offering. Come to terms with your opponent in good time while you are still on the way to the court with him, or he may hand you over to the judge and the judge to the officer, and you will be thrown into prison. In truth I tell you, you will not get out till you have paid the last penny.
Jeremiah 1: 4-8
The word of Yahweh came to me, saying:

'Before I formed you in the womb
I knew you;
before you came to birth
I consecrated you;
I appointed you as prophet to the nations.'

I then said, 'Ah, ah, ah, Lord Yahweh;
you see, I do not know how to speak: I am only a child!'

But Yahweh replied,
'Do not say, "I am only a child,"
for you must go to all to whom I send you
and say whatever I command you.
Do not be afraid of confronting them,
for I am with you to rescue you,
Yahweh declares.'

Excerpt from Response to God's Love by Fr. Edward J. Carter, S. J. - Chapter 2
Jeremiah initially shrank back from the mission that God was giving him. He complained that he was not capable of accomplishing it. God answered him, however, and told Jeremiah that he was perfectly capable of fulfilling his appointed role, for he, Yahweh, would be with Jeremiah. God would work through Jeremiah, and Jeremiah, for his part, was to be open to God, allowing Yahweh to work through him according to the divine will.

We, too, can be guilty of reacting to God's call in the same way that Jeremiah had originally reacted. This can happen as God calls one to a basic state of life. Once a person is within a fundamental vocation, one can be tempted to resist God's call to higher things, to a more complete accomplishment of his or her mission, and to a greater Christian maturity. When so tempted, a person must control his or her fears and trustingly give himself or herself to God's will. Only then will the person become convinced that God never requests anything without granting abundant grace to accomplish his design, and that, moreover, to answer God's call as consistently as possible is the only true path to peace, happiness, and fulfillment, despite the pain that is necessarily involved.

We are aided in remaining faithful to the unique role in life that God has given us if we strive to remain aware of the great value that one life has to Christ, to the Church, and to the world. History tells us of the great difference that just one life can have regarding Christ's work; there are outstanding examples from all walks of life. Surely the Church has been enriched, and countless lay people have been inspired because of the life of a man named Thomas More. He was a layman who realized the deepest meaning of life—and he did not fail to confront the true purpose of human existence, even when that confrontation meant sacrificing his life for what he believed. Surely this life—the one life of St. Thomas More—has made a difference. In our own times, we have been enriched and inspired by an outstanding lay witness—the beloved Dorothy Day. What an inspiration she has been! Surely her life, though it was only one life, made a difference—and such a great difference. There are, too, the examples of men and women who have established religious orders and congregations. Surely the life of each of them has made an overwhelming contribution toward a better Church and a better world. Consider also the life of Angelo Giuseppe Roncalli, a person from a peasant background who eventually came to be called Pope John XXIII. Surely the world is so much better for Pope John's having given it his love, kindness, joy, and constant concern. Of course one life does make a difference.

At this point, however, many will object that the above examples highlight the lives of persons who have achieved outstanding recognition in the external order of things and have commanded great public attention. People who voice this objection often say that their own lives are so mundane, so hidden, so incapable of making headlines. Surely, they continue, this rather too ordinary kind of life makes little difference to Christ, to the Church, and to the world. Surely it does not much matter whether a person living this kind of existence fulfills his or her God-given mission. At first glance, many of us would tend to agree with this reasoning, a reasoning that is really the exact opposite temptation of what we considered when we likened ourselves to Jeremiah. In that context there was a question of being tempted to do nothing because we feared the greatness to which we were called; in the present context, however, it is a question of being tempted to do nothing because we think we really have nothing to contribute. Yet, as we begin to reflect in mature faith, we soon see the fallacy of this objection. We realize that great external accomplishments or a life that attracts public attention do not, in and of themselves, make that life great and truly worthwhile. If a Christian life that is characterized by notable external achievement is truly great and meaningful for mankind, we know that it is so because the external achievement has sprung forth from an attitude of deep faith, hope, and love. This, then, is the ultimate answer to the above objection—every Christian's life, no matter how ordinary it might be in its external framework, can be tremendously important and can make an outstanding contribution toward the work of ongoing redemption as long as it is increasingly consistent with God's will.

God's ways are not always our ways, and his thoughts are not always our thoughts. God can take a life that seems so ordinary, so prosaic, so uneventful, and achieve wonders with it as long as the person is striving to fulfill his or her role in life according to God's designs. We cannot, then, use the ordinariness of our lives as an excuse for not making our existence truly great, truly significant for both Christ and humanity—a life that truly makes a difference. Karl Rahner has advice for us when the ordinariness of our lives tempts us to think that our existence is unimportant and almost useless: "Let us take a good look at Jesus who had the courage to lead an apparently useless life for thirty years. We should ask him for the grace to give us to understand what his hidden life means for our religious existence" (Spiritual Exercises, p. 160). Notice that Rahner describes the first thirty years of Jesus' life as "apparently useless." In reality, of course, Christ's very ordinary existence at Nazareth was not actually useless but was, on the contrary, tremendously important—it was part of his redemptive effort. No, it is not the ordinary setting of our lives that is an obstacle to our making a unique and important contribution to the cause of Christ. The real obstacle, if we allow it, is our failure to relate to life's ordinariness as God intends.

The realization of the greatness of our own lives, however, must be balanced with a realization of the limitations that are attached to that greatness. We are finite creatures who have various limitations that emanate from our finitude. A sense of limitations, then, should accompany the fulfillment of our mission in life.

What are some of these limitations? First, it is important to realize there are false limitations—limitations that need not be—as opposed to inevitable limitations—limitations that spring forth from the fact that we are finite creatures who are immersed in the human condition. An example of a false limitation is demonstrated by the person who succumbs to the temptation of wanting to be someone else. This person looks at the physical and intellectual gifts of one person, the pleasing personality of another, and so forth and so on, and convinces himself or herself, that, if only he or she were endowed with such qualities, well, yes, then it would be possible to really accomplish something with his or her life. In other words, the person fails to accept himself or herself as God has made him or her. This person fails to accept his or her God-given uniqueness and wastes precious time looking at what he or she does not have, rather than appreciating that with which God has actually endowed him or her. Such a person must accept himself or herself, once and for all, in his or her fundamental uniqueness. Moreover, this person must develop the gifts, strengths, and capacities of his or her uniqueness and strive to control its weaknesses as much as possible. He or she should also realize that only by accepting his or her uniqueness as coming from God's creative love and constantly striving to allow that same love to bring his or her uniqueness to fulfillment will he or she achieve ultimate peace and happiness. Then, and only then, can a person properly make his or her contribution to continued redemption.

Surrounding our uniqueness, then, are limitations that need not be; similarly, there are also limitations that are inevitable. We possess certain talents, for example, but present circumstances do not allow us to exercise these talents here and now. Even at those times when we can exercise our talents, we often feel limited because we realize that we have only a certain amount of energy; that there are only a certain number of concrete opportunities and a certain amount of time for us to use our talents. At other times we feel limited because the persons we are trying to serve are hostile to our efforts and shut themselves off from what we desire to so generously offer.

These, then, are some examples of limitations we can experience in our efforts to fulfill our mission. To balance the realization of the greatness of our call with the realization that we will be variously limited—sometimes painfully so—in our striving to implement our mission is as necessary as it is challenging.

Each Christian, therefore, because of his or her personal uniqueness, has a unique mission to fulfill in helping continue the work of Jesus. Each Christian is given the opportunity to contribute as he or she receives the call from God, and, obviously, there are varying degrees according to which a Christian may respond or not respond to God's call. There are, first, those who hardly respond at all, who seem to be barely Christian. They may have faith, but it is a dead faith, for they refuse to be guided by God even in serious matters. They want to be complete masters of their own existence; the less they have to think about God, the better. Originally, some of these people may have been given a call to magnificent Christian greatness in this or that state of life. They may have turned a deaf ear to true greatness, however, and determined to be makers of their own self-conceived greatness; their concept of greatness may never have transcended the limits of space and time—they may have thought and acted as if their temporal existence would extend forever.

Second, there are other Christians who essentially respond to God, but not as completely as possible. Their lives seem to be an average mixture of both continuing faithfulness to God and occasional disloyalty to him; periodically they accomplish much good, but they also mix in a considerable degree of mediocrity. They do, however, seem to be basically sincere Christians who do, in fact, promote the work of Christ and essentially fulfill their roles in life.

And finally, there are those Christians who initially answer God's call and continue to answer it in an eminently generous manner. They develop their uniqueness marvelously and become forceful shapers of the world's Christic destiny. Their good actions are deeply etched into the human process, although they may well be hidden from public acclaim. Because of them and their actions, the world's goodness is enhanced, and mankind has come considerably closer to fulfilling its temporal and eternal destinies.

Today's Church needs more of this type of Christian. The Church and the world in which she is situated are experiencing a time of crisis—perhaps the most critical time of all history, for at what other time in human history could life as we know it on this earth end so suddenly in a nuclear holocaust? Yet, although we live in an age of special crisis that has tremendous and numerous problems, we also live in an age of great opportunity. God, for his part, always provides for the needs of both the Church and the world in which the Church is meant to serve. Surely, in this age of great need and opportunity, God will not fail to call Christians of all vocations to completely and eminently dedicate themselves to the task at hand. We should pray that everyone will respond according to their own uniqueness and make their own special contribution to the work of Christ.

end of excerpt
Each person is unique
Only I can love the world and my brothers as I
do because of my uniqueness.
As the self emerges in Christ I am more
fully this unique self -- created by God.
I can respond to the call of Christ
(1) barely
(2) in and out
(3) fully
People in religious life — must
work to be like Jesus —
Jesus gave us these writings to be
so one with Him —
Our parents, many of them did
the best they could —
We have to let go of these blaming
tapes
and take responsibility for
our actions
We can live like a wall —
hurting others —
causing cards to fall as we pass —
SIN is SIN —
God commands us to love
Love is our vocation
There is a right way to have a
relationship as God intends
building His Kingdom
The devil uses PASSION and HATRED

Deuteronomy 7: 6-11
For you are a people consecrated to Yahweh your God; of all the peoples on earth, you have been chosen by Yahweh your God to be his own people.

'Yahweh set his heart on you and chose you not because you were the most numerous of all peoples—for indeed you were the smallest of all—but because he loved you and meant to keep the oath which he swore to your ancestors: that was why Yahweh brought you out with his mighty hand and redeemed you from the place of slave–labour, from the power of Pharaoh king of Egypt. From this you can see that Yahweh your God is the true God, the faithful God who, though he is true to his covenant and his faithful love for a thousand generations as regards those who love him and keep his commandments, punishes in their own persons those that hate him. He destroys anyone who hates him, without delay; and it is in their own persons that he punishes them. Hence, you must keep and observe the commandments, laws and customs which I am laying down for you today.
Readings today
Deuteronomy 26: 16-19
'Yahweh your God commands you today to observe these laws and customs; you must keep and observe them with all your heart and with all your soul.

'Today you have obtained this declaration from Yahweh: that he will be your God, but only if you follow his ways, keep his statutes, his commandments, his customs, and listen to his voice. And today Yahweh has obtained this declaration from you: that you will be his own people—as he has said—but only if you keep all his commandments; then for praise and renown and honour, he will raise you higher than every other nation he has made, and you will be a people consecrated to Yahweh, as he has promised.'
Matthew 5: 43-48
'You have heard how it was said, You will love your neighbour and hate your enemy. But I say this to you, love your enemies and pray for those who persecute you; so that you may be children of your Father in heaven, for he causes his sun to rise on the bad as well as the good, and sends down rain to fall on the upright and the wicked alike. For if you love those who love you, what reward will you get? Do not even the tax collectors do as much? And if you save your greetings for your brothers, are you doing anything exceptional? Do not even the gentiles do as much? You must therefore be perfect, just as your heavenly Father is perfect.'
The Ten Commandments

I am the Lord thy God; thou shalt not have strange gods before Me.

Thou shalt not take the name of the Lord thy God in vain.

Remember thou keep holy the Sabbath day.

Honor thy father and thy mother.

Thou shalt not kill.

Thou shalt not commit adultery.

Thou shalt not steal.

Thou shalt not bear false witness against thy neighbor.

Thou shalt not covet thy neighbor's wife.

Thou shalt not covet thy neighbor's goods.
Need to be faithful to God —
We will please God
Choose the God of our Fathers
With all the temptations to sin:
jealousy
envy
seeking dominance
lust
Do good
Follow Jesus and Mary
Reign of the Sacred Heart
Triumph of Mary's Heart
Jesus and Mary's Hearts are Hearts of love
Jesus died for those who
persecuted people
Jesus commands us to love —
Love the unloving
Love the Unloving

November 4, 1993 - 5:00a.m.

Jesus: Today I want to talk about your enemies. To be like Me you must never have any enemies. Does that sound impossible? Every soul is a soul created by Me to love and be loved. When My children are willful and allow Satan to be in control, they become very sinful and do very many unloving things. So why love them if they are sinful?

These children need My love more than anyone. All My children need My love, but these children become engulfed in darkness. They continue to only look for their reality in the dark corners and make their world reflect only darkness. This gives them the room to continue in darkness. Darkness to them makes sense. They are surrounded by it. But you come along and you may be with them and you love them. Your light, in contrast to all their darkness, shines out. It makes their dark world have a ringer in it, so to speak. It stops and they take notice. What is this? I hate you and you love me? All I see on TV is surrounded by hate. Their hearts are hate. They look at darkness only. They see only hate and you come along and love?

They must take notice of your love in this dark world. What sets you apart, they ask themselves? They may struggle with admitting I am what makes you different, but indeed they must, if they want to really know, admit it is the God in you that makes you love when everything else in their life is hate.

So you think your kindness means so little? To a person who only sees darkness, your kindness is as a bright light in the darkest night. The darker the night, the more your little light shines.

If people are ugly, who wants to be nice to them? But, you say, why love the unloving? Because that is the way Christ would do it. It is your little light shining in the darkness that makes them have to take notice. Let your light shine. It is I Who shine from you. That is how I reach My sick children in the darkness. They will never come to Me. You may be the only touch they receive from Me. But your touch will not go unnoticed. It is powerful and carries much weight. Even when they continue to hate you, you continue to love. That is My way. Not to get upset in the ugliness of others. That is their way. That is not My way. When they hate you and persecute you for My sake, remember your reward will be great in heaven.

I am here, little one. Listen to Me. You do not and never will understand My ways, but My life I give to you as a model to live by. Study Me and know how I am. My ways I make clear to you. To love the unloving is indeed a challenge, but your love may save their souls. Be of Me in all things. Do not get attached to the ugliness of your sick brothers. You know what powers them. Do not get pulled in by their hate. It is not of me. Continue and love and pray for strength. This is My work, to love the unloving. I love you, little ones. Will you be My candle in the dark world? I give you My power and My love. It is not a big job, you say, but it is the job that preaches to those in darkness. Will you preach My love today to your unloving brothers?

To be nice to only those who already love is not hard. To be nice to those who are ugly is very hard, but the rewards may be so great for their souls. This is My true job for you, little ones. Love the unloving. They need to be touched by Me. Pray for strength and do what I ask of you and you will know a freedom as you have never before experienced. You are not reacting to their hate. You are still staying fixed in Me. Don't bow to Satan. He wants you to get mean in return. That is Satan's way. My way is the way of love. I am filled with love for you. Come and get your supplies. Spend time pondering My ways. Spend time with Me and get your strength. You need Me to go to the dark world. Without Me you get caught up in their darkness. You need your supplies. Come to Me and you will not run amok. You will run and not get weary. You will fly on eagles' wings and I will love through you. Love the unloving. That is the greatest gift you can give to your sick brothers. I love you. Come that you might do My work and minister to your sick brothers. You can't do it without My supplies. I love you.

end of November 4, 1993
Love is an act of the will
We choose to love
God commands us to love
We are to love
God is love —
We are not selfish
We are like Jesus
To come as close to being as
God wants us to be
Faithful - good - children of God
Go to the Sacred Heart
Go to Mary's Heart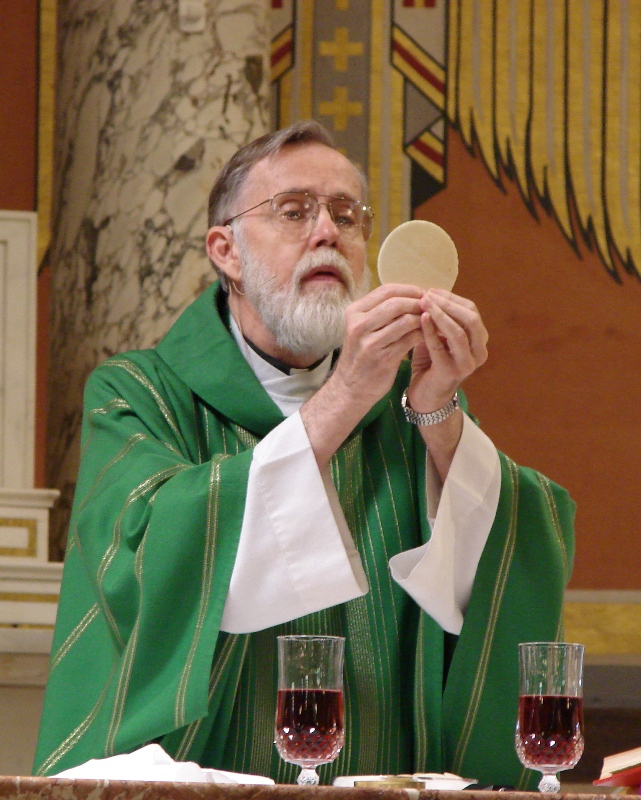 Holy Sacrifice of the Mass

Holy Sacrifice
Holy Holy
(Blessed is he who
comes in the name
of the Lord)
Jesus is the sacrifice most pleasing
to the Father
Offer sacrifice
to help us to be holy
Help us to be holy God
Holy Spirit — fill us
Help us to be one
not divided
One with Pope and Bishops
and people
LOVE —
Fellowship
United to Saints and Angels
United to Souls in purgatory
Through Him
With Him
In Him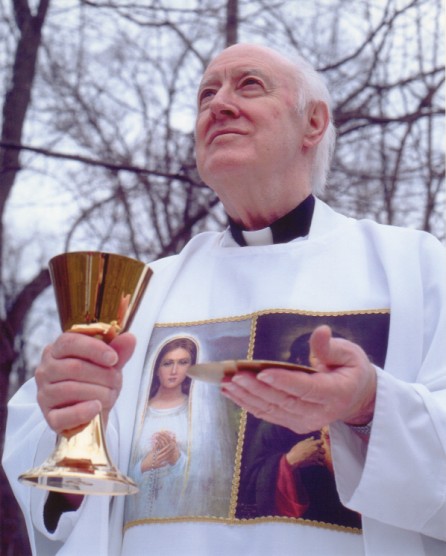 Our Father
Our Father, Who art in heaven, hallowed be Thy name. Thy kingdom come, Thy will be done on earth as it is in heaven. * Give us this day our daily bread and forgive us our trespasses as we forgive those who trespass against us. And lead us not into temptation but deliver us from evil. Amen.
Jesus is the Lamb of God
who pays for our sins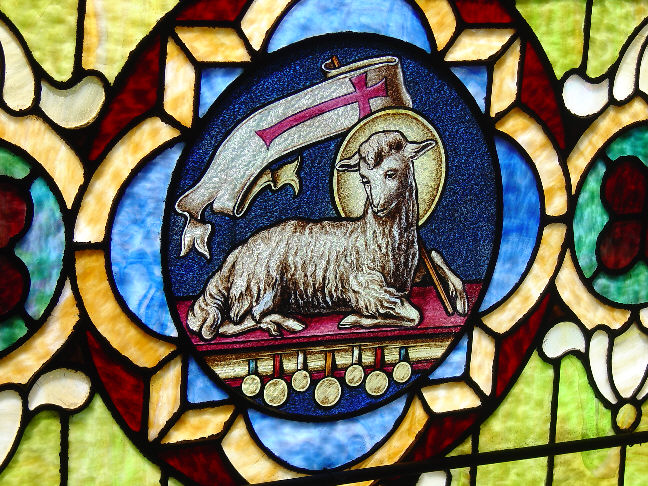 Jesus is the Good Shepherd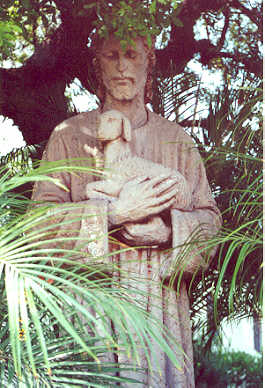 Lamb of God
Lamb of God, Who takes away the sins of the world, have mercy on us.
Lamb of God, Who takes away the sins of the world, have mercy on us.
Lamb of God, Who takes away the sins of the world, grant us peace.
God gives us Himself in the
Eucharist —
What a gift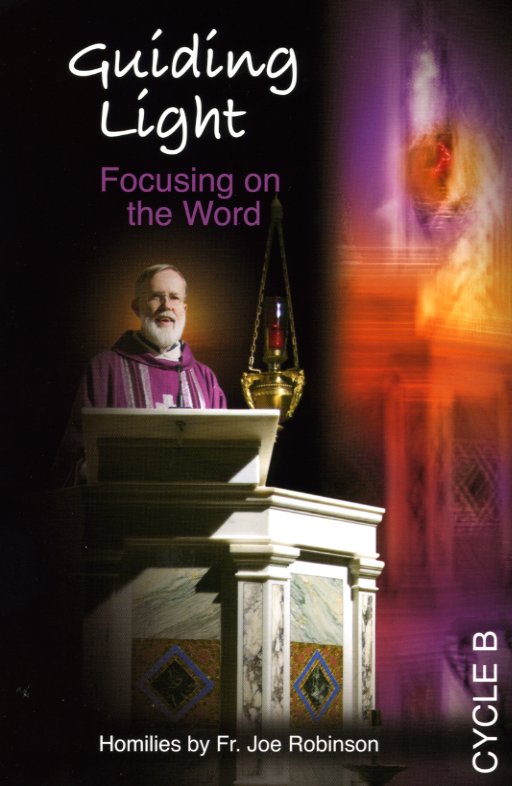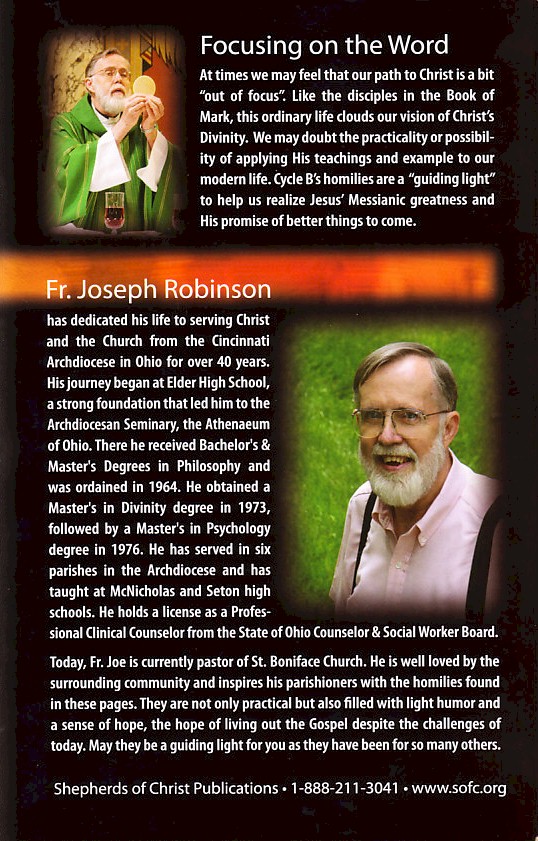 Fr. Joe says p. 101-102

It is a blessing that God has not lost patience with us or given up on all of us. He continues to try to send us people to teach us how to live good and holy lives in spite of our rebellious natures. It is a great honor for God to call someone to be his prophet, but it is also a difficult and often thankless task. You who are parents know what it's like. The job of a parent is not as prominent as that of an Ezekiel or Jeremiah or Jesus, but to a lesser degree a parent's role is the same as a prophet, trying to teach their children to be good and sometimes having to face a fair amount of resistance. I remember my dad would always quote the proverb from today's gospel: "A prophet is honored everywhere except in his own house." My dad was a CPA and he got paid for his advice. When he tried to tell us something at home, we never ignored him - that would have been like taking our life in our hands, but we didn't always jump to agree with him. So he would say "a prophet is not without honor…except in his own house." We always did what we were told (we didn't want to face the consequences if we didn't) but we didn't always want to do it. Parents, if they are good parents, have a difficult job at times, especially in today's society. It's so easy just to give in every time a child wants something. Children need to know their parents love them enough to do the hard job of trying to teach them what's right. Too many parents I have met argue: "Why fight it? The kids will do what they want." They will do what they want if they can get by with it. But if the parents don't guide them right, the child will be less likely to make good value judgments when they are on their own.

It's not just parents, however, who have the prophetic role of helping others to know God and to know God's ways. In the sacrament of Confirmation we are all anointed to be witnesses of Christ and of our faith whenever the opportunity arises. Sometimes we can witness through words of encouragement, as long as we don't get too preachy. Sometimes we can witness by sharing with another person how much help our faith gives us. Sometimes we can only witness by our love, by a good life and by prayer.

There is one other aspect of our gospel we must not miss. God usually communicates with us in very simple ways. The people of Nazareth thought they couldn't learn anything from a carpenter. In our pride, our envy, our prejudices, our willingness to follow the crowd, we can easily miss the ways God is trying to break through our defenses. This morning/afternoon he comes to us in a most simple way: as food and drink. Yet for those who have eyes to see, in this holy meal it is infinite life and love that is given to us.

end of excerpt
| | | | | |
| --- | --- | --- | --- | --- |
| | | | | Italian |
July 31, 1994
Words of Jesus to Members of
Shepherds of Christ Associates:

"My beloved priest-companion, I intend to use the priestly newsletter, Shepherds of Christ, and the movement, Shepherds of Christ Associates, in a powerful way for the renewal of My Church and the world.

"I will use the newsletter and the chapters of Shepherds of Christ Associates as a powerful instrument for spreading devotion to My Heart and My Mother's Heart.

"I am calling many to become members of Shepherds of Christ Associates. To all of them I will give great blessings. I will use them as instruments to help bring about the triumph of the Immaculate Heart and the reign of My Sacred Heart. I will give great graces to the members of Shepherds of Christ Associates. I will call them to be deeply united to My Heart and to Mary's Heart as I lead them ever closer to My Father in the Holy Spirit."

- Message from Jesus to Father Edward J. Carter, S.J., Founder, as given on July 31, 1994,
feast of Saint Ignatius Loyola, Founder of the Society of Jesus (The Jesuits)
Shepherds of Christ Associates
PRAYER MANUAL
Chapter Meeting Prayer Format

The prayer format below should be followed at chapter meetings of Shepherds of Christ Associates. All prayers, not just those said specifically for priests, should include the intention of praying for all the needs of priests the world over.

1. Hymns. Hymns may be sung at any point of the prayer part of the meeting.

2. Holy Spirit Prayer. Come, Holy Spirit, almighty Sanctifier, God of love, who filled the Virgin Mary with grace, who wonderfully changed the hearts of the apostles, who endowed all Your martyrs with miraculous courage, come and sanctify us. Enlighten our minds, strengthen our wills, purify our consciences, rectify our judgment, set our hearts on fire, and preserve us from the misfortunes of resisting Your inspirations. Amen.

3. The Rosary.

4. Salve Regina. "Hail Holy Queen, Mother of mercy, our life, our sweetness, and our hope. To you do we cry, poor banished children of Eve. To you do we send up our sighs, our mourning, our weeping in this vale of tears. Turn, then, most gracious advocate, your eyes of mercy toward us and after this, our exile, show unto us the blessed fruit of your womb, Jesus, O clement, O loving, O sweet Virgin Mary."

5. The Memorare. "Remember, O most gracious Virgin Mary, that never was it known that anyone who fled to your protection, implored your help, or sought your intercession was left unaided. Inspired by this confidence, I fly unto you, O Virgin of virgins, my Mother. To you I come, before you I stand, sinful and sorrowful. O Mother of the Word Incarnate, despise not my petitions, but, in your mercy, hear and answer me. Amen."

6. Seven Hail Marys in honor of the Seven Sorrows of Mary. Mary has promised very special graces to those who do this on a daily basis. Included in the promises of Our Lady for those who practice this devotion is her pledge to give special assistance at the hour of death, including the sight of her face. The seven sorrows are:

(1) The first sorrow: the prophecy of Simeon (Hail Mary).

(2) The second sorrow: the flight into Egypt (Hail Mary).

(3) The third sorrow: the loss of the Child Jesus in the temple (Hail Mary).

(4) The fourth sorrow: Jesus and Mary meet on the way to the cross (Hail Mary).

(5) The fifth sorrow: Jesus dies on the cross (Hail Mary).

(6) The sixth sorrow: Jesus is taken down from the cross and laid in Mary's arms (Hail Mary).

(7) The seventh sorrow: the burial of Jesus (Hail Mary).

7. Litany of the Blessed Virgin Mary.

Lord, have mercy on us. Christ, have mercy on us.
Lord, have mercy on us. Christ, hear us. Christ, graciously hear us.
God, the Father of heaven, have mercy on us.
God, the Son, Redeemer of the world, have mercy on us.
God, the Holy Spirit, have mercy on us.
Holy Trinity, one God, have mercy on us.

Holy Mary, pray for us (repeat after each invocation).
Holy Mother of God,
Holy Virgin of virgins,
Mother of Christ,
Mother of the Church,
Mother of divine grace,
Mother most pure,
Mother most chaste,
Mother inviolate,
Mother undefiled,
Mother most amiable,
Mother most admirable,
Mother of good counsel,
Mother of our Creator,
Mother of our Savior,
Virgin most prudent,
Virgin most venerable,
Virgin most renowned,
Virgin most powerful,
Virgin most merciful,
Virgin most faithful,
Mirror of justice,
Seat of wisdom,
Cause of our joy,
Spiritual vessel,
Vessel of honor,
Singular vessel of devotion,
Mystical rose,
Tower of David,
Tower of ivory,
House of gold,
Ark of the Covenant,
Gate of heaven,
Morning star,
Health of the sick,
Refuge of sinners,
Comforter of the afflicted,
Help of Christians,
Queen of angels,
Queen of patriarchs,
Queen of prophets,
Queen of apostles,
Queen of martyrs,
Queen of confessors,
Queen of virgins,
Queen of all saints,
Queen conceived without original sin,
Queen assumed into heaven,
Queen of the most holy rosary,
Queen of families,
Queen of peace,

Lamb of God, who take away the sins of the world, spare us, O Lord.
Lamb of God, who take away the sins of the world, graciously hear us, O Lord.
Lamb of God, who take away the sins of the world, have mercy on us.
Pray for us, O holy Mother of God, that we may be made worthy of the promises of Christ.

Let us pray: Grant, we beseech You, O Lord God, that we Your servants may enjoy perpetual health of mind and body and, by the glorious intercession of the blessed Mary, ever virgin, be delivered from present sorrow, and obtain eternal joy. Through Christ our Lord. Amen.

We fly to your patronage, O holy Mother of God. Despise not our petitions in our necessities, but deliver us always from all dangers, O glorious and blessed Virgin. Amen.

8. Prayer to St. Joseph. St. Joseph, guardian of Jesus and chaste spouse of Mary, you passed your life in perfect fulfillment of duty. You supported the Holy Family of Nazareth with the work of your hands. Kindly protect those who trustingly turn to you. You know their aspirations, their hardships, their hopes; and they turn to you because they know you will understand and protect them. You too have known trial, labor, and weariness. But, even amid the worries of material life, your soul was filled with deep peace and sang out in true joy through intimacy with the Son of God entrusted to you, and with Mary, His tender Mother. Amen. --(Pope John XXIII)

9. Litany of the Sacred Heart, promises of the Sacred Heart.

Lord, have mercy on us. Christ, have mercy on us.
Lord, have mercy on us. Christ, hear us.
Christ, graciously hear us.
God the Father of heaven, have mercy on us (repeat after each invocation).
God the Son, Redeemer of the world,
God the Holy Spirit,
Holy Trinity, one God,
Heart of Jesus, Son of the eternal Father,
Heart of Jesus, formed by the Holy Spirit in the womb of the Virgin Mother,
Heart of Jesus, substantially united to the Word of God,
Heart of Jesus, of infinite majesty,
Heart of Jesus, sacred temple of God,
Heart of Jesus, tabernacle of the Most High,
Heart of Jesus, house of God and gate of heaven,
Heart of Jesus, burning furnace of charity,
Heart of Jesus, abode of justice and love,
Heart of Jesus, full of goodness and love,
Heart of Jesus, abyss of all virtues,
Heart of Jesus, most worthy of all praise,
Heart of Jesus, king and center of all hearts,
Heart of Jesus, in whom are all the treasures of wisdom and knowledge,
Heart of Jesus, in whom dwells the fullness of divinity,
Heart of Jesus, in whom the Father is well pleased,
Heart of Jesus, of whose fullness we have all received,
Heart of Jesus, desire of the everlasting hills,
Heart of Jesus, patient and most merciful,
Heart of Jesus, enriching all who invoke You,
Heart of Jesus, fountain of life and holiness,
Heart of Jesus, propitiation for our sins,
Heart of Jesus, loaded down with opprobrium,
Heart of Jesus, bruised for our offenses,
Heart of Jesus, obedient even to death,
Heart of Jesus, pierced with a lance,
Heart of Jesus, source of all consolation,
Heart of Jesus, our life and reconciliation,
Heart of Jesus, victim of sin,
Heart of Jesus, salvation of those who hope in You,
Heart of Jesus, hope of those who die in You,
Heart of Jesus, delight of all the saints,
Lamb of God, Who take away the sins of the world, spare us, O Lord.
Lamb of God, Who take away the sins of the world, graciously hear us, O Lord.
Lamb of God, Who take away the sins of the world, have mercy on us.
Jesus, meek and humble of heart, make our hearts like unto Yours.

Let us pray: O almighty and eternal God, look upon the Heart of Your dearly beloved Son and upon the praise and satisfaction He offers You in behalf of sinners and, being appeased, grant pardon to those who seek Your mercy, in the name of the same Jesus Christ, Your Son, Who lives and reigns with You, in the unity of the Holy Spirit, world without end. Amen.

Promises of Our Lord to those devoted to His Sacred Heart


(these should be read by the prayer leader):

(1) I will give them all the graces necessary in their state of life.

(2) I will establish peace in their homes.

(3) I will comfort them in all their afflictions.

(4) I will be their refuge during life and above all in death.

(5) I will bestow a large blessing on all their undertakings.

(6) Sinners shall find in My Heart the source and the infinite ocean of mercy.

(7) Tepid souls shall grow fervent.

(8) Fervent souls shall quickly mount to high perfection.

(9) I will bless every place where a picture of My Heart shall be set up and honored.

(10) I will give to priests the gift of touching the most hardened hearts.

(11) Those who promote this devotion shall have their names written in My Heart, never to be blotted out.

(12) I promise you in the excessive mercy of My Heart that My all-powerful love will grant to all those who communicate on the first Friday in nine consecutive months the grace of final penitence; they shall not die in My disgrace nor without receiving their sacraments; My divine Heart shall be their safe refuge in this last moment.

10. Prayer for Priests. "Lord Jesus, Chief Shepherd of the Flock, we pray that in the great love and mercy of Your Sacred Heart You attend to all the needs of Your priest-shepherds throughout the world. We ask that You draw back to Your Heart all those priests who have seriously strayed from Your path, that You rekindle the desire for holiness in the hearts of those priests who have become lukewarm, and that You continue to give Your fervent priests the desire for the highest holiness. United with Your Heart and Mary's Heart, we ask that You take this petition to Your heavenly Father in the unity of the Holy Spirit. Amen"

11. Prayer for all members of the Shepherds of Christ Associates. "Dear Jesus, we ask Your special blessings on all members of Shepherds of Christ Associates. Continue to enlighten them regarding the very special privilege and responsibility you have given them as members of Your movement, Shepherds of Christ Associates. Draw them ever closer to Your Heart and to Your Mother's Heart. Allow them to more and more realize the great and special love of Your Hearts for each of them as unique individuals. Give them the grace to respond to Your love and Mary's love with an increased love of their own. As they dwell in Your Heart and Mary's Heart, abundantly care for all their needs and those of their loved ones. We make our prayer through You to the Father, in the Holy Spirit, with Mary our Mother at our side. Amen"

12. Prayer for the spiritual and financial success of the priestly newsletter. "Father, we ask Your special blessings upon the priestly newsletter, Shepherds of Christ. We ask that You open the priest-readers to the graces You wish to give them through this chosen instrument of Your Son. We also ask that You provide for the financial needs of the newsletter and the Shepherds of Christ Associates. We make our prayer through Jesus, in the Holy Spirit, with Mary at our side. Amen"

13. Prayer for all members of the human family. "Heavenly Father, we ask Your blessings on all Your children the world over. Attend to all their needs. We ask Your special assistance for all those marginalized people, all those who are so neglected and forgotten. United with our Mother Mary, we make this petition to You through Jesus and in the Holy Spirit."

14. Prayer to St. Michael and our Guardian Angels:

"St. Michael the Archangel, defend us in battle. Be our safeguard against the wickedness and snares of the devil. May God rebuke him, we humbly pray, and do thou, O prince of the heavenly hosts, by the power of God, cast into hell Satan and all the other evil spirits who prowl about the world seeking the ruin of souls. Amen."

"Angel of God, my guardian dear, to whom God's love commits me here, ever this day be at my side, to light and guard, to rule and guide. Amen."

15. Pause for silent, personal prayer. This should last at least five minutes.

16. Act of consecration to the Sacred Heart of Jesus and the Immaculate Heart of Mary.

"Lord Jesus, Chief Shepherd of the flock, I consecrate myself to Your most Sacred Heart. From Your pierced Heart the Church was born, the Church You have called me, as a member of Shepherds of Christ Associates, to serve in a most special way. You reveal Your Heart as a symbol of Your love in all its aspects, including Your most special love for me, whom You have chosen as Your companion in this most important work. Help me to always love You in return. Help me to give myself entirely to You. Help me always to pour out my life in love of God and neighbor! Heart of Jesus, I place my trust in You!

"Dear Blessed Virgin Mary, I consecrate myself to your maternal and Immaculate Heart, this Heart which is symbol of your life of love. You are the Mother of my Savior. You are also my Mother. You love me with a most special love as a member of Shepherds of Christ Associates, a movement created by your Son as a powerful instrument for the renewal of the Church and the world. In a return of love, I give myself entirely to your motherly love and protection. You followed Jesus perfectly. You are His first and perfect disciple. Teach me to imitate you in the putting on of Christ. Be my motherly intercessor so that, through your Immaculate Heart, I may be guided to an ever closer union with the pierced Heart of Jesus, Chief Shepherd of the flock."

17. Daily Prayers. All members should say the Holy Spirit prayer daily and make the act of consecration daily. They should also pray the rosary each day. They are encouraged to use the other above prayers as time allows.

end of prayer manual
I Showed You the Way -- I Showed You Surrender

March 7, 1994 4:00a.m.

Jesus: You are the city set on the hill. You will shine with the intimate love of Jesus. I am the Son of God. I am He Whose bootstraps you are unworthy to tie.

I am Jesus and I loved My little ones to My death. Do you know even a little about what it is to give your life for someone? Do you think of yourself and ponder yourself being this selfless? People cannot even take one hour to sit with Me. The world has made you all blind. You do exactly as you want. Meditate on My sorrowful Passion. Read My meditations on the rosary. This was My life, given for you, My little loved ones. I gave My life for you and you want more? You want more proof and signs, yet you cannot even pray a few moments after Communion!

I am the Master. I taught you about selflessness and surrender. Look at My position on the cross. Yet you hold back. You want your comfort. You want to make the world your end! Oh, you give a little. You give Me what you dole out, a little here, a little there, and say, "Okay, Lord, I'm good. I pray prayers. I spend my life doing holy things, but I am in control of what and how much I give you. I am in control, Lord. Aren't you satisfied?"

I am only satisfied when you surrender your all to Me! You give Me such little bits and pieces and you pat yourself on the back and look at the sick world and say, "Well, I am pretty holy." This is not the point. You judge, you decide, you do your own will! This is you, playing the game of running your life! You give here, you keep there. I want your all. I want your time spent alone with Me in front of the tabernacle. I want you to have an ardent on-fire love affair with Me. When you love, you give. You say to your lover, "Oh, anything you ask for I will give to you." If you ask for my shirt, I will give you my cloak as well because I love you this much!"

You don't know about love. You control your relationships with Me. Then what hurts My aching heart is how you talk about the love of God. There is not love in your actions. If you came and spent your life with Me, if you freely gave sacrifices for Me, this is love!

You look to the world and you judge yourself as doing so much. Look to Me, hanging on the cross, and judge yourself by My standards. I call you to an ardent love affair with Me. I call you to love--love of God, love of one another.

You do not have love for one another because you do not love God first. Love gives its all. Love does not seek itself. Love gives freely!

I died on the cross to teach you how to love. I am the Master. If you look to the world and judge yourself, you are not learning any lessons from Me. You must look to Me to learn from Me.

Look at Me on the cross, My arms outstretched, hanging from the cross. I gave My all! I gave Myself for love of you. I held not back a little. I held not back and I, God, could have stopped it all, but I gave you freely from the bottom of My heart with greatest love for you!

This, My sweet ones, is love. I showed you the way. I showed you surrender. I am Jesus Christ and I write to you. Do you listen? Oh, you, in your busy lives, do not surrender to Me even now.

What do I do to shake My beloved ones? You are all blind and dense. Look at how attached you truly are. You do not surrender. You do your will, you do your thing. I tell you over and over again to come and pray with Me for long periods. I tell you to pray after Communion. I write about praying before the tabernacle, but you do your will. You go to the world. You ask your questions there. You look for answers from each other. You do not surrender even one hour of your time.

I come and you receive Me, the Son of God, in Holy Communion! Do you stay and sit with Me or do you do what you want? I died for you, yet you cannot let go of even little things.

I am Jesus, Son of God. If you who profess to love Me cannot give of your life to Me, how do you expect others to learn from you? You teach as you are. You teach in your actions. Your actions are selfish and centered on self. I call you to denial of self and love of God.

One person fixed to the true life of Christ can move a mountain. You follow the world and try to do it yourself.

I preach coming to Me and sitting with Me. I, God, have all the answers. No one listens. What do I do to shake My faithful ones in their comfort?

I am Jesus Christ, Son of the Living God. I want to dwell in you and operate with the power of God. I invite you to My altar. I sit and wait with all the answers and you, in your pride, tell Me, "I am too busy."

Busy yourself for your day is at hand and you will know My might! I will shake the earth and you will listen. Then you will listen, but where were you when I gave you forewarning? You are waiting for the big boom. I am calling you now to listen to Me here.

Play your safe game. Waste your time. I am God and I am talking to you. You do it your way. I sit with the answers. Every answer is given here. I want My beloved ones to read these letters. I grow so tired of your foolishness. I am God and you are busy. Die to yourself, child. I showed you the way. I lead. You must follow Me!

I am your God. You shall have no gods before Me! Do you pray to Me in silence? You want your answers given to you. You want My love given instantly as you demand. I am waiting for a love affair with you. The fire of love is enkindled. Love is time spent together. Lovers sit together for long hours and learn to know one another. Would you give so little of yourself to develop a love affair with Me? I sit, I wait. I am there at every moment in all the tabernacles of this world, and you are busy!

Time is so short. One moment and it is up in smoke.

All that remain are the things of God. You are here to know, love and serve Me. I am sending out an urgent plea to publish all these messages--now.

These letters will turn the cold hearts to love. Do you not think I have all the power? You tarry, you deliberate. I grow tired. I am God and no one listens. You want Me your way. You want Me to come your way.

I sweetly tell you, in My gentle love letters, that I come, Jesus, the Son of God, gently in Communion. You are numb and blind. You want Me to roll drums and blare trumpets, but I come in the quiet moments. I roll no drums, I blare no trumpets. I come and you miss My calls!

What do I do to shake you? I, in all My might, can rock you off your rockers. I try to prepare you but you are too busy. Hold on to your last piece of dust and watch it go up in your face!

I am Jesus Christ, Son of God and I write to you and who pays heed here? This should tell you of your attachment to worldly things. You want proof. You look the other way. I am God and you contain the mighty medicine for this sick world. I am Jesus, the Son of God. Do you listen? Look at Me, dying on the cross. I gave My all for you. Do you not think I would send a mighty medicine this day for you? You are so blind. You do not listen.

I, God, talk here to you this very day.

end of March 7, 1994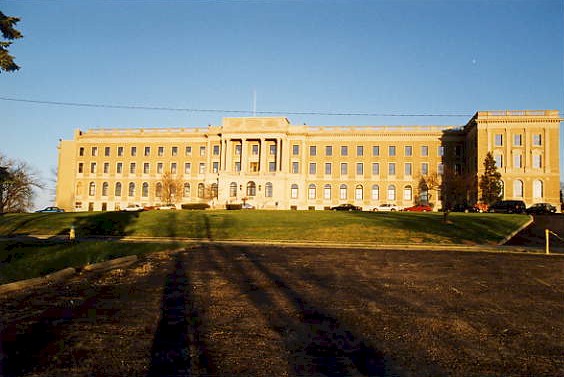 You can help put the Blue Book V
in the hands of 1,000 people
we need $1,100 postage for this
It is ready to go
Call Kathleen
1-888-211-3041
You can help put Fr. Joe's homily
book in the hands of
1,000 priests — it costs $1,100
This can help 1,000 parish priests
talk about Covenant for Lent
Please help us
It is ready to go
Call Kathleen 1-888-211-3041
March 5, 2009
Mary told me to take this picture
while she appeared and
Jesus appeared on the Cross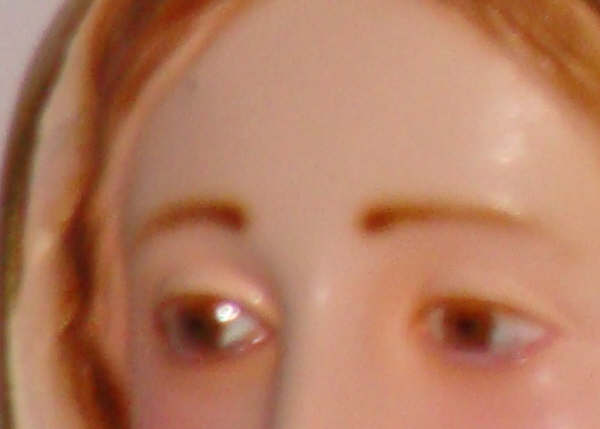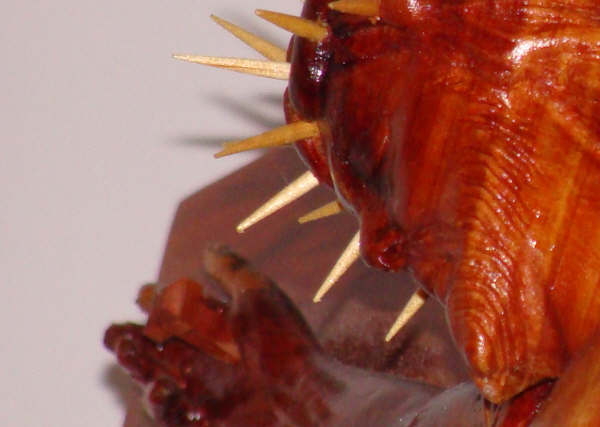 She was looking at people
in the room in the Clearwater Building
From 1994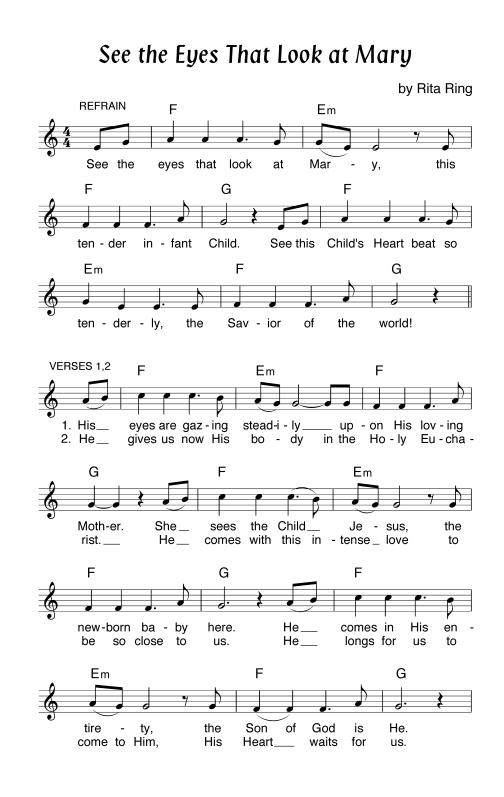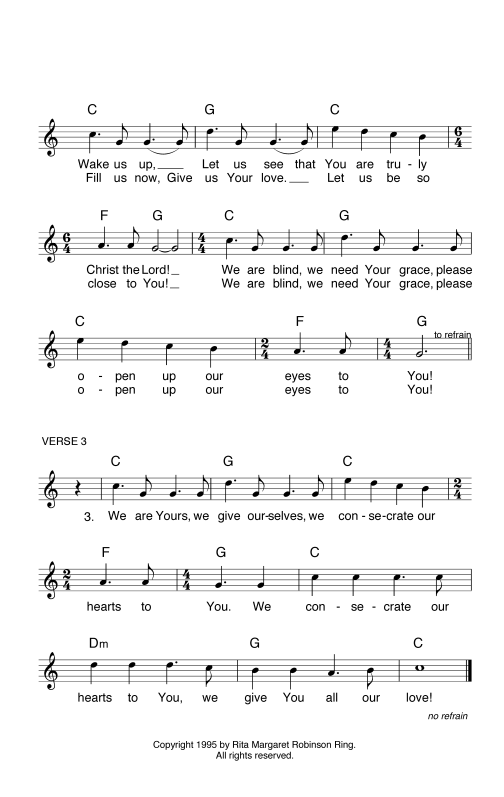 Our Lady of Clearwater Florida


July 5, 2000


September 5, 2000


October 5, 2000


November 5, 2000


December 5, 2000
| | | | | |
| --- | --- | --- | --- | --- |
| January 5, 2001 | February 5, 2001 | March 5, 2001 | April 5, 2001 | May 5, 2001 |
| | | | | |
| --- | --- | --- | --- | --- |
| June 5, 2001 | July 5, 2001 | August 5, 2001 | September 5, 2001 | October 5, 2001 |
| | | | | |
| --- | --- | --- | --- | --- |
| November 5, 2001 | December 5, 2001 | January 5, 2002 | February 5, 2002 | March 5, 2002 |
| | | | | |
| --- | --- | --- | --- | --- |
| April 5, 2002 | May 5, 2002 | June 5, 2002 | July 5, 2002 | September 5, 2002 |
| | | | |
| --- | --- | --- | --- |
| October 5, 2002 | November 5, 2002 | January 5, 2003 | February 5, 2003 |
| | | | | |
| --- | --- | --- | --- | --- |
| April 5, 2003 | May 5, 2003 | July 5, 2003 | August 5, 2003 | September 5, 2003 |

We chose to put more than just one of each of these 5ths because of they're importance.


October 5, 2003




November 5, 2003
Jesus instructed the prayer service
be done inside

November 5, 2003
Jesus instructed the prayer service
be done inside

December 5, 2003
Jesus instructed the prayer service
be done inside

December 5, 2003
Jesus instructed the prayer service
be done inside

December 5, 2003
Jesus instructed the prayer service
be done inside


December 5, 2003


| | | | |
| --- | --- | --- | --- |
| January 5, 2004 | January 5, 2004 | January 5, 2004 | January 5, 2004 |
| | | |
| --- | --- | --- |
| February 5, 2004 | February 5, 2004 | February 5, 2004 |
| | |
| --- | --- |
| February 5, 2004 | February 5, 2004 |
| | |
| --- | --- |
| February 5, 2004 | March 5, 2004 |
| | |
| --- | --- |
| March 5, 2004 | March 5, 2004 |
| | |
| --- | --- |
| March 5, 2004 | March 5, 2004 |
Call Kathleen to Order any of the items below
1-888-211-3041