Mary has requested that the daily message be given each day to the world. It is read nightly at the prayer service from her Image Building in Clearwater, Florida, U.S.A. This is according to her request. All attempts will be made to publish this daily message to the world at 11 p.m. Eastern time, U.S.A.

---

We acknowledge that the final authority regarding these messages rests with the Holy See of Rome.

---
---
A Prayer for Intimacy with the Lamb, the Bridegroom of the Soul

Oh Lamb of God, Who take away the sins of the world, come and act on my soul most intimately. I surrender myself, as I ask for the grace to let go, to just be as I exist in You and You act most intimately on my soul. You are the Initiator. I am the soul waiting Your favors as You act in me. I love You. I adore You. I worship You. Come and possess my soul with Your Divine Grace, as I experience You most intimately.
---
Messenger: Include Our Lady of the Holy Spirit Center in 6:20 prayers.
---
Mary speaks: May is the month of the rosary, please use the School Rosary Program and unite to get it into the schools.
---
Letter to Schools
April 13, 2000

Dear Principals and Educators,

I give my heart to Jesus and Mary with you in love! Amen!

I am grateful for the opportunity to write to you about the School Prayer Program of Shepherds of Christ Ministries. We provide to school children rosaries, prayer cards, rosary meditations, books, and tapes. All of the materials which we distribute to schools have received the Imprimatur and are distributed free of charge on a donation basis.

Sample Rosary

We included in our mailing a sample rosary of the kind made by our numerous volunteers. It is possible to have rosaries made in your school colors. Please contact us if you are interested in this option or would like rosaries sent to you ASAP. There are many days in the month of May in which to organize a Rosary centered activity. There is still plenty of time to send materials to you. All you need to do is call our toll free number, and we will do our best to send the materials requested to you promptly.

Jacinta & Francisco

These are two of the three young Fatima visionaries who died soon after the apparitions of the Blessed Mother ended. The Holy Father hopes to travel to Fatima, Portugal in the month of May. The beatification of these children soon approaches. Perhaps you could interest your students in this story and find information about it on the Vatican Web site (www.vatican.va). The Blessed Mother came at Fatima as "Our Lady of the Rosary." She asked at Fatima that we do the following:

Consecration to the Hearts of Jesus and Mary -- until a sufficient number of people make and live the consecration, we will not have peace in the world.
Praying the rosary.
Observing the First Saturday Devotion.
Making reparation to the Hearts of Jesus and Mary.

Internet Site - www.sofc.org

Many materials for use in schools are available from our Internet site and can be downloaded free of charge. Available from the site are Portable Document Format (PDF) or html files of the following materials:

Consecration Cards (including consecrations to Jesus, Mary, & the Holy Spirit as requested at Fatima)
Rosary Aves (bead by bead rosary meditations)
Shepherds of Christ Prayer Manual (prayers for priests and to help renew the Church and the world)
Stations of the Cross, Rosary Meditations for Parents and Children, and other materials

Please copy and pass on this material to all interested parties. If you would like more information or any of the materials mentioned in this letter, please call our toll free number 1-888-211-3041.

In the Hearts of Jesus and Mary,

John Weickert

President,
Shepherds of Christ Ministries
(End of Letter to Schools)
---
Mary speaks: Print the material from the PDF files to give to schools.
Donations are needed for this purpose to spread rosary materials to the schools. Rosaries are made available for school children and people at the site.
Jesus speaks: I call all apostles to China June 11, 12, 13, 14. If you want to be an apostle of the Shepherds of Christ you must follow the apostle's schedule. The apostles of the Sacred Heart recognized will be current apostles who wish to be recognized as such.
Apostles of the Sacred Heart in the Shepherds of Christ Movement are different than Apostles of the Eucharistic Heart of Jesus and prayer apostles.
Apostles of the Sacred Heart of Jesus commit themselves to a special program of prayer and dedication to the Movement.
Mary speaks: I wish the promises of the rosary to appear here.
---
The Promises of Mary given to those who pray the Rosary.
Over the years, in various apparitions, Mary has stressed the importance of the rosary. She has promised great blessings to those who pray the rosary. To St. Dominic and to Blessed Alan she stated:
Whoever shall faithfully serve me by the recitation of the Rosary, shall receive signal graces.
I promise my special protection and the greatest graces to all those who shall recite the Rosary.
The Rosary shall be a powerful armor against Hell, it will destroy vice, decrease sin, and defeat heresies.
It will cause virtue and good works to flourish; it will obtain for souls the abundant mercy of God; it will lift them to the desire of eternal things. Oh, that souls would sanctify themselves by this means.
The soul which recommends itself to me by the recitation of the Rosary shall not perish.
Whoever shall recite the Rosary devoutly applying himself to the consideration of its sacred mysteries shall never be conquered by misfortune. God will not chastise him in His justice, he shall not perish by an unprovided death; if he be just he shall remain in the grace of God, and become worthy of eternal life.
Whoever shall have a true devotion for the Rosary shall not die without the sacraments of the Church.
Those who are faithful to recite the Rosary shall have during their life and at their death the light of God and the plenitude of His graces; at the moment of death they shall participate in the merits of the saints in paradise.
I shall deliver from purgatory those who have been devoted to the Rosary.
The faithful children of the Rosary shall merit a high degree of glory in Heaven.
You shall obtain all you ask of me by the recitation of the Rosary.
All those who propagate the Holy Rosary shall be aided by me in their necessities.
I have obtained from my Son that all the advocates of the Rosary shall have for intercessors the entire celestial court during their life and at the hour of death.
---
Jesus speaks: I wish funds be provided to get the priestly newsletter in the hands of as many priests and sisters as possible, video and audio tapes will be available with the newsletter on them.
The video I speak of will be one in which the voice of the Editor is heard with a picture of the exposed Eucharist.
This video is not at the present time available.
Many newsletters, both in printed form and audio cassette form, are now available for priests and others engaged in religious studies in the Church.
Will you help Me get the newsletter in the hands of My priests?
I particularly desire the second priestly newsletter book be sent to bishops and priests in English and Spanish as soon as possible. Please pray for this.
God the Father speaks: I further ask that the building in Florida with the image of Mary be purchased by the Shepherds of Christ Movement to distribute these books and rosary material to the world. I desire the revelations from the Hearts of Jesus and May be made available in all languages. At present focus on the Imprimatur material in Spanish and French.
I wish prayer chapters started all over the world and the Holy Spirit Novena printed in large print and Spanish. I wish prayer cards circulated in Spanish.
I love you, I am the Father.
---
May 5, 1995
Consecrate Your Churches, Home and Workplace to Our Hearts
Jesus speaks:
I want you to consecrate the human race to Sacred Heart of Jesus. I want to be enthroned in all homes, churches, and businesses.

June is the month of the Sacred Heart. I want to be King and Center of all hearts. I will keep My promises given to St. Margaret Mary of Alacoque. I promise all this from My most Sacred Heart. Consecrate your chapter to the Sacred Heart of Jesus. Consecrate the church or room in which you hold your meeting.

Today is First Friday. I want you to circulate the message I gave to you on consecrating your homes to My Sacred Heart. Make booklets available for people to be able to consecrate their homes and businesses easily. Use the message I gave to you when you consecrated your home.

The Sacred Heart of Jesus will reign and the Immaculate Heart of Mary will triumph. Consecrate all homes and business to Our Two Hearts. Tell all to have displayed and honored, pictures of the Sacred Heart of Jesus and the Immaculate Heart of Mary. May and June are the months of Mary and the Sacred Heart of Jesus. Tell all to consecrate their homes to Our Two Hearts. I am the Sacred Heart of Jesus. On this day, the 5th of May, First Friday, I request that you spend the next two months encouraging all to do this consecration.

Gather your friends and say the prayers I have instructed you to say. Sing "To Jesus Heart All Burning" and "Immaculate Mary". May these Two Hearts of love give all members of the human race peace, joy and love in their hearts.

Messenger: Jesus says he desire to be honored by men in the Blessed Sacrament.

Jesus: Circulate the Blue Book messages. They promote this devotion. How My Heart is filled with happiness by the souls who come to the tabernacle and sit with Me. I am Jesus Christ, I wait and long and thirst for My precious souls to come. The souls of men have turned cold. I want souls to come daily to Communion and be with Me in front of the tabernacle.

Men's hearts have turned cold. They do not know what love really means. I want hearts that are filled with fire for love of God. Men's hearts have turned to stone.

You are to promote devotion to My most Sacred Heart. I want hearts to burn with love for My Heart. It is through Me that you will know the Father's love. I am the Way, I am the Truth, I am the Life.

Offer a holy hour for the indifference, ingratitude, and sacrileges committed against Jesus in the Blessed Sacrament, the Sacrament of His greatest love.

Messenger: He promises great graces to those who give reparation to His Sacred Heart and who tell others about offering reparation to Him.

(End of May 5, 1995 message)
---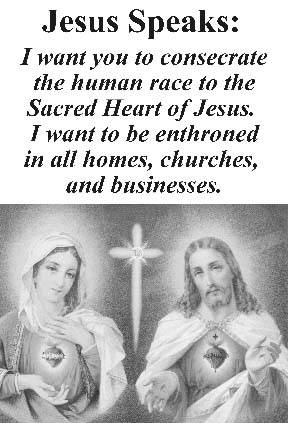 ---
Ezekiel 37:21-28
..."The Lord Yahweh says this: I shall take the Israelites from the nations where they have gone. I shall gather them together from everywhere and bring them home to their own soil. I shall make them into one nation in the country, on the mountains of Israel, and one king is to be king of them all; they will no longer form two nations, nor be two separate kingdoms. They will no longer defile themselves with their foul idols, their horrors and any of their crimes. I shall save them from the acts of infidelity which they have committed and shall cleanse them; they will be my people and I shall be their God. My servant David will reign over them, one shepherd for all; they will follow my judgements, respect my laws and practise them. They will live in the country which I gave to my servant Jacob, the country in which your ancestors lived. They will live in it, they, their children, their children's children, for ever. David my servant is to be their prince for ever. I shall make a covenant of peace with them, an eternal covenant with them. I shall resettle them and make them grow; I shall set my sanctuary among them for ever. I shall make my home above them; I shall be their God, and they will be my people. And the nations will know that I am Yahweh the sanctifier of Israel, when my sanctuary is with them for ever." '
---
Jeremiah 31:1-11
When that time comes, Yahweh declares, I shall be the God of all the families of Israel, and they will be my people.

Yahweh says this:
They have found pardon in the desert,
those who have survived the sword.
Israel is marching to his rest.
Yahweh has appeared to me from afar;
I have loved you with an everlasting love
and so I still maintain
my faithful love for you.
I shall build you once more,
yes, you will be rebuilt,
Virgin of Israel!
Once more in your best attire,
and with your tambourines,
you will go out dancing gaily.
Once more you will plant vineyards
on the mountains of Samaria
(those who plant will themselves
enjoy the fruit).
Yes, a day will come
when the watchmen shout
on the mountains of Ephraim,
'Up! Let us go up to Zion,
to Yahweh our God!'

For Yahweh says this:
Shout with joy for Jacob!
Hail the chief of nations!
Proclaim! Praise! Shout,
'Yahweh has saved his people,
the remnant of Israel!'

Watch, I shall bring them back
from the land of the north
and gather them in
from the far ends of the earth.
With them, the blind and the lame,
women with child, women in labour,
all together: a mighty throng
will return here!
In tears they will return,
in prayer I shall lead them.
I shall guide them to streams of water,
by a smooth path
where they will not stumble.
For I am a father to Israel,
and Ephraim is my first–born son.

Listen, nations, to the word of Yahweh.
On the farthest coasts and islands
proclaim it, say,
'He who scattered Israel is gathering him,
will guard him as a shepherd
guarding his flock.'
For Yahweh has ransomed Jacob,
rescued him from a hand
stronger than his own.
---
Mary's Message from the Rosary of August 27, 1996
Mary speaks: I stood beneath the cross of my Son, and my Heart was in such pain for I saw Him before my eyes. I saw Him covered with blood. I saw Him die. My Heart, my children, my Heart to watch my Son, but my Heart, my Heart, how I suffered for my little children of the world that give in to this world and give up the love of my Son. O my little children of light, I give you this message. Carry this light into the darkness for your Mother Mary, for I stood beneath the cross and I cried. I cried for the little ones. I cried for the young ones, the ones that do not care and will lose their souls. How do I make you see for you will not listen to me? What can I do? I come. I appear. I beg. I plead. I give you these gifts from my Son, and you reject me. I do not deliver messages very often anymore for I have been ignored. The message is the same. You do not read the messages I have given to you. Please help me. Help the little children. I appear. I appear. I appear, and I am ignored. I stood beneath the cross, and I cried. I cried, and my Heart was in such anguish for my little children, for I am searching for them this day as I searched for the Child Jesus. Please, please help me. I cannot hold back the hand of my Son any longer. I am Mary, your Mother. I ask you to help my children. You are my children of light.

Song: O Lady of Light, shining so bright, be with us this day, guiding our way, O Lady, O Lady of Light.

Mary speaks: I appear to you as Our Mother of Sorrows.
(End of Mary's Message)
---
MY VALENTINE FOR JESUS AND MARY
AND THE WORLD

I _________________ give my heart to
You Jesus and Mary on this day
_________________
I promise to help spread the devotion to
the Hearts of Jesus and Mary.
---
Question for married couples and others in intimate relationships:
Q: How often can we go to Mass together each week? How does it make me feel to go to Mass with you?
---
---
---
Copyright © 2000 Shepherds of Christ.
Rights for non-commercial reproduction granted:
May be copied in its entirety, but neither re-typed nor edited.
Translations are welcome but they must be reviewed for moral and theological accuracy by a source approved by Shepherds of Christ Ministries before any distribution takes place. Please contact us for more information.
All scripture quotes are from the New Jerusalem Bible, July 1990, published by Doubleday.
Revised: April 15, 2000
URL: http://www.SofC.org
Contact Information for Shepherds of Christ
Email: info@SofC.org
---
Shepherds of Christ Ministries
PO Box 193
Morrow, Ohio 45152-0193

Telephone: (toll free) 1-888-211-3041 or (513) 932-4451
FAX: (513) 932-6791