The Lord gave an urgent message to print
Tell My People on April 10th.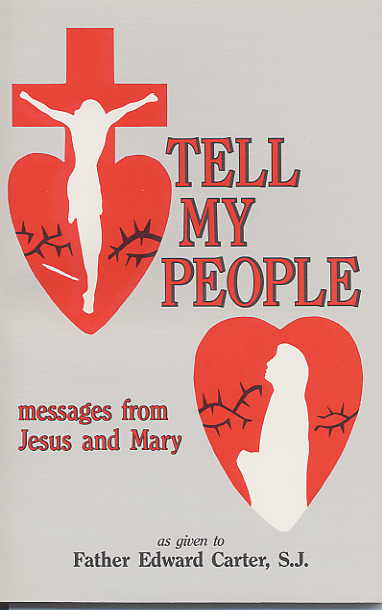 Can you please help us?
April 19, 2010
Always purifying our
motives —
Acts 6: 8-15
Stephen was filled with grace and power and began to work miracles and great signs among the people. Then certain people came forward to debate with Stephen, some from Cyrene and Alexandria who were members of the synagogue called the Synagogue of Freedmen, and others from Cilicia and Asia. They found they could not stand up against him because of his wisdom, and the Spirit that prompted what he said. So they procured some men to say, 'We heard him using blasphemous language against Moses and against God.' Having turned the people against him as well as the elders and scribes, they took Stephen by surprise, and arrested him and brought him before the Sanhedrin. There they put up false witnesses to say, 'This man is always making speeches against this Holy Place and the Law. We have heard him say that Jesus, this Nazarene, is going to destroy this Place and alter the traditions that Moses handed down to us.' The members of the Sanhedrin all looked intently at Stephen, and his face appeared to them like the face of an angel.
Psalm 119: 23-24, 26-27, 29-30
Though princes sit plotting against me,
your servant keeps pondering your will.
Your instructions are my delight,
your wishes my counsellors.

I tell you my ways and you answer me;
teach me your wishes.
Show me the way of your precepts,
that I may reflect on your wonders.

Keep me far from the way of deceit,
grant me the grace of your Law.
I have chosen the way of constancy,
I have moulded myself to your judgements.
John 6: 22-29
Next day, the crowd that had stayed on the other side saw that only one boat had been there, and that Jesus had not got into the boat with his disciples, but that the disciples had set off by themselves. Other boats, however, had put in from Tiberias, near the place where the bread had been eaten. When the people saw that neither Jesus nor his disciples were there, they got into those boats and crossed to Capernaum to look for Jesus. When they found him on the other side, they said to him, 'Rabbi, when did you come here?' Jesus answered:

In all truth I tell you,
you are looking for me
not because you have seen the signs
but because you had all the bread
you wanted to eat.
Do not work for food that goes bad,
but work for food
that endures for eternal life,
which the Son of man will give you,
for on him the Father, God himself,
has set his seal.

Then they said to him, 'What must we do if we are to carry out God's work?' Jesus gave them this answer, 'This is carrying out God's work: you must believe in the one he has sent.'
Jesus fed all these
people —
Jesus wanted them to see
more than filling their stomachs —
Jesus heals our sins in
confession and we don't even
see what a gift that is —
We can become evil in
our ways — People can become
addicted and then their addiction
they let rule their lives
From The Spiritual Exercises of St. Ignatius,
by Louis J. Puhl, S.J. p.11

21. SPIRITUAL EXERCISES

Which have as their purpose the conquest of self
and the regulation of one's life in such a way that
no decision is made under the influence of any
inordinate attachment
Letting go of inordinate attachments —
Addictions to food
Addictions to control
Addictions to manipulation —
The more one gets into bad habits —
the bad habits can develop more
and they become more evil
Faith can over come
sinful obstacles
I unite to the Holy Sacrifice of the Mass going
on around the world at this moment and
all day —
I want to be as You want me to be, My God,
I love You so much, I love You, I love You.
Thank You for the priest and for the Eucharist —
I unite to the sacrifice of Calvary,
sacramentally made present through
the hands of Your beloved priests —
I beg for grace now for myself, for the
Shepherds of Christ people, for all the
priests, the Church and the world —
Oh God, please outpour Your grace for all
my intentions — Oh God I am sorry
for my sins and the sins of the human race
Oh God I beg for mercy and forgiveness —
Oh God I love You so very much —
Oh God I thank You for Your blessings
upon me — upon the world — upon
my family, upon the Shepherds of Christ
Oh God I want to make reparation for the
sins of the human race
Oh Father I pray to You, united to the sacrifice
of Jesus in the Mass, in the Holy Spirit, through
the intercession of Mary my Mother,
with all the angels and saints and the souls
in purgatory —
Oh God I pray so deeply, Oh God I trust in
You — Oh God I have faith in Your
hearing my prayer and helping me —
Oh God I pray for my personal intentions —
Oh God — hear me and help me — my beloved —
my sweet and adoring God — Thank You for
Your gifts to me
Oh God — thank You
Oh God — I love You
Oh God - I am sorry for my sins
Oh God I am sorry for the sins of the
Shepherds of Christ, the members of the
Church, the human race —
One little light in the darkness —
Oh God — I know Your light in me —
Oh God — Peace — I want peace, not conflict,
punishment, anger — resentment —
bitterness
Oh God make my heart pure —
I love You God with all my heart —
Heal my sinful soul, oh God —
Make me always obedient to You —
Help me God, so I am never separated
from You
Oh God, I love You so much —
From November 13, 1996 Rosary
The Scourging at the Pillar

1. He has called us, His special apostles, to hear this message. Each and every person in this room has been called by Jesus. Do not focus on me. Open your heart and listen to the message that He wishes to deliver to you. The Almighty God is calling us to help in the renewal of the Church and the world. As we meditate on these Sorrowful Mysteries of the rosary, as we see how Jesus suffered to His brutal death on the cross, why do we not think that He would send messages this day to help in the renewal of His beloved Church to help to lead souls to His most Sacred Heart? There is sickness in the world and in the Church. He is delivering these messages to draw all to the mighty medicine which is His burning love. We are hungry. We are starving. We want to be fed. We will only be fed with the love of God. He is delivering these messages of His love. We are His apostles that He is sending out to the world to carry this message of His love, to light up the darkness. Can we say "no" to Jesus? Open your heart and listen to the message. Do not focus on me. Focus on the message He wishes to deliver to you and meditate on His suffering, how He gave Himself to His death on the cross.
Jesus: There are so many books of
untruthful material leading
men off and I have given Shepherds
of Christ My personal letters of love
to feed their hungry souls —
Why do you not see all the printed
untruthful rubbish bombarding
My people and you I have called
to spread My books spread
a couple of books — from
My Heart —
Why do you call yourself
Apostles of the Shepherds of Christ
Movement?
R. Jesus wants us to love the
Eucharist —
to spend hours thinking
about God —
Being with God —
A burning love for Jesus
love for the blessed sacrament —
Jesus: What are you doing to do as
I asked?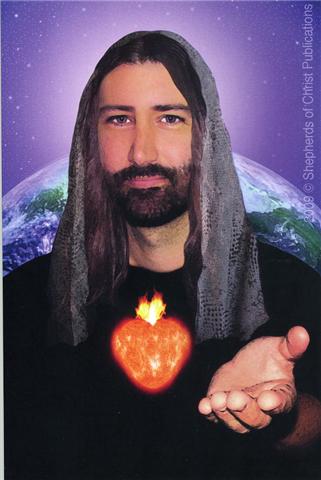 Prayer for Union with Jesus

Come to me, Lord, and possess my soul. Come into my heart and permeate my soul. Help me to sit in silence with You and let You work in my heart.

I am Yours to possess. I am Yours to use. I want to be selfless and only exist in You. Help me to spoon out all that is me and be an empty vessel ready to be filled by You. Help me to die to myself and live only for You. Use me as You will. Let me never draw my attention back to myself. I only want to operate as You do, dwelling within me.

I am Yours, Lord. I want to have my life in You. I want to do the will of the Father. Give me the strength to put aside the world and let You operate my very being. Help me to act as You desire. Strengthen me against the distractions of the devil to take me from Your work.

When I worry, I have taken my focus off of You and placed it on myself. Help me not to give in to the promptings of others to change what in my heart You are making very clear to me. I worship You, I adore You and I love You. Come and dwell in me now.

-God's Blue Book, January 17, 1994