The Lord gave an urgent message to print
Tell My People on April 10th.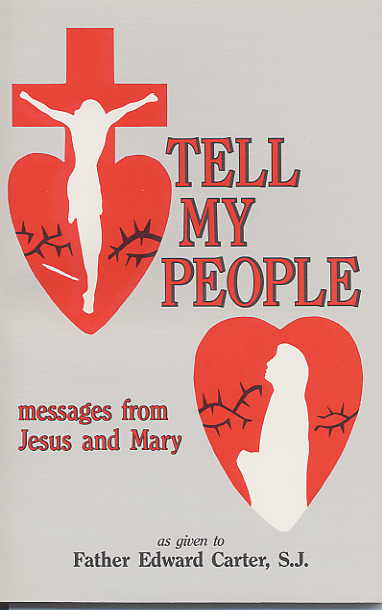 Can you please help us?
April 23, 2010
Song: A Priest is a Gift from God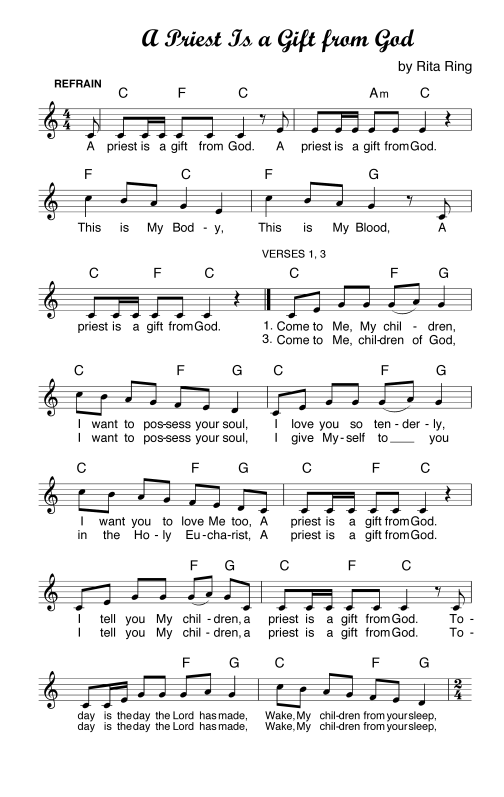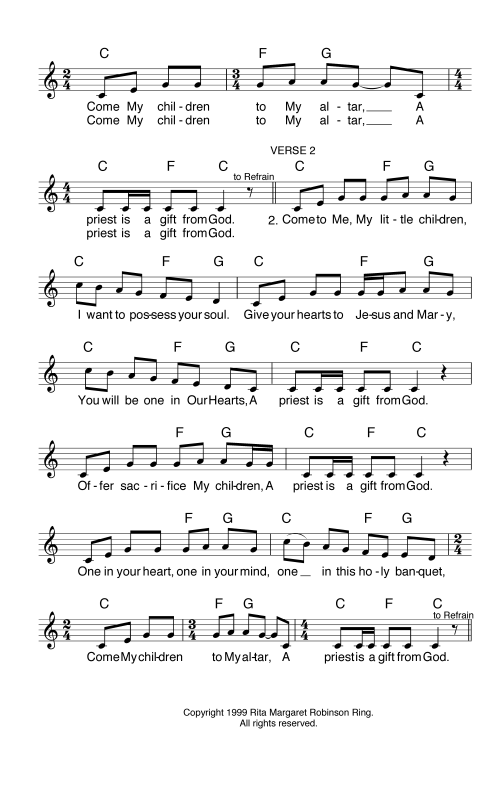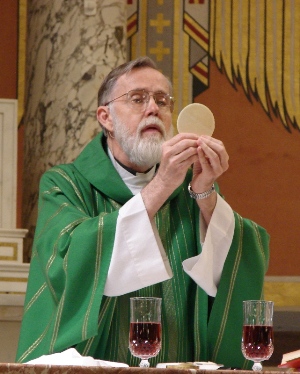 For love of us — the people to come — Jesus said
"Do this in memory of Me"
Excerpt from Priestly Newsletter
Humility is a very important virtue given to us for the spiritual journey.

Humility is both the realization of what we are as creatures of God and the concrete implementation of this realization in our Christian lives. Humility, therefore, is not an exercise in self-depreciation; it is not telling yourself that you are no good, that you really have nothing of any significance to contribute to the service of God. Humility is based on truth. It is compatible with the recognition that God has given a person certain gifts, even great gifts, of nature and grace. If we do not recognize our God-given gifts, we do not thank God for them as we should, nor properly develop these gifts according to His will. God wants us not only to recognize the good that is in us, but also to realize the source of this goodness. Although we have a responsibility to cooperate with His graces, God is the One Who is chiefly responsible for what we are. If one person has advanced to a level in the Christian life that is beyond the level of another, it is ultimately because God has given that person greater graces.

If humility is based on truth and, consequently, allows us to properly recognize our gifts, it also necessitates that we admit to the evil within us, which is also part of the truth and must be acted upon. Humility not only bids us to admit that there is evil in us, but also tells us that, as creatures of God, we should conform to His will and work against this evil side of our persons. In summary, humility allows us to properly evaluate both the good and evil within ourselves.

Here is a quotation from St. Paul which helps us to preserve, and grow in, humility: Who made you so important? What have you got that was not given to you? And if it was given to you, why are you boasting as though it were your own? (1 Cor 4:7).

And in the Letter of James we read: Humble yourselves before the Lord and he will lift you up. (Jm 4:10)
John 6: 52-59
Then the Jews started arguing among themselves, 'How can this man give us his flesh to eat?' Jesus replied to them:

In all truth I tell you,
if you do not eat
the flesh of the Son of man
and drink his blood,
you have no life in you.
Anyone who does eat my flesh
and drink my blood
has eternal life,
and I shall raise that person up
on the last day.
For my flesh is real food
and my blood is real drink.
Whoever eats my flesh
and drinks my blood
lives in me
and I live in that person.
As the living Father sent me
and I draw life from the Father,
so whoever eats me
will also draw life from me.
This is the bread
which has come down from heaven;
it is not like the bread our ancestors ate:
they are dead,
but anyone who eats this bread
will live for ever.

This is what he taught at Capernaum in the synagogue.
John 17: 20-23
I pray not only for these
but also for those
who through their teaching
will come to believe in me.
May they all be one,
just as, Father, you are in me
and I am in you,
so that they also may be in us,
so that the world may believe
it was you who sent me.
I have given them the glory
you gave to me,
that they may be one as we are one.
With me in them and you in me,
may they be so perfected in unity
that the world will recognise
that it was you who sent me
and that you have loved them
as you have loved me.
Jesus tells us Himself
In this communion we are made more one in
Him
We live in Him —
Acts 9: 1-20
Meanwhile Saul was still breathing threats to slaughter the Lord's disciples. He went to the high priest and asked for letters addressed to the synagogues in Damascus, that would authorise him to arrest and take to Jerusalem any followers of the Way, men or women, that he might find.

It happened that while he was travelling to Damascus and approaching the city, suddenly a light from heaven shone all round him. He fell to the ground, and then he heard a voice saying, 'Saul, Saul, why are you persecuting me?' 'Who are you, Lord?' he asked, and the answer came, 'I am Jesus, whom you are persecuting. Get up and go into the city, and you will be told what you are to do.' The men travelling with Saul stood there speechless, for though they heard the voice they could see no one. Saul got up from the ground, but when he opened his eyes he could see nothing at all, and they had to lead him into Damascus by the hand. For three days he was without his sight and took neither food nor drink.

There was a disciple in Damascus called Ananias, and he had a vision in which the Lord said to him, 'Ananias!' When he replied, 'Here I am, Lord,' the Lord said, 'Get up and go to Straight Street and ask at the house of Judas for someone called Saul, who comes from Tarsus. At this moment he is praying, and has seen a man called Ananias coming in and laying hands on him to give him back his sight.'

But in response, Ananias said, 'Lord, I have heard from many people about this man and all the harm he has been doing to your holy people in Jerusalem. He has come here with a warrant from the chief priests to arrest everybody who invokes your name.' The Lord replied, 'Go, for this man is my chosen instrument to bring my name before gentiles and kings and before the people of Israel; I myself will show him how much he must suffer for my name.' Then Ananias went. He entered the house, and laid his hands on Saul and said, 'Brother Saul, I have been sent by the Lord Jesus, who appeared to you on your way here, so that you may recover your sight and be filled with the Holy Spirit.' It was as though scales fell away from his eyes and immediately he was able to see again. So he got up and was baptised, and after taking some food he regained his strength.

After he had spent only a few days with the disciples in Damascus, he began preaching in the synagogues, 'Jesus is the Son of God.'
Psalm 117: 1, 2
Alleluia!
Praise Yahweh, all nations,
extol him, all peoples,
for his faithful love is strong
and his constancy never*ending.
Holy Spirit Prayer
Come, Holy Spirit, almighty Sanctifier, God of love, who filled the Virgin Mary with grace, who wonderfully changed the hearts of the apostles, who endowed all Your martyrs with miraculous courage, come and sanctify us. Enlighten our minds, strengthen our wills, purify our consciences, rectify our judgment, set our hearts on fire, and preserve us from the misfortunes of resisting Your inspirations. Amen.
Our Church is a Eucharistic Church
We receive the Body and Blood of Jesus in Holy Communion —
Jesus fills us with His life —
Colossians 2: 12
You have been buried with him by your baptism; by which, too, you have been raised up with him through your belief in the power of God who raised him from the dead.
We are to be truly followers of Christ — filled with the Holy Spirit —
Ready to witness the Good News
Come Holy Spirit fill us with the fire of God's love
Putting ourselves on the throne is spiritual death —
See through the eyes of God — the Father's plan —
Let go of control that keeps us stuck in the mud —
Let the Spirit lead us into following Christ and
living by the Father's will
To be a Christian truly — in my ways — not a dead name
I call myself — But to truly LIVE IN CHRIST —
Be one in Christ, Put on Christ, live the Christ-life —
Life in the Spirit, to be courageous for Christ —
filled with joy and energy for our Beloved — not
growing weary for our love of Christ —
We imitate Christ
Christ lives in us — Jesus who lived and rose —
now lives in us — we carry out His work —
He is our Master — our all — to follow His
patterns He taught us — as a child who
loves and follows their Father — we love
and follow in the footsteps of Jesus —
we eat His Body, we drink His Blood —
we are one in Him
Galatians 2: 19-20

...I have been crucified with Christ and yet I am alive; yet it is no longer I, but Christ living in me.
To live our faith filled with the Holy Spirit —
Not to be tied down by control where we limit
ourselves and block God's Plan for us
Jesus tells us in the Bread of Life Discourse we must eat
His Body and drink His Blood —
Revelation 5: 12
loudly chanting:

Worthy is the Lamb that was sacrificed
to receive power, riches, wisdom,
strength, honour, glory and blessing.
Saul persecuted Jesus — He was called by God to do
this marvelous work — Praise God
The early Christians lived simply and lived and followed Christ —
They loved — they were holy, selfless —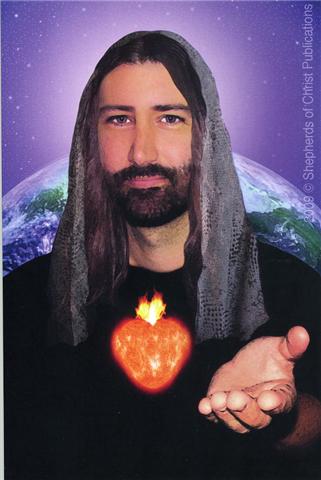 Prayer for Union with Jesus

Come to me, Lord, and possess my soul. Come into my heart and permeate my soul. Help me to sit in silence with You and let You work in my heart.

I am Yours to possess. I am Yours to use. I want to be selfless and only exist in You. Help me to spoon out all that is me and be an empty vessel ready to be filled by You. Help me to die to myself and live only for You. Use me as You will. Let me never draw my attention back to myself. I only want to operate as You do, dwelling within me.

I am Yours, Lord. I want to have my life in You. I want to do the will of the Father. Give me the strength to put aside the world and let You operate my very being. Help me to act as You desire. Strengthen me against the distractions of the devil to take me from Your work.

When I worry, I have taken my focus off of You and placed it on myself. Help me not to give in to the promptings of others to change what in my heart You are making very clear to me. I worship You, I adore You and I love You. Come and dwell in me now.

-God's Blue Book, January 17, 1994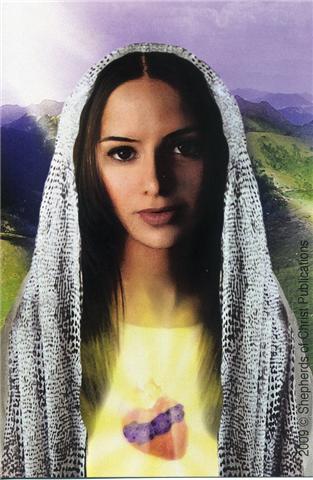 A Prayer for Intimacy with the Lamb, the Bridegroom of the Soul
Oh Lamb of God, Who take away the sins of the world, come and act on my soul most intimately. I surrender myself, as I ask for the grace to let go, to just be as I exist in You and You act most intimately on my soul. You are the Initiator. I am the soul waiting Your favors as You act in me. I love You. I adore You. I worship You. Come and possess my soul with Your Divine Grace, as I experience You most intimately.
Prayer Card 4" x 6"

.50¢ each plus postage

size 5 1/2" x 8 1/2"
$1.00 plus postage

Statues

| | | |
| --- | --- | --- |
| | | |
| Sacred Heart of Jesus w/glass - 18 | Our Lady-Guadalupe w/glass - 12 | Limpias - 8 |
| | | |
| Immaculate Heart w/glass - 18 | I Heart - Ivory w/glass - 18 | Our Lady of Grace w/glass - 18 |
| | | |
| Our Lady-Mt. Carmel w/glass - 18 | Our Lady of Lourdes w/glass - 18 | Infant of Prague w/glass - 24 |
| | | |
| Sacred Heart of Jesus w/glass - 24 | Sacred Heart -Blessing w/glass - 24 | Sorrowful Mother w/glass - 24 |
| | | |
| I Heart - Ivory w/glass - 24 | I Heart of Mary w/glass - 24 | Our Lady of Lourdes w/glass - 24 |
| | | |
| Our Lady-Guadalupe w/glass - 28 | Our Lady of Grace w/glass - 24 | Our Lady-Mt. Carmel w/glass - 24 |
| | | |
| Fatima w/glass - 11 | Pilgrim Virgin w/glass - 12 | Pilgrim Virgin w/glass - 15 |
| | | |
| Fatima w/glass - 18 | Pilgrim Virgin w/glass - 18 | Pilgrim Virgin w/glass - 27 |

| | | |
| --- | --- | --- |
| St. Padre Pio | St. Joseph | St. Therese |
| | | |
| St. Francis | St. Anthony | St. Claire |
| | | |
| Limpias | St. Jude | Divine Mercy |
| | | |
| Holy Family | Angel | St. Philomena |
| | | |
| Pieta - Marble | Pieta - Color | Holy Family |
| | | |
| St. Anthony - 18 | St. Francis - 18 | St. Joseph - 18 |
| | | |
| St. Therese - 18 | St. Rita - 18 | St. Clare - 12 |
| | | |
| St. Rita - 12 | St. Padre Pio - 12 | Divine Mercy - 12 |


Shepherds of Christ Ministries
P. O. Box 627
China, IN 47250

Toll free - 1-888-211-3041
Local - 1-812-273-8405
fax - 1-812-273-3182
web: www.sofc.org
e-mail: info@sofc.org


| | | | |
| --- | --- | --- | --- |
| | Size | Price | Quantity |
| Holy Family | 24" | $180 | |
| Limpias | 24" | $125 | |
| St. Anthony | 24" | $125 | |
| St. Claire | 24" | $125 | |
| St. Francis | 24" | $125 | |
| St. Joseph | 24" | $125 | |
| St. Jude | 24" | $125 | |
| St. Padre Pio | 24" | $125 | |
| St. Therese | 24" | $125 | |
| Divine Mercy | 22" | $125 | |
| Angel | 22" | $100 | |
| St. Philomena | 20" | $100 | |
| St. Philomena | 16" | $65 | |
| St. Joseph | 18" | $65 | |
| St. Francis | 18" | $65 | |
| St. Anthony | 18" | $65 | |
| St. Rita | 18" | $65 | |
| St. Therese | 18" | $65 | |
| Pieta - Color | 15" | $75 | |
| Pieta - Marble | 15" | $75 | |
| Holy Family | 12" | $60 | |
| St. Padre Pio - standing | 12" | $40 | |
| St. Padre Pio - sitting | 8" | $50 | |
| St. Rita | 12" | $40 | |
| Divine Mercy | 12" | $40 | |
| St. Claire | 12" | $40 | |
| Limpias | 8" | $25 | |
| Our Lady of Guadalupe w/glass | 28" | $500 | |
| Our Lady of Mt. Carmel w/glass | 24" | $500 | |
| Immaculate Heart of Mary w/glass | 24" | $500 | |
| Immaculate Heart - Ivory w/glass | 24" | $500 | |
| Infant of Prague w/glass | 24" | $500 | |
| Our Lady of Grace w/glass | 24" | $500 | |
| Our Lady of Lourdes w/glass | 24" | $500 | |
| Sacred Heart of Jesus w/glass | 24" | $500 | |
| Sacred Heart -Blessing w/glass | 24" | $500 | |
| Sorrowful Mother w/glass | 24" | $500 | |
| Immaculate Heart of Mary w/glass | 18" | $300 | |
| Immaculate Heart - Ivory w/glass | 18" | $300 | |
| Sacred Heart of Jesus w/glass | 18" | $300 | |
| Our Lady of Lourdes w/glass | 18" | $300 | |
| Our Lady of Grace w/glass | 18" | $300 | |
| Our Lady of Mt. Carmel w/glass | 18" | $300 | |
| Our Lady of Guadalupe w/glass | 12" | $200 | |
| Fatima w/glass | 11" | $150 | |
| Fatima w/glass | 18" | $250 | |
| Pilgrim Virgin w/glass | 12" | $160 | |
| Pilgrim Virgin w/glass | 15" | $200 | |
| Pilgrim Virgin w/glass | 18" | $250 | |
| Pilgrim Virgin w/glass | 27" | $450 | |


Call for Shipping Price (1-888-211-3041)


Name

Sub-Total
Address

IN Tax (7%)
City

Shipping
State Zip

Donation
Telephone

Order Total

Shepherds of Christ
P. O. Box 627
China, IN 47250

Call Shepherds of Christ

1-888-211-3041


Fr. Joe's Homily Books

Guiding Light - Cycle A
The Word Alive in Our Hearts

$10.00




Guiding Light - Cycle B
Focusing on the Word

$10.00


Guiding Light - Cycle C
Feed My Soul

$10.00

Fr. Carter's Books


Priestly Newsletter Book I

12 Newsletters
July 1994 - June 1996

$12.00


Priestly Newsletter Book 2

17 Newsletters
1996 - 1999

$12.00


Priestly Newsletter Book 3

4 Newsletters & Prayers
2000

$12.00

Response to God's Love



$10.00


Messages given
by Jesus and Mary 1994

Tell My People


$10.00



The Pain and the Joy

$10.00

Synopsis of the Spiritual Life

Spirituality Handbook
$3.00


Priestly Newsletter on CD
2000 - Issue 1

$10.00


Priestly Newsletter on CD
2000 - Issue 2

$10.00

Fr. Pasquini's Books


Authenticity



Prayers and Meditations

$10.00

In Imitation of Two Hearts

For those suffering or
in Nursing Homes

$10.00

Light, Happiness and Peace

Journeying through traditional
Catholic Spirituality

$10.00

Medicine of Immortality

Prayers and Meditations - will assist the reader in growth toward a deeper understanding of the mystery of the Eucharist

$10.00


Ecce Fides - Pillar of Truth





Ideal for RCIA, Adult & Youth Bible Study, Homeschooling, Catholic
Identity Studies

$10.00

Shepherds of Christ Newsletters
9 Newsletters
2006 - 2008



$36.00

DVDs and CDs by Fr. Pasquini





Authenticity DVD
Prayers on the Ocean

$10.00


Nursing Home Mass DVD

$10.00

Consolation DVD

$10.00

Medicine of Immortality
Read by Rita Ring

2 CDs - $17.00

In Imitation of Two Hearts DVD

$10.00




Consolation CD
by Fr. John

$8.00





Nursing Home Mass CD

$8.00


Holy Spirit Novena DVD

$10.00

Divine Mercy Chaplet DVD

$10.00

Call Shepherds of Christ

1-888-211-3041

Available for $10.00 plus postage

1-888-211-3041

Call Shepherds of Christ

God's Blue Books

God's Blue Book 1 –
Teachings to Lift You Up

$10.00




God's Blue Book 4 –
The Love of the Hearts of
Jesus and Mary

$5.00





God's Blue Book 2 –
The Fire of His Love

$10.00


God's Blue Book 5 –
So Deep Is the Love of His Heart

$5.00




God's Blue Book 3 –
Love God, Love One Another
(Fr. Carter's favorite)
$10.00





God's Blue Book 6 –
He Calls Us to Action

$10.00


Rosary Books





Rosaries from the
Hearts of Jesus and Mary

$10.00


Rosaries from the
Hearts of Jesus and Mary

$12.00

Rosary Meditations for
Parents and Children's

$10.00




Mysteries of Light 1

$5.00


Mysteries of Light 2

$5.00




Little People & Elderly Rosary Book

$10.00

Coloring Book
$5.00 each




Coloring Book
$5.00 each

Coloring Book
$5.00 each

Coloring Book
$5.00 each

Coloring Book
$5.00 each




Coloring Book
$5.00 each

We are trying to get

Response to God's Love

and the Mass Book out.


Anybody who wants to help us

with a donation to get these 2 books

out in the Priestly/hierarchy mailing —

Please call Shepherds of Christ

1-888-211-3041

July 31, 1994

Words of Jesus to Members of
Shepherds of Christ Associates:

"My beloved priest-companion, I intend to use the priestly newsletter, Shepherds of Christ, and the movement, Shepherds of Christ Associates, in a powerful way for the renewal of My Church and the world.

"I will use the newsletter and the chapters of Shepherds of Christ Associates as a powerful instrument for spreading devotion to My Heart and My Mother's Heart.

"I am calling many to become members of Shepherds of Christ Associates. To all of them I will give great blessings. I will use them as instruments to help bring about the triumph of the Immaculate Heart and the reign of My Sacred Heart. I will give great graces to the members of Shepherds of Christ Associates. I will call them to be deeply united to My Heart and to Mary's Heart as I lead them ever closer to My Father in the Holy Spirit."

- Message from Jesus to Father Edward J. Carter, S.J., Founder, as given on July 31, 1994,
feast of Saint Ignatius Loyola, Founder of the Society of Jesus (The Jesuits)




The China Church is over 140 years old

and we pray in there 24 hours a day.

It needs stucco and so does

the community building.

Can you please help us?

Call Shepherds of Christ

1-888-211-3041

Likewise the priest house

is 150 years old.

Jesus told us to repair it

which we have been doing.

We need $13,000.00 for this work.

You can help put the Blue Book V

in the hands of 1,000 people

we need $1,200 postage for this

It is ready to go

Call Shepherds of Christ

1-888-211-3041

Crucifix — hand carved by Felix

Available for $750.00

Brand New Internet Store