Shepherds of Christ
Daily Writing
April 24, 2009
April 25th Holy Spirit Novena
Scripture selection is Day 4 Period I.

The Novena Rosary Mysteries
for April 25th are Glorious.
China Retreat
May 11th thru May 14th
May 13th is the 92nd Anniversary
of Our Lady of Fatima's
first apparition
Please try to come.
Mass at 12 noon.
The church needs to have the stucco replaced

and also the community building.

It is about $38,000 to repair it.

People pray in the church 24 hours a day.

We have prayed in there for 11 years.

The archdiocese gave the church to us

for this purpose for a small price.

Can you help us?




Available for $10.00 plus postage

1-888-211-3041
April 24, 2009
John 4: 14
but no one who drinks the water
that I shall give
will ever be thirsty again:
the water that I shall give
will become a spring of water within,
welling up for eternal life.
Sirach 15: 15-17
If you choose, you will keep the commandments
and so be faithful to his will.
He has set fire and water before you;
put out your hand to whichever you prefer.
A human being has life and death before him:
whichever he prefers will be given him.
From Fr. Carter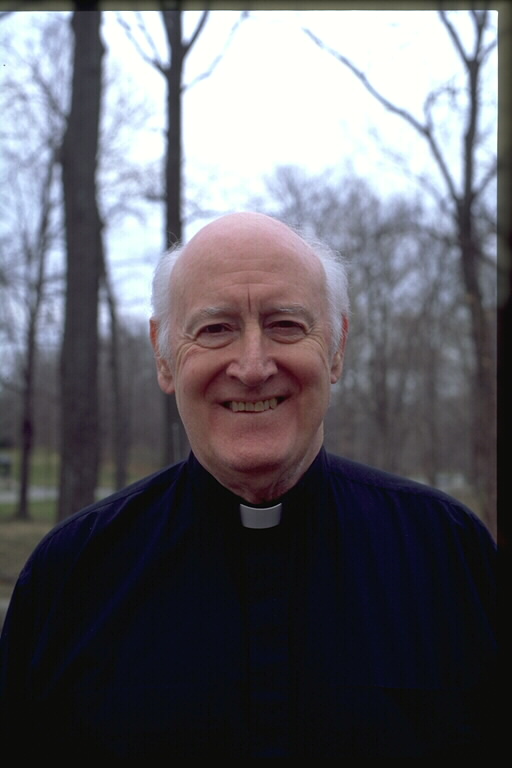 "We can use life in all sorts of
selfish ways. We can use it to draw
attention to ourselves, pretending
that the world revolves around us,
and that all should pay us due acclaim
as we strut arrogantly across the
stage of life. We can misuse life in the
hedonistic pursuit of pleasure,
deceiving ourselves that we are living
the good life, but in reality only
prostituting our human capabilities
and potentialities. We can foolishly
allow the beauty of life to waste
itself in hoarding material gain,
while the cry of our hungry brothers
fail to pierce the barrier of a hardened
heart. And silly status symbols — these
too can so grip our attention that they
almost become life's purpose. We can
also waste existence in the pursuit of
myriad experiences unworthy of a human
being, thereby marring with ugliness
the truth, the goodness, and the beauty
of the human life God has entrusted to
us.
If there is the possibility of betraying
the preciousness of life, there is also
the possibility which Jesus holds before us.
This is the choice we really want — the Authentic
self shouts out loud and clear telling us
this."
Genesis 1: 26-27

God said, 'Let us make man in our own image, in the likeness of ourselves, and let them be masters of the fish of the sea, the birds of heaven, the cattle, all the wild animals and all the creatures that creep along the ground.'

God created man in the image of himself,
in the image of God he created him,
male and female he created them.
1 John 4: 20
Anyone who says 'I love God'
and hates his brother,
is a liar,
since whoever does not love the brother
whom he can see
cannot love God whom he has not seen.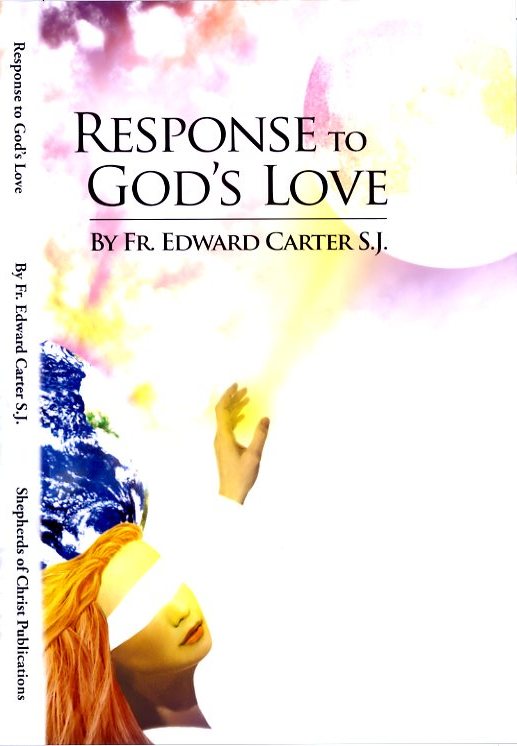 Available for $10.00 plus postage
1-888-211-3041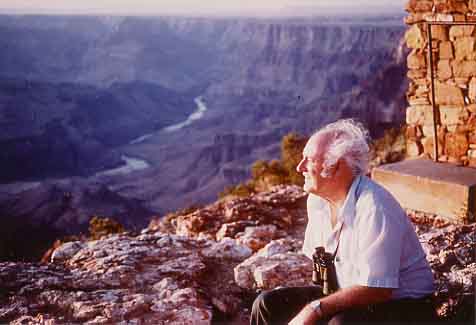 Fr. Carter had a dream.
From Response to God's Love by Fr. Edward J. Carter, S.J.
Becoming (excerpt)
... Full maturity in Christ is not suddenly achieved. Even after a relative maturity is attained, this maturity can always take deeper root. This gradual achievement in spiritual maturity can be viewed as a process of self-encounter, a process whereby we gain the proper, graced self-control amid many struggles. It is a becoming through an encounter with the true self, through a gradual achievement of that self-identity and uniqueness that God intends. This becoming is achieved through a path of progress that is not always perfectly upward: there is the reaching out for good, but also the succumbing to evil; there is the discovery of strengths and talents, but also the painful awareness of weaknesses and limitations. There are, in short, successes and failures. There is joy—sometimes intense joy—over what is achieved in personal growth; however, there are also periods of discouragement—sometimes moments of near despair—because further growth seems impossible. All this happens because the process of becoming has inherent within it a constant newness that is linked to a certain sameness. We are always the same persons, but always different persons, too.

Moreover, the process of becoming through a proper encounter with the true self takes place not in a vacuum, but rather, within the framework of an encounter with the material world, with human persons, and with God. The encounter with the material world—and, indeed, with the entire temporal order—is meant to be characterized by a correct use of creation, by periodic renunciation, and by a spirit of creativity. The correct use of material things enables the person to grow by respecting the fact that the bodily aspect of his or her being has situated him or her in a material world that is meant to serve the person's needs. The fact that persons are in part material beings means that one aspect of God's plan for men and women intends that they grow, that is to say, that they become, through the proper encounter with, or use of, the material.

As long as men and women are on this earth, there will always be in them both a sinful tendency and a thrust toward good, and, consequently, they do not always properly relate to the material. For an individual to achieve a correct use of material things and other temporal values, he or she must periodically renounce them. At times, becoming means not becoming in a certain way, not encountering this thing or this value.

Also, the material and temporal order offers wide possibilities for individual creative instincts. By shaping the raw stuff of creation through the various uses of one's creative forces, a person can become that which he or she was not. The imprint of one's creative image where it did not previously exist is a reflection of a certain development, or becoming, within the individual person.

As significant as the encounter with the material world may be, however, it is obviously not as important as the encounter with human persons. God intends that so much of our spiritual growth occur as a result of our proper encounter with others. So much of our growth toward mature personhood occurs in the give-and-take of personal encounter. Until rather recent years, spiritual teaching placed a great emphasis upon the correct performance of certain practices. That appeal, however, did not always properly emphasize the fact that those practices were important only to the extent that they deepened the Christian's personal relationship with God and his or her fellow men and women.

The selflessness that is required for authentic relationship to the other readily points out why encounter with persons is such an important contributing factor to true becoming. The Christian life is primarily a going out of ourselves to God and to human persons. This transcendence of self is not always easily achieved, however, precisely because it involves a process of overcoming the strong thrust of selfishness. Although going out of self to God is obviously the primordial relationship for the Christian, it is interesting to note that, through the words of Scripture, God tells us that our relationship to our neighbor is the criterion by which we are to judge our love for him:

If anyone says, "My love is fixed on God,"
yet hates his brother,
he is a liar.
One who has no love for the brother
he has seen
cannot love the God he has not seen.
—1 Jn 4:20

Going out to others, serving them, being for them, and loving them is a dynamic process. There is no set pattern that can perfectly serve all this. Surely there are certain established Christian principles and truths that govern our encountering and serving others; however, these truths have a certain flexibility built into them so that they can be assimilated to meet the particular situations of unique individuals. Our encounters with others—whether it be a case of relating to a partner in marriage or to a friend or to those who are recipients of our service or whatever—give proof to each of us, according to his or her own experience, that there can be no question of a static pattern of behavior to govern personal relationships. There is always the new, the unexpected, the surprising, or the significant change in behavior that must be considered along with the more stable elements that comprise personal encounter. Becoming by going out to the other truly is a dynamic process.

If an individual person grows toward Christian maturity through a proper encounter with material creation and other facets of the temporal order, as well as through encounters with others, individuals must especially grow, or become, through an encounter with God. Growth through encounters with both material creation and other persons is rooted in our maturing through the relationship with the great source of all becoming—namely, God himself. He himself is infinite being, and he constantly wants to communicate himself to us so that, drawing from his infinite source of life, we might become more what we are meant to be—more of what he desires that we become.

God draws us on to greater fulfillment according to the pattern of Christ's example and teaching. There is no other way according to which we progress to spiritual maturity. There is no Christian perfection that we can acquire, no possible development of our Christian personalities unless it occurs through Christ Jesus. The Spirit, however, does not superimpose this pattern of Christ upon us in an artificial way. The Spirit does not shape us according to the image of Christ without deep concern for our uniqueness; we are all different, and the Spirit supremely respects this fact. Furthermore, if the Spirit is of such an attitude, so must we be; we must not box ourselves in, all trying to fit into the exact same mold and maintaining that this is necessary because we must all follow the same Christ. The pattern of Christ is the creation of an infinitely wise God. He has arranged that the one pattern of Christ is also a pattern that has as many possibilities for unique assimilation as there are individual persons.

We all follow the one and same Christ and we must all have an attitude of complete openness, of expectancy concerning the unpredictable, an attitude that will allow the Spirit to lead us according to his way of forming us in the image of Christ. At times we might have a too minutely preconceived idea of how we will become in Christ and we are, therefore, somewhat rigid about the whole process. Although the following of Christ is basically the same for all, how can we be sure what particular path of imitation—mapped out in rather complete detail—the Spirit has prepared for each of us? We can certainly be tempted to think that we know with considerable certainty the way in which our becoming in Christ should logically evolve. We must learn, however, to balance an attitude of stability that is rooted in a certain way of life, a certain way of following Christ, with a spiritual freedom that makes us really open to what the Spirit wants of us, however surprising, novel, or unusual this may seem.

end of Response to God's Love
Attachments make us vulnerable
to emotional turmoil —
Wanting God's will is not being
attached to persons, places
or things — inordinately —
I read an example in an author
Fr. Carter used de mello —
of a person in a concentration camp —
who raised his hand to his mouth
with food — with one hand and
with the other hand protects the
food so his neighbor will not steal it —
This is the image of the attached person —
How can such an attached person
reach with surrender for those
things hoping to build the
Kingdom of God —
When one is attached to an
object, he says, and the object
is not attained it causes unhappiness —
But, he says, if it is attained, it
does not cause happiness — it is
a flash of pleasure and weariness —
St. Ignatius purpose of the
Spiritual Exercises are:
From The Spiritual Exercises of St. Ignatius, by Louis J. Puhl, S.J. p.11

21. SPIRITUAL EXERCISES

Which have as their purpose the conquest of self
and the regulation of one's life in such a way that
no decision is made under the influence of any
inordinate attachment
And the 1st principle and foundation is —
From The Spiritual Exercises of St. Ignatius, by Louis J. Puhl, S.J. p.12

23. FIRST PRINCIPLE AND FOUNDATION

Man is created to praise, reverence and serve God
our Lord, and by this means to save his soul.
Nothing makes us really happy
but doing God's will - in love —
Jesus spent His life teaching
us to give
Bishop Sheen talked about when
someone loves something they
reach out to acquire it — they
try to look so beautiful for the
person loved.
Mary and Jesus are beautiful —
full of light — pure —
This is the greatest commandment
Matthew 22: 36-40

'Master, which is the greatest commandment of the Law?' Jesus said to him, 'You must love the Lord your God with all your heart, with all your soul, and with all your mind. This is the greatest and the first commandment. The second resembles it: You must love your neighbour as yourself. On these two commandments hang the whole Law, and the Prophets too.'
A check can be made asking
oneself — what really makes
your lasting happiness —
If you feel something here or
someone here will bring you
fullness — you are wrong —
Only in heaven will we have the
fullness of life and here below
we were created to long for
this completeness in heaven —
A man loving God deeply knows
the pains of knowing Him
more — the agony to want to love
God ever more — the desire to know
more and more and more about God
insight into the hidden mystery —
to seek God — to be more deeply one
with Him —
Through the pierced Heart of Jesus
the Church was born — baptism that
gives us a sharing in His Divine Life —
baptism that elevates our knowing and
loving capacity to know more about
God and the mystery —
God reveals Himself to us
Excerpt from Response to God's Love

The Mystery of Christ and

Christian Existence

...God himself is the ultimate mystery. Radically, God is completely other and transcendent, hidden from man in his inner life, unless he chooses to reveal himself. Let us briefly look at this inner life of God.

The Father, in a perfect act of self-expression, in a perfect act of knowing, generates his son. The Son, the Word, is, then, the immanent expression of God's fullness, the reflection of the Father. Likewise, from all eternity, the Father and the Son bring forth the Holy Spirit in a perfect act of loving.

At the destined moment in human history, God's self-expression, the Word, immersed himself into man's world. God's inner self-expression now had also become God's outer self-expression. Consequently, the mystery of God becomes the mystery of Christ. In Christ, God tells us about himself, about his inner life, about his plan of creation and redemption. He tells us how Father, Son, and Holy Spirit desire to dwell within us in the most intimate fashion, how they wish to share with us their own life through grace. All this he has accomplished and does accomplish through Christ. St. Paul tells us: "I became a minister of this Church through the commission God gave me to preach among you his word in its fullness, that mystery hidden from ages and generations past but now revealed to his holy ones. God has willed to make known to them the glory beyond price which this mystery brings to the Gentiles—the mystery of Christ in you, your hope of glory. This is the Christ we proclaim while we admonish all men and teach them in the full measure of wisdom, hoping to make every man complete in Christ" (Col 1:25-28).

The Christian life, then, is rooted in the great event of the Incarnation. We must, consequently, always focus our gaze upon Christ, realizing that everything the Father wishes to tell us has been summed up in the life of Jesus of Nazareth. It only remains for us, then, to fathom ever more deeply the inexhaustible truth of the Word Incarnate: "In times past, God spoke in fragmentary and varied ways to our fathers through the prophets; in this, the final age, he has spoken to us through his Son, whom he has made heir of all things and through whom he first created the universe" (Heb 1:1-2).
end of excerpt
To possess people as objects
is to lead an empty, painful, sick
life —
Ask yourself is the joy of knowing
Jesus filling you more and more
every day to live a more resurrected
life.
Do you live an existence that is
tense, angry, divided, manipulative,
possessive — reaching for people
to control because you were
disempowered or insecure your
life long.
We are to live to walk in the
footprints of Jesus, to live to love —
that is to give to others for the sake
of good for the other and for all others —
To give as Christ did and not to count
the cost —
Its up to us to choose life
or to choose death
---
No one can control our free will —
If we choose death because we
become more and more angry
from not loving which God
created us for —
and in which our happiness
depends —
Then only we can get up and choose
to think loving thoughts,
thankful thoughts, thoughts
of unity AND LOVE —
We are here to love
Our eternal life and how
we matured in loving will
determine our life in
eternity —
We are in school here —
We are here to learn about obedience
to the Father's will,
to learn to love,
to be one as God intends —
The Church is
ONE, HOLY, CATHOLIC
and APOSTOLIC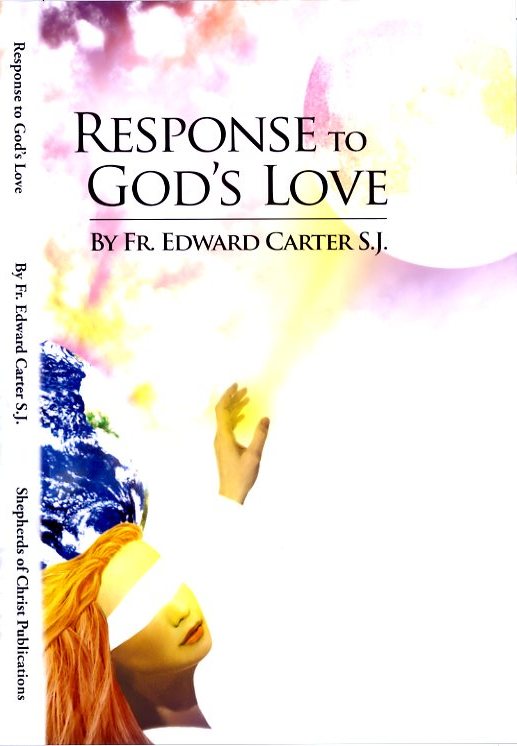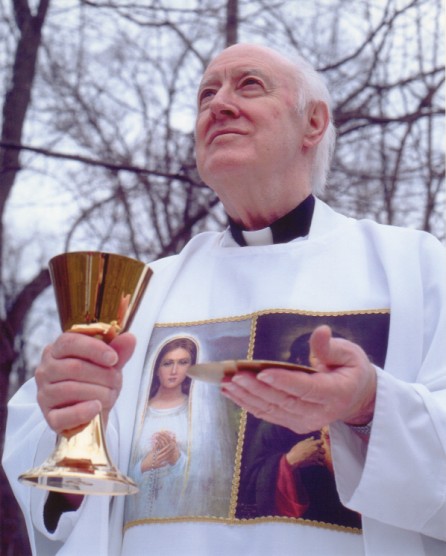 From Response to God's Love by Fr. Edward J. Carter, S.J.

Characteristics of the Spiritually Mature Christian (excerpt)...

... Psychologists tell us that mental and emotional health are commensurate with one's ability to perceive reality and respond to its demands. The mature Christian, then, is one who increasingly sees God, himself or herself, other people, and the rest of creation with a Christic faith-vision. The mature Christian not only sees, however; he or she responds and reacts accordingly, truly living the Christian perspective. Living according to this perspective, the mature Christian is characterized by a fundamental peace that the many and varied vicissitudes and sufferings in life cannot destroy. The mature Christian's existence is rooted in the peace that Jesus came to give.

A great aid in maintaining a proper perspective is the practice of prayer. We come, then, to yet another important characteristic of the mature Christian—the consistent desire to pray. Obviously, if we are to be followers of Jesus we must put on the mind of Christ and act according to this attitude. Prayer plays and extremely important role in assimilating the attitude of Jesus. In prayer, we allow the teaching of Jesus to penetrate our consciousness to such a degree that it increasingly influences what we think, what we say, what we do. The though of St. Paul thus becomes more our thought also: "I have been crucified with Christ, and the life I live now is not my own; Christ is living in me. I still live my human life, but it is a life of faith in the Son of God, who loved me and gave himself for me" (Gal 2:19-20).

As we put on the mind of Christ in prayer, we are experiencing a transformation of consciousness. Gradually the attitude of the false self—that is, the false self's way of viewing things—grows weaker and weaker, and more and more we arrive at the awareness of the true, Christic self. The light of prayer penetrates through the layers of the false self and increasingly illumines the dimensions of the true self. We grow, then, in the awareness of the Christic self along with a maturing realization of how the true self must manifest itself amid the various concrete circumstances of daily living. Hence, the strength derived from prayer complements its light. If the light of prayer reveals the true self, the strength of prayer yields the courage that is necessary to actually live according to this awareness.

The mature Christian is further characterized by a very noticeable trust in the Lord. The virtue of hope is an extremely important part of one's growth toward Christian maturity, and perhaps, in recent years, we have not given sufficient attention to it. The development of trust in the Lord is closely allied with a growing sense of one's helplessness. Jesus has told us that without him we can do nothing. The maturing Christian becomes increasingly aware of this truth. The further the committed Christian progresses in the ways of holiness, the more he or she realizes how much he or she needs the Lord; however, this sense of his or her weakness, far from being a source of discouragement, is rather a cause for optimism.

The mature Christian looks not only at his or her weaknesses, but much more at the strength of Christ. The mature Christian, realizing his or her helplessness, gladly abandons himself or herself to Jesus and increasingly draws upon Jesus for support. Such a Christian keenly appreciates what St. Paul has said: "But I refrain, lest anyone think more of me than what he sees in me or hears from my lips. As to the extraordinary revelations, in order that I might not become conceited I was given a thorn in the flesh, an angel of Satan to beat me and keep me from getting proud. Three times I begged the Lord that this might leave me. He said to me, 'My grace is enough for you, for in weakness power reaches perfection.' And so I willingly boast of my weaknesses instead, that the power of Christ may rest upon me" (2 Cor 12:7-9)...

end of Response to God's Love
Deuteronomy 26: 16-19
'Yahweh your God commands you today to observe these laws and customs; you must keep and observe them with all your heart and with all your soul.

'Today you have obtained this declaration from Yahweh: that he will be your God, but only if you follow his ways, keep his statutes, his commandments, his customs, and listen to his voice. And today Yahweh has obtained this declaration from you: that you will be his own people—as he has said—but only if you keep all his commandments; then for praise and renown and honour, he will raise you higher than every other nation he has made, and you will be a people consecrated to Yahweh, as he has promised.'
Felix is coming to the site
next week —
Please come and get a
signed crucifix by
Felix and your picture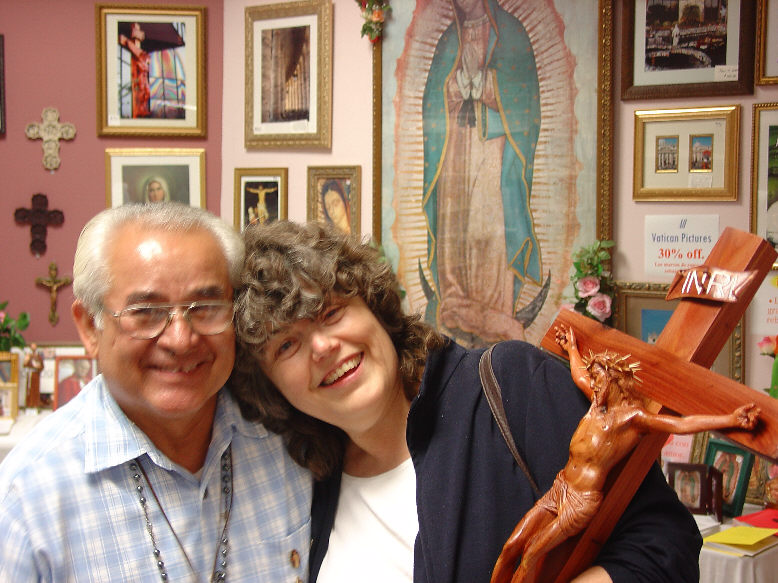 Betty is a handmaid who has prayed in the

China Church for 11 years. To get from her

house to the church she uses a walker and

must go over a creek and a little bridge.

We wanted a little place she could rest

by the Church. We need about $1,000 to

make this happen. Can you help us?
We are trying to get
Response to God's Love
and the Mass Book out.

Anybody who wants to help us
with a donation to get these 2 books
out in the Priestly/hierarchy mailing —
Please call Kathleen 1-888-211-3041
July 31, 1994

Words of Jesus to Members of
Shepherds of Christ Associates:

"My beloved priest-companion, I intend to use the priestly newsletter, Shepherds of Christ, and the movement, Shepherds of Christ Associates, in a powerful way for the renewal of My Church and the world.

"I will use the newsletter and the chapters of Shepherds of Christ Associates as a powerful instrument for spreading devotion to My Heart and My Mother's Heart.

"I am calling many to become members of Shepherds of Christ Associates. To all of them I will give great blessings. I will use them as instruments to help bring about the triumph of the Immaculate Heart and the reign of My Sacred Heart. I will give great graces to the members of Shepherds of Christ Associates. I will call them to be deeply united to My Heart and to Mary's Heart as I lead them ever closer to My Father in the Holy Spirit."

- Message from Jesus to Father Edward J. Carter, S.J., Founder, as given on July 31, 1994,
feast of Saint Ignatius Loyola, Founder of the Society of Jesus (The Jesuits)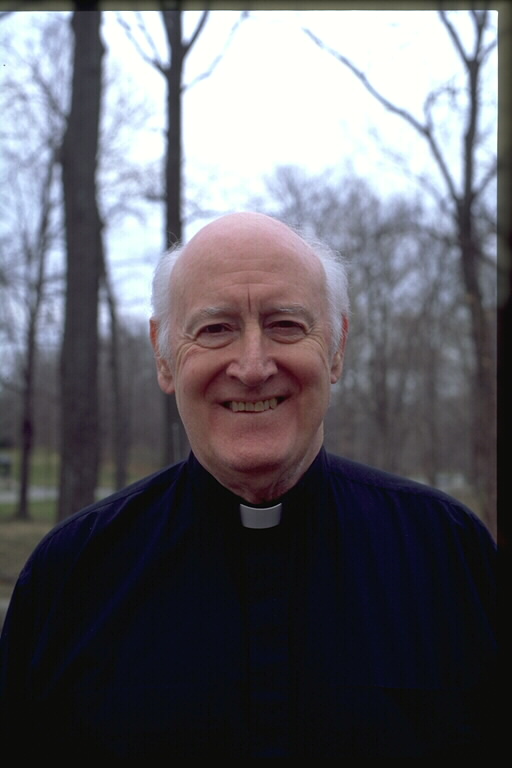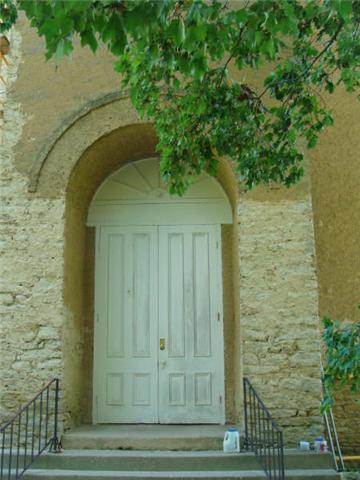 The China Church is over 140 years old
and we pray in there 24 hours a day.
It needs stucco and so does
the community building.
Can you please help us?
Call Kathleen 1-888-211-3041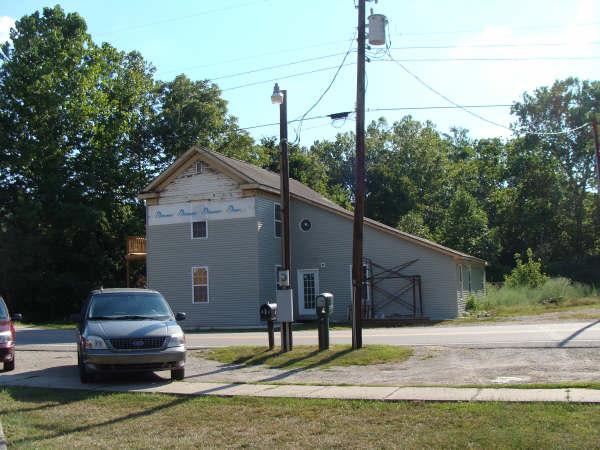 Likewise the priest house
is 150 years old.
Jesus told us to repair it
which we have been doing.
We need $13,000.00 for this work.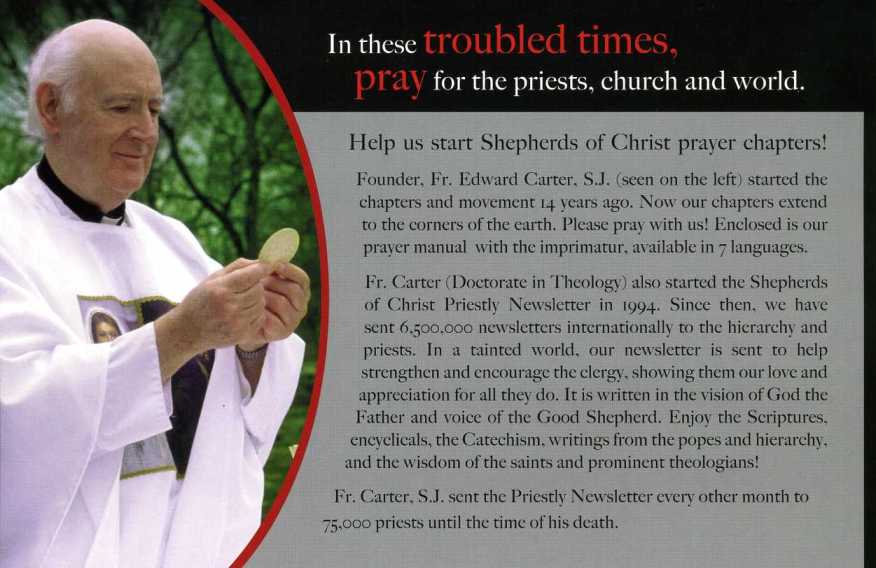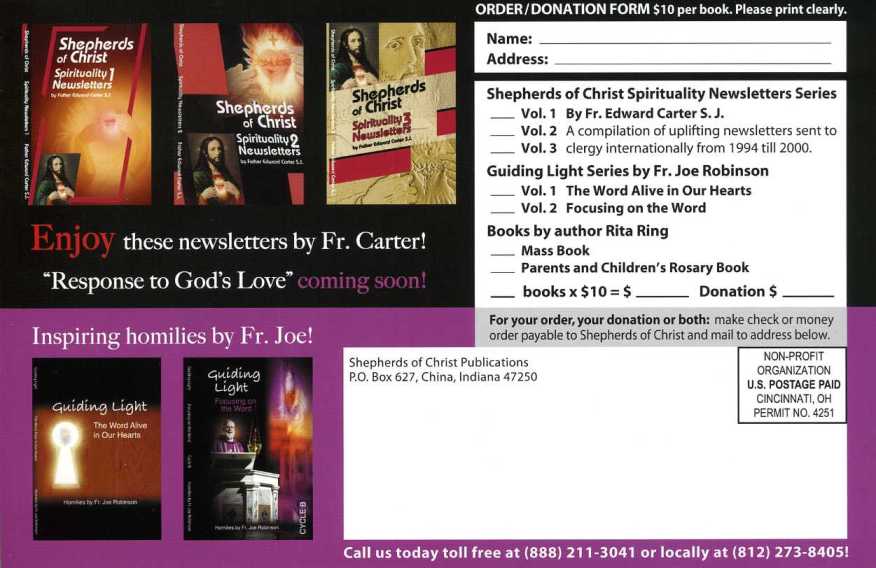 You can help put the Blue Book V
in the hands of 1,000 people
we need $1,200 postage for this
It is ready to go
Call Kathleen
1-888-211-3041
You can help put Fr. Joe's homily
book in the hands of
1,000 priests — it costs $1,100
This can help 1,000 parish priests
talk about Covenant for Lent
Please help us
It is ready to go
Call Kathleen 1-888-211-3041
Call Kathleen to Order any of the items below
1-888-211-3041