The Lord gave an urgent message to print
Tell My People on April 10th.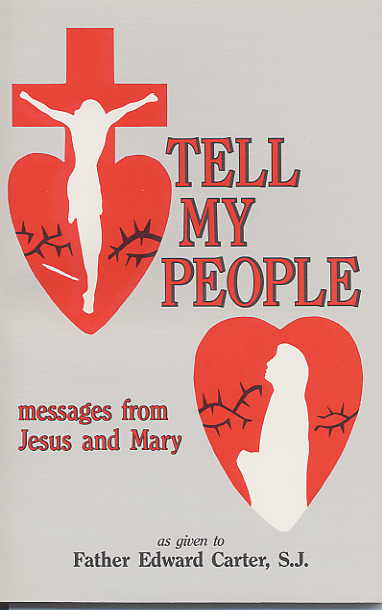 Can you please help us?
April 24, 2010
Acts 9: 31-42
The churches throughout Judaea, Galilee and Samaria were now left in peace, building themselves up and living in the fear of the Lord; encouraged by the Holy Spirit, they continued to grow.

It happened that Peter visited one place after another and eventually came to God's holy people living down in Lydda. There he found a man called Aeneas, a paralytic who had been bedridden for eight years. Peter said to him, 'Aeneas, Jesus Christ cures you: get up and make your bed.' Aeneas got up immediately; everybody who lived in Lydda and Sharon saw him, and they were converted to the Lord.

At Jaffa there was a disciple called Tabitha, or in Greek, Dorcas, who never tired of doing good or giving to those in need. But it happened that at this time she became ill and died, and they washed her and laid her out in an upper room. Lydda is not far from Jaffa, so when the disciples heard that Peter was there, they sent two men to urge him, 'Come to us without delay.'

Peter went back with them immediately, and on his arrival they took him to the upper room, where all the widows stood round him in tears, showing him tunics and other clothes Dorcas had made when she was with them. Peter sent everyone out of the room and knelt down and prayed. Then he turned to the dead woman and said, 'Tabitha, stand up.' She opened her eyes, looked at Peter and sat up. Peter helped her to her feet, then he called in the members of the congregation and widows and showed them she was alive. The whole of Jaffa heard about it and many believed in the Lord.
Psalm 116: 12-17
What return can I make to Yahweh
for his generosity to me?
I shall take up the cup of salvation
and call on the name of Yahweh.

I shall fulfil my vows to Yahweh,
witnessed by all his people.

Costly in Yahweh's sight
is the death of his faithful.

I beg you, Yahweh! I am your servant,
I am your servant and my mother was your servant;
you have undone my fetters.
I shall offer you a sacrifice of thanksgiving
and call on the name of Yahweh.
John 6: 60-69

After hearing it, many of his followers said, 'This is intolerable language. How could anyone accept it?' Jesus was aware that his followers were complaining about it and said, 'Does this disturb you? What if you should see the Son of man ascend to where he was before?

'It is the spirit that gives life,
the flesh has nothing to offer.

The words I have spoken to you are spirit
and they are life.

'But there are some of you who do not believe.' For Jesus knew from the outset who did not believe and who was to betray him. He went on, 'This is why I told you that no one could come to me except by the gift of the Father.' After this, many of his disciples went away and accompanied him no more.

Then Jesus said to the Twelve, 'What about you, do you want to go away too?' Simon Peter answered, 'Lord, to whom shall we go? You have the message of eternal life, and we believe; we have come to know that you are the Holy One of God.'
Peter was teaching the people —
He told them Jesus died and rose —
because of what Jesus did they
put Him to death
Peter was giving testimony to Jesus —
The evangelization is doing what Jesus
has asked us to do
Day after day —
We claim we have this relationship
with God and
then we can do these pagan things
St. Francis said
Preach the Gospel everyday
Do God's will in love
Do what God wants everyday
Live the Gospel
Jesus gives us Himself in the Eucharist —
because of His love for us —
Jesus gives us His Body and Blood —
Jesus said to the Apostles are
you going to leave Me too —
They said 'where can we go —
You have the words of eternal life' —
We are to believe
Jesus has the words of eternal
life — We live the Gospel
how we live —
We live by faith
We know what Jesus has done —
We take up our cross — even if
we don't understand why and
we follow Him —
For the sake of souls —
That we will be witnesses to Jesus in
all that we do
That we beg for the Holy Spirit
to fill us to go out and
spread the Good News as we
were commissioned in baptism —
That we realize what a gift baptism
is — that the Father, Son and Holy Spirit
live in the graced baptized
soul and
That Jesus feeds this life with His
Body and Blood —
Lord You are the fountain of all
holiness —
Oh Jesus I adore You —
Oh Jesus I thank You —
Oh Jesus I want to make reparation
for my sins and the sins of this
earth
Oh Jesus I beg You for grace —
Outpour Your grace on me and the
priests, the Church and the world —
Oh God help me to be holy —
Oh God help the Shepherds of Christ —
help everyone in it —
help everyone who touches it
all their families
Intentions of Eucharistic Heart of Jesus
1. For the spread of the devotion to the Hearts of Jesus and Mary culminating in the reign of the Sacred Heart and the triumph of the Immaculate Heart.
2. For the Pope.
3. For all bishops of the world.
4. For all priests.
5. For all sisters and brothers in the religious life.
6. For all members of the Shepherds of Christ Movement, and for the spread of this movement to the world.
7. For all members of the Catholic Church.
8. For all members of the human family.
9. For all souls in purgatory.
Praying for oneness
John 17: 20-23
I pray not only for these
but also for those
who through their teaching
will come to believe in me.
May they all be one,
just as, Father, you are in me
and I am in you,
so that they also may be in us,
so that the world may believe
it was you who sent me.
I have given them the glory
you gave to me,
that they may be one as we are one.
With me in them and you in me,
may they be so perfected in unity
that the world will recognise
that it was you who sent me
and that you have loved them
as you have loved me.
John 6: 52-59
Then the Jews started arguing among themselves, 'How can this man give us his flesh to eat?' Jesus replied to them:

In all truth I tell you,
if you do not eat
the flesh of the Son of man
and drink his blood,
you have no life in you.
Anyone who does eat my flesh
and drink my blood
has eternal life,
and I shall raise that person up
on the last day.
For my flesh is real food
and my blood is real drink.
Whoever eats my flesh
and drinks my blood
lives in me
and I live in that person.
As the living Father sent me
and I draw life from the Father,
so whoever eats me
will also draw life from me.
This is the bread
which has come down from heaven;
it is not like the bread our ancestors ate:
they are dead,
but anyone who eats this bread
will live for ever.

This is what he taught at Capernaum in the synagogue.
Prayer Card 4" x 6"

.50¢ each plus postage

size 5 1/2" x 8 1/2"
$1.00 plus postage

Statues

| | | |
| --- | --- | --- |
| | | |
| Sacred Heart of Jesus w/glass - 18 | Our Lady-Guadalupe w/glass - 12 | Limpias - 8 |
| | | |
| Immaculate Heart w/glass - 18 | I Heart - Ivory w/glass - 18 | Our Lady of Grace w/glass - 18 |
| | | |
| Our Lady-Mt. Carmel w/glass - 18 | Our Lady of Lourdes w/glass - 18 | Infant of Prague w/glass - 24 |
| | | |
| Sacred Heart of Jesus w/glass - 24 | Sacred Heart -Blessing w/glass - 24 | Sorrowful Mother w/glass - 24 |
| | | |
| I Heart - Ivory w/glass - 24 | I Heart of Mary w/glass - 24 | Our Lady of Lourdes w/glass - 24 |
| | | |
| Our Lady-Guadalupe w/glass - 28 | Our Lady of Grace w/glass - 24 | Our Lady-Mt. Carmel w/glass - 24 |
| | | |
| Fatima w/glass - 11 | Pilgrim Virgin w/glass - 12 | Pilgrim Virgin w/glass - 15 |
| | | |
| Fatima w/glass - 18 | Pilgrim Virgin w/glass - 18 | Pilgrim Virgin w/glass - 27 |

| | | |
| --- | --- | --- |
| St. Padre Pio | St. Joseph | St. Therese |
| | | |
| St. Francis | St. Anthony | St. Claire |
| | | |
| Limpias | St. Jude | Divine Mercy |
| | | |
| Holy Family | Angel | St. Philomena |
| | | |
| Pieta - Marble | Pieta - Color | Holy Family |
| | | |
| St. Anthony - 18 | St. Francis - 18 | St. Joseph - 18 |
| | | |
| St. Therese - 18 | St. Rita - 18 | St. Clare - 12 |
| | | |
| St. Rita - 12 | St. Padre Pio - 12 | Divine Mercy - 12 |


Shepherds of Christ Ministries
P. O. Box 627
China, IN 47250

Toll free - 1-888-211-3041
Local - 1-812-273-8405
fax - 1-812-273-3182
web: www.sofc.org
e-mail: info@sofc.org


| | | | |
| --- | --- | --- | --- |
| | Size | Price | Quantity |
| Holy Family | 24" | $180 | |
| Limpias | 24" | $125 | |
| St. Anthony | 24" | $125 | |
| St. Claire | 24" | $125 | |
| St. Francis | 24" | $125 | |
| St. Joseph | 24" | $125 | |
| St. Jude | 24" | $125 | |
| St. Padre Pio | 24" | $125 | |
| St. Therese | 24" | $125 | |
| Divine Mercy | 22" | $125 | |
| Angel | 22" | $100 | |
| St. Philomena | 20" | $100 | |
| St. Philomena | 16" | $65 | |
| St. Joseph | 18" | $65 | |
| St. Francis | 18" | $65 | |
| St. Anthony | 18" | $65 | |
| St. Rita | 18" | $65 | |
| St. Therese | 18" | $65 | |
| Pieta - Color | 15" | $75 | |
| Pieta - Marble | 15" | $75 | |
| Holy Family | 12" | $60 | |
| St. Padre Pio - standing | 12" | $40 | |
| St. Padre Pio - sitting | 8" | $50 | |
| St. Rita | 12" | $40 | |
| Divine Mercy | 12" | $40 | |
| St. Claire | 12" | $40 | |
| Limpias | 8" | $25 | |
| Our Lady of Guadalupe w/glass | 28" | $500 | |
| Our Lady of Mt. Carmel w/glass | 24" | $500 | |
| Immaculate Heart of Mary w/glass | 24" | $500 | |
| Immaculate Heart - Ivory w/glass | 24" | $500 | |
| Infant of Prague w/glass | 24" | $500 | |
| Our Lady of Grace w/glass | 24" | $500 | |
| Our Lady of Lourdes w/glass | 24" | $500 | |
| Sacred Heart of Jesus w/glass | 24" | $500 | |
| Sacred Heart -Blessing w/glass | 24" | $500 | |
| Sorrowful Mother w/glass | 24" | $500 | |
| Immaculate Heart of Mary w/glass | 18" | $300 | |
| Immaculate Heart - Ivory w/glass | 18" | $300 | |
| Sacred Heart of Jesus w/glass | 18" | $300 | |
| Our Lady of Lourdes w/glass | 18" | $300 | |
| Our Lady of Grace w/glass | 18" | $300 | |
| Our Lady of Mt. Carmel w/glass | 18" | $300 | |
| Our Lady of Guadalupe w/glass | 12" | $200 | |
| Fatima w/glass | 11" | $150 | |
| Fatima w/glass | 18" | $250 | |
| Pilgrim Virgin w/glass | 12" | $160 | |
| Pilgrim Virgin w/glass | 15" | $200 | |
| Pilgrim Virgin w/glass | 18" | $250 | |
| Pilgrim Virgin w/glass | 27" | $450 | |


Call for Shipping Price (1-888-211-3041)


Name

Sub-Total
Address

IN Tax (7%)
City

Shipping
State Zip

Donation
Telephone

Order Total

Shepherds of Christ
P. O. Box 627
China, IN 47250

Call Shepherds of Christ

1-888-211-3041


Fr. Joe's Homily Books

Guiding Light - Cycle A
The Word Alive in Our Hearts

$10.00




Guiding Light - Cycle B
Focusing on the Word

$10.00


Guiding Light - Cycle C
Feed My Soul

$10.00

Fr. Carter's Books


Priestly Newsletter Book I

12 Newsletters
July 1994 - June 1996

$12.00


Priestly Newsletter Book 2

17 Newsletters
1996 - 1999

$12.00


Priestly Newsletter Book 3

4 Newsletters & Prayers
2000

$12.00

Response to God's Love



$10.00


Messages given
by Jesus and Mary 1994

Tell My People


$10.00



The Pain and the Joy

$10.00

Synopsis of the Spiritual Life

Spirituality Handbook
$3.00


Priestly Newsletter on CD
2000 - Issue 1

$10.00


Priestly Newsletter on CD
2000 - Issue 2

$10.00

Fr. Pasquini's Books


Authenticity



Prayers and Meditations

$10.00

In Imitation of Two Hearts

For those suffering or
in Nursing Homes

$10.00

Light, Happiness and Peace

Journeying through traditional
Catholic Spirituality

$10.00

Medicine of Immortality

Prayers and Meditations - will assist the reader in growth toward a deeper understanding of the mystery of the Eucharist

$10.00


Ecce Fides - Pillar of Truth





Ideal for RCIA, Adult & Youth Bible Study, Homeschooling, Catholic
Identity Studies

$10.00

Shepherds of Christ Newsletters
9 Newsletters
2006 - 2008



$36.00

DVDs and CDs by Fr. Pasquini





Authenticity DVD
Prayers on the Ocean

$10.00


Nursing Home Mass DVD

$10.00

Consolation DVD

$10.00

Medicine of Immortality
Read by Rita Ring

2 CDs - $17.00

In Imitation of Two Hearts DVD

$10.00




Consolation CD
by Fr. John

$8.00





Nursing Home Mass CD

$8.00


Holy Spirit Novena DVD

$10.00

Divine Mercy Chaplet DVD

$10.00

Call Shepherds of Christ

1-888-211-3041

Available for $10.00 plus postage

1-888-211-3041

Call Shepherds of Christ

God's Blue Books

God's Blue Book 1 –
Teachings to Lift You Up

$10.00




God's Blue Book 4 –
The Love of the Hearts of
Jesus and Mary

$5.00





God's Blue Book 2 –
The Fire of His Love

$10.00


God's Blue Book 5 –
So Deep Is the Love of His Heart

$5.00




God's Blue Book 3 –
Love God, Love One Another
(Fr. Carter's favorite)
$10.00





God's Blue Book 6 –
He Calls Us to Action

$10.00


Rosary Books





Rosaries from the
Hearts of Jesus and Mary

$10.00


Rosaries from the
Hearts of Jesus and Mary

$12.00

Rosary Meditations for
Parents and Children's

$10.00




Mysteries of Light 1

$5.00


Mysteries of Light 2

$5.00




Little People & Elderly Rosary Book

$10.00

Coloring Book
$5.00 each




Coloring Book
$5.00 each

Coloring Book
$5.00 each

Coloring Book
$5.00 each

Coloring Book
$5.00 each




Coloring Book
$5.00 each

We are trying to get

Response to God's Love

and the Mass Book out.


Anybody who wants to help us

with a donation to get these 2 books

out in the Priestly/hierarchy mailing —

Please call Shepherds of Christ

1-888-211-3041

July 31, 1994

Words of Jesus to Members of
Shepherds of Christ Associates:

"My beloved priest-companion, I intend to use the priestly newsletter, Shepherds of Christ, and the movement, Shepherds of Christ Associates, in a powerful way for the renewal of My Church and the world.

"I will use the newsletter and the chapters of Shepherds of Christ Associates as a powerful instrument for spreading devotion to My Heart and My Mother's Heart.

"I am calling many to become members of Shepherds of Christ Associates. To all of them I will give great blessings. I will use them as instruments to help bring about the triumph of the Immaculate Heart and the reign of My Sacred Heart. I will give great graces to the members of Shepherds of Christ Associates. I will call them to be deeply united to My Heart and to Mary's Heart as I lead them ever closer to My Father in the Holy Spirit."

- Message from Jesus to Father Edward J. Carter, S.J., Founder, as given on July 31, 1994,
feast of Saint Ignatius Loyola, Founder of the Society of Jesus (The Jesuits)




The China Church is over 140 years old

and we pray in there 24 hours a day.

It needs stucco and so does

the community building.

Can you please help us?

Call Shepherds of Christ

1-888-211-3041

Likewise the priest house

is 150 years old.

Jesus told us to repair it

which we have been doing.

We need $13,000.00 for this work.

You can help put the Blue Book V

in the hands of 1,000 people

we need $1,200 postage for this

It is ready to go

Call Shepherds of Christ

1-888-211-3041

Crucifix — hand carved by Felix

Available for $750.00

Brand New Internet Store