Mary has requested that the daily message be given each day to the world. It is read nightly at the prayer service from her Image Building in Clearwater, Florida, U.S.A. This is according to her request. All attempts will be made to publish this daily message to the world at 11 p.m. Eastern time, U.S.A.

---

We acknowledge that the final authority regarding these messages rests with the Holy See of Rome.

---
April 26, 2005
April 27th Holy Spirit Novena
Scripture selection is Day 4 Period I.

The Novena Rosary Mysteries
for April 27th are Luminous.
Fabulous pictures - framed of the Vatican
are available at the China and Clearwater Stores
call Doris to order.
1-888-211-3041
Rita Ring will be in Florida
for the 6:20 prayer service on May 5th.
The May retreat begins
the night of May 11th,
May 12th and ending on Pentecost
May 15th, in China, Indiana
Mission Statement of the Shepherds of Christ

To give ones life to help in the renewal
of the Church and the world in a
spousal relationship with Jesus, to
try to grow in greater perfection
by doing God's will for me as a member
of the Shepherds of Christ Movement.

Thanking God for His gifts and loving God
and one another more as His wishes
me to.

I will work in this Apostolic work to serve,
love and honor Him and help
in my salvation and the salvation of souls.

We will live as a body praying for the
priests, the Church and the world, united to the Mass
supporting the Priestly Newsletter and
helping to spread the prayer services in
different languages to the world.

We see our mission as living holier lives
and being deep intercessors praying at
all our centers for the priests, all
needs of the Church and the people of
this earth (the world).

One of our ministries is to spread
the morning offering to all the souls
of the earth so that they will offer up
all they do everyday united to the Mass
praying for the priests, the Church
and the world.

We try to have communities of love where
people pray, live and work together for
this mission.

Servants of the Good Shepherd
Handmaids of the Good Shepherd
Apostles of the Good Shepherd

We have daily prayer, all united at 6:20
praying the Holy Spirit Novena and the
prayers given to Fr. Carter, and the
monthly 4 day retreat with Masses
daily and prayer before the Blessed
Sacrament in China, Indiana,
the monthly prayer service (mini-
retreat), Florida on the 5th of
each month since 1995 and
the monthly Sidney Rosary.

We have 24 hour adoration in China,
Indiana our Church given from
the Indianapolis Diocese to us.

Primary purpose of the Movement is
to support the Priestly Newsletter
and the co-equal purpose to begin
prayer chapters, praying for the priests,
the Church and the world and all
the needs of the Church.

Here is how we pray as Apostles of the Eucharistic Heart of Jesus

Praying before the Blessed Sacrament for one hour, twice-weekly for these intentions:

For the spread of the devotion to the Hearts of Jesus and Mary culminating in the reign of the Sacred Heart and the triumph of the Immaculate Heart.
For the Pope.
For all bishops of the world.
For all priests.
For all sisters and brothers in the religious life.
For all members of the Shepherds of Christ Movement, and for the spread of this movement to the world.
For all members of the Catholic Church.
For all members of the human family.
For all souls in purgatory.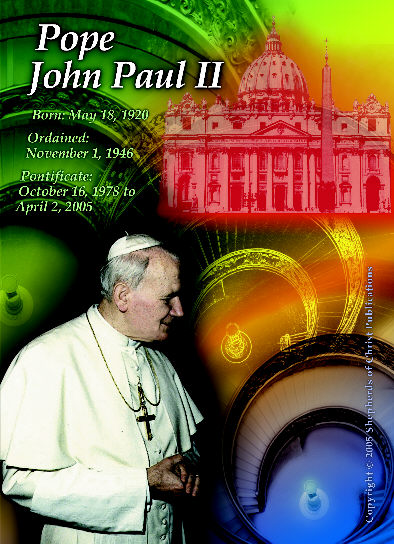 This picture is available - call Doris
toll free: 1-888-211-3041
8x10 unframed $10
8x10 framed $15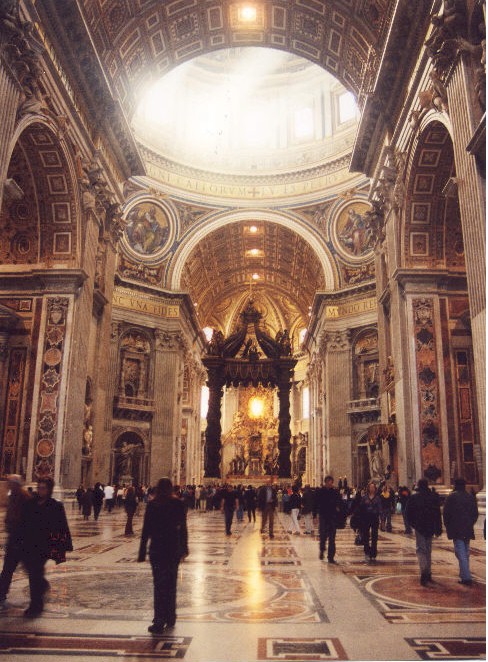 New! Click here for the Slide-show from
March 20th, 23rd, & 24th
in Rome

Click here if you have dial-up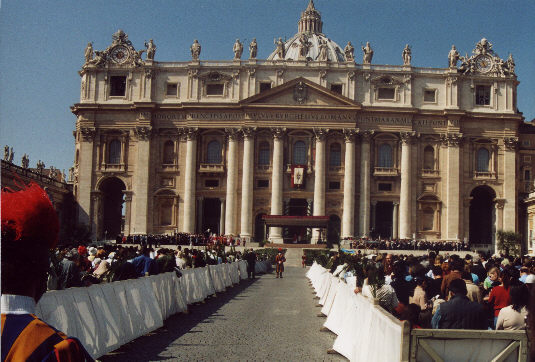 New! Click here for the Slide-show from
Palm Sunday - Part 2

Click here if you have dial-up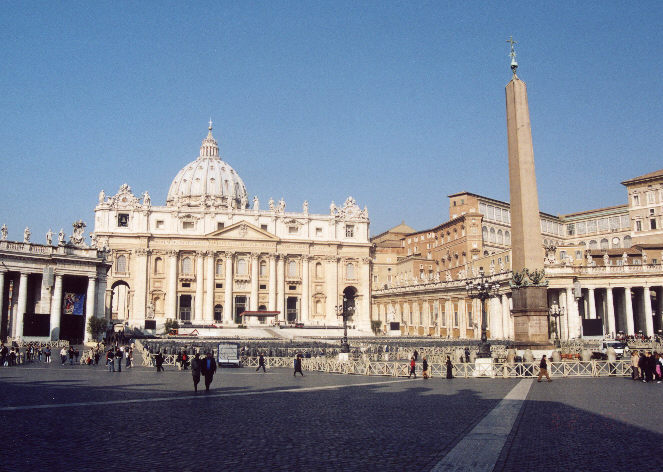 New! Click here for the Slide-show from
Holy Thursday - Part 2

Click here if you have dial-up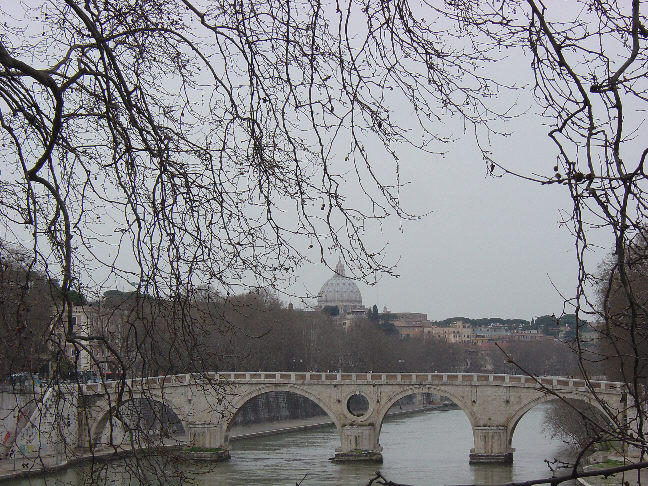 Click here for the Slide-show from
March 25-27, 2005
in Rome
(after you click into the slide-show,
double click the screen for a full-screen view)
April 26, 2005 - 4:45pm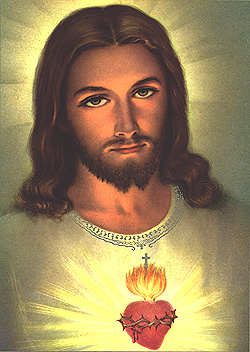 Pray For Your Sick Brothers

December 11, 1993 - 12:00p.m.

Jesus speaks: Oh you, beloved of My Father! You come and I am glad. My hand is upon you and you are set free from every tribulation. You are My precious child and I guard your life. Every minute I watch you lest you stumble and fall. You do not run amok because I go with you and guard you and you are free as a little baby at the breast. You are My beloved and I wait for you to come. Come unto Me and I give you rest. Your ways are made straight and your foot does not stumble for I catch you on your way. Oh, what more could you ask for, My little child?

But for many it is not enough. They search for and they seek in this barren land the milk and honey only I have. They wander, they fume, they fret, they make themselves anxious and they never find what they need. I have the key to unlock your hearts. If you will to be opened, I open you and I enter into your soul. You are no longer empty, but full. You are no longer alone, but accompanied by Me, your God. You cry out and I come to the rescue. I enter into your hardened hearts and make them soft and loving. Only I have such power and such might. Do you wonder how does He do this? I do this because I am God. I alone have the power to change hearts. I have the power to make a person dead in sin turn to a life of love, but the person must seek Me and ask for My help.

I do not beg the hardened ones to come. I prompt the hardened hearts to change. I give them ways that they cannot refuse, but they refuse anyway. It is hard for them to walk the road they choose. I remain close by their side and I teach them through you. You prove an ache in their hearts so they battle with you. If you would go away, they would be able to remain in their darkness undisturbed, so they think. But it doesn't work that way! Their own longing for God and their own denial of it causes such an ache in their heart. You who are spreading My light become a target for their unrest. It is all heaped on you and they attack you to get it to go away. But, as long as they think and argue with you, their longing does not cease and their ache is so prevalent. Be of clean heart. Follow My ways. Your soul craves this union with Me, and this union alone. Only I have that which you need! Pray for your sick brothers. Love them and show them My ways. They will hate you. They love the world. You are a thorn in their sides, but their unrest is in their own souls. It is only manifested in their attitude toward you.

They cannot attack themselves so you, who represent Me, become the target for their unrest. If they can work it out on you and win, then their unrest will go away. Don't let them taunt you. Move out of the way and they are left with the unrest. Continue to love and they must face the ache that is inside of them. If you argue with them, you become the ache. Don't argue about Me. Just be like Me to them. Let My light flow from your soul. You don't have to say a word. Your being preaches a mighty big lesson. My light radiates from you and My power is felt from afar. I am a mighty God. You do not know whom you touch by your connectedness to Me. You touch all those around you without a word. Your being and My life within you stir up the troubled souls. You beckon them to come and savor that joy and peace of heart you possess and they refuse. What unrest for them!

Keep spreading My light. Keep being the little light in the dark world. The darker the world, the more you shine. My light is the brightest. One little light can light up the darkest night. But oh, My beautiful children, need I say it again? Your light only shines when I am the center of your life! You need to be plugged in to Me every day for an hour at least. Come in front of My tabernacle. In an emergency, you can come at home, but you come and we spend our hour together. Me and My love, soul to soul. Oh, oh, how I love you all. I want each soul to come to Me. You may be the only way I touch a brother in darkness, but I can touch them through you and love them if you love them, even when they are nasty. Just don't go there. The more you are connected to Me, the more their behavior does not affect you. You realize their pain (and it is pain, for to be absent of God is pain) and you love them because they are so disturbed.

Love My brothers for Me. Minister in your daily lives. You do not have to go out and save the world. You do not have to make it hard. It is easy. It is to be as you are, to spend time with Me every day. Mass and Communion. Be with your family. Come to Me for short periods during the day, absolutely alone with Me, 5 minutes, 10 minutes. What an energizer! Just where you are, even in the bathroom! Then just be in this world. You will be doing the greatest work. Your life is My work if you spend it for Me. Pray your Morning Offerings. Your being and your staying attached to Me is all you need to do!

Don't run from your jobs when they are hard. Stay and be at peace with their tauntings. This is a big lesson for your sick brothers. They taunt you and you receive a peace. What powers you? Well, My sick one, only God can do that! It is a heavy load, but I go with you. I showed you the way in My life. They persecuted Me and I remained silent. I was at peace to My death. This peace I give to you. Teach My lessons of love and peace. Let Me dwell in your soul. Be selfless and surrender to the God Who wants to possess you.

So, you see, you die to yourself and I am alive in you. I work through you. I act through you. I am Jesus, Son of the Living God and you are My beloved. Come and let Me run your life and you will be at peace. Peace I leave you, My peace I give to you, not as the world gives, but as only I can give. I love you, My precious ones.

end of December 11, 1993
April 26, 2005 message continues
Messenger: We are always learning.
God gives us great grace to love Him
more and love each other —
The purpose of this mission is to teach
the world about God's love.
Jesus loves us so much and has taught
us about Himself so we love
Him more and know Him more.
Jesus speaks: I have given to you the great secrets of
My Heart.
I have called you by name and
I have asked you to help Me
spread My love to the world.
I am using My Movement, Shepherds of Christ
to spread the messages of My
love.
To not grow is to remain the same or
even decrease —
Growing takes an honest life.
Growing takes living to perfect
oneself.
A big problem with growing is
people never admit the truth
about their imperfections —
when they arise they keep
blaming others for their part
in it and lie to themselves
about the truth of their
imperfections, when it is
very clear they stole the cookie
from the jar, they acted impurely
and jealousy blocking My will — they
lie and hurt others and block the work
that is to be done for My work.
A man asked to see his sins and be better
but when he saw them, he could not
bring to admit he did anything wrong
and he continued being untruthful
about his behavior.
When I went to My death, I went willingly
to do the Father's will —
A person manipulating others for pride
sake when continuing willfully
can go on for ever if he fails to
admit the truth.
Examination of conscience is vital.
Recovering from past wounds,
recognizing them and forgiving
is essential to truth and happiness
In the basement or attic one can hide
many things — they can be stored there
many times not exposed until after
someone's death.
Do you fail to see the hurts you
have stuffed and lied about your
part in blaming others?
Admitting the truth is your own
key to connect deeply to
Me.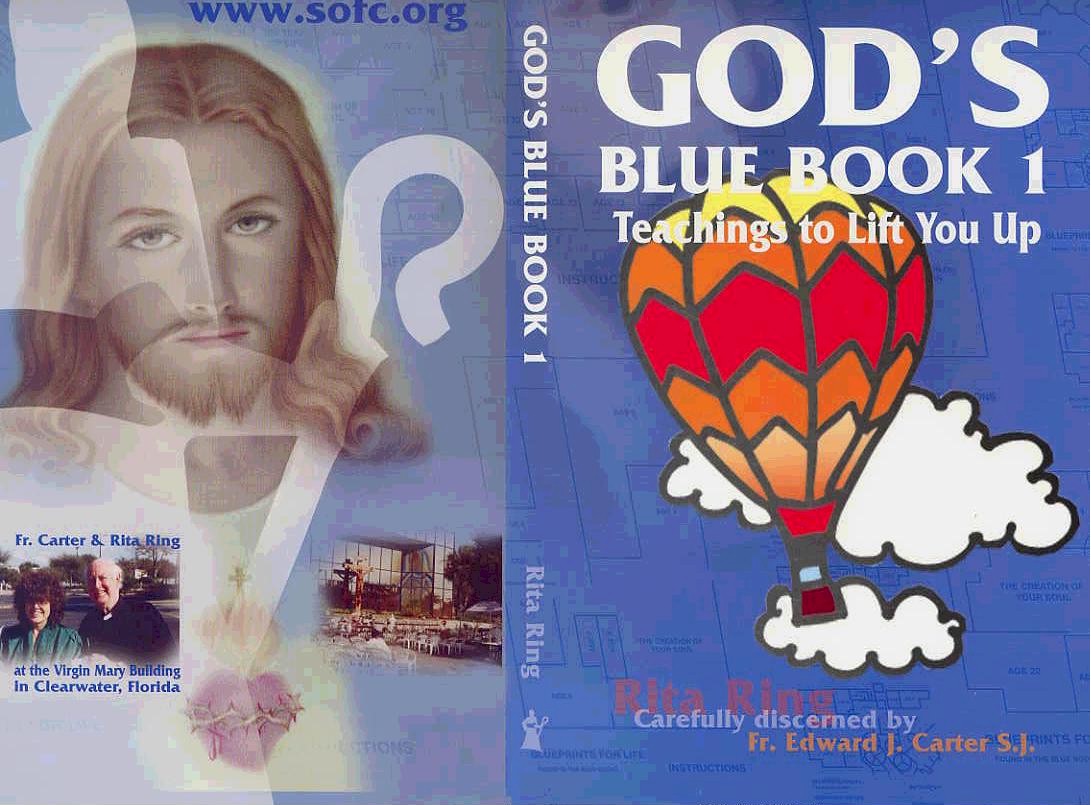 Do Not Fear or Judge Yourself

November 8, 1993 - 5:15a.m.

R. Dear Jesus, You know the fear from talking to everyone that I have. I give You my will and my life. I give You my all, Jesus. I give You my surrender.

Jesus speaks: My child, do not be afraid. I am with you and I love you. Do not keep judging yourself. Let go and let Me work in you. Do not get anxious or uptight. Just trust in Me and come to Me to be filled up. You are doing well. You need not worry. I love you and I am with you.

I am the way, the truth, the life. All else is of no account, if it is not of Me. Hold your head up high and follow My lead. You needn't do anything. All things will fall into place as I lay them before you.

I am He Who comforts you. Lay ready your heart at My feet. I cherish you and I care for you. You will not be torn apart. You will be preserved by Me. Do not fret or fume or feel any anxiety. Let go and trust in Me. I need you to do as you are doing. Just write and go to church. Let Me do all the work and preparation. It will all work if you just don't think. Just trust in Me and My Sacred Heart.

I am Jesus, Son of the Living God and I wait for you day and night. Come and lay your burden at My feet and let Me hold your tired body.

I am the Alpha and the Omega, your all. You must just not fear or judge yourself. Show love to your children. They know how much you care for them. Make them so important that you spend time with them every day. You have time for this, My little baby. Slow up and smell the roses. I am truly guarding your way.

Your heart is troubled from talking to everyone yesterday. Don't give in. Just put your trust in Me. I am here and all unfolds as I have planned. You need to spend less time with others and more time with Me and your family.

You needn't fret and fume about any of this. It will all work out in My time. Just leave things for now. I am working in My time. Type your messages and get them all ready for everything to be done. Just keep doing as you are doing. That is enough for now. Do you think I write and you have to say, "Lord, do You need some help?" I don't need any help. I want things to go as they are unfolding. In My time, in My place, they will work for the right thing. All things are under My control now. Leave things alone and trust in Me. I wouldn't do all this and then not do the right thing to get them into action. Be patient and trust. I will do all I need to get the ball rolling. Do your preparations.

You are worn out and tired. I am with you, little one. Go to bed and don't fret any more. I am your loving Jesus. I will care for you. Total trust in Him Who loves all of you. Total trust. Wait on the Lord. I do not need a push. Have John read the letters, get them all ready. Do not promote any action. I will tell you what to do. Do not worry, little one, I am with you. Trust, trust and pray. I love you.

end of November 8, 1993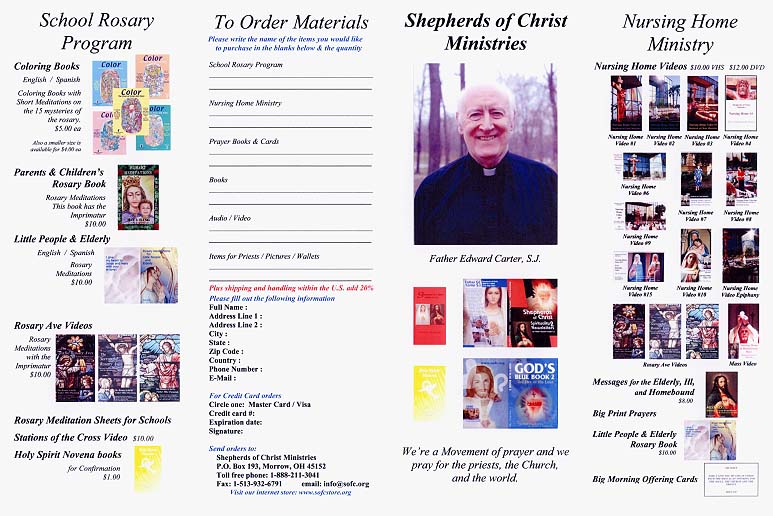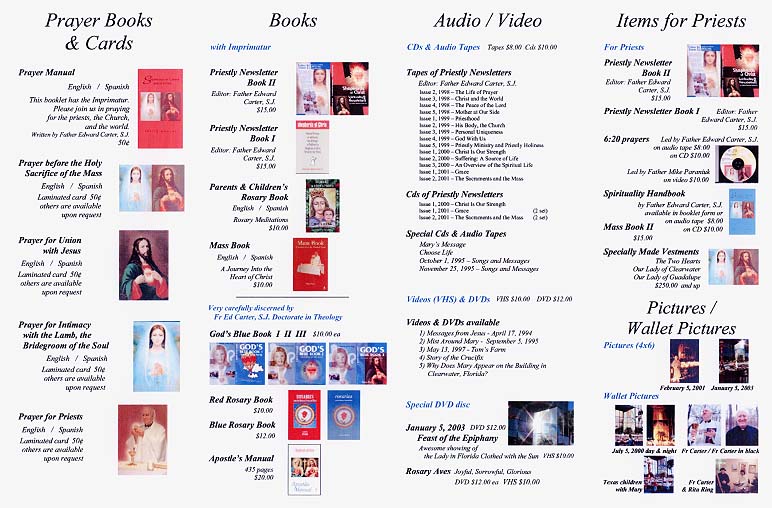 ---
---
---
Copyright © 2005 Shepherds of Christ.
Rights for non-commercial reproduction granted:
May be copied in its entirety, but neither re-typed nor edited.
Translations are welcome but they must be reviewed for moral and
theological accuracy by a source approved by Shepherds of Christ Ministries
before any distribution takes place. Please contact us for more information.
All