Mary has requested that the daily message be given each day to the world. It is read nightly at the prayer service from her Image Building in Clearwater, Florida, U.S.A. This is according to her request. All attempts will be made to publish this daily message to the world at 11 p.m. Eastern time, U.S.A.

---

We acknowledge that the final authority regarding these messages rests with the Holy See of Rome.

---
April 27, 2000 - Easter Thursday
---
A Prayer for Intimacy with the Lamb, the Bridegroom of the Soul

Oh Lamb of God, Who take away the sins of the world, come and act on my soul most intimately. I surrender myself, as I ask for the grace to let go, to just be as I exist in You and You act most intimately on my soul. You are the Initiator. I am the soul waiting Your favors as You act in me. I love You. I adore You. I worship You. Come and possess my soul with Your Divine Grace, as I experience You most intimately.
---
Messenger: Include Our Lady of the Holy Spirit Center in 6:20 prayers.
---
Jesus speaks: As the spring bursts forth with new growth,
so too your Movement will bud forth.
---
Jesus speaks:

My dear children,

It is so powerful when a priest leads the Shepherds of Christ prayers in churches. Whenever a priest is present at a prayer meeting, show him the format and ask him to pray. I love My priests so very much. I give added graces to the Church and the priests for praying as I have instructed. These are my prayers to help in the renewal of the Church and the world. I want priests and bishops praying My prayers in the Shepherds of Christ Prayer Manual and the Holy Spirit Novena. Please encourage your priests to pray them. It is so powerful when they pray them. I wish seminaries to join and pray the prayers. It will help them to be holy consecrated priests. Oh My priests I love you so much.

Oh, I wish priests would lead the prayers in churches and gather in prayer groups of priests praying. I LOVE YOU SO MUCH. THANK YOU, MY BELOVED HOLY PRIESTS.

MY HEART IS ON FIRE FOR YOU, MY BELOVED SPECIAL SPOUSE.

Thanks for all your service.
---
April 27, 2000 Second Message
Jesus speaks: You will be most like the true unique person God intended you to be when you are connected in a deep union with God.
The greatest uniqueness in an individual is achieved the more fully the person exists in God
Leaders lead, I walk in front of them and they follow Me.
In everything you do, you want to be connected to Me so you are leading as I want you to do.
Many times the world thinks that uniqueness means a person is expressing themselves with no restraints.
The fullness of being a person of greater perfection is completely linked to the person's connection to the Creator, to God and His plan for them.
---
April 27, 2000 Third Message - Speak of Purity in Relationships
Jesus speaks: I wish to speak of purity in relationships. In every healthy, holy relationship the person realizes his connection to God. Never is a personal friend an end in himself. Thus, in any form of touching there should always be the connectedness of every person to God. All touching should be done for Godís honor and glory to promote love and harmony. The act of engaging in any form of physical connection should be directly linked to oneís love of God and the desire to be united with God and the other.
There can be impurities in any form of physical contact. Never should another person be the end in himself in any relationship.
This is where there are tremendous problems. People search and search for another person that will fill them and do that which only God can do for them.
I speak of physical hugging, holding hands for prayers. I do not want you to be stiff, I want you to express love, but the thoughts and disposition of the heart when doing so can make it wrong, sinful, or could lead to sin.
I want you to engage in healthy interaction in love, but never do you engage in interaction that is against the Fatherís will.
When hugging another, the focus is wrong if it is on the flesh and how close you are bodily. The hugging should be according to Godís will.
I STRESS- I DO NOT WISH STIFFNESS- I WISH HOLINESS IN YOUR HEARTS- YOU CANNOT ENGAGE IN THOUGHTS THAT COULD LEAD YOU FROM YOUR STATE IN LIFE AS GOD WILLS.
Hugging a friend or holding hands during prayer is permitted, but one does not focus on the flesh contact in ways not pleasing to God, including ways that could jeapordize oneís vocation so designed by God.
DONíT BE STIFFNECKED, BE HOLY.
IF YOUR PRIMARY relationship is with Me, and all you want is greater union with Me, all relationships find a greater fullness in this as you relate according to Godís will.
I am always first in your life. Oneness with Me and oneness with others are connected, not two separate things.
Deep relationships with others reach greatest fullness in having a deep relationship with God. God is the primary relationship in your life.
1st Commandment: "I, the Lord, am your God. You shall not have other gods besides me."
I love you so much. If you hold hands in prayer, or hug a friend, you do not engage in thoughts that could lead you to sin. Being stiff is not the answer. Be holy and love your God with your whole heart, your whole soul, and your whole being.
Any sin works against your relationship with God.
Relationships that are not Godís will leads you away from God.
You must control your thoughts. If you are married and you have to work with other people, you do not fantasize about romantic relationships with them.
People need to relate and work together. Control your thoughts and your desires, they must be according to Godís will.
The devil loves to try to work on peopleís passions.
---
Excerpt from The Spirituality of Fatima and Medjugorje, p. 17
Besides the messages associated with the major Fatima apparitions, there were other revelations given by Our Lady. Before Jacinta died, she told of other messages given her (during her illness) by Mary:

More souls go to Hell because of sins of the flesh than for any other reason.
(End of Excerpt from The Spirituality of Fatima and Medjugorje)
---
Jesus speaks: Once you start giving in to thoughts in relationships that are against Godís will, the devil can work in the passions.
I want you to relate fully in love in holiness. The thoughts and disposition of the heart are very important.
Donít give in to thoughts in the beginning that could lead you astray.
Love fully and deeply according to Godís will in holy love.
Oh, I love you so much. I am the Source of Love. God is on fire for love of you. God is love. You must love as God desires or you will not be happy. You were created for My love. You desire it, you crave it, it is what you are searching for.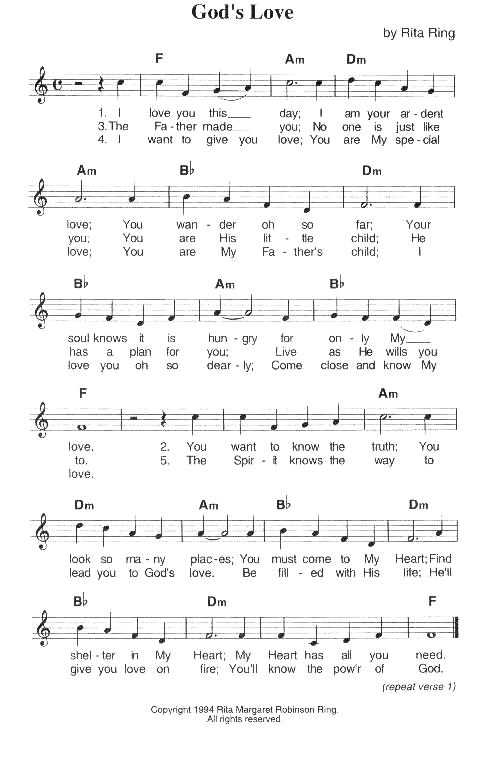 Jesus speaks: If others try to get too close to you, give them this message so you can work together as God desires. Donít give in to others who want more in a relationship than is Godís will. Tell them you want holy love.
I DO NOT WANT YOU TO BE STIFF.
I WANT YOU TO BE LOVING.
PUT YOUR HEADS TOGETHER TO SERVE ME.
YOU ARE THE HANDMAIDS OF THE LORD.
YOU ARE MY BRIDES. I COME FIRST IN YOUR LIVES.
Those that cannot engage in romantic relationships with each other should not fantasize about a relationship like this.
A person that thinks about alcohol all day will have a higher risk of drinking at the end of the day.
Your thoughts have a bearing on your actions.
Your thoughts must be pure and according to Godís will.
It is an act of the will to give in to thoughts that are not conducive to doing Godís will for you.
---
Mary's Message from the Rosary of August 27, 1996
Mary speaks: I stood beneath the cross of my Son, and my Heart was in such pain for I saw Him before my eyes. I saw Him covered with blood. I saw Him die. My Heart, my children, my Heart to watch my Son, but my Heart, my Heart, how I suffered for my little children of the world that give in to this world and give up the love of my Son. O my little children of light, I give you this message. Carry this light into the darkness for your Mother Mary, for I stood beneath the cross and I cried. I cried for the little ones. I cried for the young ones, the ones that do not care and will lose their souls. How do I make you see for you will not listen to me? What can I do? I come. I appear. I beg. I plead. I give you these gifts from my Son, and you reject me. I do not deliver messages very often anymore for I have been ignored. The message is the same. You do not read the messages I have given to you. Please help me. Help the little children. I appear. I appear. I appear, and I am ignored. I stood beneath the cross, and I cried. I cried, and my Heart was in such anguish for my little children, for I am searching for them this day as I searched for the Child Jesus. Please, please help me. I cannot hold back the hand of my Son any longer. I am Mary, your Mother. I ask you to help my children. You are my children of light.

Song: O Lady of Light, shining so bright, be with us this day, guiding our way, O Lady, O Lady of Light.

Mary speaks: I appear to you as Our Mother of Sorrows.
(End of Mary's Message)
---
MY VALENTINE FOR JESUS AND MARY
AND THE WORLD

I _________________ give my heart to
You Jesus and Mary on this day
_________________
I promise to help spread the devotion to
the Hearts of Jesus and Mary.
---
Question for married couples and others in intimate relationships:
Q: How can we help to create relationships in our lives and in the Church like the Father wishes?
---
---
---
Copyright © 2000 Shepherds of Christ.
Rights for non-commercial reproduction granted:
May be copied in its entirety, but neither re-typed nor edited.
Translations are welcome but they must be reviewed for moral and theological accuracy by a source approved by Shepherds of Christ Ministries before any distribution takes place. Please contact us for more information.
All scripture quotes are from the New Jerusalem Bible, July 1990, published by Doubleday.
Revised: April 27, 2000
URL: http://www.SofC.org
Contact Information for Shepherds of Christ
Email: info@SofC.org
---
Shepherds of Christ Ministries
PO Box 193
Morrow, Ohio 45152-0193

Telephone: (toll free) 1-888-211-3041 or (513) 932-4451
FAX: (513) 932-6791