Shepherds of Christ
Daily Writing
April 3, 2009
April 4th Holy Spirit Novena
Scripture selection is Day 2 Period I.

The Novena Rosary Mysteries
for April 4th are Glorious.
Retreat in Florida

April 2, 3, 4, 5th

1:30pm and 6:20pm

each day

The church needs to have the stucco replaced

and also the community building.

It is about $38,000 to repair it.

People pray in the church 24 hours a day.

We have prayed in there for 11 years.

The archdiocese gave the church to us

for this purpose for a small price.

Can you help us?
April 3, 2009
We are trying to reprint the
Mass Book
for the next Priestly Mailing.
Can you help us
with a donation?
1-888-211-3041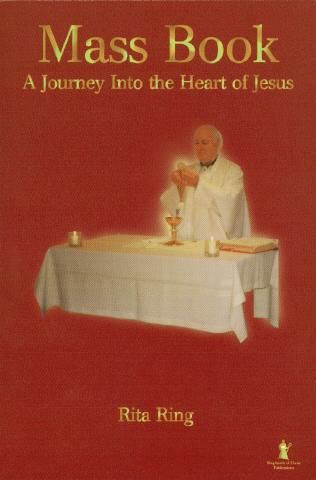 From the Mass Book
December 26, 1995 - (excerpt)
The way of God teaches:
Love
Union
Bonds
Interiority
Connection
Sacrifice
Will of God
Selflessness
Surrendering
The way of the world teaches:
Fear
Intensity
Isolation
Responding with violence
Heart hearts - ready to kill
Indulgence
Pleasure
Self-UNO
Willfulness
Aggression-I have power, I am in control.
God teaches us to love according to His will. God wants us to surrender and be led by the Spirit. The world is teaching youth, through the video games, to respond quickly with violence, aggressive behavior; they teach all who play them to respond quickly with anger to kill. Children have practiced these techniques. They have practiced killing quickly. How sick is this?

The games promote: reactive behavior, controlling behavior, pleasure, self-indulgent behavior, isolating behavior, focusing on the exterior, abandoning the interior heart, and violent behavior. The person playing the video games needs high levels of excitement.

Jesus showed us the way - Christ lived for 33 years a calm life, a carpenter's son, a family life. He gave Himself, gave His all and surrendered to the Father's will. He was always calm. He had peace in His Heart. He came in poverty. He left covered with blood.

Women were portrayed in the video game as nasty, with an ugly face and foul language. Mary is our model.

And Mary said:

"My soul proclaims
the greatness of the Lord
and my spirit rejoices
in God my Savior;
because he has looked upon
the humiliation of his servant.
Yes, from now onwards
all generations will call me blessed,
for the Almighty
has done great things for me.
Holy is his name." (Lk. 1:46-49)
T

HE MYSTERY OF GOD'S LOVE
Written after Mass:
How could Mary not be filled with grace? She carried the Son of God within her. She carried Him in her body. He was formed from her blood. She was conceived without sin. She is full of grace.
Pray to know more the mystery of His love. Today, as I looked at the crucifix, I saw Him on the cross as the sacrifice offered to the Father. Here is the table of offering. The sacrifice of Calvary is sacramentally made present in the Mass. On the table is His Son, Jesus Christ. My heart burns with love of the Holy Spirit today, and, I realize His presence within me. I want to know Him and love Him so much and tell Him my love. I want to be one in Him. I want to be united with this presence within me so deeply. This union with the Holy Spirit makes my heart burn.
The mystery of God's love is revealed in the Christ-event-that God became flesh and was conceived in the womb of Mary, that God lived and walked the earth for 33 years. I see Him on the cross. I see the mystery of God's love so vividly. At the Consecration of the Mass, I envision the Father, above the Holy Spirit, and, under the Father, Jesus on the cross. I felt I heard Mary again under the cross. I was so present on Calvary. I could see the darkness as if I were there, present with Mary. Envisioning this makes me realize more the mystery of God's love. The more I come to the Mass, the more the mystery is revealed, my heart burns. I love to go to Mass and hear every word. I see more into the mystery of His love. He remains. He gives Himself to us in His Divinity and humanity at each Eucharist that we celebrate! We die to ourselves more and more at each Mass and unite in the sacrifice to the Father. We are sanctified more and more through the outpouring of His life. The miracle takes place at every Mass-that the bread and wine are changed, through the hands of the priest, into the Body and Blood of Jesus. We, too, are changed as we offer ourselves in the sacrifice. We are united with Jesus on the cross at the Consecration as the sacrifice on Calvary is sacramentally made present at the Mass. The grace flows from the Father, from His pierced Heart, in the Holy Spirit, through the heart of Mary. I love God so much. I am so thankful for His goodness and His love. I wanted to stay there at the time of the Consecration. I pictured myself present at Calvary. I want to die to myself and live only for Him and be like Him, to unite so deeply in His love in the Eucharist in this Holy Sacrifice of the Mass! The Eucharist is the source of greatest unity. As I am one in Him and you are one in Him, we are one with each other. All one body in Christ - all united throughout the world in this Holy Sacrifice.
The mighty medicine for the world is His burning love. These writings are to help souls more.
Women and men have different roles. The man gives the seed; the woman receives the seed. Christ is the New Adam; Mary is the New Eve. The role of the woman is to nurture and love. Christ is the Head of the Church. The Church is His body. We must be lovers of God and lovers of one another.
Christ loves His Church. The priest needs to love the Church. They need to love with their whole heart.
Mary is blasphemed in her motherhood, her virginity, and her Immaculate Conception. We must make reparation to Mary's heart for the blasphemies against her.
At Fatima, Mary tells us her peace plan. If hearts consecrate themselves to Mary and Jesus, we will have peace in the world. Mary told us in each message at Fatima to pray the rosary. She has made outstanding promises to those who observe the first Saturday devotion.
Heaven and earth meet in Mary. Divinity is united to humanity in the womb of Mary. Mary is Mother of God. She is Mother of the Church. The Church is a pilgrim Church, always in a state of becoming. She is bringing us forth to maturity in Him - we are undergoing the change.
I long for Jesus. I thirst for Him. He longs for me. We are joined in such oneness. I am always growing in my love for Him. My relationship with Him is always getting deeper and deeper. Jesus wants a burning love relationship with the priests. Jesus wants our burning love. He wants priests that are on-fire for the love of God. This will feed the hungry people.
There is a real lack of respect for women. Celibacy has decreased. Mary is our model. Mothers are not looked up to. Mary shows us the beauty of motherhood. She is most holy and blessed. She carries the child Jesus in her arms. Motherhood is a great gift from God. Mary is Mother of God, such an honor. Mary is Mother of the Church. Mary is our Queen. She nurtures. She loves. Mary is blasphemed for her virginity, in her role as Mother, in her Immaculate Conception. To criticize Mary is not to recognize the great love God has for His creatures.



A Prayer before the Holy Sacrifice of the Mass

Let me be a holy sacrifice and unite with God in the sacrament of His greatest love.

I want to be one in Him in this act of love, where He gives Himself to me and I give myself as a sacrifice to Him. Let me be a holy sacrifice as I become one with Him in this my act of greatest love to Him.

Let me unite with Him more, that I may more deeply love Him. May I help make reparation to His adorable Heart and the heart of His Mother, Mary. With greatest love, I offer myself to You and pray that You will accept my sacrifice of greatest love. I give myself to You and unite in Your gift of Yourself to me. Come and possess my soul.

Cleanse me, strengthen me, heal me. Dear Holy Spirit act in the heart of Mary to make me more and more like Jesus.

Father, I offer this my sacrifice, myself united to Jesus in the Holy Spirit to You. Help me to love God more deeply in this act of my greatest love.

Give me the grace to grow in my knowledge, love and service of You and for this to be my greatest participation in the Mass. Give me the greatest graces to love You so deeply in this Mass, You who are so worthy of my love.

-Mass Book, December 27, 1995
December 27, 1995

L

ET US LOVE THE TWO HEARTS OF JESUS AND MARY
IN THE RECEPTION OF THE HOLY EUCHARIST.

HE GAVE HIMSELF TO US ON THE CROSS. HE GIVES HIMSELF TO US IN THE EUCHARIST.
How great was the act of love, God gave to this world, when He gave Himself and died on the cross. He gives Himself to us this day in the Holy Eucharist.

The greatest commandment is that we must love God with our whole heart, our whole soul, and our whole being. This is a commandment. If we are to enter heaven, we must follow the commandments. They are commands given by God for us to follow.

The greatest act we can do on this earth is an act of loving God. The reason for our existence is to love God. In the sacrament of His greatest love, He gives Himself to us. This is an act of love on His part. We are called to respond by giving ourselves in love to Him.

This is the purpose of the Holy Eucharist: to unite in such oneness with our Holy, Loving God. Our all consuming passion should be that of loving God. How many go to the Eucharist with the sole purpose of giving great love to God? He wants us to love Him. He wants souls to tell Him how much they truly love Him. This is the most intimate act of love when Jesus gives Himself-Body, Blood, Soul, and Divinity to man. If it is such an act of love, how are we receiving Him in Communion? We should beg God, in this most intimate union with Him, to help us to love Him with greatest love.

Jesus is a Person. He wants our love. The Holy Spirit wants such intimacy with us. Our Father wants us to love Him. In the Eucharist, we unite with God. In this intimate act of uniting with our beloved God, with Divinity, we must pour out our love to God. We must pour out our heart to the most adorable Heart of Jesus. Jesus is so unjustly treated by many of His beloved souls He loves so much. Let us help make reparation to the Almighty God by loving God with our whole heart, our whole soul, and our whole being in the sacrament of His greatest love. This is the Gift of Himself.

Think of how it is to love someone and give your all for that person, to pour out your heart to him or her and then be treated with coldness and neglect. It hurts our heart so much more when we deeply love someone to be rejected by that person. Jesus loves us with the deepest love. We cannot fully comprehend this love. Let us love Him with the deepest love. Let us love Mary and her Immaculate Heart. Let us love her as the Mother of God. Let us love her as the virgin who bore the Son of God. May we, in the reception of the Eucharist pour out our love to Him, to this adorable Heart. May we pour out our love to His Holy Mother.

Mary said at Fatima that Jesus wants His Heart venerated next to the heart of His Mother. Let us love these two Hearts as we receive the Sacrament of the Eucharist. Then we are so deeply united with God. We see Their two Hearts surrounded with thorns for the injustices against Their Hearts. Let us help make reparation daily as we receive Him in the Eucharist. This is a special time to help make reparation to Their wounded Hearts.

Let us remember how He poured His love out to us on the cross and how He pours out His love to us now when He gives us Himself in the Eucharist, the Eucharist which contains His Heart of burning love. His Heart was pierced with a lance. Her heart was invisibly pierced with a sword. As the wounds in Their Hearts are deep, so too is Their love so deep.

He does not want "surface love". He wants hearts filled with deep burning love.

end of December 27, 1995
T

HERE IS JOY IN SUFFERING
Last year on October 21, I vividly envisioned Jesus. His hands were on each side of His Heart. It was such an experience. I envisioned the statue in the front of Holy Cross-Immaculata Catholic Church of the Sacred Heart as being alive and glistening in light. I recall an experience in Holy Cross-Immaculata Catholic Church under the 12th station.

Mary wept outside the tomb of her beloved Son for her children in our world today. Little children are murdered. Little children are taught vileness and sex at such an early age. Her Son was slaughtered. Children, today, are slaughtered. Their minds are being slaughtered. Pray the Stations, mediate on the sufferings of her Son in the Stations here. As we meditate on His Passion and death, our hearts will deepen in such love with Him. We must pray. We must go to Their Hearts and find strength to continue our battle against the evil world. We are His apostles He is sending into the world armed with hearts of love. Let us hear Him. What you do with your life will help many to save their souls.

I prayed in front of the tabernacle for the grace I needed most and was led to beg the Father that we could have retreats in the Holy Cross-Immaculata Catholic Church for priests and nuns, pray the rosary here and people could be out on the steps and hear the rosary. Many would pray the Stations here. I wish we could have our meetings here and pray in front of the Lourdes Grotto. In all the sorrow I feel her immense joy under the cross. I saw this all morning. She had joy for souls that would be saved by His Blood!

At the Mass of the Virgin, the readings talked about Eve and how she was tricked by the serpent. Then at the Psalm: Mary was filled with the Holy Spirit and cried out the Magnificat. Then at the Gospel: Mary was under the cross. Jesus gave us His Mother under the cross. Mary is the New Eve, Jesus is the New Adam.

"…My soul proclaims the greatness of the Lord" (Lk. 1:46)

See Jesus on the cross and John below. This same sacrifice is sacramentally made present in the Mass. The heart of Mary has joy and pain. There is joy in immense suffering. Mary saw her Son die. Mary saw Him covered with blood. She screams out in the suffering. I understand some of the mystery. There is joy in sufferings. Mary's heart was torn within her to watch her Son die, but she knew of all who would be saved by His blood.

Mary saw her Son, under the cross, covered with blood. She knew her children that would die and knew those that would be saved. In horror she cries out - in joy she weeps her tears for her children that will be saved. The sufferings of the heart are indeed many-faceted. Our bodies too will be glorified, as Christ's body, in the Resurrection. I see so much all through the mysteries of the rosary. Heaven and earth meet in the Holy Sacrifice of the Mass. Jesus comes and saves us from our sins. Eve is the mother of the living; Mary is our spiritual Mother!

When I look at the rosary windows at Our Lady of the Holy Spirit Center, I see Mary above the Apostles when the Holy Spirit descends upon them. She is the Queen of the Apostles. We are called Apostles today to spread the devotion of the two Hearts. We must go to our Mother Mary for help.

A quote explains this well:

As no other creature does, man's nature embraces a spiritual element as well as a physical one. Made up of spirit and body, we are at one and the same time immortal and mortal. We are the lowest of the spiritual creatures and the highest of the physical creatures. Through the goodness of God, we can also participate in the divine life of the Creator. When this participation occurs, the soul becomes Christ-like, the Holy Spirit dwells within the soul. Man then becomes truly the image and likeness of God.39

Notes: He wants us to be happy. We crave God, we cannot be attached to any person, place, or thing. We must live all things according to His will.

God is our Source. God is our goal.

What will make us happy is to know and love God. God so loved the world, He gave His only Son. Adam sinned, God provided a Redeemer. He kept His promise while He prepared men.

God gave His Son, incarnate in the womb of the Blessed Mother, this is His great gift to us. Jesus came to show us how to live and love. He left a perfect Sacrifice to offer to God - in which He is Victim and Priest - He left His Body and His Blood!

The Holy Spirit works in the Church today, continuing the Incarnation in the Church, and in us.

St. Augustine says: "The kingdom of heaven, O man, requires no other price than thyself, the value of it is thyself; give thyself to it and thou shalt have it."40 "…the most exquisite happiness consists in praising, adoring, loving, and being loved in return by a Being who is so great and good."41

Love is emptying of self. I must empty myself and make room for Him.

I must love God and love all His creatures as He commands me to do.

___________

39. Our Quest for Happiness [Albany: Preserving Christian Publications, Inc., 1992], Vol. 3, p. 83.
40. Ibid., p. 13.
41. Ibid., p. 14.

T

HE MASS
At Mass today, I had such a love for the Church today after Communion - I was in tears, loving the Church so much.

At Mass at All Saints; I received a terrific blessing. I experienced His immense presence. I was in a deep state of peace and ecstasy.
end of excerpts
Betty is a handmaid who has prayed in the

China Church for 11 years. To get from her

house to the church she uses a walker and

must go over a creek and a little bridge.

We wanted a little place she could rest

by the Church. We need about $1,000 to

make this happen. Can you help us?
We are trying to get
Response to God's Love
and the Mass Book out.

Anybody who wants to help us
with a donation to get these 2 books
out in the Priestly/hierarchy mailing —
Please call Kathleen 1-888-211-3041
July 31, 1994

Words of Jesus to Members of
Shepherds of Christ Associates:

"My beloved priest-companion, I intend to use the priestly newsletter, Shepherds of Christ, and the movement, Shepherds of Christ Associates, in a powerful way for the renewal of My Church and the world.

"I will use the newsletter and the chapters of Shepherds of Christ Associates as a powerful instrument for spreading devotion to My Heart and My Mother's Heart.

"I am calling many to become members of Shepherds of Christ Associates. To all of them I will give great blessings. I will use them as instruments to help bring about the triumph of the Immaculate Heart and the reign of My Sacred Heart. I will give great graces to the members of Shepherds of Christ Associates. I will call them to be deeply united to My Heart and to Mary's Heart as I lead them ever closer to My Father in the Holy Spirit."

- Message from Jesus to Father Edward J. Carter, S.J., Founder, as given on July 31, 1994,
feast of Saint Ignatius Loyola, Founder of the Society of Jesus (The Jesuits)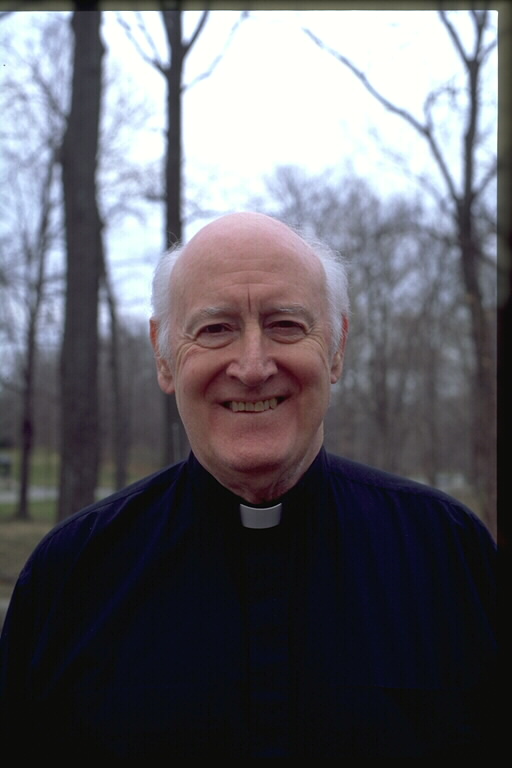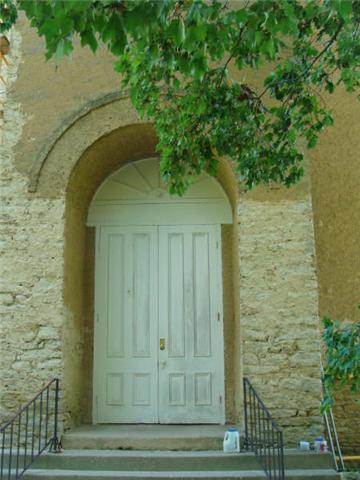 The China Church is over 140 years old
and we pray in there 24 hours a day.
It needs stucco and so does
the community building.
Can you please help us?
Call Kathleen 1-888-211-3041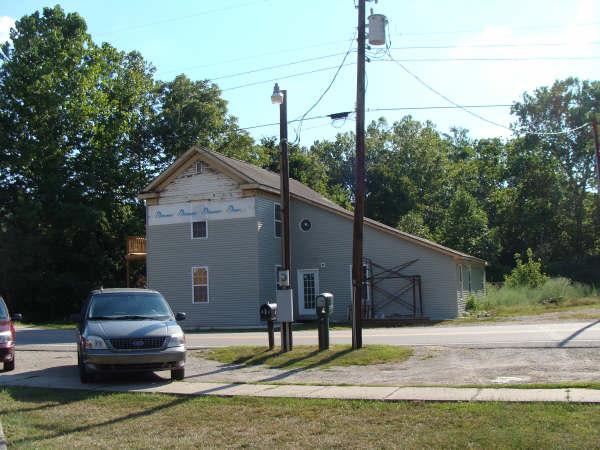 Likewise the priest house
is 150 years old.
Jesus told us to repair it
which we have been doing.
We need $13,000.00 for this work.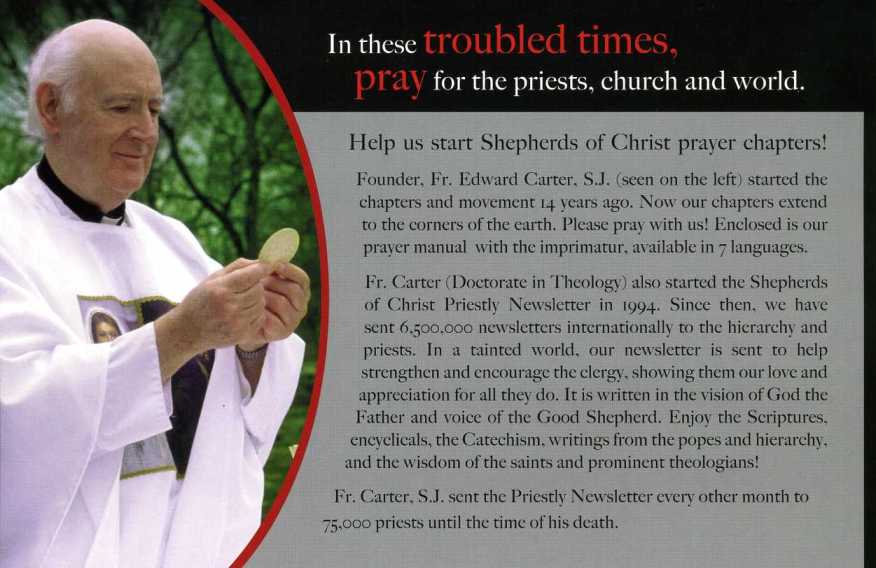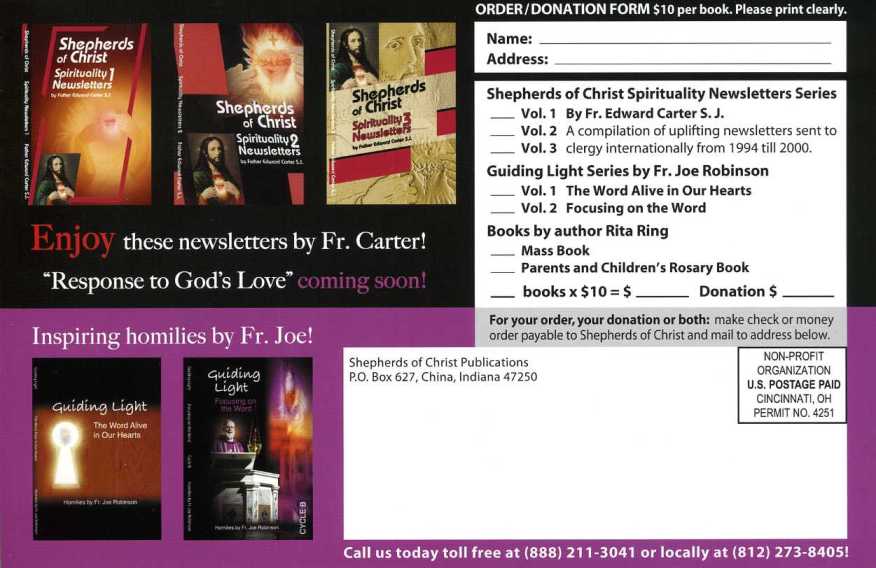 You can help put the Blue Book V
in the hands of 1,000 people
we need $1,200 postage for this
It is ready to go
Call Kathleen
1-888-211-3041
You can help put Fr. Joe's homily
book in the hands of
1,000 priests — it costs $1,100
This can help 1,000 parish priests
talk about Covenant for Lent
Please help us
It is ready to go
Call Kathleen 1-888-211-3041
Call Kathleen to Order any of the items below
1-888-211-3041