April 3, 2010 - Holy Saturday
Jesus: My grace is sufficient for you —
I call and you answer —
The problem with people who
become angry and have
vengeance toward another —
they fill their hearts with
vengeance not love —
A person that continues engaging
in evil can go deeper and deeper
into the darkness and if they
would look at their own
evil they are doing now —
10 years ago they wouldn't
believe how far they may go into
darkness, vengeance, hatred —
Where do you go with anger, provoking
others more and more — living
in darkness —
The devil is cunning, he aims for
the jugular vein — he wants
to use people as his instruments
to bring disorder, chaos to
the world — to spread darkness —
for corruption and evil
How angry are you?
Leviticus 19: 17
You will not harbour hatred for your brother. You will reprove your fellow–countryman firmly and thus avoid burdening yourself with a sin.
Revelation 21: 7-8
anyone who proves victorious will inherit these things; and I will be his God and he will be my son. But the legacy for cowards, for those who break their word, or worship obscenities, for murderers and the sexually immoral, and for sorcerers, worshippers of false gods or any other sort of liars, is the second death in the burning lake of sulphur.'
God told Abram —
"I will bless those who bless you
and curse those who curse you"
Humility
Philippians 2: 5
Make your own the mind of Christ Jesus:
At the Last Supper
John 13: 34
I give you a new commandment: love one another; you must love one another just as I have loved you.
Jesus washed the feet —
Jesus showed them humility when He
washed their feet
Humility is in us —
Humility is truth —
We want to know the truth about
ourselves — we accept it —
and we want to live to be
more like Jesus
Mary, Mother of God shows us humility.
Sing: Holy Is His Name
Mary lived the truth about herself —
One can wear masks —
being afraid someone will see the
real self
Look at Jesus on the cross
Jesus was not clothed —
Jesus was stripped of His garments
Jesus came bare —

January 5, 1997
Jesus: BABY, BARE BABY, LAID BARE
Bare, Bare Baby, Laid Bare
Open yourself, Oh Jerusalem, your time is come you will be a light to the people in darkness, many will walk whence you come and the earth will be shakened and the light will come across a dark sky and enlighten their minds.
Oh stiff-necked people, you are so stiff in your ways, let the Spirit envelope you and lead you on your way.
A country of stiffs, a people of planning and prodding, of deliberating and wondering—you lack faith, Jerusalem, you lack faith in God.
Oh walk naked into the cold night, you are cold in your hearts and naked in your clothing—I clothe you with glory, I light your face with light, but you turn your cheeks to the darkness and stay stiff-necked in your hearts. Oh cold and dark hearts, reach for the light that you may know the glory that awaits the sinners and enlightens their minds.
end of January 5, 1997
Humility is truth
One accepts the truth about oneself —
One wants to know the truth about
oneself —
Mary did not wait to be served
Mary served
Mary said "yes"
Mary went to Elizabeth
Mary carried Jesus
Mary gave birth to Jesus in a stable
Mary fled into Egypt
Mary obeyed God —
She didn't do it her way
She did as she was told —
Mary, full of grace
Mary conceived without sin
Matthew 11: 29
Shoulder my yoke and learn from me, for I am gentle and humble in heart, and you will find rest for your souls.
Selflessness
John the Baptist Selflessness
Jesus Selflessness
Jesus came — He was condemned to death —
He was mocked
He was whipped
By His own creatures
Jesus was put to death —
Learn humility
Do not give into the pride of our
wounded human nature —
Jesus did His Father's will
Jesus taught us about obedience
We must see ourselves as created
out of nothing —
created for God —
the good we do is because
of God's grace
Not pompous —
saying we are masters of our
destiny
We have a free will to cooperate
with God's grace and be good —
or to further the work
of satan and do evil —
Jesus wants us humble —
Jesus loves the humble heart —
God hates pride
Pride lies — it says we are above God —
Eve believed she was equal to God —
Like King Saul
Eve did her own will
Saul disobeyed God when Samuel
told him what to do —
We are to subordinate ourselves
to God —
we are creatures
God is the Creator
The sin of Lucifer is pride —
The sin of Adam and Eve that
brought us all disharmony
and suffering is pride
Excerpt of The Spiritual Exercises of St. Ignatius, by Louis J. Puhl, S.J.

142. THIRD POINT. Consider the address he makes to them, how he goads them on to lay snares for men and bind them with chains. First they are to tempt them to covet riches (as Satan himself is accustomed to do in most cases) that they may the more easily attain the empty honors of this world, and then come to overweening pride.

The first step, then, will be riches, the second honor, the third pride. From these three steps the evil one leads to all other vices.

The sin of pride hurts us and
makes us farther from God —
Can God unite with the prideful
man —
God who is all pure and loving and
all holy —
2 Corinthians 12: 9-10
but he has answered me, 'My grace is enough for you: for power is at full stretch in weakness.' It is, then, about my weaknesses that I am happiest of all to boast, so that the power of Christ may rest upon me; and that is why I am glad of weaknesses, insults, constraints, persecutions and distress for Christ's sake. For it is when I am weak that I am strong.
James 4: 10
Humble yourselves before the Lord and he will lift you up.
To accept whatever God sends us
Ecclesiastes 3: 1-8, 11
There is a season for everything, a time for every occupation under heaven:

A time for giving birth,
a time for dying;
a time for planting,
a time for uprooting what has been planted.
A time for killing,
a time for healing;
a time for knocking down,
a time for building.
A time for tears,
a time for laughter;
a time for mourning,
a time for dancing.
A time for throwing stones away,
a time for gathering them;
a time for embracing,
a time to refrain from embracing.
A time for searching,
a time for losing;
a time for keeping,
a time for discarding.
A time for tearing,
a time for sewing;
a time for keeping silent,
a time for speaking.
A time for loving,
a time for hating;
a time for war,
a time for peace.

All that he does is apt for its time; but although he has given us an awareness of the passage of time,
we can grasp neither the beginning nor the end of what God does.
James 1: 19-20
Remember this, my dear brothers: everyone should be quick to listen but slow to speak and slow to human anger; God's saving justice is never served by human anger;
God wants to dwell in our soul —
mortal sin drives Him out —
Jesus: I give you your breath —
I give you a sharing in My life —
When you sin you misuse your life —
I am present and I dwell in the
graced baptized soul —
Stay in the state of grace —
Go to the sacraments, especially
the Mass — beg to be abundantly
filled with My grace

R. When we sin we put ourselves
above God —
Jesus wants to be the King and Center
of our hearts —
Jesus wants to be loved —
How is your soul, is it going
more and more to be filled with His
life — a place the Father, Son and Holy Spirit
live in abundantly
Or have you given into a dark
chamber — hiding your sins and
helping to promote the standard
of satan —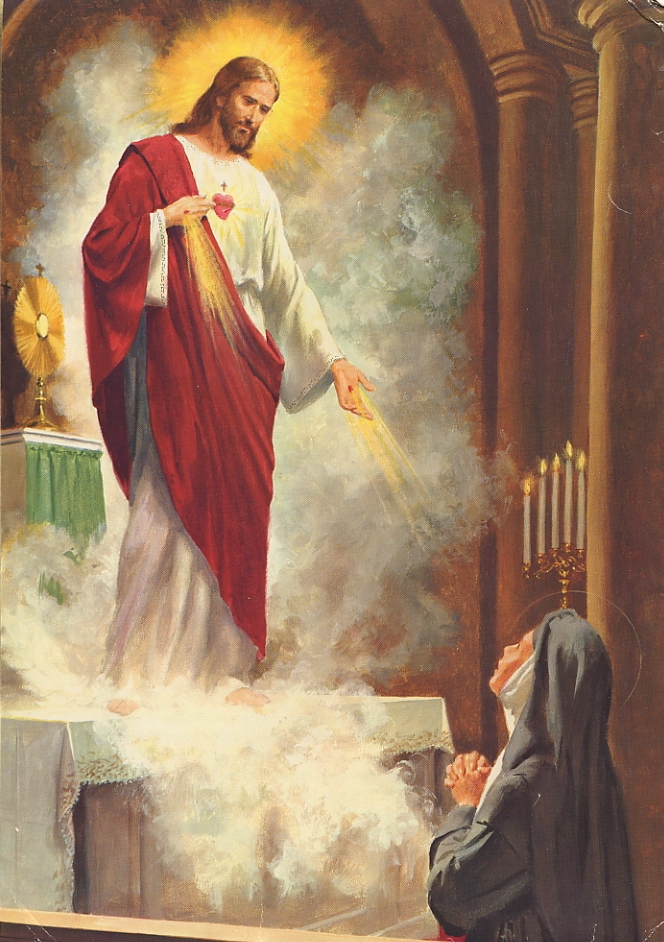 Promises of Our Lord to those devoted to His Sacred Heart
1. I will give them all the graces necessary in their state of life.
2. I will establish peace in their homes.
3. I will comfort them in all their afflictions.
4. I will be their refuge during life and above all in death.
5. I will bestow a large blessing on all their undertakings.
6. Sinners shall find in My Heart the source and the infinite ocean of mercy.
7. Tepid souls shall grow fervent.
8. Fervent souls shall quickly mount to high perfection.
9. I will bless every place where a picture of My Heart shall be set up and honored.
10. I will give to priests the gift of touching the most hardened hearts.
11. Those who promote this devotion shall have their names written in My Heart, never to be blotted out.
12. I promise you in the excessive mercy of My Heart that My all-powerful love will grant to all those who communicate on the first Friday in nine consecutive months the grace of final penitence; they shall not die in My disgrace nor without receiving their sacraments; My divine Heart shall be their safe refuge in this last moment.
Jesus is the healer
He wants us to return to Him with
all our hearts —
He wants us to model our lives after
Him —
God wants to abundantly dwell in
us —
God wants oneness with us — we
are to grow in holiness — say we
are sorry when we sin to help repair
our relationship with God and others which was hurt
because of our
sin —
We turn away from God when we
sin — when we sin we are not making Jesus
the King of our hearts —
Jesus can reveal Himself more
and more to the holy soul —
Jesus calls us to keep our eyes on
Him —
When we sin we tell God we and
what we want are more important
than Him coming to us as we
keep our focus on growing in
greater holiness —
Devils want to get us to give
in — look at how Jesus tells us
about the devil in the scriptures —
how the devil tried to tempt Him —
how Judas gave into the devil —
how Peter denied Jesus —
God gives us a free will. We have the
choice to obey or disobey God's will —
Jesus: Look at how the men chose to
beat Me and put Me to death —
they had a free will —
Judas had a free will
R. Sin brings pain and suffering —
Adam and Eve sinned and we all
suffer today —
there is death and disease,
pain, suffering, disharmony —
We see with imperfect vision —
We see God, ourselves, others
with distorted vision because
of the fall of original sin
Jesus: They whipped Me
They tore My flesh
They spat on Me
They crowned Me with thorns
I want you to love Me —
I want you to tell Me you are
sorry when you sin
Isaiah 53: 5
whereas he was being wounded
for our rebellions,
crushed because of our guilt;
the punishment reconciling us fell on him,
and we have been healed by his bruises.
Jesus: I suffered for your sins —
Psalm 22: 1, 8-9, 16-20, 23-24

My God, my God, why have you forsaken me?

'He trusted himself to Yahweh, let Yahweh set him free!
Let him deliver him, as he took such delight in him.'

It was you who drew me from the womb
and soothed me on my mother's breast.

A pack of dogs surrounds me,
a gang of villains closing in on me
as if to hack off my hands and my feet.
I can count every one of my bones,
while they look on and gloat;
they divide my garments among them
and cast lots for my clothing.

Yahweh, do not hold aloof!
My strength, come quickly to my help,
rescue my soul from the sword,
the one life I have from the grasp of the dog!

'You who fear Yahweh, praise him!
All the race of Jacob, honour him!
Revere him, all the race of Israel!'

For he has not despised
nor disregarded the poverty of the poor,
has not turned away his face,
but has listened to the cry for help.
Jesus: Blood ran from My wounds —
My body was a bloody, raw mess —
Then they gave Me a heavy cross
August 23, 1993

On His Passion

Jesus: My dear child,
I was condemned to death, death on a cross. They gave Me a big cross and made Me carry it. They stood around and glared at Me. It weighed on My shoulder and I pulled at it until it finally moved. Every step was almost impossible as I dragged it, weighing so heavily on My shoulders.

My shoulder felt as if the bones inside would crack and the cross would fall through to the ground. I couldn't drag it any more. I tried, I fell. I fell and its weight fell on Me. A guard hit Me with something sharp. It really hurt because he wanted Me to move, and fast! People were watching — on with the show! How dare I fall in the middle of the show! He hit Me again and the blow really stung Me. I got up because it hurt so badly. I tried to walk on.

My Mother was in the crowd. She looked at Me and her face looked red and hurt. Tears rolled down her cheeks like rain and as her eyes met Mine, I was hurt so by her sorrow! She was always by My side, silent and loving. She was My mother of love! She is always there next to you when you suffer.

I fell again and he (the guard) really hit Me. It (the cross) was so heavy that he and I together could barely move it. It seemed as I walked, heavier with the sins of the world heaped on it. My hands were bleeding. Blood ran from the wounds of My thorns and My head throbbed, seeming to make the wounds in My head bleed even more. Some of the Blood was dried, some of it running all over My Body. I had so many cuts and bruises — and people watched and laughed!

I am Jesus, Son of the Living God, and they laughed and mimicked Me! Oh, such hardened hearts! How vile can men's heart become? The devil's grip is paralyzing and crippling.

The walk was so long up a hill and over rocks — the cross had to be lifted over the rocks. My Body was bleeding so badly! My heart was pounding. I knew that the salvation of all men depended on My love. Therefore, I went through such agony.

I thought of My intense love for you — that many would go to heaven because of My suffering — and I continued to the top of the hill. At the top they laid Me on the cross and with a big hammer nailed My hands to it. It was the worst (suffering) yet. My hands were nailed with big nails and the big hammer. Oh, it was unbelievable! Then, as if that weren't enough, with a big nail they nailed through both feet.

Then they lifted the cross and banged it into (a hole in) the ground. My shoulders ached from how I hung. My head bobbed and My neck ached and they laughed and said, "Now save Yourself." I hurt so much! I suffered this way for hours — which seemed like forever — and they glared at Me and laughed! My Mother watched in such agony.

For love of you, to My death I gave you My Body. My child, I shed My Blood and gave you My life that you might be with Me forever in heaven — not for a day, a month or a year, but forever with Me in heaven.

I am the true Bread come down from heaven. He who eats My Flesh will have life forever. For the drink I give you is My Blood and food you eat is My Body. Who would lay down his life for a friend? I did, for you. I love you this much, child. Forget about those who reject you. You have My life that I gave you and I give you life eternal.

I am the One true God. I am the Light of life. He who abides in Me will have life eternal, for the drink I give is My Blood and the food I give is My Body. Drink and eat and have everlasting life.

My child, that is all you need to know. Love one another and be good that you may enter into My kingdom.

end of August 23, 1993
Luke 23: 34

...'Father, forgive them; they do not know what they are doing.'
John 17: 20-23
I pray not only for these
but also for those
who through their teaching
will come to believe in me.
May they all be one,
just as, Father, you are in me
and I am in you,
so that they also may be in us,
so that the world may believe
it was you who sent me.
I have given them the glory
you gave to me,
that they may be one as we are one.
With me in them and you in me,
may they be so perfected in unity
that the world will recognise
that it was you who sent me
and that you have loved them
as you have loved me.
Easter Vigil
(1) Genesis "Let There be light"
Psalm - Lord Send Out Your Spirit
Psalm 104: 1-2, 5-6, 10, 12, 13-14, 24, 35
(2) Abraham and Isaac scripture
Psalm: Keep Me safe, Oh God
Psalm 16: 5, 8, 9-10, 11
(3) Dividing of the Red Sea
Psalm: Exodus 15: 1-2, 3-4, 5-6, 17-18
(4) Isaiah 54: 5-14
Psalm: I will Praise You Lord,
for You have rescued me —
Psalm 30: 2, 4, 5-6, 11-12, 13
(5) Come to the Water
Psalm: You will draw water
joyfully from the springs
of salvation
Isaiah 12: 2-3, 4, 5-6
(6) Baruch - Walk in the way of God —
you will live in peace
Psalm: Lord you have the words
of everlasting life
Psalm 19: 8, 9, 10, 11
(7) Ezekiel - The Lord will pour clean water —
The Lord will give us a new heart
Psalm 42: 3, 5; 43: 3-4
Like a deer that longs for running streams
(8) Romans 6: 3-11
Romans 6:3-11

You cannot have forgotten that all of us, when we were baptised into Christ Jesus, were baptised into his death. So by our baptism into his death we were buried with him, so that as Christ was raised from the dead by the Father's glorious power, we too should begin living a new life. If we have been joined to him by dying a death like his, so we shall be by a resurrection like his; realising that our former self was crucified with him, so that the self which belonged to sin should be destroyed and we should be freed from the slavery of sin. Someone who has died, of course, no longer has to answer for sin.

But we believe that, if we died with Christ, then we shall live with him too. We know that Christ has been raised from the dead and will never die again. Death has no power over him any more. For by dying, he is dead to sin once and for all, and now the life that he lives is life with God. In the same way, you must see yourselves as being dead to sin but alive for God in Christ Jesus.
Psalm Alleluia, Alleluia
Give thanks for the Lord, for he is good
(9) Gospel Luke 24: 1-12
Jesus has risen
Luke 24: 1-12
On the first day of the week, at the first sign of dawn, they went to the tomb with the spices they had prepared. They found that the stone had been rolled away from the tomb, but on entering they could not find the body of the Lord Jesus. As they stood there puzzled about this, two men in brilliant clothes suddenly appeared at their side. Terrified, the women bowed their heads to the ground. But the two said to them, 'Why look among the dead for someone who is alive? He is not here; he has risen. Remember what he told you when he was still in Galilee: that the Son of man was destined to be handed over into the power of sinful men and be crucified, and rise again on the third day.' And they remembered his words.

And they returned from the tomb and told all this to the Eleven and to all the others. The women were Mary of Magdala, Joanna, and Mary the mother of James. And the other women with them also told the apostles, but this story of theirs seemed pure nonsense, and they did not believe them.

Peter, however, went off to the tomb, running. He bent down and looked in and saw the linen cloths but nothing else; he then went back home, amazed at what had happened.
Sing Psalm 118
This is the day the Lord has made,
let us rejoice and be glad —
God created the world — the seen,
and the unseen — out of nothing
All was created by God for purpose
and meaning
First day of creation
"Let there be light"
CALL by God
Response to "and there was light"
God created a serene, beautiful,
peaceful, loving, harmonious,
good and orderly world without sin
God created man in His image and likeness —
God made woman
The fall of man Chapter 3 Genesis
Adam and Eve disobey God
Cast from the garden
Cain murders Abel
The flood — Noah and Descendants
Covenant with Noah — Ark
Shem to Abraham — first ancestors
of Israel
Abraham And Sarai in Egypt
Abraham and Lot separate
4 Kings
Melchizedek
Covenant with Abram
Birth of Ishmael
Abraham and Sarah will have child
Destruction Sodom and Gomorrah
Moabites and Ammonites
Isaac is born to Abraham and Sarah
Testing Abraham
Isaac and Rebekah
The Patriarchs Isaac and Jacob
Esau and Jacob born to
Isaac and Rebekah
(Rebekah more than 19 years
barren)
Abraham dies
Ishmael dies
Isaac blessed Jacob instead of Esau
Joseph born Jacob and Rachel
Jacob by 90
Rachel dies giving birth to Benjamin
Dinah, Jacob's daughter
ravished by Shechem
Brothers hate Joseph
Isaac dies 180 years
Joseph 7 years plenty
Joseph 7 years scarcity
Joseph's brothers go to Egypt
Joseph rules Egypt
Aaron born
Pharaoh an edict for
drowning all male
children of Israelites
Moses born
The Lord appears to Moses
Moses to deliver Israel
out of bondage
Moses get the commandments
Plagues
Dividing of Red Sea
Hebrews Chapter 11
Only faith can guarantee the blessings that we hope for, or prove the existence of realities that are unseen. It is for their faith that our ancestors are acknowledged.

It is by faith that we understand that the ages were created by a word from God, so that from the invisible the visible world came to be.

It was because of his faith that Abel offered God a better sacrifice than Cain, and for that he was acknowledged as upright when God himself made acknowledgement of his offerings. Though he is dead, he still speaks by faith.

It was because of his faith that Enoch was taken up and did not experience death: he was no more, because God took him; because before his assumption he was acknowledged to have pleased God. Now it is impossible to please God without faith, since anyone who comes to him must believe that he exists and rewards those who seek him.

It was through his faith that Noah, when he had been warned by God of something that had never been seen before, took care to build an ark to save his family. His faith was a judgement on the world, and he was able to claim the uprightness which comes from faith.

It was by faith that Abraham obeyed the call to set out for a country that was the inheritance given to him and his descendants, and that he set out without knowing where he was going. By faith he sojourned in the Promised Land as though it were not his, living in tents with Isaac and Jacob, who were heirs with him of the same promise. He looked forward to the well–founded city, designed and built by God.

It was equally by faith that Sarah, in spite of being past the age, was made able to conceive, because she believed that he who had made the promise was faithful to it. Because of this, there came from one man, and one who already had the mark of death on him, descendants as numerous as the stars of heaven and the grains of sand on the seashore which cannot be counted.

All these died in faith, before receiving any of the things that had been promised, but they saw them in the far distance and welcomed them, recognising that they were only strangers and nomads on earth. People who use such terms about themselves make it quite plain that they are in search of a homeland. If they had meant the country they came from, they would have had the opportunity to return to it; but in fact they were longing for a better homeland, their heavenly homeland. That is why God is not ashamed to be called their God, since he has founded the city for them.

It was by faith that Abraham, when put to the test, offered up Isaac. He offered to sacrifice his only son even though he had yet to receive what had been promised, and he had been told: Isaac is the one through whom your name will be carried on. He was confident that God had the power even to raise the dead; and so, figuratively speaking, he was given back Isaac from the dead.

It was by faith that this same Isaac gave his blessing to Jacob and Esau for the still distant future. By faith Jacob, when he was dying, blessed each of Joseph's sons, bowed in reverence, as he leant on his staff. It was by faith that, when he was about to die, Joseph mentioned the Exodus of the Israelites and gave instructions about his own remains.

It was by faith that Moses, when he was born, was kept hidden by his parents for three months; because they saw that he was a fine child; they were not afraid of the royal edict. It was by faith that, when he was grown up, Moses refused to be known as the son of Pharaoh's daughter and chose to be ill–treated in company with God's people rather than to enjoy the transitory pleasures of sin. He considered that the humiliations offered to the Anointed were something more precious than all the treasures of Egypt, because he had his eyes fixed on the reward. It was by faith that he left Egypt without fear of the king's anger; he held to his purpose like someone who could see the Invisible. It was by faith that he kept the Passover and sprinkled the blood to prevent the Destroyer from touching any of their first–born sons. It was by faith they crossed the Red Sea as easily as dry land, while the Egyptians, trying to do the same, were drowned.

It was through faith that the walls of Jericho fell down when the people had marched round them for seven days. It was by faith that Rahab the prostitute welcomed the spies and so was not killed with the unbelievers.

What more shall I say? There is not time for me to give an account of Gideon, Barak, Samson, Jephthah, or of David, Samuel and the prophets. These were men who through faith conquered kingdoms, did what was upright and earned the promises. They could keep a lion's mouth shut, put out blazing fires and emerge unscathed from battle. They were weak people who were given strength to be brave in war and drive back foreign invaders. Some returned to their wives from the dead by resurrection; and others submitted to torture, refusing release so that they would rise again to a better life. Some had to bear being pilloried and flogged, or even chained up in prison. They were stoned, or sawn in half, or killed by the sword; they were homeless, and wore only the skins of sheep and goats; they were in want and hardship, and maltreated. They were too good for the world and they wandered in deserts and mountains and in caves and ravines. These all won acknowledgement through their faith, but they did not receive what was promised, since God had made provision for us to have something better, and they were not to reach perfection except with us.
Matthew 1: 1-17
Roll of the genealogy of Jesus Christ, son of David, son of Abraham:

Abraham fathered Isaac,
Isaac fathered Jacob,
Jacob fathered Judah and his brothers,
Judah fathered Perez and Zerah,
whose mother was Tamar,
Perez fathered Hezron,
Hezron fathered Ram,
Ram fathered Amminadab,
Amminadab fathered Nahshon,
Nahshon fathered Salmon,
Salmon fathered Boaz,
whose mother was Rahab,
Boaz fathered Obed,
whose mother was Ruth,
Obed fathered Jesse;
and Jesse fathered King David.

David fathered Solomon,
whose mother had been Uriah's wife,
Solomon fathered Rehoboam,
Rehoboam fathered Abijah,
Abijah fathered Asa,
Asa fathered Jehoshaphat,
Jehoshaphat fathered Joram,
Joram fathered Uzziah,
Uzziah fathered Jotham,
Jotham fathered Ahaz,
Ahaz fathered Hezekiah,
Hezekiah fathered Manasseh,
Manasseh fathered Amon,
Amon fathered Josiah;
and Josiah fathered Jechoniah
and his brothers.
Then the deportation to Babylon
took place.

After the deportation to Babylon:
Jechoniah fathered Shealtiel,
Shealtiel fathered Zerubbabel,
Zerubbabel fathered Abiud,
Abiud fathered Eliakim,
Eliakim fathered Azor,
Azor fathered Zadok,
Zadok fathered Achim,
Achim fathered Eliud,
Eliud fathered Eleazar,
Eleazar fathered Matthan,
Matthan fathered Jacob;
and Jacob fathered Joseph
the husband of Mary;
of her was born Jesus
who is called Christ.

The sum of generations is therefore: fourteen from Abraham to David; fourteen from David to the Babylonian deportation; and fourteen from the Babylonian deportation to Christ.
Holy Saturday
Creation let there be light
God created all things from nothing
for His holy purpose
Abraham put to the test
God the Father gave His Son
Dividing of the Red Sea
prefigures baptism
God wants intimacy with us —
faithfulness from us
Come to the springs of life
giving water
Reading of Baruch
Baruch 3: 9-15, 32─4: 4
Reading of Ezekiel
Ezekiel 36: 16-28
Reading of Romans
Romans 6: 3-11
Gospel
Luke 24: 1-12