Mary has requested that the daily message be given each day to the world. It is read nightly at the prayer service from her Image Building in Clearwater, Florida, U.S.A. This is according to her request. All attempts will be made to publish this daily message to the world at 11 p.m. Eastern time, U.S.A.

---

We acknowledge that the final authority regarding these messages rests with the Holy See of Rome.

---
---
A Prayer for Intimacy with the Lamb, the Bridegroom of the Soul

Oh Lamb of God, Who take away the sins of the world, come and act on my soul most intimately. I surrender myself, as I ask for the grace to let go, to just be as I exist in You and You act most intimately on my soul. You are the Initiator. I am the soul waiting Your favors as You act in me. I love You. I adore You. I worship You. Come and possess my soul with Your Divine Grace, as I experience You most intimately.
---
Messenger: Include Our Lady of the Holy Spirit Center in 6:20 prayers.
---
---
Messenger:

Mary appeared in gold on the building at the end of the rosary April 5, 2000.

As we sang songs to Mary and Jesus she became more and more golden in color.

Her whole position, top and bottom, were gold as finest gold panes. It was indescribable in words. It was like gold panels, but not "earthy". The richest gold, not like anything man-made. Not like anything on earth. Like panels of gold jewelry. I cannot describe it.

The middle sections looked like rainbow gold. The progress was gradual. As we sang it became more and more elegant, until she remained solidly like the way I tried to describe.

The whole body of people gathered witnessed this beauty as she appeared.

She stayed this way for a long time afterwards.

In today's message Mary reminded me that she had requested public gatherings on April 5, 1995, and thereafter.

This was the 5 year anniversary. Usually at night when we sat beneath Mary's image the window looked dark, almost dark and her outline was barely seen.

On December 17, 1999, on the 3 year anniversary, she appeared on the building and all saw her.

She appeared again toward the end of the rosary when I was there January 5, 2000.

Last night was so beautiful. It was the Lady clothed in deep gold, so visible to us as our loving Mother - the Lady clothed in gold.
---
April 6, 2000 - Second Message
Jesus speaks: A cancer is one that can be hidden from sight while it silently grows.
---
Mary's Message from the Rosary of August 27, 1996
Mary speaks:
I stood beneath the cross of my Son, and my Heart was in such pain for I saw Him before my eyes. I saw Him covered with blood. I saw Him die. My Heart, my children, my Heart to watch my Son, but my Heart, my Heart, how I suffered for my little children of the world that give in to this world and give up the love of my Son. O my little children of light, I give you this message. Carry this light into the darkness for your Mother Mary, for I stood beneath the cross and I cried. I cried for the little ones. I cried for the young ones, the ones that do not care and will lose their souls. How do I make you see for you will not listen to me? What can I do? I come. I appear. I beg. I plead. I give you these gifts from my Son, and you reject me. I do not deliver messages very often anymore for I have been ignored. The message is the same. You do not read the messages I have given to you. Please help me. Help the little children. I appear. I appear. I appear, and I am ignored. I stood beneath the cross, and I cried. I cried, and my Heart was in such anguish for my little children, for I am searching for them this day as I searched for the Child Jesus. Please, please help me. I cannot hold back the hand of my Son any longer. I am Mary, your Mother. I ask you to help my children. You are my children of light.

Song: O Lady of Light, shining so bright, be with us this day, guiding our way, O Lady, O Lady of Light.

Mary speaks: I appear to you as Our Mother of Sorrows.

(End of Mary's Message)
---
Mary speaks: My children, I implore you as your heavenly Mother to purify your hearts.
Things may appear whole on the outside, yet the interior workings of the evil one can cause a collapse.
It begins in the way you perceive things in your hearts.
Are you trustworthy?
Are you whole, do you come in the name of Jesus or do you work for yourselves?
My children, you must be handmaids of the Lord.
What you keep hidden, what you hide can destroy you and others.
You must live to serve God, that must be your ultimate goal, not to selfishly serve yourself.
Your Father has a plan to help lead the world into renewal. You are called to serve God and follow His plan.
You do not know the honor your God has given to you to call you to this mission.
My Son, Jesus, is offended by how He has been treated.
He comes to give you the secrets that will turn your hearts on fire for love of Him.
My children, He loves you so much.
This is His Movement to renew the Church and the world.
My children, what you are doing, how you conduct your personal lives will affect the whole world.
God is almighty and all powerful.
Trust in your God, my children. I appear that you will see me, the Lady Clothed with the Sun, and believe.
My children, I appeared in golden splendor after the rosary on April 5, 2000. On April 5, 1995, I called the first public gatherings of rosaries given on the 5th to the public.
---
Excerpt from March 30, 1995, Rosary
The Presentation of Our Lord in the Temple

Mary speaks: I call you to come on the fifth of April and pray the rosary here in this room.
Bring with you all that will pray, for sufferings are at hand. You will suffer such immense sufferings. You need to pray! Pray the rosary! Tell all to come and be with me in this room to pray the rosary!
---
Mary speaks: On this 5 year anniversary, I appeared as a Lady clothed with the golden glow of beauty in the darkest night.
My children, you are dealing with your God. This is His mission to help renew the Church and the world.
The leader is one who leads the way for Him. He is one who knows that he must walk in the way of Jesus.
My Son has touched your world and your hearts. My children, you must, must be pure.
My children, you do not perceive how big this mission truly is. My children, you serve, you give, you do this for Jesus, you have helped so many souls. My children, you will reach more souls if you surrender to His will and not your own. My children, this site in Florida is an enormous gift God gives to you.
You must work together to take the message from heaven to the world.
You must be sure in your ways, that they are to follow Him.
He loves you, my children, follow Him.
---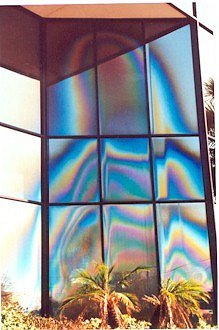 ---
August 20, 1994 Message

Mary speaks: My suffering was so deep, only by God's grace could a human person experience such suffering.

There were not wounds, there was no blood, there was, my child, only the experiences of my Heart. My Heart was pierced so deeply with a sword. Such deep pain, a sword piercing would not describe the pain I had. Do you wonder how deep did the sword pierce my Heart? The depth was incomprehensible. My life was lived in such connectedness with my Son, in such intimacy with Him. I watched my beloved Son, to whom I was so closely united for 33 years, suffer so dishonorably.

My sufferings were for you, child. I love you as no earthly mother ever loved a child. I am your most loving Mother. If I underwent such suffering for you, do you think I would not be protecting and loving you now? I have not gone. I am with you!

If I could only tell you what I saw: my Son suffering for love of you. If I could let you see through my eyes what He suffered for love of you!

If you meditate on His Passion in the rosary and the Stations, you see His immense love. I will help you to see His love more and more through my eyes.

I appear to tell all of this suffering. This is the key to understanding how much you are loved. Think of what I saw, look through my eyes, hold His lifeless Body under the cross, meditate on the Seven Sorrows that I hold deep in my Heart. It is there you will know His immense love. Look at my Son through a Mother's eyes. Look at Him as He dragged the heavy cross on His way to the Crucifixion. Stand by and watch them pull His hair and drag Him away, and beat His precious bare Body. Stand with me, little ones, as I walked with Him and look through my eyes. You will realize more His great love for you.

Go to Him, love Him, He is in the Eucharist this day. He longs, longs for your individual love. He is your lover, on FIRE for love of you. I love you so much.

I am Mary, your Mother.
---
---
First Reading from today's Mass
Exodus 32: 7-14
Moses forewarned by Yahweh

Yahweh then said to Moses, 'Go down at once, for your people whom you brought here from Egypt have become corrupt. They have quickly left the way which I ordered them to follow. They have cast themselves a metal calf, worshipped it and offered sacrifice to it, shouting, "Israel, here is your God who brought you here from Egypt!" ' Yahweh then said to Moses, 'I know these people; I know how obstinate they are! So leave me now, so that my anger can blaze at them and I can put an end to them! I shall make a great nation out of you instead.'

The prayer of Moses

Moses tried to pacify Yahweh his God. 'Yahweh,' he said, 'why should your anger blaze at your people, whom you have brought out of Egypt by your great power and mighty hand? Why should the Egyptians say, "He brought them out with evil intention, to slaughter them in the mountains and wipe them off the face of the earth?" Give up your burning wrath; relent over this disaster intended for your people. Remember your servants Abraham, Isaac and Jacob, to whom you swore by your very self and made this promise: "I shall make your offspring as numerous as the stars of heaven, and this whole country of which I have spoken, I shall give to your descendants, and it will be their heritage for ever." ' Yahweh then relented over the disaster which he had intended to inflict on his people.
---
Psalm 106: 19-23
At Horeb they made a calf,
bowed low before cast metal;
they exchanged their glory
for the image of a grass-eating bull.


They forgot the God who was saving them,
who had done great deeds in Egypt,
such wonders in the land of Ham,
such awesome deeds at the Sea of Reeds.

He thought of putting an end to them,
had not Moses, his chosen one,
taken a stand in the breach and confronted him,
to turn his anger away from destroying them.
---
Jeremiah 31: 33
No, this is the covenant I shall make with the House of Israel when those days have come, Yahweh declares. Within them I shall plant my Law, writing it on their hearts. Then I shall be their God and they will be my people.
---
---
MY VALENTINE FOR JESUS AND MARY
AND THE WORLD

I give my heart to
You Jesus and Mary on this day.
I promise to help spread the devotion to
the Hearts of Jesus and Mary.
---
Question for married couples and others in intimate relationships:
Q: How do you feel we can unite our hearts in deeper love with one another and in so doing help this world?
---
---
---
Copyright © 2000 Shepherds of Christ.
Rights for non-commercial reproduction granted:
May be copied in its entirety, but neither re-typed nor edited.
Translations are welcome but they must be reviewed for moral and theological accuracy by a source approved by Shepherds of Christ Ministries before any distribution takes place. Please contact us for more information.
All scripture quotes are from the New Jerusalem Bible, July 1990, published by Doubleday.
Revised: April 7, 2000
URL: http://www.SofC.org
Contact Information for Shepherds of Christ
Email: info@SofC.org
---
Shepherds of Christ Ministries
PO Box 193
Morrow, Ohio 45152-0193

Telephone: (toll free) 1-888-211-3041 or (513) 932-4451
FAX: (513) 932-6791