Mary has requested that the daily message be given each day to the world. It is read nightly at the prayer service from her Image Building in Clearwater, Florida, U.S.A. This is according to her request. All attempts will be made to publish this daily message to the world at 11 p.m. Eastern time, U.S.A.

---

We acknowledge that the final authority regarding these messages rests with the Holy See of Rome.

---
---
A Prayer for Intimacy with the Lamb, the Bridegroom of the Soul

Oh Lamb of God, Who take away the sins of the world, come and act on my soul most intimately. I surrender myself, as I ask for the grace to let go, to just be as I exist in You and You act most intimately on my soul. You are the Initiator. I am the soul waiting Your favors as You act in me. I love You. I adore You. I worship You. Come and possess my soul with Your Divine Grace, as I experience You most intimately.
---
Messenger: Include Our Lady of the Holy Spirit Center in 6:20 prayers.
---
Jesus speaks: My dear ones,
I come with a heart of love to bathe you in My deepest love. You must give Me all your cares, you must trust in Me, say all through the day "Sacred Heart of Jesus, I place my trust in Thee." Pray for purity and to love as I have asked you to do, pray for pure hearts in the Movement, go to the Heart of Mary, ask her to help you to serve God with a pure, holy loving heart. Rely on her motherly help. She will help you, be a little child dependent on your Mother and Father.
I love you,
I am Jesus, your Spouse, the Bridegroom of your soul.
---
May 15, 2000 - Second Message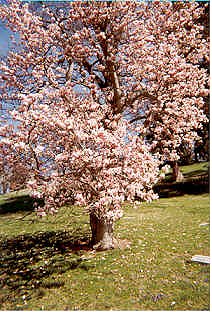 From Jesus: TODAY IS A TREASURE.
THE CURTAIN OF LIFE MAY FALL AT ANY MOMENT.
TREASURE THIS MOMENT.
TREASURE EVERY PERSON.
LOVE THEM.
EVERY PERSON THAT DIED, LIVED THE DAY BEFORE, MANY DID NOT KNOW IT WAS THEIR LAST MOMENTS.
LIFE IS A GIFT FROM ME.
LIVE TO BRING HAPPINESS AND LOVE.
IT IS UNLOVING NOT TO TELL THE TRUTH.
MARY'S CHILDREN MUST BE TOLD ABOUT SIN.
THE CHURCH IS MOTHER.
OH HOW WONDERFUL IS MY CHURCH.
IT IS MY GIFT TO YOU.
I LOVE YOU, JESUS.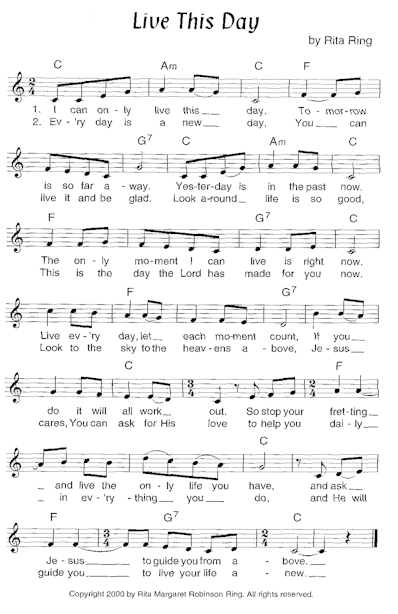 Messenger: I CAN ONLY LIVE THE MOMENTS OF TODAY, TODAY.
WHEN I GO TO BED TONIGHT THEY ARE GONE.
HOW DID I LIVE THEM?
FOR HIS HONOR AND GLORY?
---
May 15, 2000 - The Day after Good Shepherd Sunday and Mother's Day - Third Message
---
Gospel from Today's Mass
John 10: 1-10
'In all truth I tell you, anyone who does not enter the sheepfold through the gate, but climbs in some other way, is a thief and a bandit. He who enters through the gate is the shepherd of the flock; the gate-keeper lets him in, the sheep hear his voice, one by one he calls his own sheep and leads them out.When he has brought out all those that are his, he goes ahead of them, and the sheep follow him because they know his voice. They will never follow a stranger, but will run away from him because they do not recognise the voice of strangers.'

Jesus told them this parable but they failed to understand what he was saying to them.

So Jesus spoke to them again:

In all truth I tell you,
I am the gate of the sheepfold.
All who have come before me
are thieves and bandits,
but the sheep took no notice of them.
I am the gate.
Anyone who enters through me
will be safe:
such a one will go in and out
and will find pasture.
The thief comes
only to steal and kill and destroy.
I have come
so that they may have life
and have it to the full.
---
John 10:14
I am the good shepherd;
I know my own
and my own know me,
---
Purity
Messenger: We must seek purity in all actions. All our intentions and motives most pure.
There was such progress in the Church when Mary was on earth praying.
Her role as Mother.
Yesterday Fred told me of a mother's role pleading and begging for her children.
We are mothers and fathers praying for the souls of the earth.
The role of Father, the priest praying for those children in the Church.
I am a mother, I pray for them, I love them.
I pray for the children of the Church, the members of His Movement, the people in the world.
Jesus speaks: I ask you to see the beautiful day that occurred yesterday, Mother's Day and Good Shepherd Sunday.
A mother is one who prays for her children. When they are little she helps them with their physical needs. She continues very strongly the role of mother in praying for them.
The Church is Mother, the faithful must pray for the children of the Church, they must be intercessors praying for the children. Priests are to love the children so, pleading and begging to God for grace and mercy.
Messenger: A shepherd is one who leads the strayed ones home.
A shepherd of His flock speaks the word of God. They hear His voice and they follow Him, they do not speak of untruths. The shepherds that follow Jesus speak the truth, the sheep hear the truth and follow Jesus.
Jesus speaks: In My Church there must be true shepherds that follow Me, that walk in My name and who speak the absolute truth.
I have called My Movement Shepherds of Christ. You are shepherding the flock by praying, interceding for the children to be led to My home, My Heart.
The staff helps the sheep to come home. My prayers I have given are your weapons to lead the strayed ones home. You pray with all your heart, I give enormous grace to the flock for praying for My priests, the Church and the world as I have instructed. I am the Good Shepherd, Mine hear My voice and follow Me.
I speak to you in these letters, it is not with fire and powder, guns and weapons you will conquer the earth, but with the fire of My love.
I tell the sun to shine and the grass to grow. My shepherds, lead the strayed ones home to My Heart through your prayers.
I speak of purity, there will be the greatest purity in your actions when you realize more fully what it means to dwell in Our Hearts.
Mary's Heart is pure, sinless. Do not just say words, look at your imperfections and dwell in Our Hearts that your actions and the disposition of your heart will be most pure.
Mary is pure.
Messenger: Mary, my Mother, pray for us.
Agony in the Garden.

1. Blood shed by His precious pores, purify us.
2. Agony from the Heart of Christ, free us from distress.
3. Oh suffering Heart of Jesus in the garden, have mercy on us, we are sorry for our sins.
4. Blood that touched the ground, touch our hearts and make us pure.
5. Eyes of Jesus that see our prideful ways, free us.
6. Free our jealous hearts that cause conflict and pain for others.
7. Open our eyes with Your Blood. Let us see your Blood stained eyes.
8. Blood stained flesh of Christ, free us.
9. Beating Heart of Christ, free us.
10. Honorable Jesus, let us see our sins and grant us the grace to pray for forgiveness.
Scourging at the Pillar

1. See the bloody beaten Body of Jesus.
2. See the torn flesh.
3. Know the purity of all His actions.
4. Know His boundless love.
5. See Him held tied to a pillar for our sins.
6. Ask for grace to be pure in heart.
7. Ask for grace to be free from sins of addiction.
8. Ask for grace to be free from our pillars that added to His brutal beatings.
9. Ask for grace to see what we must do to be more like Him.
10. Sing Song: Teach Me to Love with Your Heart.
Crowning of Jesus

1. Jesus was whipped and beaten.
2. They wove a crown of piercing thorns and pounded them into His precious head.
3. See all the sins committed in the minds of men.
4. Think about the thoughts that lead to sin.
5. Think of the jealous hearts, think of hate-filled minds.
6. Think of the sins of the tongue.
7. Think of the sins of the mind.
8. Think of the sins of lust, anger, murder, hatred, jealousy.
9. Look at the pure beauty of the Easter lily.
10. Look at the beauty of a rose petal and yet the stem is covered with thorns.
Carrying of the Cross

Speaking of Jesus:
1. He carried the sins of jealousy, anger, lust, sins of the flesh, greed, slothfulness on His back.
2. He fell under the weight of the cross.
3. He fell 3 times.
4. He bled.
5. As He carried the cross the open wounds filled with fresh Blood.
6. He bled, He gave all His Blood.
7. He gives us His Blood today to drink.
8. He gives us His Body to eat.
9. He comes to set us free.
10. He wants us pure in our hearts. He wants us to purely love each other, to operate in purity.
Crucifixion

1. Fill us with Your grace.
2. Help us to be thankful for all You did for us.
3. Help us to have an attitude of gratitude.
4. Help us to admit our shortcomings.
5. Help us to be humble.
6. Help us to forgive others.
7. Help us to love with pure hearts.
8. Help us to realize more the treasures found in the pierced Heart of Jesus.
9. Help us to be shepherds of Christ.
10. Help us to have strength to offer up our sufferings as a sacrifice for our offenses and the offenses of the human race against God.
---
Messenger: We want to help make reparation to the Hearts of Jesus and Mary for the offenses against them. We want to be pure and dwell in Their pure Hearts. We are sorry for our sins, we are sorry for the sins of the world, grant us grace and mercy. Please God, we beg You for help, beg You that we may be pure.
Jesus speaks: I love you to pray to Me and be so close to Me this way. I love you to love My Precious Blood. I love you so much.
---
John 10: 11
I am the good shepherd:
the good shepherd lays down his life
for his sheep.
---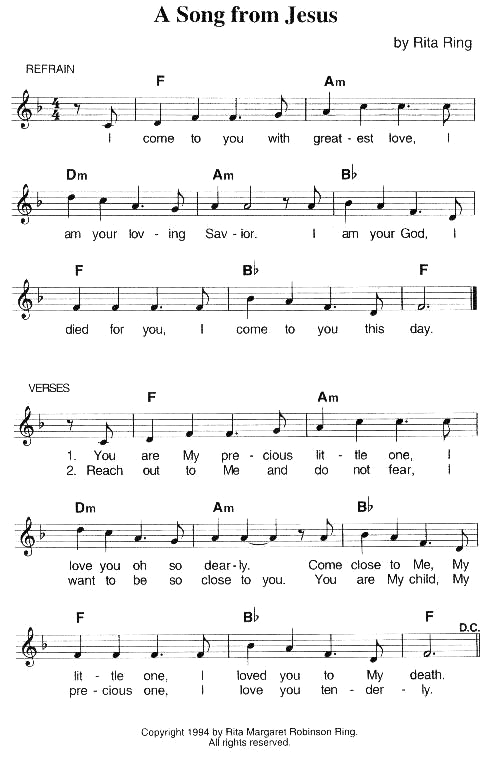 ---
Excerpt from Blue Book V
October 21, 1994 - Blue Book V

Let Me Reign in Your Heart

Messenger: Make me like a little child. The most Sacred Heart of Jesus was formed in the womb of the blessed Mother. His Sacred Heart was inside of her. I see the two Hearts. Jesus and Mary, as she holds the Child Jesus so lovingly.

To think of His most tender Heart in the body of a baby makes it seem so very much more tender. His Heart is the tenderest of all hearts. There was such union between Mary and Jesus from the first moment of conception. I see the two Hearts joined and beating in such love for us.

Jesus speaks: I am your most Sacred Heart. Turn to the Child Jesus for your trials. I was present as God when I was a child.

Messenger: To see His most Sacred Heart in the Child Jesus' body. Such power and gentleness!

Jesus speaks: I am the Light of the World. I shine in this world through you, My beloved children. Come to Me as little children. Come as a baby at the breast. Take shelter in the most tender Heart of the Child Jesus. I forever burn with the deepest love for you. When you see an image of My Mother and the Child, see Our Hearts beating as one in the most gentlest love for you. I came as a baby at the breast, so helpless. I ask you to come to Me as a baby at the breast, in total submission. I ask you to give yourself entirely to Me. Give your will and your life in total surrender to the Father, Son and Holy Spirit. Such freedom, such power!

Come My little children, to the ardent on-fire love of the Child Jesus. Take refuge in My Heart through My Mother. She carried Me in her womb. Enter into My Heart through her most pure and tender Heart. I was carried in her womb. I ask you to go through My Mother's Heart to My most precious, tender, loving Heart. My Heart was inside of the womb of My Mother. My Heart was beating inside of her.

I come to you this day in the Eucharist. I am no less present than when I was on earth. I enter your body as the Incarnate Son of God. What honor indeed I bestow on you, My beloved ones! I, Who am perfect love, come to you, My love. My Heart beats inside of My Body, no less than it beat in the womb of My Mother. My Heart is a human Heart belonging to the Son of God.

I am the Way. I am the Truth. I am the Life. I am Jesus, the Son of God, entering your body as I entered Mary's womb. Through the Father's great love for you, I am given to you. I give you Myself. Bread and wine are changed into My very Body and Blood. I, God, come into your heart to dwell.

I am Jesus, your most ardent love. I enter you, child. I love you. My Heart beats in you. Let Me reign in your heart. Realize your specialness - that the Incarnate Son of God comes inside of you and dwells there. You are so special. You are My beloved. You are My chosen ones. I come to you. I come to you with the greatest love. I am your loving Savior. I am your God. I died for you. I come to you this day.
---
Mary's Message from the Rosary of August 27, 1996
Mary speaks: I stood beneath the cross of my Son, and my Heart was in such pain for I saw Him before my eyes. I saw Him covered with blood. I saw Him die. My Heart, my children, my Heart to watch my Son, but my Heart, my Heart, how I suffered for my little children of the world that give in to this world and give up the love of my Son. O my little children of light, I give you this message. Carry this light into the darkness for your Mother Mary, for I stood beneath the cross and I cried. I cried for the little ones. I cried for the young ones, the ones that do not care and will lose their souls. How do I make you see for you will not listen to me? What can I do? I come. I appear. I beg. I plead. I give you these gifts from my Son, and you reject me. I do not deliver messages very often anymore for I have been ignored. The message is the same. You do not read the messages I have given to you. Please help me. Help the little children. I appear. I appear. I appear, and I am ignored. I stood beneath the cross, and I cried. I cried, and my Heart was in such anguish for my little children, for I am searching for them this day as I searched for the Child Jesus. Please, please help me. I cannot hold back the hand of my Son any longer. I am Mary, your Mother. I ask you to help my children. You are my children of light.

Song: O Lady of Light, shining so bright, be with us this day, guiding our way, O Lady, O Lady of Light.

Mary speaks: I appear to you as Our Mother of Sorrows.
(End of Mary's Message)
---
MY VALENTINE FOR JESUS AND MARY
AND THE WORLD

I _________________ give my heart to
You Jesus and Mary on this day
_________________
I promise to help spread the devotion to
the Hearts of Jesus and Mary.
---
Question for married couples and others in intimate relationships:
Q: How do I feel when I am tired and weary and you comfort me and smile at me?
---
---
---
Copyright © 2000 Shepherds of Christ.
Rights for non-commercial reproduction granted:
May be copied in its entirety, but neither re-typed nor edited.
Translations are welcome but they must be reviewed for moral and theological accuracy by a source approved by Shepherds of Christ Ministries before any distribution takes place. Please contact us for more information.
All scripture quotes are from the New Jerusalem Bible, July 1990, published by Doubleday.
Revised: May 15, 2000
URL: http://www.SofC.org
Contact Information for Shepherds of Christ
Email: info@SofC.org
---
Shepherds of Christ Ministries
PO Box 193
Morrow, Ohio 45152-0193

Telephone: (toll free) 1-888-211-3041 or (513) 932-4451
FAX: (513) 932-6791