Mary has requested that the daily message be given each day to the world. It is read nightly at the prayer service from her Image Building in Clearwater, Florida, U.S.A. This is according to her request. All attempts will be made to publish this daily message to the world at 11 p.m. Eastern time, U.S.A.

---

We acknowledge that the final authority regarding these messages rests with the Holy See of Rome.

---
---
A Prayer for Intimacy with the Lamb, the Bridegroom of the Soul

Oh Lamb of God, Who take away the sins of the world, come and act on my soul most intimately. I surrender myself, as I ask for the grace to let go, to just be as I exist in You and You act most intimately on my soul. You are the Initiator. I am the soul waiting Your favors as You act in me. I love You. I adore You. I worship You. Come and possess my soul with Your Divine Grace, as I experience You most intimately.
---
Jesus speaks: The Holy Spirit Novena is available in booklet form.
I wish the Holy Spirit Novena to be said every day until Pentecost.
---
Jesus speaks: Please read my love letters in the Blue Books.
Put on message May 28, 1994 - You Are My Baby
---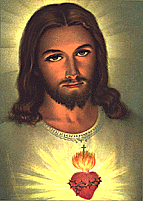 You Are My Baby

May 28, 1994
Jesus speaks: I want to write to you and talk to you like My little baby. I love you so, sweet one. See your body. I love your body as it is. You are My baby. I love you just as you are, beautiful creation of My Father. Love yourself as you are. You are so loved by God, Father, Son and Holy Spirit, and your beautiful mother. I love you. I love you. I love you, child. Know how I guard your every step, like a baby. I watch you walk and I love to watch you. You are so loved, little baby, beloved of mine. Want for no love or attention for I am giving you everything you need.
You come from a place of being full. When you are complaining, read this note. You are not realizing the immense love God has for you. Oh, sweet little one, I love you so. Circulate this letter to My beloved ones. I love each precious one just this way.
Messenger: I can finally be the little child. After all the years I took care of my own children, I am now free. God takes care of me. He wants me to be a baby and be dependent on Him. This is freedom, to be faced with a big obstacle and say, "Here, Lord, You take it."
My job is to be the light shining in the dark world. My job is to shed His love on others. My job is to turn it over to Him and love for Him. My job is to accept His Will this day for me and know, whatever I receive, He is giving out of ardent love for me.
Oh, how I love You, my Lord. Alleluia. He is so good to us. He is our refuge and our strength. He is our Savior. We are His. We are His. We were created by God, the Father. He is our Father. Mary is our mother. We are His. We were created to know, love and serve Him. We are but little babies at the breast. This is true freedom, true freedom. Unless we become as little children, we cannot enter the kingdom of heaven. Oh, what a gift! What freedom! Oh, I love You so, my God, Father, Son and Holy Spirit.
Babies goes to their parents for all their needs. When they are hurt, they go to their parents. When I am hurt, I go to You. You are God. You can do all things! I become totally dependent on You. I am the baby. I know You have all I need. You are a real Person. It is in trials that I am drawn closer to God. I must trust in Him, alleluia, for His love!
---
Jesus speaks: It will be good for you to study the messages given in the booklet May 17, 1994.
---
Question for married couples and others in intimate relationships:
Q: How do I feel inside when I share my feelings and you support and love me and try to understand?
---
---
Copyright © 2000Shepherds of Christ.
Rights for non-commercial reproduction granted:
May be copied in its entirety, but neither re-typed nor edited.
Translations are welcome but they must be reviewed for moral and theological accuracy by a source approved by Shepherds of Christ Ministries before any distribution takes place. Please contact us for more information.
All scripture quotes are from the New Jerusalem Bible, July 1990, published by Doubleday.
Revised: May 17, 1999
URL: http://www.SofC.org
Contact Information for Shepherds of Christ
Email: info@SofC.org
---
Shepherds of Christ Ministries
PO Box 193
Morrow, Ohio 45152-0193

Telephone: (toll free) 1-888-211-3041 or (513) 932-4451
FAX: (513) 932-6791