Mary has requested that the daily message be given each day to the world. It is read nightly at the prayer service from her Image Building in Clearwater, Florida, U.S.A. This is according to her request. All attempts will be made to publish this daily message to the world at 11 p.m. Eastern time, U.S.A.

---

We acknowledge that the final authority regarding these messages
rests with the Holy See of Rome.

---
May 20, 2004
May 21st Holy Spirit Novena
Scripture selection is Day 5 Period I.
The Novena Rosary Mysteries
for May 21st are Joyful.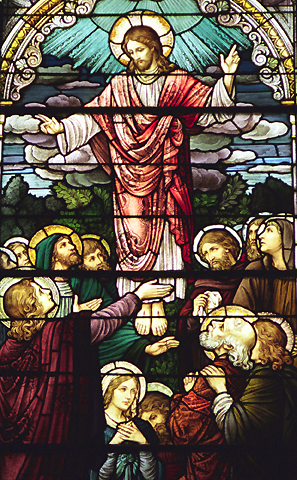 May 20, 2004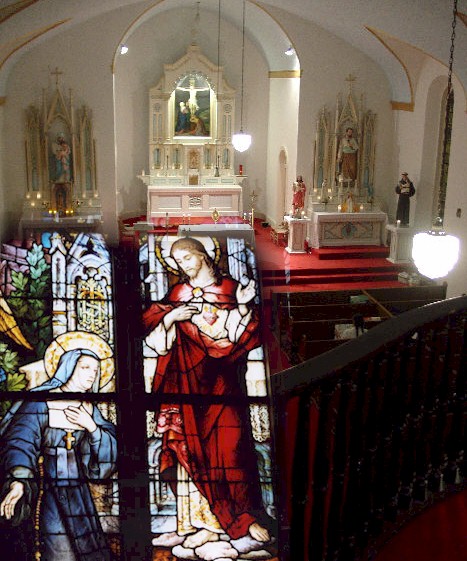 From Sacred Heart Church
soon approaching month of Sacred Heart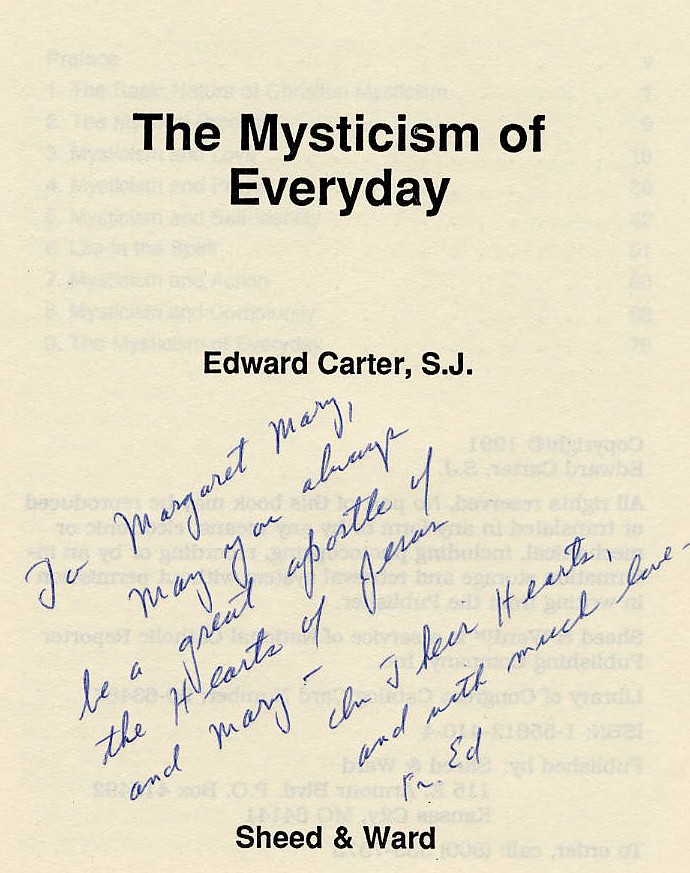 May 20, 2004 message continues
Messenger: This is what I desire to be so
deeply embraced by the Divine God.
My heart to pant with love for Him.
For this is real, the glories that await
he who loves and serves the Lord we cannot
fathom.
Oh God I love the Mass so deeply,
I want to linger in Your embrace,
You are the Bridegroom of my soul.
My heart is filled with love for Thee.
Oh Sacred Heart of Jesus, I love You
so very much.
I want to write a sonnet of my love.

Yesterday's experience fills my soul
About a week ago I had a vision/movie —
I saw the priest celebrating Mass and
to the left of him above him was
Fr. Carter floating like in the air
with a gold trimmed silver vestment.
He was visible to about the top of where
his legs would be. Fr. Carter was a little
larger than the priest. The priest was at a
high altar raised by steps or something —
centered and I kept seeing the Eucharist
in the vision. He raised the host, the
movie was very explicit — Fr. Carter was
very slightly fuzzy, like the gold veils I have
seen covered him, beautiful, to say fuzzy
does not give the idea at all, covered with
a gold transparent veil, but only on him
like he was from heaven, to describe
this in words is most difficult, the
priest was very clear, crystal clear,
crisp as in contrast to Fr. Carter
like suspended in the air above
him, but Fr. Carter was clearly visible
just like he was covered with a golden
transparent cover — not like it was over
him like a cover, it was like he was like that.
When Mary appeared all night August 12, 1996
and then she appeared before I went to Tom's
Farm before our 6:30 prayers August 13, 1996
in the Sorrowful Mother chapel at the
old seminary, the Eucharist was exposed
and the front of the room covered with
this same transparent gold veil.
The great visions I had March, 96 were
like this also, these came in
96. 96 was a great year.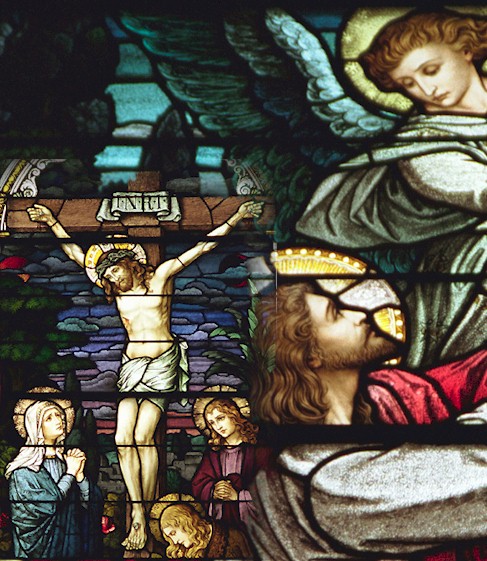 May 20, 2004 message continues
Messenger: Anyway, I was so wrapped by His
presence today at Mass and I love Him
so much. I love God so very much. I know
the Father and Son and Holy Spirit, but I know
that oneness of God and I know God this
way, I cannot describe it, I am deeply
connected to God. I know each Person
so deeply and yet I know the oneness
of God.
God floods my soul with His grace
and I embrace Him, long for Him, want
and long for the completeness of heaven.
God is the I am. This is reality, far
beyond the words I use to describe my
relationship with Him here, but so very,
very real to me.
Here is a message I received December 18, 1995
and one I received concerning Fr. Carter
March 26, 1996 — about 9 months later Mary
appeared in Clearwater, Florida.
Excerpt from the Mass Book
IN THE DEEPEST RECESSES OF HIS HEART
The place Jesus took me was into the deepest recesses of His Heart. I was enveloped in His burning love. It was a red room with heat and an intense glow. I was swept away in this embrace, and I only existed in Him. The power of the Almighty God enveloped me, and I only existed in Him. There was no fear, for I was existent in this Almighty Being. My heart was wrapped in the eternal embrace of this Supreme Being. The security, the power I know was His deep presence in which I existed.

I knew the room was red and warm. I knew His immenseness, but I felt my own completeness in Him. I did not feel little, as a speck, but elevated and empowered for I existed then in Him in a most special way.

I was overtaken by the love of God. The fire of the Holy Spirit filled me. I was absorbed by the love of the Father, and I existed IN Him and in the deepest recesses of the Heart of Jesus. Our heaven on earth is these inner chambers of His magnificent Heart - the Heart of the Almighty God, with all the power, with omnipotence, with the fire of the love of God. He took me to the deepest chamber of this fiery Heart, and in that moment, I touched eternity, for I knew what it was to be enveloped in the deep furnace of His love. I now want to exist in this chamber of His Heart, swept away in His burning love, absorbed in my every cell with His love.

We do not understand the fire of His love. We do not understand what it is to be absorbed by love itself. He took me to the inner, deepest chamber of His Heart, and I felt the heat and knew the presence of love itself, and there was no fear, only a feeling of completeness, omnipotence, all-embracing, penetrating love - a power indescribable in words, a saturation of my being in the presence of God, and I was as I was created to be - living in Him!

This is how I will forever live my life, saturated with His divine life and love deep within this inner chamber of His burning Heart, living in Him as He possesses my being, and I operate with His power in me.

Little creatures though we are, we are His, His power, His life, flowing through us. In Him, we are as the Father intended: one in Him, each one of us, dwelling in this fiery furnace of His love. With our fears quieted and our hearts empowered by His life, we live forever in Him - in the Heart of Jesus.

Let no man separate what God has joined together. I am wed in the deepest love with my beloved Spouse, wed to the Heart of Jesus. As I am, I am one in Him. I live and I breathe in Him. He, Who is love, He Who is our all, He Who is mighty and without limits, He Who is, He Who is God and as I live, He lives in me in this world.

I am wed to Him, and I shall not fear for He is God - one, complete, loving, God. Heart of Jesus, I place my trust in Thee. As I live, I live in Your most adorable Heart, the furnace of God's love!

end of December 18, 1995 writing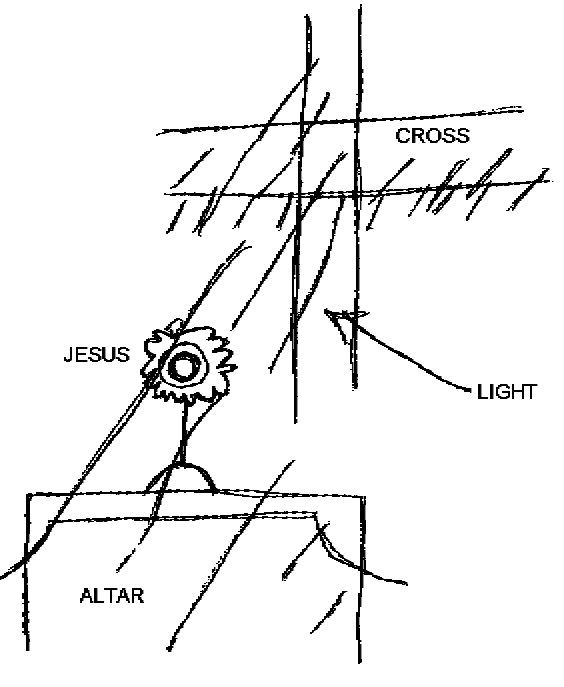 March 26, 1996
Very carefully discerned by Fr. Carter

Messenger: I came to All Saints Church before a beautiful Monstrance of gold that contained Our beloved Savior. He was adorned in light, the altar beneath shone with the brightest light and the cross behind was entirely silhouetted with the same celestial light. I was overwhelmed with the presence of God and cried deeply from the awe of it all.

To be so aware of the Almighty God truly present in His splendor and glory—to know the presence of God, to see the glistening of the gold and the light and reflection of the cross behind Him—my beauteous love—words do not exist to describe the rapture of a heavenly embrace! I cry because of the immense awe within my being to know Him. God truly present in His majesty and glory and oh, God, I behold the presence of a heavenly court. You opened wide the heavens and lifted up the veil and I knew You in Your splendor and glory. I behold God, Father, Son, and Holy Spirit.

"I am the Way, the Truth and the Life." He is the Almighty God. He shows us the celestial lights with which He will light this earth. Many must surrender their hearts to His Heart and Mary's heart. It is in surrendering, the Spirit will move in the hearts of men and the light of God will shine on the darkened earth. Not with a light that you comprehend, but a light that is divinely granted—a light beyond all lights, a vision beyond all visions. It takes the surrender of minds and hearts to God. The Spirit cannot move in us when we are in control. Surrender and give Him our heart and He will make us fishers of men.

We are His apostles in the Shepherds of Christ Movement. He is sending us out into the world to light the hearts with His burning love. We are chosen by Him and He is giving us abundant graces to grow in our union with Him. He will light this world with His burning love. Our hearts must be open. We must surrender and let go and reach beyond the senses, reach with our hearts. Pray for faith, pray for the vision of God.

Note: I cried all through this writing, having the presence of God and being in great ecstasy to behold Him. May God touch your heart and may His Spirit move within you. May you be filled with the grace of God to surrender and let Him accomplish a great work within you.

And I was filled on high with His miraculous light and He reached down and spoke within me. I was filled as never before and knew the presence of God, Father, Son, and Holy Spirit.

Note: As I finished, the bells at All Saints Church rang at 9:00 A.M. As I began to experience the immense splendor, the bells of 8:00 rang. Words do not express anything that I saw or experienced or know from this ecstasy. This was the greatest and the first of three visions, which defined clearly to me our role in the Shepherds of Christ Movement. Jesus defines clearly the role of Fr. Carter in this great mission given to him by the Father.

For Fr. Carter from Jesus:

Jesus speaks: To him who has eyes to see, they will see - not with earthly vision, but with the eyes of faith, and to him who has ears to hear, he will hear with the fluttering of the Spirit moving within him.

I am the Way, the Truth, and the Life. I am the Almighty God. I say to the rocks to fall and they fall and to the grass, grow, and it grows, and to the sun, shine, and it shines. I give to you My love in these letters. Filled with My love, you will conquer this earth, not with weapons and powder or force, but with fires of My love. The fire will wipe out the hatred in the cold hearts and the earth will be covered with My celestial light. The earth will rock and I will appear in the heavens adorned in power and glory and the contrite hearts will be saved. I came to separate the sheep from the goats, the light from the darkness. I come and no one pays Me heed.

To you, My beloved son, Father Carter, I have sent you on a mission to spread this fire that will cover this earth. The hearts of men will turn from their sick and desolate ways to hearts gentle as a little lamb.

There will be one flock and one Shepherd and My staff will rule over all. Hearts consecrated to Our Hearts will lead the light across the earth. This light will be a light of intense brightness, brighter and hotter than any light from a flame. It will be the fire of God's love. The Spirit will move in the hearts of all consecrated to My Heart, and you will know how fire truly spreads, for the love of God is a fire. It is vibrant. It is encompassing. It is smoldering, burning deep within and speedily spreading on the outside. No fire on this earth can ever describe the burning embers that burn from the Sacred Heart of Jesus. No fire burns like the fires coming from My Heart and hearts filled with the love from the Sacred Heart of Jesus.

I have written your name, Fr. Carter, in My Heart, never ever to be blotted out and this earth will be renewed with the fire of God's love through you. You are My beloved priest-son, forever, according to the order of Melchizedek. Most holy and most sacred are your hands that consecrate the Host and write My precious newsletter for My beloved priest-sons. You are never unguarded. You are held within the deepest chamber of My Heart, and you will spread My love to the priest-sons of this earth.

I am Jesus. You will spread My love to all souls on this earth. I love you with the tenderest burning love. I am Jesus, your beloved Savior.

end of March 26, 1996 message
May 20, 2004 message continues
Messenger: Here is the message Fr. Carter received
July 31, 1994.
Given to Father Carter
on the Feast of St. Ignatius
July 31, 1994
Words of Jesus to Members of
Shepherds of Christ Associates:

"My beloved priest-companion, I intend to use the priestly newsletter, Shepherds of Christ, and the movement, Shepherds of Christ Associates, in a powerful way for the renewal of My Church and the world.

"I will use the newsletter and the chapters of Shepherds of Christ Associates as a powerful instrument for spreading devotion to My Heart and My Mother's Heart.

"I am calling many to become members of Shepherds of Christ Associates. To all of them I will give great blessings. I will use them as instruments to help bring about the triumph of the Immaculate Heart and the reign of My Sacred Heart. I will give great graces to the members of Shepherds of Christ Associates. I will call them to be deeply united to My Heart and to Mary's Heart as I lead them ever closer to My Father in the Holy Spirit."

- Message from Jesus to Father Edward J. Carter, S.J., Founder, as given on July 31, 1994,
feast of Saint Ignatius Loyola, Founder of the Society of Jesus (The Jesuits)

end of July 31, 1994 message given to Fr. Carter
May 20, 2004 message continues
Messenger: 2½ years after this message — Mary appeared
on the building in Clearwater, Florida.
Fr. Carter told me Jesus told him we were
always to keep the building in Clearwater, then
the primary reason for the Movement, His
Movement, was to spread the Priestly
Newsletter to the priests and the co-equal purpose
to begin prayer chapters, praying for the priests,
the Church and the world.
All the Ministries followed with these
2 messages and everything just unfolded
it was not planned, like Mary's apparitions
for 7 years on the building in Clearwater 2½
years after the July 31, 1994 message.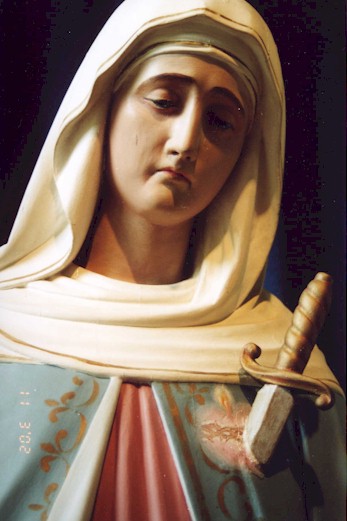 May 20, 2004 message continues
Messenger: Here is a message I got from Mary the
next morning when she appeared to me.
August 1, 1994
Pray For The Success Of The Priestly Newsletter - Shepherds of Christ
Messenger: The following is the first official message I received before the statue of Mary at Our Lady of the Holy Spirit Center. It is a personal message for Father Carter.

Mary speaks: (in front of the glowing statue of Our Lady of Sorrows) I am the Immaculate Heart. My Heart is glowing for love of all my beloved children. I am your most loving Mother. I am with you this day. Pray for the success of the priestly newsletter Shepherds of Christ. I am guarding your way. You will receive such graces to accomplish this task! Grace from God is so abundantly bestowed on you and will lead to the success of this endeavor! Pray for this cause at the Center. The priests will lead the people to the love of My beloved Son. This is no little task. It will take many prayers and graces. Pray hard, little one. Your prayers will change many hearts.

I am Mary, your Immaculate Mother. I bring this message to My beloved priest-son.

end of August 1, 1994 message
May 20, 2004 message continues
Messenger: This shows the purpose of the Priestly
Newsletter — the primary purpose of the
Movement.
Here is a picture of Fr. Carter —
On July 2, 1996, my son, Joseph, was taking pictures of all of the Shepherds of Christ members at Tom Arlinghaus' farm. He took one picture of each person. Jesus told me to tell him to take two pictures of Fr. Carter. The first picture was a normal picture. The second picture was of Fr. Carter covered with a pillar of light.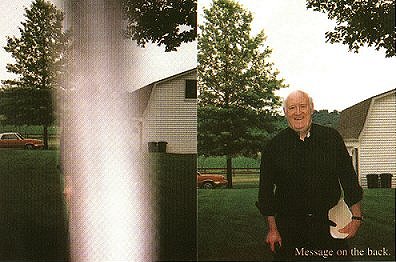 July 4, 1996
This message was received before a live statue of the Sorrowful Mother after Communion.
Message from Jesus: "Peace will abound when nations, churches, families and individuals are consecrated to the Sacred Heart of Jesus and the Immaculate Heart of Mary."
"Fr. Carter is a pillar of light to the dark world. This is the explanation of the photo. It is through him, I will turn darkness to light. Circulate this message with the picture. Encourage all to consecrate their hearts to the Immaculate Heart of Mary and the Sacred Heart of Jesus, to join the Shepherds of Christ Chapters, and the Apostles of the Eucharistic Heart of Jesus Movement to pray for your Church and your world. This is My Movement for renewal of the Church and the world, based in consecration, joining your every act to the Holy Sacrifice of the Mass, praying the rosary, and making reparation to Our Hearts, especially on First Fridays and First Saturdays. It is through your prayers and sacrifices many souls will be helped to be saved. Grace will flow from those whose hearts are consecrated to Our Hearts and the fire of My Love will light up this darkened world."
As you look at the picture, you see Fr. Carter's arm and hand on your left. This picture of Fr. Carter was taken July 2, 1996 at the Tuesday Shepherds of Christ Meeting at Tom Arlinghaus' Farm.

end of July 4, 1996 message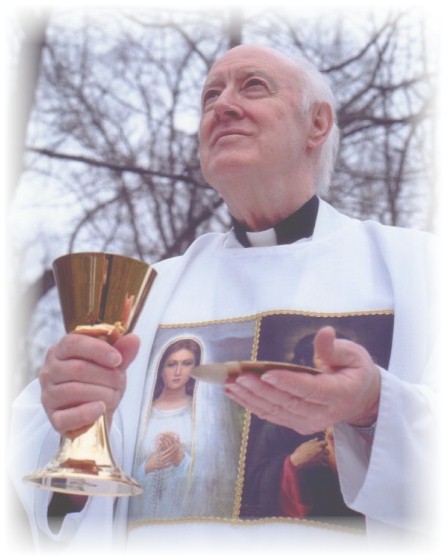 May 20, 2004 message continues
Messenger: Here is the message Fr. Carter
took very seriously January 22, 1998.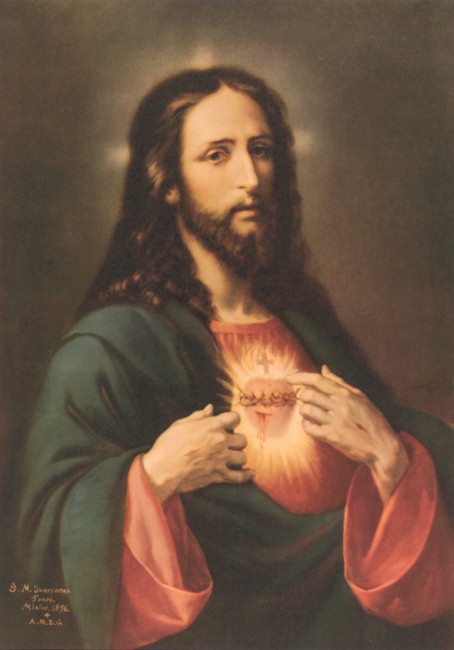 A message for the Earth from Jesus
January 22, 1998
I am the Good Shepherd, these are My prayers, the prayers I give to help renew the Church and the world, all prayer chapters are asked to include these prayers (found in the Shepherds of Christ Prayer Manual). As My Apostles and Shepherds I ask you to encourage all existing Chapters to try to encourage all existing prayer groups to pray the Shepherds of Christ prayers. Encourage all Churches to pray these prayers. It is most urgent that the people of this earth concur with the Father's wishes to begin Prayer Chapters. This is an urgent request from the Good Shepherd. The flock will become one when they have given their hearts to Jesus and Mary. Encourage all priests to pray the Shepherds of Christ prayers. Your world will be lighted with great light as the people of this earth pray these prayers.

My promise is this to you My beloved earth: When you give your heart to Me and spread the devotion to My Sacred Heart, I will write your name In My Heart. I promise to give the greatest graces when you pray these prayers for renewal of the Church and the world and take all who pray them deeply into My Heart. The prayers I give will bring about the reign of My Sacred Heart and the triumph of Mary's Immaculate Heart. I am Jesus Christ, this is My message of January 22, 1998, Please circulate this message to your world. I am the Good Shepherd, I know Mine and Mine know Me and they follow Me. Grace My Shepherds, I will give you the greatest graces for spreading these words to this earth and to your Church. I love you, I am Jesus Christ, the Son of Man, it is the Plan of the Father that Prayer Chapters are begun immediately and the Priestly Newsletter is given to all priests. The Voice of the Good Shepherd speaks through it.

end of January 22, 1998
May 20, 2004 message continues
Messenger: Here is the Prayer for Union with Jesus
given the same day as the message
"I want My Priests to Come Back"
I received both of these before I even
knew Fr. Carter.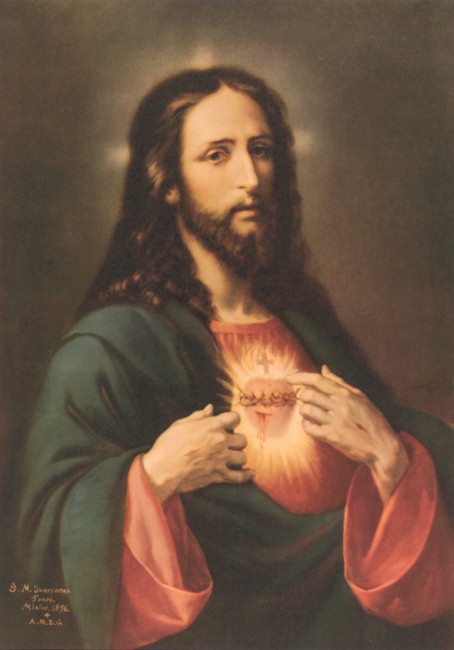 Prayer for Union with Jesus
Come to me, Lord, and possess my soul. Come into my heart and permeate my soul. Help me to sit in silence with You and let You work in my heart.

I am Yours to possess. I am Yours to use. I want to be selfless and only exist in You. Help me to spoon out all that is me and be an empty vessel ready to be filled by You. Help me to die to myself and live only for You. Use me as You will. Let me never draw my attention back to myself. I only want to operate as You do, dwelling within me.

I am Yours, Lord. I want to have my life in You. I want to do the will of the Father. Give me the strength to put aside the world and let You operate my very being. Help me to act as You desire. Strengthen me against the distractions of the devil to take me from Your work.

When I worry, I have taken my focus off of You and placed it on myself. Help me not to give in to the promptings of others to change what in my heart You are making very clear to me. I worship You, I adore You and I love You. Come and dwell in me now.

-God's Blue Book, January 17, 1994

I Want My Priests to Come Back
January 17, 1994 3:40 a.m.

Jesus: You know I am He Who lifts you up. In one second I can turn your feelings around and lift you up. Constantly pray to Me. You need Me through these times. Remember, I truly died for you on the cross. Remember, little one, I have chosen you to write to Me. Do you think I will ever abandon you? I am a God who truly loves His people. I love you with such ardent love. You must never doubt.

Look into My face and see My gentleness. I am the kindest of all hearts. I am He who knows how to love with such love. Become totally lost in My arms.

Do you think Satan will not taunt you? Put him behind you. You are being guarded by God and His heavenly court. Walk in My ways and the angels walk with you on your path. You are escorted on your way and you are never alone. You are guarded as a precious treasure that is being transported to another place.

You need to put all your cares in My hands. You are developing true trust when you let go and let Me take over. Keep trusting and silence the ugly prompting of Satan who wants you to worry about useless things. Quit worrying and pray and play with your children. I am telling you there is so much peace and grace gained by private prayer with them. I will tend to all the details of your life. Do not worry for one moment. Put your life in My hands. I am here, little one. Read this message and all of them over and over again.

You need to go to the Blue Book for your answers. Your answers are found there. I never leave your side. God is guarding you. Just continue to have a union with Me all through the day. All the prayer time alone with Me in one day is not enough. I want you in constant prayer.

Turn to Me and My Blue Book. This will help many priests to come back and sit before Me in private union with Me. When priests come back to the tabernacle, the flock will begin to be led back to His altar. Priests need to read these letters. They are the preachers. If they do not value their own relationship with Jesus, if they are being led away from Me with busyness, they will not preach the intimate love of Jesus. They are so busy, but it is like throwing out the baby with the bath water. I am the center and their relationship with Me is utmost.

The priests need these messages. They need to have an intimate, close union with Me. They should be preaching "time in front of the tabernacle." They should be preaching My intense love for My people and how I have so much to give. Some sermons are so complicated—yet nothing about union with Me in the Eucharist and in front of the tabernacle.

I want My priests to come back and pray before My tabernacle. I want them to read these messages and make Jesus the Center of their lives. When they are led back to Jesus, they will lead the flock home. Priests need adoration every day for at least an hour. I don't care how busy they are. None of it matters if they are not spending time in private prayer alone with Me. They need to come and get their supplies. They need to quit thinking they are doing it and turn back to turning their lives totally over to Me, to totally letting their burdens and busy lives off at the foot of My cross and letting Me lead the way.

There is not one priest who has so much to do that he cannot do private adoration daily. When the priest comes back to the power in the Eucharist and the tabernacle, the congregation will turn to God for their troubled hearts. Satan has led priests away from Jesus. They are so busy they cannot do all their work, but this must all take second place to praying silently before God and reading His words. These letters will help many priests to come back and be intimate with Jesus.

All the rituals, all the upkeep of the churches, all the little details, and the King of Glory sits alone! You have thrown out the baby with the bath water. You are missing the boat.

I want the priests to read this message. Where is the reverence after Communion and who has even heard it mentioned in the church? Private union with Jesus! What an honor! I have all you need. Come to Me and I will give you rest. I am all powerful. I have all the power. I am hyper-vigilant over your lives. I guard you. Quit trying to do it yourselves. Become selfless and let Me possess your souls.

Have the priests spread these messages. Read them in church. I want adoration of the Eucharist back. I want people to know I am God and I am coming to them in Holy Communion. I want the Blessed Sacrament exposed. I want My churches open. Union with Jesus, the love of Jesus, trust, faith, love for one another, love of God—I want all of these preached from the pulpit!

I am the Alpha and the Omega. I want My people to be led back to the center, which is Jesus. Pray for your priests. They are under attack. If Satan can wreck the family, the priests, the children, he has it made.

You are under attack, My beloved priests, and you, in your busyness, are being led away from your union with Jesus. Bring yourselves back to Me and let Me give you My love. I am indeed the bridegroom of your souls. I wait for My beloved ones at the altar. I long for private union with all My beloved ones.

Come to Me, all who labor and are heavily burdened, and I will give you rest. Come and be lifted up to heights you never dreamed possible. I am God. Put your lives in My hands. Let Me run your life. Quit running amok. You have lost your way and are running down the wrong road. Bring your lives back to Jesus in the tabernacle.

The world is getting farther from God every minute. Read the messages at prayer meetings. Spread them by word of mouth. The time you waste is valuable. These words are not meant to be saved. Spread them here by any means possible. I want them out, I tell you! If someone wants to read some messages, give them to them and let them read them at prayer meetings. There is no secret here. They are from Me and I want them out. I want you to speak. A lot of your discontent is in sitting around with all these messages and not spreading them. Tell your friends to speak. Speak My words here. You don't have to mention the source. Spread the messages. You are not what is important. The messages are. You will be exposed. Don't worry who knows, but don't spread your own story. Spread the messages. Like ripples on a pond, the love of God will be spread throughout the land. I have so much to give to My hurting ones. I am your God. I died for you out of deepest love. I have come in these messages to lead you back home.

Quit worrying of details. I am He Who runs the show. Pray for guidance every day. Spend one hour in front of the tabernacle. You cannot do in a million years what I can do in one moment. Quit relying on yourselves. You are only pushing buttons. When you are fixed in Me, the right door opens. When you go it alone, you have a hard road to walk. One hour in private adoration. Be silent or read the Blue Book. Your life will become uplifted by My teaching and you will sail a blue sky.

Spend time in silence and some in reading My words in front of Me. I am talking to you in these letters. What power, to read them in front of the tabernacle! You can't go it alone. You need My help. You need your supplies. But you must come and get them! You are following your tail around if you do it alone. I am He Who can do all this. When you realize My power in adoration, your lives will change. As long as you are too busy you will have a hard time. The soul craves this union with Me.

Lead the priests back to adoration and the people will follow. Our leaders have become too busy for adoration. This is the key, the key to unlock the doors to the world's problems. It is found in front of the tabernacle, at daily Mass and Communion. Do the priests ever preach any of this? You have forgotten your center, Jesus, in the Eucharist! All the power is found in Jesus. You have all that you need and you walk about and decorate My churches and clean every speck of dust and repair My pews and carpet My house and fix My organs but you walk about and miss the King of Glory who sits there all alone! Spread the messages on the tabernacle. I want them out!

end of January 17, 1994 message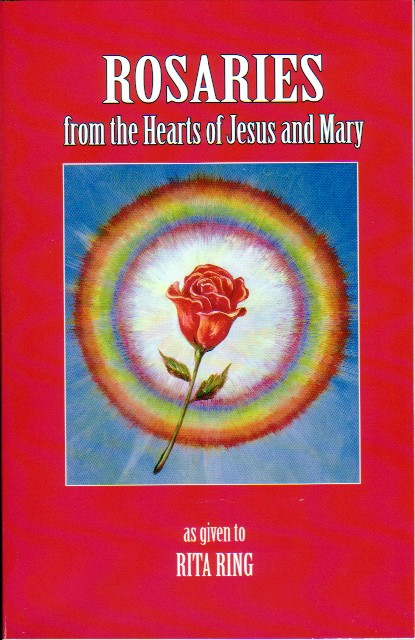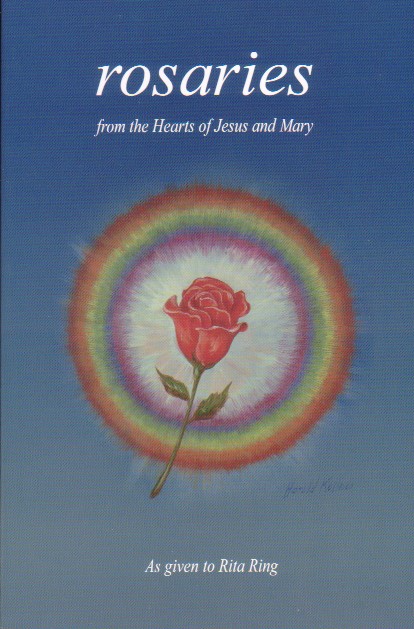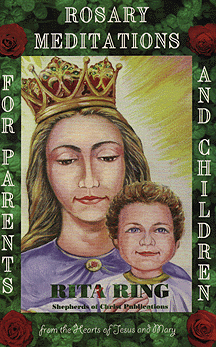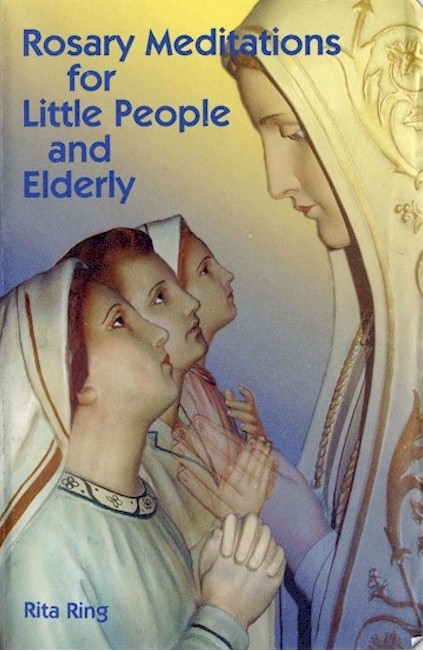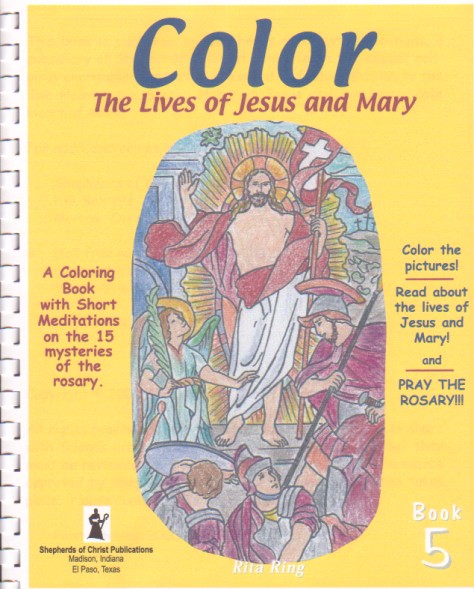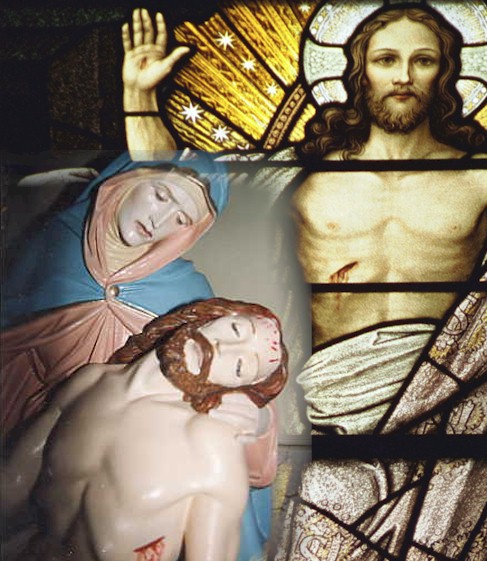 Glorious Mysteries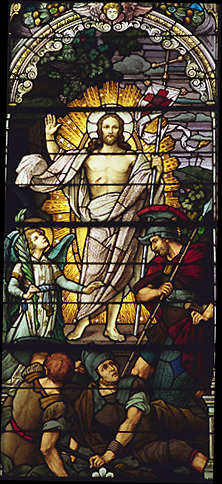 Resurrection

1. Jesus rose from the dead.

2. See Jesus in the arms of Mary after
He was taken from the cross.

3. Jesus died on the cross, see Him.

4. Jesus rose the 3rd day, envision this.

5. We are the sons and daughters of God.

6. Jesus showed us how to live.

7. We model our lives after Him.

8. He is our King.
9. He is Perfect.

10. He is the New Adam.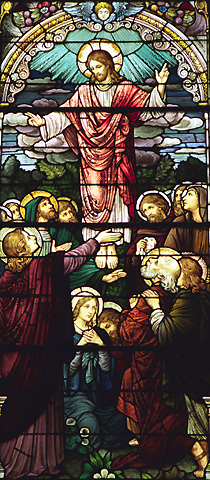 Ascension

1. We long to be united with Him in heaven.

2. Heaven is a reality.

3. God is real.

4. God created us and loves us.

5. Our life is a series of deaths and resurrections
when we try to live according to God's will.
6. Death — Resurrection

7. Peace, Peace, Peace

8. Jesus ascended into heaven.

9. Mary and the Apostles looked from below
as Jesus ascended into heaven.

10. Jesus has left us here to do this work.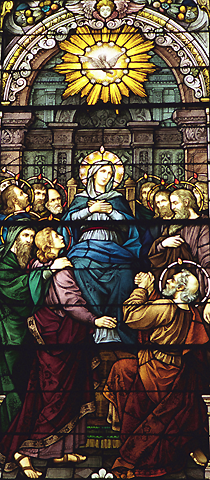 Descent of Holy Spirit

1. The Sacred Heart wants us to love Him.

2. The Holy Spirit appeared to the
Apostles and the Virgin Mary.

3. Mary appeared to lead us to Jesus.

4. Mary's head was knocked out in Clearwater.
5. John the Baptist prepared a way for Jesus.
John the Baptist was beheaded.

6. God is calling young men to be priests.

7. Many are ignoring His call.

8. The world can be very distracting.

9. God loves us so very much. We must say
thanks to Him for His gifts.
10. The Apostles were transformed
from fear to fearlessness.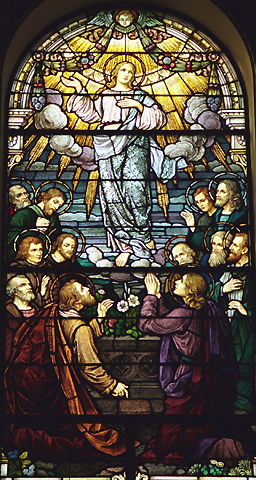 Assumption

1. Our Lady of Clearwater appeared
for 7 years to her children.

2. Her head was knocked off.

3. Mary went up to heaven body and soul.

4. Mary loves us so much.

5. Mary is our Mother.

6. Mary is our model.

7. Mary is Model of the Church.

8. Mary wants to lead us to
the love of her Son Jesus.

9. In our lives we can face so many
difficulties.
10. Mary, Queen of Peace, pray for us.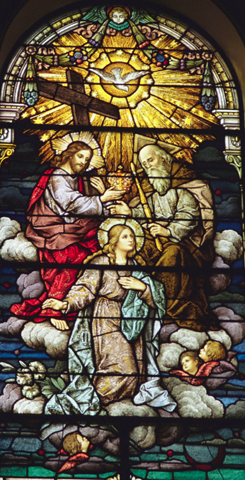 Coronation

1. Mary is crowned Queen of heaven and earth.

2. Mary is our model.

3.
Revelation 12: 1
Now a great sign appeared in heaven: a woman, robed with the sun, standing on the moon, and on her head a crown of twelve stars.
4.
Revelation 21:1-4
Then I saw a new heaven and a new earth; the first heaven and the first earth had disappeared now, and there was no longer any sea. I saw the holy city, the new Jerusalem, coming down out of heaven from God, prepared as a bride dressed for her husband. Then I heard a loud voice call from the throne, 'Look, here God lives among human beings. He will make his home among them; they will be his people, and he will be their God, God–with–them. He will wipe away all tears from their eyes; there will be no more death, and no more mourning or sadness or pain. The world of the past has gone.'
5. Mary appeared for 7 years
as Our Lady of Clearwater.
6. Mary said at Fatima we must pray the rosary.
7.
Mary's Message -
from the Rosary of August 27, 1996
Mary speaks: I stood beneath the cross of my Son, and my Heart was in such pain for I saw Him before my eyes. I saw Him covered with blood. I saw Him die. My Heart, my children, my Heart to watch my Son, but my Heart, my Heart, how I suffered for my little children of the world that give in to this world and give up the love of my Son. O my little children of light, I give you this message. Carry this light into the darkness for your Mother Mary, for I stood beneath the cross and I cried. I cried for the little ones. I cried for the young ones, the ones that do not care and will lose their souls. How do I make you see for you will not listen to me? What can I do? I come. I appear. I beg. I plead. I give you these gifts from my Son, and you reject me. I do not deliver messages very often anymore for I have been ignored. The message is the same. You do not read the messages I have given to you. Please help me. Help the little children. I appear. I appear. I appear, and I am ignored. I stood beneath the cross, and I cried. I cried, and my Heart was in such anguish for my little children, for I am searching for them this day as I searched for the Child Jesus. Please, please help me. I cannot hold back the hand of my Son any longer. I am Mary, your Mother. I ask you to help my children. You are my children of light.

end of Mary's Message, August 27, 1996

8. Mary wants young tots to pray the rosary.
9. Mary was betrothed to Joseph.
10. Dear St. Joseph help us.
Dear Jesus help us to spread this devotion
to your Sacred Heart.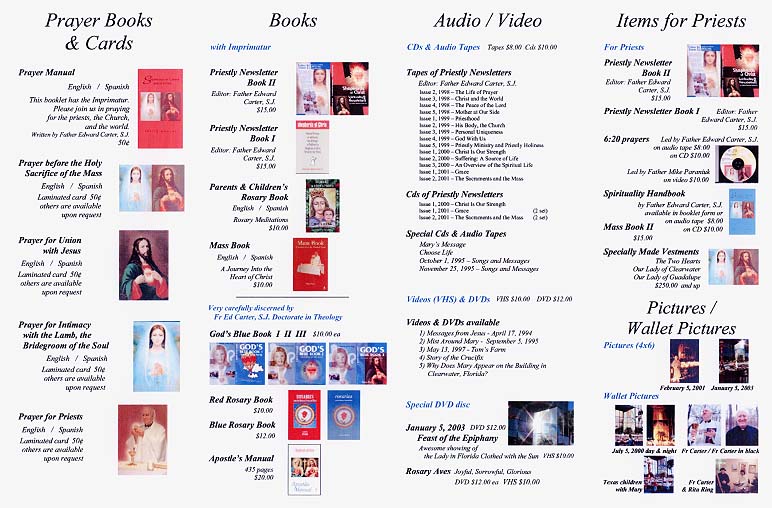 Please remember us in your will.

Shepherds of Christ Ministries
P.O. Box 193
Morrow, OH 45152

(toll free) 1-888-211-3041
1-513-932-4451
---
---
---

Copyright © 200

4 Shepherds of Christ.
Rights for non-commercial reproduction granted:
May be copied in its entirety, but neither re-typed nor edited.
Translations are welcome but they must be reviewed for moral and
theological accuracy by a source approved by Shepherds of Christ Ministries
before any distribution takes place. Please contact us for more information.
All scripture quotes are from the New Jerusalem Bible, July 1990, published by Doubleday.
Revised: May 20, 2004
URL: http://www.sofc.org
Contact Information for Shepherds of Christ
Email: info@SofC.org
---
Shepherds of Christ Ministries
P.O. Box 193
Morrow, Ohio 45152-0193

Telephone: (toll free) 1-888-211-3041 or (513) 932-4451
FAX: (513) 932-6791