Mary has requested that the daily message be given each day to the world. It is read nightly at the prayer service from her Image Building in Clearwater, Florida, U.S.A. This is according to her request. All attempts will be made to publish this daily message to the world at 11 p.m. Eastern time, U.S.A.

---

We acknowledge that the final authority regarding these messages rests with the Holy See of Rome.

---
---
A Prayer for Intimacy with the Lamb, the Bridegroom of the Soul

Oh Lamb of God, Who take away the sins of the world, come and act on my soul most intimately. I surrender myself, as I ask for the grace to let go, to just be as I exist in You and You act most intimately on my soul. You are the Initiator. I am the soul waiting Your favors as You act in me. I love You. I adore You. I worship You. Come and possess my soul with Your Divine Grace, as I experience You most intimately.
---
Messenger: Include Our Lady of the Holy Spirit Center in 6:20 prayers.
---
Servants and Handmaids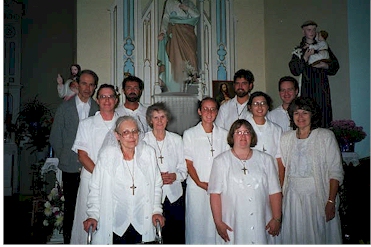 Messenger: The servants and handmaids pray before the Blessed Sacrament and go to daily Mass. They have many duties.
Servants and handmaids are in a period of training that they will grow in the spiritual life to help renew the Church and the world.
They pray for the priests, the Church, and the world.
In China, Indiana, they help to send the Priestly Newsletter to about 90 countries. The newsletter is printed in English and Spanish and goes to about 70,000 priests in the world.
In China, the servants and handmaids send the materials to the world. It is our main distribution center.
In Florida, at the Mary Image building, servants and handmaids contact the people that come there to try to get others to pray the rosary, and begin prayer chapters praying for the priests, the Church, and the world. This includes hosting pilgrimage bus tours, children's prayer groups, special rosaries, etc.
In Morrow, Ohio, handmaids help in communicating through mail, telephones, and e-mail with priests, bishops, cardinals, all people who wish to contact Shepherds of Christ and receive materials.
Servants and handmaids in China and Morrow help with a daily publication to reach the world with the message of Jesus' love and to help lead others to pray for the renewal of the Church and the world.
Servants and handmaids are men and women that live in separate houses in community and have entered to help with this function of reaching the world with the message of Jesus' love and to pray for the priests and the renewal of the Church and the world.
Servants and handmaids do not take vows, they are not members of a religious order. They come to help the Church and the world to be as God wishes.
---
May 21, 2000 - Second Message
Jesus speaks: I desire these writings of Oct. 21, 1994 appear on the Internet today.
---
Excerpt from Blue Book V:
October 21, 1994
An Exterior Vision: I saw His Heart on His chest, hands off to the side.
Messenger: I was praying (people opened the door in the Priest's Resident Chapel). I kept looking at the vision - a little child was in the heart, in the center. It could have been an embryo in a developed stage. His Heart was formed in the womb of His Mother. Rays were around the heart.
He said something about being a child. I was distracted by the opening of the door but I continued focusing on the vision.
I kept hearing the song, "when you are inside of Me", the song Jesus gave me.
I have been smelling faint smells of incense and roses at different times.
His presence pervades my soul. I love Him so much, it is He whom I seek! I want only Him. I love you so much, my precious love!
I feel such love for St. Margaret Mary. I had a vision of a nun at the Cathedral of St. Peter in Chains, she appeared to the left of the altar. She held a white book. My son kissed me during Mass, during the vision. I did not look away, I stayed focused on the vision. From this I have developed an intense love for St. Margaret Mary.
I do not want to leave the tabernacle. He says: "My presence is with you, take it forever with you in your heart! I give Myself to you in this special way. You are never without My deepest love. I dwell in you in deep union. Be lost in My love."
I always have trouble on Fridays between noon and 3pm. He wants me to cherish this time with Him. I love you Jesus. Jesus. Jesus!
All hope of life eternal comes through Christ crucified. Our hope of eternal life comes through His death and resurrection.
Make the sign of the cross, profess our faith in Him and our love of the Trinity. I love God!
---
Excerpt from Blue Book V:
October 21, 1994

Abortion

Messenger: We are God's chosen children from the first moment of conception. The life in the Mother's womb is a life created by God. From the first moment it is conceived, it is a creation of the Father and He deems it to be alive. We are fooling around with the divine creation of God the Father if we, in any way, stop the child from being born. Only God can create a human life! No man can, in any way, take this life and destroy it without answering to God the Father.

The child in Elizabeth's womb leapt for joy at the presence of Jesus and Mary. He was God in the womb.

Jesus said to me, in a vision:

"These children are the chosen ones of My Father. You saw My Heart, the flowers were for the dead children that are dying. You are little flowers growing into a beautiful bouquet for My Father. Each moment of your life is a flower in the bouquet. You want your bouquet full of flowers that are beautiful, not half dead. When you sin, you are not growing into the beautiful flowers He wants you to be. Each moment is a flower. Will your bouquet be half-dead? Will your moments be as little petals you present to the Father, full of life and beauty?"

"Tell the little children to come to Me. Bring the children to church. Let them be in front of the tabernacle. I am the Way, the Truth, and the Life. Bring your children to church. Children need to be close to Me. I love My children - bring them to Me!"

To really know God is to love - every action that comes from you should be a result of His love within you.
---
Mary's Message from the Rosary of August 27, 1996
Mary speaks: I stood beneath the cross of my Son, and my Heart was in such pain for I saw Him before my eyes. I saw Him covered with blood. I saw Him die. My Heart, my children, my Heart to watch my Son, but my Heart, my Heart, how I suffered for my little children of the world that give in to this world and give up the love of my Son. O my little children of light, I give you this message. Carry this light into the darkness for your Mother Mary, for I stood beneath the cross and I cried. I cried for the little ones. I cried for the young ones, the ones that do not care and will lose their souls. How do I make you see for you will not listen to me? What can I do? I come. I appear. I beg. I plead. I give you these gifts from my Son, and you reject me. I do not deliver messages very often anymore for I have been ignored. The message is the same. You do not read the messages I have given to you. Please help me. Help the little children. I appear. I appear. I appear, and I am ignored. I stood beneath the cross, and I cried. I cried, and my Heart was in such anguish for my little children, for I am searching for them this day as I searched for the Child Jesus. Please, please help me. I cannot hold back the hand of my Son any longer. I am Mary, your Mother. I ask you to help my children. You are my children of light.

Song: O Lady of Light, shining so bright, be with us this day, guiding our way, O Lady, O Lady of Light.

Mary speaks: I appear to you as Our Mother of Sorrows.
(End of Mary's Message)
---
MY VALENTINE FOR JESUS AND MARY
AND THE WORLD

I _________________ give my heart to
You Jesus and Mary on this day
_________________
I promise to help spread the devotion to
the Hearts of Jesus and Mary.
---
Question for married couples and others in intimate relationships:
Q: How do you feel we can help carry out Mary's mission begun at Fatima?
---
---
---
Copyright © 2000 Shepherds of Christ.
Rights for non-commercial reproduction granted:
May be copied in its entirety, but neither re-typed nor edited.
Translations are welcome but they must be reviewed for moral and theological accuracy by a source approved by Shepherds of Christ Ministries before any distribution takes place. Please contact us for more information.
All scripture quotes are from the New Jerusalem Bible, July 1990, published by Doubleday.
Revised: May 21, 2000
URL: http://www.SofC.org
Contact Information for Shepherds of Christ
Email: info@SofC.org
---
Shepherds of Christ Ministries
PO Box 193
Morrow, Ohio 45152-0193

Telephone: (toll free) 1-888-211-3041 or (513) 932-4451
FAX: (513) 932-6791