Mary has requested that the daily message be given each day to the world. It is read nightly at the prayer service from her Image Building in Clearwater, Florida, U.S.A. This is according to her request. All attempts will be made to publish this daily message to the world at 11 p.m. Eastern time, U.S.A.

---

We acknowledge that the final authority regarding these messages
rests with the Holy See of Rome.

---
May 22, 2006
May 23rd Holy Spirit Novena
Scripture selection is Day 8 Period II.

The Novena Rosary Mysteries
for May 23rd are Joyful.
Sidney Rosary
Live from China
before the tabernacle.
May 23, 2006 at 6:20pm.
Please tune in to the internet!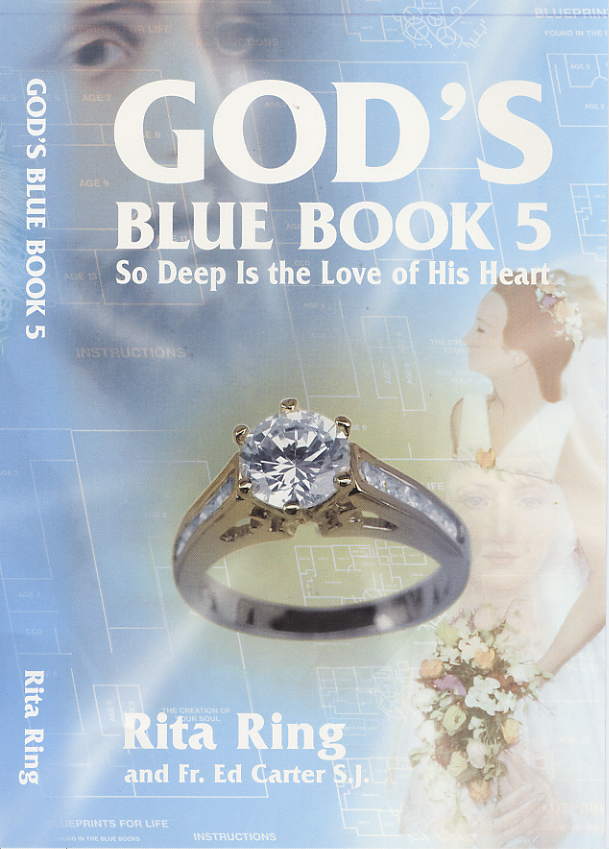 Jesus wants Blue Books 4 and 5
on sale for $5.00 each plus postage
so you can circulate them to other people.
DVDs and Videos are on sale too for $5.00
so you will circulate and show them to others.
Call Glaci for image wallets to circulate.
ORDER YOURS TODAY.
Shepherds of Christ Ministries
P. O. Box 193
Morrow, Ohio 45152
1-888-211-3041
We accept credit card.
May 22, 2006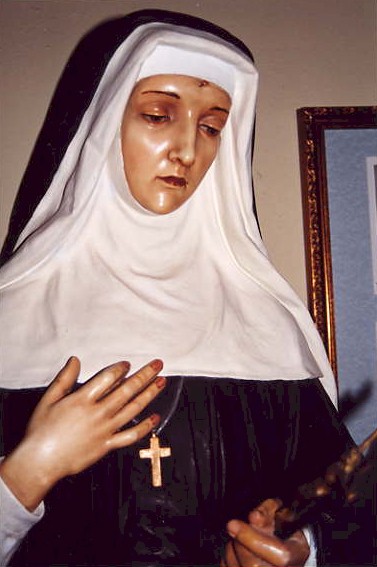 Feast of St. Rita
Messenger: My Dear God,
When we are afraid, let us find comfort
in Your peace. Let our hearts always be open
to the Spirit moving in love within us, empowering
us to be peacemakers, lover of souls.

Let us thirst after the gift of Your Word in
the scriptures and be fed at Your Eucharistic
table.

When we are weary let us see the magnificence
of a small child created by You, may we look
to the sky and the sun and realize that it
is by Your Might alone we can accomplish
what You intend us to.

I see Your Might in Your creation —
the vastness of the universe, the splendor
of a child and I experience life so deeply
because You are the author of life — the
source of love, the pinnacle of peace and
joy and I am but a little speck (What
is a peon, He said peon.) compared to Your
magnificence.

How can a person be so pressed on, they would
not realize Your Might —

I see the sun and the moon and the
stars.

Magnificence beyond our comprehension
and yet in our limited vision we may
try to put God in a box.

As I experience life ever deeper in
Him, every flower and the creation of
God brings me to such wonder and delight —
Acts 16: 22-34
The crowd joined in and showed its hostility to them, so the magistrates had them stripped and ordered them to be flogged. They were given many lashes and then thrown into prison, and the gaoler was told to keep a close watch on them. So, following such instructions, he threw them into the inner prison and fastened their feet in the stocks.

In the middle of the night Paul and Silas were praying and singing God's praises, while the other prisoners listened. Suddenly there was an earthquake that shook the prison to its foundations. All the doors flew open and the chains fell from all the prisoners. When the gaoler woke and saw the doors wide open he drew his sword and was about to commit suicide, presuming that the prisoners had escaped. But Paul shouted at the top of his voice, 'Do yourself no harm; we are all here.'

He called for lights, then rushed in, threw himself trembling at the feet of Paul and Silas, and escorted them out, saying, 'Sirs, what must I do to be saved?' They told him, 'Become a believer in the Lord Jesus, and you will be saved, and your household too.' Then they preached the word of the Lord to him and to all his household. Late as it was, he took them to wash their wounds, and was baptised then and there with all his household. Afterwards he took them into his house and gave them a meal, and the whole household celebrated their conversion to belief in God.
John 16: 5-11
but now I am going to the one
who sent me.
Not one of you asks,
'Where are you going?'
Yet you are sad at heart
because I have told you this.
Still, I am telling you the truth:
it is for your own good that I am going,
because unless I go,
the Paraclete will not come to you;
but if I go,
I will send him to you.
And when he comes,
he will show the world how wrong it was,
about sin,
and about who was in the right,
and about judgement:
about sin:
in that they refuse to believe in me;
about who was in the right:
in that I am going to the Father
and you will see me no more;
about judgement:
in that the prince of this world
is already condemned.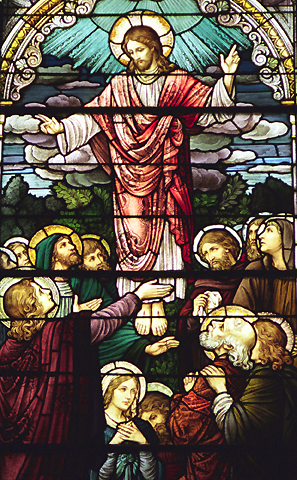 May 22, 2006 message continues
Messenger: I remember Jesus saying on Ascension
Thursday
"I am alive, I am alive, I
am alive."

At Mass after communion it was
as if I knew the mystery of
Christ as one —

At first, His Passion, His
death and resurrection
the mystery of Christ
was understood deep in my soul the mystery
of Christ I saw Him —
Jesus was ascending into heaven and
Jesus kept going upward.

Fr. Carter was celebrating Mass at his Jesuit chapel and
I could hardly walk to leave, I was in such a rapture.

Here is what happened next.
May 25, 1995
(Apostles Manual pg. 418 - 421)

I Am Alive!
Messenger: Prayer is a lifting up of our minds and hearts to God. Who am I that I can change any event that is occurring in the lives of another, that I can affect the outcome of any event? I am a child of my Father. My Father is the Almighty God. How I love my dear Father. He is God and He has created me in His own image and likeness. My beloved, dear Father, how I love You that You give me such gifts - that You allow me to share in Your life!
You are the Father of Jesus and You are My Father. Thank You, My Father, for all Your gifts and for Your life. Who am I that I can affect the life of any person?
I am a child of God. I call on my dear Father and He loves me so, He listens to me. I lift my heart to You, my dear beloved Father and You listen to little me and You care for me so much. I call upon God and the Almighty God cares for me with such love that He listens.
Jesus speaks: Such truths have been given to you from My Father because of His great love for you. You are far more precious than the finest pearls, My beloved child. The Father so loved you He gave His Son so that you would have life. He gave His Son as a sacrifice for you. The Father gives to you His life through Jesus, His Son. You partake in His divine life.
I am Jesus, Son of the Living God. My life I give to you, I live in your being, My beloved, I impart to you My divine life.
How many turn their backs on the great gift of this life given from the Father. To know this life and to know all those who have rejected this great gift!
I am the Almighty God, My power is endless. The power and might you felt within yourself is only a small sampling of My immense power.
I am God and I am allowing you to experience what you are experiencing to spread My love to others. Your immense understanding into these mysteries will help you speak and write them for others.
I have chosen you as an instrument to touch many hearts and bring them to My divine love. Great gifts and understandings into these mysteries I am giving to you. You will lead many priests to the love of God.
I am alive. I am God. I long to be loved by man and many have turned their backs on Me and forgotten Me. You must tell them all I am allowing you to experience, these sufferings and understandings into My deep love.
This is the beginning of many days when I will allow you to experience the rejection I felt from those I loved. Your heart is in immense pain for the souls who reject Me despite My love for them.
I beg you to speak and write. Make reparation for souls that have forgotten My love. Spread the love of My Sacred Heart and My Mother's heart, throughout the world.
I love, I love, I love My beloved souls. I beg you to tell them. I beg Fr. Carter to tell every soul on this earth of My love. You will continue to suffer such pain and anguish in your heart. Suffer in silence for souls. I love so deeply and am so gravely offended!
I am Jesus, My dear, little child. I am alive and in this world. I live in the hearts of men, I live in the consecrated Host, I am forgotten and ignored and treated with such dishonor.
Speak for Me, I beg you to spread this love throughout this earth. I am sending you as missionaries into this world.
On this Ascension Thursday, I have given you great sufferings and great joy. I have allowed you to experience the highest ecstasies in My love and plunge you into deep pain in your heart for those who reject Me.
You, I send as missionaries to carry out the work I have begun. Be fearless and pray to the Spirit. This day I am giving you abundant graces to speak, and through this speaking, others are sent into this world as My apostles.
It is through the Shepherds of Christ Movement My love will be spread. Circulate My messages and rosary meditations. The love of the two Hearts will be known throughout this world through these messages and rosary meditations.
You will be fearless, everyone I send to you is a messenger to carry out My love. Circulate these letters with FIRE for I am delivering them to you in FIRE.
I am Jesus Christ, the Living God. I am allowing you to experience My life, alive in you and giving you these emotions to spread My love.
On this Ascension Thursday, I beg you to carry out the message to this world. Live My life in your life, every moment My life living within you.
I am the Way, I am the Truth, I am the Life. I have commissioned you to go out and to carry this message - the message of My immense love for ALL mankind, including My burning love for My priests and religious. Souls will turn their hearts to Me from these letters. This is the mighty medicine to turn a sick, cold world to hearts filled with the love of God.
Prayer, My beloved ones, is the lifting up of your minds and hearts to God. When you intercede to Me through My Mother's heart, I will pour out My greatest mercy.
I will not refuse hearts begging for grace for their loved ones. Pray from your whole being. Let My life live in you.
You can pray and ask God to send help. You do not know the power of a heartfelt prayer. I listen to your prayers. The Father and Holy Spirit are listening to your prayers. The more you unite with God, the greater you intercessory prayer. I am Jesus. I am alive this day. I ask you to spread My messages to the world. I am crying out in your heart on this Ascension Thursday. I ascended into heaven and I have left behind you to carry out what I began. I am with you. I am alive this day. I will unite with you and the earth will know the power of the Almighty God. I am Jesus Christ, Chief Shepherd of the flock. Lead My little ones home - home to the burning embers of My Most Sacred Heart, through My Mother's heart.
Messenger: I cried so hard, I have never been so immersed in heartache. I heard Him shout, "I Am Alive, I Am Alive." I cried so hard, I could hardly write.
I know Him. He is alive in my being. My soul is filled with His love. I live the life of Jesus and Mary in my life. I love His life, her life - their presence forever with me. From this great gift, these rosary meditations, His life has become one with mine. I feel His life in the Mass. I hear Mary under the cross. I hear the cries for the souls going to hell for their willfulness and sins. I hear the laments of Jesus in the tabernacle - how He longs and thirsts for souls and is neglected and ignored. I hear Him tell of the sacrileges committed against the Holy Eucharist.
I heard Him this day. I felt His presence and the presence of the Almighty God as He cries out, "I am alive, I am alive, I am alive."
He is alive. We have the Mass. He gives us Himself in the Eucharist. Mary is appearing, we are given this rosary. We are sent as soldiers by Him in the Shepherds of Christ. We are thirsting for union with Him, sent by Him, apostles to go out to this world and spread His love, one with the Eucharistic Heart of Jesus, one with the Trinity. He will light this earth with hearts on fire for love of Him.
Jesus speaks: I come to you with greatest love, I am your loving Savior, I am your God, I died for you, I come to you this day.
The earth shakes and the Son of Man appears. He lives in the hearts of all. I want hearts on FIRE for love of Me. I want vibrancy and love from My beloved ones. Hold not back My love from this world.
Messenger: I adore you, Oh Lord, I praise you, I worship you, I bless Him with my whole soul. My soul proclaims the greatness of the Lord and holy, holy is His name! Jesus wants souls that are holy, on fire with the love of Jesus. Make novenas to the Holy Spirit to have hearts on FIRE with the love of God. Sound the trumpet, sound the gong - Jesus LIVES - He lives this day! Alleluia.
Sunday is a special day to praise Him, to love Him, to pray to Him - His day to be honored and worshipped in a special way. Pray from a pure and holy heart, a heart that sings for love of the Lord. Pray from your whole being.
end of May 25, 1995 message

Pray for urgent intentions.
---
---
---
Copyright © 2006 Shepherds of Christ.
Rights for non-commercial reproduction granted:
May be copied in its entirety, but neither re-typed nor edited.
Translations are welcome but they must be reviewed for moral and
theological accuracy by a source approved by Shepherds of Christ Ministries
before any distribution takes place. Please contact us for more information.