Mary has requested that the daily message be given each day to the world. It is read nightly at the prayer service from her Image Building in Clearwater, Florida, U.S.A. This is according to her request. All attempts will be made to publish this daily message to the world at 11 p.m. Eastern time, U.S.A.

---

We acknowledge that the final authority regarding these messages rests with the Holy See of Rome.

---
May 26, 2005 - St. Philip Neri
May 27th Holy Spirit Novena
Scripture selection is Day 7 Period I.

The Novena Rosary Mysteries
for May 27th are Sorrowful.
9th Day
From May 18, 2005 message
Prayer for these 17 days —
Dear God help me to be other focused —
Help me to be a source of joy.
Help me to thank You for the gifts
You have given me.
Help me not to block the work
you have called us to do by
focusing on myself —
When pilgrims come, help me
to have grace to spread
the message You have
called me to spread.
Dear God help me to be holy — to see
I am a little link in the big
chain, a single link to help
lead the world into oneness
and love. When I focus on
myself and do not do the work
of being a light and I am
to talk to pilgrims I can
miss an opportunity to spread
your love, through the materials,
prayers, letters of love, consecration,
morning offering You have asked
me to spread.
Dear God thank You for calling me to
be an apostle, (handmaid, servant
etc.) help me to do Your will.
May 26, 2005 message continues
Jesus speaks: I want you to come before the Blessed
Sacrament. I love for you to come and
be with Me. I am waiting for you. I love
you to come and receive Me in the
Blessed Sacrament and spend time with
Me afterward.
I am your beloved Spouse. I wait for you.
I want you to know how I love you so
much. I want you to be loving to each
other and work together.
I want you to be trying to be more pure
on these days before the Feast of My Sacred
Heart and the Feast of My Mother's Immaculate
Heart the next day.
Say the prayer I have given daily.
Some people just don't want to change.
I want you to grow to be more perfected
like Your Heavenly Father is perfect.
I want you to examine your conscience
daily. You can tell when you did things
out of anger, jealousy, envy, lust, --
you should not act when you are acting
because you are jealous etc.
It is the disposition of your heart.
You should pray to do God's will.
If you set out to do something
because you feel it is God's will, and then
you get angry because of what someone
else did to you and act vindictively you can
do wrong. A person can be set on doing
something that is God's will, then they
get jealous, they may turn things around
they are doing. Satan can tempt you to
act differently and
then you block the actions you should
do for My work because of your jealousy.
Why do you not take My work as a top
priority? Your actions can be very
tainted. You can block My work.
Sirach 42: 15-25
Next, I shall remind you of the works of the Lord,
and tell of what I have seen.
By the words of the Lord his works come into being
and all creation obeys his will.
The shining sun looks down on all things,
and the work of the Lord is full of his glory.
The Lord has not granted the Holy Ones the power
to tell of all his marvels
which the Almighty Lord has solidly constructed
for the universe to stand firm in his glory.
He has fathomed both the abyss and the human heart
and seen into their devious ways;
for the Most High knows all there is to know
and sees the signs of the times.
He declares what is past and what will be,
and reveals the trend of hidden things.
Not a thought escapes him,
not a single word is hidden from him.
He has embellished the magnificent works of his wisdom,
he is from everlasting to everlasting,
nothing can be added to him, nothing taken away,
he needs no one's advice.
How lovely, all his works,
how dazzling to the eye!
They all live and last for ever,
and, whatever the circumstances, all obey.
All things go in pairs, by opposites,
he has not made anything imperfect:
one thing complements the excellence of another.
Who could ever grow tired of gazing at his glory?
Psalm 33: 2-9
Give thanks to Yahweh on the lyre,
play for him on the ten–stringed lyre.
Sing to him a new song,
make sweet music for your cry of victory.

The word of Yahweh is straightforward,
all he does springs from his constancy.
He loves uprightness and justice;
the faithful love of Yahweh fills the earth.

By the word of Yahweh the heavens were made,
by the breath of his mouth all their array.
He collects the waters of the sea like a dam,
he stores away the abyss in his treasure–house.

Let the whole earth fear Yahweh,
let all who dwell in the world revere him;
for, the moment he spoke, it was so,
no sooner had he commanded, than there it stood!
Mark 10: 46-52
They reached Jericho; and as he left Jericho with his disciples and a great crowd, Bartimaeus—that is, the son of Timaeus—a blind beggar, was sitting at the side of the road. When he heard that it was Jesus of Nazareth, he began to shout and cry out, 'Son of David, Jesus, have pity on me.' And many of them scolded him and told him to keep quiet, but he only shouted all the louder, 'Son of David, have pity on me.' Jesus stopped and said, 'Call him here.' So they called the blind man over. 'Courage,' they said, 'get up; he is calling you.' So throwing off his cloak, he jumped up and went to Jesus. Then Jesus spoke, 'What do you want me to do for you?' The blind man said to him, 'Rabbuni, let me see again.' Jesus said to him, 'Go; your faith has saved you.' And at once his sight returned and he followed him along the road.
Sirach 51: 12-20
And therefore I shall thank you and praise you,
and bless the name of the Lord.

When I was still a youth, before I went travelling,
in my prayers I asked outright for wisdom.
Outside the sanctuary I would pray for her,
and to the last I shall continue to seek her.
From her blossoming to the ripening of her grape
my heart has taken its delight in her.
My foot has pursued a straight path,
I have sought her ever since my youth.
By bowing my ear a little, I have received her,
and have found much instruction.
Thanks to her I have advanced;
glory be to him who has given me wisdom!
For I was determined to put her into practice,
have earnestly pursued the good, and shall not be put to shame.
My soul has fought to possess her,
I have been scrupulous in keeping the Law;
I have stretched out my hands to heaven
and bewailed how little I knew of her;
I have directed my soul towards her,
and in purity I have found her;
having my heart fixed on her from the outset,
I shall never be deserted
Fabulous pictures - framed of the Vatican
are available at the China and Clearwater Stores
call Doris to order.
1-888-211-3041
Pictures available:

pic-va1

pic-va2

pic-va3

pic-va4

pic-va5

pic-va6

pic-va7

pic-va8

pic-va9

pic-va10

pic-va11

pic-va12

pic-va13

pic-va14

pic-va15

pic-va16

pic-va17

pic-va18

pic-va19

pic-va20

pic-va21
(inside the Vatican)

pic-va22
(inside the Vatican)

pic-va23
(inside the Vatican museum)

pic-va24
(inside the Vatican museum)

pic-va25
(inside the Vatican - Holy Thursday 2005)

pic-va26
(inside the Vatican)

pic-va27
(inside the Vatican)

pic-va28
(from a church in Rome)

pic-va29
(from a church in Rome)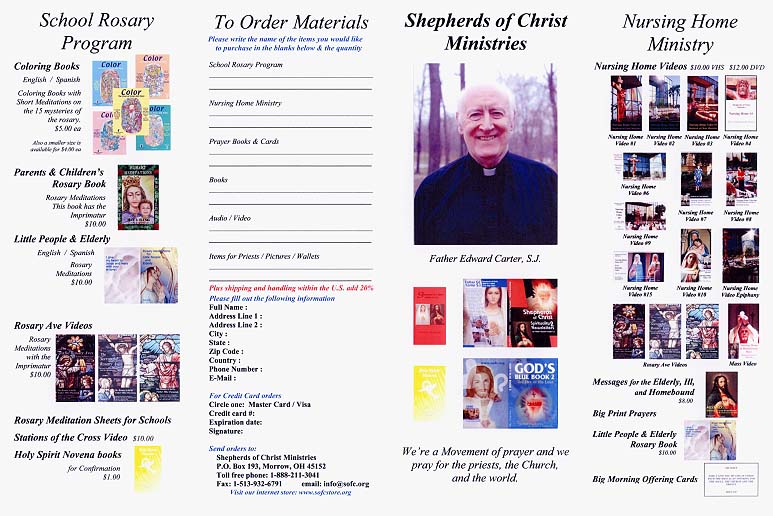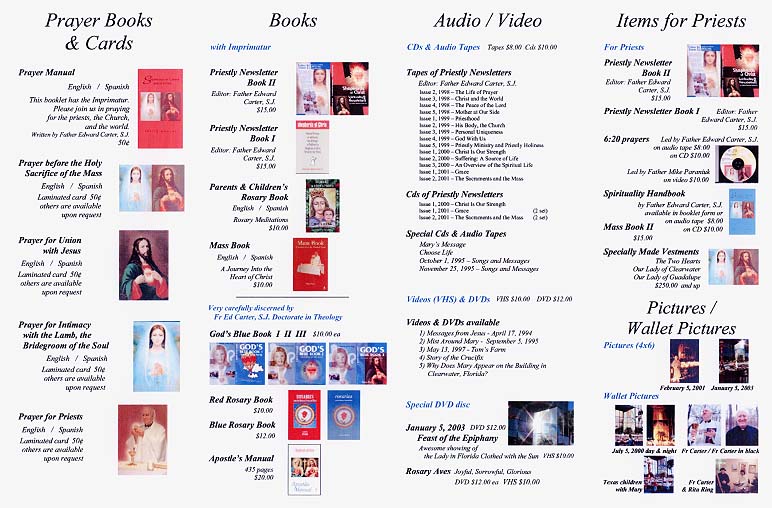 ---
Table of Contents
Previous Daily Message
---
Main Shepherds of Christ Page
---

Copyright © 2005 Shepherds of Christ.
Rights for non-commercial reproduction granted:
May be copied in its entirety, but neither re-typed nor edited.
Translations are welcome but they must be reviewed for moral and
theological accuracy by a source approved by Shepherds of Christ Ministries
before any distribution takes place. Please contact us for more information.
All