Mary has requested that the daily message be given each day to the world. It is read nightly at the prayer service from her Image Building in Clearwater, Florida, U.S.A. This is according to her request. All attempts will be made to publish this daily message to the world at 11 p.m. Eastern time, U.S.A.

---

We acknowledge that the final authority regarding these messages rests with the Holy See of Rome.

---
---
A Prayer for Intimacy with the Lamb, the Bridegroom of the Soul

Oh Lamb of God, Who take away the sins of the world, come and act on my soul most intimately. I surrender myself, as I ask for the grace to let go, to just be as I exist in You and You act most intimately on my soul. You are the Initiator. I am the soul waiting Your favors as You act in me. I love You. I adore You. I worship You. Come and possess my soul with Your Divine Grace, as I experience You most intimately.
---
Messenger: Include Our Lady of the Holy Spirit Center in 6:20 prayers.
---
Jesus speaks: My chosen ones,
The miracle is that the light comes every day and so many times you do not even think about it.
You have learned to take the light for granted, the sun in the sky, the stars and moon in the night. Oh, I give you the gift of your breath and you breathe so automatically and do not even think of Me.
I am life! I am God. I am all powerful! I am God! I am Creator, you are creature! Harken to Me.
Sing Song: The Battle Hymn of the Republic
---
September 10, 1994 - Blue Book IV
Stay Fixed on Me; I Am with You
Jesus speaks: I am the Sacred Heart of Jesus. My child, keep your mind forever fixed on Me. You wander not this barren desert alone, I go with you to light the path. The miracles are all around you. I never ever go from your side. I dwell forever in your heart.
You may wander, you may feel as if the road is crooked and you are going alone, but never do you go by yourself -- never do I abandon you, never do I wander from your side!
Oh, sweet one, keep your eyes forever fixed on your heavenly Father. Do not take your eyes from Him. Your Kingdom awaits, your day is at hand. You counted yourself blessed by the glories of the Lord you encountered in this life, you do not know what awaits you in your heavenly home!
Eye has not seen, ear has not heard, what God has ready for those who love Him. Keep your eyes forever fixed on this reward. You wait not in vain. You wait for a treasure far beyond any words. You will see the face of God and live.
Live in My love. Let your life be filled by My life that you will live it to the full in the years to come. You are My chosen ones. You are My heirs. Keep your hearts pure and your eyes on the Father. He loves you so much. Alleluia. Alleluia.
---
September 10, 1994 - Blue Book IV
Prayers Will Transform Your Land
Messenger: Light comes every day. There was total darkness throughout the land and as quietly as could be the morning light shone over this same land. Do we question that there existed total darkness and then the light appeared in such grandeur?
Jesus speaks: There will be darkness throughout the earth; men's hearts will turn cold and dark and the light of the love of God will, as quietly, steal across these same hearts and transform them into hearts on fire and alive. What, My child, will do this? The power of the Almighty God can change men's hearts that are dead in sin to hearts that are alive and vibrant, radiating the love of God. Pray, My little one, more than anything you do, your prayers will be that which transforms your land from darkness to light. Only the might of the Almighty God can do this. This is a miracle. A heart, dead in sin, can be touched by the hand of God.
Live My love in your hearts. You are My hands to this dark world. You radiate the love of God from your very being. The most important thing you can do for this earth is to develop your love affair with God. Everything follows from that. If your hearts are set on the Lord, your might will be great. You will shine in the darkest night. The darker the night, the brighter your light. My light is so bright that nothing can compare to or equal this light. Its intensity shines brighter than ever against the dark night.
Oh, My children, if you only believed as you should. You worry for needless tasks. You see the world and you think you control it. You, children, control nothing. I never slumber, I never sleep, I never go away. My light is a vibrant force that shines from the hearts centered in My love.
Keep your hearts pure. Be about your love affair with Me. Come to My altar and receive the one, true God, totally present and in your midst this very day. Sit with Me and soak in My might. Come to the tabernacle. I am the Almighty God. I cast a light from the tabernacle that penetrates your soul. You are filled with My power. I am the Almighty God, truly present there. No less present than the day I walked this earth.
You, My little ones, need to spread this good news. Jesus Christ is Lord. He has died, He is risen, He is in your midst this very day! Come to Me, My little babies, and sit with Me. I await with such gifts for you to come. My Heart is burning for love of you. I penetrate your soul with My might. Come and be transformed by the light of Christ. Sit before Me in the tabernacle. You will receive such power as My might transforms your soul. You needn't fret and worry. Pray children, offer your days up the the Father, through the Holy Sacrifice of the Mass. Offer your lives for all your brothers, living and dead. You have a mighty weapon. Pray. Do not spend time in idle talk discussing the hardened hearts of this world. Offer your days in prayer. Pray constantly. I am the Almighty God. I go before you, I will light the way.
Keep your hearts ever set on the mysteries of Christ. It is through Me you will reach such heights. I am the Almighty God. I go before you. I gave My life that you would live. I loved you to My death, My sweet children. Come to Me and I will give you rest. Alleluia.
---
Messenger: I account the following information about very important experiences I had on First Saturday, September 3, 1994, several days before.
Excerpts from September 3, 1999 Daily Message
On September 3, 1994 - First Saturday
Messenger: I suffered the greatest sorrow within my heart for the sorrows of Mary. I had gone to Mass and the priest had done the peace rosary.
This is what would happen to me at Our Lady of the Holy Spirit Center. My heart would be in such anguish because of the sorrows of Mary I experienced. I would be buckled over in pain. This day I was before the Sorrowful Mother statue in the back of the main chapel. We were going to the Falmouth, Kentucky Farm, that day to pray. I was so drained and weak from this experience, I thought I could not go. I was weakened, so weakened, the experience lasted about an hour and was so intense. I existed in this intense pain of the Immaculate Heart.
That afternoon we came for the 6:30 p.m. prayers where Our Lady would appear. At 6:00 p.m. I went to the tabernacle in the Rosary Chapel and there was this picture of Jesus to the left of the tabernacle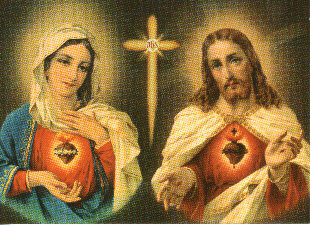 and a candle with the Sacred Heart of Jesus on it. There was sunlight in the room from the rosary windows. I sat before the tabernacle on the altar as I had done so many times, before the picture and left of the tabernacle. I began to experience the deepest agony of His Heart. I knew the sorrow of His Heart for all who do not come before Him in the Blessed Sacrament . I knew His sorrow so deep within me for all the blocks I had experienced in delivering the messages. I was so weakened and I was suffering. Then the lights in the room dimmed and the picture of the Sacred Heart turned black before me. I could very faintly see His outline behind the blackness. The candle of the Sacred Heart went out. I sat on the end of my chair in pain and suffering and a fear shot through me. I wondered what had happened. It remained this way for about 5 minutes.
Then the light in the room returned, the candle went on and the picture became bright, all instantaneously, brighter than ever before. I went to the back of the chapel where Mary would appear, to do the 6:30 p.m. prayers and I cried. I was so shaken from the experience. Father Carter was there for the prayers. I was told to tell Father Smith, which I did.
---
Messenger: That First Saturday I received the intense sorrow of both Hearts. I still remember it as if it just happened. I write beneath the foot of the Sorrowful Mother statue at 6:00 a.m. September 2, 1999.
The experience I received 3 years later on the First Saturday in September 1997, at the Morrow Center showed Him brilliant in light and the blackness behind Him.
To have what He wishes, hearts filled with fire, we must follow His plan.
Mary now appears as Our Lady of the Holy Spirit.
It is important we pray at 6:20 p.m. as a body on earth, all praying for an outpouring of the Holy Spirit and praying for our priests and the renewal of the Church and the world as He wishes.
On September 9, I received the following explanation of the vision. I repeat the writing September 9, 1994:
September 9, 1994
Jesus speaks: To be My light shining forth to this world you must come and take refuge in My most Sacred Heart. I came as a little Child into your midst. The star shone bright above Me and I entered into this world. I am He Who lights the dark night. You will cast this light to this world if you are fixed in Me. Be the light that shines in the darkness. I am the Light of this world. You are My little lights that shine so deeply into the darkness. My Heart is a burning flame. When you take refuge in My Heart you are a light to the dark world. Come and dwell deeply in My most Sacred Heart, placed there by My most dear Mother.
Be as you are called by the Father, to shine forth to this world. I am He Who calls you now to go forth and light up this world with the fire of My most Sacred Heart. The love of the one, triune God, is that which powers you. If you are in the state of grace, Our life is so alive in you. You will radiate Our love to this world. My flame of love never falters. Take shelter from every affliction in My Sacred Heart.
I am the Sacred Heart of Jesus. I want to light this world with My love. Let Me shine and operate from you. Pray My Prayer for Union with Me. Offer yourself totally to the Father with Me in the Holy Spirit at every Mass. Stand under the cross with Mary and give yourself in total surrender to the Father. He has such plans for you. He loves you so much. You are the light that shines in the darkness. Let your light shine and they will see the God Who dwells in your breast. You are so loved, My most precious child. I am Jesus, My Heart is aglow for love of you.
(end of excerpts from the September 3, 1999 Daily Message)
---
Messenger: This message was given one day befre the first September 10, 1994 message of tonight's daily message. Notice the discussion of light and daark and the drastic experience I had Septenber 3, 1994, First Saturday.
---
Mary's Message from the Rosary of August 27, 1996
Mary speaks: I stood beneath the cross of my Son, and my Heart was in such pain for I saw Him before my eyes. I saw Him covered with blood. I saw Him die. My Heart, my children, my Heart to watch my Son, but my Heart, my Heart, how I suffered for my little children of the world that give in to this world and give up the love of my Son. O my little children of light, I give you this message. Carry this light into the darkness for your Mother Mary, for I stood beneath the cross and I cried. I cried for the little ones. I cried for the young ones, the ones that do not care and will lose their souls. How do I make you see for you will not listen to me? What can I do? I come. I appear. I beg. I plead. I give you these gifts from my Son, and you reject me. I do not deliver messages very often anymore for I have been ignored. The message is the same. You do not read the messages I have given to you. Please help me. Help the little children. I appear. I appear. I appear, and I am ignored. I stood beneath the cross, and I cried. I cried, and my Heart was in such anguish for my little children, for I am searching for them this day as I searched for the Child Jesus. Please, please help me. I cannot hold back the hand of my Son any longer. I am Mary, your Mother. I ask you to help my children. You are my children of light.

Song: O Lady of Light, shining so bright, be with us this day, guiding our way, O Lady, O Lady of Light.

Mary speaks: I appear to you as Our Mother of Sorrows.
(End of Mary's Message)
---
MY VALENTINE FOR JESUS AND MARY
AND THE WORLD

I _________________ give my heart to
You Jesus and Mary on this day
_________________
I promise to help spread the devotion to
the Hearts of Jesus and Mary.
---
Question for married couples and others in intimate relationships:
Q: How do I feel I am loving Jesus when I am loving you?
---
---
---
Copyright © 2000 Shepherds of Christ.
Rights for non-commercial reproduction granted:
May be copied in its entirety, but neither re-typed nor edited.
Translations are welcome but they must be reviewed for moral and theological accuracy by a source approved by Shepherds of Christ Ministries before any distribution takes place. Please contact us for more information.
All scripture quotes are from the New Jerusalem Bible, July 1990, published by Doubleday.
Revised: May 28, 2000
URL: http://www.SofC.org
Contact Information for Shepherds of Christ
Email: info@SofC.org
---
Shepherds of Christ Ministries
PO Box 193
Morrow, Ohio 45152-0193

Telephone: (toll free) 1-888-211-3041 or (513) 932-4451
FAX: (513) 932-6791