May 29, 2009
John 21: 15-19
When they had eaten, Jesus said to Simon Peter, 'Simon son of John, do you love me more than these others do?' He answered, 'Yes, Lord, you know I love you.' Jesus said to him, 'Feed my lambs.' A second time he said to him, 'Simon son of John, do you love me?' He replied, 'Yes, Lord, you know I love you.' Jesus said to him, 'Look after my sheep.' Then he said to him a third time, 'Simon son of John, do you love me?' Peter was hurt that he asked him a third time, 'Do you love me?' and said, 'Lord, you know everything; you know I love you.' Jesus said to him, 'Feed my sheep.
Peter denied Jesus 3 times
Peter was worried about what others thought of him.
Peter must have had this habit to worry
what people think to act this
way when Jesus was about to go
to His death.
Jesus asked Peter 3 times if he
loved Him.
Despite Peter's failing Jesus made
Peter head of His Church
Peter's heart was humble
Matthew 16: 18

So I now say to you: You are Peter and on this rock I will build my community. And the gates of the underworld can never overpower it.
Jesus is teaching us in the school
of love —
To teach us He came to this
earth, Jesus, the Son of God,
He took flesh — He took on
a human nature and He lived
amongst us —
So He could teach us about
Himself and He is love
God is love and in Him there
is no darkness —
But even though God created
this earth and God who is
Supreme made us His
creatures
We can rebel against Him
and act unloving in our
ways.
God is love — when we
act unloving we rebel
against the Plan of
the Creator.
This is God's world
Man was created to know, love,
and serve God and by this means
to attain his eternal salvation
St. Ignatius gives us the
1st Principle and Foundation
From The Spiritual Exercises of St. Ignatius,
by Louis J. Puhl, S.J. p. 12
23. FIRST PRINCIPLE AND FOUNDATION
Man is created to praise, reverence and serve God
our Lord, and by this means to save his soul.
Prayer from
St. Ignatius Loyola
Lord, teach me to be generous.
Teach me to serve you as you deserve;
To give and not to count the cost;
To fight and not to heed the wounds;
To toil and not to seek for rest;
To labor and not to ask for any reward,
Save that of knowing
that I am doing your will.
Sing: Take Lord Receive
Prayer of St Ignatius

Soul of Christ, sanctify me
Body of Christ, save me
Blood of Christ, inebriate me
Water from the side of Christ wash me
Passion of Christ, strengthen me
O good Jesus, hear me
Within Thy wounds hide me
Permit me not to be separated from Thee
From the wicked foe defend me
at the hour of my death call me
and bid me come to Thee
That with Thy saints I may praise Thee
For ever and ever. Amen.
We are to let go of our selfish
will and inordinate attachments
to attain freedom — to live as
God intends us to live.
Genesis 1:26-27

God said, 'Let us make man in our own image, in the likeness of ourselves, and let them be masters of the fish of the sea, the birds of heaven, the cattle, all the wild animals and all the creatures that creep along the ground.'

God created man in the image of himself,
in the image of God he created him,
male and female he created them.
We are to seek the will of God
Man rebelled against God's
will
Adam and Eve wanting to be
equal to God —
Jesus appeared to me as
the Divine Mercy Jesus
November 2, 2008 —
here is that account and
what He said
November 2, 2008 (excerpts)
ALL SOULS DAY
from Clearwater building
While He appeared as the Divine Mercy Jesus and Mary appeared.
Agony of Our Lord in the Garden of Lives

...1. Jesus: I sweat blood in the garden, for the little ones that are aborted this day. To know of the women that allowed such things to happen, that live lives afterwards affecting others. Oh My people, you must respect life. You must obey the commandments of God. It is not free sex, as it is in the movies, and all of the media. When you disobey the commandments you have problems. They were given to you to live a happy life. To disobey the commandments is to have serious problems...

Jesus: I sweat blood for you.

9. Jesus: I sweat blood for you. (Jesus says as He appears.)

Jesus was Whipped at the Pillar

1. Mary: Yes my children, I pray with you today, for my babies. I am Mary your Mother. Come to my Immaculate Heart, my heart of love, of purity, and the Holy Spirit will fill you with His life, His light. Oh, little loved one, I love you so. I am your Heavenly Mother.

2. Mary: Little loved one, God is all powerful. You must pray and have faith. Love as you have never loved before. Love God and one another. I am Mary your Mother, Queen of Peace. Spread the consecration to the people of this earth, that they will know the love of Our Hearts. And you will know peace as you have never known peace before. Pray my rosary, little ones, for the Holy Spirit comes and fills you with great grace. God wants you to meditate on the mysteries, it will help you in the troubles in your life. I am Mary, Our Lady of the Holy Rosary.

3. Mary: On this All Souls Day, I come to you my children, with bloody tears, asking you to not focus on yourselves, and the negative things that satan wants you to think about, but to focus on the higher things, on the real things, on the love that Jesus had for souls, that led Him to His death on the cross. Look at Him now. Envision Him clearly in your mind. See Him whipped at the pillar. Oh my children, my face is full of the beauty from knowing God. Let your hearts be filled with that beauteous love of God who loves you so.

4. R. And she wears a crown on her head, and the beauty of her face, and as we pray the prayers, she prays with us because of her great love for us. In this special place that God has chosen on the face of this earth, to allow Mary's image and the face of Jesus to appear, believe that God is with us in a special way, and that Mary is here praying with us, and pray for life with me. Let go of the distractions of your heart. Let no evil come into your minds...

6. Mary: Oh sweet little ones, I appear here because of my great love, and importance of this place to the Father's plan. Do not lose heart, but be empowered in your love for God and others. Never give in to that negativity. And believe what I have told you here as your Heavenly Mother, that you will be a light to those that are hungering and searching for the truth, when the world is full of so many errors. As your Heavenly Mother, I beg you now to listen to me, here, in my building, in the Building of the Two Hearts. Oh how deeply I love my children, listen to me...

8. Mary: My little loved ones, you sell yourselves so short, for you never saw the badly beaten body of my Son, nor did you see His flesh torn so deeply — Oh His body covered with blood and wounds. And you will not let go of simple little wounds when God loves you so very much. As you heavenly Mother, the Mother of love, I ask you to see through the eyes of the Father, and quit looking at the mud, the mud pies of your earth.

9. Jesus speaks and He says — Mud pies, mud pies, mud pies. And I give to you the crisp morning air and the sun that shines so sweetly, and you turn your hearts away from Me and you live a life of misery. For what - My little dumb ones? And yes, when I call you dumb ones, it is out of love — for you walk down the roads that lead to your own misery and you go again and again. And your habits become worse and worse. And yet no matter what I say, or how I try to reach you, the sounds you hear from the fallacious reasoning of satan, grows louder and louder in your ears...

The Crowning with Thorns

Mary: I appeared to you at Our Lady of the Holy Spirit Center, the old seminary, as Our Lady of Light, Our Lady of Sorrows, Our Lady of the Rosary. I appear to you now as Our Lady of Fatima in the Americas, Our Lady of the Rosary, Our Lady of Love and Life. As you meditate on this mystery of the rosary, see my Son crowned with thorns for your sins of pride, arrogance, fighting — for those things that were useless and the days that were lost, while you put aside the tender Heart, to choose a life of combat, uselessness, blocking the Plan of the Father. Today I come to you and I beg you to pray for humility, that you will not continue in your ways of sin.

1. R. Once upon a time there was a great man, and he had a big tall hat, and it was black. And they called him Abraham Lincoln. He was shot and killed and he was a good man. There are many people in our country, who have suffered so much and given so much, to make the United States the beautiful place that it is. The sacrifices of those coming over, of those seeking independence, of those forming a home, a land of plenty. And so Mary speaks and she says

Mary: Oh my children, where some sow, others tear up — where some give, others seek, provoke, to hurt and to tear down. God is all loving. God is the tenderest of all Hearts. God sent His only begotten Son into this world, that you would share in His life. Where one sows, another plants weeds. What will you do with your lives, for God has called you in the Shepherds of Christ, to be the ones to reach the shepherds of the Church. And as you do that, you will not be able to, any further, if you continue in the ways of your sin, that is blocking the Plan that the Father has intended, for the renewal of the Church and the world. It is only in unity and in love that you will be able to do the work, for satan will press down, harder and harder, and in your weakness, you will say 'yes'. You must choose the life of holiness, that God has directed for you, in the Blue Books, in the messages given. To close the books, to rely on your own imperfect reasoning, is to invite satan to come through an open door.

2. Mary: When signs were given, you fought the messenger for your own ways of evil, and I have cried and cried bloody tears to listen, for this Movement is major to the completion of My mission begun at Fatima. Fight me no longer.

3. Mary: A man went out far by the ocean, and he took his hand and he lifted the sand. He clinched his fist tightly and he said, "Now I will take this home with me." He had barely turned and all of the sand in his hand, had fallen some how through his clasped fist. When you reach for the perishable things of this world, when you reach for dominance for dominance sake, when you seek for your honor and glory, you are like the man clinching his fist tightly with a hand of sand — he barely turned and his fist was left empty.

4. Mary: You want your crowns of gold and silver. You want the crown of your pride. My Son Jesus wore a crown of thorns for your sins of pride, for the tricks and the games, and all the things that soon become habits, that are very hard to break, after years of practice. I am the Lady of Purity. I am the Lady with the Immaculate Heart. If you go to my Immaculate Heart, and you beg the Holy Spirit for forgiveness and for grace, He will help you to heal. Promise Him that you will live a virtuous life, in helping to serve Jesus, and to help lead people to Our Two Hearts.

5. Mary: One little light in the darkness cast a great light, but when one curses the darkness and snuffs out the burning embers, the darkness is blacker than you can ever imagine. You will never know the pain, the hatred, the awfulness of the place of hell. You think it is not much, these little things, but these little habits become bigger and bigger habits. They blind your eyes, and you do not have the conscience you once did. I am Mary your Mother. I speak as a Mother, warning you, but like many children of the earth, when the Mother speaks, they stick their fingers in their ears, to their own detriment, to the damage done to themselves, their precious souls.

6. Mary: To much that is given, much will be expected. And the grace that God gives to you now, in abundance, can be taken away, when you test Him over and over again.

7. Mary: Despite what you tell yourself, you have not accomplished, what you have accomplished by your own might, but the hand of God has been guiding the Shepherds of Christ Movement since its beginning. And the grace has been outpoured, that there will be a victory in helping to renew the Church and the world. Satan wants to stop you, and when you give into him, you will be the one to lose out.

8. Mary: A little boy had a box of matches, and he played with the matches. Every day a man that lived in the house nearby, would come to the boy and say to him — "My son, you should not play with matches." And he would close the box and tell him to take them home. The boy tested every day, waiting for the old man to come and warn. And he kind of chuckled as the man went away, thinking, 'tomorrow I will be back doing the same thing again.' One day the little boy had his box of matches, and he opened them up and he struck the matches, thinking soon the man would come. When he did not come, he struck more and more matches. And finally his clothes began to burn. The man had a heart attack in his home and never showed up. The boy was severely burned.

My children, the fires of hell burn deep. When you test the Lord, you are saying to Him, "I will do what I want God. Come and get me." Why have rivalry with the Father's will? It is yourselves that you are cheating. The man that is wise lives to please his Father, and knows that, in that, lies his happiness. The fool is the one who does foolish things, trying to be adverse, combattal, doing his own will, working in disharmony, saying "Come and get me God. Let's see who will win." My children, you have been gifted with such love, and given so many gifts. You should never test your Heavenly Father. You should honor Him, love Him, obey Him. Do all things for His honor and glory. It is not a game. Like the little boy playing with matches. He was severely burned.

9. Mary: The Divine Almighty God loves you so much. The Father loves you that He sent His Son Jesus. He was not crowned with a crown of gold or silver, but with a crown of thorns, that went deep into His skull, and made Him bleed. He bled for your sins. Why do you hide your sins, as if He does not know. He paid the price for them...

Jesus Carries His Cross

1. Jesus: And they gave Me a heavy cross, laden with the sins of the world, the sins of abortion, the sins of men's inhumanity to men. I paid the price. I shed My Blood. I fell under the cross and they poked Me. Do you know what it is to have a cross on your back, so heavy with the sins of the world — and yet for love of you, I gave My all. And you say "I don't need Your love Jesus. I want to be accepted by my peers. I want to be respected. I want honor and glory. And I say to you, "My child, it is My love that will make you happy." And you say, "No, Jesus, go away. I want to be looked up to. I want my face to be seen as a proud man, that others will say, 'Oh, he is such a good guy'."

2. R. Jesus is full of the richest light, as He spoke and as He speaks now to us, to tell us how dearly He loves us, and how it offends His Heart when we run after things that we expect others to do for us, that are useless, just because you want them, for our honor and glory.

Jesus: My people, I have watched you from the day you were born, watched you formed in your mother's womb, watched your birth. I was with you, there at your baptism. I am with you now. And you can choose life, or you too can choose a life that will lead you, deeper and deeper, into the roads of darkness, when I have honored you and called you. I have loved you. I have given you all that you need. It offends My Heart when you say, "Go away God. I want the affection of others, for this they make me feel better about myself." If you knew even a little of My love, you would be the person that would love others, filled with love yourself.

R. He is so beautiful and so filled with light and beauty. Light and beauty that I know and I see and I speak and people don't believe. Oh precious God help me. Help me to do whatever it is I can, to lead souls to know the love of Your Heart, to believe in the apparitions — when You appear in such glorious beauty, Your face shining, gentle — the motions that You have. Oh God, You are great indeed.

3. R. Don't ever leave me, my beloved, that I may always know Your beauty and Your light, the reality of Your presence. Don't ever leave. And lead me in the ways, to be able to tell others of the message, for it has been most difficult, even as You appear, they believe nothing. And I see You as I cannot even describe. Oh dear God, help us with this abortion. Help us with this election. Help us from this building. Don't ever leave me. Let me see You, that I may know Your face always before me, in my heart and soul, in every ounce of my life. Jesus, help me to do this.

4. Jesus: And you said to Me child, if You would write a book, would you use my hand. And I gave to you book after book after book. The book of the letters of My Heart that men, who were hungry, would know how to feed themselves, with the love that I give them, that they would go to the Eucharist.

R. Oh He is so beautiful, I mean, it's just beyond anything I can say, beyond anything, to see Jesus appear. So awesomely - that words to not exist. And yet as He told me once, it is the writings that He has given to us that are indeed the treasures. If you believe, you will become wise. If you choose to ignore it, you will not know the gifts He has given.

5. R. Oh love, please, please help so that the election is the one that chooses life, in doing God's will. Please God, with all my heart I beg of Thee. As you appear here before me, hear my plaintive cry. And look at the 17 years, no matter what, I tried to do Your will. Please Jesus, please.

6. Jesus: Do not cry My child, for I have heard your request and I will answer thee.

For My Heart is a Heart consumed with love for My little ones and for My people. And I have given to them from My bounty, and they turn away in their willful ways and they test My gifts given. They do not listen to the messages that I have delivered. And I reach to them with arms open wide in love of My Sacred Heart. I give to them Myself in the Eucharist. I give to them My letters of love, and I ask you to send them to the people. But many, even here, do not realize what a gift I have given, for they focus on so many useless things. And I have given to you this building to tell the hungry souls of My undaunted love, of the gift of the Eucharist, to plead with the people to pray the prayers, that I gave to Fr. Carter.

Oh sweet one, I appear that you will see Me, and know that I am with you. In the trial and the turmoil, I have never left your side.

7. R. Hold me Jesus, in Your Heart, and I will know more the treasures of Your glorious love, that I will be strengthened and empowered, to be able to spread the love of Your Sacred Heart to the world, that the babies will not be aborted, and that people will be as the Father desires. You are so good to us, God. Thank You for all You have given to us. I am sorry for the sins of the human race, forgive us, please...

The Crucifixion

1. Jesus: And I have asked you in China, to spend the hours between 12 and 3, before the Blessed Sacrament as I am exposed. I have been given every excuse for no reason, for the only reason that you do not want to do what I ask. And I have blessed you abundantly in so many ways, and told you of My precious love for you. I have given to you the exposed Eucharist. And I have asked you to come to Me, to be with Me and to love Me with all your heart, in the world that is cold. I have opened up My richest graces and outpoured them to you. My church in China is to be a place of deep holiness, where My Mother can appear and I remain exposed in the Blessed Sacrament. I speak no more.

2. Jesus: You have taken My gifts for granted. And I have outpoured generously My richest blessings. They are My letters of love. They are My messages telling you of the great gift of the scriptures, enlightening your hearts, that you will know Me, more and more. You receive My gifts, many of you, with great ingratitude. I have continued to outpour My richest blessings and you have treated, much I have given to you, as trash. My Heart is wounded for the special gifts I have given to My Shepherds of Christ, who have been called to spread this message to the world, to show the pilgrims of the great gifts that I have given, to lead men to the burning love of My Heart.

Like a stale piece of bread, you have grown more and more stale, as I have outpoured, more and more, of My richest blessings. How would you like the cold hands of a lover, to embrace you and walk away?

I have extended to you, the warmth of My Heart, the words of precious love never given before, giving to you this precious gift of the Eucharist. You are to honor Me, to worship Me, to love Me, to live a life of holiness, to pray for My centers in great reparation for the offences of the world — for the reparation is sweetness to My wounded Heart. My Heart suffered such anguish, and today I have asked you to make reparation to My Sacred Heart and to My Mother's Immaculate Heart, as Mary asked for at Fatima. You really ignore this request, quite avidly. No matter how much it has been given to you in the past 14 years, of the importance of the reparation that I call for at My centers, you have given Me cold hands - cold, cold and clammy.

3. Jesus: The messages that I have given to you, are My messages. The messages that God the Father wants the reparation to God, for the sins of the human race, the love that you should give from your heart, to help bring about the great era of love, that I have given you in the commission in the Shepherds of Christ. My pilgrims come — are you warm, open, loving and leading them to My Blue Books and to Me? What do you want in your cold clamminess, when I am so loving to you? When I give you My letters of love, what do you want? You stay stuck in the tomb with the rock rolled to the door.

4. Jesus: Let me fill your heart with My love. Read My letters of love. The letters I gave to you, My special one, for you were called and you were chosen, given the secrets of My Heart never given before, given to you. The Blue Book is the center of this Movement.

5. Jesus: I call on the 13ths and the 5ths and the retreats. Do you think I not see, how you respond, when I appear and My Mother appears? What sign would move you, for signs have been given, over and over again — and the letters from the hierarchy and the tree in China. Are you unmovable? You feel power in saying "I will stop the buck here" and to feel good in my power. Why do you try to block My work, when it is easy for you to do it, and it will help so many souls I died for? Why do you do it? So you can say "I did it my way."

6. Jesus: I hung on the cross for 3 agonizing hours, and I ask you to come into My Church in China, to be there and to focus on My love for you, to pray with all of your heart, to know how God is pleased in your love given, and your time, in making reparation. I have asked for this and I will outpour My mercy. I have asked for the retreats in reparation, and I will outpour My mercy, for I am never outdone in generosity. I am God. I am love. Satan tricks you and you give in. You are reactors, not actors in My army. When you block the work that I explicitly am telling you to do, for the sake of souls, you hurt yourselves as well.

7. Jesus: This building is a gift to the world. It should be cherished. It is here that I have chosen to appear, and that My Mother has appeared with Me this day, calling you to a life of greater holiness, unity — and a commitment to spread the devotion to My Heart, and My Mother's heart to this world — spreading prayer chapters, the Priestly Newsletter, the books, the homilies, the rosary, the rosaries to the schools, saying "God, here we are. We come to do Your will. As we see You hang upon the cross, we will know how important it is to You, that we spend the hours between 12 and 3, as You have asked for now for 12 years. And many times we just gave into satan for no reason, to not follow that instruction in our prayer life."

8. Jesus: I am Jesus. I am the Son of God. I am the Savior of the world. I paid for your sins with My Blood. You do not fool Me, for I know all things. Pray to be more deeply united for I am the Bridegroom of your soul, and you are My bride. Pray to have unity that you will find a light in doing the Father's will, in that lies your peace and happiness. In operating adversely to the Father's will, lies a life of discord, disorder, pain, rebelliousness and how far does that darkness go?

9. Jesus: I come to set the world on fire, with the fire of My love, and how I wish it was already blazing. I am Jesus, your Savior. I have appeared here and My Mother has appeared, because of the importance of this mission to the completion of the Fatima mission. Ignore Me no longer.
end of excerpts
Jesus gave me the Song from
Jesus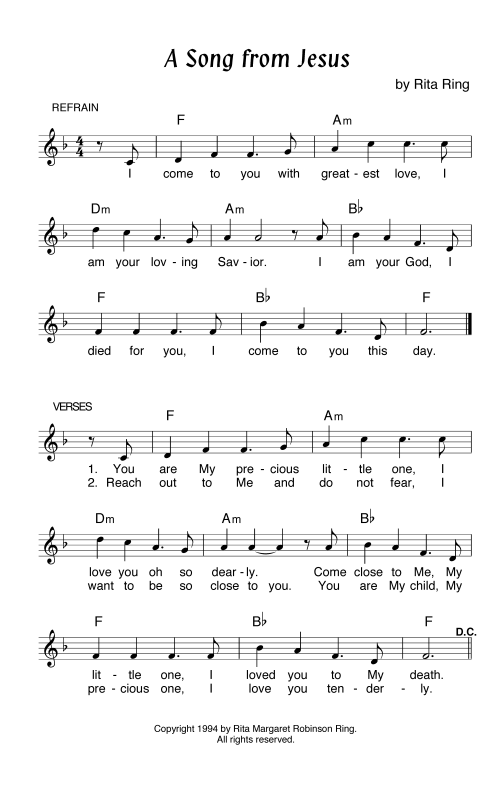 God in His mercy sent Jesus —
Savior of the World
Jesus through His life,
death and resurrection
came to this world,
the Redeemer of the
World
What is our role in this
plan of redemption?
What work is God calling me
to?
How have I been called?
We are commissioned in baptism
to go out and spread the
good news
St. Ignatius gives us these
discernment of spirits
Excerpt of The Spiritual Exercises of St. Ignatius, by Louis J. Puhl, S.J. pp. 141-146

313. RULES FOR DISCERNMENT OF SPIRITS
I

Rules for understanding to some extent the different movements produced in the soul and for recognizing those that are good to admit them, and those that are bad, to reject them. These rules are more suited to the first week


314. I. In the case of those who go from one mortal sin to another, the enemy is ordinarily accustomed to propose apparent pleasures. He fills their imagination with sensual delights and gratifications, the more readily to keep them in their vices and increase the number of their sins.

With such persons the good spirit uses a method which is the reverse of the above. Making use of the light of reason, he will rouse the sting of conscience and fill them with remorse.

315. 2. In the case of those who go on earnestly striving to cleanse their souls from sin and who seek to rise in the service of God our Lord to greater perfection, the method pursued is the opposite of that mentioned in the first rule.

Then it is characteristic of the evil spirit to harass with anxiety, to afflict with sadness, to raise obstacles backed by fallacious reasonings that disturb the soul. Thus he seeks to prevent the soul from advancing.

It is characteristic of the good spirit, however, to give courage and strength, consolations, tears, inspirations, and peace. This He does by making all easy, by removing all obstacles so that the soul goes forward in doing good.

316. 3. SPIRITUAL CONSOLATION. I call it consolation when an interior movement is aroused in the soul, by which it is inflamed with love of its Creator and Lord, and as a consequence, can love no creature on the face of the earth for its own sake, but only in the Creator of them all. It is likewise consolation when one sheds tears that move to the love of God, whether it be because of sorrow for sins, or because of the sufferings of Christ our Lord, or for any other reason that is immediately directed to the praise and service of God. Finally, I call consolation every increase of faith, hope, and love, and all interior joy that invites and attracts to what is heavenly and to the salvation of one's soul by filling it with peace and quiet in its Creator and Lord.

317. 4. SPIRITUAL DESOLATION. I call desolation what is entirely the opposite of what is described in the third rule, as darkness of soul, turmoil of spirit, inclination to what is low and earthly, restlessness rising from many disturbances and temptations which lead to want of faith, want of hope, want of love. The soul is wholly slothful, tepid, sad, and separated, as it were, from its Creator and Lord. For just as consolation is the opposite of desolation, so the thoughts that spring from consolation are the opposite of those that spring from desolation.

318. 5. In time of desolation we should never make any change, but remain firm and constant in the resolution and decision which guided us the day before the desolation, or in the decision to which we adhered in the preceding consolation. For just as in consolation the good spirit guides and counsels us, so in desolation the evil spirit guides and counsels. Following his counsels we can never find the way to a right decision.

319. 6. Though in desolation we must never change our former resolutions, it will be very advantageous to intensify our activity against the desolation. We can insist more upon prayer, upon meditation, and on much examination of ourselves. We can make an effort in a suitable way to do some penance.

320. 7. When one is in desolation, he should be mindful that God has left him to his natural powers to resist the different agitations and temptations of the enemy in order to try him. He can resist with the help of God, which always remains, though he may not clearly perceive it. For though God has taken from him the abundance of fervor and overflowing love and the intensity of His favors, nevertheless, he has sufficient grace for eternal salvation.

321. 8. When one is in desolation, he should strive to persevere in patience. This reacts against the vexations that have overtaken him. Let him consider, too, that consolation will soon return, and in the meantime, he must diligently use the means against desolation which have been given in the sixth rule.

322. 9. The principal reasons why we suffer from desolation are three:

The first is because we have been tepid and slothful or negligent in our exercises of piety, and so through our own fault spiritual consolation has been taken away from us.

The second reason is because God wishes to try us, to see how much we are worth, and how much we will advance in His service and praise when left without the generous reward of consolations and signal favors.

The third reason is because God wishes to give us a true knowledge and understanding of ourselves, so that we may have an intimate perception of the fact that it is not within our power to acquire and attain great devotion, intense love, tears, or any other spiritual consolation; but that all this is the gift and grace of God our Lord. God does not wish us to build on the property of another, to rise up in spirit in a certain pride and vainglory and attribute to ourselves the devotion and other effects of spiritual consolation.

323. 10. When one enjoys consolation, let him consider how he will conduct himself during the time of ensuing desolation, and store up a supply of strength as defense against that day.

324. 11. He who enjoys consolation should take care to humble himself and lower himself as much as possible. Let him recall how little he is able to do in time of desolation, when he is left without such grace or consolation.

On the other hand, one who suffers desolation should remember that by making use of the sufficient grace offered him, he can do much to withstand all his enemies. Let him find his strength in his Creator and Lord.

325. 12. The enemy conducts himself as a woman. He is a weakling before a show of strength, and a tyrant if he has his will. It is characteristic of a woman in a quarrel with a man to lose courage and take to flight if the man shows that he is determined and fearless. However, if the man loses courage and begins to flee, the anger, vindictiveness, and rage of the woman surge up and know no bounds. In the same way, the enemy becomes weak, loses courage, and turns to flight with his seductions as soon as one leading a spiritual life faces his temptations boldly, and does exactly the opposite of what he suggests. However, if one begins to be afraid and to lose courage in temptations, no wild animal on earth can be more fierce than the enemy of our human nature. He will carry out his perverse intentions with consummate malice.

326. 13. Our enemy may also be compared in his manner of acting to a false lover. He seeks to remain hidden and does not want to be discovered. If such a lover speaks with evil intention to the daughter of a good father, or to the wife of a good husband, and seeks to seduce them, he wants his words and solicitations kept secret. He is greatly displeased if his evil suggestions and depraved intentions are revealed by the daughter to her father, or by the wife to her husband. Then he readily sees he will not succeed in what he has begun. In the same way, when the enemy of our human nature tempts a just soul with his wiles and seductions, he earnestly desires that they be received secretly and kept secret. But if one manifests them to a confessor, or to some other spiritual person who understands his deceits and malicious designs, the evil one is very much vexed. For he knows that he cannot succeed in his evil undertaking, once his evident deceits have been revealed.

327. 14. The conduct of our enemy may also be compared to the tactics of a leader intent upon seizing and plundering a position he desires. A commander and leader of an army will encamp, explore the fortifications and defenses of the stronghold, and attack at the weakest point. In the same way, the enemy of our human nature investigates from every side all our virtues, theological, cardinal, and moral. Where he finds the defenses of eternal salvation weakest and most deficient, there he attacks and tries to take us by storm.

end of excerpt of The Spiritual Exercises of St. Ignatius
Excerpt of The Spiritual Exercises of St. Ignatius, by Louis J. Puhl, S.J. pp.147-150

328. RULES FOR DISCERNMENT OF SPIRITS
II
Further rules for understanding the different movements produced in the soul. They serve for a more accurate discernment of spirits and are more suitable for the second week


329. I. It is characteristic of God and His Angels, when they act upon the soul, to give true happiness and spiritual joy, and to banish all the sadness and disturbances which are caused by the enemy.
It is characteristic of the evil one to fight against such happiness and consolation by proposing fallacious reasonings, subtilties, and continual deceptions.

330. 2. God alone can give consolation to the soul without any previous cause. It belongs solely to the Creator to come into a soul, to leave it, to act upon it, to draw it wholly to the love of His Divine Majesty. I said without previous cause, that is, without any preceding perception or knowledge of any subject by which a soul might be led to such a consolation through its own acts of intellect and will.

331. 3. If a cause precedes, both the good angel and the evil spirit can give consolation to a soul, but for a quite different purpose. The good angel consoles for the progress of the soul, that it may advance and rise to what is more perfect. The evil spirit consoles for purposes that are the contrary, and that afterwards he might draw the soul to his own perverse intentions and wickedness.

332. 4. It is a mark of the evil spirit to assume the appearance of an angel of light. He begins by suggesting thoughts that are suited to a devout soul, and ends by suggesting his own. For example, he will suggest holy and pious thoughts that are wholly in conformity with the sanctity of the soul. Afterwards, he will endeavor little by little to end by drawing the soul into his hidden snares and evil designs.

333. 5. We must carefully observe the whole course of our thoughts. If the beginning and middle and end of the course of thoughts are wholly good and directed to what is entirely right, it is a sign that they are from the good angel. But the course of thoughts suggested to us may terminate in something evil, or distracting, or less good than the soul had formerly proposed to do. Again, it may end in what weakens the soul, or disquiets it; or by destroying the peace, tranquility, and quiet which it had before, it may cause disturbance to the soul. These things are a clear sign that the thoughts are proceeding from the evil spirit, the enemy of our progress and eternal salvation.

334. 6. When the enemy of our human nature has been detected and recognized by the trail of evil marking his course and by the wicked end to which he leads us, it will be profitable for one who has been tempted to review immediately the whole course of the temptation. Let him consider the series of good thoughts, how they arose, how the evil one gradually attempted to make him step down from the state of spiritual delight and joy in which he was, till finally he drew him to his wicked designs. The purpose of this review is that once such an experience has been understood and carefully observed, we may guard ourselves for the future against the customary deceits of the enemy.

335. 7. In souls that are progressing to greater perfection, the action of the good angel is delicate, gentle, delightful. It may be compared to a drop of water penetrating a sponge.
The action of the evil spirit upon such souls is violent, noisy, and disturbing. It may be compared to a drop of water falling upon a stone.
In souls that are going from bad to worse, the action of the spirits mentioned above is just the reverse. The reason for this is to be sought in the opposition or similarity of these souls to the different kinds of spirits. When the disposition is contrary to that of the spirits, they enter with noise and commotion that are easily perceived. When the disposition is similar to that of the spirits, they enter silently, as one coming into his own house when the doors are open.

336. 8. When consolation is without previous cause, as was said, there can be no deception in it, since it can proceed from God our Lord only. But a spiritual person who has received such a consolation must consider it very attentively, and must cautiously distinguish the actual time of the consolation from the period which follows it. At such a time the soul is still fervent and favored with the grace and aftereffects of the consolation which has passed. In this second period the soul frequently forms various resolutions and plans which are not granted directly by God our Lord. They may come from our own reasoning on the relations of our concepts and on the consequences of our judgments, or they may come from the good or evil spirit. Hence, they must be carefully examined before they are given full approval and put into execution.

end of excerpt of The Spiritual Exercises of St. Ignatius
We must discern the
movement of the
spirits —
Is it the Holy Spirit who is
talking to us — counseling us
we are to do God's will.
Is the spirit operating in
my life opposed
to God's will?
The Holy Spirit wants to
enlighten us so we
will make Jesus
the King and Center of
our lives —
of the universe
Fr. Carter examined his
conscience twice
a day
We stop and ask ourselves
am I in line with the
Holy Spirit
am I working against
the Holy Spirit
I thank God for my gifts
I pray for grace to
do God's will
St. Ignatius gives us the 2
Standards
Excerpt of The Spiritual Exercises of St. Ignatius, by Louis J. Puhl, S.J. P.60-61


136. THE FOURTH DAY

A MEDITATION ON TWO STANDARDS

The one of Christ, our supreme leader and lord,
the other of Lucifer, the deadly enemy of our
human nature

PRAYER. The usual preparatory prayer.

window at a former Jesuit Seminary

137. FIRST PRELUDE. This is the history. Here it will be that Christ calls and wants all beneath His standard, and Lucifer, on the other hand, wants all under his.

138. SECOND PRELUDE. This is a mental representation of the place. It will be here to see a great plain, comprising the whole region about Jerusalem, where the sovereign Commander-in-Chief of all the good is Christ our Lord; and another plain about the region of Babylon, where the chief of the enemy is Lucifer.

139. THIRD PRELUDE. This is to ask for what I desire. Here it will be to ask for a knowledge of the deceits of the rebel chief and help to guard myself against them; and also to ask for a knowledge of the true life exemplified in the sovereign and true Commander, and the grace to imitate Him.


FIRST PART

THE STANDARD OF SATAN

140. FIRST POINT. Imagine you see the chief of all the enemy in the vast plain about Babylon, seated on a great throne of fire and smoke, his appearance inspiring horror and terror.

141. SECOND POINT. Consider how he summons innumerable demons, and scatters them, some to one city and some to another, throughout the whole world, so that no province, no place, no state of life, no individual is overlooked.

142. THIRD POINT. Consider the address he makes to them, how he goads them on to lay snares for men and bind them with chains. First they are to tempt them to covet riches (as Satan himself is accustomed to do in most cases) that they may the more easily attain the empty honors of this world, and then come to overweening pride.

The first step, then, will be riches, the second honor, the third pride. From these three steps the evil one leads to all other vices.


SECOND PART

THE STANDARD OF CHRIST

143. In a similar way, we are to picture to ourselves the sovereign and true Commander, Christ our Lord.

144. FIRST POINT. Consider Christ our Lord, standing in a lowly place in a great plain about the region of Jerusalem, His appearance beautiful and attractive.

145. SECOND POINT. Consider how the Lord of all the world chooses so many persons, apostles, disciples, etc., and sends them throughout the whole world to spread His sacred doctrine among all men, no matter what their state or condition.

146. THIRD POINT. . . .


end of excerpt of The Spiritual Exercises of St. Ignatius
Do I seek God's will
Do I see the Trinity as
my model for my
family, community,
the school —
Shepherds of Christ Priestly Newsletter - Issue 3
We live out our spiritual lives within the Church. The Church is a multi-splendored reality. Let us reflect upon some of the key ideas connected with the Church.

Henri de Lubac states: "The Church is a mysterious extension in time of the Trinity, not only preparing us for the life of unity but bringing about even now our participation in it. She comes from and is full of the Trinity. She is for us -- in a favourite phrase of Bossuet -- 'Jesus Christ … communicated'. She is 'the Incarnation continued.' She is, as Dietrick Bonhoeffer used to say, 'the presence of Christ on earth' --- she speaks with 'the authority of Christ living and present in her.'… St. Paul applies to her this same word 'mystery' which he had first used of Christ. She is after all, the spouse of Christ and his body."
19
Fr. Bruno Forte tells us: "The Church comes from the Trinity, reflects in itself the Trinitarian communion—oneness in diversity—and journeys toward the Trinity, to the final handing over of all things to Christ, so that he might hand them over to the Father and God might be all in all. As 'a people gathered in the unity of the Father and of the Son and of the Holy Spirit,' the Church is the Church of the Father. In his universal salvific plan, God has willed it to be a sign and instrument of the unity of people among themselves and with him. It is the Church of the Son, who through his incarnation and the paschal mystery has placed it in history as His Body. It is the Church of the Spirit, who makes the Risen Christ present in human history and enriching the people of God with charisms and ministries, leads it toward the promised future goal."
20
The fact that the Church is here on earth a reflection of the Trinitarian Community easily leads us to reflect upon the Church as the Body of Christ, since this name given to the Church also emphasizes the communal aspect of the Church. St. Paul tells us: For as with the human body which is a unity although it has many parts -- all the parts of the body, though many, still making up one single body -- so it is with Christ. We were baptised into one body in a single Spirit, Jews as well as Greeks, slaves as well as free men, and we were all given the same Spirit to drink. And indeed the body consists not of one member but of many. If the foot were to say, 'I am not a hand and so I do not belong to the body', it does not belong to the body any the less for that. Or if the ear were to say, 'I am not an eye, and so I do not belong to the body', that would not stop its belonging to the body. If the whole body were just an eye, how would there be any hearing? If the whole body were hearing, how would there be any smelling?
Now Christ's body is yourselves, each of you with a part to play in the whole. And those whom God has appointed in the Church are, first apostles, secondly prophets, thirdly teachers; after them, miraculous powers, then gifts of healing, helpful acts, guidance, various kinds of tongues. Are all of them apostles? Or all prophets? Or all teachers? Or all miracle-workers? Do all have the gifts of healing? Do all of them speak in tongues and all interpret them? (1 Cor 12:12-17; 27-30)

19. Henri de Lubac, S. J., The Church: Paradox and Mystery, translated by James R. Dunne, Alba House, p. 24.
20. Fr. Bruno Forte, He Loved Them to the End, St. Paul Books & Media, p. 74-75.
John 17: 20-26
I pray not only for these
but also for those
who through their teaching
will come to believe in me.
May they all be one,
just as, Father, you are in me
and I am in you,
so that they also may be in us,
so that the world may believe
it was you who sent me.
I have given them the glory
you gave to me,
that they may be one as we are one.
With me in them and you in me,
may they be so perfected in unity
that the world will recognise
that it was you who sent me
and that you have loved them
as you have loved me.

Father,
I want those you have given me
to be with me where I am,
so that they may always see my glory
which you have given me
because you loved me
before the foundation of the world.
Father, Upright One,
the world has not known you,
but I have known you,
and these have known
that you have sent me.
I have made your name known to them a
nd will continue to make it known,
so that the love with which you loved me
may be in them,
and so that I may be in them.
Do I operate in unity with
others doing God's will?
Seeking God's plan
Why did God make me?
Do I act for the honor and
glory of God —
Do I act for power, riches,
affections —
self promotion
vain glory
power over others —
including power I want
over God's plan
Am I in unity with others?
In competition for my own
vain glory?
Am I the King on my
throne and not God —
I need self knowledge
Not be rebellious like
Adam and Eve
What does God want with
my life?
Look at Judas
Sin is being unloving to God and others
Romans 1: 18, 2: 11
The retribution of God from heaven is being revealed against the ungodliness and injustice of human beings who in their injustice hold back the truth.

There is no favouritism with God.
Sin is ingratitude
We hurt our relationship
with God
How is my heart?
(1) Is it like Jesus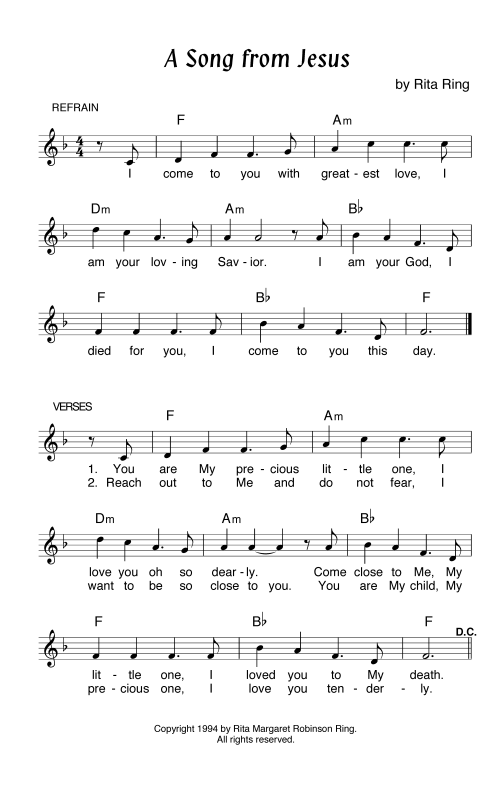 (2) Rebellious —
against God's will
(3) like a stone heart
Do I think about hell and
the consequences of sin —
how I am to love God
how I am to love others?
Dear God give me the grace
to serve You.
Prayer from St. Ignatius Loyola
Lord, teach me to be generous.
Teach me to serve you as you deserve;
To give and not to count the cost;
To fight and not to heed the wounds;
To toil and not to seek for rest;
To labor and not to ask for any reward,
Save that of knowing
that I am doing your will.
Prayer for Union with Jesus

Come to me, Lord, and possess my soul. Come into my heart and permeate my soul. Help me to sit in silence with You and let You work in my heart.

I am Yours to possess. I am Yours to use. I want to be selfless and only exist in You. Help me to spoon out all that is me and be an empty vessel ready to be filled by You. Help me to die to myself and live only for You. Use me as You will. Let me never draw my attention back to myself. I only want to operate as You do, dwelling within me.

I am Yours, Lord. I want to have my life in You. I want to do the will of the Father. Give me the strength to put aside the world and let You operate my very being. Help me to act as You desire. Strengthen me against the distractions of the devil to take me from Your work.

When I worry, I have taken my focus off of You and placed it on myself. Help me not to give in to the promptings of others to change what in my heart You are making very clear to me. I worship You, I adore You and I love You. Come and dwell in me now.

-God's Blue Book - Rita Ring - January 17, 1994
Why do I act for my own
vain glory
Do I want power?
Do I want riches?
Do I want affection?
Do I live to love God —
Give love to God —
Do I live to please the
heavenly Father
Spiritual Discernment
Examination of Conscience
Jesus is our teacher
Jesus gives us the Church
Jesus gives us the Sacraments
Jesus gives us His Word —
Matthew 5: 1-11
Seeing the crowds, he went onto the mountain. And when he was
seated his disciples came to him. Then he began to speak. This is
what he taught them:

How blessed are the poor in spirit:
the kingdom of Heaven is theirs.
Blessed are the gentle:
they shall have the earth as inheritance.
Blessed are those who mourn:
they shall be comforted.
Blessed are those
who hunger and thirst for uprightness:
they shall have their fill.
Blessed are the merciful:
they shall have mercy shown them.
Blessed are the pure in heart:
they shall see God.
Blessed are the peacemakers:
they shall be recognised
as children of God.
Blessed are those who are persecuted
in the cause of uprightness:
the kingdom of Heaven is theirs.

Blessed are you when people abuse you and persecute you and
speak all kinds of calumny against you falsely on my account.
Luke 6: 20-49
Then fixing his eyes on his disciples he said:

How blessed are you who are poor:
the kingdom of God is yours.
Blessed are you who are hungry now:
you shall have your fill.
Blessed are you who are weeping now:
you shall laugh.

'Blessed are you when people hate you, drive you out, abuse you, denounce your name as criminal, on account of the Son of man. Rejoice when that day comes and dance for joy, look!—your reward will be great in heaven. This was the way their ancestors treated the prophets.

But alas for you who are rich:
you are having your consolation now.
Alas for you who have plenty to eat now:
you shall go hungry.
Alas for you who are laughing now:
you shall mourn and weep.

'Alas for you when everyone speaks well of you! This was the way their ancestors treated the false prophets.

'But I say this to you who are listening: Love your enemies, do good to those who hate you, bless those who curse you, pray for those who treat you badly. To anyone who slaps you on one cheek, present the other cheek as well; to anyone who takes your cloak from you, do not refuse your tunic. Give to everyone who asks you, and do not ask for your property back from someone who takes it. Treat others as you would like people to treat you. If you love those who love you, what credit can you expect? Even sinners love those who love them. And if you do good to those who do good to you, what credit can you expect? For even sinners do that much. And if you lend to those from whom you hope to get money back, what credit can you expect? Even sinners lend to sinners to get back the same amount. Instead, love your enemies and do good to them, and lend without any hope of return. You will have a great reward, and you will be children of the Most High, for he himself is kind to the ungrateful and the wicked.

'Be compassionate just as your Father is compassionate. Do not judge, and you will not be judged; do not condemn, and you will not be condemned; forgive, and you will be forgiven. Give, and there will be gifts for you: a full measure, pressed down, shaken together, and overflowing, will be poured into your lap; because the standard you use will be the standard used for you.'

He also told them a parable, 'Can one blind person guide another? Surely both will fall into a pit? Disciple is not superior to teacher; but fully trained disciple will be like teacher. Why do you observe the splinter in your brother's eye and never notice the great log in your own? How can you say to your brother, "Brother, let me take out that splinter in your eye," when you cannot see the great log in your own? Hypocrite! Take the log out of your own eye first, and then you will see clearly enough to take out the splinter in your brother's eye.

'There is no sound tree that produces rotten fruit, nor again a rotten tree that produces sound fruit. Every tree can be told by its own fruit: people do not pick figs from thorns, nor gather grapes from brambles. Good people draw what is good from the store of goodness in their hearts; bad people draw what is bad from the store of badness. For the words of the mouth flow out of what fills the heart.
'Why do you call me, "Lord, Lord" and not do what I say?
'Everyone who comes to me and listens to my words and acts on them-I will show you what such a person is like. Such a person is like the man who, when he built a house, dug, and dug deep, and laid the foundations on rock; when the river was in flood it bore down on that house but could not shake it, it was so well built. But someone who listens and does nothing is like the man who built a house on soil, with no foundations; as soon as the river bore down on it, it collapsed; and what a ruin that house became!'
What does God want of me —
Pray for grace to do
God's will — IN LOVE —
| | | | | | |
| --- | --- | --- | --- | --- | --- |
| Blue Book I | Blue Book II | Blue Book III | Blue Book IV | Blue Book V | Blue Book VI |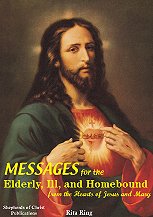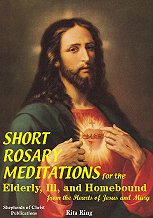 Nursing Home Messages and Rosary Meditations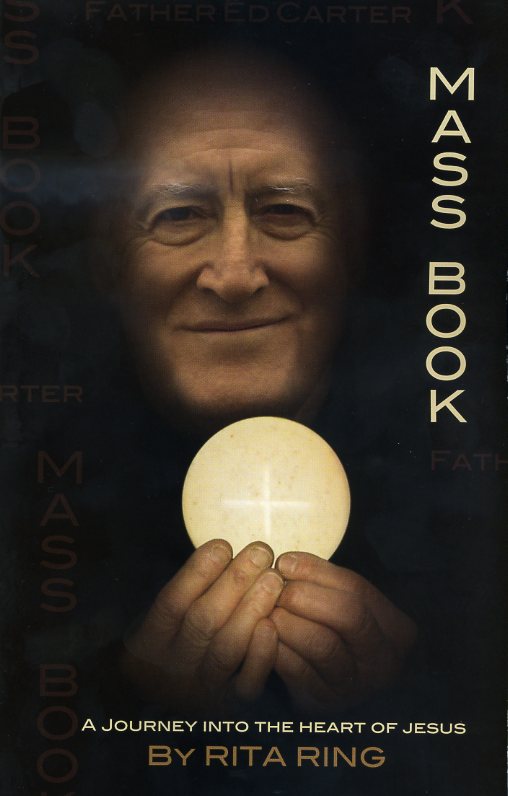 Mass Book
Jesus gives us His Word
Humility
God calls us to truth
Humility is truth
Pray for the grace to love
Jesus
Song: I Love You Jesus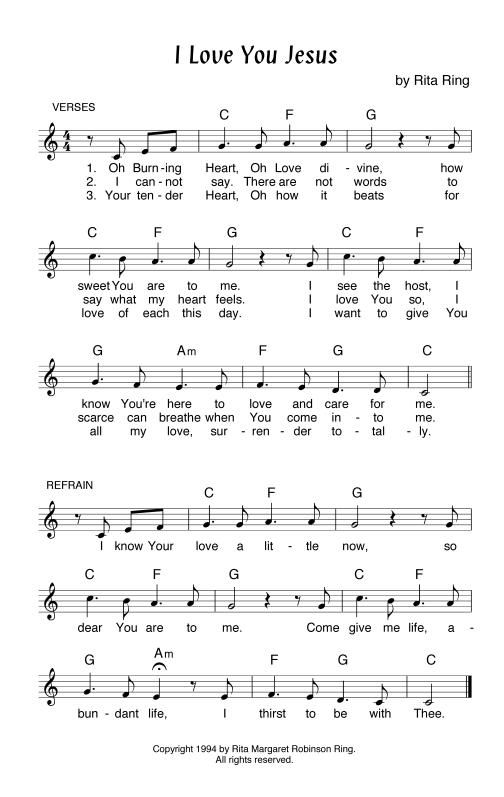 Pray for the grace to follow
Jesus
Jesus died for us
Through His pierced Heart
the Church was born
Water for baptism
Blood for the Eucharist
Jesus rose on the 3rd day
1 Corinthians 15: 20-58
In fact, however, Christ has been raised from the dead, as the first–fruits of all who have fallen asleep. As it was by one man that death came, so through one man has come the resurrection of the dead. Just as all die in Adam, so in Christ all will be brought to life; but all of them in their proper order: Christ the first–fruits, and next, at his coming, those who belong to him. After that will come the end, when he will hand over the kingdom to God the Father, having abolished every principality, every ruling force and power. For he is to be king until he has made his enemies his footstool, and the last of the enemies to be done away with is death, for he has put all things under his feet. But when it is said everything is subjected, this obviously cannot include the One who subjected everything to him. When everything has been subjected to him, then the Son himself will be subjected to the One who has subjected everything to him, so that God may be all in all.

Otherwise, what are people up to who have themselves baptised on behalf of the dead? If the dead are not raised at all, what is the point of being baptised on their behalf? And what about us? Why should we endanger ourselves every hour of our lives? I swear by the pride that I take in you, in Christ Jesus our Lord, that I face death every day. If I fought wild animals at Ephesus in a purely human perspective, what had I to gain by it? If the dead are not going to be raised, then Let us eat and drink, for tomorrow we shall be dead. So do not let anyone lead you astray, 'Bad company corrupts good ways.' Wake up from your stupor as you should and leave sin alone; some of you have no understanding of God; I tell you this to instil some shame in you.

Someone may ask: How are dead people raised, and what sort of body do they have when they come? How foolish! What you sow must die before it is given new life; and what you sow is not the body that is to be, but only a bare grain, of wheat I dare say, or some other kind; it is God who gives it the sort of body that he has chosen for it, and for each kind of seed its own kind of body.

Not all flesh is the same flesh: there is human flesh; animals have another kind of flesh, birds another and fish yet another. Then there are heavenly bodies and earthly bodies; the heavenly have a splendour of their own, and the earthly a different splendour. The sun has its own splendour, the moon another splendour, and the stars yet another splendour; and the stars differ among themselves in splendour. It is the same too with the resurrection of the dead: what is sown is perishable, but what is raised is imperishable; what is sown is contemptible but what is raised is glorious; what is sown is weak, but what is raised is powerful; what is sown is a natural body, and what is raised is a spiritual body.

If there is a natural body, there is a spiritual body too. So the first man, Adam, as scripture says, became a living soul; and the last Adam has become a life–giving spirit. But first came the natural body, not the spiritual one; that came only afterwards. The first man, being made of earth, is earthly by nature; the second man is from heaven. The earthly man is the pattern for earthly people, the heavenly man for heavenly ones. And as we have borne the likeness of the earthly man, so we shall bear the likeness of the heavenly one.

What I am saying, brothers, is that mere human nature cannot inherit the kingdom of God: what is perishable cannot inherit what is imperishable. Now I am going to tell you a mystery: we are not all going to fall asleep, but we are all going to be changed, instantly, in the twinkling of an eye, when the last trumpet sounds. The trumpet is going to sound, and then the dead will be raised imperishable, and we shall be changed, because this perishable nature of ours must put on imperishability, this mortal nature must put on immortality.

And after this perishable nature has put on imperishability and this mortal nature has put on immortality, then will the words of scripture come true: Death is swallowed up in victory. Death, where is your victory? Death, where is your sting? The sting of death is sin, and the power of sin comes from the Law. Thank God, then, for giving us the victory through Jesus Christ our Lord.

So, my dear brothers, keep firm and immovable, always abounding in energy for the Lord's work, being sure that in the Lord none of your labours is wasted.
Judas betrayed Jesus —
When we follow Jesus we
have enemies in our
own house many times
Because of power they
wanted to destroy
Jesus
Romans 8: 18-25

In my estimation, all that we suffer in the present time is nothing in comparison with the glory which is destined to be disclosed for us, for the whole creation is waiting with eagerness for the children of God to be revealed. It was not for its own purposes that creation had frustration imposed on it, but for the purposes of him who imposed it—with the intention that the whole creation itself might be freed from its slavery to corruption and brought into the same glorious freedom as the children of God. We are well aware that the whole creation, until this time, has been groaning in labour pains. And not only that: we too, who have the first–fruits of the Spirit, even we are groaning inside ourselves, waiting with eagerness for our bodies to be set free. In hope, we already have salvation; in hope, not visibly present, or we should not be hoping—nobody goes on hoping for something which is already visible. But having this hope for what we cannot yet see, we are able to wait for it with persevering confidence.