Mary has requested that the daily message be given each day to the world. It is read nightly at the prayer service from her Image Building in Clearwater, Florida, U.S.A. This is according to her request. All attempts will be made to publish this daily message to the world at 11 p.m. Eastern time, U.S.A.

---

We acknowledge that the final authority regarding these messages rests with the Holy See of Rome.

---
---
A Prayer for Intimacy with the Lamb, the Bridegroom of the Soul

Oh Lamb of God, Who take away the sins of the world, come and act on my soul most intimately. I surrender myself, as I ask for the grace to let go, to just be as I exist in You and You act most intimately on my soul. You are the Initiator. I am the soul waiting Your favors as You act in me. I love You. I adore You. I worship You. Come and possess my soul with Your Divine Grace, as I experience You most intimately.
---
Messenger: Include Our Lady of the Holy Spirit Center in 6:20 prayers.
---
Messenger: The bell tolls and the moment is now.

Messenger: Oh, if we do not have a picture of a bell, hear its beauty and let it resound in your heart, knowing every moment is so important for the souls.
Oh, God, that You love us so much and give us these gifts.
That God is truly present and with us, and we become so busy we do not hear the clock as it ticks in our life, tick, tick and just as that clock ticks, the bell tolls to remind us of every moment and our lives given in helping in the act of redemption to help save souls.
Now I know what it truly is to be a Shepherd of Christ, it is to give your life every moment, to lay it down as He did, uniting those moments to Him in the Holy Sacrifice of the Mass, being so one in Him as to exist so united to Him, living IN Him, offering sacrifice. A sacrifice is an offering, offering our mundane duties, all we do whether as a sick person lying in bed or a man building a high tower, all having that attitude of laying down their lives for the flock, loving them, wanting all to be one, wanting all to be saved. Oh, God, I wish I had a picture of the Good Shepherd. Envision it, Jesus so beautiful in red and blue garb, a staff in His hand and a sheep in His arms, and He is in a grassy field with sheep surrounding Him, and His love is so great for these little sheep that He would give His life for them. He would lay down His life for His sheep.
---
John 10: 11-15
I am the good shepherd:
the good shepherd lays down his life
for his sheep.
The hired man,
since he is not the shepherd
and the sheep do not belong to him,
abandons the sheep
as soon as he sees a wolf coming,
and runs away,
and then the wolf attacks
and scatters the sheep;
he runs away
because he is only a hired man
and has no concern for the sheep.
I am the good shepherd;
I know my own
and my own know me,
just as the Father knows me
and I know the Father;
and I lay down my life for my sheep.
---
Messenger: Hear the birds chirp, the tolling bell I cannot hear now, but it tolls in my heart and in my life marking my moments when I lay down my life for Him.
What is there but this, to be a good shepherd. To love God, to be one in Him, is to love the flock, love each and every one that we would give our life for them. We do this when we offer every moment of our lives to Him as a sacrifice for souls, our own and all His precious souls.
Now, even though I do not hear the tolling, I must hear it in my heart. The moment in which I help in the act of redemption is at hand. Every moment of my life I want to live in laying down that life for the flock, offering up my activities done according to the Father's will in love, being one in Him, one in the Holy Sacrifice of the Mass going on around the world, being ONE IN HIM. This is my offering, MYSELF, IN HIM. I help carry on the work of redemption in my life living IN HIM.
Oh I cry, I cry, I am enveloped in the precious love of God, He has swept me, little me, off my feet with His presence at Mass. The Good Shepherd offers sacrifice united to His Body the Church at Mass as the sacrifice of Calvary is sacramentally made present in the Mass, through the hands of consecrated priests and we sing.
---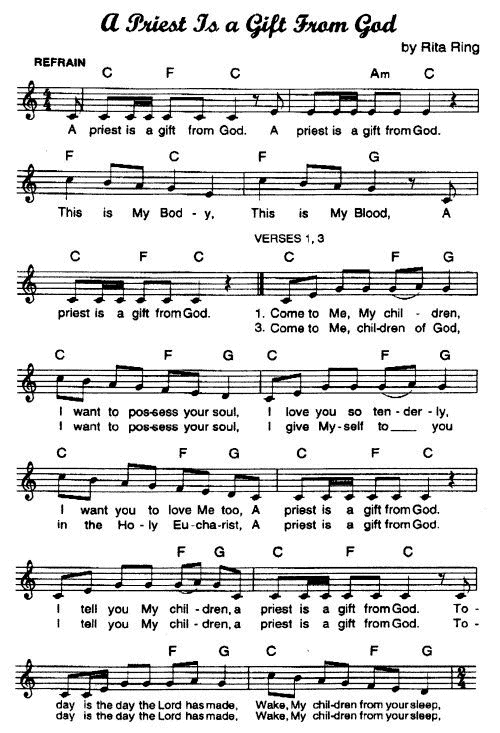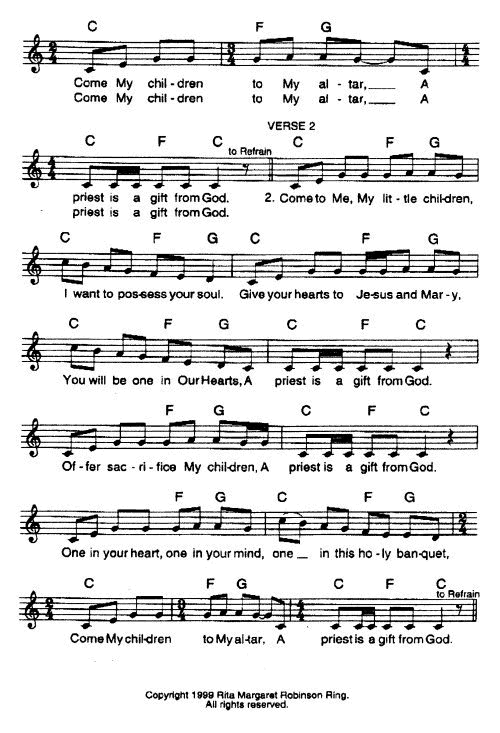 ---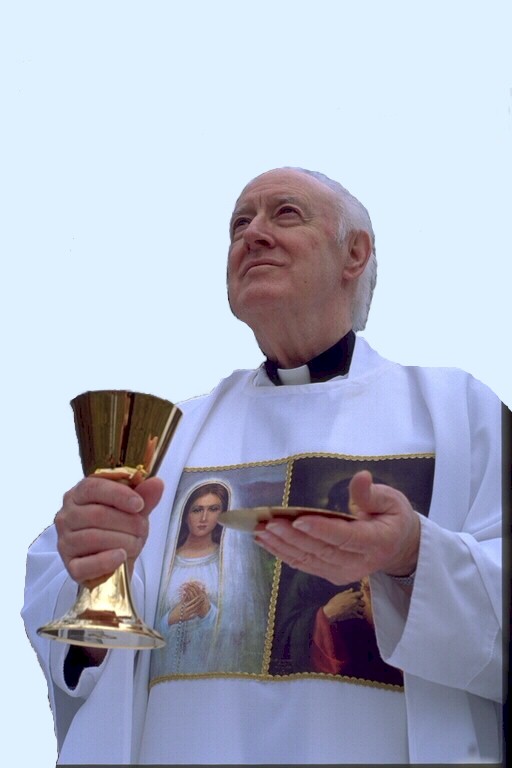 THROUGH HIM, WITH HIM and IN HIM, A PRIEST IS A GIFT from God
Messenger: He has enveloped my soul and I know Him so intimately in this love of God.
I cannot speak or write words to describe it.
I sing the song He gave to me to sing to Him.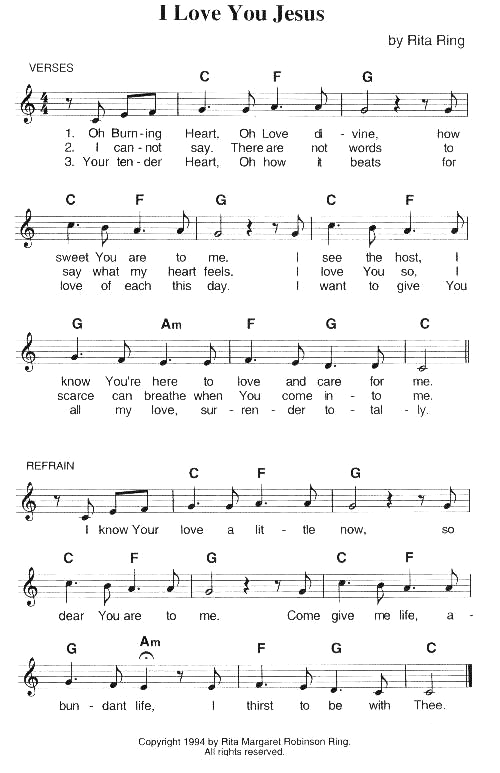 Messenger: And His presence permeates my soul.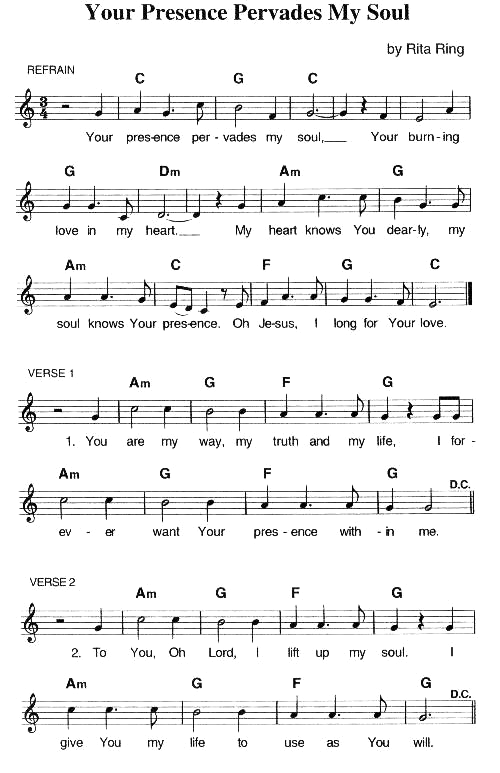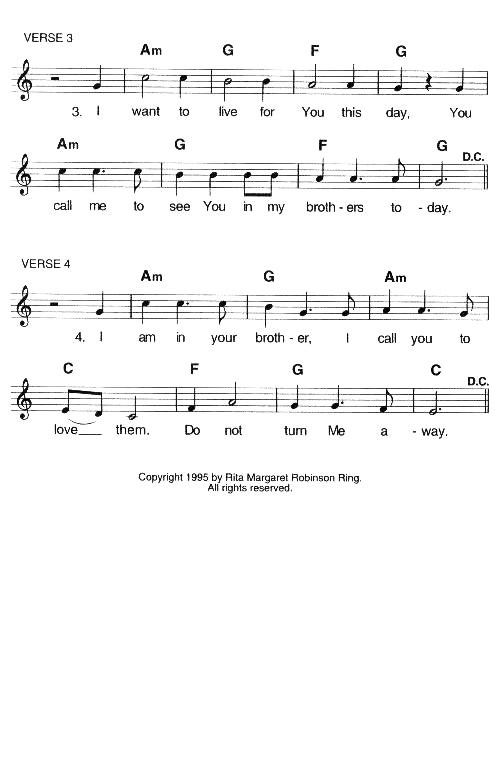 Messenger: God is with us, sound the gong, let the world hear the message of His Shepherds, come to the feast, the Almighty God is truly present.
Christ the Chief Priest, Victim and King gives Himself in the greatest act of love to His people through the consecrated priest.
Oh, God, let our hearts sing, let us cry with joy, let us unite in thanksgiving, we beg you to shower your grace on the earth for the souls.
A good shepherd is one who lays down his life for his flock.
I hear the bells toll again. My heart skips a beat, and I cry, for I know that in sorrow and joy my life is His, I am created to achieve heaven and to help others get there.
It is a sacrifice, my offering, my life. I am a shepherd. I do His will, I live to serve Him the way He wants of me.
Authority comes from God to men. There is a pipeline. All authority will be under His feet. In the Church there is structure, it is His Church, He is the head, all are under Him. One that does not report upward to the top breaks the connection to Him. Likewise, the lines of authority must be well defined so the person underneath knows where to go for the authority coming from Him.
The devil wants to take out those in authority. The devil wants those in authority to not report upward.
The power flows from Him, through the lines of authority.
A person that does his own will, and operates freely as he chooses, breaks the lines of authority to God.
When there have been times of special need the Lord communicates through private revelation.
Those in authority cannot cut themselves off from those over them.
Jesus has granted great authority to the pope.
A person always must know to whom they report. If one in authority is removed, another must be designated as the authority.
---
Matthew 16: 18
...You are Peter and on this rock I will build my community. And the gates of the underworld can never overpower it.

---
Picture of St. Peters coming soon!
Messenger: A priest is a gift from God.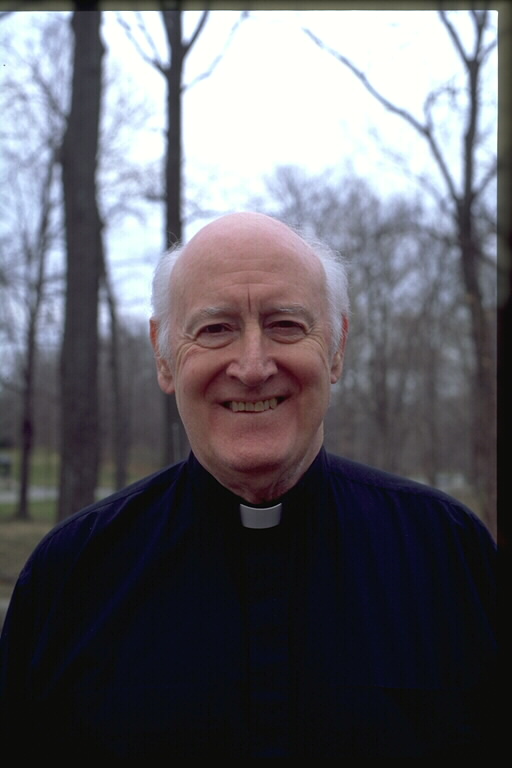 Jesus speaks: This is My Movement, you are the Shepherds of Christ, you have laid down your lives for the flock.
You love them. You give yourself for them in deep prayer.
I loved My flock. I died for them.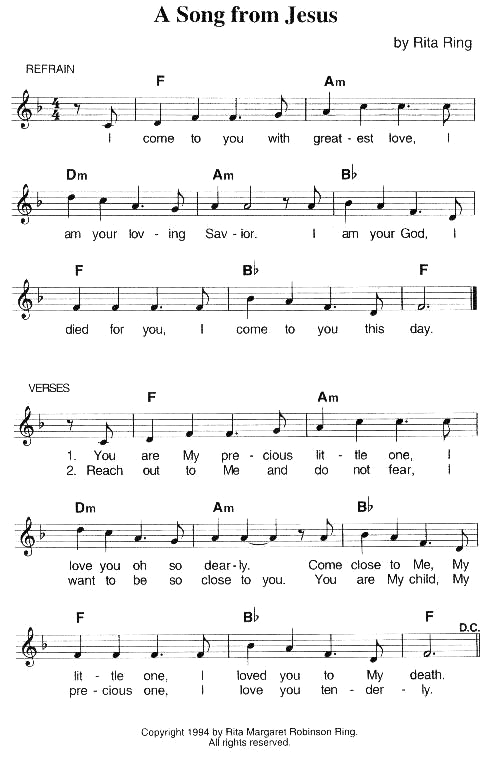 Jesus speaks: LET EACH MOMENT COUNT.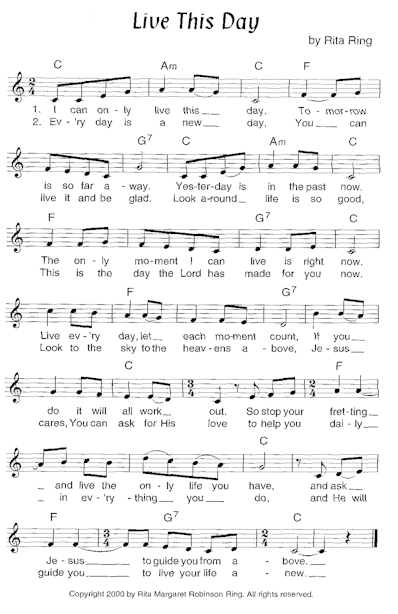 Jesus speaks: TODAY the bell tolls, hear it, cry, realize today is the day, now is the moment, be one in Me, be one, united as a body in Me.
I AM GOD.
Spread this message to the far ends of the earth. Circulate the first Mass Book with Imprimatur. I want souls to know of My undying love, I want them to know I am here and with them.
My precious Church:
Hear the bell, it is a bell of joy. I have risen. I have merited the saving grace, you must unite to the sacrifice, you are My body. You are the body of Christ.
I am the Bridegroom of your soul. I am Chief Shepherd of the Flock.
Tell the sick ones, the old ones how important their lives are to Me, so that they unite their last days with Me in the Holy Sacrifice of the Mass, praying for souls.
Messenger: Oh, the gift of God, given to us in the Mass, let our hearts sing for joy.
Jesus speaks: I am the Good Shepherd, I love you so, I call you to be Shepherds of Christ. Do you hear My voice, will you pray as I have instructed for your Church and your world, will you ask others to pray, will you consecrate your hearts to My Heart and the Heart of My Mother?
I love you so much.
---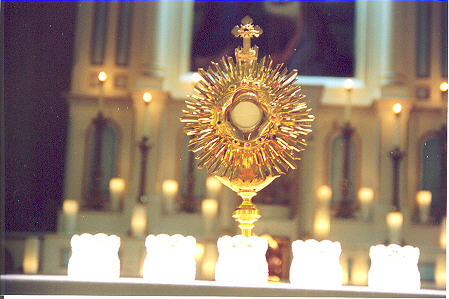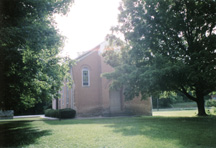 ---
Special Adoration
Jesus speaks: June 11, 2000 - June 14, 2000
Come to China, Indiana
Come any time to pray before the Blessed Sacrament for the priests, the Church and the world.
You can come for several days for special prayer.
China is a place of prayer, I want you to come and pray.
The feast of St. Anthony's is June 13.
There will be a special celebration for the apostles on this day. There will be a church full of people praying between 12:00 and 5:00 Indiana time.
---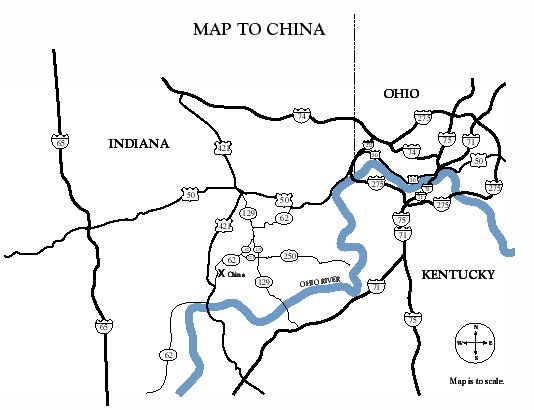 ---
Jesus speaks: Special Rosaries are held in Florida on the 5ths.
There will be a special rosary on June 5th in Florida.
---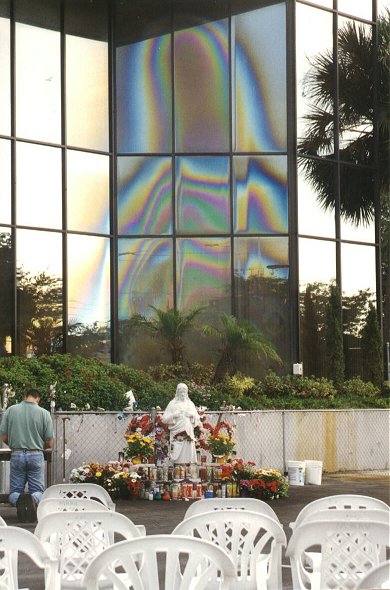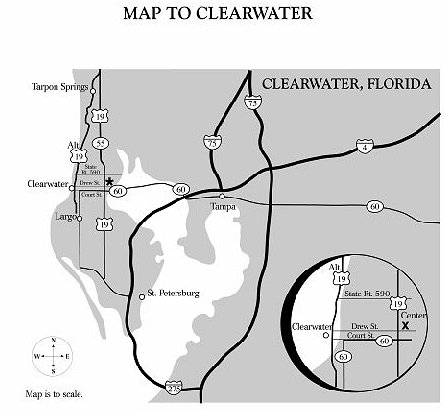 ---
Jesus speaks: On the 17th of each month there is a social gathering in Morrow.
I ask you to especially come in June to the prayer services June 5, June 11 - 14.
June is the month of My Sacred Heart - come and pray for your priests, the Church and the world, come and pray for the Reign of My Sacred Heart. I love you, Jesus.
Phone numbers:
Morrow Center - 1-888-211-3041 or 513-932-4451
Florida Center - 727-725-9312
China Center - 812-273-8405
---
Mary's Message from the Rosary of August 27, 1996
Mary speaks: I stood beneath the cross of my Son, and my Heart was in such pain for I saw Him before my eyes. I saw Him covered with blood. I saw Him die. My Heart, my children, my Heart to watch my Son, but my Heart, my Heart, how I suffered for my little children of the world that give in to this world and give up the love of my Son. O my little children of light, I give you this message. Carry this light into the darkness for your Mother Mary, for I stood beneath the cross and I cried. I cried for the little ones. I cried for the young ones, the ones that do not care and will lose their souls. How do I make you see for you will not listen to me? What can I do? I come. I appear. I beg. I plead. I give you these gifts from my Son, and you reject me. I do not deliver messages very often anymore for I have been ignored. The message is the same. You do not read the messages I have given to you. Please help me. Help the little children. I appear. I appear. I appear, and I am ignored. I stood beneath the cross, and I cried. I cried, and my Heart was in such anguish for my little children, for I am searching for them this day as I searched for the Child Jesus. Please, please help me. I cannot hold back the hand of my Son any longer. I am Mary, your Mother. I ask you to help my children. You are my children of light.

Song: O Lady of Light, shining so bright, be with us this day, guiding our way, O Lady, O Lady of Light.

Mary speaks: I appear to you as Our Mother of Sorrows.
(End of Mary's Message)
---
MY VALENTINE FOR JESUS AND MARY
AND THE WORLD

I _________________ give my heart to
You Jesus and Mary on this day
_________________
I promise to help spread the devotion to
the Hearts of Jesus and Mary.
---
Question for married couples and others in intimate relationships:
Q: How do I feel suffering in our relationship has led us to greater life?
---
---
---
Copyright © 2000 Shepherds of Christ.
Rights for non-commercial reproduction granted:
May be copied in its entirety, but neither re-typed nor edited.
Translations are welcome but they must be reviewed for moral and theological accuracy by a source approved by Shepherds of Christ Ministries before any distribution takes place. Please contact us for more information.
All scripture quotes are from the New Jerusalem Bible, July 1990, published by Doubleday.
Revised: May 30, 2000
URL: http://www.SofC.org
Contact Information for Shepherds of Christ
Email: info@SofC.org
---
Shepherds of Christ Ministries
PO Box 193
Morrow, Ohio 45152-0193

Telephone: (toll free) 1-888-211-3041 or (513) 932-4451
FAX: (513) 932-6791