Mary has requested that the daily message be given each day to the world. It is read nightly at the prayer service from her Image Building in Clearwater, Florida, U.S.A. This is according to her request. All attempts will be made to publish this daily message to the world at 11 p.m. Eastern time, U.S.A.

---

We acknowledge that the final authority regarding these messages rests with the Holy See of Rome.

---
May 31, 2002
June 1st Holy Spirit Novena
Scripture selection is Day 5 Period I.
The Novena Rosary Mystery
for June 1st is Sorrowful.
Pray for three very, very urgent intentions
and all involved.
We absolutely, urgently need
funds. We don't have money
for the building payment
which is due on the 1st.

We don't have funds for the
building payment.
---

May 31, 2002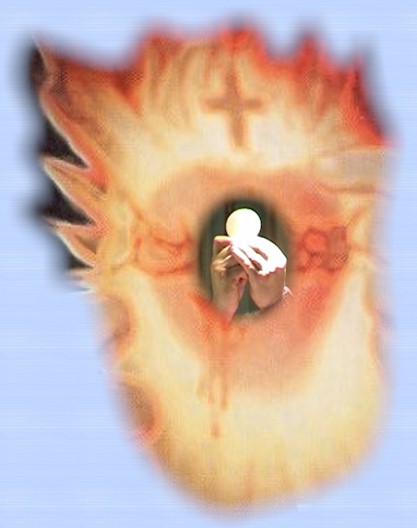 Jesus speaks: I love you so much.
Fr. Carter was directed to write the Priestly
Newsletter for the Priests on this day May 31, 1994


Messenger: I made a retreat every year of the Spiritual
Exercises of St. Ignatius with Fr. Carter
guiding me.
These Spiritual Exercises have effected
Fr. Carter's writings and my
spiritual direction.
Every year when the Movement was forming
and things were very busy, Fr. Carter
stopped many things and made his
retreat. He guided me and saw that
I made the Spiritual Exercise Retreat
also.
Our Lord has told us in the Shepherds of
Christ to follow the writings of Fr.
Carter and the messages and writings
I have received.
The directions of St. Ignatius are very
deeply woven in the spiritual direction
Fr. Carter gave.
(I love St. Xavier too and St. Claude de Colombiere
and I pray through the intercession of Fr. Carter
and St. Joseph and Our Lady of Clearwater.)
Fr. Carter was told to begin the Priestly
Newsletter on this day May 31, 1994.
Our Lord has given us these writings as gifts to
help direct us. You can use these writings
and tapes for retreat. We have a retreat
in China, Indiana every 12th to the 14th
before the exposed Eucharist.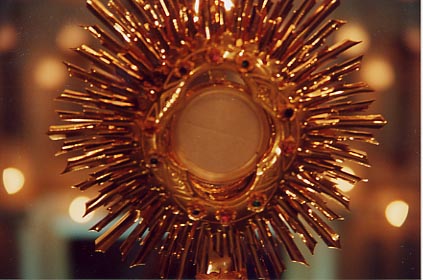 May 31, 2002 message continues
Messenger: I have been given these messages and
writings to deliver this message.
Fr. Carter was a spiritual director.
He wrote the Newsletter as Jesus told
him to write and as Jesus guided him.
Fr. Carter was directed to do what he
did by messages he received
from Jesus.
The Movement Shepherds of Christ, the
way of life was set down during Fr.
Carter's life and at his direction.
We follow what our founder Fr. Carter
told us. He directed this ministry and
he influenced the lives of many priests
and religious in the world through his
writing of the Priestly Newsletter.
We may have $0, but we have circulated
these writings as directed by
Our Lord for almost 8 years now—
—worldwide—this has majorly effected
the world.
We have prayed the Shepherds of Christ
prayers as Fr. Carter directed us to do
beginning prayer chapters and praying
many times before the Blessed Sacrament
as Apostles of the Eucharistic Heart
of Jesus. This Movement, Apostles of the
Eucharistic Heart of Jesus is an arm of
the Shepherds of Christ Movement, it
was begun because of this message received
by Fr. Carter. Here it is in his own
handwriting. The typed message and
other aspects of it will follow.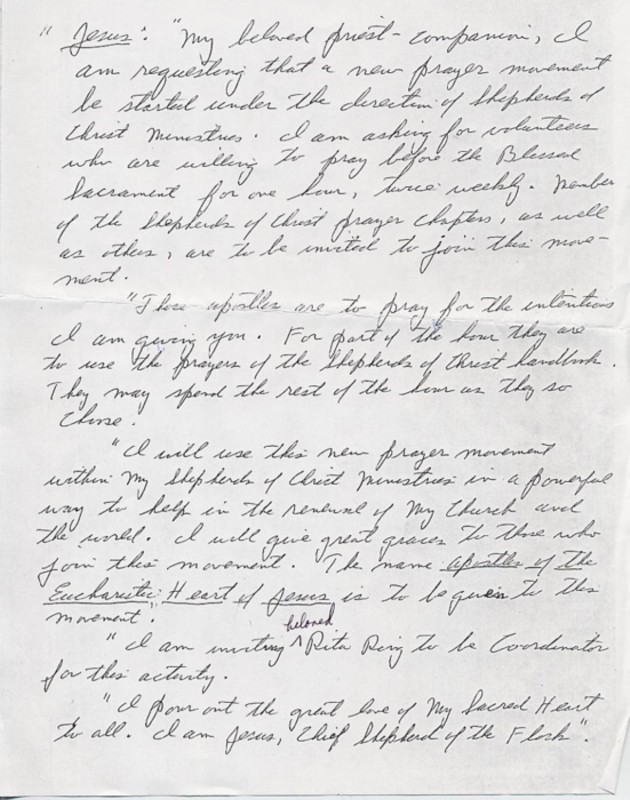 Apostles of the Eucharistic Heart of Jesus


My dear fellow Associate Members,

Jesus is calling special apostles to join a new division of the Shepherds of Christ Movement. Here is a message from Jesus given to Father Carter:

My beloved priest-companion, I am requesting that a new prayer movement be started under the direction of Shepherds of Christ Ministries. I am asking for volunteers who are willing to pray before the Blessed Sacrament for one hour, twice-weekly. Members of the Shepherds of Christ prayer chapters, as well as others, are to be invited to join this movement.

These apostles are to pray for the intentions I am giving you. For part of the hour they are to use the prayers of the Shepherds of Christ Associates Handbook. They may spend the rest of the hour as they so choose.

I will use this new prayer movement within My Shepherds of Christ Ministries in a powerful way to help in the renewal of My Church and the world. I will give great graces to those who join this movement. The name, Apostles of the Eucharistic Heart of Jesus, is to be given to this movement.

I am inviting My beloved Rita Ring to be coordinator for this activity.

I pour out the great love of My Sacred Heart to all. I am Jesus, Chief Shepherd of the flock.
This is indeed a special calling for us to unite in one heart with His Eucharistic Heart and pray for the following intentions:
For the spread of the devotion to the Hearts of Jesus and Mary culminating in the reign of the Sacred Heart and the triumph of the Immaculate Heart.
For the Pope.
For all bishops of the world.
For all priests.
For all sisters and brothers in the religious life.
For all members of the Shepherds of Christ Movement, and for the spread of this movement to the world.
For all members of the Catholic Church.
For all members of the human family.
For all souls in purgatory.

---

May 31, 2002 message continues
Messenger: Jesus is directing the world through these
writings.
There are so many books and tapes and
writings of Fr. Carter and the ones
I received from Jesus to write were very
carefully discerned by Fr. Carter. It would
be very difficult for two people to do so
much writing in 6 years and publish these.
These writings were very carefully discerned
by Fr. Carter. God has directed us in what
we have done.
I remember one time in tears back by the Lourdes
Grotto in Holy Cross-Immaculata Church I was
looking at the last window and crying to our Lord,
"why don't You give a sign so people would believe?"
and Our Lord said to me "I give you My word."
Then I felt ashamed. I thought all the writings
in God's Blue Book, and all the messages and writings
in Rosaries from the Hearts of Jesus and Mary
and all He had given to me and to Fr. Carter
and I was ashamed that I was not thanking
Him and praising Him instead of worrying
about the people that are closed and not
hearing the voice of the Good Shepherd in the writings.
Well let me tell you.
God has given us a great sign in Our Lady of
Clearwater and she has been ignored,
her message is clear, it is for renewal
of the Church and the world.


May 31, 2002 message continues
Messenger: She appears to lead us to the Movement
of her Son, Shepherds of Christ, to pray
for the priests and the renewal of the
Church and the world.
God gives such a great sign and it is
ignored.
Fr. Carter wrote the Priestly Newsletters as
Jesus directed him.
The Priestly Newsletters are gifts
given from God for the spiritual
direction of all and to help in
the renewal of the Church and the
world that will help to lead men
into this great era of peace
promised by Our Lady of Fatima
where the Sacred Heart of Jesus will reign
and the Immaculate Heart of Mary
will triumph.
Yes this is big—
A math school teacher, mother of four
doesn't get out of bed at 2:40am
one night and write this message
without eraser marks or editing,
in the time it takes to write the
message.

---

Angels Will Read the Message

December 20, 1993 - 2:40 a.m.

Who will read the message? Angels will read the message. I will be by their side. I want the messages out. I want them out, I tell you. I want My people to hear all I am telling you. I want, not a few, but all to hear these words. They are private revelations given by Me to My people. The souls are, oh, so hungry for this one. They need to get these messages.

I am one crying in the desert. Make ready the way of the Lord. Prepare ye a path for the Master. He comes as a child in a stable. His people are asleep. Where are they and what are they doing with their busy lives? The angels will read the messages. They will rock the heavens and all will know My love and My might. From the housetops, shout this. Proclaim, "The day of the Lord is approaching. Make ready a path for Him." Will you comply with this demand to deliver a message to My people?

Time, child, is so short. You must ready all with My words of love. They are half asleep and dazed. They walk this earth with blinders on their eyes. My day will rock them off their rockers and they will know it is I with Whom they deal. No mistake will be made as to what is happening. All will see My power and My might. From the heavens shall come a sign and all will know from whence it comes. And the days that follow will be days to prepare men's hearts for My coming. I will not come unannounced. I will come with My power and My might and you will know what you will behold. Men will turn their hearts to Me with these messages. Get them out, I tell you, for their need is very great. I am patient and yet I am demanding. Ready yourself for this day of the Lord. I come as a baby into your midst, the angels sing, the choirs of heaven rejoice and you will know soon that I am very close to you all. Indeed you will know!

What awaits those in their feeble hearts! They run after such useless things when I, God, am talking in these letters. They think their world is their end. What an awakening they will have-a wide awakening!

I knock to make ready for My coming. You hear Me knock on your door in the night. Make ready this path so My people will read these letters of love. I am mighty and worthy of such praise. My people must realize My love in My intense might. What sign do you need? Do you think these messages were for your ears alone? Such power and wisdom in Rita's purse? This is not the idea. They are for all! My ease goes with you in all your undertakings to get these messages out.

Slow, too slow, I tell you. Shout My message from the housetops, that I am Lord and I am coming in your midst as a baby, but, with such might! My time is at hand. You tarry too long, My little ones. Time you do not have. This world is crazy! People are so busy at the malls. Oh, what foolish ones. I come as a baby into your midst. This is My birthday and whom do you worship? You worship idols! It is all such a sick world. Make ready My path, My little ones. Time is so short and you must not tarry any longer for into your hands I place My words for the world. They are mighty, little ones. Read them! What do you do with these words? Do you want proof? Look at Me hanging on the cross. It is out of this love of you I died a brutal death! Do you think I would not go to this extent to save the souls of My loved ones? Why would I come to this earth, give My life for all My beautiful creatures, and then, at this stage of the game, not send some mighty medicine to cure My sick little ones? You possess the mighty medicine. I mixed it with such love and I hand-deliver each message to shake My people to My love. The heavens will rock and the Son of Man will appear on a cloud and the glory of the Lord will be shown on high!

Get busy, you little people. The angels declare My words are given here. This is My gift to My people-distinct, clear letters proclaiming My love. Are you listening? Do you think I would not try everything to save My beloved ones?

Oh, I will go to any extent to save these little ones, so ornery and so stupid in their ways, so sinful in this evil world, but so precious to Me. I will come in My glory and I want every last soul.

I am God. Why would I not speak to you? I wait for you. I wait, I wait, but you are all so blind and dense. What you do is so silly. Your ways here have become sick and your hearts have become hard. But shout it from the housetops! I loved you to My death! I love you all in your sickness. I want you united under the mantle of My mother, praying and honoring God.

America, turn yourselves around before it is too late. Come and heed My harkening. Come, come, My children. Time is so short and a lot of mending must be done in your hearts. You have hardened them and now they must come back to life. Only I can give you this life in your hearts.

Heed My words here. I am gentle and kind in heart. My heart is a heart of love. I have hand-delivered these messages to My people and you are My delivery boys. Get them going, little ones. You tarry too much.

My gift to My people is My love this Christmas. I am showering all at this Center with grace this season. The devotion there pleases Me, but more must flock and they will be changed from hardened hearts to hearts for God. I am God, little ones. I came and I died a brutal death. I am calling to you all to deliver this now. Make this your top priority so they will hear My message of love and know the love I have for them. Do not tarry. Do this today, little ones.

end of excerpt from blue book


---

May 31, 2002 message continues
Messenger: Nor does a person like that write the
Holy Spirit Novena in 10 minutes
or the Prayer before the Mass in
two minutes, or the Prayer for
Union with Jesus in two minutes.
I was directed by Our Lord.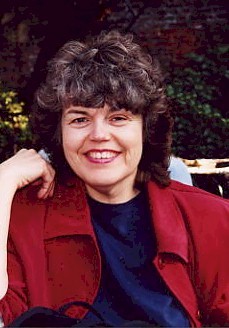 May 31, 2002 message continues
Messenger: The Priestly Newsletter and these prayers,
the messages in God's Blue Book
and the Rosary Meditations are
great gifts given to us.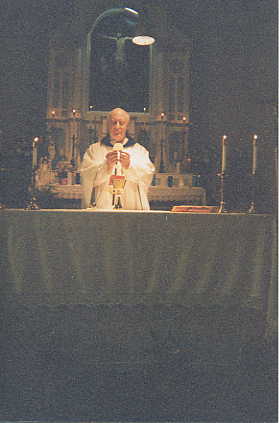 May 31, 2002 message continues
Messenger: Today we thank Our Lord for Fr. Carter
and for the Priestly Newsletter and
for the Prayers given to us to pray
for the priests and the renewal of the
Church and the world.
This is a Movement to help teach us to be
deep intercessors in prayer.
Our whole movement is centered in
prayer. This movement was set up and
formulated under the direction of
our founder Fr. Carter.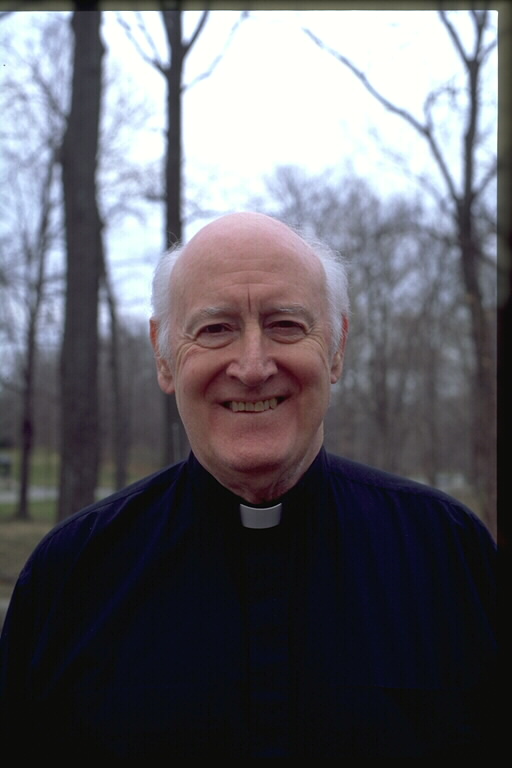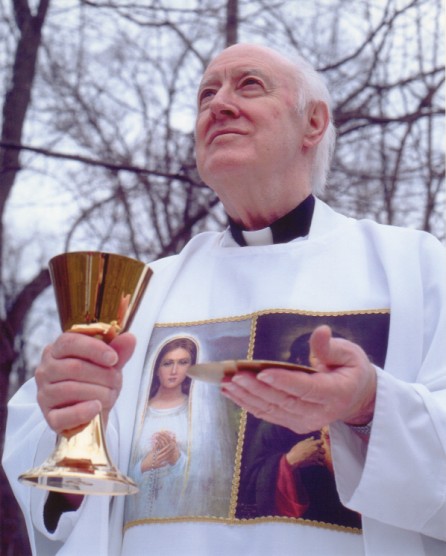 May 31, 2002 message continues
Messenger: We do not have funds for the Building
Payment.
Out of all the people in the world and

all the money, we do not have
enough money for the loan payment
on the building.
Please help us if you can, please we
desperately need funds to continue
what we are doing.
We would like to keep our
"Treasures from the Hearts of Jesus
and Mary" Bookstore in the
image building in Florida
stocked with image rosaries
and blankets, rosary tapes
and videos, Priestly Newsletter
Books, pictures etc.
We have operated almost entirely on
donations in the past and by the
grace of God we have sent
the Priestly Newsletter around
the world for almost 8 years,
it went to about 75,000 priests
for a lot of years.
But we need money. We can't keep the store
stocked, we have to spend any
money we make on the Ministry.

Tomorrow is the month of the
Sacred Heart.

I am so excited about the Feast Sunday—Body and Blood of Jesus

I am excited about the Feast of the Sacred Heart
next Friday, one week away.
And the Feast of the Immaculate Heart next Saturday.
The Feast of the Sacred Heart falls on First Friday.

We should be preparing for these feast in all our prayers.



Oh Sacred Heart of Jesus we place our trust in You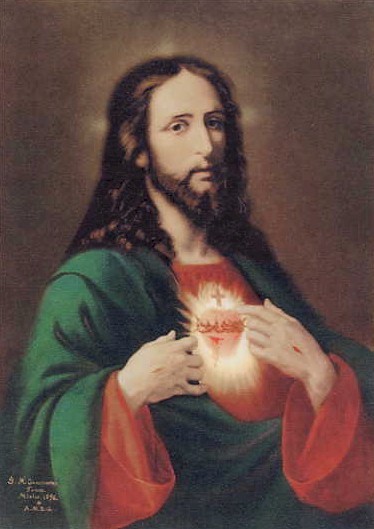 May 31, 2002 message continues
Messenger: Please help us.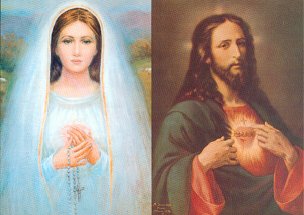 A Prayer Before the Holy Sacrifice of the Mass

Let me be a holy sacrifice and unite with God in the sacrament of His greatest love.

I want to be one in Him in this act of love, where He gives Himself to me and I give myself as a sacrifice to Him. Let me be a holy sacrifice as I become one with Him in this my act of greatest love to Him.

Let me unite with Him more, that I may more deeply love Him. May I help make reparation to His adorable Heart and the heart of His Mother, Mary. With greatest love, I offer myself to You and pray that You will accept my sacrifice of greatest love. I give myself to You and unite in Your gift of Yourself to me. Come and possess my soul.

Cleanse me, strengthen me, heal me. Dear Holy Spirit act in the heart of Mary to make me more and more like Jesus.

Father, I offer this my sacrifice, myself united to Jesus in the Holy Spirit to You. Help me to love God more deeply in this act of my greatest love.

Give me the grace to grow in my knowledge, love and service of You and for this to be my greatest participation in the Mass. Give me the greatest graces to love You so deeply in this Mass, You who are so worthy of my love.

---

Prayer for Union with Jesus

Come to me, Lord, and possess my soul. Come into my heart and permeate my soul. Help me to sit in silence with You and let You work in my heart.

I am Yours to possess. I am Yours to use. I want to be selfless and only exist in You. Help me to spoon out all that is me and be an empty vessel ready to be filled by You. Help me to die to myself and live only for You. Use me as You will. Let me never draw my attention back to myself. I only want to operate as You do, dwelling within me.

I am Yours, Lord. I want to have my life in You. I want to do the will of the Father. Give me the strength to put aside the world and let You operate my very being. Help me to act as You desire. Strengthen me against the distractions of the devil to take me from Your work.

When I worry, I have taken my focus off of You and placed it on myself. Help me not to give in to the promptings of others to change what in my heart You are making very clear to me. I worship You, I adore You and I love You. Come and dwell in me now.
-God's Blue Book, January 17, 1994

---
A Prayer for Intimacy with the Lamb the Bridegroom of the soul

Oh Lamb of God, Who take away the sins of the world, come and act on my soul most intimately. I surrender myself, as I ask for the grace to let go, to just be as I exist in You and You act most intimately on my soul. You are the Initiator. I am the soul waiting Your favors as You act in me. I love You. I adore You. I worship You. Come and possess my soul with Your Divine Grace, as I experience You most intimately.

---
---
---
Copyright © 2002 Shepherds of Christ.
Rights for
non-commercial reproduction granted:
May be copied in its entirety, but neither re-typed nor edited.
Translations are welcome but they must be reviewed for moral and
theological accuracy by a source approved by Shepherds of Christ Ministries
before any distribution takes place. Please contact us for more information.
All scripture quotes are from the New Jerusalem Bible, July 1990, published by Doubleday.
Revised: May 31, 2002
URL: http://www.sofc.org
Contact Information for Shepherds of Christ
Email: info@SofC.org
---
Shepherds of Christ Ministries
PO Box 193
Morrow, Ohio 45152-0193

Telephone: (toll free) 1-888-211-3041 or (513) 932-4451
FAX: (513) 932-6791