December 26, 1993 - Sunday

Whatsoever You Do to Your Brother, You Have Done unto Me

Jesus: My child,

It is with a bleeding heart I come to you this day — the day after My special day! I know all about the trials and you withstood them very well. When you are suffering, I am the closest. Try to feel Me right with you always. If someone is being smart to you, know, My little one, they are being smart to Me. Whatever others do to you they do it first to Me. It is easy for satan to use someone to attack you and for them to think you are weak and I can do anything to push this one's buttons. No, little ones, you may think I can do whatever I want and get away with it because this person doesn't fight and forgives. I say to you, "Woe to you who push your brothers with your ugly speech. You do it to Me first. Woe to he whose tongue is as a rattlesnake: you rattle roll to your brother, but you rattle to Me. All those who sit and watch such an episode or hear are affected."

"Woe to you who have given ugly example to children: I will personally hold you accountable for every word you speak in front of innocent children. You speak not to the person, but to all whose ears hear. Woe to you, your snake-like ways will come to haunt you, My child. Your tongues are that by which you receive My body; your tongue should be kept so holy.

Guard your tongue against foul talk, abusive language and scourging your brother. You will be held accountable for every misdeed you performed against your precious brother and in front of any bystanders. All will be made known in the end. Every deed will be brought into light. Guard your body. Do not use any abusive talk or ugly words. You are My precious one, in communion you receive the Son of Man. Respect Me, My little ones. He is your brother. Whatsoever you do to your brother, you have done to Me and you will answer for all your misdeeds."

It is so silly to think that no one will hear what you do and you will not be found out. All will know the snake-like ways you so carefully hid. All will be brought into light and you will be held accountable for doing them to Me because I give you your brother to love. Guard your speech. Guard your ways. See the whole picture. What you are doing to little ones who hear. You will be judged also for giving bad example. Just as you expect Me to account all those good deeds you performed. You are accountable for your bad deeds against others.

I am Jesus, Son of the Living God. I came to show you how to live. I am gentle. I am kind in Heart. I love you, My little ones, many have evil ways and I still love you. I did not fight and argue back. I was silent. A person who taunts you wants you to fight. Be of a pure heart and do not answer them back. This is satan who is out to taunt you. Do not disrespect your brother even when he disrespects you. All he says, he says to me first and he will truly answer for his deed. If you have wronged your brother, tell him of the wrong and ask for forgiveness, then beg forgiveness from Me. It is in your sorrow and the recognition of it to your brother that God forgives you.

You are the light of the world; see that your works are a light to your brothers. Guard against dark ways. Example is the best teacher, to constantly teach ugliness is to teach the biggest lesson of all. Just as a parent who is loving teaches love to his little ones, by his actions, a parent who is selfish and angered teaches children such lessons.

Woe to you who perform vile acts in front of others, especially My little innocent ones! I will call you on your unrepented acts. To pray the "Our Father" you must repent your sins. Pray this prayer often. My Father is so pleased with the recitation of this prayer. He listens attentively as His little children address Him. He loves you to call Him Father. He is a Father Who loves His children and loves them to come to Him in prayer.

What you do in the dark will be made know in the light. All your deeds to your brothers will be brought to light. Guard your ways and strive to be holy. Be of a light heart. What is of account here is doing it for the honor and glory of God. It must be for God's glory. God is watching you like on a silent stage.

Think of all your actions being brought to light; guard against evil speech. The tongue is a party to much sin and then it is the way you receive Me, Jesus, Lord. Make your tongues so holy. Remember the snide remarks you make to your brother are snide remarks you make to Me. See Me standing there when you speak to your brothers. Even in his ugliness, see Me standing there in your brothers. Respect each other as a creation of the Father. When one is being cruel to you, pray for them and drive away satan, he is influencing their tongue. See your brother with a snake around him and struggling. Would you go and fight with the snake? Cast out the devil in My Name; don't argue with the devil. See your brother as being attacked and unable to help himself — do not listen to his utterances from his tongue when being attacked. It is not he who is out to trip you up, it is the evil one who has attacked your brother. See him in his struggle.

A person who taunts you is anything but a figure of strength; he is a figure of weakness. Look at him as coming from a bad place and needing your prayers. Do not listen to vile and nasty remarks. You are as I see you. You are as I see you in your holiness and goodness. Guard yourself. I will be your fore guard and your rear guard, I will help your brother if you pray for him. Pray he does not continue down his dark road. He usually is not praying for himself at such a moment, so you need to pray for him.

Do not allow yourself to be attacked by others. It is satan who uses your brothers to get to you. Cast him out and ask for My strength. You will be judged — how you respond to your brother. Strive to be Christ-like. Realize he is a figure of weakness, not strength and pray for him and strength for yourself.

I am He Who is forever by your side guarding you. Do not go it alone. Turn to Me and I will give you strength. It is no myth, little one. I am this close and this personal with you. Treat Me like a person who is right there. Do not overlook My presence. In love and in adversity, I stand by to be your guide. I am He who never leaves you — you are never alone.

I am such a good God. Your life will become so much easier when you realize I am right by your side. No one can hurt you and get away with it. They will answer to Me if they do not repent. Repented sins will be forgiven and unrepented sins will be brought to light.

You must be truthful in your examination of self. As soon as you realize that you have offended your brother, and it is prudent to do so, go and beg his forgiveness and then pray to be forgiven. I love you even when you sin. I love the truth. I want the truth. Deception is the work of the devil. All evil ways will be made known in the light and woe to he who has accused his brother of his own sin. Such deception is indeed the work of the evil one and will not go unpunished.

Review your sins often during the day, clear away the rubbish. Confessing your sins is cleaning for the heart. It is freeing for you. Denying the truth keeps you stuck to the sin. Examine your consciences, ask for guidance on how you have offended others by your words, thoughts and example, and beg to be forgiven. Tell your brothers of your wrong and ask for forgiveness. If he does not forgive you, he will have to deal with Me. Do not feel guilty; go to confession and do as the priest directs and free yourself of guilt. Satan wants you to wallow in your guilt. Move out of your sin with resolution with God's help to try not to sin again.

Oh, little ones, it is not the sin as much as the unrepented arrogance of an act. This displeases Me so. This is so rooted in the devil, to offend another and then to act innocent or blame another for your sins. Such vileness is from satan. Repent, I tell you — go to confession and confess your wrongs be freed of your sin, unrepented sins will be punished. Listen to Me and follow the words of the Master. Follow My example to love your brothers at all times and respect them as the temple they are. Kindness and love for one another — this is paramount. Strive to be Godly; strive to be as He expects you to be. Guard your tongue, little ones; it is by this tongue you receive God, the Savior. Do not give in to abusive talk and snide remarks; speak with love to your brother.
end of December 26, 1993
Jesus told me about a big boom because they wouldn't obey.
I Showed You The Way--I Showed You Surrender
March 7, 1994 4:00a.m.
Jesus: You are the city set on the hill. You will shine with the intimate love of Jesus. I am the Son of God. I am He Whose bootstraps you are unworthy to tie.
I am Jesus and I loved My little ones to My death. Do you know even a little about what it is to give your life for someone? Do you think of yourself and ponder yourself being this selfless? People cannot even take one hour to sit with Me. The world has made you all blind. You do exactly as you want. Meditate on My sorrowful Passion. Read My meditations on the rosary. This was My life, given for you, My little loved ones. I gave My life for you and you want more? You want more proof and signs, yet you cannot even pray a few moments after Communion!
I am the Master. I taught you about selflessness and surrender. Look at My position on the cross. Yet you hold back. You want your comfort. You want to make the world your end! Oh, you give a little. You give Me what you dole out, a little here, a little there, and say, "Okay, Lord, I'm good. I pray prayers. I spend my life doing holy things, but I am in control of what and how much I give you. I am in control, Lord. Aren't you satisfied?"
I am only satisfied when you surrender your all to Me! You give Me such little bits and pieces and you pat yourself on the back and look at the sick world and say, "Well, I am pretty holy." This is not the point. You judge, you decide, you do your own will! This is you, playing the game of running your life! You give here, you keep there. I want your all. I want your time spent alone with Me in front of the tabernacle. I want you to have an ardent on-fire love affair with Me. When you love, you give. You say to your lover, "Oh, anything you ask for I will give to you." If you ask for my shirt, I will give you my cloak as well because I love you this much!"
You don't know about love. You control your relationships with Me. Then what hurts My aching heart is how you talk about the love of God. There is not love in your actions. If you came and spent your life with Me, if you freely gave sacrifices for Me, this is love!
You look to the world and you judge yourself as doing so much. Look to Me, hanging on the cross, and judge yourself by My standards. I call you to an ardent love affair with Me. I call you to love--love of God, love of one another.
You do not have love for one another because you do not love God first. Love gives its all. Love does not seek itself. Love gives freely!
I died on the cross to teach you how to love. I am the Master. If you look to the world and judge yourself, you are not learning any lessons from Me. You must look to Me to learn from Me.
Look at Me on the cross, My arms outstretched, hanging from the cross. I gave My all! I gave Myself for love of you. I held not back a little. I held not back and I, God, could have stopped it all, but I gave you freely from the bottom of My heart with greatest love for you!
This, My sweet ones, is love. I showed you the way. I showed you surrender. I am Jesus Christ and I write to you. Do you listen? Oh, you, in your busy lives, do not surrender to Me even now.
What do I do to shake My beloved ones? You are all blind and dense. Look at how attached you truly are. You do not surrender. You do your will, you do your thing. I tell you over and over again to come and pray with Me for long periods. I tell you to pray after Communion. I write about praying before the tabernacle, but you do your will. You go to the world. You ask your questions there. You look for answers from each other. You do not surrender even one hour of your time.
I come and you receive Me, the Son of God, in Holy Communion! Do you stay and sit with Me or do you do what you want? I died for you, yet you cannot let go of even little things.
I am Jesus, Son of God. If you who profess to love Me cannot give of your life to Me, how do you expect others to learn from you? You teach as you are. You teach in your actions. Your actions are selfish and centered on self. I call you to denial of self and love of God.
One person fixed to the true life of Christ can move a mountain. You follow the world and try to do it yourself.
I preach coming to Me and sitting with Me. I, God, have all the answers. No one listens. What do I do to shake My faithful ones in their comfort?
I am Jesus Christ, Son of the Living God. I want to dwell in you and operate with the power of God. I invite you to My altar. I sit and wait with all the answers and you, in your pride, tell Me, "I am too busy."
Busy yourself for your day is at hand and you will know My might! I will shake the earth and you will listen. Then you will listen, but where were you when I gave you forewarning? You are waiting for the big boom. I am calling you now to listen to Me here.
Play your safe game. Waste your time. I am God and I am talking to you. You do it your way. I sit with the answers. Every answer is given here. I want My beloved ones to read these letters. I grow so tired of your foolishness. I am God and you are busy. Die to yourself, child. I showed you the way. I lead. You must follow Me!
I am your God. You shall have no gods before Me! Do you pray to Me in silence? You want your answers given to you. You want My love given instantly as you demand. I am waiting for a love affair with you. The fire of love is enkindled. Love is time spent together. Lovers sit together for long hours and learn to know one another. Would you give so little of yourself to develop a love affair with Me? I sit, I wait. I am there at every moment in all the tabernacles of this world, and you are busy!
Time is so short. One moment and it is up in smoke.
All that remain are the things of God. You are here to know, love and serve Me. I am sending out an urgent plea to publish all these messages--now.
These letters will turn the cold hearts to love. Do you not think I have all the power? You tarry, you deliberate. I grow tired. I am God and no one listens. You want Me your way. You want Me to come your way.
I sweetly tell you, in My gentle love letters, that I come, Jesus, the Son of God, gently in Communion. You are numb and blind. You want Me to roll drums and blare trumpets, but I come in the quiet moments. I roll no drums, I blare no trumpets. I come and you miss My calls!
What do I do to shake you? I, in all My might, can rock you off your rockers. I try to prepare you but you are too busy. Hold on to your last piece of dust and watch it go up in your face!
I am Jesus Christ, Son of God and I write to you and who pays heed here? This should tell you of your attachment to worldly things. You want proof. You look the other way. I am God and you contain the mighty medicine for this sick world. I am Jesus, the Son of God. Do you listen? Look at Me, dying on the cross. I gave My all for you. Do you not think I would send a mighty medicine this day for you? You are so blind. You do not listen.
I, God, talk here to you this very day.
end of March 7, 1994
6 days later He spoke of a big boom.

My Heart Aches For You
March 13, 1994 5:45 p.m.

R. I was overtaken by an intense unrest. I was compelled to go to the tabernacle. I felt such suffering, suffering that Jesus suffered so for us and that everyone is so busy about their lives. Suffering for the indifference to Him and how He loves us despite our neglect! It was awful. I felt as I had on Christmas.

Jesus: I am the Lord, thy God. Thou shalt not have any gods before Me. I must be first in your life.

R. If you place any woman, man, children, food, clothing or any other little things above Him, you are not doing His will.

Jesus: I died for you, sweet one. I allow you to suffer. This is suffering. You are given this to know how I suffered. You I only give such little things. I suffered, sweet one. I suffered, bloodied, bruised and beaten. Blood rolled down My cheeks. My head was pierced with sharp thorns. They spat on Me. They whipped Me. They beat Me on My head, My precious head. They hit Me on My thorns and the pain was so intense--the piercing thorns! I was slapped hard by these senseless ones. Oh, such evil in the hearts of those who beat Me, the Son of God!

My whole Body ached from head to toe. I suffered so, My child. You will never know how I suffered for love of you. I am God and I loved all My precious ones to My death--and they ignore Me!

Oh, how I suffer from this wounded heart. They will never know what love I have to give them. They will never know how I, God, love them. They are so busy with their worldly lives!

You must tell them how I wait for them. I wait. I want them to come and I will give them such love! Tell them, Rita, tell them! Your discontent is from what emotions I give you and you keep them inside. I want all to know Me and My love. I am crying out to you, little one. Tell them, tell them. Do not waste any time. I am crying out for you to spread this message. I want you to tell all of My love and how I am waiting. Emotion! Emotion! I am crying out to you in your heart!

I long for their love. I died for them. How do I make them know if you, to whom I speak, hold back? I want you to get the messages out, child.

I loved all My beloved ones to My death. I love you this way this day. I am Jesus. I am begging you to not hold back this emotion.

Oh, child, My beloved ones are blind and are going down the road that leads to nowhere. You must preach My message. You must distribute My letters. You must tell all how I wait here!

Go to My faithful ones. Spread the messages at the Center. Keep them in your car. You will be called on in an instant and I will speak My message to My beloved ones through you.

Ready yourself for a big boom. No one is listening. I am crying out to you. Prepare your brothers. They are in darkness. Their souls are dying inside of them. Some come to Me with such indifference in Communion.

I am the Sacred Heart of Jesus. I am on fire for love of them. I am Jesus Christ, Son of the Living God. I call you to this state of urgency. Move your friends by this urgent letter. There is no more time to waste. I call you all here to deliver this message personally to you. I am Jesus. I am begging each of you to spread My message. Tell them of My ardent love. In each moment you waste, souls will be lost.

I am the Sacred Heart of Jesus. I am your God. I am calling to you. Will you listen or will you be numb to My pleading? I yearn for your love. Come and sit with Me every day. Sit in front of My tabernacle so I can give you what you need. Pray the Prayer for Union with Jesus.

I am Jesus, the Son of God. I cry out to you to preach My love. Spread these messages. Tell all you meet that I, Jesus, am alone. I am in your midst and I love you this very day. I wait for you in the tabernacle. Come and be with Me every day. This is all that you need. I give you everything. All will work when you come to Me to get your supplies.

Come to Mass and Communion daily. I wait for you to come and be in union with Me. I want to be so close to you. I love you all and I am asking you each to busy yourself about your love affair with Me. Make Me first in your life. Give Me all you are. Pray My Prayer for Union all through the day.

It is your union with Me that will change this world. You will light the lights of the souls in darkness. They will see the might of God in your soul. Energy will be emitted from your very being. You will be as you are, My most important workers, just in your being, if you surrender and be about our love affair!

It's so simple. Come to Me, be united in Communion, pray with Me in silence after Communion, pray to the Holy Spirit for all of His gifts. Pray, lay hands on each other for strength. I am Jesus. I am alive. I will live in you in such a way that you will do such wonders, just in your being more in love with Me.

I love you all dearly. Open yourselves. Be selfless and let Me possess your soul! I love you. Jesus

end of March 13, 1994
7 Days Later

March 20, 1994 -
2 days before the end of the building collapsed
on March 22, 1994 on Lucia's birthday

Jesus: You don't have to prove the authenticity of these letters. You know they are true. If they doubt, let them get their proof. You don't have to give them signs. If they want the love of God, they will search and know the letters are from Me. Everything else is everybody else's responsibility.

I want you to speak always. I speak through you. I want you to circulate the letters. You do not prove the letters to any man. You write, you talk. Their doubt is their problem. You answer no more than I tell you to. They can turn their backs and lose the true treasure here.

I am Jesus, the Son of God. Say little in your defense. You know they are the fools if they question you. They miss My divine treasure here. I love each child ardently to write to them. Silly to not listen when I speak to you!

You are My messenger. You must only do the delivering. You owe no man any valid reasons why it is true. Publish these messages. I want the book published. What happened to Volume II? I, Son of God, am talking to you and who listens? Now they are holding it up because of the priests. I am Jesus I want all these messages published. If the devil creates enough doubt and confusion as he did, then you deal with that instead of the messages.

I am God. I am so tired with you to publish these letters. You are going to suffer for the souls will be lost while you tarry. Tarry more and do your own thing. Why should I give you any messages? You have not published any that I gave you. If you do not do this work, I will give them to someone who will. I am so tired with you. You are not doing My will and this world is suffering for your delays.

You check, you tarry, and I am God and I am talking to you. You test My messenger. You try her. You want proof. I give you messages, so many messages, and you want a sure thing. You test them on man. Does man know why God tells you here? Why is the world in this state if man is so smart? Why did he not cure it by now? All those you ask, ask them, why are you not curing the world!

I am God. I have spoken. I am so upset with these delays. What do I do to shake you into listening? You want proof. You lack faith. No human being has this knowledge. She is a math teacher and has not even studied theology or the Scriptures. She doesn't even know the books in the Bible. She only loves Me dearly. You test and waste My valuable time. I grow very tired of this.

I am Jesus Christ. I am the Son of God. You are all afraid or you would listen. You are afraid of the priests, afraid of the people, afraid. l have all the power, I am God. I can turn the world upside down. I have all the power. I am tired to give you more messages. You are not publishing anything. You want to be safe. The world is suffering and sick.

You want what you want in the way you want it. I am God and I do things the way I, God, know best. If I did things your way you would have no faith. Man gives into himself. I teach you to reach within your souls to the things and ways of God. You want Me to act like you. I am God and I do not act like the way you want. I am tired!

end of March 20, 1994

2 days later on Lucia's birthday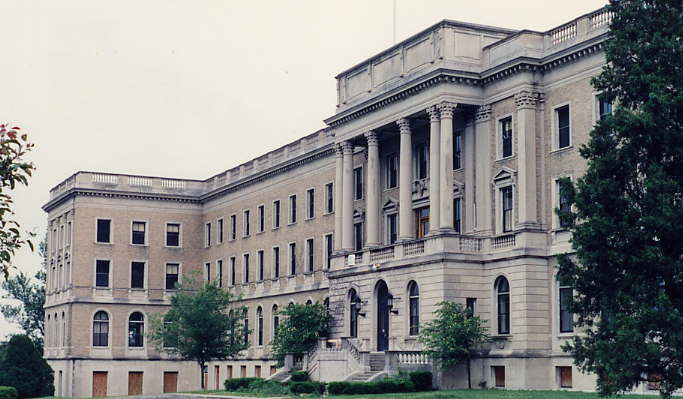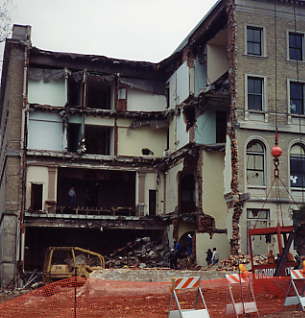 The corner fell off in minutes.
It looked like somebody cut a piece of cake.
This message was held back from the Falmouth publication.
It began the split between the Shepherds of Christ
and the Holy Spirit Center and the Falmouth Farm.