June 1, 2009
From Fr. Joe's Mass Monday 7:30
Ordinary Time
Easter season ends with Pentecost
The day after Pentecost the first reading is Tobit
The Jews were even persecuted by Greeks
Tobit was faithful to God
If we are suffering it shows we should be faithful to God
Tobit cared for the poor
Tobit buried the dead
Tobit respected the body after the body died
---
Tobit 1: 3, 2: 1-8
I, Tobit, have walked in paths of truth and in good works all the days of my life. I have given much in alms to my brothers and fellow country-folk, exiled like me to Nineveh in the country of Assyria.

In the reign of Esarhaddon, therefore, I returned home, and my wife Anna was restored to me with my son Tobias. At our feast of Pentecost (the feast of Weeks) there was a good dinner. I took my place for the meal; the table was brought to me and various dishes were brought. I then said to my son Tobias, 'Go, my child, and seek out some poor, loyal-hearted man among our brothers exiled in Nineveh, and bring him to share my meal. I will wait until you come back, my child.' So Tobias went out to look for some poor man among our brothers, but he came back again and said, 'Father!' I replied, 'What is it, my child?' He went on, 'Father, one of our nation has just been murdered; he has been strangled and then thrown down in the market place; he is there still.' I sprang up at once, left my meal untouched, took the man from the market place and laid him in one of my rooms, waiting until sunset to bury him. I came in again and washed myself and ate my bread in sorrow, remembering the words of the prophet Amos concerning Bethel:

I shall turn your festivals into mourning
and all your singing into lamentation.

And I wept. When the sun was down, I went and dug a grave and buried him. My neighbours laughed and said, 'See! He is not afraid any more.' (You must remember that a price had been set on my head earlier for this very thing.) 'Once before he had to flee, yet here he is, beginning to bury the dead again.'
---
Blessed the man who fears the Lord
Psalm 112: 1-6
Alleluia!

How blessed is anyone who fears Yahweh,

who delights in his commandments!

His descendants shall be powerful on earth,

the race of the honest shall receive blessings:

Riches and wealth for his family;
his uprightness stands firm for ever.
For the honest he shines as a lamp in the dark,
generous, tender*hearted, and upright.

All goes well for one who lends generously,

who is honest in all his dealing;

for all time to come he will not stumble,

for all time to come the upright will be remembered.
The 1st reading ends on a sad note
We see in Tobit —
God rewards those who are faithful
to Him
God sends the Prophets —
many times they are rejected
and killed
Mark 12: 1-12
He went on to speak to them in parables, 'A man planted a vineyard; he fenced it round, dug out a trough for the winepress and built a tower; then he leased it to tenants and went abroad. When the time came, he sent a servant to the tenants to collect from them his share of the produce of the vineyard. But they seized the man, thrashed him and sent him away empty handed. Next he sent another servant to them; him they beat about the head and treated shamefully. And he sent another and him they killed; then a number of others, and they thrashed some and killed the rest. He had still someone left: his beloved son. He sent him to them last of all, thinking, "They will respect my son." But those tenants said to each other, "This is the heir. Come on, let us kill him, and the inheritance will be ours." So they seized him and killed him and threw him out of the vineyard. Now what will the owner of the vineyard do? He will come and make an end of the tenants and give the vineyard to others. Have you not read this text of scripture:

The stone which the builders rejected
has become the cornerstone;
this is the Lord's doing,
and we marvel at it ?'

And they would have liked to arrest him, because they realised that the parable was aimed at them, but they were afraid of the crowds. So they left him alone and went away.
The vineyard is often a symbol
of the Jewish people
The vineyard was built right
there was a tower to watch over the vineyard
for 24 hours —
so nobody stole
The Jewish people produce good fruit —
living fruitful lives
being faithful to God
We pray we live faithful lives —
ourselves
our country because
we have been blessed in so many ways —
We pray for priests, hierarchy
We pray for our parish
We pray for our leaders
Look at Adam and Eve —
in the first family the killing —
Cain killed Abel
look at the affects of original sin —
when we ask —
why is the world like this —
We see Cain and Abel
We see the jealousy —
lust
After original sin —
We are children of Adam and Eve
All have original sin, but Mary —
she was conceived without original sin —
Jesus, the Son of God had no sin —
We were marked with original sin at
the moment of conception —
We act out of our wounded human nature —
Jesus is the Savior of the world —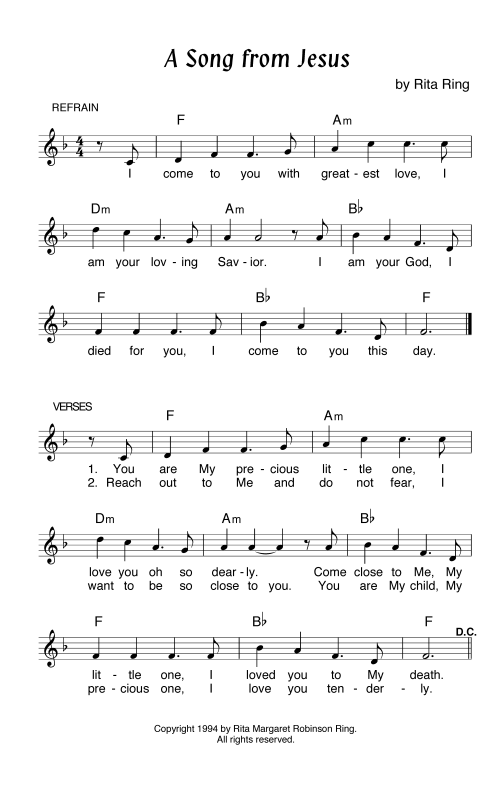 Jesus died for our sins
Jesus was beaten, blooded for our
sins
Jesus wants us to turn our lives and our
wills over to God —
We were created to praise, reverence
and serve Our God —
God is so good to us
We are so richly blessed
He loves us so much —
Not like we can treat God as someone
far off —
Jesus shows us His Heart —
Jesus wants this Personal Relationship
with Him
This is why Jesus gave me the Blue Books,
letters of His love
God is teaching us to love Him with
this Personal love —
God is teaching us about loving
each other in the Blue books —
They are His personal love letters
Jesus teaches us about surrender in Blue Book II —
Letting go to the will of God
In this week between Pentecost and Trinity Sunday —
we can beg the Holy Spirit to come to us and
the members of the body of Christ to see
in a powerful way —
to have wisdom
Oh God open our eyes to see the gifts given
to us in Your Church, in the Word —
Oh God feed us —
Oh God let us see —
We are so blind
Song: Glory, Glory, Glory Lord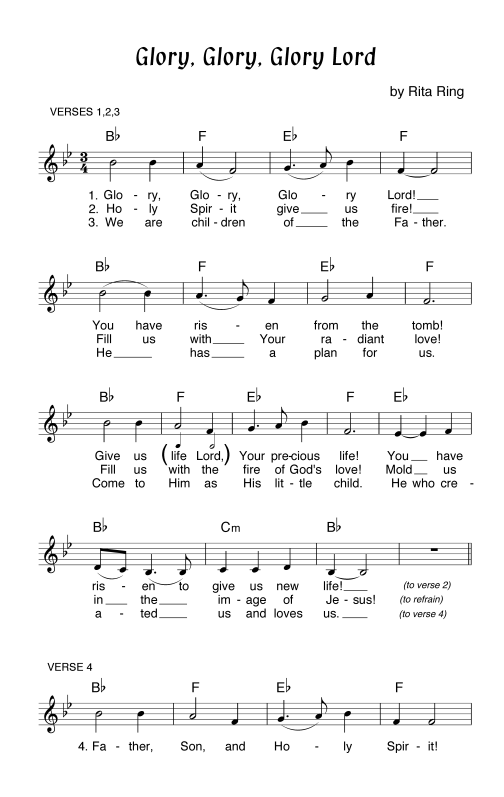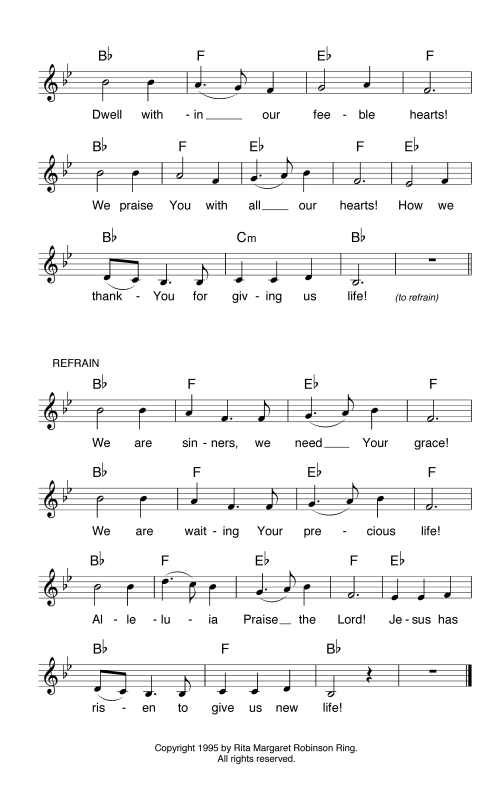 The Gospels are read — the letters of the New Testament
Jesus called His Blue Book writings letters of
His love — not messages, but letters from
Jesus of His love —
As we listen to the Gospels of Ordinary Time
we hear the Gospel of St. Matthew, Cycle A —
the Gospel of St. Mark - Cycle B, the Gospel
of St. Luke - Cycle C —
Reading for Trinity Sunday — Cycle B —
Sunday after Pentecost
Deuteronomy 4: 32-34, 39-40
'Put this question, then, to the ages that are past, that have gone before you, from when God created the human race on earth: Was there ever a word so majestic, from one end of heaven to the other? Was anything like it ever heard? Did ever a people hear the voice of the living God speaking from the heart of the fire, as you have heard it, and remain alive? Has it ever been known before that any god took action himself to bring one nation out of another one, by ordeals, signs, wonders, war with mighty hand and outstretched arm, by fearsome terrors—all of which things Yahweh your God has done for you before your eyes in Egypt?

Hence, grasp this today and meditate on it carefully: Yahweh is the true God, in heaven above as on earth beneath, he and no other. Keep his laws and commandments as I give them to you today, so that you and your children after you may prosper and live long in the country that Yahweh your God is giving you for ever.'
Psalm 33: 4-9, 18-19, 20, 22
The word of Yahweh is straightforward,
all he does springs from his constancy.
He loves uprightness and justice;
the faithful love of Yahweh fills the earth.
By the word of Yahweh the heavens were made,
by the breath of his mouth all their array.
He collects the waters of the sea like a dam,
he stores away the abyss in his treasure–house.

Let the whole earth fear Yahweh,
let all who dwell in the world revere him;
for, the moment he spoke, it was so,
no sooner had he commanded, than there it stood!

But see how Yahweh watches over those who fear him,
those who rely on his faithful love,
to rescue them from death
and keep them alive in famine.

We are waiting for Yahweh;
he is our help and our shield,

Yahweh, let your faithful love rest on us,
as our hope has rested in you.
Romans 8: 14-17
All who are guided by the Spirit of God are sons of God; for what you received was not the spirit of slavery to bring you back into fear; you received the Spirit of adoption, enabling us to cry out, 'Abba, Father!' The Spirit himself joins with our spirit to bear witness that we are children of God. And if we are children, then we are heirs, heirs of God and joint–heirs with Christ, provided that we share his suffering, so as to share his glory.
Matthew 28: 16-20
Meanwhile the eleven disciples set out for Galilee, to the mountain where Jesus had arranged to meet them. When they saw him they fell down before him, though some hesitated. Jesus came up and spoke to them. He said, 'All authority in heaven and on earth has been given to me. Go, therefore, make disciples of all nations; baptise them in the name of the Father and of the Son and of the Holy Spirit,and teach them to observe all the commands I gave you. And look, I am with you always; yes, to the end of time.'
---
Prayer for Union with Jesus

Come to me, Lord, and possess my soul. Come into my heart and permeate my soul. Help me to sit in silence with You and let You work in my heart.

I am Yours to possess. I am Yours to use. I want to be selfless and only exist in You. Help me to spoon out all that is me and be an empty vessel ready to be filled by You. Help me to die to myself and live only for You. Use me as You will. Let me never draw my attention back to myself. I only want to operate as You do, dwelling within me.

I am Yours, Lord. I want to have my life in You. I want to do the will of the Father. Give me the strength to put aside the world and let You operate my very being. Help me to act as You desire. Strengthen me against the distractions of the devil to take me from Your work.

When I worry, I have taken my focus off of You and placed it on myself. Help me not to give in to the promptings of others to change what in my heart You are making very clear to me. I worship You, I adore You and I love You. Come and dwell in me now.

-God's Blue Book, January 17, 1994
Puff and Toot

April 15, 1994

R. My daughter played the song Puff and Toot and we sang and laughed. "I've got to make it! I've got to make it! I've got to make it!" Sometimes when I do it myself, I try so hard. I try so hard to do everything right. Think of going up a big hill and huffing and puffing. Then the hand of God reaches down and lifts you. He carries you on your way.

This is how it has been in my life. When I pray over people, I would lay my hands down very hard. When I pray over people and barely touch them, I can feel a strong power take over. When I sang, I would try so hard to sound good. Jesus told me to sing gently. When I let go, He sings through me. With every thing, when I am trying so hard, I am doing it. When He does it, I feel a power carrying it out.
end of April 15, 1994
Being faithful to God —
Not giving into the wounded human nature —
We see the vices of the people in the stories
of scripture —
We see their lack of trust and faithfulness
to God
We see sin —
And yet we can say —
"How can the world be like this" —
Man has evil tendencies
Even the Our Father ends
". . . deliver us from evil"
When we sin we say —
I want it my way —
When we die and we face God —
we have a problem if we did it our
way opposed to God's will
The Holy Spirit wants to communicate to us
and lead us in the direction of living
according to the Father's Plan, the Father's
will
The evil spirit wants us to do our own thing as
opposed to the Father's will, the Father's Plan —
and the devil is tempting us through fallacious
reasoning to see through our tainted selfish
eyes and disobey God —
The devil wants us to sin!!
Especially in prayer, in retreats there is much
Movement of the spirits to lead us in
a certain direction —
DISCERNMENT OF SPIRITS
We discern is it the evil spirit who is trying to
get us to act against God's will —
Is it the Holy Spirit moving in us that is leading
us to do God's will? —
Which one will we follow —
St. Ignatius in his book the Spiritual
Exercises has two sections on the discernment
of spirits —
St. Ignatius is the Master of Retreats
We believe Mary dictated the spiritual exercises
to St. Ignatius
Fr. Carter was a Jesuit and he made an examine
twice a day — 10 minutes each —
In this examination of conscience we stop and
see if we are following the Holy Spirit and
doing God's will or
are we following the evil spirit with his
fallacious reasoning —
Then in this examination of conscience —
twice a day — it is a check and a
plea to God for grace to do God's will —
It is a time of thanksgiving —
All our actions should to be to praise, reverence
and love God and serve Him
God is a personal God —
Jesus gives us Himself in the Holy Eucharist
out of greatest love
Jesus wants us to know and love and reverence
Him — to live to do God's will and
attain our eternal salvation
The devil is hate
The devil wants us to say
"I will not serve"
God calls us to serve — to say "I will serve You God —
the way You want"
The devil wants us to covet our gifts —
our money — then in pride to hoard
it and not be generous and share it —
this is why God gave us our gifts —
to use them for His honor and glory —
So St. Ignatius gave us this prayer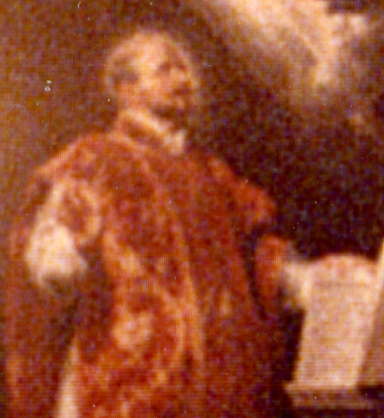 Prayer from St. Ignatius

Lord, teach me to be generous.
Teach me to serve you as you deserve;
To give and not to count the cost;
To fight and not to heed the wounds;
To toil and not to seek for rest;
To labor and not to ask for any reward,
Save that of knowing
that I am doing your will.
Are we so busy we don't have time for
God and our relationship with God —
The Father, Son and Holy Spirit love us so much they
dwell in our graced baptized soul —
The Father, Son and Holy Spirit want us to
enormously love Them
God outpours His grace - in the Mass —
God gives us this sharing in His life —
God wants us holy, obeying Him and
not rebelling against Him as
Eve did in the garden —
Jesus gave Fr. Carter this message and these prayers and
promised great graces to take us into
His Heart and Mary's Heart —
July 31, 1994
Words of Jesus to Members of
Shepherds of Christ Associates:

"My beloved priest-companion, I intend to use the priestly newsletter, Shepherds of Christ, and the movement, Shepherds of Christ Associates, in a powerful way for the renewal of My Church and the world.

"I will use the newsletter and the chapters of Shepherds of Christ Associates as a powerful instrument for spreading devotion to My Heart and My Mother's Heart.

"I am calling many to become members of Shepherds of Christ Associates. To all of them I will give great blessings. I will use them as instruments to help bring about the triumph of the Immaculate Heart and the reign of My Sacred Heart. I will give great graces to the members of Shepherds of Christ Associates. I will call them to be deeply united to My Heart and to Mary's Heart as I lead them ever closer to My Father in the Holy Spirit."

- Message from Jesus to Father Edward J. Carter, S.J., Founder, as given on July 31, 1994,
feast of Saint Ignatius Loyola, Founder of the Society of Jesus (The Jesuits)
The more we spread the consecration to the 2 Hearts —
we see this is what God wants —
this is what Mary appeared at Fatima and
Clearwater to tell us —
To tell us about love —
How God wants our surrender to the will of God —
How God wants us to personally love Him —
So much so He gave us the Blue Books to
know His love for us and for us to
love Him with burning, intimate, love
in return
God's Blue Books
God's Blue Book 1 – Messages given by Jesus to Rita Ring. Jesus tells us how precious we are to Him and how He loves us. He is with us this day, so close. He is a person who longs and waits for our love. He wants such union with us. These are His teachings to lift you up! Tapes are available with messages and songs given from Jesus.

$10.00

God's Blue Book 2 – Messages given by Jesus to Rita Ring. Jesus is on fire for us. Rita saw a vision of Jesus' Heart on Dec. 17, 1991. The power is in the Eucharist. The power is released when hearts are consecrated to the Hearts of Jesus and Mary. Jesus wants His beloved souls to pray before the tabernacle and after Communion. It is in praying to Him at these times that we become very close to Him. His Heart is an endless furnace of burning love on fire for each of his precious souls. He wants union with us. Only in the surrendering of ourselves to the will of God can we be close to Him. Tapes are available with messages and songs given from Jesus. $10.00

God's Blue Book 3 – Messages given by Jesus to Rita Ring. Love God, love one another. He is the Way, the Truth, and the Life. How can we say that we love Him when we do not love one another? Each person was created by the Father. If we do not love our brother, we are not loving His creation. We are the lights that shine in this world. Jesus loves us so much, He gives Himself to us in the Eucharist. He remains with us in the tabernacle, and we take His gift so lightly. In this book, He tells us about His immense love. He asks us to rid ourselves of hate and anger and to love our brothers. He talks about Mary. Two rosaries are included. $10.00

God's Blue Book 4 – Messages from Jesus and Mary. How they love us! Mary appeared to me everyday and I knew from these writings more about Jesus' love for Mary and Mary's love for Jesus and Their love for us. This book is a beautiful message from the Two Hearts and it includes rosary mediations from Mary and Jesus. This book really talks about Their pure love and how we can love more purely.

$5.00

God's Blue Book 5 – Jesus wants to be so united with us. He is the bridegroom of our soul. In living deeper consecration to the Two Hearts we can love more purely. This is a book about pure love. It is awesome. It has many rosaries from the Hearts of Jesus and Mary. Some writings are also from Fr. Carter.

$5.00

God's Blue Book 6 – Jesus and Mary appeared everyday giving these rosaries. We can receive tremendous grace when we pray them with a candle. Some writings are also from Fr. Carter. This will help you grow in the spiritual life when you pray these rosaries.
He Calls Us to Action – This book is a call to action. He gives us His love and He sends us into the world to spread this love to others. We cannot hold back. We need to pray to the Holy Spirit to enlighten us and to give us His courage to carry out the plan of the Father. Holy Spirit transform us from fear to fearlessness. He is one in us. Minute-by-minute, second-by-second, He provides for our needs. Hear His soft voice all through the day say,
I love you, I love you, I love you. $10.00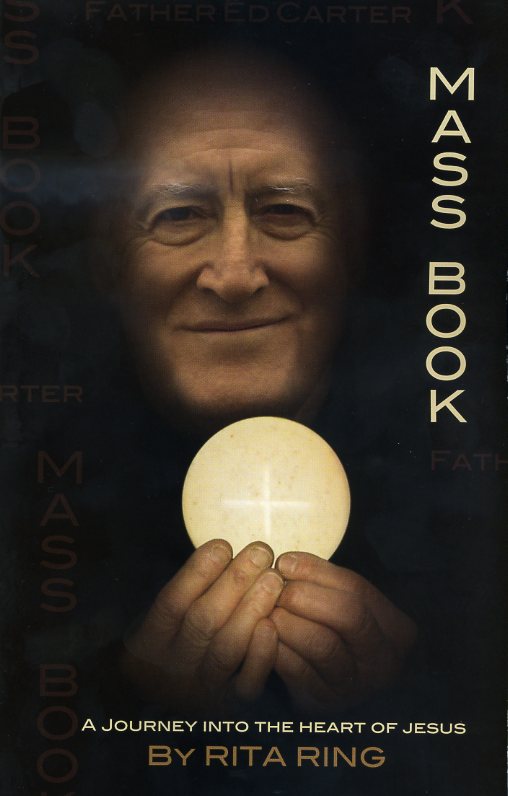 Mass Book
Available for $10.00 plus shipping
1-888-211-3041
Call Kathleen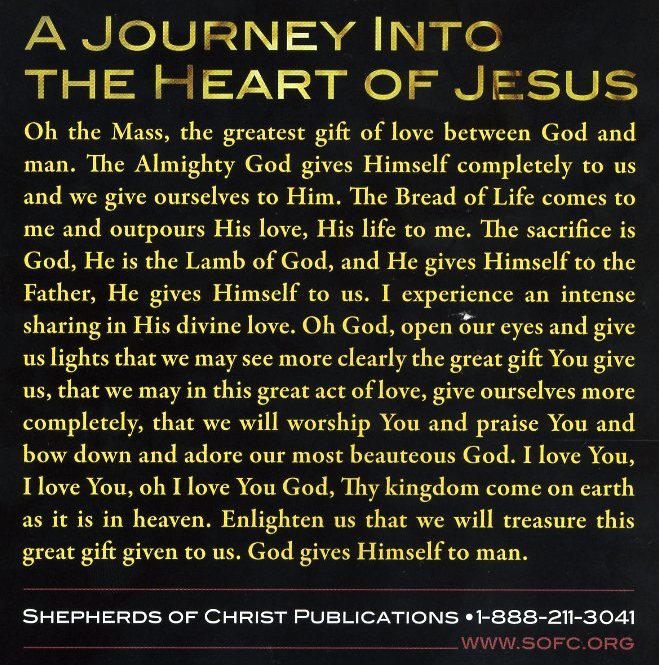 Lets think about the Feast of the Trinity —
think how Father, Son and Holy Spirit love us so much —
The Father first loved us —
The Father sent His Son into the world —
The Holy Spirit is wanting to fill us with
the fire of God's love and
to renew the earth —
Here is what Fr. Carter said in his book
Response to God's Love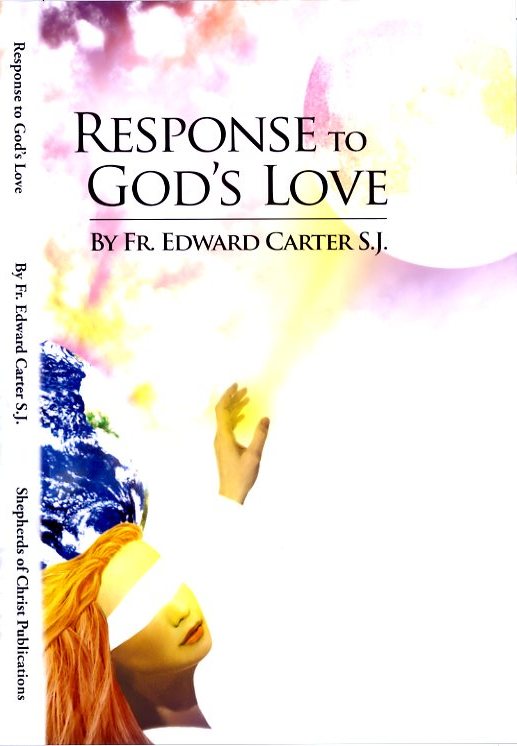 Available for $10.00 plus postage
1-888-211-3041
Excerpt from Response to God's Love
1
The Mystery of Christ and

Christian Existence
... In reference to Christianity, God himself is the ultimate mystery. Radically, God is completely other and transcendent, hidden from man in his inner life, unless he chooses to reveal himself. Let us briefly look at this inner life of God.

The Father, in a perfect act of self-expression, in a perfect act of knowing, generates his son. The Son, the Word, is, then, the immanent expression of God's fullness, the reflection of the Father. Likewise, from all eternity, the Father and the Son bring forth the Holy Spirit in a perfect act of loving.

At the destined moment in human history, God's self-expression, the Word, immersed himself into man's world. God's inner self-expression now had also become God's outer self-expression. Consequently, the mystery of God becomes the mystery of Christ. In Christ, God tells us about himself, about his inner life, about his plan of creation and redemption. He tells us how Father, Son, and Holy Spirit desire to dwell within us in the most intimate fashion, how they wish to share with us their own life through grace. All this he has accomplished and does accomplish through Christ.
end of excerpt
Show card sent to priests —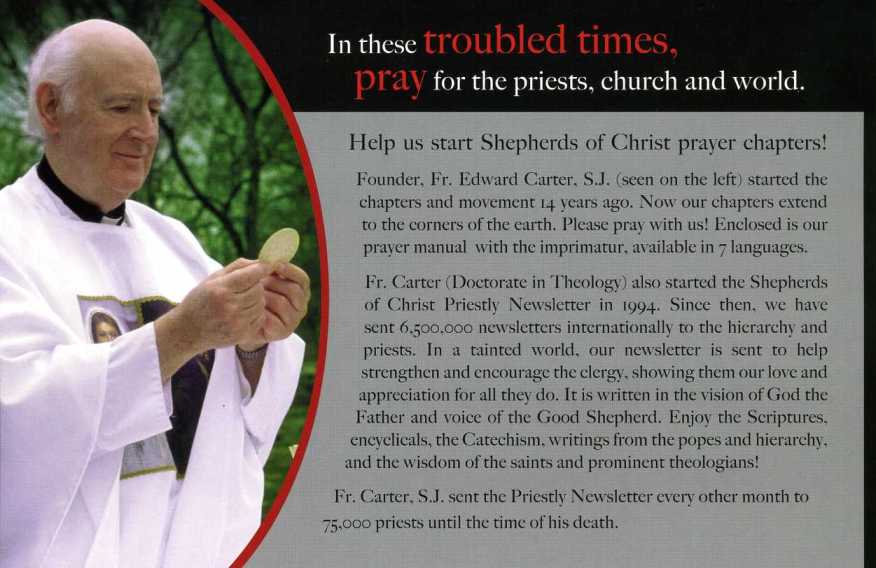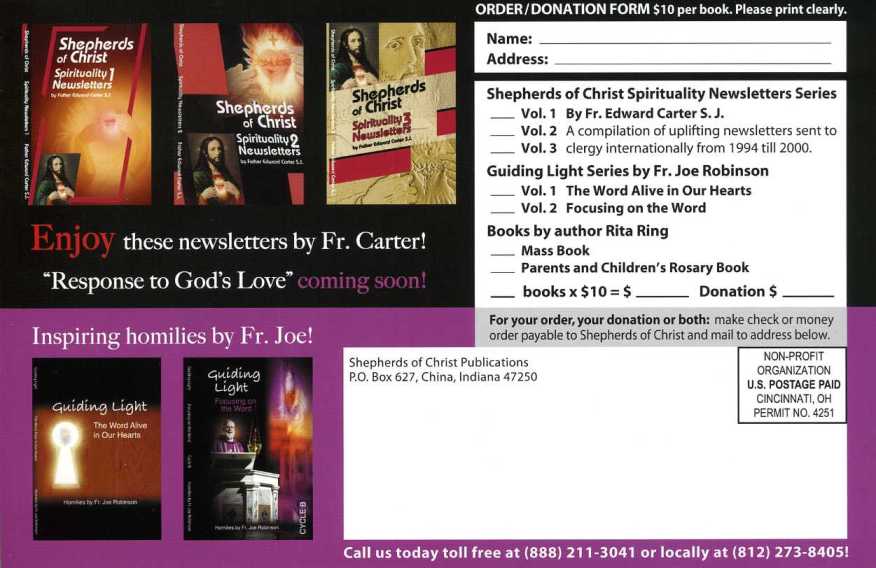 This is the book Jesus told us to send to the
priests —
Can you help us?
We are in the process of sending these 2
books now, but the postage is so
expensive and
we had the Mass Book reprinted and we
really need funds for this
Please pray for this mailing
Help us please — we need your help —
From the Mass Book
One year before Mary appeared in Clearwater
December 17, 1995
T
HE EARTH STOPPED AND TOUCHED HEAVEN
R. I long to unite in the deepest union with Him in the Eucharist. I long for the Mass. I long for Thee, oh God. My every moment, I join as I did to You December 15 under the cross, where I felt Your presence. You whisked me away, and I was totally absorbed in that moment of celestial union with You. For that time, I existed only in You, in the deepest union, and I was in this moment existing in You. The earth stopped, and I touched the heavens, all my bodily cares were existent in You. I existed in Your Divinity, my being was in You. There was no desire or wish or wanting, for in that moment, I had all I wanted in You. I was satisfied and wanted nothing but to remain in that embrace. You were the Being, and my being existed in You, but I was only as I was in You - merged in You, knowing and being in Your Divinity and being so full as to feel complete in myself.
You are so enormous, and You surrounded me in a burning embrace, the presence of red fire. I was not little, or "nothing", but existed in this enormous power and being so complete!
I touched eternity, and in that embrace, I knew all the waiting was worth the glory. You enveloped my being, and I was truly merged in the Divine Presence. I was merged in Your being. I existed IN You, with You, in the highest union with You, although I knew I was still distinct from You.
I was fused and absorbed in You, feeling complete and satisfied. To describe this union is far beyond any work of my pen and paper. I pray for the reader of this page to receive the grace to share this experience with Him, I will now live for this union-to be forever merged In Him, to be One in Him, to reach higher perfection as I exist in Him, for He takes the lowly and gives to them a sharing in Himself. He merges with us and we exist in Him. The word "in" - I could write pages about. I long for the deepest union with Him, where I am swept up in the heavenly embrace of the Divine God, and I am IN Him.
This is heaven on earth: to be merged as one with Divinity, although remaining distinct from God, to take our feeble hearts, our lowly status and to unite ourselves with the Divine, Almighty, powerful God and in this union to be meshed with Him, that His power dominates and our humanity reaches its heights of fulfillment in this union, in this oneness with Him.
The word I have looked for is "oneness." I understand some of the meaning of the words "One in Him." Oneness is the word to describe this union of our humanity with His Divinity. The depth to which we could meditate on oneness with God is incomprehensible. In that moment, the earth stood still, and He, my Divine Lover, the Bridegroom of my soul, took me to Himself, and I knew the embrace of the Divine God.
Nothing on the face of this earth can describe our union with Divinity. Oh, good God, that creatures are so ungrateful regarding Your divine love. I am so sorry. Let me help make reparation to Your adorable Heart. Please unite with me now that I may more deeply love Thee.
Oh, Divine Lover of my soul, let me help make reparation to Your adorable Heart for the neglect and indifference against You.
Song from Jesus: I come to you with greatest love. I am your loving Savior. I am your God. I died for you. I come to you this day.
R. He allowed me to experience such pain in my heart - wanting Him so badly, so many times-and then on Dec. 15, 1995 - He gave Himself to me in the deepest union.
Nothing satisfies the soul but Him. He wants the nuns and priests to love Him. He chose them to spread His love.
Souls are hungry. They will only be fed with His burning love. Priests need to talk about Jesus' love for us from the pulpit. Priests need hearts burning for love of Jesus. This will feed the hungry souls - lip service love doesn't do it.
He is alive today. He is a Person. He wants us to love Him.
end of December 17, 1995
December 18, 1995
IN THE DEEPEST RECESSES OF HIS HEART
The place Jesus took me was into the deepest recesses of His Heart. I was enveloped in His burning love. It was a red room with heat and an intense glow. I was swept away in this embrace, and I only existed in Him. The power of the Almighty God enveloped me, and I only existed in Him. There was no fear, for I was existent in this Almighty Being. My heart was wrapped in the eternal embrace of this Supreme Being. The security, the power I know was His deep presence in which I existed.

I knew the room was red and warm. I knew His immenseness, but I felt my own completeness in Him. I did not feel little, as a speck, but elevated and empowered for I existed then in Him in a most special way.

I was overtaken by the love of God. The fire of the Holy Spirit filled me. I was absorbed by the love of the Father, and I existed IN Him and in the deepest recesses of the Heart of Jesus. Our heaven on earth is these inner chambers of His magnificent Heart - the Heart of the Almighty God, with all the power, with omnipotence, with the fire of the love of God. He took me to the deepest chamber of this fiery Heart, and in that moment, I touched eternity, for I knew what it was to be enveloped in the deep furnace of His love. I now want to exist in this chamber of His Heart, swept away in His burning love, absorbed in my every cell with His love.

We do not understand the fire of His love. We do not understand what it is to be absorbed by love itself. He took me to the inner, deepest chamber of His Heart, and I felt the heat and knew the presence of love itself, and there was no fear, only a feeling of completeness, omnipotence, all-embracing, penetrating love - a power indescribable in words, a saturation of my being in the presence of God, and I was as I was created to be - living in Him!

This is how I will forever live my life, saturated with His divine life and love deep within this inner chamber of His burning Heart, living in Him as He possesses my being, and I operate with His power in me.

Little creatures though we are, we are His, His power, His life, flowing through us. In Him, we are as the Father intended: one in Him, each one of us, dwelling in this fiery furnace of His love. With our fears quieted and our hearts empowered by His life, we live forever in Him - in the Heart of Jesus.

Let no man separate what God has joined together. I am wed in the deepest love with my beloved Spouse, wed to the Heart of Jesus. As I am, I am one in Him. I live and I breathe in Him. He, Who is love, He Who is our all, He Who is mighty and without limits, He Who is, He Who is God and as I live, He lives in me in this world.

I am wed to Him, and I shall not fear for He is God - one, complete, loving, God. Heart of Jesus, I place my trust in Thee. As I live, I live in Your most adorable Heart, the furnace of God's love!
end of December 18, 1995
Psalm 95: 1-2, 6-9
Come, let us cry out with joy to Yahweh,
acclaim the rock of our salvation.
Let us come into his presence with thanksgiving,
acclaim him with music.

Come, let us bow low and do reverence;
kneel before Yahweh who made us!
For he is our God,
and we the people of his sheepfold,
the flock of his hand.

If only you would listen to him today!
Do not harden your hearts as at Meribah,
as at the time of Massah in the desert,
when your ancestors challenged me,
put me to the test, and saw what I could do!
Today is the 1st day of the month of
the Sacred Heart —
Read a Blue Book message every day and
meditate on how much Jesus loves
us to write these letters of love —
Think of how God deserves our love —
our service to the Master —
Jesus came and He died, He bled the last
drop of His Blood for our sins —
Men in their sinfulness were jealous of
Jesus healing the sick, curing
blind men and lepers —
So they wanted to destroy Jesus —
Because of the affects of their fallen human
nature —
that seeks dominance for dominance
sake
they put Jesus to death because
they were afraid He would
have more power with the
people than them if they
saw and believed His miracles —
Think of people who do this today —
they act like they care for the people,
but are really doing it for power for
themselves —
They see through tainted vision
They see through jealous eyes to get power —
that is their goal
Not the service of others or promoting
God's Kingdom, but it is a selfish -
motive for themselves — eyes turned inward
on their own vain glory
The enemy killed Jesus because of their
own sin in their hearts and seeking
of dominance for themselves —
So we say — how can men act this way —
We are all sinners —
If we act out of our wounded human nature
we sin and
when we sin we hurt our relationship with
God and others
and then we can become angry — because
we are being selfish and sinful and
depriving ourselves of the one thing
that makes us happy — goodness — being
more and more like Jesus —
We were meant to say
"God, I will serve You"
Not like the fallen angels that said
"I will not serve You, God"
God made us to love Him —
He wants that love
Jesus shows us His Heart
We are to die to our selfish ways and love
God with our whole heart, our whole soul and
our whole being —
Look at many T.V. shows —
competition
hating each other
violence
double - crossing
This is from the wounded human nature —
Why did God make me?
God made me, to know, love and
serve Him
Not to think I can watch shows of envy —
hatred, greed and think it isn't hurting
my spiritual life —
Fr. Carter shared his gifts and talents with us —
Can you see that God intends us to walk
hand-in-hand as Fr. Carter says in his
book - Chapter 8 - Response to God's Love
Fr. Carter said in the book — many who get married -
said they did so to get love - not
give love —
Marriage is to love
Definition of Love
The definition of love used by Father Carter is as follows.

Love is the gift of self to promote the true good of those loved. He states the reception of love is the receiving of the gift of the other, so my good will be promoted.
No wonder there are so many divorces if
people get married to get love rather
than give it
Fr. Carter said the Blue Books were as much his as
mine and he worked very hard to get them
discerned and published
He said the Prayer Chapters were to have the Blue Books —
And everyone in the Movement was to live
by the Blue Books and read one letter
every day —
He told people who were in the Movement and
leaders — they had to leave if
they didn't read the Blue Books, support
them and read a message every day —
They were as much his as mine and they
were as Fr. Carter said Jesus' letters of love
to us —
God is the author of love —
Do we not think He would give us letters
to learn how to love Him and others —
Well He did give us these letters to
learn to love gently and likened
to Him —
15 Years Ago
I wrote
We Share Union with God

May 4, 1994

R. We stand strong if we love God because we can be united when we do love Him. I have a bond with you and I love you intimately in a way that I do not love another because we share this union with God.

It is in God and only in Him that we are made one. He loves us. He gave His life for love of us. He shows us the way to love. When two people love in Him there is not division but they are closer because they are both open.

It is in loving together that we are united. I can love you even if you don't love God, but we do not have as great a bond because we are not both open to His love.

To be strong and stand against attack, we must truly love at the Center. This is the Center where God's love will reign and be our strength. We must put aside any differences with our brothers and try to settle them only in love and praying for wisdom, understanding, and counsel from the Holy Spirit to know what God wants us to know. We need God to be our loving Father, Jesus to be our loving Spouse, the Holy Spirit to love and give us His gifts, and Mary to be our most loving mother, to mother us as she mothered Jesus. What warmth in our soul! This will light the darkened night because we are filled with the love of God and we can give love.

Bathe us in Your love, God. Blessed Lady, be by our side. We are but little ones in need of direction and love. Treat us tenderly and help us to be ever grateful for all you give us. Amen.
end of excerpt
God gives us a sharing in His life in
baptism —
God wants us to love, to be likened to Him
Fr. Carter called the Servants and Handmaids
Servants of the Good Shepherd
Handmaids of the Good Shepherd
In the Ignatian Spiritual Exercises
we see the 1st Principle and Foundation
From The Spiritual Exercises of St. Ignatius,
by Louis J. Puhl, S.J. p. 12
23. FIRST PRINCIPLE AND FOUNDATION
Man is created to praise, reverence and serve God
our Lord, and by this means to save his soul.
The other things on the face of the earth are created
for man to help him in attaining the end for which he
is created.

Hence, man is to make use of them in as far as they
help him in the attainment of his end, and he must rid
himself of them in as far as they prove a hindrance to
him.

Therefore, we must make ourselves indifferent to all
created things, as far as we are allowed free choice and
are not under any prohibition. Consequently, as far
as we are concerned, we should not prefer health to
sickness, riches to poverty, honor to dishonor, a long
life to a short life. The same holds for all other things.

Our one desire and choice should be what is more
conducive to the end for which we are created.
We see St. Ignatius said to praise, reverence
and serve
Serve —
In a world where there is so much selfishness —
we see Jesus who gives us the Church,
the hierarchy and the priests
And Jesus told Fr. Carter to begin this Movement
Servants and
Handmaids
were called by Jesus to serve the
priests, the Church, by our
lives given in prayer and
love and spreading the Priestly Newsletter,
beginning prayer chapters and
spreading these writings —
Blue Books etc. —
This is a gift from God —
For serving Him
For loving Him
For not being selfish and looking inward
Oh God help us be good —
Be good —
Good means we do God's will
We don't offend God, by sinning and
denying our offenses —
Not taking responsibilities for our sins is
being a fool —
Since we are here to prepare for heaven —
Since we have confession
One mortal sin can put us in hell —
if we lie to ourselves and say
it isn't a sin because we
choose to sin, anyway, and want
our way —
We sin because we want our way
against God's commands —
The more we lie to ourselves the more
we act quickly to sin —
The devil is the master of lies —
the father of lies
Jesus is the way, the truth and the life
Prayer from
St. Ignatius
Lord, teach me to be generous.
Teach me to serve you as you deserve;
To give and not to count the cost;
To fight and not to heed the wounds;
To toil and not to seek for rest;
To labor and not to ask for any reward,
Save that of knowing
that I am doing your will.
Prayer of St Ignatius

Soul of Christ, sanctify me
Body of Christ, save me
Blood of Christ, inebriate me
Water from the side of Christ wash me
Passion of Christ, strengthen me
O good Jesus, hear me
Within Thy wounds hide me
Permit me not to be separated from Thee
From the wicked foe defend me
at the hour of my death call me
and bid me come to Thee
That with Thy saints I may praise Thee
For ever and ever. Amen.
From The Spiritual Exercises of St. Ignatius,
by Louis J. Puhl, S.J. p. 25
46. PRAYER. In the preparatory prayer I will beg God
our Lord for grace that all my intentions, actions,
and operations may be directed purely to the
praise and service of His Divine Majesty.
p.11

21. SPIRITUAL EXERCISES

Which have as their purpose the conquest of self
and the regulation of one's life in such a way that
no decision is made under the influence of any
inordinate attachment
31st Sunday in Ordinary Time - Cycle A
Malachi 1: 14b, 2: 2, 8-10
Cursed be the rogue who has a male in his flock but pays his vow by sacrificing a blemished animal to me! For I am a great king, says Yahweh Sabaoth, and among the nations my name inspires awe.'

If you will not listen, if you will not sincerely resolve to glorify my name, says Yahweh Sabaoth, I shall certainly lay a curse on you and I shall curse your blessing. Indeed I will lay a curse, for none of you makes this resolve.

But you yourselves have turned aside from the way; you have caused many to lapse by your teaching. Since you have destroyed the covenant of Levi, says Yahweh Sabaoth, so I in my turn have made you contemptible and vile to the whole people, for not having kept my ways and for being partial in applying the law.

'Is there not one Father of us all? Did not one God create us? Why, then, do we break faith with one another, profaning the covenant of our ancestors?

Psalm 130

From the depths I call to you, Yahweh:
Lord, hear my cry.
Listen attentively
to the sound of my pleading!

If you kept a record of our sins,
Lord, who could stand their ground?
But with you is forgiveness,
that you may be revered.

I rely, my whole being relies,
Yahweh, on your promise.
My whole being hopes in the Lord,
more than watchmen for daybreak;
more than watchmen for daybreak

let Israel hope in Yahweh.
For with Yahweh is faithful love,
with him generous ransom;
and he will ransom Israel
from all its sins.

1 Thessalonians 2: 7-9, 13

when we could have imposed ourselves on you with full weight, as apostles of Christ.

Instead, we lived unassumingly among you. Like a mother feeding and looking after her children, we felt so devoted to you, that we would have been happy to share with you not only the gospel of God, but also our own lives, so dear had you become. You remember, brothers, with what unsparing energy we used to work, slaving night and day so as not to be a burden on any one of you while we were proclaiming the gospel of God to you.

Another reason why we continually thank God for you is that as soon as you heard the word that we brought you as God's message, you welcomed it for what it really is, not the word of any human being, but God's word, a power that is working among you believers.

Matthew 23: 1-12

Then addressing the crowds and his disciples Jesus said, 'The scribes and the Pharisees occupy the chair of Moses. You must therefore do and observe what they tell you; but do not be guided by what they do, since they do not practise what they preach. They tie up heavy burdens and lay them on people's shoulders, but will they lift a finger to move them? Not they! Everything they do is done to attract attention, like wearing broader headbands and longer tassels, like wanting to take the place of honour at banquets and the front seats in the synagogues, being greeted respectfully in the market squares and having people call them Rabbi.

'You, however, must not allow yourselves to be called Rabbi, since you have only one Master, and you are all brothers. You must call no one on earth your father, since you have only one Father, and he is in heaven. Nor must you allow yourselves to be called teachers, for you have only one Teacher, the Christ. The greatest among you must be your servant. Anyone who raises himself up will be humbled, and anyone who humbles himself will be raised up.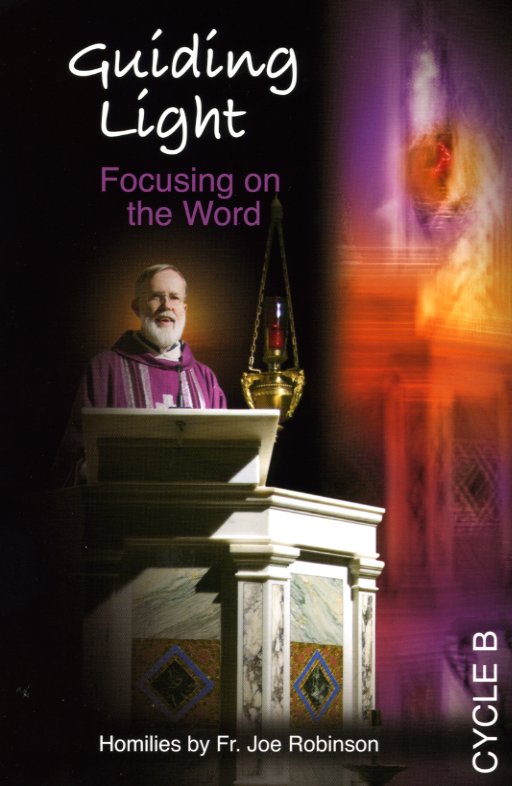 Available for $10.00 plus postage
Call Kathleen
1-888-211-3041
31st Ordinary Time
October 30, 2005
INTRODUCTION: (Malachi 1, 14b-2,2b. 8-10; Matthew 23, 1-12) Malachi was a prophet who lived about 400 years before Christ. He was definitely a fire and brimstone type prophet. Our reading begins with Malachi condemning the priests of his day for offering sacrifices unworthy of God. The usual sacrifice a person offered was an animal, usually sheep or oxen. People were bringing in animals for sacrifice that were blind, lame and sick – the kind of animals the owner wanted to get rid of anyway. The priest carried out the sacrifice and probably also had to be bribed in order to accept the animal since the law required that only perfect specimens be used in making a sacrifice to God. Malachi told them to offer that sick or blind animal as a gift to the governor and see if he would be pleased. The people were falling into sin, so Malachi condemned the priests for not teaching the people God's ways. One such thing the priests were telling the people was "everyone who does evil is good in the sight of the Lord, and he delights in them." It sounds like new age theology doesn't it? The last verse of the reading seems to be out of context as Malachi turns his focus to the people and chastises them for breaking God's covenant through sins of adultery, dishonesty and injustice. The reading prepares us for the gospel where Jesus condemns the Jewish leaders of his day.


HOMILY: Malachi and Jesus are dealing with the sinfulness of the religious leaders of their day. The priests in Malachi's day were offering unworthy sacrifices to God and neglecting to teach the people how God wanted them to live. In Jesus' day, the priests (also referred to as the Sadducees) received their share of condemnation from Jesus, but it seems the Pharisees and scholars of the law received the majority of Jesus' criticism. The Pharisees were not priests, but lay leaders, trained in leading the people in Scripture study and in liturgy. They were not all bad people. Remember Nichodemas and Joseph of Arimathea were Pharisees. So was Paul who at first persecuted the followers of Christ but later became the great apostle to the nations. Some of their membership, as we hear in today's gospel, were more interested in looking good rather than in being good. They were interested in using their position to bring glory upon themselves rather than to serve God people and to lead them to give glory to God. At any time in history we can find leaders, religious or not, who were good leaders or who abused their position. It happens in religion, any religion, and it happens in all levels of society and business. And the abuse of power manifests itself in many ways. It is especially distressing when it happens among religious leaders. They, above all people, should be models of holy living. When I was growing up, the biggest scandals I would hear about were when priests or nuns thought they were little gods, thinking they should be treated as if they were on a pedestal and the world should bow to their demands. That pedestal has crumbled. The Church's voice of authority is simply ignored by many today. The scandal of priests abusing children and the way it was handled by the hierarchy has given the Church's authority a serious blow in our own day. We must remember that society needs authority, and the church needs authority so it does not degenerate into anarchy. I can understand the feelings of those who have walked away from the Church because of some people's abuse of power, but at the same time those who have walked away are missing a lot of good spiritual blessings because they have walked away. Jesus spoke very harshly of the punishment of those who cause scandal. It would be better for them if a great millstone were tied around their neck and they were thrown into the sea. Yet he also says to the people in today's gospel about the Pharisees: "do and observe all things whatsoever they tell you, but do not follow their example." It reminds me of a comment St. Theresa made about a spiritual director. She said she would rather have a learned priest as a spiritual director than a holy one. In other words, she figured she would get better guidance from one who knew what they were talking about than one who didn't. Ideally, of course, the best arrangement would be to have one who was both learned and holy. It's a goal I try to achieve in my own priesthood, but I know I do not always achieve it. I keep asking God's forgiveness for my failures. I am grateful to know that God is a merciful God. In turn I ask forgiveness of anyone I may have let down here at St. Boniface.
Many of you are in positions of authority too, maybe in your work, maybe as parents. Did you ever think that in your close relationships you exercise a kind of authority over others too, because in those relationships you are an influence on another person for better or for worse. Let us, in our prayers, remember all people who have positions of leadership in whatever field they serve that they may use their position to serve well. And may you who influence others in whatever way lead those under your care to know the God of love and to follow him in a sincere way. May you, in all your dealings, be both wise and holy. Amen.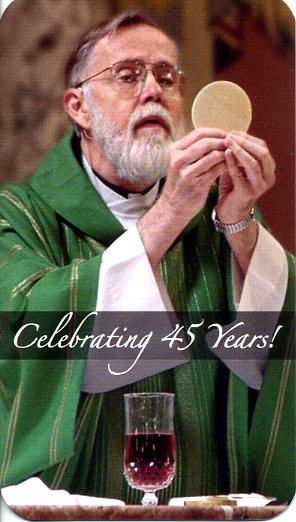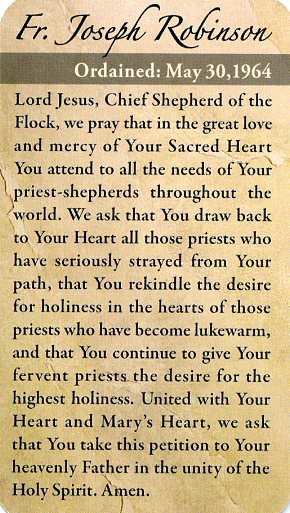 Jesus gives us the fire of God's love
Hell is coldness —
It is a fire of coldness
From The Spiritual Exercises of St. Ignatius,
by Louis J. Puhl, S.J. p. 32-33
65. FIFTH EXERCISE

This is a meditation on hell. Besides the prepara-
tory prayer and two preludes it contains five points
and a colloquy.
PRAYER. The preparatory prayer will be as usual.
FIRST PRELUDE. This is a representation of the place.
Here it will be to see in imagination the length,
breadth, and depth of hell.
SECOND PRELUDE. I should ask for what I desire. Here
it will be to beg for a deep sense of the pain which the
lost suffer, that if because of my faults I forget the love
of the eternal Lord, at least the fear of these punish-
ments will keep me from falling into sin.
66. FIRST POINT. This will be to see in imagination
the vast fires, and the souls enclosed, as it were, in
bodies of fire.
67. SECOND POINT. To hear the wailing, the howling,
cries, and blasphemies against Christ our Lord and
against His saints.

68. THIRD POINT. With the sense of smell to perceive
the smoke, the sulphur, the filth, and corruption.

69. FOURTH POINT. To taste the bitterness of tears,
sadness, and remorse of conscience.

70. FIFTH POINT. With the sense of touch to feel the
flames which envelop and burn the souls.

71. COLLOQUY. Enter into conversation with Christ
our Lord. Recall to memory that of those who are in
hell, some came there because they did not believe in the
coming of Christ; others, though they believed, because
they did not keep the Commandments. Divide them
all into three classes:

1. Those who were lost before the coming of Christ;
2. Those who were lost during His lifetime;
3. Those who were lost after His life here on earth.

Thereupon, I will give thanks to God our Lord that
He has not put an end to my life and permitted me
to fall into any of these three classes.
I shall also thank Him for this, that up to this very
moment He has shown Himself so loving and merciful
to me.
Close with an Our Father.
end of excerpt
Make a good confession
How do I love God?
How do I love my neighbor?
How do I love myself?
How do I love the souls?
We need to focus on getting ourselves
to heaven —
We need to be a witness to lead
souls to heaven —
People that come to the Movement
come to learn this —
not to just buy statues —
to know the Blue Books —
to pray the prayers —
to pray the rosary —
to learn about the Mass —
God is calling people to the Shepherds of Christ —
We should think of our thinking
about them and spreading this
message —
Not be self-focused —
To love the souls and want to lead
them to heaven —
LOVE is giving
Prayer from
St. Ignatius
Lord, teach me to be generous.
Teach me to serve you as you deserve;
To give and not to count the cost;
To fight and not to heed the wounds;
To toil and not to seek for rest;
To labor and not to ask for any reward,
Save that of knowing
that I am doing your will.
Discern the spirits
Am I doing God's will —
Am I a real servant of God —
Am I spreading God's love —
Am I witnessing to being good —
to be like Jesus —
To love - like Mother Teresa and
to live in the truth —
the truth of Jesus
What is the message we are to deliver
from this building —
Christ is the King —
To lead people to this Kingdom —
Not to be disobedient, rebellious as
Adam and Eve —
Who thought of themselves —
They wanted to be equal to God
They disobeyed God —
They rebelled against God —
God help us —
Holy Spirit help us to see through the
eyes of God
Love through the Heart of Jesus
Be Your instrument here below