Mary has requested that the daily message be given each day to the world. It is read nightly at the prayer service from her Image Building in Clearwater, Florida, U.S.A. This is according to her request. All attempts will be made to publish this daily message to the world at 11 p.m. Eastern time, U.S.A.

---

We acknowledge that the final authority regarding these messages rests with the Holy See of Rome.

---
June 14, 2005
June 15th Holy Spirit Novena
Scripture selection is Day 7 Period II.

The Novena Rosary Mysteries
for June 15th are Luminous.
Accept Your Life, Crosses and All (excerpt)

December 15, 1993 - 3:25a.m.

Jesus speaks: Put God first and you will not search in vain. Make a commitment to Me. Make your goal a diploma in sainthood. This is all that matters. Then all you touch will be taught by the Master, for I teach through you when you go to My school. You are teaching lessons today to your brothers through your actions. Are they My lessons or are they the world's? You are busy, little one. I have work for you to do. Why sit you idle while I teach? Listen to My promptings in your heart and be of Me. This is the greatest work you can do. All else is of no account. You are My teachers in this world. See that you teach My lessons by your daily life. To do this you must come and be taught be Me yourself.
June 14, 2005 message continues
Jesus speaks: Be positive
pray every hour
or half hour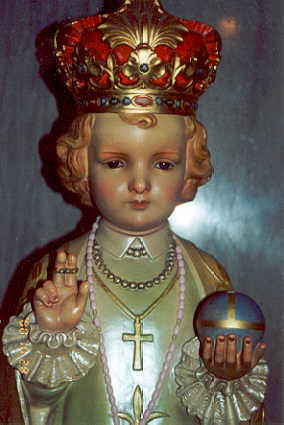 Novena to the Infant of Prague
(to be prayed hourly if possible)

O Jesus, who said, "Ask and you shall receive, seek and you shall find, knock and it shall be opened to you," through the intercession of Mary, Your most holy Mother, I knock, I seek, I ask that my prayer be granted.

O Jesus, who said, "All that you ask of the Father in My Name He will grant you," through the intercession of Mary, Your most holy Mother, I humbly and urgently ask Your Father in Your Name that my prayer be granted.

O Jesus, who said, "Heaven and earth shall pass away, but My word shall not pass," through the intercession of Mary, Your most holy Mother, I feel confident that my prayer will be granted.
June 14, 2005 message continues
Jesus speaks: Dear Child,
I love you so very much,
I see you afraid and I love
you.
A woman in labor is in anguish
for her hour has not come —
You are suffering for you were
made to be with Me in heaven.
A night watchman, watches by the
night, he peers into the darkness,
he walks when most sleep —
I call you to be lights in the
darkness, to see with clear
vision when others do not see —
you see so clearly
One man sows —
another reaps —
some come to tear up —
some plant destructive weeds —
Lights shine and you take them for
granted —
but oh if they cease to shine
you cry a blood curdling
sound —
a penetrating cry from the
darkness —
Let no man pull the wool over
your eyes, lest you fall because
your sight is impaired —
let wool blankets be used to cover
the cold —
Let your hearts keep you warm
from the fire of My love
radiating from your breast —
A man looks out his window
and is obstructed by buildings
that have been built too
close —
He complains, oh the vision once
was wide and open and now I
see absolutely nothing
Where I once saw the fields
and the wind blowing the wheat,
where I once saw a tiny lake and
blue skies, little prairie flowers
I now see one big dark wall for
the building was built in the field
and the wall right next to my
window.
I feel so closed in, I want to cry —
Lights were once shining in my room —
I heard the noises of nature, I could
open my window and a big
breeze came through — a sweet
breathe of fresh air kissing
my skin as I worked —
Now no light, or little barely peeks
through —
The wall looks like a dark
prison wall to me —
I feel so blocked and pended
in and
From around the building I now
hear — beeps and big trucks
pulling around the other
side as men load and unload
merchandise —
When one buys a house, a building
you must anticipate who owns the
lot next door and how close are they —
really.
A lady had a special park bench in
a little park at the end of her street —
A white little picket fence was in
front of a beautiful flower garden.
Everyday she prayed her rosary
walking to the bench and sitting
listening to the birds and seeing
the little fence and beautiful flowers.
She envisioned a statue of Mary
close to the flower garden, the sky
was blue and she could really pray.
Later on her bench was used to
carry signs to get money for advertising —
the little park was paved with
black top and it was made a cab
stand. On her little bench was
signs of nudity for magazines,
risquι shows and all sordid
things.
When she woke in the morning
she cried. For years she went to
the bench and prayed and gave such
love to Me her God.
When you have been hoed under by
a big bull dozer and your space
destroyed will you recognize how
close you are to a world that doesn't
care about the real beauty you
once had.
Well you say, Jesus, the others
owned the land right up to the
window.
Well I say, well child, the
story is just a little story to tell
you how close some ugly things are
to you right now and you are crying
but some people don't even know
why.
The end to the first story is
some pornographic pictures were then
placed on the wall next to the
house with the window that once
opened to a field. They were to drive
the owner away. The devil not
only wants to steal your peace
he wants to drive you down a
road to hell and the sad thing
is — is people once sitting on
benches and praying the rosary or
admiring the beauty of the fields
are because of being surrounded
by new surroundings choking
in on them — are following
the piper playing the sour
notes —
You are being pressed on — on
all sides by satan and you are
becoming used to it —
You are becoming accustomed
to the sights and the hard
angry women are the ones showing
your babies about women and
it is far from the purity of the
Blessed Virgin Mary.
You dig around the building where
My Mother appears —
you knock off her head —
you build a road to go where --
backing My building into a hole
like the woman with the window
and the field —
Where does your super road lead
you —

Mailing the Priestly Newsletter
from China, Indiana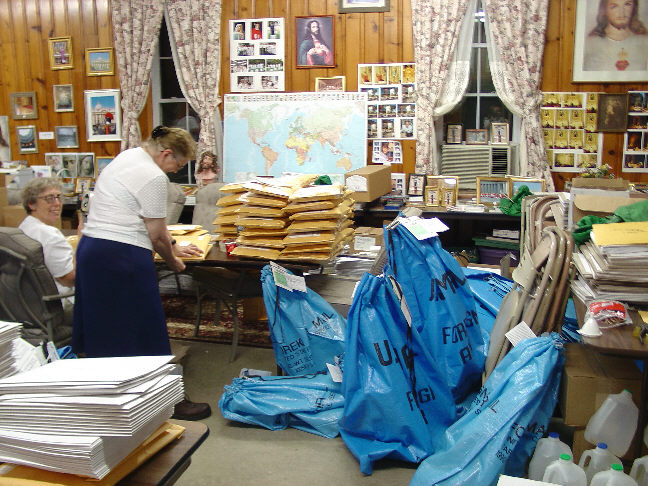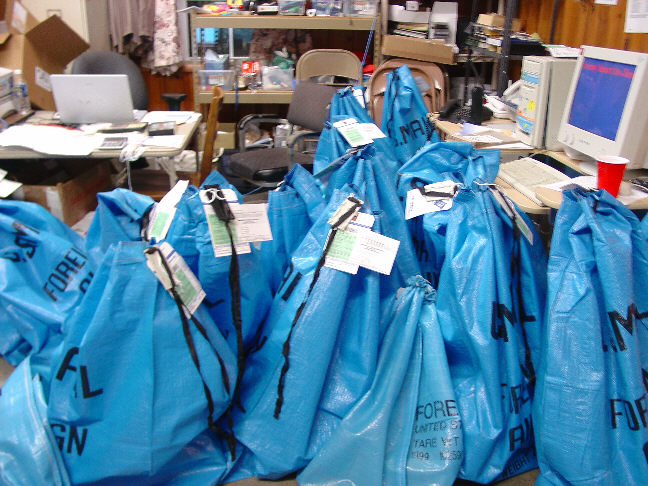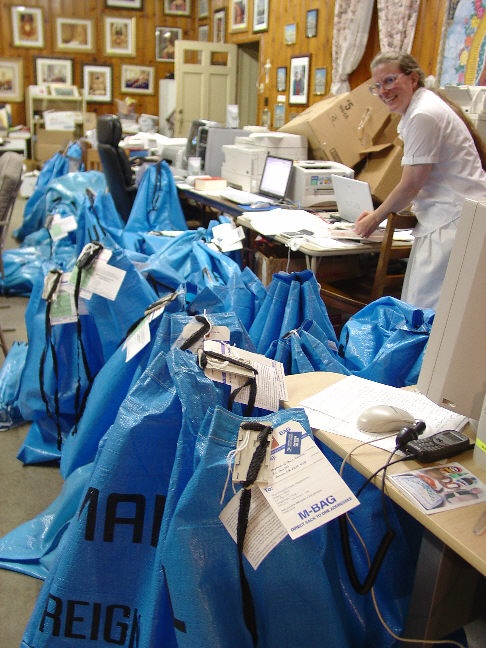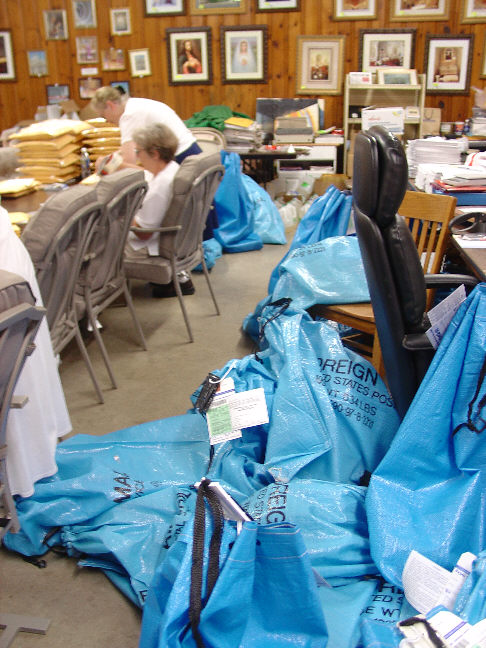 Fabulous pictures - framed of the Vatican
are available at the China and Clearwater Stores
call Doris to order.
1-888-211-3041
Pictures available:

pic-va1

pic-va2

pic-va3

pic-va4

pic-va5

pic-va6

pic-va7

pic-va8

pic-va9

pic-va10

pic-va11

pic-va12

pic-va13

pic-va14

pic-va15

pic-va16

pic-va17

pic-va18

pic-va19

pic-va20

pic-va21
(inside the Vatican)

pic-va22
(inside the Vatican)

pic-va23
(inside the Vatican museum)

pic-va24
(inside the Vatican museum)

pic-va25
(inside the Vatican - Holy Thursday 2005)

pic-va26
(inside the Vatican)

pic-va27
(inside the Vatican)

pic-va28
(from a church in Rome)

pic-va29
(from a church in Rome)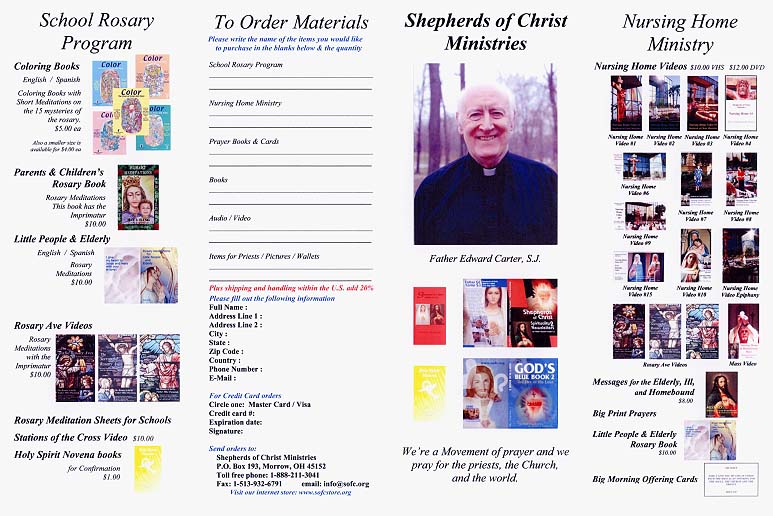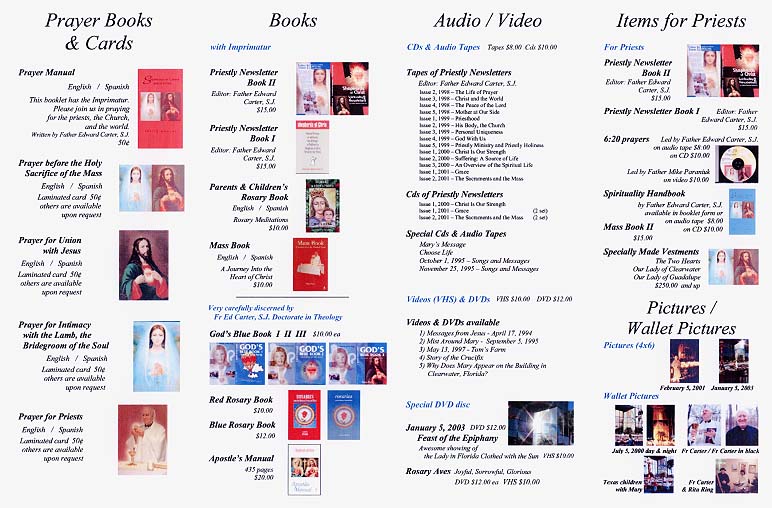 ---
Table of Contents
Previous Daily Message
---
Main Shepherds of Christ Page
---

Copyright © 2005 Shepherds of Christ.
Rights for non-commercial reproduction granted:
May be copied in its entirety, but neither re-typed nor edited.
Translations are welcome but they must be reviewed for moral and
theological accuracy by a source approved by Shepherds of Christ Ministries
before any distribution takes place. Please contact us for more information.
All