Mary has requested that the daily message be given each day to the world. It is read nightly at the prayer service from her Image Building in Clearwater, Florida, U.S.A. This is according to her request. All attempts will be made to publish this daily message to the world at 11 p.m. Eastern time, U.S.A.


---

We acknowledge that the final authority regarding these messages rests
with the Holy See of Rome.

---
June 16, 2003
June 17th Holy Spirit Novena
Scripture selection is Day 8 Period I.
The Novena Rosary Mystery
for June 17th is Luminous.
A Prayer for Intimacy with the Lamb
the Bridegroom of the soul
Oh Lamb of God, Who take away the sins of the world, come and act on my soul most intimately. I surrender myself, as I ask for the grace to let go, to just be as I exist in You and You act most intimately on my soul. You are the Initiator. I am the soul waiting Your favors as You act in me. I love You. I adore You. I worship You. Come and possess my soul with Your Divine Grace, as I experience You most intimately.
Sidney Rosary
June 17, 2003
Tuesday at 6:20PM
Go Shopping on the Web and
get your Blue Books today
Please check out

our new

internet store:
We desperately
are in need of funds.

Shepherds of Christ Ministries
P.O. Box 193
Morrow, OH 45152
1-888-211-3041
Here are two writings Father Carter discerned very carefully
for the daily messages that were published.
excerpt from August 3, 1999 message
Messenger: My dear Jesus, I want to write what I know now.

Purity of Relationship:

God the Father and God the Son and God the Holy Spirit communicate perfectly. They are all pure.

The highest relationship between God and a human person is between:

God the Father and Mary,
God the Son and Mary,
God the Holy Spirit and Mary.

First, God the Father willed Mary to be the Mother of God, to be pure, spotless, Immaculate, untainted by the sin of Adam and Eve.

This indicates a most holy union between God the Father and Mary. It is election, God the Father chose Mary. She is the Mother of divine grace according to the Litany of the Blessed Virgin.

Second, there is such a relationship between God the Son and Mary in that His human Body was formed within her.

NOTE: Mary could most purely love God more than any human person because of the purity of her Immaculate Heart.

Mary could communicate more perfectly than any human person because of her Immaculate Heart.

We are tainted by the sin of Adam and Eve and our fallen human nature has a tendency to indulge in behavior that is focused on self against God's will. Mary had purity in her actions as Mother, holy in her ways, not subject to the ways of the fallen human nature. She is sinless.

There is such a connection between Mary and her Son. We see His physical dependency on Mary when He was an Infant. Realize that His Body was dependent on a human person.

The writings I have been given in Rosaries from the Hearts of Jesus and Mary and the Mass show deeply this connection between Son and Mother.

Third, the relationship between the Holy Spirit and Mary.

Together They brought forth the Child Jesus. God brought forth His Son in His human nature in the womb of the Virgin through the power of the Holy Spirit.

There is pure communication between Father, Son and Holy Spirit.

Mary most pure, the "Singular vessel", communicates most perfectly with God.

There are not any flaws in the relationship between Mary and God. Mary is full of grace. She is the Mother of divine life within us.

We see why the relationship between Jesus and Mary is the model for us to follow. God the Son, a Divine Person, communicates most perfectly with His Mother Mary, a human person with an Immaculate Heart, a spotless Virgin.

Man is pompous and arrogant to think he does not, in his sinfulness, need the Hearts of Jesus and Mary.

Man is not living in truth if he does not recognize the weakness of his fallen nature.

Jesus, the Son of God, gives Himself completely as a Sacrifice for fallen man and many reject Him.

The Father gives man the gift of His Son.

The Father gives us a gift in Mary.

The human race is tainted by the sin of Adam and Eve and God the Father chose a spotless Virgin to be the Mother of His Son, the Mother of the Redeemer. Mary is a gift.

That is why God the Father said this in the beginning of His message January 18, 1997:

"Mary is a gift from Me, but you are willful and abuse the gift I send you."

It is good to read this message at this time, Apostles Manual, January 18, 1997.

end of August 3, 1999 message
Excerpt from August 3, 1999 message
Messenger: I ask the Magnificat appear here.

Luke 1: 46-55
The Magnificat

And Mary said:

My soul proclaims
the greatness of the Lord
and my spirit rejoices
in God my Saviour;
because he has looked upon
the humiliation of his servant.
Yes, from now onwards
all generations will call me blessed,
for the Almighty
has done great things for me.
Holy is his name,
and his faithful love extends age after age
to those who fear him.
He has used the power of his arm,
he has routed the arrogant of heart.
He has pulled down princes
from their thrones
and raised high the lowly.
He has filled the starving with good things,
sent the rich away empty.
He has come to the help
of Israel his servant,
mindful of his faithful love
--according to the promise
he made to our ancestors--
of his mercy to Abraham
and to his descendants for ever.
Messenger: There are generations of sin. Parents influence their children.
Now I understand more fully the statement in the Magnificat: "All generations will call me blessed".
In Mary's Immaculate Heart, we can unite in great purity to God. She is the Singular vessel of devotion,
Mystical rose,
Tower of David.
All generations must go through Mary.
At Mass tonight I wanted to beg for mercy for us, just beg for mercy from God for myself and this sinful race and all my ancestors.
I heard the words of the Magnificat about "He promised mercy to the children of Abraham". This consoled me because I am a child of Abraham and so are my children.
We must make reparation to the Hearts of Jesus and Mary and to God for the offering of ourselves being so tainted when it could be more pure through our deep consecration to Their pure Hearts.
We are pompous (this is what our Lord called us) because we are so prideful with God.
He sends a Redeemer. God gives Himself and so many reject His gift. Consider the Hearts of Jesus and Mary. It is conceit on our part to approach His altar with our impurities and ignore the pureness of Their Hearts. The Fatima message says Jesus wants His Heart and Mary's Heart honored together.
This is the age of the two Hearts. The offering of this age will be a more pure and holy sacrifice. The First Saturday devotion should be observed.
After Communion we offer a holy prayer when we are one in Him.
I want in the Mass to purely give myself to God. Mary did this better than any human person. We must put aside the other thoughts that distract us and try to focus on offering a pure sacrifice at the Consecration, offering ourselves as purely as possible in Their Hearts.
There is a fine line between being involved in a problem and letting go in order to pray and offer sacrifice. We must trust in Him, we want purity in that offering.
It is His will I work with others. It is not His will they use me and consume my time with their spiritual sicknesses when they make no effort to cure them. They go from person to person, pulling them down, when Jesus is there to really rescue them. Only He can heal them.
Some people in the Movement will continue to drag others down. The devil works through them to get our focus off of what we must do:
offering a pure sacrifice,
uniting our every minute to the Sacrifice of the Mass.
God is with us, let us beg for forgiveness and purity.
MARY'S PEACE PLAN

Pray the daily rosary.
Observe the First Saturday devotion.
Make reparation to Our Hearts.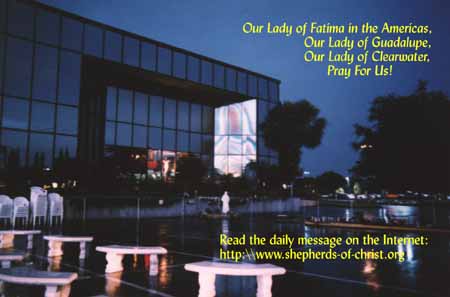 end of August 3, 1999 message
excerpt from August 2, 1999 message
Luke 2:22-24
Jesus is presented in the Temple
And when the day came for them to be purified in keeping with the Law of Moses, they took him up to Jerusalem to present him to the Lord--observing what is written in the Law of the Lord: Every first-born male must be consecrated to the Lord--and also to offer in sacrifice, in accordance with what is prescribed in the Law of the Lord, a pair of turtle doves or two young pigeons.
Messenger: Purification, that is what tainted man should seek. Many of us baptized Catholic were baptized as babies.

Through Baptism we receive a sharing in His divine life. The stain of original sin is removed, but we still have this fallen human nature to contend with. At the end of our lives we go to Him. Our time here is a time to be made more pure.

In Father Carter's Spirituality Handbook and in The Spirituality of Fatima and Medjugorje he speaks of consecration.

From the Spirituality Handbook: (This is also in the Apostles Manual, p.16-18.)

Excerpt from the Apostles Manual, p.16-18

Consecration to the Hearts of Jesus and Mary

To consecrate means to make sacred, to make holy. Only God can make a being holy. So to speak of our consecration is to speak of God's activity in making us holy, His activity of giving us a share in His own holiness. At Baptism we receive a share in God's life, a share in His holiness. Christ is the Mediator of this grace life. We are baptized into Christ, into His death and resurrection. In Baptism we become holy by sharing in the holiness of Christ. We become consecrated, sealed with the divine holiness. We belong to the Father, through Christ, in the Holy Spirit.

On our part, we must respond to God's consecration of us. We must live out the consecration of Baptism. We must realize what God has done for us in Christ and live according to this awareness. We need to live the life of holiness and grow in it. In other words, we must develop the life of grace, the Christ-life.

What God has done for us in Christ involves Mary. God has given us a Christ-life, our life of grace, and Mary is the Mother of this Christ-life. Consequently, living out our life of consecration to God - living out the Christ-life - includes allowing Mary to increasingly be the Mother of our Christ-life.

Consecration to Mary, therefore, is an aspect of our consecration to Father, Son, and Holy Spirit. It is entrusting ourselves entirely to her maternal love so that she can bring us ever closer to Jesus, so that we can increasingly live out our consecration to God in Christ.

At Fatima, Our Lady asked that we consecrate ourselves to her Immaculate Heart. Mary shows us her heart as a symbol of her love for God and us. She asks us to make a return of love to her, to consecrate ourselves to her, to give ourselves to her completely. She wants us to entrust ourselves to her completely so that she may help us love God and neighbor.

As stated above, consecration to Mary is an aspect of our consecration to God in Christ and she has asked for consecration to her Heart so that she may assist us. Christ, in turn, invites us to live out this consecration to Him through consecration to His Sacred Heart. We see the divine symmetry: consecration to the Immaculate Heart helps us to live out consecration to Christ Who reveals His Heart as symbol of His life of love in all its aspects, including His tremendous love for each of us individually. His Heart also asks for our love in return, a return which ideally is summed up in consecration to Jesus' Heart. Through this consecration we give ourselves completely to Jesus through the Immaculate Heart. In this consecration to Jesus, we promise to strive to live according to His Father's will in all things.8

Messenger: At Baptism, we are consecrated to God.

Our lives are a journey to deepen this life of consecration in the pure, holy Hearts of Jesus and Mary.

It takes our wills to give ourselves completely to God. This is what we are doing in the Shepherds of Christ, trying to do as our Lady requested at Fatima, giving ourselves in consecration to God.

end of August

2, 1999 message

excerpt from August 2, 1999 message
Messenger: By the waters of Baptism he received this special sharing of divine life as a baby as he was washed clean of original sin.

Christian burial, Christian Baptism, a soul no longer locked in original sin, a sharing in God's divine life.

God our Father, give to souls of this earth the grace to WILLINGLY serve You and give themselves to You.

This is consecration, the gift of self to God, the dying of the false self. Jesus gave Himself completely on the cross. He rose victorious on the third day. He came forth from the new tomb, Christ the first-fruits, Christ the Child of Mary. We are the children of Mary. She is our spiritual Mother, we are the children that come forth from her spiritual womb, her Immaculate Heart.

There is a tape on consecration. This message will be read on another tape entitled, "Consecration #2".

An end, a beginning, a short life here. Some live as if this life is their end. They do not see, their eyes are blinded, they hold on to the world. We need to work more and more to spread the consecration to the world. In the spiritual womb of Mary the Holy Spirit works with His spouse forming us more in the image and likeness of God and giving us lights that we will see. We need to see.

Mary speaks: Oh children, help me. I want my children to be children of light, that they will walk in the light.

Messenger: August 27, 1996 - Mary's Message , she wished to be played continually from her site in Florida.

Mary's Message from the Rosary of August 27, 1996

Mary speaks: I stood beneath the cross of my Son, and my Heart was in such pain for I saw Him before my eyes. I saw Him covered with blood. I saw Him die. My Heart, my children, my Heart to watch my Son, but my Heart, my Heart, how I suffered for my little children of the world that give in to this world and give up the love of my Son. O my little children of light, I give you this message. Carry this light into the darkness for your Mother Mary, for I stood beneath the cross and I cried. I cried for the little ones. I cried for the young ones, the ones that do not care and will lose their souls. How do I make you see for you will not listen to me? What can I do? I come. I appear. I beg. I plead. I give you these gifts from my Son, and you reject me. I do not deliver messages very often anymore for I have been ignored. The message is the same. You do not read the messages I have given to you. Please help me. Help the little children. I appear. I appear. I appear, and I am ignored. I stood beneath the cross, and I cried. I cried, and my Heart was in such anguish for my little children, for I am searching for them this day as I searched for the Child Jesus. Please, please help me. I cannot hold back the hand of my Son any longer. I am Mary, your Mother. I ask you to help my children. You are my children of light.

Song: O Lady of Light, shining so bright, be with us this day, guiding our way, O Lady, O Lady of Light.

Mary speaks: I appear to you as Our Mother of Sorrows.

From December 29, 1996 message from the Apostles Manual p. 174-176

Messenger: "...he who is your teacher will hide no longer, and you will see your teacher with your own eyes." (Isaiah 30:20)

Jesus speaks: Yes, I am the Teacher of Whom they speak and I will reveal to them the secrets of My Heart through these writings and the teacher will be brought to light as the children of light are conceived and brought forth from the womb of the woman.

She is the woman clothed as the sun. She is Our Lady of Light bringing forth her children into the world and the devil's deadly influence will be no more for, as children are conceived and dwelling within the Immaculate Heart of My Mother, she will smite the dragon and they will be protected, My children of light.

And they marched together, children of light and children of darkness and in the darkness you could hear the wailing cries go forth and the gnashing of teeth. They cried forth a brutal cry of death as they fell into the everlasting abyss of destruction and doom.

Oh, I warned them all. The Lady appeared, adorned in light. She coaxed them to come to her heart, the womb in which they would be transformed and know the light and they said, "No, my Lady, we need not your Immaculate Heart. We are tainted in our souls and we will remain children of darkness enveloped in our sins, for we wanted our world and your demands for purity were too high."


Messenger: How could we think Christ's last words on the cross were not important to us? In His dying moments, He gave us His Mother.

He came, our Savior, our King, our Almighty God. He took flesh in her womb, through the power of the Spirit, He was carried in her arms as a helpless baby, He went to the temple and there Simeon said..."Now Master, you can let your servant go in peace, just as you promised; because my eyes have seen the salvation which you have prepared for all the nations to see, a light to enlighten the pagans and the glory of your people, Israel." (Luke 2:29-32), and "..You see this child: he is destined for the fall and for the rising of many in Israel, destined to be a sign that is rejected--and a sword will pierce your own soul too--so that the secret thoughts of many may be laid bare." (Luke 2:35).

Israel, being the holy city in which He built His temple, in which He lived, in which the Blessed Virgin walked and talked and carried the Son of God in her womb.

For nine long months she carried Him within her womb. Oh children of Mary, some of you listen to His dying words on the cross, some of you do not hear. And darkness covered the earth. For as Simeon predicted, this child is destined for the rise and fall of many in Israel. Many would reject their Mother. The Lady, clothed as the sun, the woman that carried the Light within her womb for those long nine months while He was formed within her body through the Holy Spirit, the Comforter, the Counselor, the One who is forming the Church into all it is to be.

Christ showed us the way.

Jesus speaks: I came in this woman. The Holy Spirit sanctifies and makes holy. I, who am God Almighty, perfect holiness, comes in this holy womb and I am born the Light of the World. My Light shines on that night, the day of My birth. I lived and I was carried and I was so close to this woman of light, the one chosen by the Father. I stuck close to her. So important were those years I walked the earth for I showed you, I walked hand-in-hand with you, My creatures, always by the side of Our Mother, your Mother and Mine.

So you think you needn't heed her warnings and her call for purity and prayers? You think she appears over and over again and the Father, Myself, the Son, and the Holy Spirit are pleased with your pride and the audacity found in your hearts? Do you think that you can ignore your Mother and Mine--a gift I gave you at My death? Do you think you can ignore the spouse of the Holy Spirit, the temple in which He dwelt to bring forth the Son of God? Do you think, oh wicked men, that you can ignore Mary, your Mother, the gift I give you on My death bed, the throne they hung Me on? You think, oh audacious men, that My hand will not strike you and smite your pleasure-seeking bodies, when I gave you the greatest riches, the greatest treasures and you spit on Me and walked away!

You have now ignored My Mother and Me. Oh, sinful world, and you will suffer a fate far worse than any chastisement I once planned, to turn you around. She came, the Lady of Light for 14 months, every day and you ignored her and said, "Not I, my Lady, I am wanting for the world."

You did not see her stand at the foot of My cross and see her weep for in her heart she knew from the prophecy of Simeon that some of her children would rise and some would fall and she knew, under the cross, before I officially gave you My Mother in My dying words, that many of her beloved children would be lost forever and she knew the fate to come.

For the hell you will have, oh children of darkness, those who refused the grace-filled womb of My Mother and yours, the hell you will experience is forever! For a few pleasures in the world below you said 'no' to the Lady clothed as the sun and the dragon came and he wiped you off the face of the earth and he took you home with him. You did not go to the heavenly home I had planned for you where there is eternal light and life. You went to the anguishing pit of darkness and she heard your cries, anguishing cries under the cross--her little children--and she cried, "I stood beneath the cross of My son and I cried."

Messenger: Consecration

In the Mass we give ourselves completely to God and unite with the priest and with Jesus, Chief-Priest and Victim, in that Sacrifice of Calvary sacramentally made present.

Jesus speaks: There are special graces granted to the whole world when you, baptized members of the Body of Christ, give yourselves to God at the consecration of the Mass. Your lives should be lived united to the Mass at every second. Your life is not yours. You should willingly give yourselves to God.

I beg, beg, beg you to listen to My Mother and her Fatima message and to help Me to spread the prayer chapters and priestly newsletter throughout the world.

Revelation 12:1-2

Now a great sign appeared in heaven: a woman, robed with the sun, standing on the moon, and on her head a crown of twelve stars. She was pregnant, and in labour, crying aloud in the pangs of childbirth.

Revelation 12:10-11

Then I heard a voice shout from heaven, 'Salvation and power and empire for ever have been won by our God, and all authority for his Christ, now that the accuser, who accused our brothers day and night before our God, has been brought down. They have triumphed over him by the blood of the Lamb and by the word to which they bore witness, because even in the face of death they did not cling to life.

1 Corinthians 15: 21-25

As it was by one man that death came, so through one man has come the resurrection of the dead. Just as all die in Adam, so in Christ all will be brought to life; but all of them in their proper order: Christ the first-fruits, and next, at his coming, those who belong to him. After that will come the end, when he will hand over the kingdom to God the Father, having abolished every principality, every ruling force and power. For he is to be king until he has made his enemies his footstool,

end of excerpt from August 2, 1999 message
June 16, 2003
Messenger:
Obedience
Psalm 40: 7-8, 9-10, 17
then I said, 'Here I am, I am coming.'

In the scroll of the book it is written of me,
my delight is to do your will;
your law, my God,
is deep in my heart.

I proclaimed the saving justice of Yahweh
in the great assembly.
See, I will not hold my tongue,
as you well know.

I have not kept your saving justice locked in the depths of my heart,
but have spoken of your constancy and saving help.
I have made no secret of your faithful and steadfast love,
in the great assembly.

Poor and needy as I am,
the Lord has me in mind.
You, my helper, my Saviour,
my God, do not delay.
June 16, 2003 message continues
Messenger:
Purity
Oh the truth — the sweet truth —
Not to stretch the truth and make

others wrong and myself right —

To ask God for the grace to speak

when it is necessary and be

silent when it is necessary —

to be holy — truthful
Psalm 40: 2-4
He pulled me up from the seething chasm,
from the mud of the mire.
He set my feet on rock,
and made my footsteps firm.

He put a fresh song in my mouth,
praise of our God.
Many will be awestruck at the sight,
and will put their trust in Yahweh.

How blessed are those
who put their trust in Yahweh,
who have not sided with rebels
and those who have gone astray in falsehood.
Psalm 51: 12-13, 14-15, 16-17
Give me back the joy of your salvation,
sustain in me a generous spirit.
I shall teach the wicked your paths,
and sinners will return to you.

Deliver me from bloodshed, God, God of my salvation,
and my tongue will acclaim your saving justice.
Lord, open my lips,
and my mouth will speak out your praise.

Sacrifice gives you no pleasure,
burnt offering you do not desire.
Sacrifice to God is a broken spirit,
a broken, contrite heart you never scorn.
June 16, 2003 message continues
Messenger: What do I use my mouth for?
Is it really love of my brothers?
Psalm 12: 2-3, 4-5, 7-8
Friend tells lies to friend,
and, smooth–tongued, speaks from an insincere heart.

May Yahweh cut away every smooth lip,
every boastful tongue,
those who say, 'In our tongue lies our strength,
our lips are our allies; who can master us?'
'For the poor who are plundered, the needy who groan,
now will I act,' says Yahweh,
'I will grant salvation to those who sigh for it.'

Yahweh's promises are promises unalloyed,
natural silver which comes from the earth seven times refined.

You, Yahweh, will watch over them,
you will protect them from that brood for ever.
The wicked will scatter in every direction,
as the height of depravity among the children of Adam.
Psalm 19: 8-10, 14
The precepts of Yahweh are honest,
joy for the heart;
the commandment of Yahweh is pure,
light for the eyes.

The fear of Yahweh is pure,
lasting for ever;
the judgements of Yahweh are true,
upright, every one,

more desirable than gold,
even than the finest gold;
his words are sweeter than honey,
that drips from the comb.

May the words of my mouth always find favour,
and the whispering of my heart,
in your presence, Yahweh,
my rock, my redeemer.
Psalm 119: 165, 168, 171, 172, 174, 175
Great peace for those who love your Law;
no stumbling–blocks for them!

I observe your precepts, your judgements,
for all my ways are before you.

May my lips proclaim your praise,
for you teach me your will.
May my tongue recite your promise,
for all your commandments are upright.

I long for your salvation, Yahweh,
your Law is my delight.

May I live only to praise you,
may your judgements be my help.
June 16, 2003 message continues

Messenger: How often we judge others and we should not.

Jesus speaks:

Oh My people — I call you to love.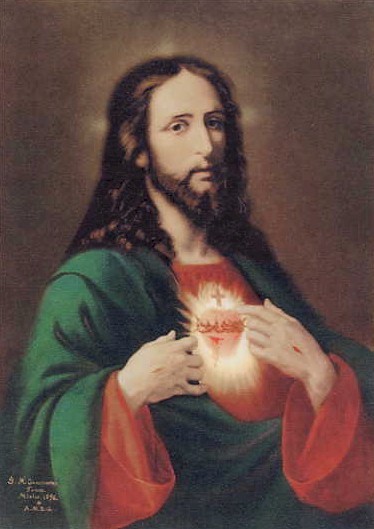 June 16, 2003 message continues
Messenger: Come Holy Spirit fill me with the fire of
Your love.
Jesus speaks: What I desire is you make special acts
of love to Me in this month of
the Sacred Heart.
Faithfully use the prayers at 6:20 as
a Novena — 9 days before My
Special Feast.
Next Sunday is celebrated the Most Precious
Feast of My Body and Blood.
In the ending days of the Month of
My Sacred Heart pray that I
will be King and Center of the
Hearts of the people of this earth.
Many serve Me by trying to spread
My Kingdom with a tainted attitude. Do
not punish others for your own disappointments.
I send messages to help bring about the
Reign of My Sacred Heart, an era of
love. Some use their religious life
as a business, hurting others and
manipulating, I want you to strive to
do the Will of God in all things. This
is your measuring stick.
What does God want me to do?
Pray to let go of your game playing
and negative ways. Some do not tell themselves
the truth, they hurt others when they are
hurt, looking for a scapegoat for their own
bad mood. Be honest with yourself — do
God's will. Suffering is suffering, when you
must suffer a certain trial and you feel
I am allowing this trial, offer up your
sufferings. I showed you how I suffered.
Do you feel better when you take the baggage
off your back and put it on another's, just
because you were disappointed in love or
sports, family or work.
Your measuring stick is — am I acting like
Christ in how I handle disappointments or do
I try to hurt others because I don't feel good.
Do I try to gain power with others if I think I
am losing power in a family situation
or at work.
Little children are so pure. They need to grow
up in an atmosphere of love. They need to
feel secure.
The more you show real love, genuine
love doing God's will to your children, the
more light you will spread to the world.
Love is not jealous —
1 Corinthians 13
Though I command languages both human and angelic—if I speak without love, I am no more than a gong booming or a cymbal clashing. And though I have the power of prophecy, to penetrate all mysteries and knowledge, and though I have all the faith necessary to move mountains—if I am without love, I am nothing. Though I should give away to the poor all that I possess, and even give up my body to be burned—if I am without love, it will do me no good whatever.

Love is always patient and kind; love is never jealous; love is not boastful or conceited, it is never rude and never seeks its own advantage, it does not take offence or store up grievances. Love does not rejoice at wrongdoing, but finds its joy in the truth. It is always ready to make allowances, to trust, to hope and to endure whatever comes.

Love never comes to an end. But if there are prophecies, they will be done away with; if tongues, they will fall silent; and if knowledge, it will be done away with. For we know only imperfectly, and we prophesy imperfectly; but once perfection comes, all imperfect things will be done away with. When I was a child, I used to talk like a child, and see things as a child does, and think like a child; but now that I have become an adult, I have finished with all childish ways. Now we see only reflections in a mirror, mere riddles, but then we shall be seeing face to face. Now I can know only imperfectly; but then I shall know just as fully as I am myself known.

As it is, these remain: faith, hope and love, the three of them; and the greatest of them is love.
Definition of Love
The definition of love used by
Father Carter is as follows.

Love is the gift of self to promote the true good of those loved. He states the reception of love is the receiving of the gift of the other, so my good will be promoted.

June 16, 2003 message continues

Jesus speaks: Love is not selfish

Love

February 5, 1994

R. Love is not selfish. It does not demand its own way. It lives for the good of the other.

Love is from God. Love has its source in God. If love in any way separates the two people from God, it is not love. If I love God and know His love, I can give His love to you.

Love comes from a place of strength. It has its origin in God. It is rooted in Him and is a natural expression of one's self because of the person's union with Him. Love is giving. Love is never selfish and demanding.

If I need you to love me, then I am asking you to feed the appetite in my soul. Only God can feed the soul. If you love me, I am very grateful to God for your love, but I do not need it. I am okay if you stop loving me. I may feel sorrow and pain, but I am okay because all love that feeds me comes from God and He never withdraws His love.

Jesus: "Oh," you say, "this is the ideal." "No," I say, "this is love." Love rooted in Me gives. To My death on the cross I gave My love for you. I never demanded you give Me anything. You have a free will. Love is not force. I gave you the commandments to live by. Love God, love one another. You can choose to disregard the commands and love no man. Love does not demand its way. I give to you My love freely. You can accept My love or reject it. You were created with the purpose to know, love and serve God. If you follow other roads, your heart withers and dies. You have a free will to love or not to love, but, if you do not, you are going against the very reason for your being. To live in harmony with yourself and your soul you must love God and your brothers. If you do not love God first, and your brothers, you live a life of discord.

I make all things happen for him who loves and serves the Lord. I am He Who has all the power. I am the Master. You are My beautiful children. You I loved and still love this very day. I give freely My love to you. I wait in the tabernacle for you like an ardent lover. I loved you to My death. I give Myself to you in Communion. Do you know that I, God, give Myself, Body and Blood, Soul and Divinity, to you.

Meditate on My Passion. I am waiting for your love. I love you so much. I long for your love. I want to be with you. You are keeping us apart. You are the reason we are not sharing this intense love. I am always available. Where are you? What could be more important than your time spent alone with God. Seek Me and this union and you will have all you need.

I am Jesus. I am your love. I come to you with such love. Come, My beautiful ones, come and give Me your love.

You stay away and I lament your absence. I loved you to My death. I am the source of love. Come to Me and be filled.

end of February 5, 1994

Use Your Talents

October 3, 1993 Chicago Marian Conference 11:30a.m.

Jesus speaks: I am your Savior, Son of the Living God. I come to you that you might have life, not as the world gives you life, but My life which is life eternal. I carved you from My special carving and made you little less than an angel. I love you and cherish all the moments when you, My special child, come to sit with Me. I wait here and I hope you will choose to come, but I never force you. Your will is totally free and I give it to you because of My love and the will of the Father. I inform you in numerous ways. You do not have to guess and wonder. Come be with Me in this silence and all you need to know will be told to you. Your life is unfolding as a beautiful rose. Each petal falls and you plant My odors about as I so desire. I make your life full and sure as you trust in Me. No need for worrying, My little flower. My ways give you freedom if you listen to your heart. I am a personal God and you know Me as giving you fullness and life. You know there is some magnetism to Me and the way you crave to be part of Me. This is the work of the one, true God Who created you with a thirst that can only be quenched by Me. All roads that lead to Me give you fullness, worth, peace and joy, not as the world thinks, but as you yourself know true peace and joy. When I really touch you, you do not remain the same. I shed My Blood for you that you will have the life only I can give. What friend in this world would die for you? You, My child, were worth My dying for. I came that you will have life eternal and the gift I give is My Precious Blood for your sins. Come to Me in trouble and when you are bowed down. Come to Me in joy. Come to Me every day that you live and I will give you all you need. Seek to know Me more and more. Knowledge of Me, being with Me, are the only way to perfect peace. They lead to eternal life.

I have a divine plan for you. I created you with special gifts and talents to be used to do My work. They are not for your own self-promotion. You, My child, are nothing except as I created you. Why try to promote yourself? It is none of your own doing. I gave you the talents you are using. You had nothing to do with it. These talents were given to you to do My work. To use these talents to make yourself feel better than your brother is indeed a sin. You must realize they are loaned to you to work for Me. As you give someone a car, or loan them a place to stay, I loan you your talents to use to work for Me. If you do not work for Me and use them to make yourself better than your brother, you are offending Me. Likewise, if I give you talents and you do not use them because you think you are not as good as your brother, you are not being thankful to Me for My gifts to you. You are not using My gifts and that offends Me greatly. Each person was created by Me to do My work. Each person has all he needs to do My work. To be envious of others is fruitless. They have their job. You have yours. You are not supposed to do their work. That is why you were not given their talents.

Do your own work. Don't be envious of your brothers. Don't hide your talents. You did not earn them. I gave you your talents. You must sing because I will it. Others must do as I will them to do. It displeases Me to give you a gift and watch you hide it and make light of it. I give the gift. You must use all your gifts. They were given to you to do My work. Your brother has his gifts. Be grateful for your brother and he should be for you. You are all chosen by Me for a special mission. You know what to do. It feels right. I plant little seeds in your heart and all you do that is for you in the end feels right. You are not to be doing your brother's work or he yours. Talk to Me that you might know just what your work is and do it.

Do not hide your talents. Praise your God Who gave you these talents. Embrace and use them. This is not pride. This is My plan. I love you. I give to each of you, My precious children, as a mother who buys special Christmas gifts for each child. To buy gifts all the same for all your children is not to respect their specialness, their individuality.

Oh, I love you, little ones, so much. Please come to Me. I am so good and I wait to be with you and share My love with you. Come now. This is your top priority. All else will work when you come to Me first. I love you. You are My chosen children. Come and be filled and I make your loads light and I fill you with the Spirit of Salvation.

All roads that lead to Me are the right roads. Praise Me for I am good and I love you, little dear ones.

end of October 3, 1993
June 16, 2003 message continues
Jesus speaks: Some people want to block the Plan because
of their jealousy.
If I ask you to sing and give you the talent
you should sing. If I give you other gifts
you should use them.

Do My Work

October 17, 1993

Jesus speaks: I come and you open the doors of your heart. I enter and you are made whole. Your hungry soul thirsts for only that which I can give. Open the gates. Let Me enter and wash you with My Blood. My Blood is the Blood of salvation. Nothing in this world can compare to My Blood. It is there for you, it cleans you, it feeds you. It is your all. Come and be nourished by Me. I have all you need.

Your time is not your time. I loan it to you. I loan you your time to do My work. This is your day, but it is My day to work in you. You are doing as you ought. You feel tired and worn out and you wonder why. My work is work. It is not a puffy little job. It is a big job. It is the most important thing you do. You keep doing My work and then wonder why you are exhausted. My work is hard. It is struggling up a hill in a world that has lost its way. People are closed. The world is pulling you everyplace but to Me and then you wonder why the exhaustion. You pray many hours a day and talk many more trying to sell My wares. It is hard work. People reject you. They are closed. They are not of Me. They are all busy with their stupid earthly lives. I sit and watch and they are so blind. What good does it do a man to run down a road if it is the wrong one. Hold tight, My little flower. You are doing My work and it is tedious. It is hard work. It is the best work to do. Do not wear yourself out talking on the phone. Plant My seeds and be on your way. Others must do their own seeking of Me. You only lead them to the water. You do not have to stand around and see if they will drink or not and prompt them to do so. They must read My messages and come to Me for their feeding.

You do not feed your brothers all their food. You plant the seeds. They come to Me and they are fed by Me. Hold tight to all you are doing. It is hard, hard work. I am giving you strength. Each day is a day's work, indeed. No one but I knows how much work you do in a day. You have touched a lot of hearts in one day. Be glad as each day unfolds. Be glad I am using you as My instrument to reach many. Know that this is work. You should be tired at the end of the day. I am your God and I love you, My little one. I play the organ at Mass with you. I love the music. I love people to sing. It is of great comfort to Me and My mother for all the singing. Keep singing and playing. It is so soothing to our hurt hearts. I love to hear My children sing. I love you all so much!

Keep spreading My word and doing My work. You feel tired because it is indeed work, but I will supply you with extra energy and blessings for all you do. I need you to do this work for Me. You always bounce back and go full steam ahead. That is Me! All of a sudden you are refreshed and wonder what happened. The spirit is willing but the flesh is weak, but I have all the power. The very hairs of your head are numbered. I give you strength when you are doing My work. Oh, how I love you. I am pleased with your work. Your weariness is worth it. I will give you a bath in My love and you will go and feel like flying. I am your love, little, one. Thank you.

end of October 17, 1993
June 16, 2003 message continues

Jesus speaks:

AND BE THANKFUL

Don't give into the negative thinking

of the devil.

Be holy and loving.

The month of Mary is to help you to

model your lives after Our lives.

Pray the Rosary and meditate on

how I lived and pray for grace

to model your life after Our lives.

I want the Sidney Rosary tomorrow

June 17, 2003 at 6:20.

Pray for the Reign of My Sacred Heart.

Sing the Litanies, pray with great devotion to

Our Two Hearts.

Sing songs to My Sacred Heart and

Sing to your Mother Mary.

Pray in the middle of this month that

the people of the earth will

recognize Me as the Son of God and

will honor and love Me.

I love you so very much.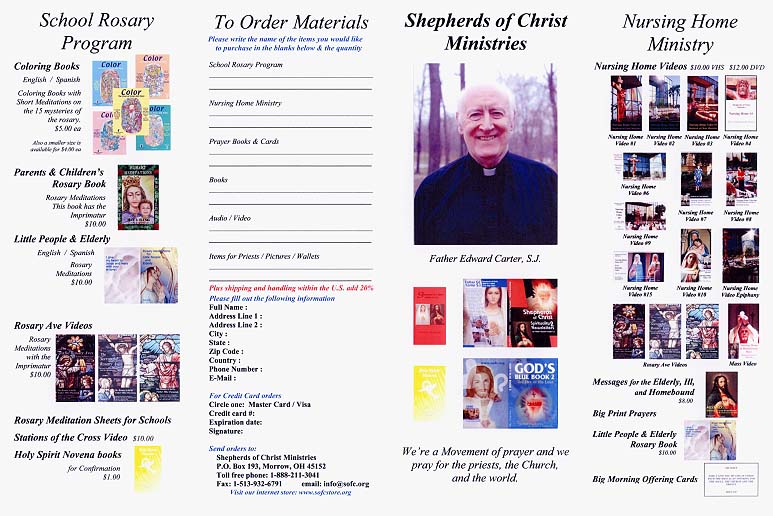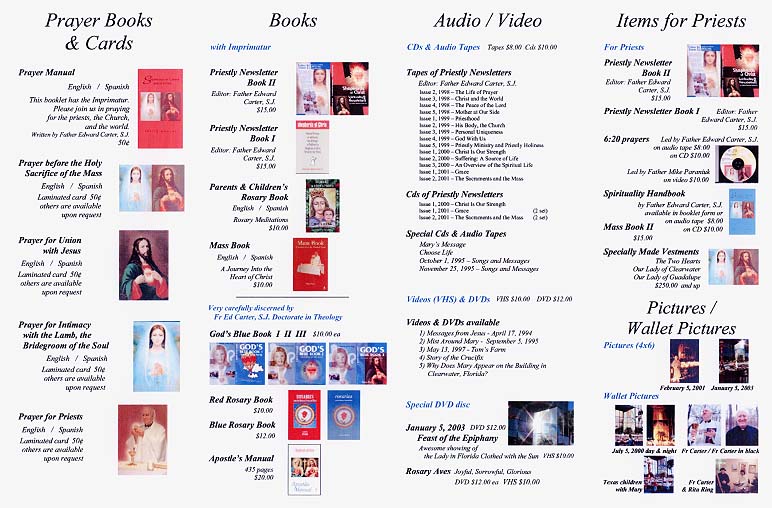 We're desperately in need of funds.

Envelopes are ready
to be mailed for priests
but we don't have
any postage money.
We need money for the
English speaking priestly mailing.
You can put it on your credit card,
call Morrow.

Shepherds of Christ Ministries
P.O. Box 193
Morrow, OH 45152

(toll free) 1-888-211-3041
1-513-932-4451
---
---
---

Copyright © 200

3 Shepherds of Christ.
Rights for non-commercial reproduction granted:
May be copied in its entirety, but neither re-typed nor edited.
Translations are welcome but they must be reviewed for moral and
theological accuracy by a source approved by Shepherds of Christ Ministries
before any distribution takes place. Please contact us for more information.
All scripture quotes are from the New Jerusalem Bible, July 1990, published by Doubleday.
Revised: June 16, 2003
URL: http://www.sofc.org
Contact Information for Shepherds of Christ
Email: info@SofC.org
---
Shepherds of Christ Ministries
P.O. Box 193
Morrow, Ohio 45152-0193

Telephone: (toll free) 1-888-211-3041 or (513) 932-4451
FAX: (513) 932-6791