Mary has requested that the daily message be given each day to the world. It is read nightly at the prayer service from her Image Building in Clearwater, Florida, U.S.A. This is according to her request. All attempts will be made to publish this daily message to the world at 11 p.m. Eastern time, U.S.A.

---

We acknowledge that the final authority regarding these messages rests with the Holy See of Rome.

---
June 18, 2000 - The Feast of the Holy Trinity
---
A Prayer for Intimacy with the Lamb, the Bridegroom of the Soul

Oh Lamb of God, Who take away the sins of the world, come and act on my soul most intimately. I surrender myself, as I ask for the grace to let go, to just be as I exist in You and You act most intimately on my soul. You are the Initiator. I am the soul waiting Your favors as You act in me. I love You. I adore You. I worship You. Come and possess my soul with Your Divine Grace, as I experience You most intimately.
---
Messenger: Include Our Lady of the Holy Spirit Center in 6:20 prayers.
---
Messenger: My heart burns with love of God, Father, Son and Holy Spirit.
My heart feels so connected to each person of the Trinity, Father, Son and Holy Spirit. I know them as three persons in one God.
ENLIGHTEN US, OH HOLY SPIRIT, TO COMPREHEND MORE FULLY THE MESSAGE GIVEN HERE.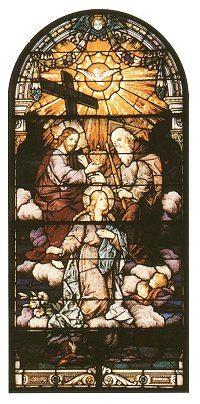 Revelation 1: 8
'I am the Alpha and the Omega,' says the Lord God, who is, who was, and who is to come, the Almighty.
---
Jesus speaks: THESE MESSAGES COME FROM GOD TO ENLIGHTEN YOU. PRAY TO UNDERSTAND MORE FULLY THE MYSTERY OF GOD'S LOVE. Pray for grace to understand more fully the mystery of the Trinity and to know each Person more fully, to love them and to know God as one Divine Supreme Being.
Messenger: From today's first reading and Gospel at Mass.
---
Deuteronomy 4: 32 - 34, 39 - 40
The glory of having been chosen by God
'Put this question, then, to the ages that are past, that have gone before you, from when God created the human race on earth: Was there ever a word so majestic, from one end of heaven to the other? Was anything like it ever heard? Did ever a people hear the voice of the living God speaking from the heart of the fire, as you have heard it, and remain alive? Has it ever been known before that any god took action himself to bring one nation out of another one, by ordeals, signs, wonders, war with mighty hand and outstretched arm, by fearsome terrors—all of which things Yahweh your God has done for you before your eyes in Egypt?
Hence, grasp this today and meditate on it carefully: Yahweh is the true God, in heaven above as on earth beneath, he and no other. Keep his laws and commandments as I give them to you today, so that you and your children after you may prosper and live long in the country that Yahweh your God is giving you for ever.'

---
Matthew 28: 16 - 20
Appearance in Galilee
The mission to the world
Meanwhile the eleven disciples set out for Galilee, to the mountain where Jesus had arranged to meet them. When they saw him they fell down before him, though some hesitated. Jesus came up and spoke to them. He said, 'All authority in heaven and on earth has been given to me. Go, therefore, make disciples of all nations; baptise them in the name of the Father and of the Son and of the Holy Spirit, and teach them to observe all the commands I gave you. And look, I am with you always; yes, to the end of time.'
---
---
June 18, 2000 - AN EXPLANATION
Messenger: For three days Jesus stressed the importance of putting on the message, June 18, 1998. It may be the strongest message I ever received.
I ask you to pray for grace to read the messages of these days and for enlightenment by the Holy Spirit.
God wants a body of men praying fervently for the renewal of the Church and the world. If one person doesn't do what he is supposed to, it affects the whole body. To get the job done as the Father wills, we must all pray fervently the Our Father and try at every moment through the help of the Holy Spirit to live according to His will. One act of willful behavior affects everybody else. We are a body working together to do as the Father wills us to do.
On June 18, 1998, I received the message that appears on the daily messages June 17, 2000. Please see the Divine God and the plan of the Father for peace and harmony amongst the children of the earth. See the God that made the earth, the light and the darkness, see the all powerful, Almighty God and see the blindness of the children of the earth and how they are acting. See how many ignore God and disobey his commandments and do not recognize God as their Father. Then read the message, June 18, 1998 and listen to the words of Jesus and the Father. God wants us one, living as little children of the Father and of Mary. We are sinning, many disobeying God and ignoring Him.
The message of June 18, 1998, June 19, 1998 and June 20, 1998, the Eve of the Feast of the Sacred Heart, the day of the Feast of the Sacred Heart and the Feast of the Immaculate Heart were three important messages Jesus said to study together.
I have been told to put on the message of the Feast of the Sacred Heart today. It follows.
Jesus also instructed this week to see these messages as interlocked, including the messages of June 13, 2000, June 14, 2000, June 15, 2000 and June 16, 2000. He said to pray to the Holy Spirit for enlightenment.
What follows here is the message of Jesus on the Feast of the Sacred Heart, June 19, 1998. The fires would then rage in Florida in late June reaching a very dangerous stage when we flew to Florida for July 5, 1998. Please study the messages, pray for grace and understanding.
---
June 19, 1998 - Feast of the Sacred Heart

Messenger: God created us to be one, one with each other, but sin entered the world. We walk around and we disconnect in our thoughts from others, then wonder why we don't feel good, why we don't feel connected.

God is love, He created all, He loves all, He loves all so much that He died for each and every person. He walked the earth, He was connected to all in His Heart.

He shows us that the devil tried to even tempt God.

---

Matthew 4: 1 - 11

Testing in the desert

Then Jesus was led by the Spirit out into the desert to be put to the test by the devil. He fasted for forty days and forty nights, after which he was hungry, and the tester came and said to him, 'If you are Son of God, tell these stones to turn into loaves.' But he replied, 'Scripture says:

Human beings live not on bread alone
but on every word
that comes from the mouth of God.'

The devil then took him to the holy city and set him on the parapet of the Temple. 'If you are Son of God,' he said, 'throw yourself down; for scripture says:

He has given his angels orders about you,
and they will carry you in their arms
in case you trip over a stone.'

Jesus said to him, 'Scripture also says:

Do not put the Lord your God to the test.'

Next, taking him to a very high mountain, the devil showed him all the kingdoms of the world and their splendour. And he said to him, 'I will give you all these, if you fall at my feet and do me homage.' Then Jesus replied, 'Away with you, Satan! For scripture says:

The Lord your God is the one

to whom you must do homage,
him alone you must serve.'
Then the devil left him, and suddenly angels appeared and looked after him.
---
Messenger: In the Our Father we pray, "and lead us not into temptation."

We walk the barren land and it is filled with sin and disharmony, willfulness, people not living according to the Father's will.

Christ walked the earth in similar circumstances. We can choose dividing thoughts with everyone or connecting thoughts.

When they beat Him and pushed at Him, He continued to love them. This is His way, it is the way of connection and love.

He is the way, we follow the Divine God that walked the earth, we live by the word he spoke on this earth, the word He gave in the Bible.

We follow Him, we live in truth. The more we dwell in His Heart the more the truth is alive in us.

The devil constantly accuses in our heads. He accuses us of crimes we did not commit, he accuses others of things they did not do. His game is division, whereas God's way is truth, love and life, the devil's way is lies and division. His way is not life in God, but life disconnected from God, life that gets its joy from the things of the world alone.

Let us observe ourselves. We seek to love, love God, love one another, love ourselves. Do we love our body because it is God's will, do we sleep because God wishes us to care for ourselves and to do His work? We are pleasing God when we take time to care for ourselves for the right reasons. Or is our whole focus in caring for ourselves to gain something from the world, acceptance, love, for others to see us as really great and beautiful.

We are great and beautiful, but it is because of God, we are precious to Him. Is our focus on pleasing God, or is it for vain glory, to give us acclaim here?

I am not saying that we should not try to look good for our loved ones, but underlying is the emphasis on God and pleasing Him. If I look good, it will be pleasing to God, not if I look good people will love me and then I will get ahead in the world.

We dress for God, we dress to be His servants, we do not ever dress for vain glory, for ourselves to be as gods.

IS God our God, or are we our god?

There is a time and place and an attitude for everything we do.

The devil's work is to take the focus off of God and make the focus worldly for vain glory.

In every moment we must keep the connection to God. Never do we really part from Him, because He is alive in us and we are acting in His name.

Are we worldly or Godly?

Jesus speaks: You have now entered a room, child. You are in service of Me. You scan the room and you see your fellows. Do you see yourselves as all one, all operating in the Father's plan for the honor and glory of God?

Messenger: But Jesus, I see a lot of people and they are sinning.

Jesus speaks: Do you see the eyes of God on the men as they operate and perform their daily duties? Do you see the eyes of God on you?

God knows the evil that exists in the world. God came, He walked the earth, His Heart always loving each soul, His Heart always living in the truth.

You do not judge, then condemn them, and then say, "I am not like them."

You love them, you see the sin, you instruct your children and you pray for them that they will not continue to sin.

You are not here to sentence your brothers, you are here to love them.

Sick children are cared for by parents. Sick children are still loved.

Your brothers are sick, your hearts must always be focused on the truth and always be hearts likened to Mine.

See yourselves as one with a common purpose, all working together to produce a common end, the bringing about of God's kingdom.

In the Mass you join as one with sorrow in your heart for the offenses against God. You see yourselves as a people offending your God. You see your individual sins, you see that as a people the whole world has sinned against God and you are sorry, really sorry before God.

You come to offer sacrifice for your sins. It is the sacrifice most pleasing to God, it is the Blood of the Lamb.

When you pray as a people, do not pray separately. Connect your hearts and pray as one body.

This is what I have taught you in the Shepherds of Christ, to pray as one body. It is immensely powerful. When you join as a body on the 13th, the flood gates of heaven open wide and grace is poured on the barren earth below. In China, Indiana, I give you the mural above the altar. God is so present to the earth and you squander the gifts God gives you, the ability to offer sacrifice, the sacrifice being the Blood of the Lamb, and you do not come united to offer the sacrifice for adoration, reparation, petition, and thanksgiving given to God.

I have taught you My ways, My children.

I am the Way, the Truth and the Life. You come, you hear My voice and you follow Me.

It would be well for you, a country of stiffs, plodding and planning and always wanting more, to study My way. Learn the ten commandments well and live by them. Know My Word alive in you. Cast your old ways into the sea and follow the Master.

The serpent wants to be the master of your life. He wants your soul given to him.

You think you are free men when you willfully follow Satan, when is fact freedom comes only in following the lead of the Master, Jesus Christ.

His way is the way of truth and love rooted in the commandments and the Word.

Look at yourself, men. I came and walked the earth for love of you to show you My way.

You must see yourselves as One Body. My Heart loves all men. On this Feast of the Sacred Heart, I address you, My Shepherds of Christ. Walk My way and come and follow Me.

I am the Way, the Truth and the Life. You are My shepherds, I am the Chief Shepherd, all authority is under Me.

You do not operate for power and glory, you operate in My name. The world operates in their own name, they make themselves gods and do as they please. You, My shepherds, act in My way, you speak My word.

Men hear My voice and they follow Me through the work you are doing.

Harken to Me. I speak the truth. You must follow Me. I am the Way, the Truth and the Life. I am Jesus, the Sacred Heart of Jesus. My prayer, that they will be one.
---
John 17: 9 - 26

It is for them that I pray.
I am not praying for the world
but for those you have given me,
because they belong to you.
All I have is yours
and all you have is mine,
and in them I am glorified.
I am no longer in the world,
but they are in the world,
and I am coming to you.
Holy Father,
keep those you have given me
true to your name,
so that they may be one like us.
While I was with them,
I kept those you had given me
true to your name.
I have watched over them
and not one is lost
except one who was destined to be lost,
and this was to fulfil the scriptures.
But now I am coming to you
and I say these things in the world
to share my joy with them to the full.
I passed your word on to them,
and the world hated them,
because they belong to the world
no more than I belong to the world.
I am not asking you
to remove them from the world,
but to protect them from the Evil One
They do not belong to the world
any more than I belong to the world.
Consecrate them in the truth;
your word is truth.
As you sent me into the world,
I have sent them into the world,
and for their sake I consecrate myself
so that they too
may be consecrated in truth.
I pray not only for these
but also for those
who through their teaching
will come to believe in me.
May they all be one,
just as, Father, you are in me
and I am in you,
so that they also may be in us,
so that the world may believe
it was you who sent me.
I have given them the glory
you gave to me,
that they may be one as we are one.
With me in them and you in me,
may they be so perfected in unity
that the world will recognise
that it was you who sent me
and that you have loved them
as you have loved me.

Father,
I want those you have given me
to be with me where I am,
so that they may always see my glory
which you have given me
because you loved me
before the foundation of the world.
Father, Upright One,
the world has not known you,
but I have known you,
and these have known
that you have sent me.
I have made your name known to them
and will continue to make it known,
so that the love with which you loved me
may be in them,
and so that I may be in them.
---
Messenger: Christ is all perfect. He is love.

We are imitators of Him. We are acting, we are in the state of becoming more like Him.

Christ is the all perfect One.

We tend to focus on the self, how we look to others. Our focus must be on how we are pleasing Him and not others, how we are imitators of Him. We serve others because He loves them and we love them. To love Him is to love all others.

There are three Persons in one God.

We were created to act in great love.

We were created to be persons existing in oneness.

The world does not recognize the plan of the Father. They do not see the Heavenly Father, the Heavenly Mother and the people of the earth as brothers and sisters in Him, in the Father's holy, happy family.
(End of June 19, 1998 Message)
---
Mary's Message from the Rosary of August 27, 1996
Mary speaks: I stood beneath the cross of my Son, and my Heart was in such pain for I saw Him before my eyes. I saw Him covered with blood. I saw Him die. My Heart, my children, my Heart to watch my Son, but my Heart, my Heart, how I suffered for my little children of the world that give in to this world and give up the love of my Son. O my little children of light, I give you this message. Carry this light into the darkness for your Mother Mary, for I stood beneath the cross and I cried. I cried for the little ones. I cried for the young ones, the ones that do not care and will lose their souls. How do I make you see for you will not listen to me? What can I do? I come. I appear. I beg. I plead. I give you these gifts from my Son, and you reject me. I do not deliver messages very often anymore for I have been ignored. The message is the same. You do not read the messages I have given to you. Please help me. Help the little children. I appear. I appear. I appear, and I am ignored. I stood beneath the cross, and I cried. I cried, and my Heart was in such anguish for my little children, for I am searching for them this day as I searched for the Child Jesus. Please, please help me. I cannot hold back the hand of my Son any longer. I am Mary, your Mother. I ask you to help my children. You are my children of light.

Song: O Lady of Light, shining so bright, be with us this day, guiding our way, O Lady, O Lady of Light.

Mary speaks: I appear to you as Our Mother of Sorrows.
(End of Mary's Message)
---
MY VALENTINE FOR JESUS AND MARY
AND THE WORLD

I _________________ give my heart to
You Jesus and Mary on this day
_________________
I promise to help spread the devotion to
the Hearts of Jesus and Mary.
---
Question for married couples and others in intimate relationships:
Q: What do I feel is my biggest fear about our relationship?

Jesus speaks: Go deep in your heart and pray to see this and answer the question.
---
---
---
Copyright © 2000 Shepherds of Christ.
Rights for non-commercial reproduction granted:
May be copied in its entirety, but neither re-typed nor edited.
Translations are welcome but they must be reviewed for moral and theological accuracy by a source approved by Shepherds of Christ Ministries before any distribution takes place. Please contact us for more information.
All scripture quotes are from the New Jerusalem Bible, July 1990, published by Doubleday.
Revised: June 18, 2000
URL: http://www.SofC.org
Contact Information for Shepherds of Christ
Email: info@SofC.org
---
Shepherds of Christ Ministries
PO Box 193
Morrow, Ohio 45152-0193

Telephone: (toll free) 1-888-211-3041 or (513) 932-4451
FAX: (513) 932-6791