June 2, 2010

Today's Readings
2 Timothy 1: 1-3, 6-12
From Paul, apostle of Christ Jesus through the will of God in accordance with his promise of life in Christ Jesus, to Timothy, dear son of mine. Grace, mercy and peace from God the Father and from Christ Jesus our Lord. Night and day I thank God whom I serve with a pure conscience as my ancestors did. I remember you in my prayers constantly night and day;

That is why I am reminding you now to fan into a flame the gift of God that you possess through the laying on of my hands. God did not give us a spirit of timidity, but the Spirit of power and love and self-control. So you are never to be ashamed of witnessing to our Lord, or ashamed of me for being his prisoner; but share in my hardships for the sake of the gospel, relying on the power of God who has saved us and called us to be holy-not because of anything we ourselves had done but for his own purpose and by his own grace. This grace had already been granted to us, in Christ Jesus, before the beginning of time, but it has been revealed only by the appearing of our Saviour Christ Jesus. He has abolished death, and he has brought to light immortality and life through the gospel, in whose service I have been made herald, apostle and teacher. That is why I am experiencing my present sufferings; but I am not ashamed, because I know in whom I have put my trust, and I have no doubt at all that he is able to safeguard until that Day what I have entrusted to him.
Mark 12: 18-27
Then some Sadducees — who deny that there is a resurrection — came to him and they put this question to him, 'Master, Moses prescribed for us that if a man's brother dies leaving a wife but no child, the man must marry the widow to raise up children for his brother. Now there were seven brothers; the first married a wife and then died leaving no children. The second married the widow, and he too died leaving no children; with the third it was the same, and none of the seven left any children. Last of all the woman herself died. Now at the resurrection, when they rise again, whose wife will she be, since she had been married to all seven?' Jesus said to them, 'Surely the reason why you are wrong is that you understand neither the scriptures nor the power of God. For when they rise from the dead, men and women do not marry; no, they are like the angels in heaven. Now about the dead rising again, have you never read in the Book of Moses, in the passage about the bush, how God spoke to him and said: I am the God of Abraham, the God of Isaac and the God of Jacob? He is God, not of the dead, but of the living. You are very much mistaken.'
St. Paul is telling Timothy not to be shy —
be forceful — you never have to be ashamed
of me —
You go and preach the Gospel
Teach the truth you were given
Be a faithful disciple
Gospel yesterday Jesus was dealing with Pharisees
and Herodians who were testing
Him
In today's Gospel we have the Sadducees —
who do not believe in the resurrection —
Jesus tells them there will not be
marriages like we know in heaven —
We will be deeply united with God in
heaven — we will see God face to face —
A vision — the beatific vision —
This unity with the
Trinity —
Jesus told them there will not
be this sacrament of
marriage as we know
on earth
but we will have unity with
each other —
We just celebrated Trinity Sunday —
This is a good reading
From Response in Christ
e) Relationship with Members of the Church

There is but one true Church of Christ. Yet this one Church has three different states of existence. There is the pilgrim Church, the Church of this world, composed of members who have received the grace of Christ and strive for its development. They have not yet obtained the goal of their efforts, as have the members of the heavenly Church, who enjoy God in eternal happiness. The Church suffering is an intermediate state of existence necessary for those who had not achieved the required purification as members of the pilgrim Church. Although there are these three phases of the Church's existence, there is a profound union existing between all the members. All these members possess the same basic life of grace in Christ, and this common life establishes the most intimate bonds of love. In our preceding chapter, we discussed the pilgrim Church. Let us now consider the Church suffering and the heavenly Church.

The members of the Church suffering are those who have departed from this life in an incomplete state of Christian development. Their development is incomplete in the sense that grace has not fully taken possession of them, and, as a result, they are yet closed in upon themselves to a greater or lesser degree. They as yet cannot open themselves out in complete love to the Triune God in the beatific vision. They must undergo a further purification, a purification which could have been achieved upon earth with merit. Now the purification must be achieved with no merit attached. The pain of this purification is mixed with the certain expectation of achieving the vision of God. We can hasten the advent of this vision for this people by the offering of prayers and other good works. Scripture itself refers to our action on behalf of those in purgatory in Chapter 12 of the Second Book of Maccabees beginning with verse 38.

The members of the heavenly Church are those in whom the life of grace has taken full possession and has reached its completion in the life of glory. Faith now is unnecessary, as the light of glory gives the human intellect a new strength and capacity for seeing God face-to-face. While the Christian was a wayfarer, he received the imprint of the indwelling Trinity as he shared in God's own life. Now in heaven that grace-life and possession of God reaches its completion—the absolute completion is not achieved, however, until the resurrection of the body. The divine persons give Themselves to the beatified in a profound union far surpassing that of the indwelling of the Trinity experienced here below.

This life of heaven is still the Christ-life, for just as we possess a share in Trinitarian life here below as mediated by Christ, and exercise this grace-life as structured by Him, so also in heaven is the mediation of Christ present. In the words of Rahner, "One always sees the Father through Jesus. Just as immediately as this, for the directness of the vision of God is not a denial of the mediatorship of Christ as man."14 And not only does the humanity of Christ unite the blessed to God, but also, in some way, to the whole of creation. This is merely a completion of what is begun here below, namely, the union with Christ in His humanity establishing the Christian in a special relationship with God, with other men, and with the whole of creation. We have a glimpse, therefore, of the fullness of life which members of the heavenly Church possess.

The heavenly Church, as St. Thomas says, is the true Church.15 The Church of this earth and the Church of purgatory are, each in its own way, reaching out in loving hope for the heavenly Jerusalem. Vatican II puts it very simply: "The Church, to which we are called in Christ Jesus, and in which we acquire sanctity through the grace of God, will attain her full perfection only in the glory of heaven."16

The members of the heavenly Church can help us in living our life of grace until we too share its fullness with them. Their power of intercession on our behalf is but another ramification of the communal aspect of Christianity. We are meant to help others grow in Christ. We, in turn, are intended by God to receive aid from others—yes, from members of the heavenly Church, as well as from those with whom we dwell here below.

Not only can we be aided by the saints' intercession, but the example of the canonized saints can also be of great value to us. They have concretely proved that full holiness is possible. Such an inspiration is of real worth when we are tempted to think that Christian sanctity in its higher degrees is impossible of attainment. Moreover, the canonized saints, in their diversity, teach us that there are many authentic versions of Christian holiness. They can be innovators in showing us that there are numerous possibilities in assimilating the mystery of Christ, although the basic assimilation remains the same for all Christians of all times. In the opinion of Rahner this is one of the chief roles the canonized saints exert in the life of the Church.17

---

NOTES:

14Karl Rahner, Theological Investigations, Vol. III (Baltimore: Helicon, 1967), p. 44.
15 Cf. St. Thomas Aquinas, In Ad Ephes., c. 3, Lect. 3.
16Second Vatican Council, Constitution on the Church, No. 48.
17Cf. Karl Rahner, Op. cit., pp. 100-101.
The Trinity is the most perfect community —

Excerpt from the Mass Book

T

HE EARTH STOPPED AND TOUCHED HEAVEN
I long to unite in the deepest union with Him in the Eucharist. I long for the Mass. I long for Thee, oh God. My every moment, I join as I did to You December 15 under the cross, where I felt Your presence. You whisked me away, and I was totally absorbed in that moment of celestial union with You. For that time, I existed only in You, in the deepest union, and I was in this moment existing in You. The earth stopped, and I touched the heavens, all my bodily cares were existent in You. I existed in Your Divinity, my being was in You. There was no desire or wish or wanting, for in that moment, I had all I wanted in You. I was satisfied and wanted nothing but to remain in that embrace. You were the Being, and my being existed in You, but I was only as I was in You - merged in You, knowing and being in Your Divinity and being so full as to feel complete in myself.

You are so enormous, and You surrounded me in a burning embrace, the presence of red fire. I was not little, or "nothing", but existed in this enormous power and being so complete!

I touched eternity, and in that embrace, I knew all the waiting was worth the glory. You enveloped my being, and I was truly merged in the Divine Presence. I was merged in Your being. I existed IN You, with You, in the highest union with You, although I knew I was still distinct from You.

I was fused and absorbed in You, feeling complete and satisfied. To describe this union is far beyond any work of my pen and paper. I pray for the reader of this page to receive the grace to share this experience with Him, I will now live for this union-to be forever merged In Him, to be One in Him, to reach higher perfection as I exist in Him, for He takes the lowly and gives to them a sharing in Himself. He merges with us and we exist in Him. The word "in" - I could write pages about. I long for the deepest union with Him, where I am swept up in the heavenly embrace of the Divine God, and I am IN Him.

This is heaven on earth: to be merged as one with Divinity, although remaining distinct from God, to take our feeble hearts, our lowly status and to unite ourselves with the Divine, Almighty, powerful God and in this union to be meshed with Him, that His power dominates and our humanity reaches its heights of fulfillment in this union, in this oneness with Him.

The word I have looked for is "oneness." I understand some of the meaning of the words "One in Him." Oneness is the word to describe this union of our humanity with His Divinity. The depth to which we could meditate on oneness with God is incomprehensible. In that moment, the earth stood still, and He, my Divine Lover, the Bridegroom of my soul, took me to Himself, and I knew the embrace of the Divine God.

Nothing on the face of this earth can describe our union with Divinity. Oh, good God, that creatures are so ungrateful regarding Your divine love. I am so sorry. Let me help make reparation to Your adorable Heart. Please unite with me now that I may more deeply love Thee.

Oh, Divine Lover of my soul, let me help make reparation to Your adorable Heart for the neglect and indifference against You.

Song from Jesus: I come to you with greatest love. I am your loving Savior. I am your God. I died for you. I come to you this day.

He allowed me to experience such pain in my heart - wanting Him so badly, so many times-and then on Dec. 15, 1995 - He gave Himself to me in the deepest union.

Nothing satisfies the soul but Him. He wants the nuns and priests to love Him. He chose them to spread His love.

Souls are hungry. They will only be fed with His burning love. Priests need to talk about Jesus' love for us from the pulpit. Priests need hearts burning for love of Jesus. This will feed the hungry souls - lip service love doesn't do it.

He is alive today. He is a Person. He wants us to love Him.

end of December 17, 1995
God is the God of the living, not of the
dead —
Excerpt from Response to God's Love by Fr. Edward Carter, S.J.
1
The Mystery of Christ and

Christian Existence
... In reference to Christianity, God himself is the ultimate mystery. Radically, God is completely other and transcendent, hidden from man in his inner life, unless he chooses to reveal himself. Let us briefly look at this inner life of God.

The Father, in a perfect act of self-expression, in a perfect act of knowing, generates his son. The Son, the Word, is, then, the immanent expression of God's fullness, the reflection of the Father. Likewise, from all eternity, the Father and the Son bring forth the Holy Spirit in a perfect act of loving.

At the destined moment in human history, God's self-expression, the Word, immersed himself into man's world. God's inner self-expression now had also become God's outer self-expression. Consequently, the mystery of God becomes the mystery of Christ. In Christ, God tells us about himself, about his inner life, about his plan of creation and redemption. He tells us how Father, Son, and Holy Spirit desire to dwell within us in the most intimate fashion, how they wish to share with us their own life through grace. All this he has accomplished and does accomplish through Christ.
We are called to be in relationship with
God and with others —
In heaven we have the beatific vision —
Jesus promised those who love and serve
Him eternal life —
Jesus is the way, the truth and the life —
It is the Father's will that we be saved —
Jesus came and showed us how to live —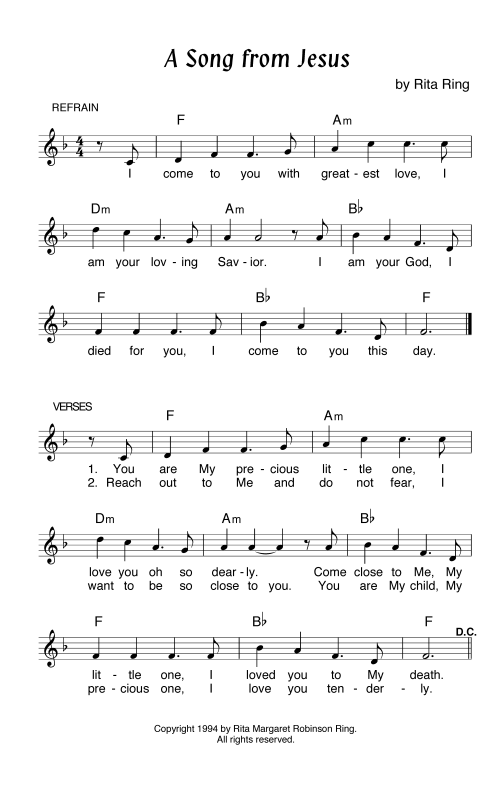 From Bishop Sheen

Third Effect: Communion with the
Mystical Body of Christ
No one was ever so wrong as the professor who said: "Religion is what a man does with his solitariness." If man is solitary, he is like a cell that is isolated from the body. The body can live without an individual cell, but the cell cannot live without the body. No man can live the divine life without some incorporation either in fact, or in desire, with the Mystical Body of Christ which is the Church. But the Mystical Body of Christ can live without an individual member. Our Blessed Lord described our union with Himself the night He gave the Eucharist, as that of the "vine and the branches." St. Paul speaks of us, too, as being many and yet one because we all eat the one bread. There is no autonomic individualism in the Scriptures or in humanity. The whole historical existence is transformed; that is to say, both humanity and the visible creation. The first was transformed through the Incarnation; the second, through the sacraments and its symbols which animate personality.

As there is a lymph which passes through the human body, each cell drinking of that life; so too, the Eucharist is the Divine lymph of the Mystical Body of Christ on which every member feeds. The members of the Church as not little spiritual islands each cherishing its own isolation. What blood plasma is to the physical body, the Eucharist is to the Mystical Body—the bond of its unity: "The one bread makes us one body, though we are many in number" (1 Corinth. 10: 17).
Jesus gave to saints a thorn in their
head sometimes — That meant they
always were deeply connected to
Him — they had to raise above
this and still love and serve God —
Padre Pio had the stigmata
God has loved us first —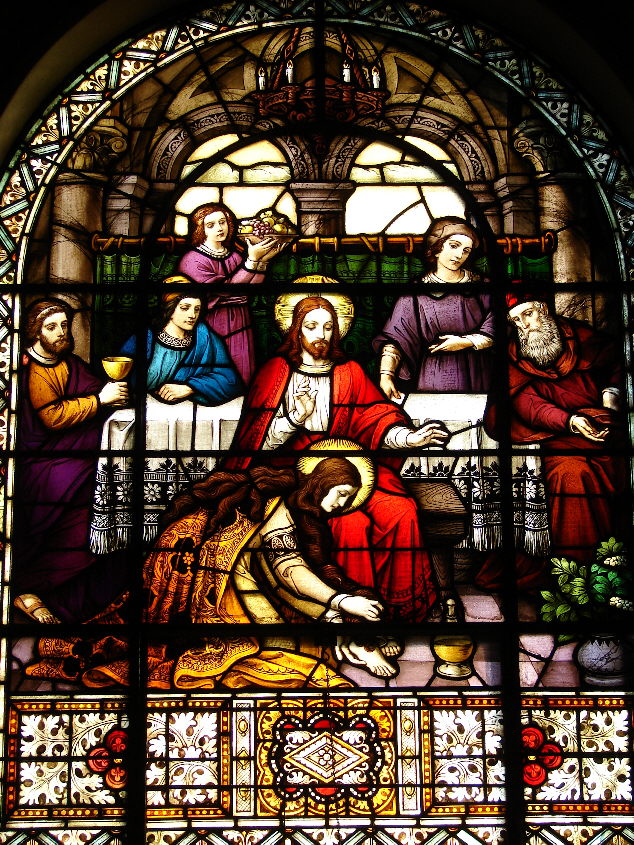 Luke 7: 36 - 50
One of the Pharisees invited him to a meal. When he arrived at the Pharisee's house and took his place at table, suddenly a woman came in, who had a bad name in the town. She had heard he was dining with the Pharisee and had brought with her an alabaster jar of ointment. She waited behind him at his feet, weeping, and her tears fell on his feet, and she wiped them away with her hair; then she covered his feet with kisses and anointed them with the ointment.

When the Pharisee who had invited him saw this, he said to himself, 'If this man were a prophet, he would know who this woman is and what sort of person it is who is touching him and what a bad name she has.' Then Jesus took him up and said, 'Simon, I have something to say to you.' He replied, 'Say on, Master.' 'There was once a creditor who had two men in his debt; one owed him five hundred denarii, the other fifty. They were unable to pay, so he let them both off. Which of them will love him more?' Simon answered, 'The one who was let off more, I suppose.' Jesus said, 'You are right.'

Then he turned to the woman and said to Simon, 'You see this woman? I came into your house, and you poured no water over my feet, but she has poured out her tears over my feet and wiped them away with her hair. You gave me no kiss, but she has been covering my feet with kisses ever since I came in. You did not anoint my head with oil, but she has anointed my feet with ointment. For this reason I tell you that her sins, many as they are, have been forgiven her, because she has shown such great love. It is someone who is forgiven little who shows little love.' Then he said to her, 'Your sins are forgiven.' Those who were with him at table began to say to themselves, 'Who is this man, that even forgives sins?' But he said to the woman, 'Your faith has saved you; go in peace.'
Jesus knew how He had great love
for her because He forgave
her sins and they were many —
Luke 7: 41-43
'There was once a creditor who had two men in his debt; one owed him five hundred denarii, the other fifty. They were unable to pay, so he let them both off. Which of them will love him more?' Simon answered, 'The one who was let off more, I suppose.' Jesus said, 'You are right.'
We are to make the Shepherds of Christ a place
where people learn to pray and
when they come to our centers
it should be a place of peace —
where people want to come
where people want to come and pray —
We are never to think people should
serve us, but God called us
to be servants and to serve others —
It is by our example we teach
about Christ
How loving we are when we serve —
So we pray to be more like Jesus —
who is love —
We pray for ourselves to be servants
of the Lord — to serve in love —
without strings attached —
Prayer from St. Ignatius

Lord, teach me to be generous.
Teach me to serve you as you deserve;
To give and not to count the cost;
To fight and not to heed the wounds;
To toil and not to seek for rest;
To labor and not to ask for any reward,
Save that of knowing
that I am doing your will.
We pray for the students who will be
off all summer —
We pray for the oil spill and those affected —
and for it to stop —
We pray for the sick in mind and body —
We thank God for His blessing to us —
We pray we can serve Jesus well —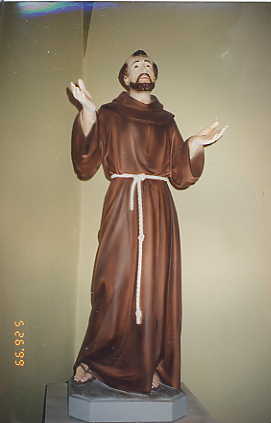 Sing: Prayer of St. Francis
We pray to be in one mind and one
heart with others God calls us
to work with for His honor and
glory —
To serve God in love and unity with
others —
Jesus gives us Himself at Mass
Jesus loves us so much
Thank You God
Give a gift that lasts.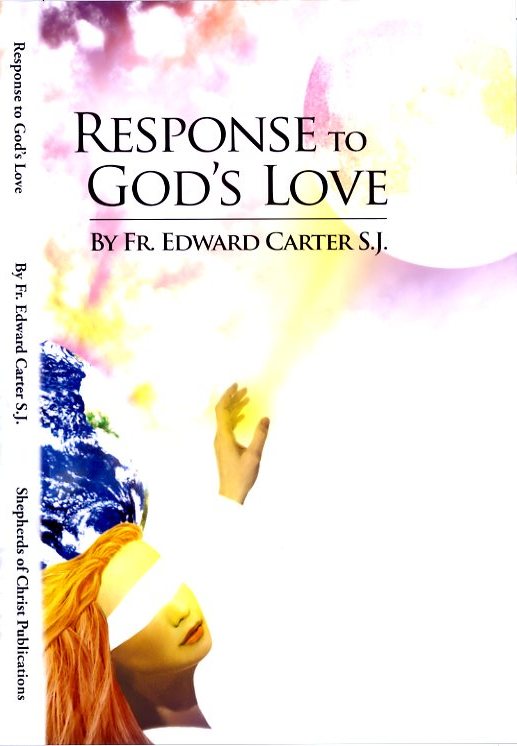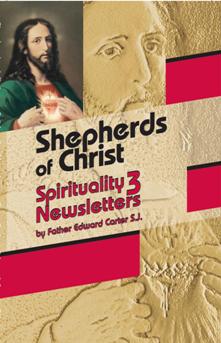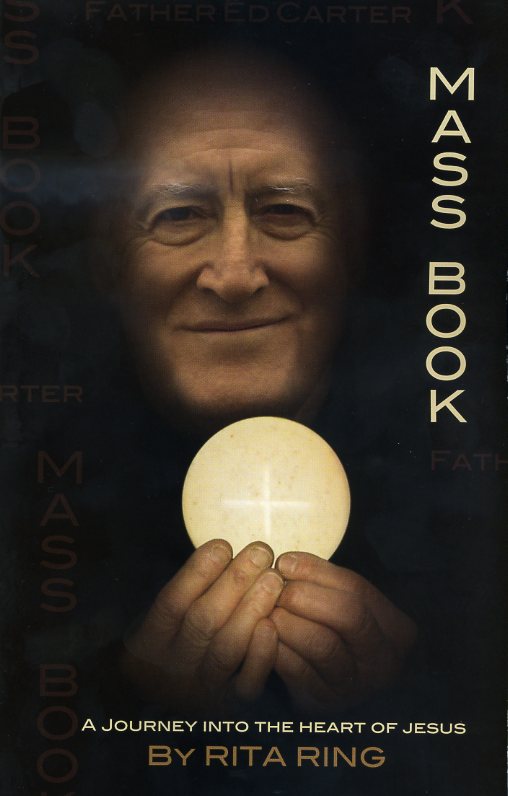 $10.00 each plus shipping
Call 1-888-211-3041
Shepherds of Christ
We can send Fr. Joe's
homily book to a priest for 75¢.
Can you please help us get
these homilies to the priests?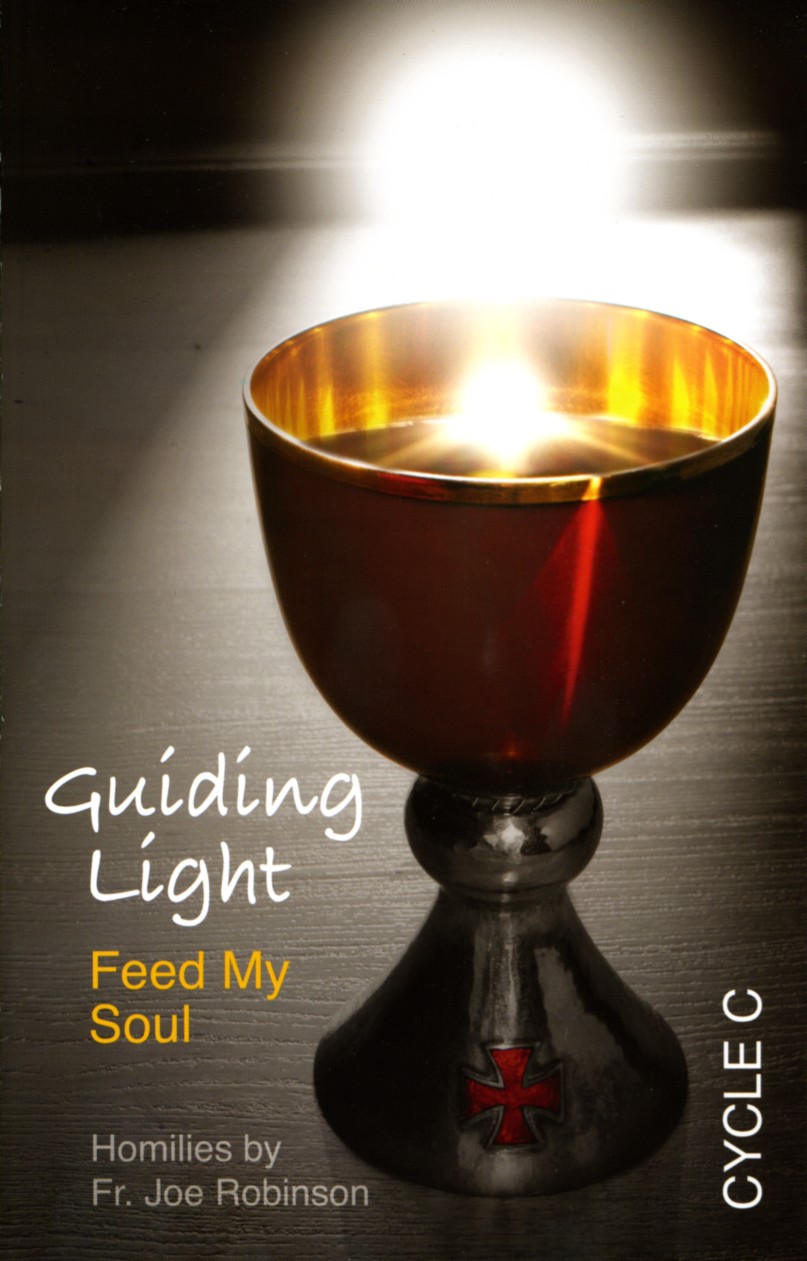 Please help us with your donation.
Call Shepherds of Christ
1-888-211-3041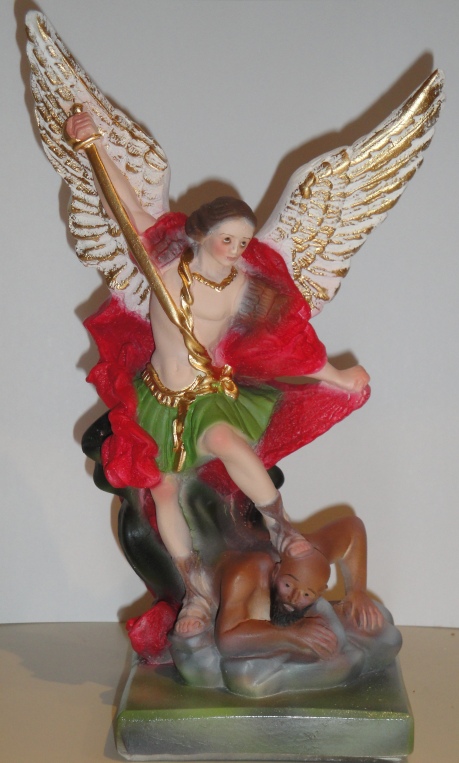 NEW! — 11" St. Michael - $40.00 plus shipping
Prayer Card 4" x 6"

.50¢ each plus postage

size 5 1/2" x 8 1/2"
$1.00 plus postage

Statues

| | | |
| --- | --- | --- |
| | | |
| Sacred Heart of Jesus w/glass - 18 | Our Lady-Guadalupe w/glass - 12 | Limpias - 8 |
| | | |
| Immaculate Heart w/glass - 18 | I Heart - Ivory w/glass - 18 | Our Lady of Grace w/glass - 18 |
| | | |
| Our Lady-Mt. Carmel w/glass - 18 | Our Lady of Lourdes w/glass - 18 | Infant of Prague w/glass - 24 |
| | | |
| Sacred Heart of Jesus w/glass - 24 | Sacred Heart -Blessing w/glass - 24 | Sorrowful Mother w/glass - 24 |
| | | |
| I Heart - Ivory w/glass - 24 | I Heart of Mary w/glass - 24 | Our Lady of Lourdes w/glass - 24 |
| | | |
| Our Lady-Guadalupe w/glass - 28 | Our Lady of Grace w/glass - 24 | Our Lady-Mt. Carmel w/glass - 24 |
| | | |
| Fatima w/glass - 11 | Pilgrim Virgin w/glass - 12 | Pilgrim Virgin w/glass - 15 |
| | | |
| Fatima w/glass - 18 | Pilgrim Virgin w/glass - 18 | Pilgrim Virgin w/glass - 27 |

| | | |
| --- | --- | --- |
| St. Padre Pio | St. Joseph | St. Therese |
| | | |
| St. Francis | St. Anthony | St. Claire |
| | | |
| Limpias | St. Jude | Divine Mercy |
| | | |
| Holy Family | Angel | St. Philomena |
| | | |
| Pieta - Marble | Pieta - Color | Holy Family |
| | | |
| St. Anthony - 18 | St. Francis - 18 | St. Joseph - 18 |
| | | |
| St. Therese - 18 | St. Rita - 18 | St. Clare - 12 |
| | | |
| St. Rita - 12 | St. Padre Pio - 12 | Divine Mercy - 12 |


Shepherds of Christ Ministries
P. O. Box 627
China, IN 47250

Toll free - 1-888-211-3041
Local - 1-812-273-8405
fax - 1-812-273-3182
web: www.sofc.org
e-mail: info@sofc.org


| | | | |
| --- | --- | --- | --- |
| | Size | Price | Quantity |
| Holy Family | 24" | $180 | |
| Limpias | 24" | $125 | |
| St. Anthony | 24" | $125 | |
| St. Claire | 24" | $125 | |
| St. Francis | 24" | $125 | |
| St. Joseph | 24" | $125 | |
| St. Jude | 24" | $125 | |
| St. Padre Pio | 24" | $125 | |
| St. Therese | 24" | $125 | |
| Divine Mercy | 22" | $125 | |
| Angel | 22" | $100 | |
| St. Philomena | 20" | $100 | |
| St. Philomena | 16" | $65 | |
| St. Joseph | 18" | $65 | |
| St. Francis | 18" | $65 | |
| St. Anthony | 18" | $65 | |
| St. Rita | 18" | $65 | |
| St. Therese | 18" | $65 | |
| Pieta - Color | 15" | $75 | |
| Pieta - Marble | 15" | $75 | |
| Holy Family | 12" | $60 | |
| St. Padre Pio - standing | 12" | $40 | |
| St. Padre Pio - sitting | 8" | $50 | |
| St. Rita | 12" | $40 | |
| Divine Mercy | 12" | $40 | |
| St. Claire | 12" | $40 | |
| Limpias | 8" | $25 | |
| Our Lady of Guadalupe w/glass | 28" | $500 | |
| Our Lady of Mt. Carmel w/glass | 24" | $500 | |
| Immaculate Heart of Mary w/glass | 24" | $500 | |
| Immaculate Heart - Ivory w/glass | 24" | $500 | |
| Infant of Prague w/glass | 24" | $500 | |
| Our Lady of Grace w/glass | 24" | $500 | |
| Our Lady of Lourdes w/glass | 24" | $500 | |
| Sacred Heart of Jesus w/glass | 24" | $500 | |
| Sacred Heart -Blessing w/glass | 24" | $500 | |
| Sorrowful Mother w/glass | 24" | $500 | |
| Immaculate Heart of Mary w/glass | 18" | $300 | |
| Immaculate Heart - Ivory w/glass | 18" | $300 | |
| Sacred Heart of Jesus w/glass | 18" | $300 | |
| Our Lady of Lourdes w/glass | 18" | $300 | |
| Our Lady of Grace w/glass | 18" | $300 | |
| Our Lady of Mt. Carmel w/glass | 18" | $300 | |
| Our Lady of Guadalupe w/glass | 12" | $200 | |
| Fatima w/glass | 11" | $150 | |
| Fatima w/glass | 18" | $250 | |
| Pilgrim Virgin w/glass | 12" | $160 | |
| Pilgrim Virgin w/glass | 15" | $200 | |
| Pilgrim Virgin w/glass | 18" | $250 | |
| Pilgrim Virgin w/glass | 27" | $450 | |


Call for Shipping Price (1-888-211-3041)


Name

Sub-Total
Address

IN Tax (7%)
City

Shipping
State Zip

Donation
Telephone

Order Total

Shepherds of Christ
P. O. Box 627
China, IN 47250

Call Shepherds of Christ

1-888-211-3041


Fr. Joe's Homily Books

Guiding Light - Cycle A
The Word Alive in Our Hearts

$10.00




Guiding Light - Cycle B
Focusing on the Word

$10.00


Guiding Light - Cycle C
Feed My Soul

$10.00

Fr. Carter's Books


Priestly Newsletter Book I

12 Newsletters
July 1994 - June 1996

$12.00


Priestly Newsletter Book 2

17 Newsletters
1996 - 1999

$12.00


Priestly Newsletter Book 3

4 Newsletters & Prayers
2000

$12.00

Response to God's Love



$10.00


Messages given
by Jesus and Mary 1994

Tell My People


$10.00



The Pain and the Joy

$10.00

Synopsis of the Spiritual Life

Spirituality Handbook
$3.00


Priestly Newsletter on CD
2000 - Issue 1

$10.00


Priestly Newsletter on CD
2000 - Issue 2

$10.00

Fr. Pasquini's Books


Authenticity



Prayers and Meditations

$10.00

In Imitation of Two Hearts

For those suffering or
in Nursing Homes

$10.00

Light, Happiness and Peace

Journeying through traditional
Catholic Spirituality

$10.00

Medicine of Immortality

Prayers and Meditations - will assist the reader in growth toward a deeper understanding of the mystery of the Eucharist

$10.00


Ecce Fides - Pillar of Truth





Ideal for RCIA, Adult & Youth Bible Study, Homeschooling, Catholic
Identity Studies

$10.00

Shepherds of Christ Newsletters
9 Newsletters
2006 - 2008



$36.00

DVDs and CDs by Fr. Pasquini





Authenticity DVD
Prayers on the Ocean

$10.00


Nursing Home Mass DVD

$10.00

Consolation DVD

$10.00

Medicine of Immortality
Read by Rita Ring

2 CDs - $17.00

In Imitation of Two Hearts DVD

$10.00




Consolation CD
by Fr. John

$8.00





Nursing Home Mass CD

$8.00


Holy Spirit Novena DVD

$10.00

Divine Mercy Chaplet DVD

$10.00

Call Shepherds of Christ

1-888-211-3041

Available for $10.00 plus postage

1-888-211-3041

Call Shepherds of Christ

God's Blue Books

God's Blue Book 1 –
Teachings to Lift You Up

$10.00




God's Blue Book 4 –
The Love of the Hearts of
Jesus and Mary

$5.00





God's Blue Book 2 –
The Fire of His Love

$10.00


God's Blue Book 5 –
So Deep Is the Love of His Heart

$5.00




God's Blue Book 3 –
Love God, Love One Another
(Fr. Carter's favorite)
$10.00





God's Blue Book 6 –
He Calls Us to Action

$10.00


Rosary Books





Rosaries from the
Hearts of Jesus and Mary

$10.00


Rosaries from the
Hearts of Jesus and Mary

$12.00

Rosary Meditations for
Parents and Children's

$10.00




Mysteries of Light 1

$5.00


Mysteries of Light 2

$5.00




Little People & Elderly Rosary Book

$10.00

Coloring Book
$5.00 each




Coloring Book
$5.00 each

Coloring Book
$5.00 each

Coloring Book
$5.00 each

Coloring Book
$5.00 each




Coloring Book
$5.00 each

We are trying to get

Response to God's Love

and the Mass Book out.


Anybody who wants to help us

with a donation to get these 2 books

out in the Priestly/hierarchy mailing —

Please call Shepherds of Christ

1-888-211-3041

July 31, 1994

Words of Jesus to Members of
Shepherds of Christ Associates:

"My beloved priest-companion, I intend to use the priestly newsletter, Shepherds of Christ, and the movement, Shepherds of Christ Associates, in a powerful way for the renewal of My Church and the world.

"I will use the newsletter and the chapters of Shepherds of Christ Associates as a powerful instrument for spreading devotion to My Heart and My Mother's Heart.

"I am calling many to become members of Shepherds of Christ Associates. To all of them I will give great blessings. I will use them as instruments to help bring about the triumph of the Immaculate Heart and the reign of My Sacred Heart. I will give great graces to the members of Shepherds of Christ Associates. I will call them to be deeply united to My Heart and to Mary's Heart as I lead them ever closer to My Father in the Holy Spirit."

- Message from Jesus to Father Edward J. Carter, S.J., Founder, as given on July 31, 1994,
feast of Saint Ignatius Loyola, Founder of the Society of Jesus (The Jesuits)




The China Church is over 140 years old

and we pray in there 24 hours a day.

It needs stucco and so does

the community building.

Can you please help us?

Call Shepherds of Christ

1-888-211-3041

Likewise the priest house

is 150 years old.

Jesus told us to repair it

which we have been doing.

We need $13,000.00 for this work.

You can help put the Blue Book V

in the hands of 1,000 people

we need $1,200 postage for this

It is ready to go

Call Shepherds of Christ

1-888-211-3041

Crucifix — hand carved by Felix

Available for $750.00

Brand New Internet Store