Shepherds of Christ
Daily Writing
June 21, 2009
June 22nd Holy Spirit Novena
Scripture selection is Day 9 Period II.

The Novena Rosary Mysteries
for June 22nd Joyful.
The church needs to have the stucco replaced

and also the community building.

It is about $38,000 to repair it.

People pray in the church 24 hours a day.

We have prayed in there for 11 years.

The archdiocese gave the church to us

for this purpose for a small price.

Can you help us?

1-888-211-3041




Available for $10.00 each plus postage

1-888-211-3041

Call Kathleen
June 21, 2009 - Father's Day Father's Plan
This is a dream I had
early morning on Father's Day —
after the Feast of the Sacred Heart, Friday
and the Feast of the Immaculate Heart, Saturday —
I was to play a wedding and
a man was to sing — he had to
sing a Russian piece and he
couldn't say the words — he
kept repeating them to me —
I said I don't know how
to pronounce the Russian words —
The wedding was in one hour —
he left and I kept worrying
where he went and what I would
do at the wedding — it was a
big wood room, empty with
a piano by the wall — there
was some long windows —
It was a school and the Church
where the wedding was to be
was connected in some way
close to the school.
I went in the next room and people
were moving about because of
school —
the desk was on a platform —
a walkway under the platform —
the door to the room had
3 chairs against the wall
as I came in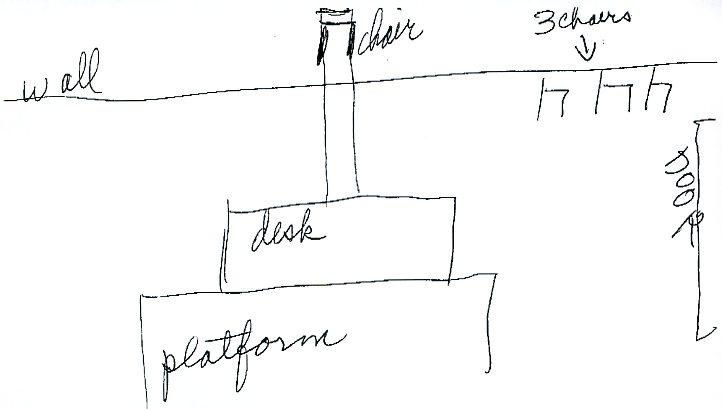 I went in and stood around the desk —
people walked under the platform —
3 men came in and sat facing the door
hiding under a white veil — they
had white like albs on —
I though they were Jesuits —
and I was talking to others standing
with me — I began to talk loud
about the Spiritual Exercises hoping
they would talk to me — they
approached me and 2 seemed to
fade out but one man
with this white - veil on his
head to hide himself —
as he approached me —
once again I began to talk
about the Spiritual Exercises
and I knew he was a
priest.
He approached the high —
chair, pushing back his veil
some and gave a talk like
thunder — it resounded — I
walked to the door — his talk shook
the place — The singer for the
wedding never came back —
I walked under the speaker
on high by the desk —
people just ignored him and
walked about
he finished —
I thought he would try to
get down and I would help
him, but he never tried —
his head landed in my
hands and arms before I even
knew what happened and
I held it a few seconds
horrified looking up his
body was strapped to the
wall by some thing, it
looked like his body had caught on,
it looked like straps across his body
as it was fixed to the wall high up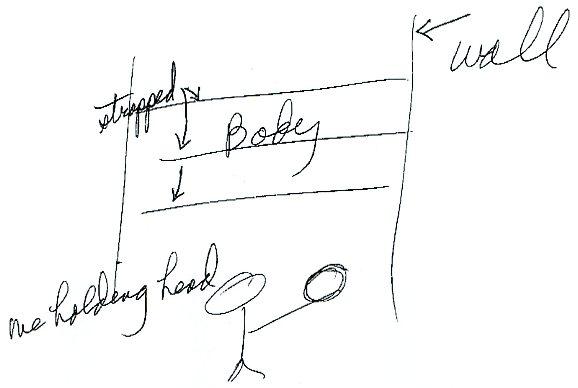 Jesus told me to put this
on the internet
Father's Day.
After the Feast of the Immaculate
Heart yesterday and the
Sacred Heart Friday
Prayer Cards
size 5 1/2" x 8 1/2"
$1.00 plus postage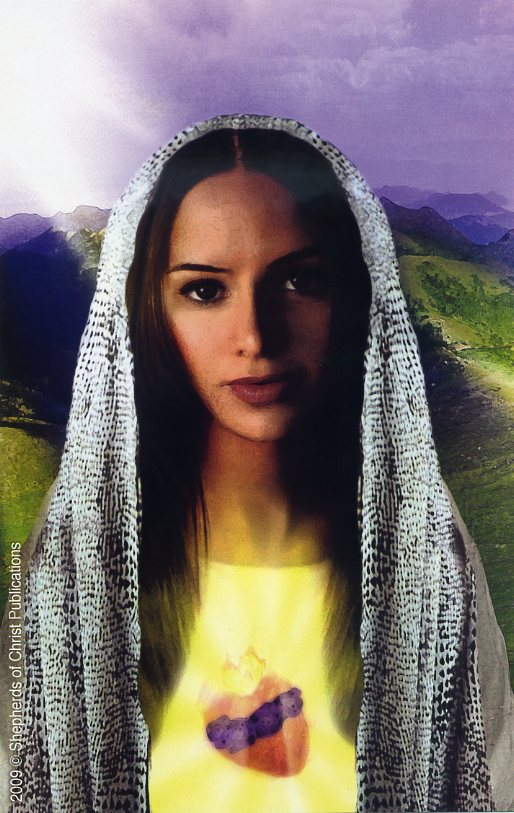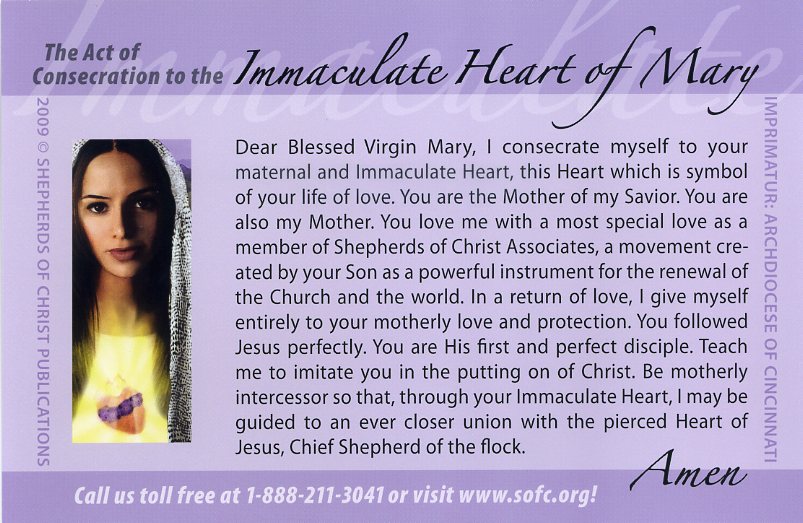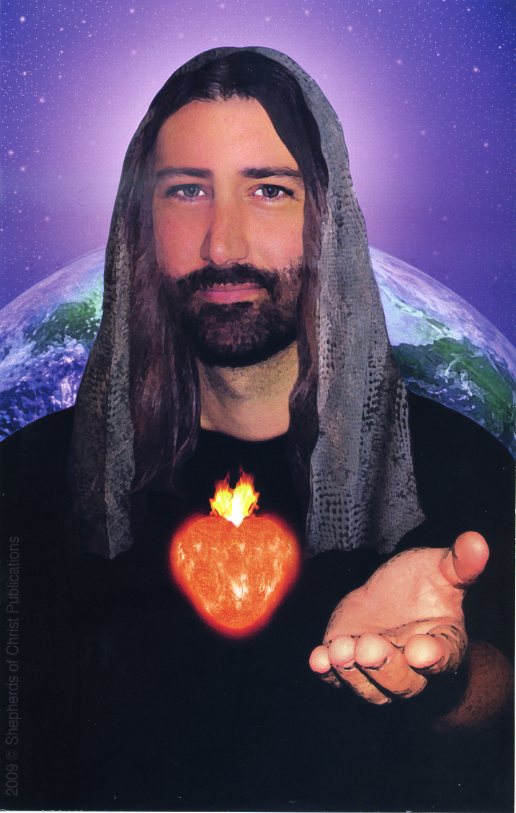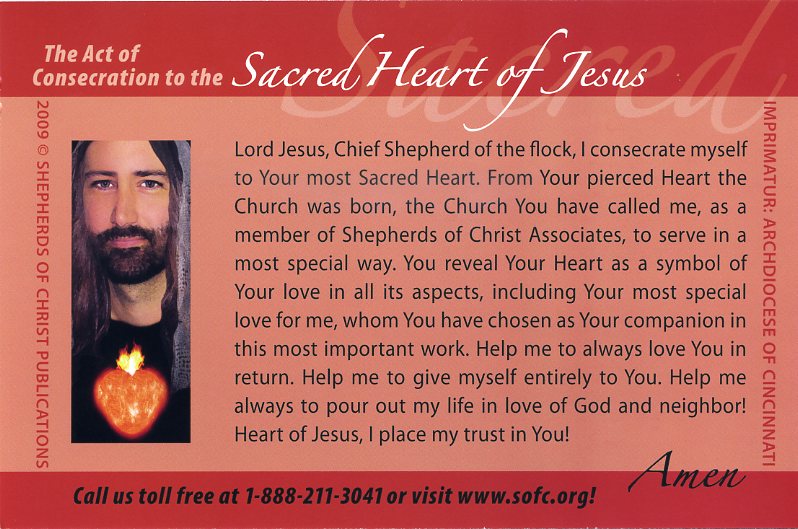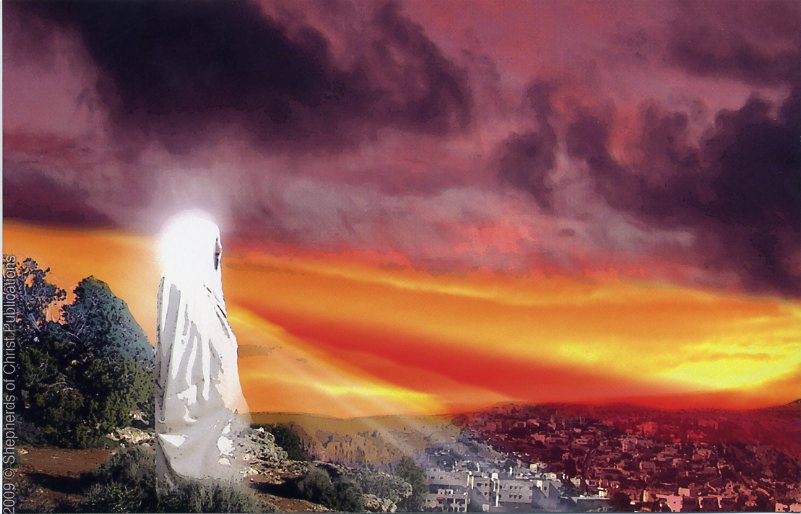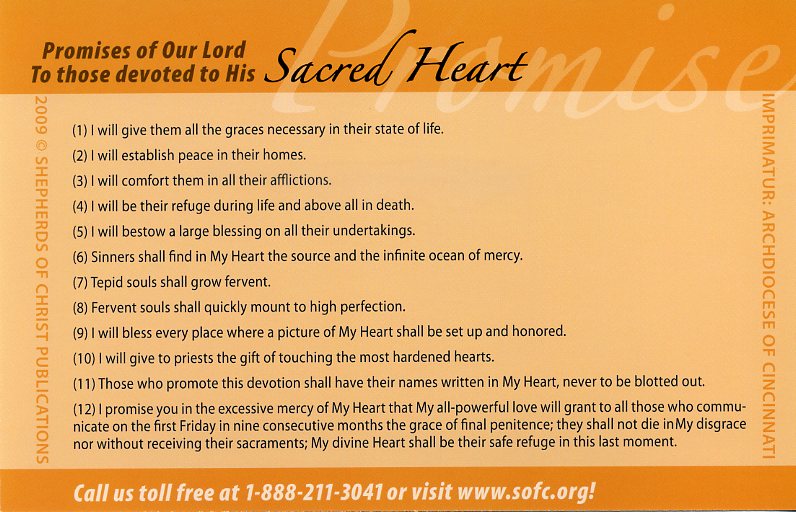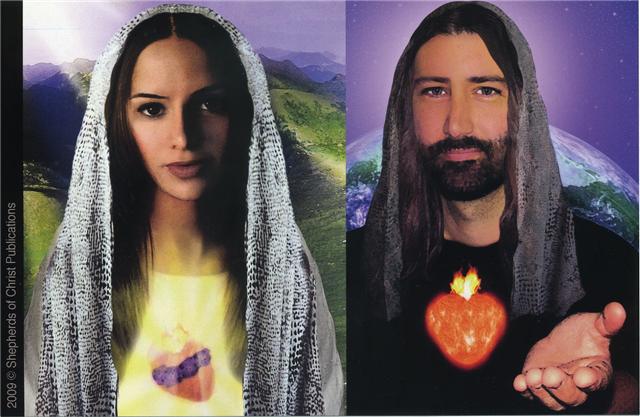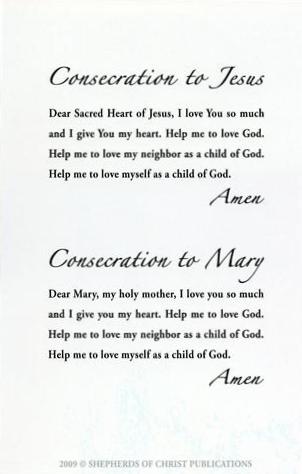 Prayer Card 4" x 6"
.50¢ each plus postage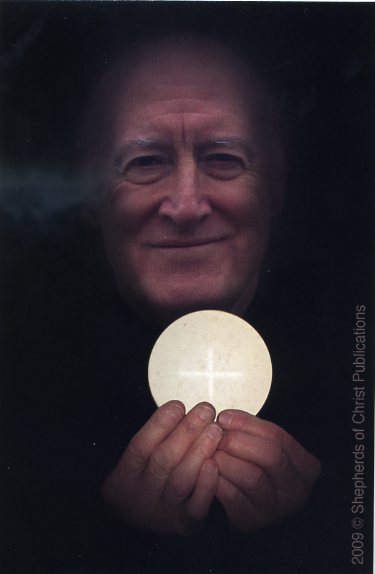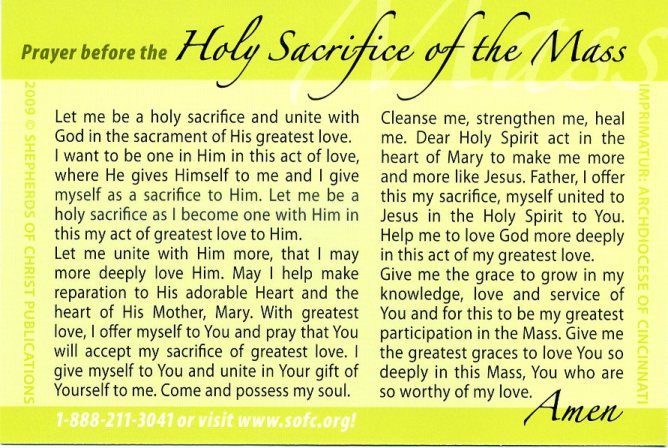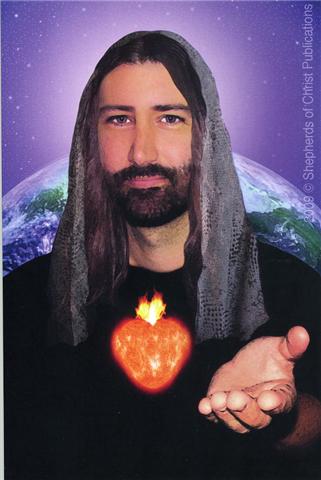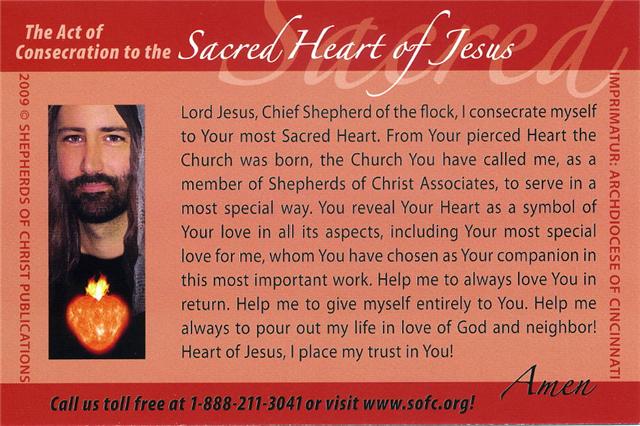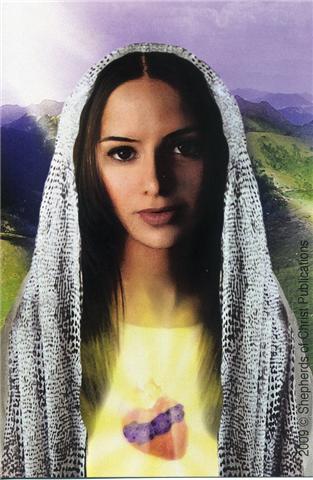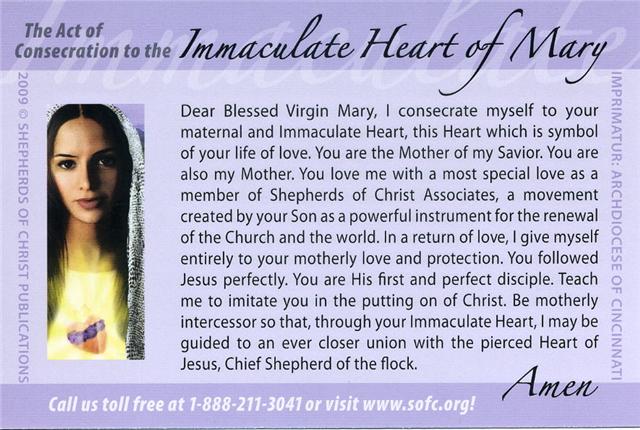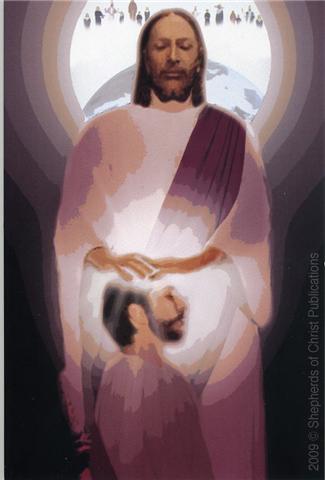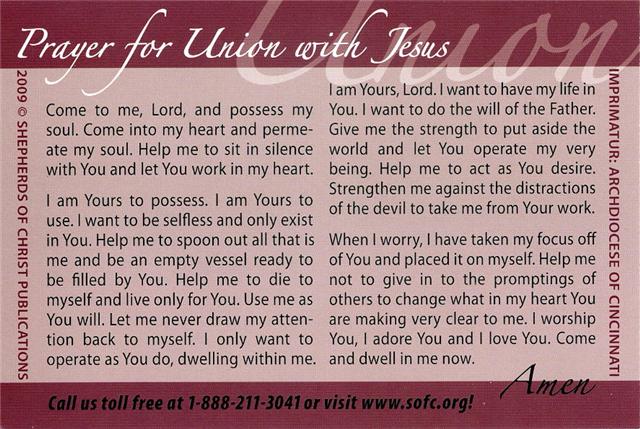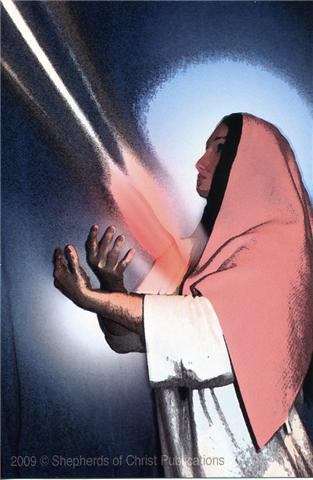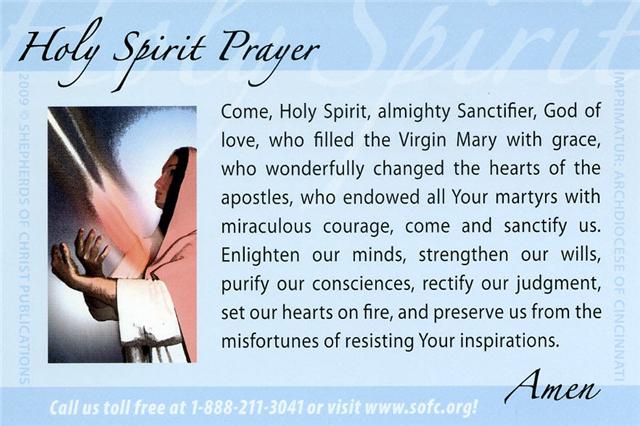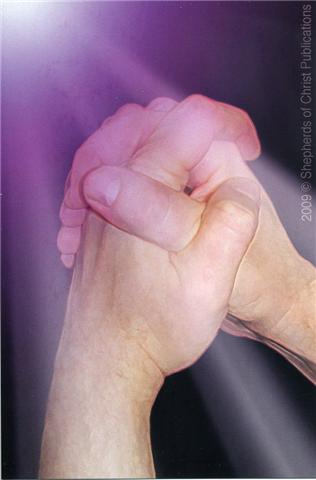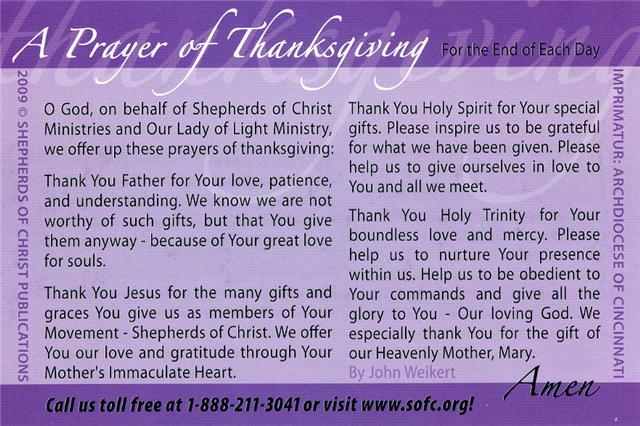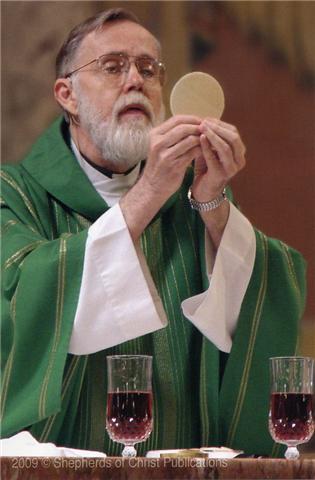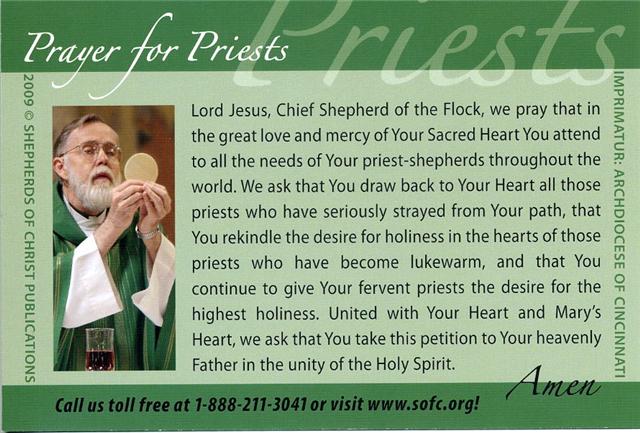 Holy Cards available

2" x 3"

Holy Spirit Prayer
Act of Consecration to
Immaculate Heart of Mary
Act of Consecration to
Sacred Heart of Jesus
Prayer for Priests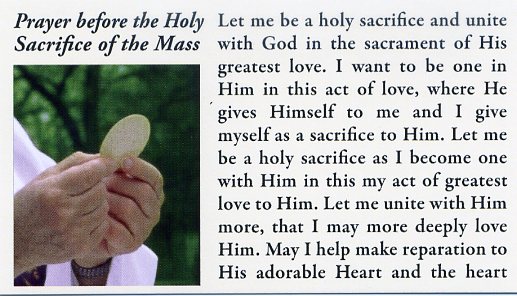 Prayer before the Holy Sacrifice of the Mass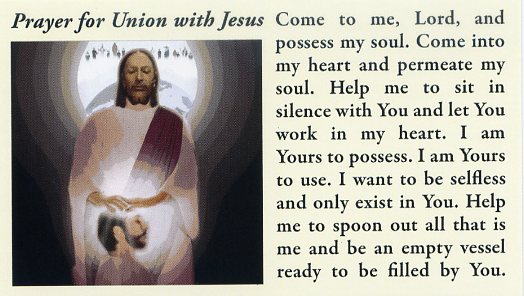 Prayer for Union with Jesus
Available for .25¢ each plus postage
Call Kathleen
1-888-211-3041
Betty is a handmaid who has prayed in the

China Church for 11 years. To get from her

house to the church she uses a walker and

must go over a creek and a little bridge.

We wanted a little place she could rest

by the Church. We need about $1,000 to

make this happen. Can you help us?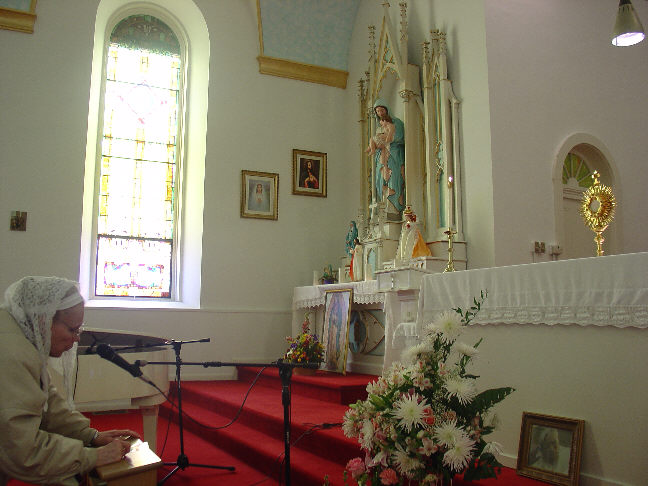 We are trying to get
Response to God's Love
and the Mass Book out.

Anybody who wants to help us
with a donation to get these 2 books
out in the Priestly/hierarchy mailing —
Please call Kathleen 1-888-211-3041
July 31, 1994

Words of Jesus to Members of
Shepherds of Christ Associates:

"My beloved priest-companion, I intend to use the priestly newsletter, Shepherds of Christ, and the movement, Shepherds of Christ Associates, in a powerful way for the renewal of My Church and the world.

"I will use the newsletter and the chapters of Shepherds of Christ Associates as a powerful instrument for spreading devotion to My Heart and My Mother's Heart.

"I am calling many to become members of Shepherds of Christ Associates. To all of them I will give great blessings. I will use them as instruments to help bring about the triumph of the Immaculate Heart and the reign of My Sacred Heart. I will give great graces to the members of Shepherds of Christ Associates. I will call them to be deeply united to My Heart and to Mary's Heart as I lead them ever closer to My Father in the Holy Spirit."

- Message from Jesus to Father Edward J. Carter, S.J., Founder, as given on July 31, 1994,
feast of Saint Ignatius Loyola, Founder of the Society of Jesus (The Jesuits)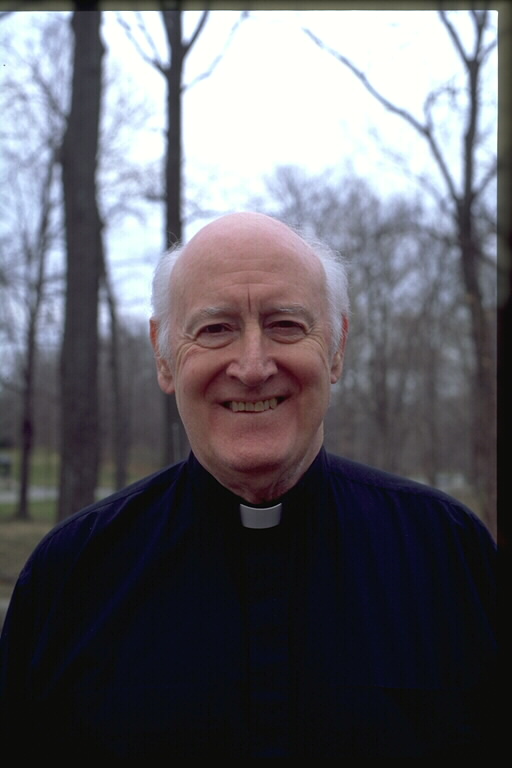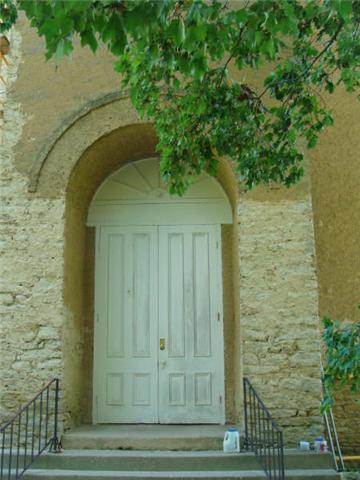 The China Church is over 140 years old
and we pray in there 24 hours a day.
It needs stucco and so does
the community building.
Can you please help us?
Call Kathleen 1-888-211-3041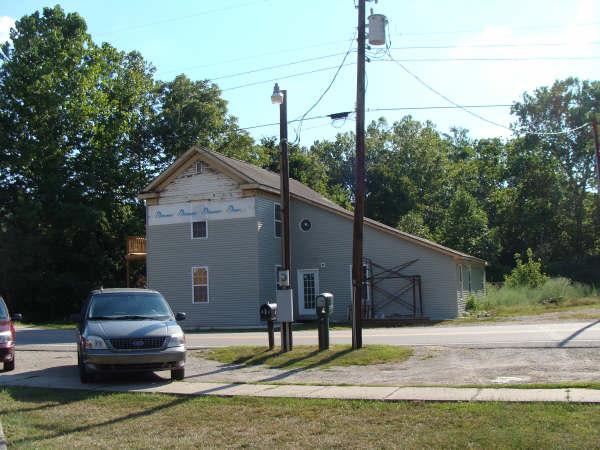 Likewise the priest house
is 150 years old.
Jesus told us to repair it
which we have been doing.
We need $13,000.00 for this work.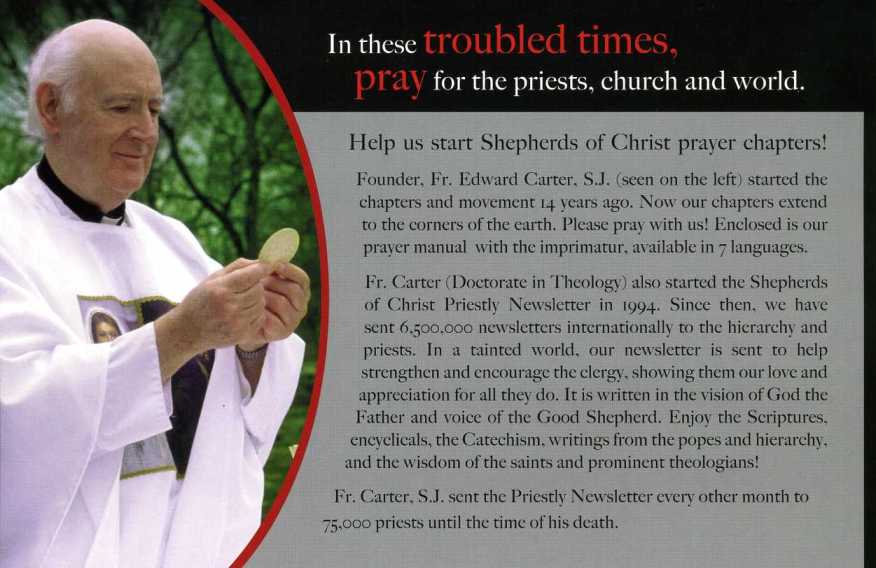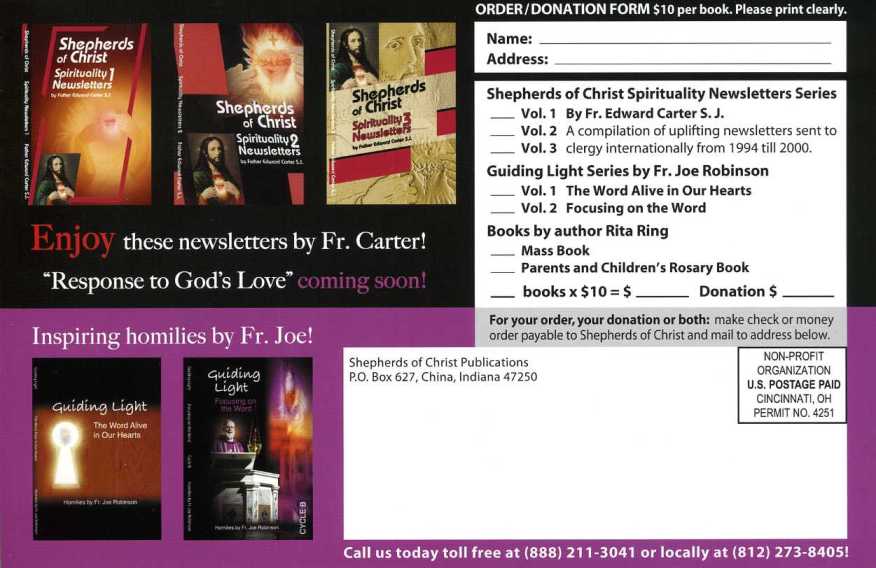 You can help put the Blue Book V
in the hands of 1,000 people
we need $1,200 postage for this
It is ready to go
Call Kathleen
1-888-211-3041
You can help put Fr. Joe's homily
book in the hands of
1,000 priests — it costs $1,100
This can help 1,000 parish priests
talk about Covenant for Lent
Please help us
It is ready to go
Call Kathleen 1-888-211-3041
Call Kathleen to Order any of the items below
1-888-211-3041